Our Newest Content
Srory and photos
by Kathleen Walls
Published 10-26-2023
The Jacksonville Zoo And Gardens is one of the top zoos in the United States. They are doing it big for Halloween with their 36th annual Spooktacular. A few ghosts and ghouls fit right in with the wildlife. You enter beneath the watchful eye of some giant skeletons. Then pass under a Spooktacular archway.
Bristol: Birthplace of Country Music
Story and photos by
Kathleen Walls


Published 9-14-2023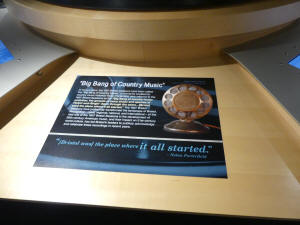 Birthplace of Country Music in Bristol, Virginia/Tennessee has a fantastic history behind it. The Museum tells how country music was recognized as a genre at the famous 1927 Bristol Sessions. It's an amazing story.










Story by Tom Straka


Photographs by Pat Straka

Published 9-4-2023
About a year ago we spent the better part of a day at Monticello, the home of Thomas Jefferson. The details are in an earlier article in this digital magazine. While Monticello is recognized as one of America's most famous homes, the grounds surrounding Monticello are almost as interesting as the house. They were attractive enough to bring us back for a second visit, centered on the restored vegetable and flower gardens, orchards, Jefferson's favorite trees, and a bunch of fascinating outbuildings. They were well worth a second better part of a day. Tours at Monticello have various options, mainly the house tour and the gardens and grounds tour.
Story and photos
by Kathleen Walls Published 7-27-2023
I just visited Cleveland's Rock and Roll Hall of Fame. It's an amazing time travel trip into American music. Sure, it's about rock and roll, but remember rock and roll evolved from blues and country with many other genres adding a touch or two. What I love about the museum is that it takes that into consideration and showcases those early influences. Over the years, they have inducted many influencers, including Sister Rosetta Tharpe, Ma Rainey, Robert Johnson, Hank Williams, Bob Willis, and countless other musician whose music led to rock and roll.
Story and photos
by Tom Straka

Published 7-17-2023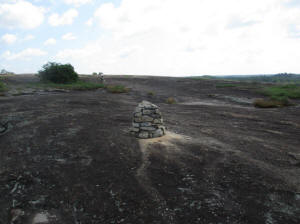 Newsweek magazine recently published an article<![if !supportNestedAnchors]><![endif]> with a catchy title: "The Weirdest, Most Extraterrestrial Spots You Can Visit, Here on Earth," promising "some of Earth's most bizarrely surreal natural wonders." There were eleven locations, ranging from a national forest park in China with bizarre rock formations, a desert in Canada's Yukon, Easter Island, the world's largest salt flat in Bolivia, the Skeleton Coast of Namibia, to Glowworm Caves in New Zealand. One location caught my eye, as it is only a few hours away. The Arabia Mountain Natural Area, just east of Atlanta, was described as "as close to the experience of walking on the moon's surface as we have on Earth." As you begin the hike up Arabia Mountain, shown in the lead photograph, you are on solid rock, and the scant forest soon gives way to the "lunar surface." You'll be on a monadnock.
Kathleen Walls
Published 7-2-2023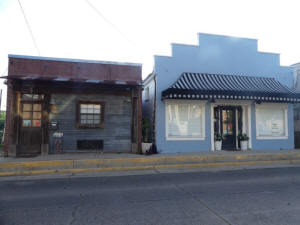 I had a wonderful experience when I visited New Iberia. There was so much more than I expected. New Iberia is a quiet little town on the banks of Bayou Teche with a big history. Founded in 1779, by Spaniards New Iberia is the only Louisiana city retaining a Spanish name. Later, the Acadians, settled there after being driven out of Nova Scotia by the British.
Kathleen Walls
Published 5-28-2023
There is no question. San Antonio is the heart of Texas and the heart of San Antonio lies the middle of its 21st century downtown. There one piece of 18th century architecture reigns supreme. It is not the tallest or the largest. Not even the grandest, but it is unquestionably San Antonio's crowning jewel. The Alamo! No other symbol in American history is more revered as a shrine to heroism in the cause of freedom. In actual fact, the story is a little different. A group of American who had been invited to settle in Mexico's then owned territory, actually snatched Texas away from Mexico and created a separate county, the Republic of Texas. They declared independence from Mexico on March 2, 1836. The Republic of Texas was not recognized by the United States until a year later in 1837.
Kathleen Walls
Published 5-13-2023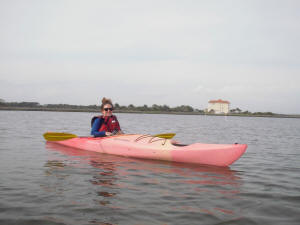 Until 1941, Onslow County was a quiet fishing village that depended on naval stores, lumber, and tobacco crops as its main source of income. Then in 1941, Onslow County and the world changed. Marine Barracks Camp Lejeune located in Jacksonville, Onslow's main city. Today, tourism plays a major role in the area. It has many unique attractions you won't find anywhere else.
Kathleen Walls
Published 5-4-2023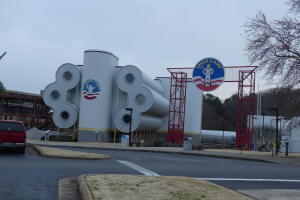 In Huntsville, you can foresee the future at the Space and Rocket Center. You can tour the museum's artifacts from Apollo and Challenger to present day and experience a simulated space voyage aboard the Discovery Shuttle where you "launch" from Kennedy Space Center, go into orbit, and landing back at Kennedy.
Kathleen Walls
Published 4-7-2023

Here's a secret about Florida. It's not all theme parks and crowds You can visit St Lucie County for some natural resources and have a blast minus the crowds. I recently took a nature press trip and want to share the beauty of the Treasure Coast with you.
(Photo credit Ischell Laxton)
Tom Straka
Published 4-4-2023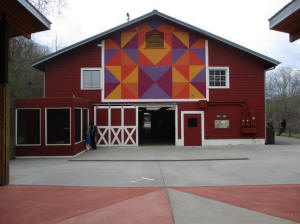 Ashville, North Carolina is a fun city to visit, with lots of hidden gems. Among them is the Western North Carolina Nature Center, one of North Carolina's accredited zoos, but much more than that. It is both plants and animals, intended to connect people with an appreciation of the of the Southern Appalachian native wildlife and habitats. The WNC Nature Center is a menagerie of over 60 species of wild and domestic animals, set in a landscape including hundreds of native plant species, all characteristic of the unique Southern Appalachian bioregion.
Kathleen Walls
Published 3-28-2023
Alachua County, Florida has a museum for every interest. As a college town, you expect this in Gainesville, but there are other towns around the county worth a visit. Here are some I have visited and enjoyed. I'll start with Gainesville.
Kathleen Walls
Published 3-4-2023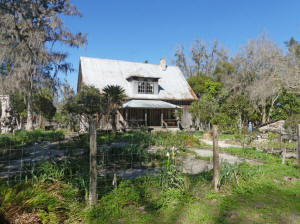 Dudley Farm Historical State Park is an authentic 325-acre working "Cracker" farm on the western outskirts of Gainesville. A visit there gives you an accurate picture of North Florida farming through the eyes of three generations of the Dudley family. The farm began in the pioneer days of the 1850s when Phillip B.H. Dudley and his wife, Mary, began the farm. After Phillip's death, the farm passed it on to his son, Ben, and his wife, Fanny.
Kathleen Walls
Published 3-1-2023
When Zeddy Clarence Herlong came to Micanopy with his wife, Natalie, in the early 1900s and settled into the house along an Indian trading route, now known as Cholokka Boulevard, he never imagined it would one day be a famous bed-and-breakfast. The two-story pine "cracker style" home, built in 1845 by R. S. Stoughton, and then owned by Herlong's father-in-law, John Simonton, is now The Herlong Mansion and listed on the National Registry of Historic Places.
Kathleen Walls
Published 1-30-2023
There has been a lot in the news lately about the homeless. Yes, that's a sad situation, but at least people can try to get help. What about animals who cannot ask for help or go apply for a job? Catty Shack Ranch Wildlife Sanctuary in Jacksonville, Florida helps those homeless. Animals that have been abandoned, confiscated by law enforcement due to abuse, or just cats that are unwanted at bigger zoos can find a "forever home" here.
Kathleen Walls
Published 2-25-2023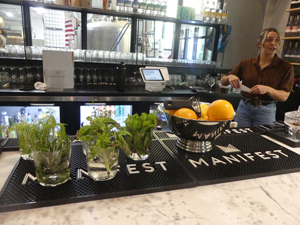 If you're visiting Jacksonville and want an adult beverage at a fun location, visit the taproom at Manifest Distilling. They're located in the heart of the sports district and since Jacksonville worships the Jaguars that is a good place to be. It began in 2016 as a dream of David Cohen, a graduate of the brew school at the Siebel Institute. He brought in Scott Kennelly, Trey Mills, and Tom Johnson at first. Today it has grown to 11 staff people and one territorial cat.
Renée S. Gordon
Published 1-25-2023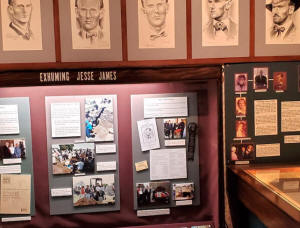 The whereabouts of Jesse James may have been mysterious in the latter part of the 1880s but scholars have successfully traced his movements from birth through his burials and exhumations. Across the country, from Texas to West Virginia, there are explorable sites and markers that refer to his domestic and his criminal lives. He joined the Civil War guerrillas in 1864 and Post-Civil War he and his brother Frank formed an alliance with the four Younger Brothers and became the James-Younger Gang to continue the fight. James is estimated to have participated in approximately twenty armed robberies.
Renée S. Gordon
Published 1-15-2023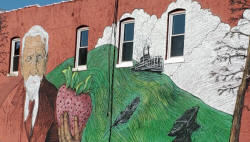 The consolidation and incorporation of eight small towns in Wyandotte County in 1872 led to the creation of Kansas City eleven years after Kansas gained statehood. A biography of the state, both prior to statehood and into the 21st-century, is a microcosm of the history of the United States' westward expansion and the colorful characters who impacted on those events. Until entry into the Union the region was recognized as the Nebraska and the Indian Territories until 1854 and as such settlers, outlaws, lawmen, natives and African Americans entered the area. Kansas City, KS is listed as one of fifty-five National Heritage Areas based on its historical sites, culture and significant geography
Kathleen Walls
published 1-7-2023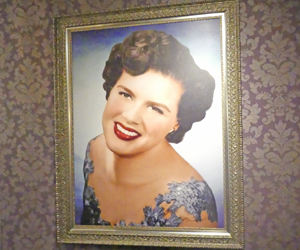 I saw Patsy Cline last night. Well, she looked like Patsy Cline. She talked like Patsy Cline. And boy, did she sing like Patsy Cline! Actually, it was Gail Bliss performing in
the fantastic A Closer Walk with Patsy Cline at Jacksonville's Alhambra Theatre and Dining.
Kathleen Walls
Published 12-8-2022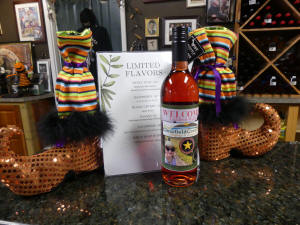 Starr Hill Winery is more than a winery and vineyard. It's almost a one-stop-for-all place. The vineyard sits atop a hill in Curwensville in the Pennsylvania Wilds. We visited recently on a press trip and met with Kenn Starr who told us a little about Starr Hill Winery. It began with his father's dream. He started making wine in the '50s when he returned from Germany where he had been stationed in the Air Force. He saw how they made wine over in Germany and started making wine in 1967. Kenn told us, "We have the original bottles here at the winery."
Kathleen Walls
Published 11-16-2022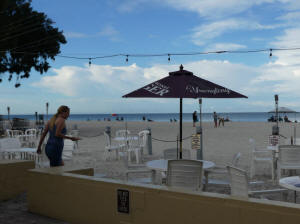 Anna Maria Island's history goes way back. The first record of European explorers here dated to the 1530s. They claimed Anna Maria for Spain. Of course, they weren't the first people here. The Tocobagans, Calusa's and other native tribes using the island as a base for fishing and hunting.
Kathleen Walls
Published 11-15-2022
A
stay at Trinkle Mansion Bed & Breakfast in Wytheville, Virginia is a way to experience traveling like the elite in the Victorian era. Those days, wealthy people stayed at the homes of friends and family many times when traveling. That's how it feels when staying at Trinkle Mansion. It is a Classical Revival home built for William Trinkle, a gentleman farmer and brother of a Virginia governor, Elbert Lee Trinkle. Trinkle served as governor from 1922 to 1926 after serving in the Virginia Senate. That may give you a hint of what it would be like staying in William Trinkle's home.
Kathleen Walls
Published 11-14-2022
I always love to know all the little secret stories about a place I visit. On a recent visit to Huntingdon County, Pennsylvania, I got the entire condensed history of the area at the Isett Heritage Museum. I'm using condensed loosely as the museum is huge. There are three large buildings plus some outside artifacts all telling the local history. J. Melvin Isett and his wife, Beulah, began the museum after many years of collecting and a variety of service-related businesses in Huntingdon County. In 2001, shortly after Mr. Isett retired, he opened his collection to the public in a 1940 renovated barn on the property. In 2004 the museum expanded adding a ten thousand square foot building, and once again in 2008, added another ten thousand square foot building. The three buildings house a collection of over forty thousand items.
Kathleen Walls
Published 11-1-2022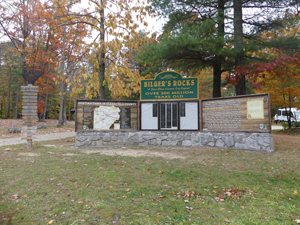 Bilger's Rocks have been there since before the America continents split from Africa. It's about 300-million years old, give or take a few birthdays. Paleo-Indians used some of its caves for shelter. The first European settler was a German named Jacob Bilger in the 1800s. Today, it's a park with not only the rocks but a primitive camping area and playground and the ruins of an old mill on Bilger's Creek which runs through the park. There are hiking trails and beautiful woods.
Article by Kathleen Walls
Photos by Martin and Kathleen Walls
Updated 10-28-2022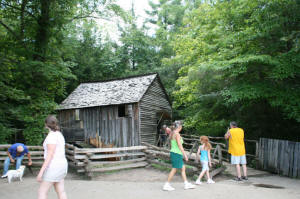 Nestled in the northwest corner of the great Smoky Mountains National Park, is a tiny treasure trove of Americana. Here, the heritage carved by the early settlers of this pastoral valley is preserved. Rustic log cabins still echo with the soft whispers of Elizabethan English. The mills and barns recall a time when man and nature were bound in an ongoing ritual. Their houses of worship still ring with the strains of joyous hymns from the past. On this eleven mile loop road you cover a span of a century in the lives of Cades Cove residents but the historic buildings are only a part of the Cades Cove experience.
Kathleen Walls
Published 10-14-2022
Kitsap Peninsula is just minutes away from Seattle, but it's another world. A place of diversity, both physically and culturally. It's home to Native American Tribes, has one town with a Viking heritage, and is a diners and watersports lover's heaven, with a lot of history.
Story by Tom Straka
Photographs by Pat Straka

Published 10-8-2022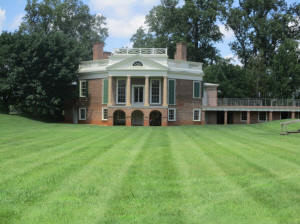 Why a tree to lead this article? To start with, it is a tulip poplar, located at Poplar Forest. It is a very old tree, believed to be over 200 years old. Popular Forest was a Virginia tobacco plantation which included a plantation house, also known as Poplar Forest. Work began on the mansion, which is still there, in 1806. The tree is thought to predate the construction of the mansion. The person who owned Poplar Forest and built the mansion was an interesting fellow.
Kathleen Walls
Published 10-8-2022
As a long-term travel writer, I have stayed in all kinds of hotels over the years. Most good. Some not so good. Sometimes it's a wonderful experience and occasionally, it's like a horror movie setting. There are some little things that a hotel can do to make the stay a pleasant one. These are the top loves and hates I have at hotels. Hotel managers, this one is for you.
Story by Tom Straka
Photographs by Pat Straka
Published 9-29-2022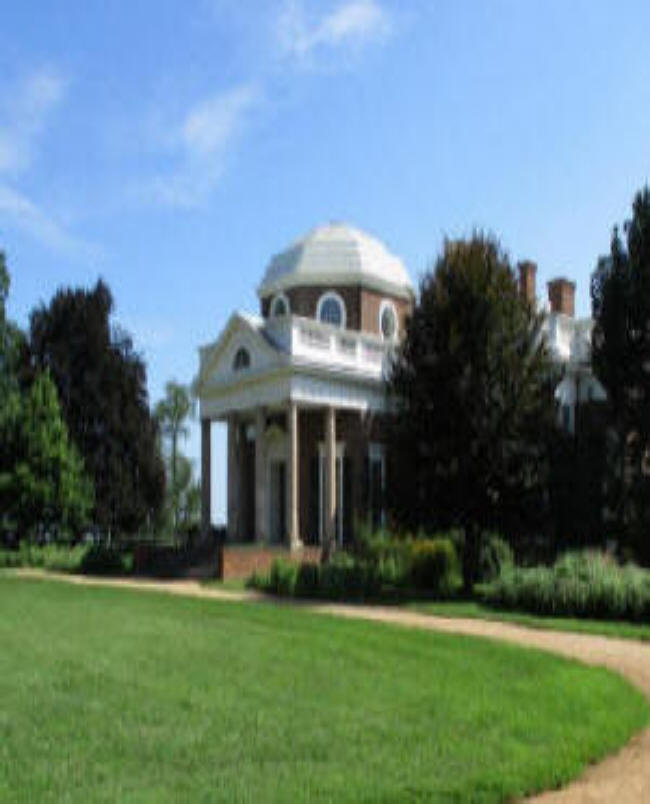 Most readers will surely recognize the person and home in the title photograph. Thomas Jefferson standing in front of one of America's most famous homes. The home in the photograph, Monticello, is real and Thomas Jefferson is interpreter Bill Barker. "Jefferson" spoke to us near the front of Monticello, in a small group of about a dozen, first giving us background, then allowing the group to ask questions. The presentation was at the end of a full tour of Monticello. The tour, the subject of this article, was outstanding and "Jefferson" was a fantastic way to end the tour. We expected the home to be the highlight of the day; instead, it was Jefferson, "himself" who was the true highlight. Think about it, spending time in small museum, then a full tour of the house, and ending with a conversation with "the man himself."
Kathleen Walls
Published 9-1-2022
Patee House Museum in St. Joseph is like entering a time machine of Missouri history. I stood at the counter of the first Pony Express station and felt like I was back in 1860. Patee House was the Pony Express Headquarters when it began. Pony Express is the first thing that comes to mind when most people think of St. Joseph, but Patee House began several years earlier.
Kathleen Walls
Published 8-30-2022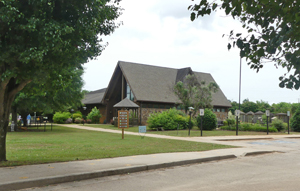 Noah's Ark is a sanctuary in Locust grove, Georgia for abused, abandoned, neglected, or surrendered animals ranging from domestic livestock to exotic animals such as tigers, monkeys, wolves, primates, and bears. Basic tours are free but you can opt for a more close up paid tour. Volunteers, Patty and Mark, took our group on a Walk on the Wild Side tour. It's 1.5-hour walking tour bringing us inside the first set of fences so we could get a closer look at some of their more than 1,500 animals.
Kathleen Walls
Published 8-27-022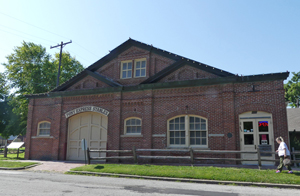 "Help wanted. Young, skinny, wiry fellows, not over eighteen. Must be expert riders, willing to risk death daily. Orphans preferred. Wages $25 per week." Would you answer this ad? During the 18 months the Pony Express was in operation, over 230 young men applied and were accepted. Some died in performance of their duties. Others went on to different careers after the Pony Express ended.
Kathleen Walls
Published 8-16-2022
Little Red Riding Hood lied. She caused generations to see wolves as evil creatures, intent on eating people. I recently visited Seacrest Wolf Preserve located in Chipley, Florida. Cynthia and Wayne Watkins founded it in 1999 as a sanctuary for displaced captive wolves. Seacrest is one of the few preserves in the country that allow up close encounters with wolves.
Kathleen Walls
Published 8-8-2022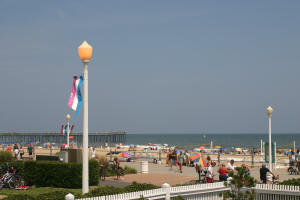 There are many reasons to visit Virginia Beach. Aside from the delightful weather most of the year, there are lots of attractions and some delicious restaurants.
Tom Straka


Published 6-25-2022
Michigan's Upper Peninsula has lots of fascinating towns and museums to visit. Many of the museums are related to the region's pioneering industries: copper, iron, and timber. The Upper Peninsula once had huge iron resources and over two-dozen iron blast furnaces, and many of the museums and historical attractions deal with the iron mining and smelting industries. The fuel for nearly all of the iron smelting furnaces was charcoal, and if you look hard you can even see some charcoal kilns that still remain to celebrate the iron industry history. Marquette was center of the iron activity and if you enter town from the east, you'll see a huge, reconstructed charcoal kiln to welcome you to the city.
Kathleen Walls
Published 6-11-2022
I've been doing a lot of road trips lately and have discovered some of the best dining in the South. Here are a few must-dine places.
Kathleen Walls
Published 5-29-2022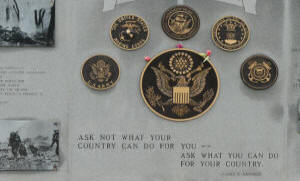 Just back from a press trip to Henry County, Georgia, where I had the privilege of meeting many of the veterans who gave some. For Memorial Day, we honor those who gave all. Henry County recognizes both. Here's a little about those who gave some and those who gave all.
Renée S. Gordon
Published 5-29-2022

Archaeological evidence exists attesting to the fact that Native Americans inhabited the Oklahoma region as early as 500 AD. The state's documented history begins with the Spanish explorations of Francisco Vasquez de Coronado in 1541, followed in 1682 by Robert de la Salle who claimed the land for France.
Kathleen Walls
Published 5-19-2022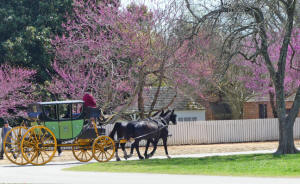 Williamsburg is one of those magic places where history is ever present. Williamsburg was founded between 1630 and 1633 when some Jamestown settlers moved there. Jamestown's capital building burned twice, the second time In 1698. The locals in Jamestown were tired of the unhealthy climagte and decided to permanently move the capital Williamsburg. The once small community grew and prospered until a later governor, Thomas Jefferson, moved the capital to Richmond. Williamsburg retuned to its early small village status.
Renée S. Gordon
Published 5-18-2022
Harriet Tubman was born 200-years ago in Maryland and embarked on an extraordinary journey that continues to resonate throughout US history. Her story serves as an example of courage and perseverance against seemingly insurmountable odds. She employed her uncanny ability to conquer any situation

functioning as an Underground Railroad conductor, abolitionist, lecturer, suffragist field nurse, Union spy and scout, and in 1863, leader of a Union raid resulting in the destruction of Confederate supplies and the liberation of hundreds of the
enslaved.
Renée S. Gordon
Published 4-10-2022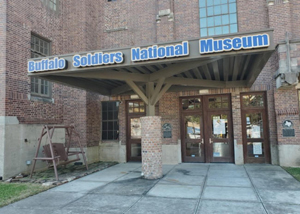 There have been no American military engagements in which African Americans have not participated at some level. In the 1600s British colonies blacks were used to defend against Indian attacks. Massachusetts' 1636 law was one of the earliest documented laws to state that "all able-bodied Negroes" had to report to serve in the militia. Enslaved and freedmen were among the 9,000 African Americans serving in the Continental Army as Patriots, largely in integrated units. During the War of 1812 it is estimated that 15% of the soldiers and sailors were of African descent and General Andrew Jackson called for "free colored inhabitants of Louisiana" to enlist in the US Army on Sept. 21, 1814 with the promise of equal pay. The Civil War witnessed Union enlistment of approximately 200,000 African Americans, an estimated 100,000 once enslaved, resulting in a death toll of nearly 40,000.
Renee S. Gordon
Published 3-30-2022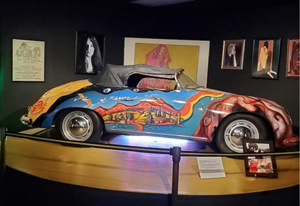 Native Americans settled along the shores of Sabine Lake in what was to become East Texas more than 1,500-years ago. In 1528 Spanish explorer Cabeza de Vaca and three of his men, including Estevanico an African, became the first Europeans to travel into the interior of Texas. They were followed, nearly 200-years later, by transient Spanish, French and Englishmen. In the 17th-century the lake became a draw for traders of legal and illegal goods, settlers and pirates like Jean Laffite.
Kathleen Walls
Published 3-29-2022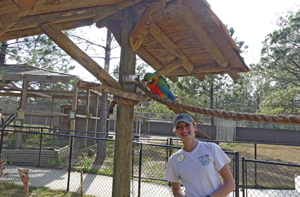 Gulf Shores Zoo became a household word as "The Little Zoo That Could" when a prime-time documentary told how the zoo's saved its animals in 2004 before Hurricane Ivan struck Gulf Shores. It all began in 1989 when Joey Ward built a small, community zoo on his family's land just a mile from the beach. He named it Zooland Animal Park. By 2000 it had grown and was renamed The Alabama Gulf Coast Zoo.
Kathleen Walls
published 3-34-3033
Shelby in Cleveland County is just 45 minutes west of Charlotte but a completely different world. Creativity reigns here. Two music legends were born in Cleveland County, Earl Scruggs and Don Gibson. Art is all over Cleveland County. Museums are unique. Shopping and dining is laid back and individually owned not chains.
Renee S. Gordon
published 3-20-2022
Native Americans, namely the Chesepians, inhabited the South Hampton Roads region of Virginia for thousands of years prior to first contact with English colonists on April 26, 1607. Three British Ships sent by the Virginia Company, sailed for 4 months, landed on Cape Henry and erected a wooden cross on the spot where they came ashore. Captain Christopher Newport, the first English tourist, was first to go ashore to reconnoiter and found "freshwaters, faire meadowes," and "goodly tall trees". A second party built a small boat and visited the areas' land and waterways. On May 14, the ships relocated to Jamestown and established the first permanent English settlement.
Renee S. Gordon
Published 3-9-2022
Native Americans inhabited the Norfolk region, in a settlement known as Skicoak, for thousands
of years prior to the establishment of a European colony in
1636 and in 1682 Nicholas Wise sold 50 acres of riverfront
property to the Virginia General Assembly to found Norfolk.
Fifty years later it was the largest town in the colony. During
the American Revolution the busy port, shipbuilding industry and transportation of goods made Norfolk a prime target for a British attack and on January 1, 1776 they destroyed two-thirds of the city. Citizens torched what remained to prevent confiscation by the British. The city was rapidly rebuilt and again established prominence as a port linking transportation between North and South
Kathleen Walls
Published 3-9-2022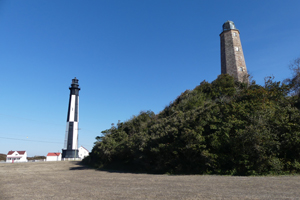 Cape Henry Lighthouse, the 4th oldest lighthouse in the United States, was authorized by President George Washington in 1792. In 1881, the government constructed a second lighthouse 350 feet from the first. The lighthouses are a fun place to visit but there is something more in their story. Lighthouses are beacons of hope, and Cape Henry Lighthouse offers a story of one man's hopes. From May 10 to July 26, 1870. Willis Augustus Hodges served as the first African American lighthouse keeper at the Cape Henry Lighthouse.

Kathleen Walls

published 3-6-2022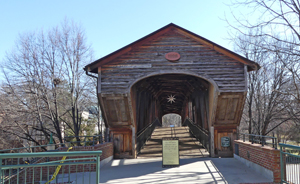 Can you imagine a culture of socialistic church members in a society where the church controlled all aspects of life and owned all property in the settlement and smoking, drinking and partying was forbidden ever finding common ground with capitalistic tobacco manufactures?
Renée S. Gordon
Published 2-3-2022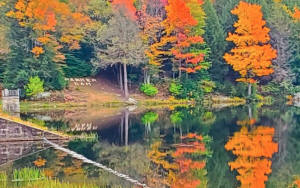 Western Pennsylvania's Clearfield County is as close to a recreational paradise, replete with natural wonders, numerous outdoor activities, unique tasting trails and culinary delights, as any traveler can imagine. All season recreational offerings make any time opportune for a trip to the county's wild side. More than 100,000-acres of State Forest and Game Lands allow sport hunting and game viewing. Those who prefer water-based experiences can choose from more than 250 lakes and rivers in which to fish, swim, boat or canoe.
Kathleen Walls
Published 2-1-2022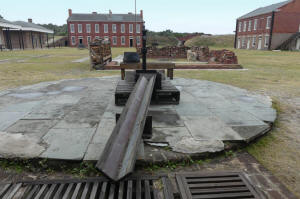 It's no wonder Amelia Island is such an interesting place to visit. The blend of cultures that have created this special place differs from any other place on earth. It lived under eight flags. It was special to people from pre-Columbian Timucuans to pirates and con men, as well as hardworking settlers from many countries. Today, it's a wonderful vacation spot with fewer crowds than the better-known Florida beach towns. Here are just some of the best things to do on Amelia Island.
Renée S. Gordon
Published 1-30-2022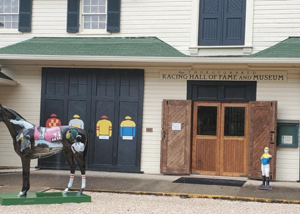 The city of Aiken, named after William Aiken, SC Railroad's first president, was founded in 1835 after railroads entered the area in 1833 and the world's longest line, 136-miles, connected the Savannah River with Charleston. In 1871 Aiken County was formed from portions of four existing counties.

Story by Tom Straka


Photographs by Pat Straka


Published 1-6-2022
The Battle of Ball's Bluff was a small one by Civil War standards, but a consequential one. It occurred early in the War on October 21,1861, by accident, just a couple of months after Bull Run (or First Manassas). The battlefield is on U.S. 15 in Leesburg, Virginia, just before the highway crosses into Maryland on to the Antietam and Gettysburg battlefields. We've passed it many times and recently had the time to visit. It turned out to be a well worth the stop; it is a small battlefield, but an interesting one that abuts the Potomac River. The 300-foot bluff is surprising, while being so close to the ocean, it contains 100-foot cliffs, is covered with outcroppings, and only a single steep trail led up to the top. Union troops had to cross the Potomac River twice to reach the battlefield, as Harrison Island stood in the middle of the river. Union pickets protected the island during the crossing, taking cover behind entrenchments for protection from hostile Confederate fire.
Kathleen Walls
Published 12-17-2021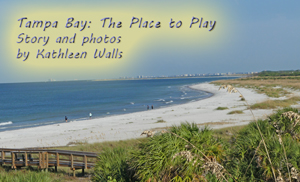 Tampa Bay is one of Florida's most popular playground areas. It has such a variety of attractions even a picky group will find something each party will enjoy.


Horne Creek Living Historical Farm
St

ory by Tom Straka
Photo by Pat Straka
published 12-16-2021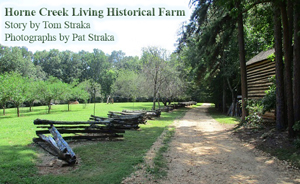 Horne Creek Farm is a living history farm, a North Carolina Historic Site, and the actual Hauser family farm (as opposed to many living history farms that are relocated farm buildings or rebuilt farm buildings). This is the real thing, allowing visitors to experience farm life in North Carolina's northwestern Piedmont circa 1900. The site features the family's original farmhouse (with original furnishings), a tobacco curing barn, a corn crib, adjacent fields under cultivation, and even a heritage apple orchard. The Site also offers programs ranging from old fashioned ice cream socials to an annual corn shucking frolic. There is a visitors' center with exhibits and a gift shop. This living history is a chance to learn about the rural past, a chance to see, smell, touch, and hear things once common in rural North Carolina.orne Creek Farm is a living history farm, a North Carolina Historic Site, and the actual Hauser family farm (as opposed to many living history farms that are relocated farm buildings or rebuilt farm buildings). This is the real thing, allowing visitors to experience farm life in North Carolina's northwestern Piedmont circa 1900. The site features the family's original farmhouse (with original furnishings), a tobacco curing barn, a corn crib, adjacent fields under cultivation, and even a heritage apple orchard. The Site also offers programs ranging from old fashioned ice cream socials to an annual corn shucking frolic. There is a visitors' center with exhibits and a gift shop. This living history is a chance to learn about the rural past, a chance to see, smell, touch, and hear things once common in rural North Carolina.
St
ory by Tom Straka
Photo by Pat Straka
published 12-5-2021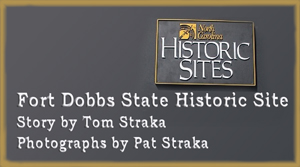 During the COVID-19 pandemic we have visited attractions that were primarily out-of-doors and generally not that far off the highway.Fort Dobbs State Historic Site meets those requirements, being nearly at the intersection of Interstates 40 and 77, just north of Statesville, North Carolina. Most forts in the South were associated with the Revolutionary or Civil Wars. Fort Dobbs is a French and Indian War fort. It is the only state historic site associated with that period in North Carolina. The site is similar to Oconee Station in South Carolina, visited last October and described in an ARGH article, in that it is mainly a blockhouse and it is situated on what was back then the frontier, the foothills of the Blue Ridge Mountains.
Kathleen Walls
Published 11-29-2021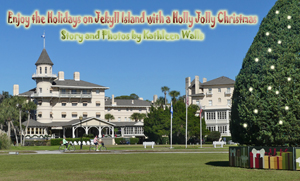 For my friends who have never visited Jekyll Island, the
holiday season is the perfect time to visit. Take a ride on
Jekyll's Holly Jolly Trolley to see over half a million lights
around the island. There are lights from the Historic District
to Beach Village. Trolley riders will enjoy festive holiday
beverages, and sing along to Jingle Bells and other carols. For older stories click here


Public Disclosure-- Please Read

The FTC has a law requiring web sites to let their readers know if any of the stories are "sponsored" or compensated. We also are to let readers know if any of our links are ads. Most are not. They are just a way to direct you  to more information about the article where the link is placed. We have several ads on our pages.  They are clearly marked as ads. I think readers are smart enough to know an ad when they see one but to obey the letter of the law, I am putting this statement here to make sure everyone understands. American Roads and Global Highways may contain affiliate links or ads. Further, as their bios show, most of the feature writers are professional travel writers. As such we are frequently invited on press trips, also called fam trips. On these trips most of our lodging, dining, admissions fees and often plane fare are covered by the city or firm hosting the trip. It is an opportunity to visit places we might not otherwise be able to visit. However, no one tells us what to write about those places. All opinions are 100% those of the author of that feature column.  .  

Renée S. Gordon




Published 11-28-2021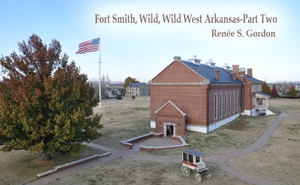 Cherokee Bill was born Crawford Goldsby in 1876 to a Buffalo Soldier and a mixed Cherokee and black mother. Bill's father abandoned the family but at the age of 10 his mother managed to send him to Pennsylvania's Carlisle Industrial School for two years. Stories differ but it is generally believed that he shot his first man at age 12 and soon after joined up with the Cook Brothers for a string of robberies and murders. During his brief career he both led his own gang and rode with other notorious felons such as Billy the Kid.
Story by Tom Straka
Photographs by Pat Straka
Published 11-28-2021
Gristmills were a commonplace in the eighteenth and nineteenth century South. Many gristmills still exist in North Carolina, including a few that still are commercial enterprises. We visited a historical gristmill which includes a surrounding historical district. Murray's Mill Historic District is just ten minutes off Interstate 40 in eastern Catawba County. The mill is on the banks of Balls Creek, with a mill dam and large tranquil mill pond. It is a small historic district, not requiring a lot of walking. Of course, the highlight is an operating 28-foot waterwheel. The District qualifies as a National Register Historic Site. The tour starts at the General Store, which includes goodies, local and regular, and many general store items. There is a porch swing out front if you need to build up the energy for the tour.
Renée S. Gordon

Published 11-14-2021
People tend to forget that America's frontier changed over time. The earliest European settlements were along the coast and gradually settlers and explorers, following Indian trails and waterways, moved inland. Early 18th-century events opened the Louisiana Territory and made western Arkansas the frontier, the last stop between "civilization" and Indian Territory and from 1817 until 1897 Fort Smith was the westerly outpost of law and order.
Kathleen Walls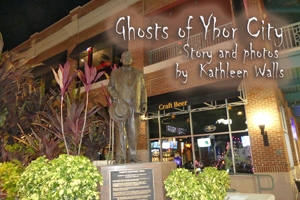 Max Herman of Official Ybor City Ghost Tours introduced me to his "friend," Don Vicente Martinez de Ybor, the cigar entrepreneur who founded Ybor City in 1886. Of course, the "friend" is just a bronze statue, but without him, Ybor City would not exist. Ybor City is like a city within a city. It has some of the most haunted building in America. It's one of only three National Historic Landmark Districts in Florida. Max led me on a terrific ghost tour of Ybor City. The Official Ybor City Ghost Tour is so good it's ranked #1 ghost tour on US City Traveler. One thing that differentiates it from other tours is you go into some buildings, not just look from outside. In addition, my guide told a lot of authentic Ybor City history.
Maybellene's first camping trip went well as far as her performance. The rain both days dampened the trip some but it was a good test. She sprung no leaks. The drive there and back went smoothly. Just wish vans were quieter.
Note: Maybellene turned out to have serious motor problems.Be wary of buying vehicles from Apex Auto in Jacksonville
For more about Maybellene's begiinings.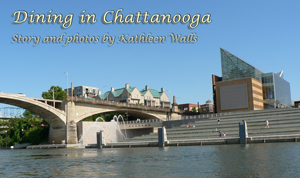 Sure, you visit Chattanooga for the world famous attractions like Rock City, Ruby Falls, and Tennessee Aquarium. You do the less known ones like Naughty Cat Café, Incline Railway, and Bluff View Art District. You fed your soul with these interesting places, but your body needs nourishment too. Here are some choices near the attractions.
Warren Resen
This is a city that continues to amaze, entertain, and educate visitors even those who have previously been here. As a frequent visitor to this old city, I can attest to the fact that there is always something new happening in America's oldest continuously occupied city.
Kathleen Walls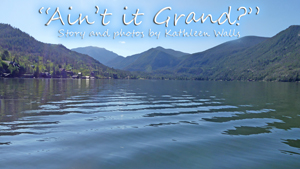 I'll bet the first thing the early Rocky Mountain explorers said when they viewed Grand Lake near the headwaters of the majestic Colorado River with the backdrop of the Rockies framing it was, "Ain't it grand!" I had the good fortune to visit and get out on Grand Lake recently and absolutely agree. Native Americans considered it special long before that. They called it "Spirit Lake" because of an old legend. The Utes and Arapahos were going to war. They put their women and children on boats in the lake and a storm overturned the boats and they drowned. The Native Americans believe the spirits of those drowned people abide there.
Story by Tom Straka

Photographs by Pat Straka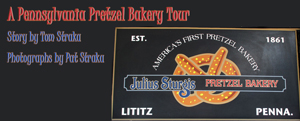 The right factory tour can be a ton of fun and a great learning experience. One of the right ones is the Julius Sturgis Pretzel Bakery in Lititz, Pennsylvania. It isn't a long tour, at just under a half hour (tours are offered every half hour). However, the bakery is located in the middle of Pennsylvania Dutch Country, with plenty of other attractions to fill out a day. The claim is that in 1861 Julius Sturgis opened America's first commercial pretzel bakery in Lititz. More than 150 years later the Sturgis family continues to make pretzels, and the original bakery is now used to give visitors a unique view into the history of pretzel making in America.

Kathleen Walls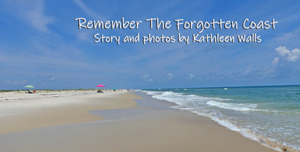 It earned the name "The Forgotten Coast" when it was omitted from a map depicting the local businesses in Florida. Once you visit, you won't forget it. It's in the Big Bend area of Florida and has around 200 miles of uncrowded beaches and fantastic attractions. The food, especially the seafood, is heavenly and so fresh. The local oysters are the best in the world. What you won't find are crowds, traffic, and theme parks. This is REAL Florida.