Welcome to the new issue of American Roads and Global Highways. I'm very proud to announce that my story, Oh God for One More Breath: Retelling Anderson County's Mining History, won finallist in NATJA (North American Travel Journalists Association) Historic Travel competition.
Don't forget to check out our blog. Here you will find timely subjects that occur between regular issues and general travel information.
If you aren't already a subscriber, you may want to subscribe (either via our subscribe page or the subscribe link) because starting now, there will be a special bonus for subscribers. You will receive a free recipe related to one of our features when each new issue comes out. Hint, this issue recipe is a tasty snack with an interesting back story. Another bonus, new suscribers will get a free E-cookbook download.
Agri Lanes
Honeysuckle Tea House: From Farm to Cup
by Kathleen Walls
Honeysuckle Tea House near Chapel Hill, North Carolina is a unique place in today's world. It is a multipurpose gathering place on a farm that serves as an apothecary as well as offering classes, entertainment and a place to enjoy a spot of tea. In today's coffee-conscious environment, they do serve coffee but tea is the star of the show. It's my kind of place since I am probably the only person from New Orleans who doesn't drink coffee.
Sketch Your National Parks
by Anne Jenkins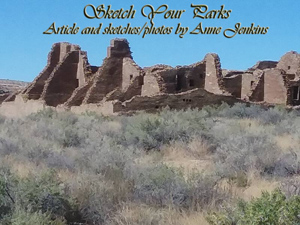 The American National Parks Service (NPS) protects and preserves some of the most stunningly beautiful, dramatic and historic places in the nation. Mother Nature proves, as always, she is the superior artist of all time. The parks, historic sites and monuments are a sketchers dream and the variety is breathtaking. I visit as many as I can and love sketching in them. Some of my sketches turn out great and some not so much. It doesn't matter, it's a wonderful memento of a visit to a majestic place each time.
But Wait, There's More!
by Kathleen Walls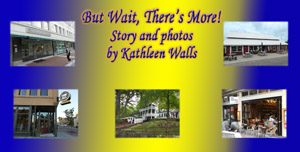 We tend to think of restaurants as separate entities but sometimes restaurants are part of something bigger. Here are a few I discovered in my travels that will offer you more than a meal.
Drop in on Ma Rainey
by Kathleen Walls
The singers of today who gain attention for their outrageous behaviors have nothing on Ma Rainey. Her career spanned the last few years of the 19th and early 20th centuries. Gertrude Malissa Nix Pridgett used the name Ma Rainey after her marriage to Will Rainey in 1904. She performed for a time in the Rabbit Foot Minstrals and then branched out. She was one of the first women African American Blues singers and became known as "Mother of the Blues." I recently visited Ma Rainey's home in Columbus, Georgia now a free museum. It's a two-story clapboard house in a not-fancy section of Columbus.
Biloxi is a Good Bet for a Getaway
By Eleanor Hendricks McDaniel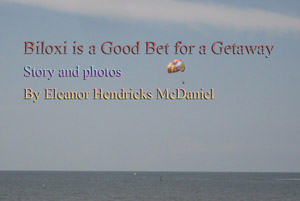 Said to be the best place to gamble in the South, Biloxi, Mississippi is also one of the best places to splash in the Gulf of Mexico's crystal-clear waters. The 62 non-stop miles of shoreline have lured back thousands of visitors. Biloxi is a perfect beach getaway from late spring to late fall.
Linde Marie's Steakhouse on the Square
By Kathleen Walls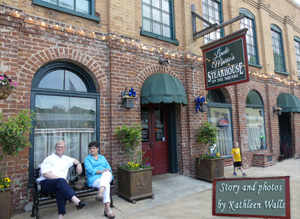 When she opened Linde Marie's Steakhouse on the square in Cave Spring, Georgia in 2013, Linde Marie Wentz is quick to admit "I don't know what I was thinking." One thing she knew was, "It had to be here in this building."
Wondermade: Sticky Fun
By Kathleen Walls
Can you imagine a simple Christmas present turning into a worldwide business? Neither did Nathan Clark when he gifted his wife with a candy thermometer. Nathan explained how that happened. "It all started by accident. Several years back I didn't know what to get my wife for Christmas. I heard this person on NPR talking about that candy is not really so bad for you. I was so-o-o happy to hear that. I eat a lot of candy. They said if you eat a pie you're full but if you eat candy it's so little you still have room.
Abraham Linclon's Birthplace National Historic Park
By Tom Straka
Photographs by Pat Straka

We covered Abraham Lincoln's childhood in Indiana in the Spring 2015 issue and Jefferson Davis in Kentucky (his birthplace) in the Spring 2017 issue, so it seemed appropriate to travel to Abraham Lincoln's birthplace and see if there really is a log cabin there. We did and there is. The location is a National Historical Park near Hodgenville, Kentucky, about 65 miles south of Louisville.

Information Highway ( a different way to promote travel)
Take a Tour
Want to visit fun places but you are not sure what to see there? How about taking a tour that is like having a friend who knows that city well along to take you to the coolest places. You can do that for under $5 now.
History's Highway
Winchester's Wars
By Kathleen Walls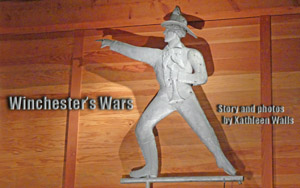 Winchester, Virginia was immersed in three of American's wars, French and Indian War, American Revolution and Civil War. During the French and Indian War and Revolution, it was an emerging frontier. In what is now Winchester a young Colonel George Washington designed and ordered construction of Fort Loudoun in 1756 for protection during the French and Indian War. George Washington spent a good amount of time in Winchester. By the time of the Civil War, the fort had been pretty much dismantled. Many of the houses along Loudoun Street are said to be constructed with material from the fort.
Travel History's Highway
Inn Roads
A Little Bit of West Virginia Heaven: Capon Springs
By Kathleen Walls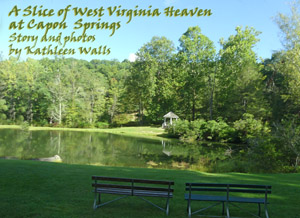 Capon Springs' story began in 1765 when a man named Henry Frye stumbled upon the spring. Of course Native Americans knew of the spring's healing power since they had long used this area as hunting grounds. Today's name, Capon Springs, is derived from the Shawnee word "cape-capepe-hon" meaning "medicinal water." Bur as a white settler with the means to publicize his find, Frye gets the credit. He named the spring Frye Springs and believed that the spring miraculously cured his sickly wife.
Monticello: Thomas Jefferson's Legacy
By Kathleen Walls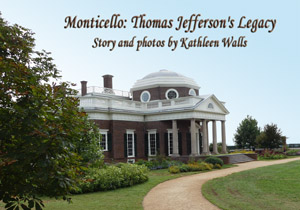 Thomas Jefferson may have been our emerging nation's most controversial figure. He was the major drafter of the Declaration of Independence stating "All men are created equal" yet he practiced slavery at Monticelo. He became our third president and is revered yet, he fathered several children with Sally Hemings, a young enslaved woman.
Patsy Cline: Home is Where the Heart is
By Kathleen Walls
One of the most iconic names in country music history is Patsy Cline. She was the first female artist inducted into the Country Music Hall of Fame. She was one of the first country music singers to have a big crossover hit. "Walkin' After Midnight" reached No. 2 on the country chart and No. 12 on the pop chart. When she was featured on Arthur Godfrey's Talent Scout she topped out the applause meter. Other songs that will always recall Patsy Cline, no matter who the cover artist is, are "I Fall to Pieces" and "Crazy."
Virginia's Historic Legacy
by Renee S. Gordon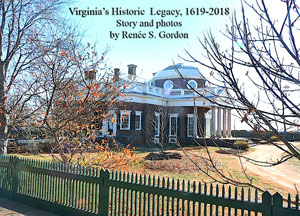 Many people regard Jamestown, VA as the birthplace of the nation because it is the site of the first permanent English settlement in North America. With a deeper look one sees that its importance is much more pervasive and it can better be described as the place where our country's initial courtship took place. Here that our nation's most important "first encounters" occurred and roles and a hierarchy would be established that would have a lasting effect. On May 14, 1607 three ships,
Susan Constant, Godspeed,
and
Discovery
, bearing 104 all male settlers, came ashore on land they called "James Cittie".
Milan, Italy's Cultural Capital
by Renee S. Gordon
Milan, located in picturesque Northern Italy, was established around 400 BC after the Gauls overcame the Etruscans and named it Mediolanum. The Romans conquered the area in 222 BC and in 15 BC it became the Western Roman Empire's capital. It was in Milan that Emperor Constantine I proclaimed The Edict of Milan in 313 AD, announcing religious tolerance for the Christian religion in the Roman Empire.
Scenic road
Saint Augustine's Wild Side
By Kathleen Walls
Saint Augustine has so much to see and do in the historic and food areas. we sometimes forget the magnificent amounts of nature available there. So here are some photos of the best nature has to offer in the Oldest City.
Tibbs Trails and Tastes
Celebrate Southern Cuisine With Miss Kate's Food Tour
By Christine Tibbetts
Road tripping took a new turn in 2017 when a grand way to experience local culture and cuisine launched in a deep south city named Valdosta. (Val-dah-sta)

Interstate 75 frames this Georgia community close to the Florida border and the exit is easy and direct.
Weekend Explorer
Baltimore: A City of Firsts
By Kathy Barnett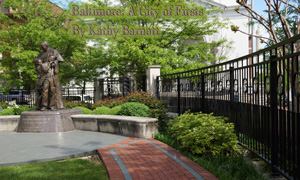 When I visited Baltimore, Maryland recently, I soon learned it is a city full of "firsts." Actually known as a city of monuments, Baltimore is home to the first architectural monument in honor ofGeorge Washington, which stands at 178 feet downtown.The Washington Monument in Washington, D.C., was modeled after the Baltimore version, which was erected in 1829. Architect Robert Mills, who designed and built both monuments, made sure it was known that he was the first native-born American with any architectural training. Upon The cornerstone was laid with great ceremony on Independence Day, July 4th, 1815.
Public Disclosure-- Please Read
I recently learned of a law requiring web sites to let their readers know if any of the are "sponsored" or compensated. We also are to let readers know if any of our links are ads. Most are not. They are just a way to direct you to more information about the article where the link is placed. The hotel link on this page is a paid link, however it is one I feel is very helpful in booking a hotel. I think readers are smart enough to know an ad when they see one but to obey the letter of the law, I am putting this statement here to make sure everyone understands. American Roads and Global Highways may contain affiliate links. Further, as their bios show, most of the feature writers are professional travel writers. As such we are frequently invited on press trips, also called fam trips. On these trips most of our lodging, dining, admissions fees and often plane fare are covered by the city or firm hosting the trip. It is an opportunity to visit places we might not otherwise be able to visit. However, no one tells us what to write about those places. All opinions are 100% those of the author of that feature column.