Bristol: Birthplace of Country Music
Story and photos by
Kathleen Walls
Birthplace of Country Music in Bristol, Virginia/Tennessee has a fantastic history behind it. The Museum tells how country music was recognized as a genre at the famous 1927 Bristol Sessions. It's an amazing story.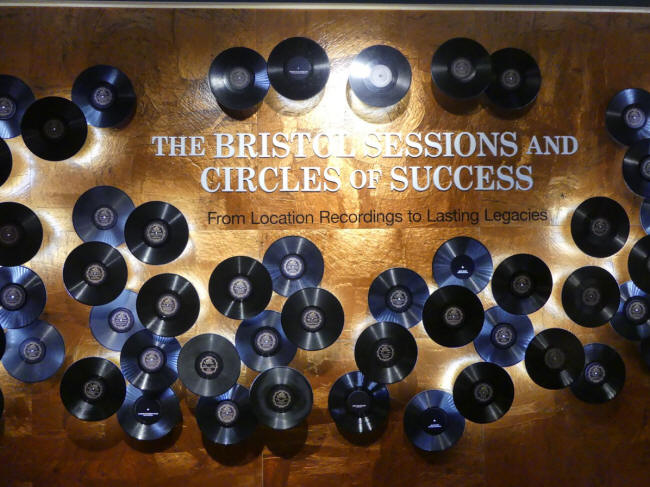 History
Ralph Peer, who was a producer for Victor Talking Machine Company, later RCA Victor, wanted to record "Hillbilly music" using the newest electrical recording equipment developed in 1925. Records were the big new thing then. He asked Ernest Stoneman, who was already playing and recording for Victor with his wife, Hattie, where would be the best place to set up the recording sessions that became known as the Bristol Sessions?
He decided on Bristol because with Johnson City and Kingsport, Tennessee, it formed the Tri-Cities, then the largest urban area in the Appalachians. At the sessions, Peer recorded 76 songs by 19 performers or groups. Particularly interesting is that after we progressed through vinyl records, to eight tracks, cassette tapes, then CDs, now records are once again popular.
Remember, although due to segregation and the mores of that time, music was classified by race, there was already a big crossover of music. The banjo, an African instrument, was common in "Hillbilly bands" of the time. The blues, considered "race music," melded into much so-called white music. El Watson was the only African American artist to record at Bristol Sessions. He recorded "Pot Licker Blues" and "Cold Penitentiary Blues" backed by white musician Charles Johnson, who played guitar on Watson's recordings. Watson, in turn, played bones on a few songs recorded by the Johnson Brothers. These are some of the earliest integrated recordings of country music.
Carter Family
Two of the most revered names in country music came out of the 1927 sessions, Jimmy Rogers and The Carter Family. A.P. Carter traveled around the Appalachians collecting the old-time ballads brought from mostly Scotland and Ireland by settlers both before and after the Bristol Sessions. He traveled the remote areas collecting songs with a Black one-legged guitar player named Lesley Riddle. Riddle had an almost photographic memory. Once he heard the song, he could later write out the music.
A. P., his wife, Sara, and Maybelle Carter, A.P.'s brother's wife, and Sara's cousin, recorded six songs "Bury Me Under The Weeping Willow," "Little Log Cabin By The Sea," "The Poor Orphan Child," "The Storms Are On The Ocean," "Single Girl, Married Girl," and "The Wandering Boy" in Bristol in 1927.
A great place to learn more about the Carter Family is the Carter Family Fold in Hiltons, Virginia.
Jimmie Rodgers
Jimmie Rodgers is known as "The Father of County Music." He's also called "The Singing Brakeman," and "The Blue Yodeler." He was born James Charles Rodgers on September 8, 1897, at Pine Springs, Mississippi, just north of Meridian. Much of his music resembled the blues and there's some cross over with jazz. Louis Armstrong played trumpet in Jimmie Rodgers' "Blue Yodel #9."
Like his music, his life is a mix of triumphs and tragedies. His mother died when he was around six. By 13 he organized singing troupes and ran away twice. His father brought him back, and eventually he went to work for the railroad. It was here he heard the songs of the Gandy Dancer, African-American railroad workers who installed the rails, that were later part of his music. In 1924, they diagnosed him with tuberculous. It ended his railroad job and left him free to pursue his music.
When he heard about Peer's recording session, he applied. He recorded "The Soldier's Sweetheart" and "Sleep, Baby, Sleep."
His museum in Meridian, Mississippi is also a fascinating place to visit.
Museum Exhibits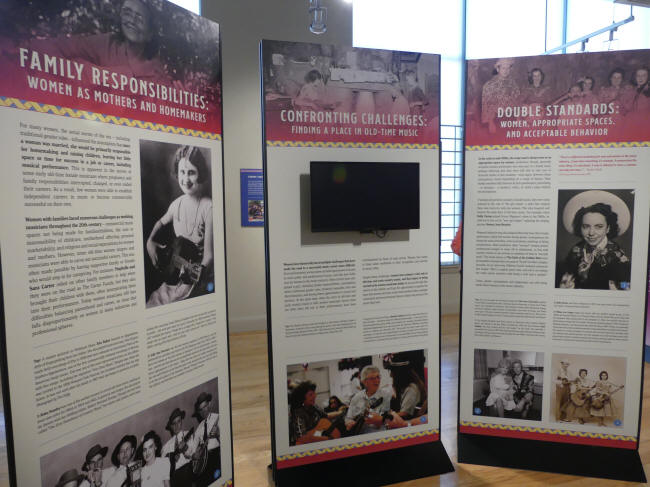 Downstairs there is a special exhibit called I've Endured: Women in Old-Time Music. It showcases women musicians you may never have heard of, like Aunt Samantha Bumgarner and Jean Richey. They tell the story of the banjo, a traditional African instrument. Exhibits show difficulties women had to endure to move forward with music. It showcases some vintage clothing and instrument women wore or played over the years. This special exhibit will be here until the end of this year.
When you first enter the museum on the second floor, you are treated to a video telling the history. Country music, as it emerged in the next few years, was a fusion of the white mountain ballads brought over mainly from Scotland and Ireland and the African-American blues. Many of the exhibits at the museum focus on those early artists.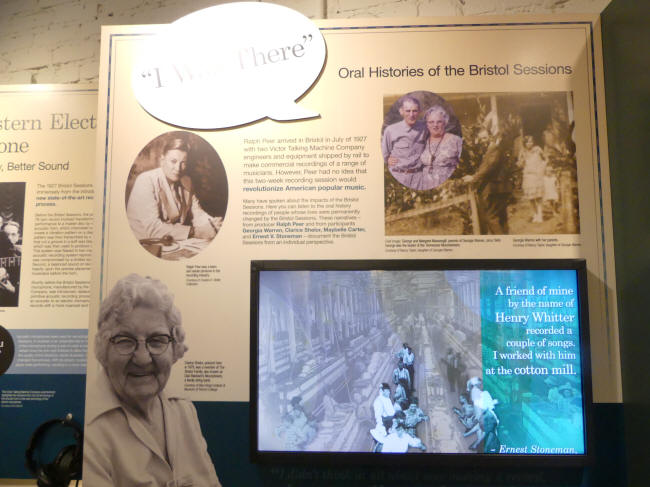 You can listen to the original recordings of many of the Session's songs. There's an exhibit of oral histories of people who were there during the sessions. There is even a studio where you can record your own version of one of the songs.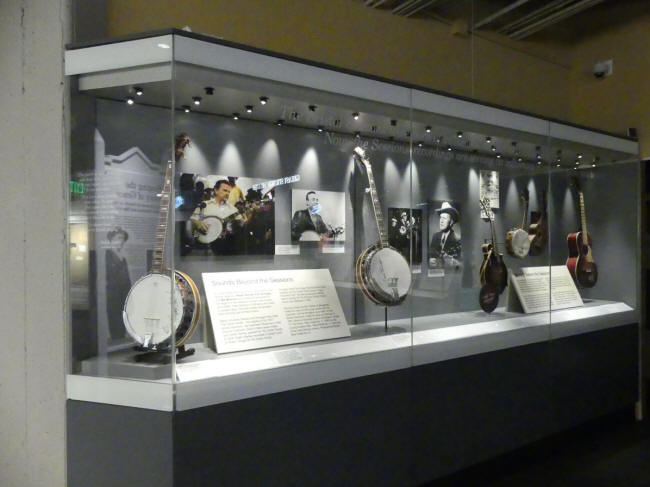 I loved the large collection of banjos at the museum. Many of them belonged to famous musicians, including one that belonged to Earl Scruggs.
Another case is filled with vintage guitars. One guitar was Jimmy Rogers' which he used in his "Blue Yodel #9." Another exhibit has a collection of instruments ranging from Jew's harp, harmonica, mandolin, and many others.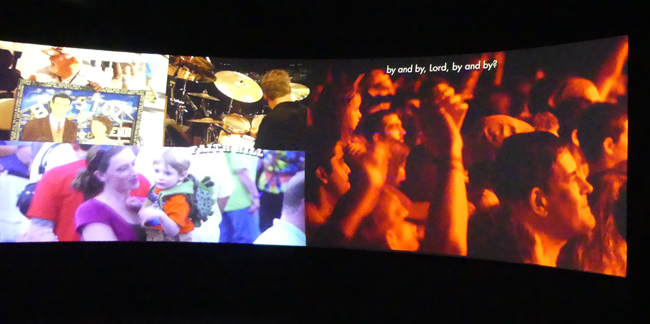 One video at the museum is amazing. In the May the Circle be Unbroken Theater, as the old song plays, the surround screen shows the multitude of musicians who have sung and recorded the song. Beginning with The Carter Family, there is the next generation of June Carter Cash and Johnny Cash, then Willie Nelson, Lynyrd Skynyrd, Bruce Springsteen, The Eagles, and so many others.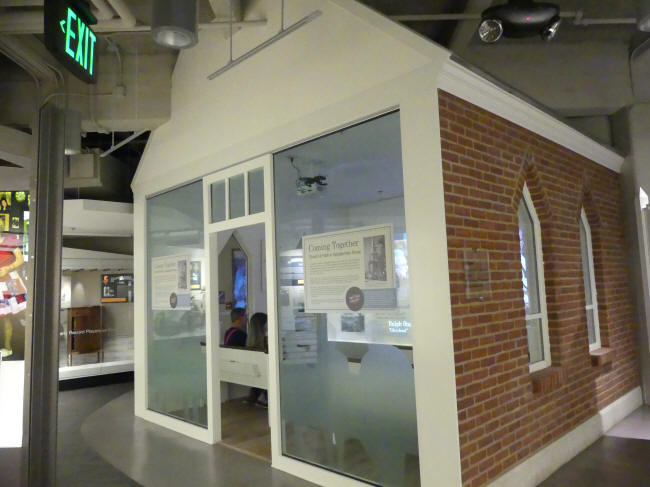 There's an old-time church telling the connection of spirituals with country music.
There is a temporary exhibit about one of Bristol's native sons, Tennessee Ernie Ford. I wasn't aware his song, "Sixteen Tons" caused so much controversy. Mining interests wanted it banned. Aside from his recordings, he was a radio and tv show host.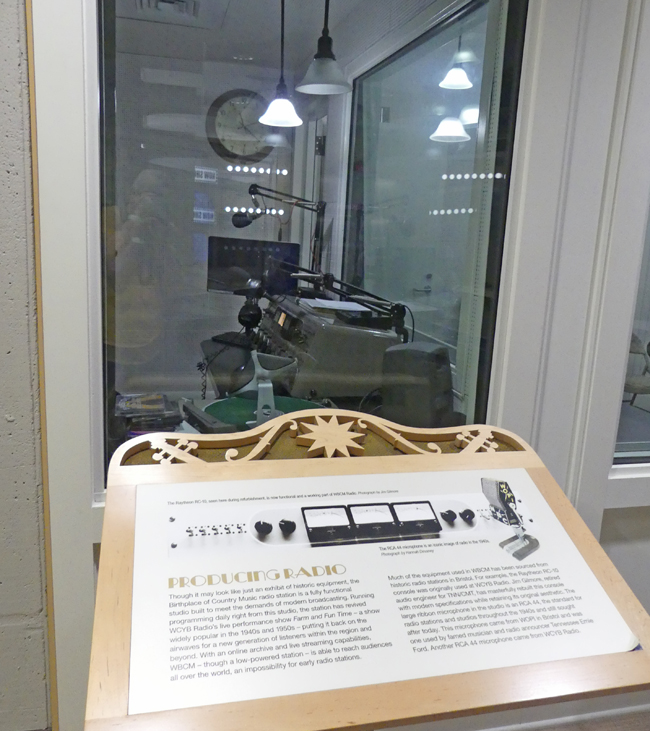 There is even a fully operational radio station that operated form themusuem plus so many interesting exhibits here plan to spend a few hours.
At the Library of Congress National Recording Registry in 2002, they ranked the 1927 Bristol Sessions among the 50 most significant sound recording events of all time and officially named Bristol "The Birthplace of Country Music."
Public Disclosure-- Please Read
The FTC has a law requiring web sites to let their readers know if any of the stories are "sponsored" or compensated. We also are to let readers know if any of our links are ads. Most are not. They are just a way to direct you  to more information about the article where the link is placed. We have several ads on our pages.  They are clearly marked as ads. I think readers are smart enough to know an ad when they see one but to obey the letter of the law, I am putting this statement here to make sure everyone understands. American Roads and Global Highways may contain affiliate links or ads. Further, as their bios show, most of the feature writers are professional travel writers. As such we are frequently invited on press trips, also called fam trips. On these trips most of our lodging, dining, admissions fees and often plane fare are covered by the city or firm hosting the trip. It is an opportunity to visit places we might not otherwise be able to visit. However, no one tells us what to write about those places. All opinions are 100% those of the author of that feature column.  .