Article and photos by Kathleen Walls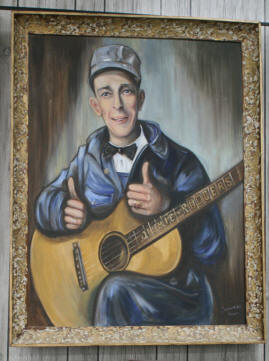 Portrait of Jimmie Rodgers at the museum
Jimmie Rodgers was born on September 8, 1897, in Meridian, Mississippi, with a love of music in his heart. His mother died when he was very young and he was shuttled
off to relatives until his father remarried and brought him back to Meridian. Perhaps he had a premonition that his life would not be long so he started early to follow his dream. By the time he entered his teens, he had already run away twice to do a musical tour.
Not long after this, his father, who worked for the Mobile and Ohio Railroad, got Jimmie his first railroad job as a water boy. He rapidly worked his way up and became a brakeman on the New Orleans and Northeastern Railroad. Then in 1937, fate struck a cruel blow. Jimmie was diagnosed with tuberculosis. It ended his railroad career for a time and gave him a chance to resume his music career.
Once again he began performing in a tent across the Southeast until a cyclone destroyed the tent forcing him to try again to hold a railroad job. He tried in Florida and then in Tucson, Arizona but even the drier climate did not help his illness. Jimmie and his family now including a wife and daughter, moved back to Meridian in 1927.
Later that year, he got his first break. He and another musician were invited to perform on WWNC, Asheville, north Carolina's first radio station. Jimmie was a hit with the station brass and he and his new backup band, the Tenneva Ramblers, were awarded a weekly slot in the station's lineup. Soon they got word that Ralph Peer of the Victor Talking Machine Company was going to be holding auditions in the band's hometown of Bristol, Tennessee. Squabbling about billing caused the band to fracture and Jimmie decided to go it alone with just his guitar.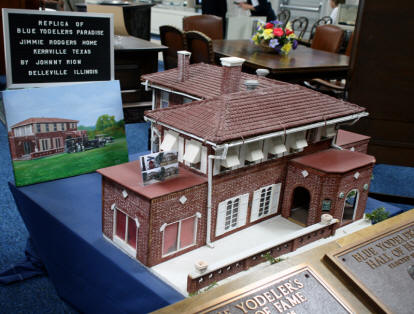 Model of Jimmie's home in Texas
Peer liked what he heard and recorded Jimmie singing "Sleep, Baby, Sleep" and "The Soldier's Sweetheart." The recording had only modest success but Peer still believed he had found a winner and had Jimmie record four songs next session: "Ben Dewberry's Final Run," "Mother Was a Lady," "Away Out on the Mountain" and "T for Texas," originally released ad "Blue Yodel."
"T for Texas went over the top and sold almost a half million copies. Jimmie was now a star. But being a household word did not help in his battle against tuberculosis. He continued to pursue his career in spit of the illness. He starred in a movie, The Singing Brakeman, and continued to record and tour. He teamed up with some big names. touring the Midwest with Will Rogers and recording recorded "Blue Yodel No. 9" (also known as "Standin' on the Corner") with an up and coming jazz trumpeter named Louis Armstrong. He continued doing a weekly radio show in San Antonio Texas where he was then living but the illness was taking its toll.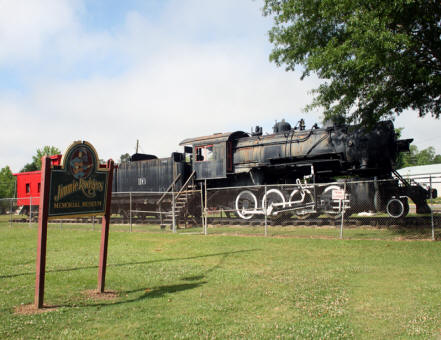 Train in front of the museum recognizes Jimmie's other career
In May, 1933, he began a recording session in New York where he recorded
four songs. A few days late, he returned to the studio much weaker. He managed to recorded a few songs, including "Mississippi Delta Blues."
When it came time to do the last song of the session, the very weak singer recorded the powerful "Years Ago" with just his voice and his guitar. Three days later Jimmie Rogers
was dead.
But he was not forgotten. No, a talent like his lives forever. He is remembered around the world as the Singing Brakeman and the Father of Country Music. The Jimmie Rodgers Memorial Museum in Meridian keeps that memory alive with the exhibits commemorating the legacy of a young man who died too soon and a musician whose music still lives in the hearts of his fans. Jimmie Rodgers was one of the first three musicians inducted into the Country Music Hall of Fame shortly after it was established in 1961 (the others were music publisher and songwriter Fred Rose and singer-songwriter Hank Williams). He was elected to the Songwriters Hall of Fame in 1970 and the Rock & Roll Hall of Fame in 1986. He was posthumously inducted to the Blues Hall of Fame in 2013.
His music lives on in all the musicians who cover his original hits including, "In the Jailhouse Now" rereleased by Webb Pierce in 1955 was the only Rodgers cover to reach No. 1 on the country charts, a position it held for twenty-one weeks.. "T for Texas (Blue Yodel No. 1)" was performed by Lynyrd Skynyrd on his 1976 album, One More from the Road. His popularity is not confined to the United States or country music singers. In 2010, Elton John and Leon Russell released the album The Union with a song entitled "Jimmie Rodgers Dream" on it. Nor is it limited to music alone. The 1982 film, Honkytonk Man, directed by and starring Clint Eastwood was loosely based on Jimmie Rodgers' life.
Jimmie's guitar
Susan Parker, the museum's director, is the granddaughter of

A.G. "Flats" Davis who was instrumental in starting the annual Jimmie Rodgers Memorial Festival.

"I'd known about Jimmie Rodgers all my life, but I didn't know that my grandfather was one of the first people to support the festival," she said. "He was a railroad man, like Jimmie Rodgers, and the festival was started as a way to memorialize Rodgers as well as to honor the railroad men of the past."
Susan was a quick study as she does a superb job of bringing the memorabilia in the museum to life. If you have a question she is the one to take it to as she will answer it and then tell you at last a dozen more related facts about Jimmie Rogers' life you haven't even thought to ask.

When you visit the museum, you glimpse not only Jimmie Rodgers life but a way of life that is long gone. The museum is filled with items from Jimmie Rodgers' homes and music career. His favorite guitar is one of the most priced items in the museum. It has been valued at over a million dollars and considered one of the most famous and most valuable.
His beloved, custom-ordered 1927 Martin 000-45 with his name in pearl inlay on the neck and "Thanks" written upside down on the back The 000-45 is the one he was often documented recording or performing with; he became known for flashing 'Thanks' to the audience to show his gratitude. It was his personal favorite. If you look inside the sound hole you'll see a note that says: "To Jimmie Rodgers, America's Blue Yodeler, with all good wishes--C. Fredrick Martin III July 27, 1928."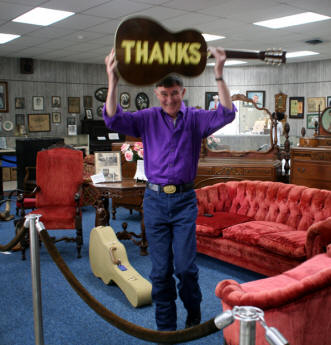 Britt demonstrates a popular Jimmie Rodgers moment
After his death, Rodgers' widow loaned the 000-45 to Ernest Tubb, who played it for forty years. It was later donated to the Jimmie Rodgers Museum where you will see it in a safe behind glass.


Britt Gully, who is no slouch as a musician either, may be found at the museum. He is considered
one of the very best interpreters of Jimmie Rodgers music. Martin made a replica to commemorate the 100th birthday of Jimmie Rodgers. They gave the first one to the museum. If you are lucky, Britt may play it for you.
Whether you are a fan of Blues, Country or Rock, Jimmie was the genesis of all these forms. The truly amazing thing is that his career only spanned six years. You could spend almost that long browsing this museum. Well, maybe more like six hours. It's a don't miss place.
For more info: