Cleveland's Rock and Roll Hall of Fame
Story and Photos by
Kathleen Walls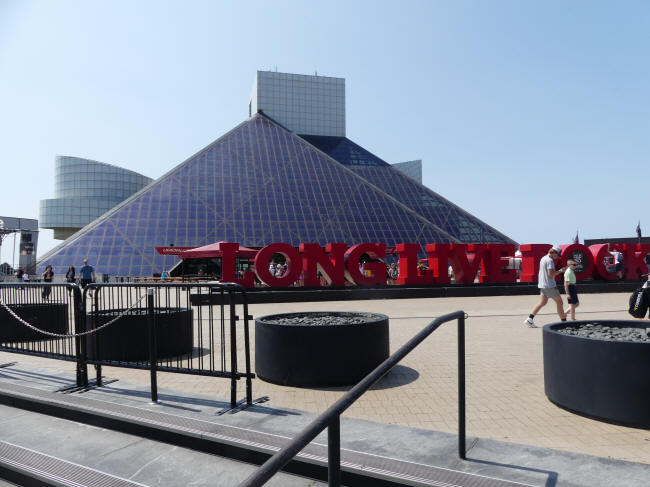 I just visited Cleveland's Rock and Roll Hall of Fame. It's an amazing time travel trip into American music. Sure, it's about rock and roll, but remember rock and roll evolved from blues and country with many other genres adding a touch or two. What I love about the museum is that it takes that into consideration and showcases those early influences. Over the years, they have inducted many influencers, including Sister Rosetta Tharpe, Ma Rainey, Robert Johnson, Hank Williams, Bob Willis, and countless other musician whose music led to rock and roll.
Background

The Rock and Roll Hall of Fame started in as an idea by Ahmet Ertegun and Jann Wenner, co-founders of Atlantic Records and Rolling Stone Magazine, respectively. It was just a concept originally and had its first class of inductees in 1986. Elvis Presley, James Brown, Little Richard, Fats Domino, Ray Charles, Chuck Berry, Sam Cooke, the Everly Brothers, Buddy Holly, and Jerry Lee Lewis were inducted.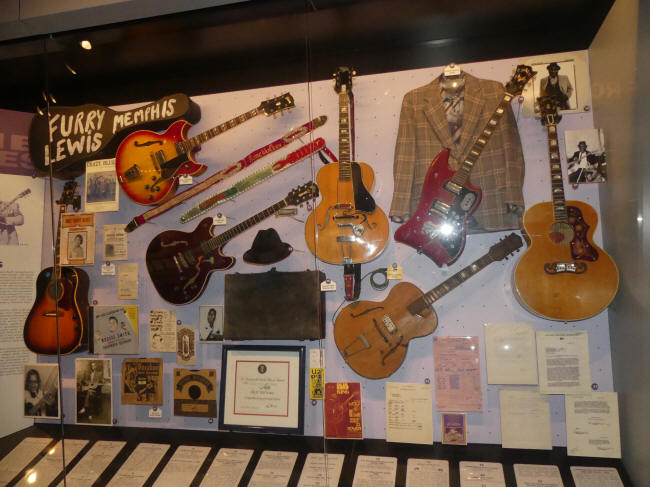 When they decided to open a museum, they considered many locations. Each had a unique connection to rock and roll. Cleveland won because of Alan Freed, a Cleveland disk jockey. In 1951, he was the first to call the style "Rock and Roll" on the radio. The unique pyramid style building designed by I.M. Pei, opened in 1995.
Jason Hanley, Vice President of Education and Visitor Engagement at the Rock and Roll Hall of Fame, He made a point that needs to be mentioned when you think of rock and roll. When we spoke of "the first rock and roll song," he said, "There isn't any."
I agree, since so many early songs had equal elements of what we consider rock and roll. Jason pointed out, "One of the earliest songs that has the words 'rock' and 'roll' in it is a blues song by Trixie Smith in 1922, 'My Man Rocks Me (With One Steady Roll).'"
Exhibits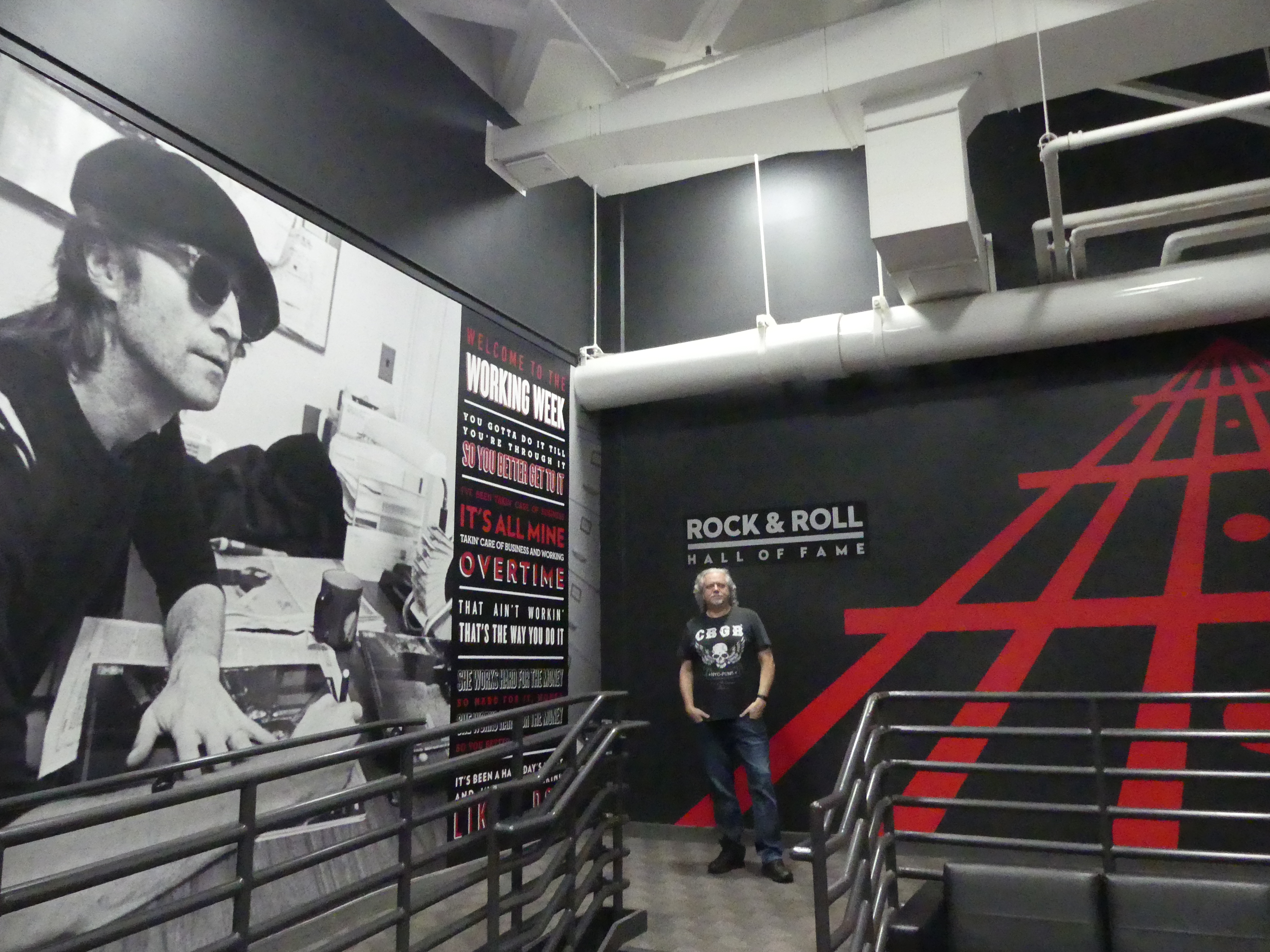 I could feel the musical vibe when I entered on the first floor. It's where the gift shop and café are located. But just like most musicians starting out, the journey begins at the very bottom in floor zero.
The museum continues recognizing the music that evolved from rock and roll. Start with its newest exhibit "Holla If Ya Hear Me" celebrating "Hip Hop at 50." Yes, it's hard to believe hip hop has been around that long.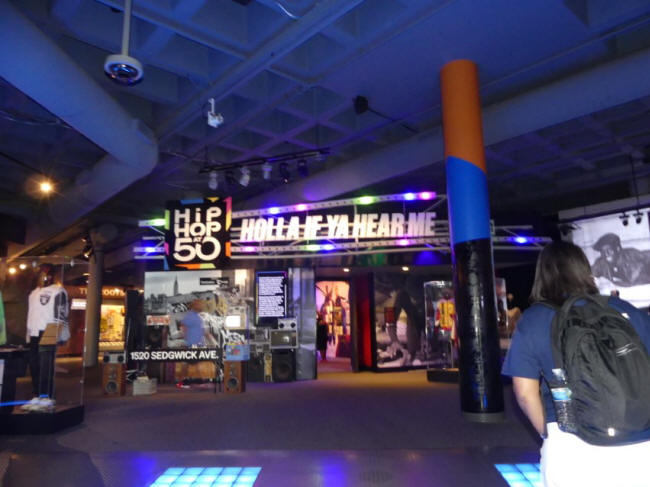 You move to the roots of rock and roll, early blues, and country music, to Johnny Cash, Elvis and the Beetles. Exhibits showcase music as it evolved in different areas like Detroit, Muscle Shoals and other places where music made an impact.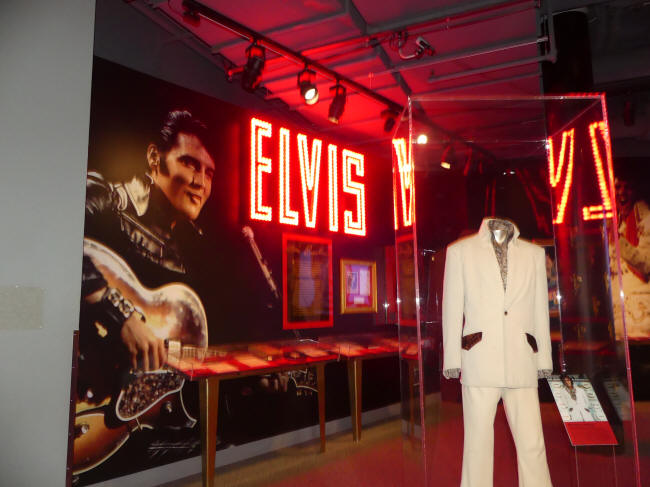 It's hard to pick a favorite exhibit in the museum. Of course, the Elvis exhibit with things like his motorcycle and instruments is fascinating.
Another that made a big impact is the Chuck Berry "From School Days to Blueberry Hill, Chuck Berry in Saint Louis" one. It has his guitars and clothing.
An educational one many of us have forgotten and younger people may not know about is the exhibit "Don't Knock the Rock." The exhibit has videos and artifacts telling how many politicians and preachers tried to stop rock and roll by calling it evil.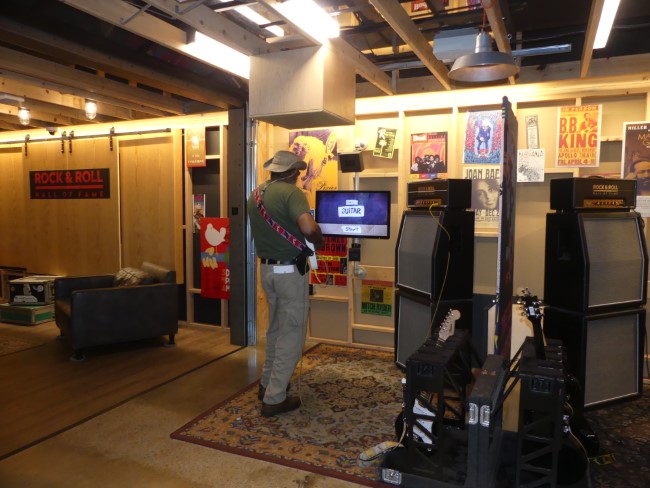 The second floor is the most interactive. Here you find The Garage where you can pick up an instrument and play or get together with friends and jam in a real studio with all the instruments.
The third floor is the holy grail, the Hall of Fame. Visit the Power of Rock Experience in the Connor Theater that showcases some highlights of induction ceremonies.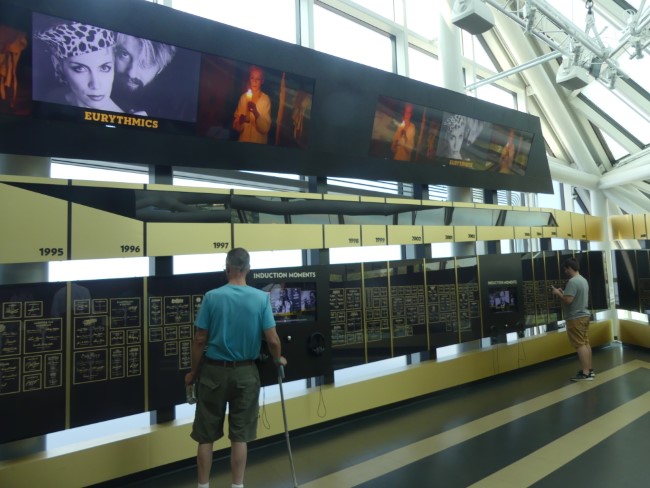 The fourth floor is a recreation of Pink Floyd's Wall based on his Berlin performance July 21, 1990. Fifth and sixth floors have artifacts in "Legends of Rock," including handwritten drafts of hit songs, instruments they used in concert and even several rockers' pinball machines.
Conclusion:p>
Anyone who loves any genre of music will love this place.