Agri-Tourism
Kathleen Walls
When most people think Louisiana plantations, cotton is what comes to mind. However another crop, sugar cane, was a staple. West Baton Rouge Museum tells the story of Louisiana's sugar cane industry. A trip through the museum and its many historical buildings that make up its campus is a tour through time. It gives a glimpse of life back through the years for 300 years from the Antebellum though the struggle for Civil Rights. Read more.
Tom Straka
There are many interesting historical and natural attraction located just a few miles off the interstate; one is a fantastic botanical garden just ten miles from the exit on Interstate 85, halfway between Atlanta and Charlotte. It is Clemson University's South Carolina Botanical Garden, which is much more than the standard botanical garden. All the traditional plant-focused things are there, but a lot more, like a special natural heritage trail that allows the visitor to transect the natural plant habitats of the state in just a half-mile.
Read more.
Kathleen Walls
If an apple a day really keeps the doctor away, R and A Orchards in Gilmer County, Georgia can keep you in perfect health. In this era of not knowing where our food comes from, it's a pleasure to visit a real family run orchard and produce store. Not just for the apples. They also grow peaches, corn, cabbage, green beans, strawberries, blackberries, tomatoes, and lots of other produce on about 146 acres.
Read more.
by Kathleen Walls
National Butterfly Center in Mission, Texas, a small town near the southern border, is a modern day Garden of Eden. It is a favorite spot not only for butterflies but birds and other wildlife species. This 100-acre preserve is the largest native plant botanical garden in the country. Read more.
by Kathleen Walls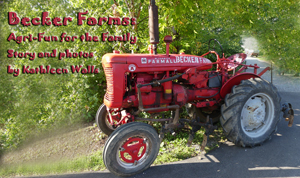 Becker Farms in Gasport, New York, just a short drive from Niagara Falls is the kind of place every community needs. Imagine farm fresh and U-pick produce coupled with locally produced beer and wine. Add to that rental cabin for a romantic weekend and all kinds of events and you have a perfect agri tourism spot.
Read more
by Kathleen Walls
In Great Valley, New York, Pumpkinville marks the fall season. Every September, fall fun lovers of all ages await the opening of Pumpkinville on the third Saturday of September. It runs through Halloween. The attraction, a cross between a roadside pumpkin seller and a festival, began in 1968 when Joseph and Helen Holloran started selling pumpkins at their roadside stand. Dan and Diane Pawlowski, who took over 23 years ago, open the event for its fiftieth year this season. Each year there is something new.
Read more
by Kathleen Walls
Real farms are rare treasures. Those pleasant homes with a family living in the midst of real farm animals, crops they planted themselves with cats and dogs to share the space have mostly been replaced with huge corporate offices where someone orders the planting done by huge machines manned by workers who
are bused to the site then returned to the city after the day's work is done. The office workers only know the animals they are raising by the number and type. That's why it's such a treat to visit a real farm.
Read More
| | |
| --- | --- |
| | Connect with us. |