Published 9-16-2019

Who knew there is so much to see and do in Woodstock, Georgia? Just visited it with Travel Media Showcase this year and discovered a treasure. It began with the Georgia Gold Rush and grew when Marietta and North Georgia Railroad built a depot there in 1879. There are a couple of legends about the city's name. One is that the city was named for Sir Walter Scott's book by that name. Another theory is that this was a train stop to restock their wood to power the engine. Wherever the name came from, Woodstock was incorporated in 1897 and has been growing ever since.
History and legends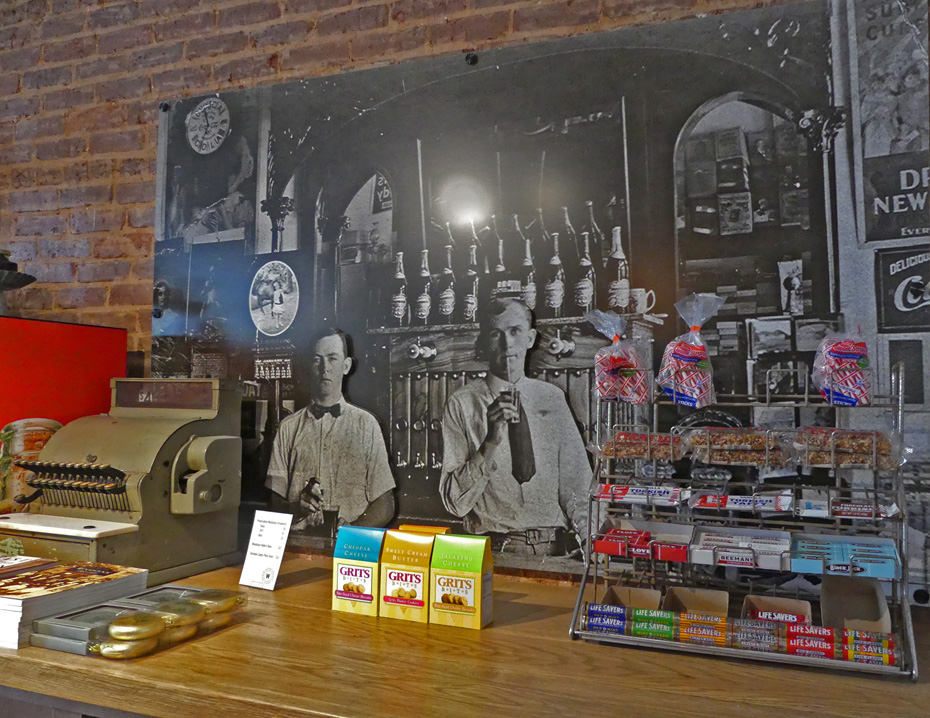 One of the places we visited and a perfect place to start your visit is the Visitors Center. It was once Dean's Store, a pharmacy and general store for 75 years much of its history is preserved. Loved hearing about Mr. Dean who operated the store from 1906 until his death at age 95 in 1981. He and his father, Dr. Will Dean, opened it originally as a pharmacy but Dr Dean died a few months later and as the store had no medical license, it could not be a pharmacy. Mr Dean stocked many over the counter medicines including my worst-hated remedy when I was a kid, Castor Oil.
Today, there are artifacts still in the building going back to its general store days. It remains in the Dean family and is the Woodstock Visitors Center.
Like many old towns, the railroad helped create the town. The current depot, located in historic downtown Woodstock, was built in 1912 to function as a passenger and freight depot. For the past several years it operates as a restaurant, Freight Kitchen and Tap.
One of the town legends relates to a Bob, a turkey that once roamed Woodstock's Main Street. People had a love/hate relationship with the town turkey but when he met his demise in a hit-and-run accident, one resident, Diane Geeslin, was devastated. She started a project and hired artist Bruce Weinzetl of Acworth to create a memorial stature to Bob. It now stands in a prominent location on Main Street near his former haunts.
The town's 1914 jail is preserved and is now Salon Bastille, a French inspired hair salon. It still preserves the original iron bars and warden's keys.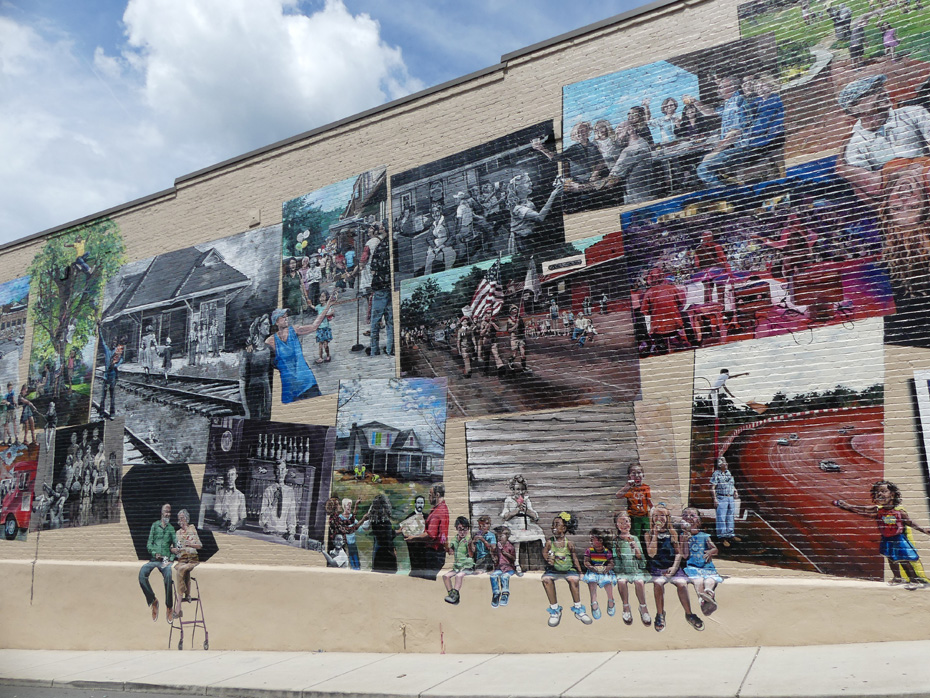 "Woodstock Community Mural" on the Mill Street side of 100+ year old Woodstock Pharmacy relates much of Woodstock's history. It was painted by local artist, AnnaLysa Kimball.
Outdoors
Murphs Surf took us kayaking on Little River to the falls on Lake Allatoona known alternately as Cherokee Falls or Allatoona Falls. We started at Old Rope Mill Park, once the site of a cotton mill that made rope, today a wonderful green space with trails and a kayak launch point and hiking and bike trails.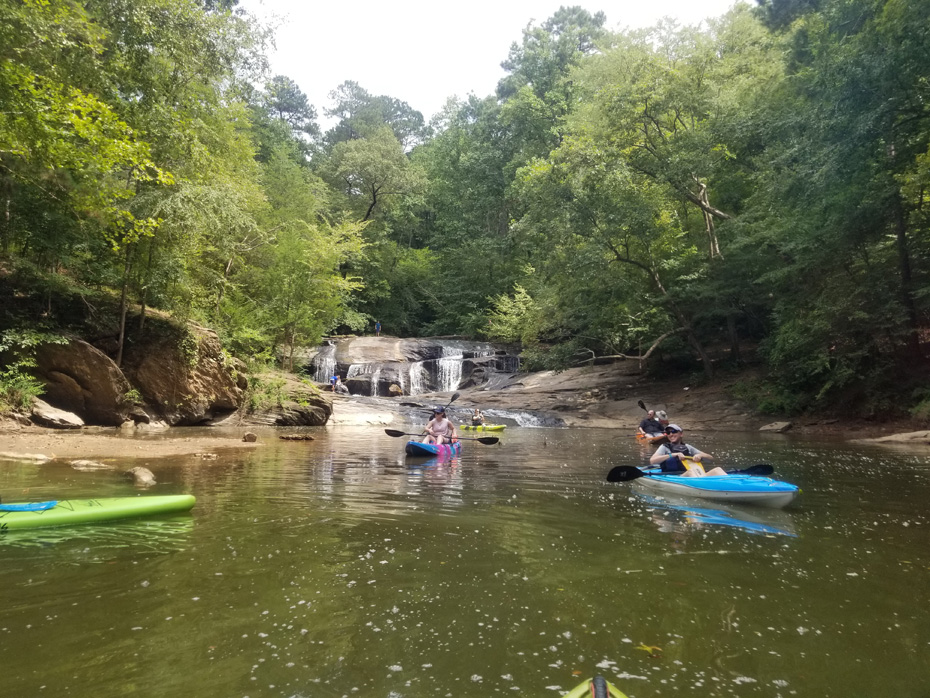 We paddled downstream about a mile and a quarter. The beginning is not so pretty as there are highways and a sand plant that forces you to paddle though one small opening in their dredge equipment but the river then opens up and the falls are gorgeous.
Woodstock has several walking/biking trails. Two good ones are Noonday Creek Trail and Towne Lake Pass. Towne Lake Pass begins at Woofstock Dog Park and connects with Noonday Creek Trail. Both are either paved or board walk throughout so they are handicap accessible. As almost everything in Woodstock, they are very dog friendly.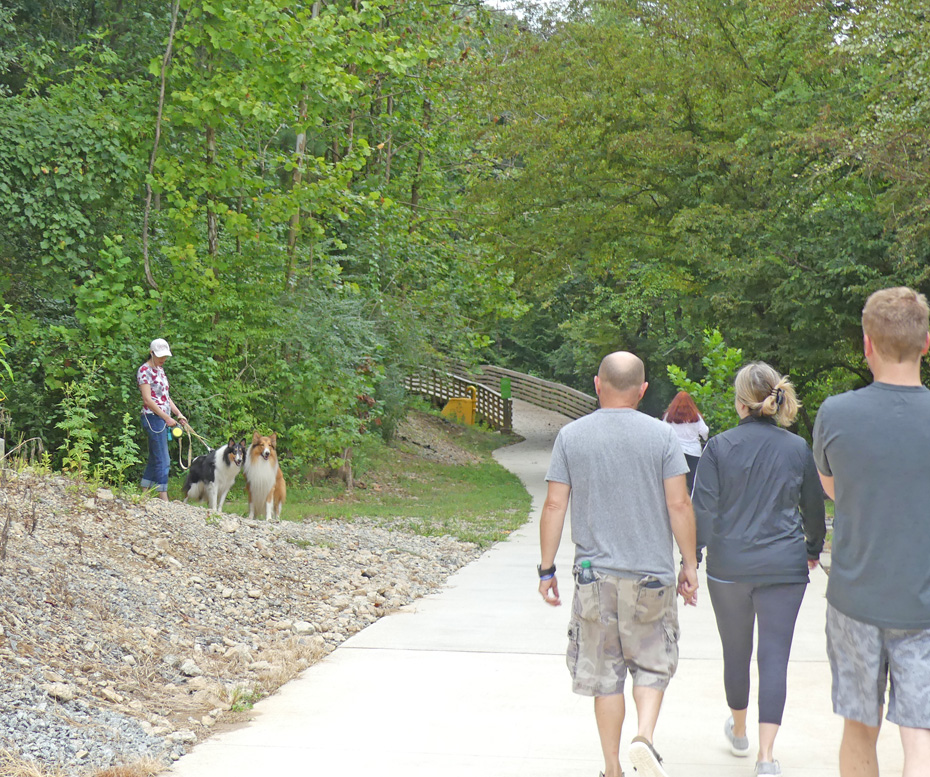 Noonday Creek Trail follows Noonday Creek and ends in downtown Woodstock. Both trails are filled with beautiful flora and some birds. We even caught a glimpse of a chipmunk.
Shopping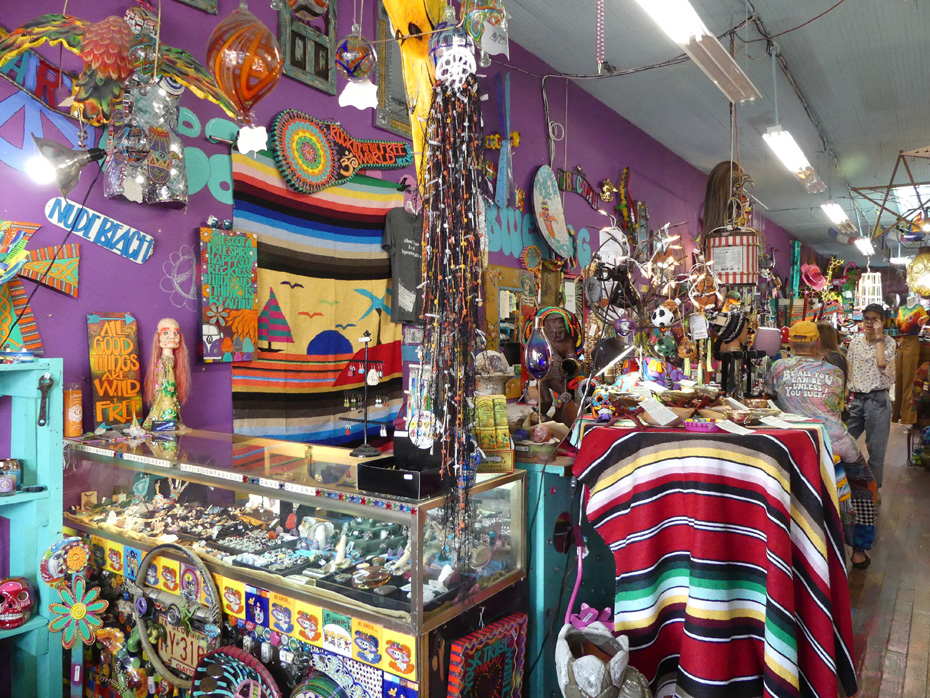 For those of you who left enough room in your luggage for some shopping, there are lots of shopping choices. Downtown is filled with boutique and unique shops like Blue Frog Imports, Little River Clothing Company, and Foxtail Books.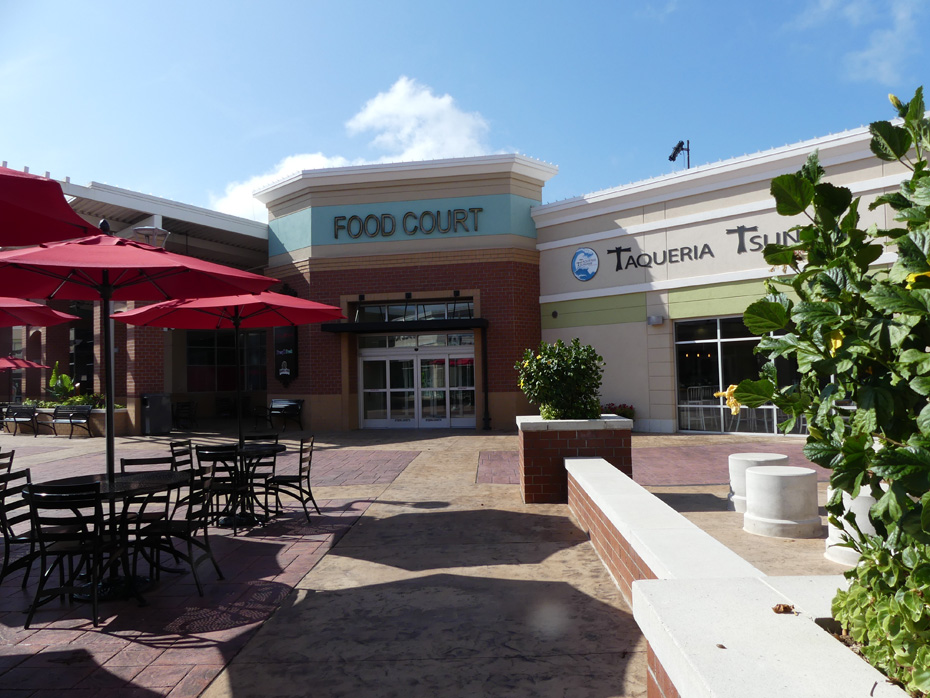 Outlet Shoppes at Atlanta is located in Woodstock. Not only does the mall have tons of shops, it is a designated entertainment zone which means you can purchase an adult beverage at one of the restaurant/bars and carry it with you throughout the mall.
Food
One restaurant you may want to try while there is De Allende Mexican Kitchen & Tequila Bar. The restaurant is inspired by the art and cuisine of San Miguel De Allende in Guanajuato, Mexico. If the food wasn't so tasty, you could wander around and admire the art on the walls.
But the food and drink commands respect here. The drink menu, specializing in a large variety of Tequilas and Mezcals, is made with freshly squeezed juices. The bar is extensive.
The food stands up to the drink's competition. You start with a generous helping of corn tortillas from organic, non-GMO corn grown in Mexico. I found out that their corn is processed using a special method called nixtamalization which removes any tozins that may have gotten into the plant. Dipping them into the flavorful salsa or a creamy cheese dip is a treat to your taste buds.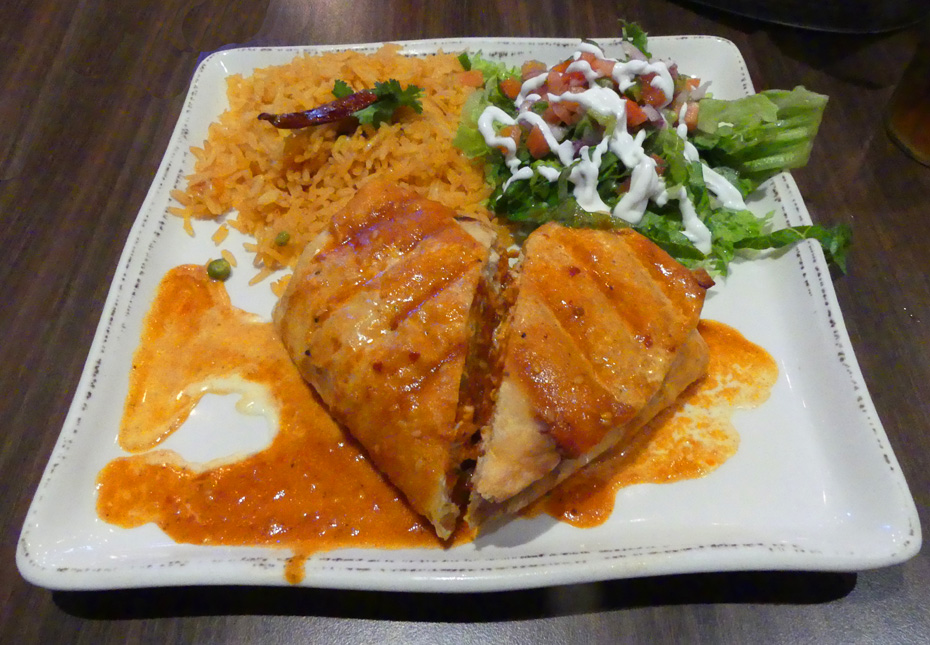 Appetizers ran the gauntlet from Cervechi, Sopecitos, and Coctel de Camaron, a type of shrimp cocktail in a tomato broth. Entrees ranged from typical Mexican tacos and burritos to street food and more. I had their Chimichanga with shredded chicken served with lettuce and Spanish rice. Yummie!
They follow through with desserts too. We shared a tasty dish with churros, whipped cream and chocolate dip.
There is food for every taste in Woodstock. If you want fresh and farm grown visit Woodstock Farm Fresh Market. The rules for sellers requiring vendors to grow at least 85% of the product they bring to the market so you know it's really local and fresh.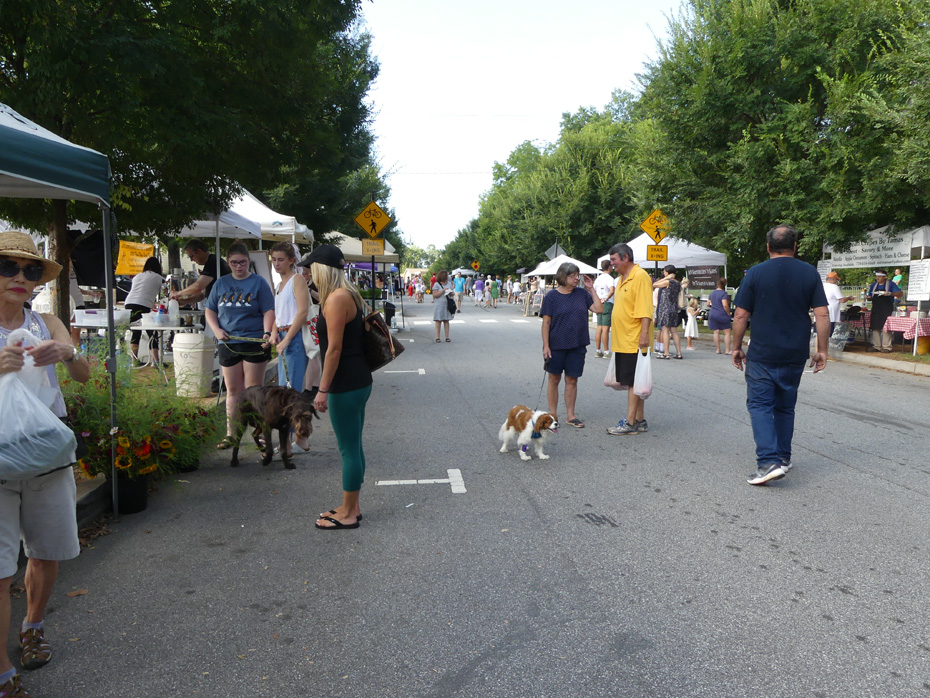 The market is held every Saturday from April 20 through December along the town square and it is pet friendly so you can bring you best friend along. Sometimes they feature cooking demonstrations from local chefs and live music. This year there is a Tuesday Evening Market in the Backyard at Reformation Brewery May through August.
I visited the Saturday market and found some culinary treasures. I bought some local honey with the comb that is often hard to find. The heirloom tomatoes and baby zucchini squash brought back fond memories when I enjoyed them a few days later. The homemade soap has a delicious fragrance.
There is so much there you want to take it all home but especially if you are on the road it's hard. There is a wild mushroom forager, pet treat maker, lye soap maker and so much more. I even spotted some peaches from one of my favorite Georgia orchards in Ellijay, GA, R and J Orchard which just won "Best Orchard in Georgia" competition.
Vingenzo's is an Italian treasure in the middle of Woodstock's downtown entertainment district. Entertainment district here means you can buy an adult beverage and carry it around the entire place from one restaurant to another.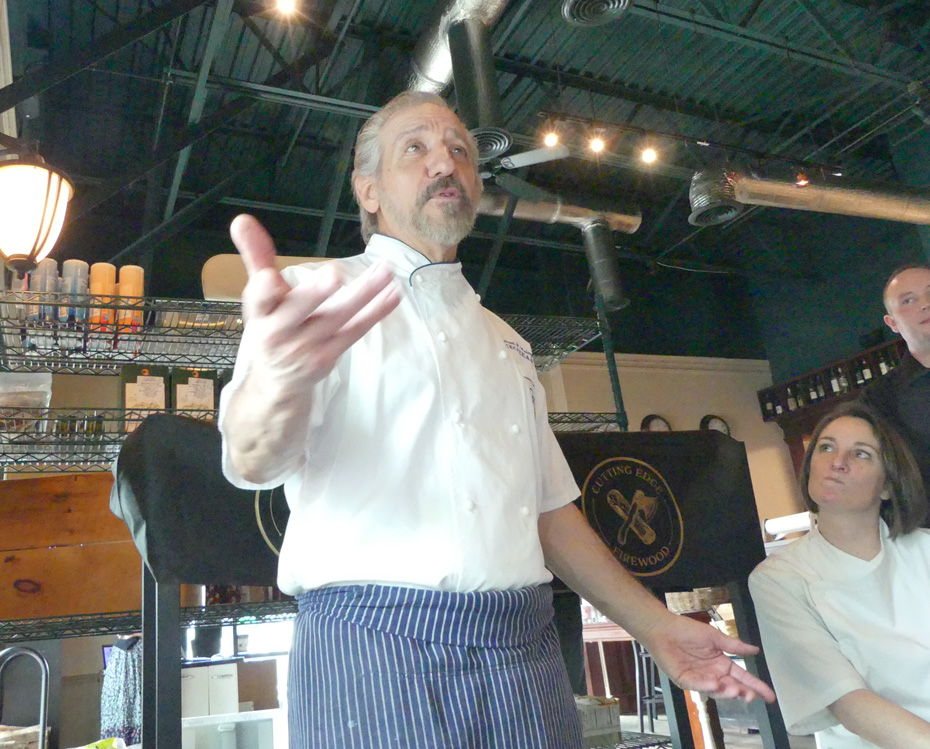 We all know a good chef likes to buy local. But imagine a chef cooking authentic Neapolitan food in the heart of Georgia. Vingenzo's Chef Michael Bologna solves that problem by taking a trip to Naples Italy twice a year and brings back special water and other Italian items to make a genuine Naples pizza.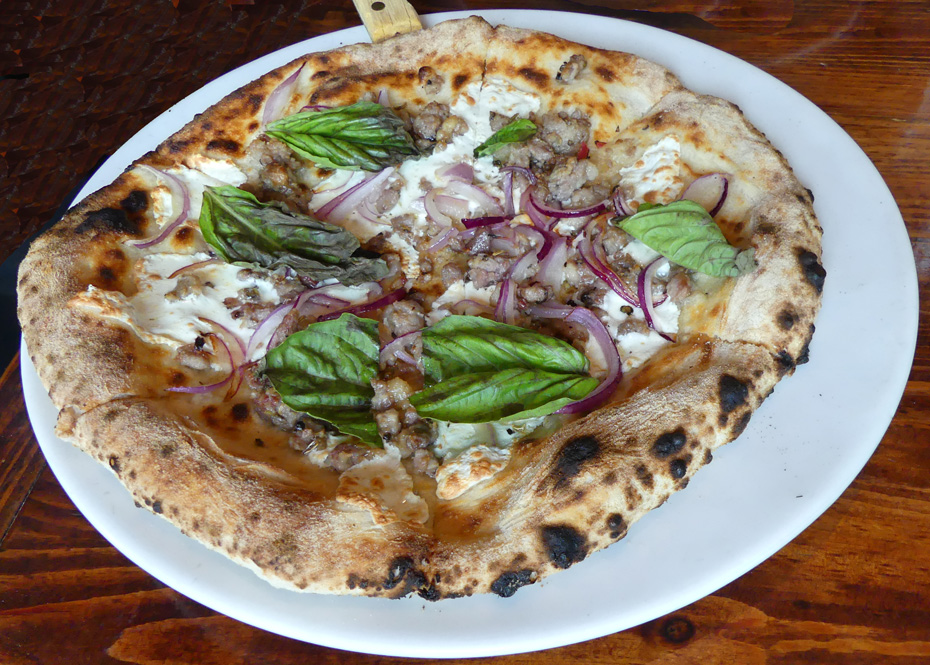 That and the attention to preparation and cooking result in the best Italian pizza ever. This place rates its own story which is right here.
To reward your sweet tooth visit the Pie Bar. Laurie opened it about four years ago and it's easy to taste why it is so successful. You can buy whole pies or by the slice and naturally coffee or tea to go with the delicious sweets. I had the Bourbon Chocolate Pecan Pie. Can't go wrong with three of my favorite things.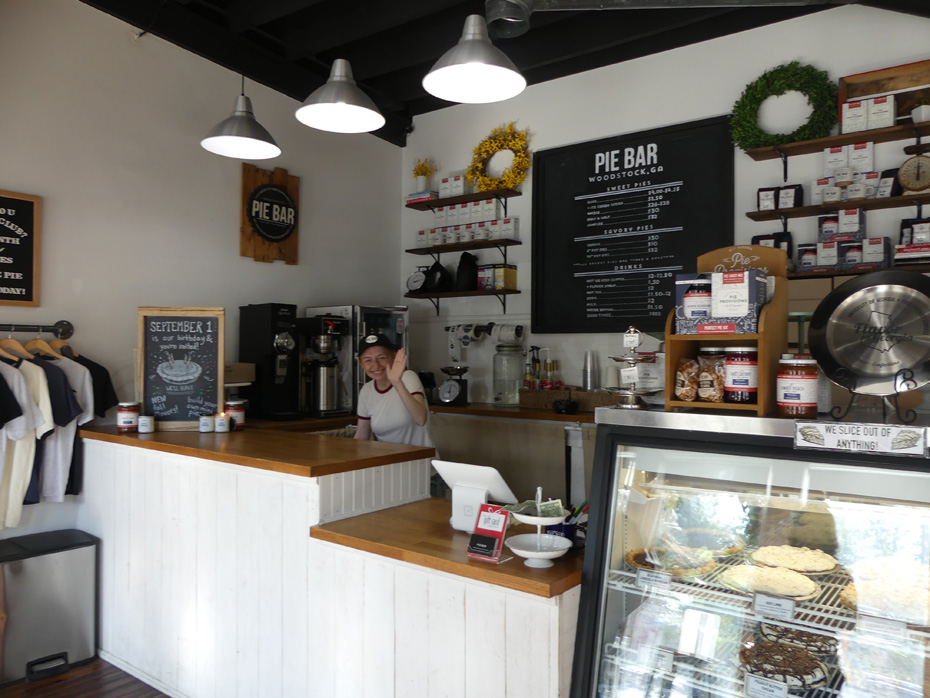 Century House Tavern is as interesting for its history as its fabulous food. Built in 1894 by George Fowler and then owned by the Hubbards from the 1940's until 2004. The stories told by both Chef Stoney Morris and Brian Stockton, Woodstock's Director of Economic Development, involves the late Mrs. Hubbard. Chef Stoney Morris said, "Mrs Hubbard still lives here and she helps me out in the kitchen sometimes. I'll see her walk around the kitchen and I think she is trying to help me do dishes. I don't get angry, I just say 'you just go ahead and wash.'"
Brian's story told about several times he and his wife were one of the last diners at Century House Tavern. "We were sitting on the other side of the bar and we knew the story about Mrs. Hubbard being against alcohol and the bar being located where her bedroom was. We were talking to the bartender and the first time a mixing cup went shooting straight up in the air. The other time no one was near where they keep their martini glasses and three of them went flying off the rack."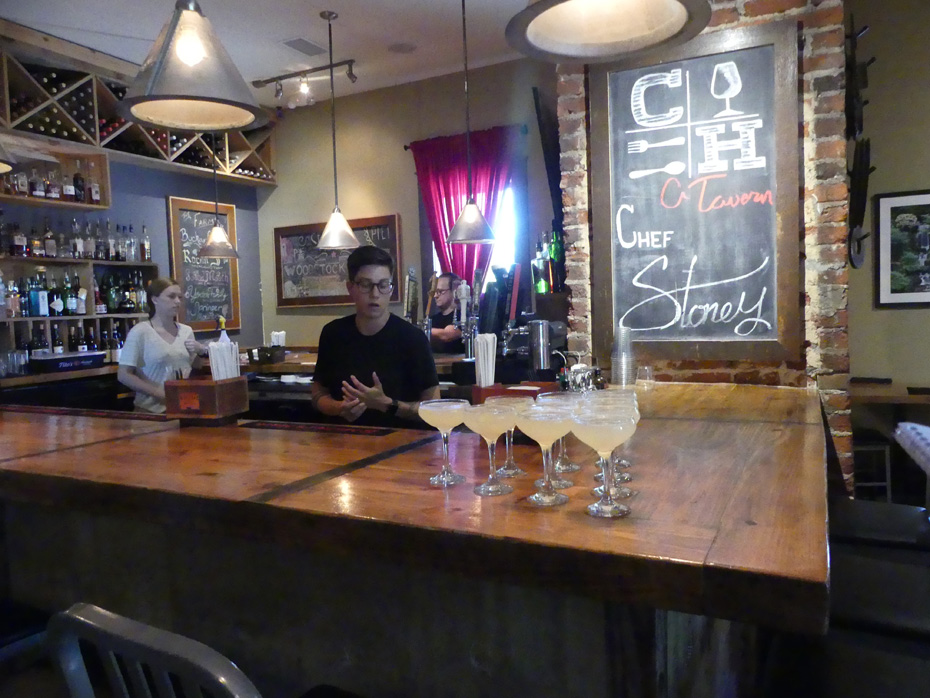 Chef Stoney started his culinary career in the United States Army. He then attended Le Cordon Bleu. He loves to add a unique touch to traditional foods.
We tasted a little of his artwork, a Fire-Roasted Jalapeño Pimento Cheese Dip made with cream cheese, sharp cheddar cheese and roasted red peppers and jalapeño; a Risotto Ball made with fresh tomato risotto fresh herbs and parmesan cheese and deep fired red pepper sauce over it with fried with micro basil on top; Braised Pork Bellies glazed with whiskey served with heirloom grits. His pork bellies won "A 100 Dishes Locals Love" in the first Georgia Culinary Guide.
We sampled a Honey Bee, honey vodka, fresh lemon juice, and lemon basil and simple syrup. It's good enough to make Carrie Nation lay down her hatchet and take a drink.
It has indoor and outdoor seating. Chef Stoney grows many of his own herbs in the garden.
Pure Taqueria is a small Atlanta based chain that specializes in tacos and authentic Mexican food and drink. The original PURE Taqueria opened in Alpharetta, Georgia at the site of an abandoned 1920's era Pure Gas Station.
They pride themselves on being a noisy, hip, hangout. No surprise the one in Woodstock has an open air rooftop bar with a great view of the city. They book music events there often.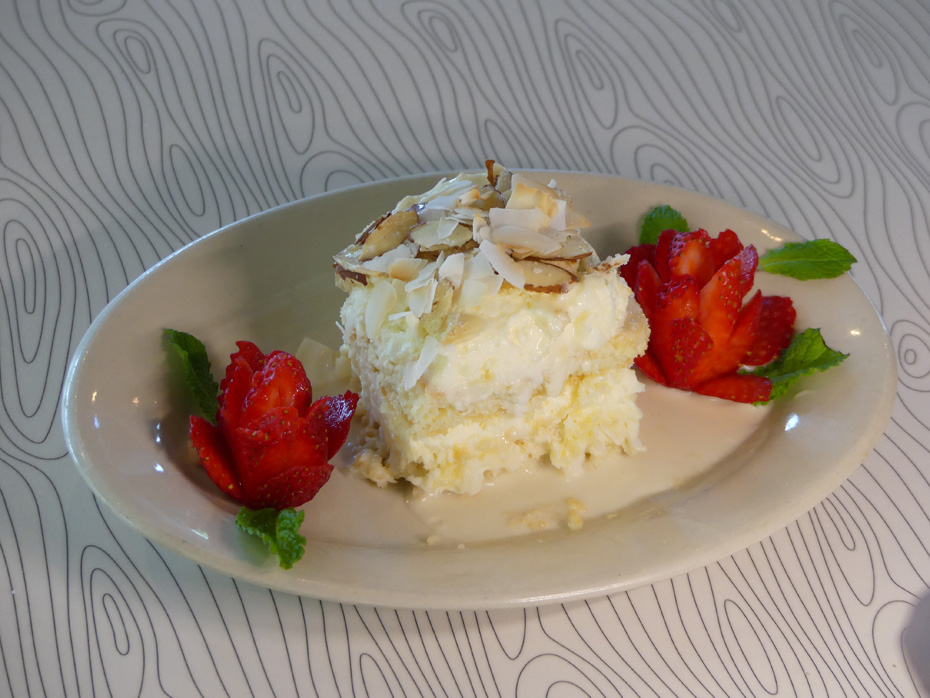 For dessert try their Tres Leches cake. It's to die for!
Leaning Ladder Olive Oil and Vinegar is the perfect place to learn all about olive oil and balsamic vinegar. Elisa explained how many different types of olive oil there are. All are not the same. It is surprising what they blend the different oils and vinegars blend with. We sampled some vanilla ice cream with a touch of balsamic vinegar. Surprisingly tasty. The store also offers cooking classes.
Rootstock & Vine co-owner, Anna, met us and told us a bit about how Rootstock and Vine functions. They specialize in wines, bourbon, and tapas. There is a rooftop deck here called Vintners Rooftop. You will find Jazz or acoustic music there.
Chef OJ is amazing. She started out at chick-fil-a and went on to graduate Le Cordon Bleu in Atlanta. She said, "We like to try to everything from scratch so all of our dips are made in-house. We like to play with a little bit of Southern; a little bit of French cuisine; I'm a little bit Native American so we do a little bit of that as well."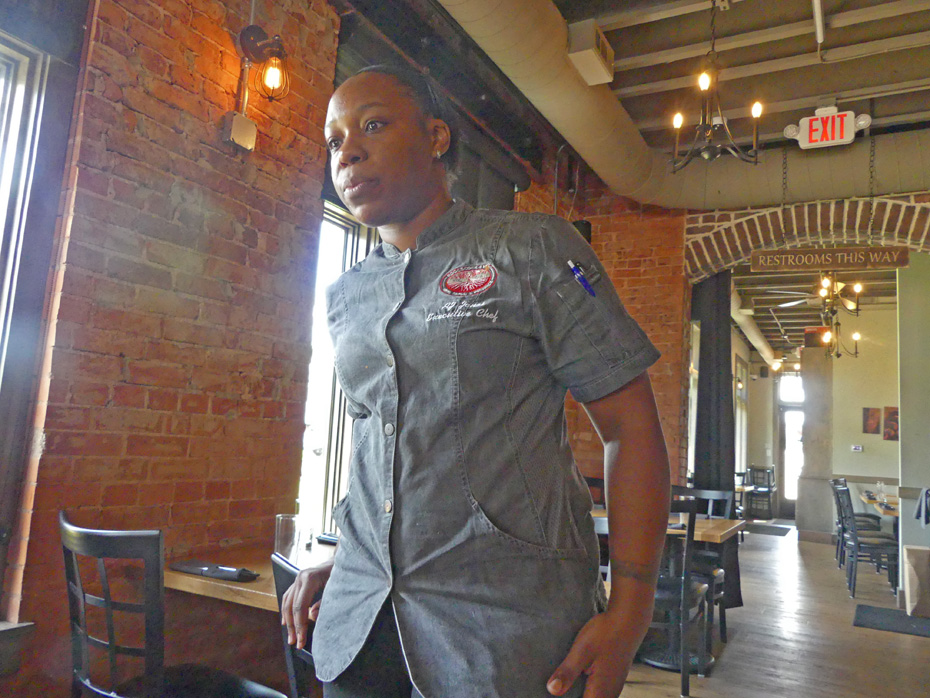 We sampled a Vegetable Salad with artisan greens, peas, heirloom tomatoes, onion, artichokes, asparagus, parmesan, topped with lemon vinaigrette dressing; a charcuterie board filled with unique meat, cheeses, and dips; the Bacon wrapped Shrimp, one of their specials, was so flavorful.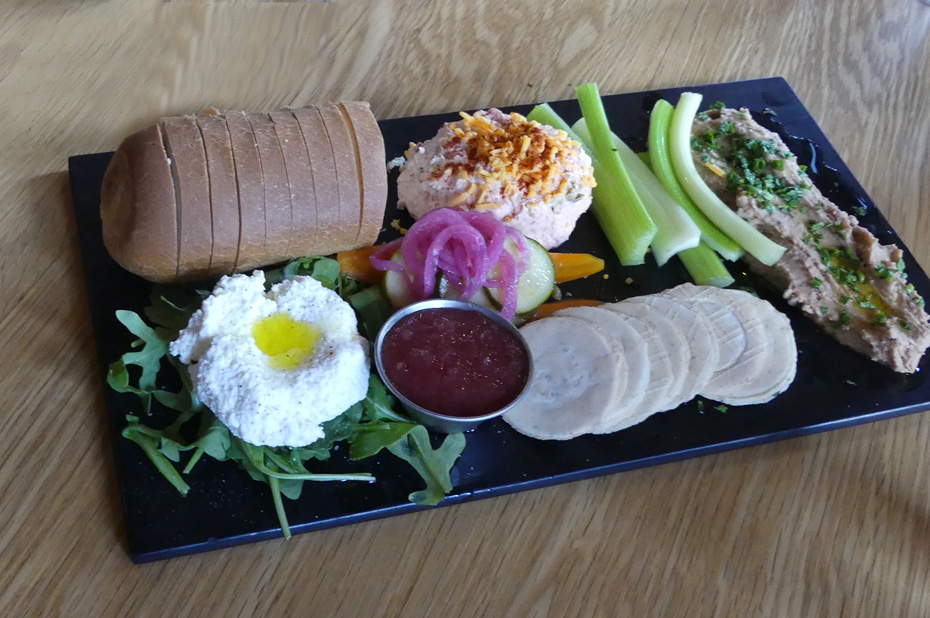 Anna's husband, Sean, is planning to open a sports bar just a short distance away. We got a quick peek at his dream for the place and it looks like a winner to me.
Drink
Reformation Brewery started many years ago. According to Spenser Nix, co-founder of Reformation Brewery, he had a friend, Nick Downs, who was a Delta pilot and flew all over the world. Nick brought back all kinds of craft beers from his trips and asked his friend, Spenser, to share some with him. The two men met in a Baptist church; Spenser was a seminarian at one time.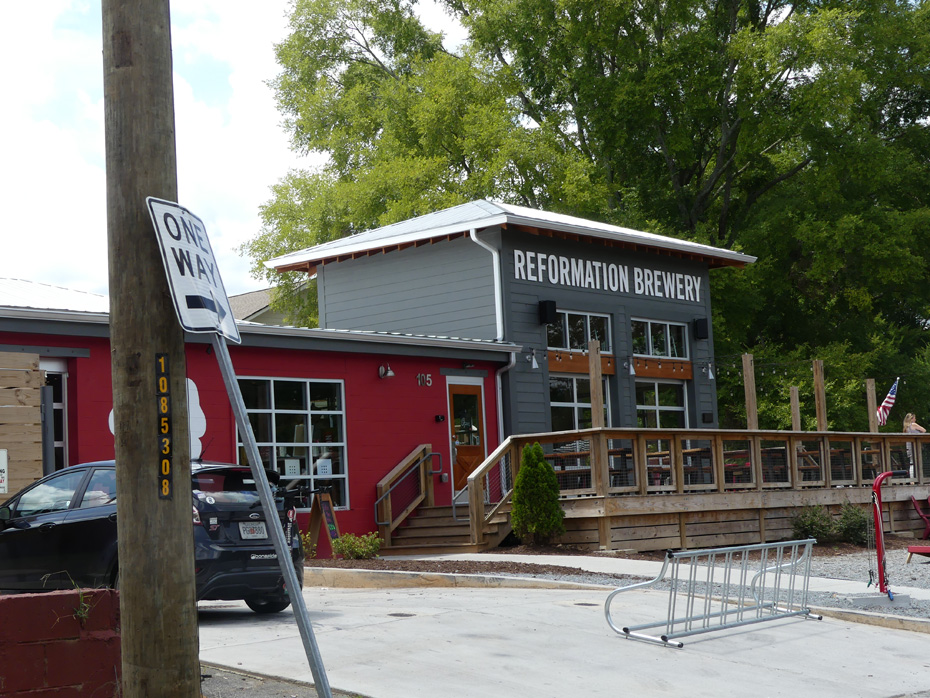 But it gets stranger. When Nick got promoted to a bigger plane that didn't fly overseas about 15 years ago they began home brewing; just about 10 gallons at a time. Still it was more than they cared to drink so they invited friends. At first they were in the closet and just invited a few friends they felt they could trust but as Spenser said, "it blew up." Everybody told their friends and it led to them partnering to open Reformation Brewery.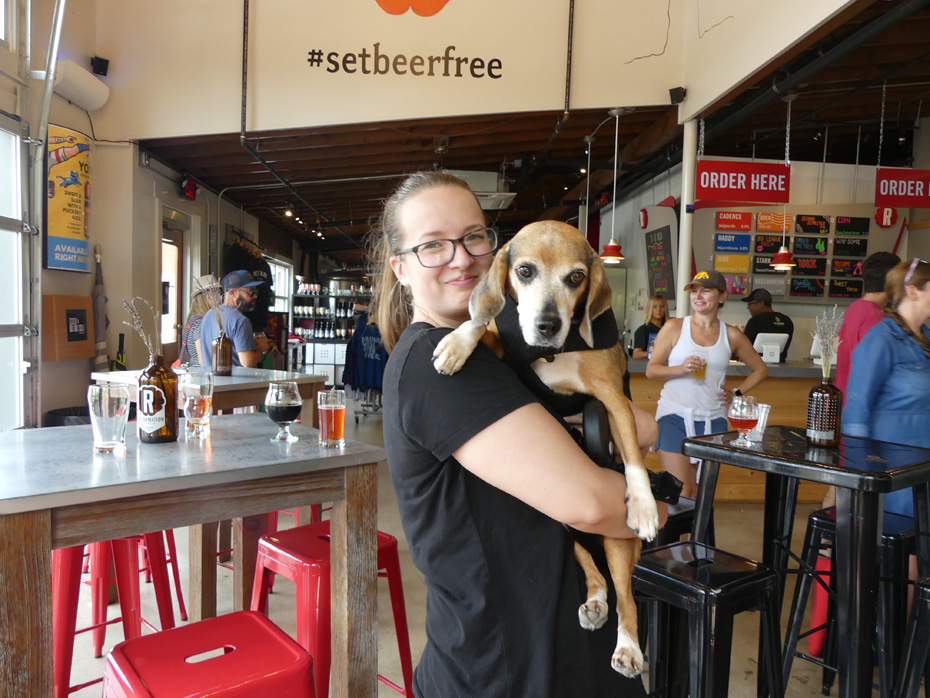 Their aim is to make beer a respected beverage. Their brewery welcomes all ages and is dog friendly. They are one of the few breweries that make a beer I enjoy, Yoshimi, a rainbow flavored sour.
Entertainment
If you are looking for some late night entertainment after dining, you can attend a play or music event. Elm Street Cultural Arts Village presents plays year round.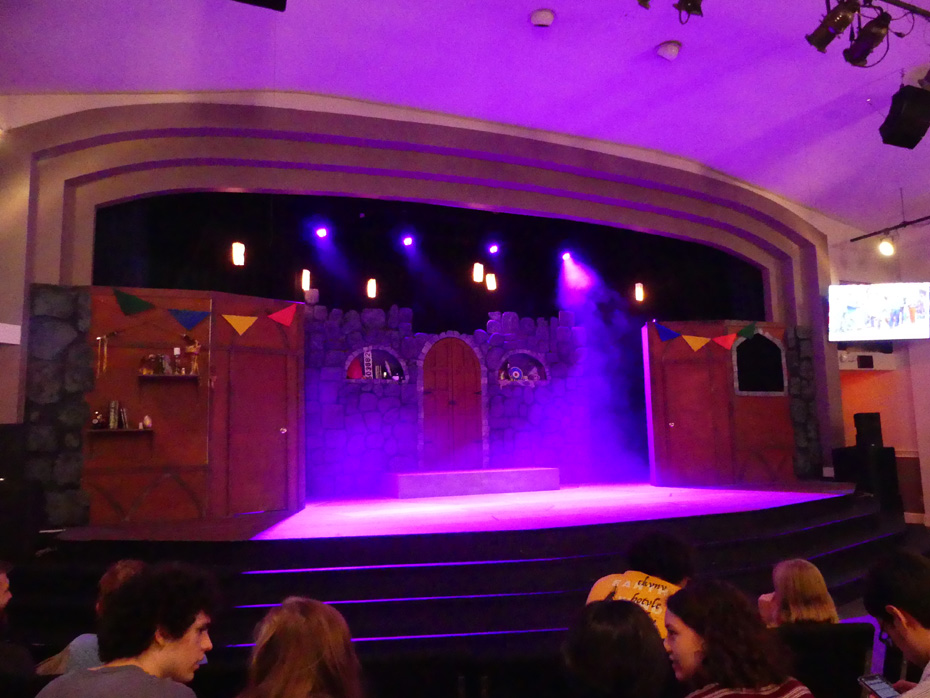 The Summer Concert series is held in The Northside Hospital Cherokee Amphitheater is located in The Park at City Center on the second Saturday night from May to September. It's free and brings in well known stars such as The Marshall Tucker Band, Joe Diffie, The Charlie Daniels Band, as well as local bands.
Sports
Race car fans have something to cheer about here. Dixie Speedway originally opened in 1969, was celebrating 50 years in operation when I visited. We sat in the grandstand and enjoyed a dinner catered by Gameday Fresh Grill. The Lemon Pepper Wings are out-of-the-ballpark good.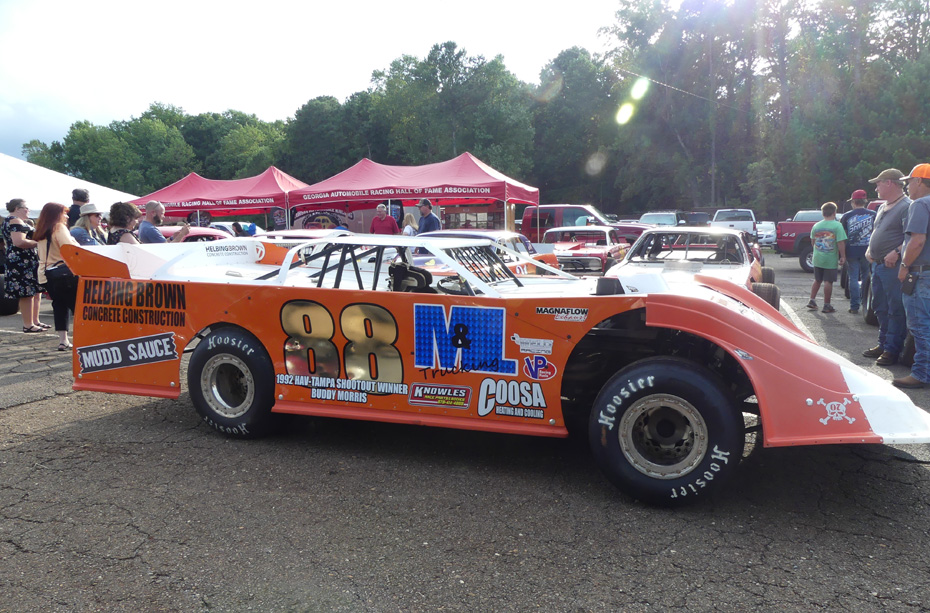 Owners, Mickey and Martha Swims, bought Dixie Speedway in 1976. They turned the 3/8-mile, D-shaped asphalt track that was struggling, into a highly popular red-clay track that hosts 98-105 cars per event, and has an average of 150,000 spectators annually.
I wonder if fans come to see who wins or who gets towed off the track? The night we attended there was about four or five cars towed off in each race. Just imagine trying to make a sharp turn on slippery red clay at 100+ MPH!
No one will be bored—or hungry—in Woodstock.

We'd love your comments!