Kathleen Walls
Just outside the city of Ocala lies a different "Magic Kingdom." Mother Nature rules this kingdom. It's the Ocala National Forest, 430,000 scenic acres of the most diverse terrain imaginable. It contains highlands, swamps, 600 lakes, countless ponds, 23 streams and springs of clear crystal water, it's bounded by the slow, dark waters of the Oklawaha River on the west and the larger, faster moving St. Johns River on the east. It is the oldest national forest east of the Mississippi and it has its ghostly secrets.
Read more.
By Cheré Dastugue Coen
Some say that the personalities of ghosts in the afterlife are much like the ones they had while living. Amelie Comeaux who haunts T-Frere's Bed and Breakfast in Lafayette was a "canaille," a mischievous girl, and her antics in death reflect this wily nature.
Read More
Kathleen Walls
This is an excerpt from the latest edition of
Georgia's Ghostly Getaways.
It is available at
Kindle books
. Check out my other books at my website,
KatysWorld
College towns seem to attract haunts. So do historic districts, Athens,
with its eclectic mix of brash young college students and descendants of the legendary antebellum gentry, is a natural habitat of ghostly legends.
Read more.
Kathleen Walls
Say "Roswell, New Mexico" and everyone's first thought is "aliens." Mine too. That's way I am so thrilled to be here today exploring the unknown. My first stop naturally was the International UFO Museum & Research Center. This is not some hokey museum dealing just with Hollywood's version of aliens from outer space.
Read more.
Halloween is an especially good time to seek out haunted hotels. But these are fun any time of year. Southern hospitality mingled with the spirits of long ago.
Read more.
Kathleen Walls
When fickle sixteen year old Agnes Scuffs jilted her fiancee on the eve of their wedding, she set in motion a series of events that would lead to the construction of a monument comparable to Stonehenge. She informed Ed Leedskalnin that he was too old and too poor for her. Broken hearted, Ed left his native Latvia and settled near Florida City. He began carving a memorial to his lost love who he always referred to as "Sweet Sixteen".
Today the stately stone building in Salamanca, New York looks deserted and run down but just looking you feel that there is a strange history. You would be right. First it was a family home. Then Dr. John Henderson opened it as the Sunnyside Sanitarium in 1906.
He was assisted by Dr. Perry and the nurses were Bertha, Agnes and Sue. They operated it as the only holistic healing center in New York State at the time.
Read more
by Kathleen Walls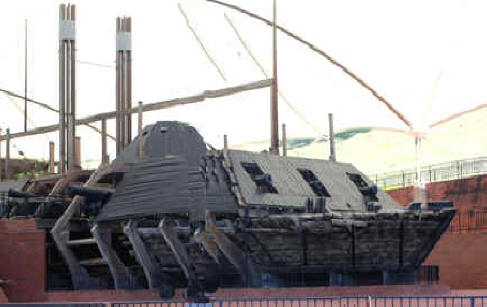 Undoubtedly the biggest draw for visitors to Vicksburg is the Battlefield Park. Vicksburg was critical to both sides from the beginning of the war. Until the Union could control the entire river to Cairo, Illinois, they could not prevent the South from supplying their armies. Whoever controlled Vicksburg controlled the river. This an excerpt from my new book,
Hosts With Ghosts: Haunted Historic Hotels in the Southeast.
by Kathleen Walls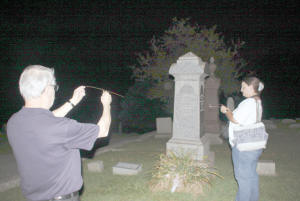 It's Fall and time to look for haunting tales and spooky places. You can't find a more ghostly town than Alton, Illinois and surrounding areas where the river bends in a strange quirk of nature. Fate Magazine called it "one of the most haunted small towns in America."
Read more
by Kathleen Walls
Some restaurants have a lot of spirits. I mean that literally. A few of the restaurants I visited have their very own ghostly gourmets still wandering the kitchens and dining rooms. Because of the great food I have written about many of these places in earlier issues so you can learn even more by visiting the accompanying links.
Read more
by Kathleen Walls
As a natural result of its turbulent history, the Alamo is reported to harbor many spirits. ( I tell much more about that aspect in my book,
Hosts with Ghosts
.) One unexplained wraith appears frequently in the basement of the Alamo. Staff entering the storage area have reported seeing a tall native American who either just disappears or walks through a solid wall that once housed a tunnel into the Menger Hotel across the street.
by Kathleen Walls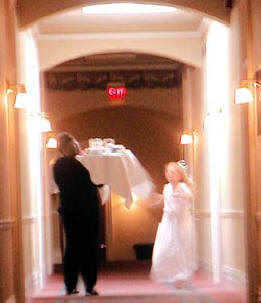 One of Georgia's best kept secrets is hidden away in the small town of Americus. While most Americans are not aware of this Victorian hotel's charms, local residents are charmed by the Windsor Hotel. Now, the secret is out, The Windsor is being officially awarded her "Blue Ribbon" on television. Finally, the Windsor seems to be getting a little of the attention she so richly deserves. Turner South Television Network is going to feature the hotel on a segment of its" Blue Ribbon Series" I had the honor of being invited to the taping since my book
Georgia's Ghostly Getaways
retells the story of the Windsor's ghosts.
by Kathleen Walls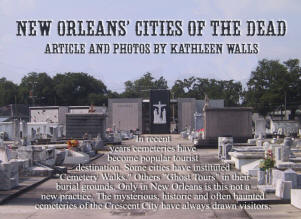 As a child living in New Orleans, I found the cemeteries scary. I often had to walk past the St. Vincent de Paul Cemetery on Louisa St or the St. Roch Cemetery. During my daylight jaunts, I might sometimes shortcut through the cemeteries but at night, no way. In spite of my caution I took the cemeteries for granted. They were just a part of New Orleans. But each of the New Orleans cemeteries have a unique and interesting history that, as an adult, I have learned to revere.
Read more
By Kathy Barnett
In the little town of Casey, Illinois, there are great big attractions to see. So big, in fact, that eight of them are known by the Guinness World Records as the World's largest. All are actually functional, a requirement from the Guinness Book of Records. With a population of only 2752, Casey is located conveniently near Interstate 70. Read More











| | |
| --- | --- |
| | Connect with us. |