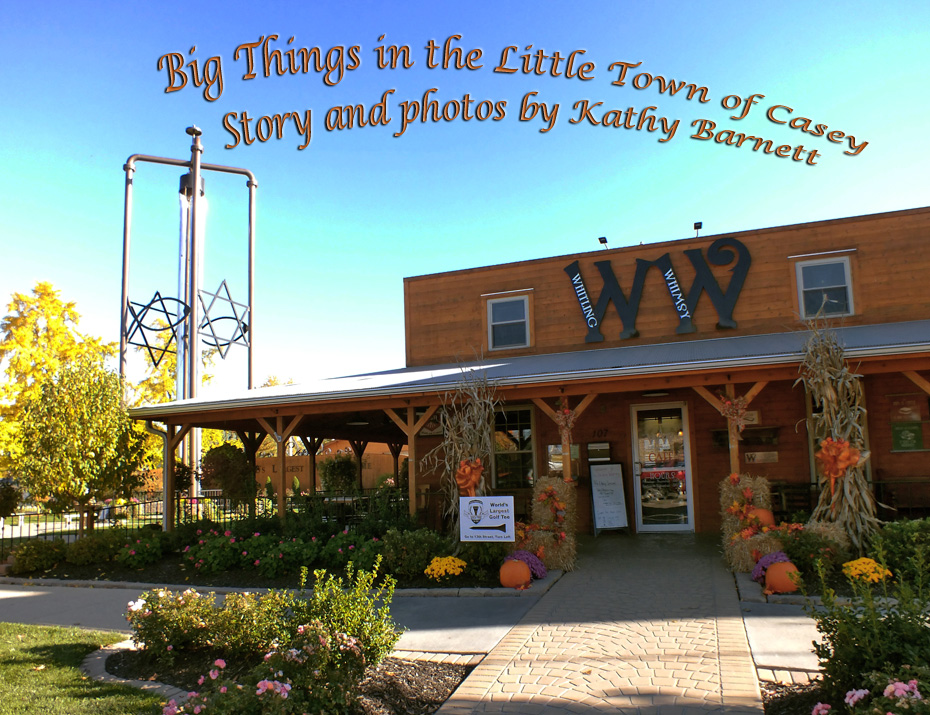 In the little town of Casey, Illinois, there are great big attractions to see. So big, in fact, that eight of them are known by the Guinness World Records as the World's largest. All are actually functional, a requirement from the Guinness Book of Records. With a population of only 2752, Casey is located conveniently near Interstate 70, between Effingham and Terre Haute, IN.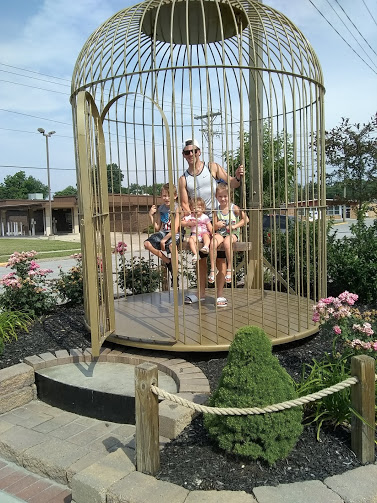 Be sure to look around for other gigantic items not necessarily with World records, but definitely worth finding. There is a birdcage large enough for kids to walk in and actually swing on the perch. We found a large yardstick, a Minion, pencil, wooden coin and ear of corn. I'm sure there are more. There are plans to add more as well. Most items are made of recycled materials. For instance, a rocking chair made good use of old telephone poles.
It was local resident, Jim Bolin, of Bolin Enterprises, Inc. that first incorporated the idea of creating huge things for the purpose of giving back to his quaint little village. After two years of planning and building, the first World record for largest, a giant wind chime, was erected in 2011. Next, came a golf tee at the local country club. You can even climb up and walk into the mailbox. For a souvenir, you can buy a hand -stamped postcard to mail home directly from the World's Largest Mailbox.
With ideas flooding in, they continued to build and began to promote Casey as a tourist spot to help the village flourish. And it did. Each item has a message from the Bible written on or near it that has something relating to the object. For the wind chime, Romans 1:16 NIV is placed. If you have time, stop by the Big Things in a Small Town Workshop. Here, you may witness the designing, carving or making of the next big, big item to add to the villages collection.
&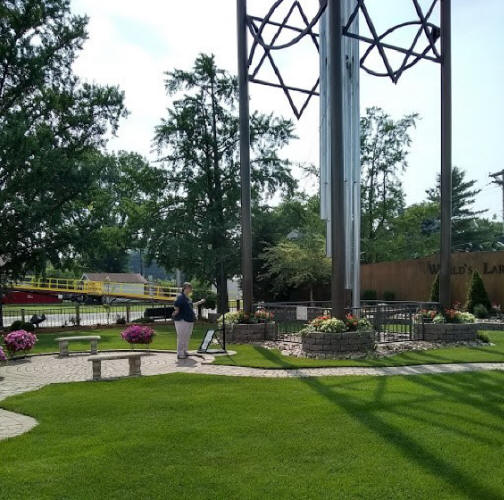 All this walking and taking pictures can make a person hungry. Next to the wind chime is Whitling Whimsy Café. On a pretty day, order and take it outside on the wide wrap around porch. Deli style sandwiches from fried bologna to chicken salad are available. Save room for a delicious slice of pie for dessert. There are different specials each day of the week. It is just a comfortable and relaxing place to go for a casual lunch. For more information, visit
www.whitlingwhimsy.com.
Eighteen-Ninety Sleepover is a locally owned boutique hotel located in downtown Casey. Built by the Knights of Pythius in 1890, this former meeting hall has been renovated to an early 1900s themed Sleepover.The old-style brick walls and antique décor brags history while modern amineties are also available. The owners did an amazing job with blending the original elements of the building to modern comforts needed. To choose your room and make a reservation, visit http://www.eighteen-ninetysleepover.com
This visit is sure to be one you will want to repeat, just to see what the townspeople have come up with next.
Connect with us on:
American Roads and
Global Highways has so many great articles you
may want to search it for your favorite places
or new exciting destinations.