Published 8-26-2019

If you've been putting off visiting Savannah because you think it's expensive, think again. It can be costly especially parking but there are many free attractions well worth a visit. I just visited and had a wonderful time. There is so much to do there I will be writing about Savannah for months at least but for now, I'll give you the skinny on doing Savannah almost free.
Parking
First off, download a ParkSavannah parking app. You can get it at Google Play or Apple Store. Parking in Savannah is expensive. My hotel in the historic section charged $29 a day. This seems to be the norm. This app minimizes the cost. If you go on a Sunday, parking is free so you can park in any legal public spot free. Nights are free too. Other times, just be sure to note the number of your space and you can pay on the app. If you stay longer that you plan you can add time from the app. I was able to pay for two evening hours before it became free and go to my room. Next morning I could add an hour time without leaving my room. Metered spaces are between .50 and 2.00 per hour. There are city garages and parking lots which have varying rates if you don't want to fool with the app.
Tours and Transportation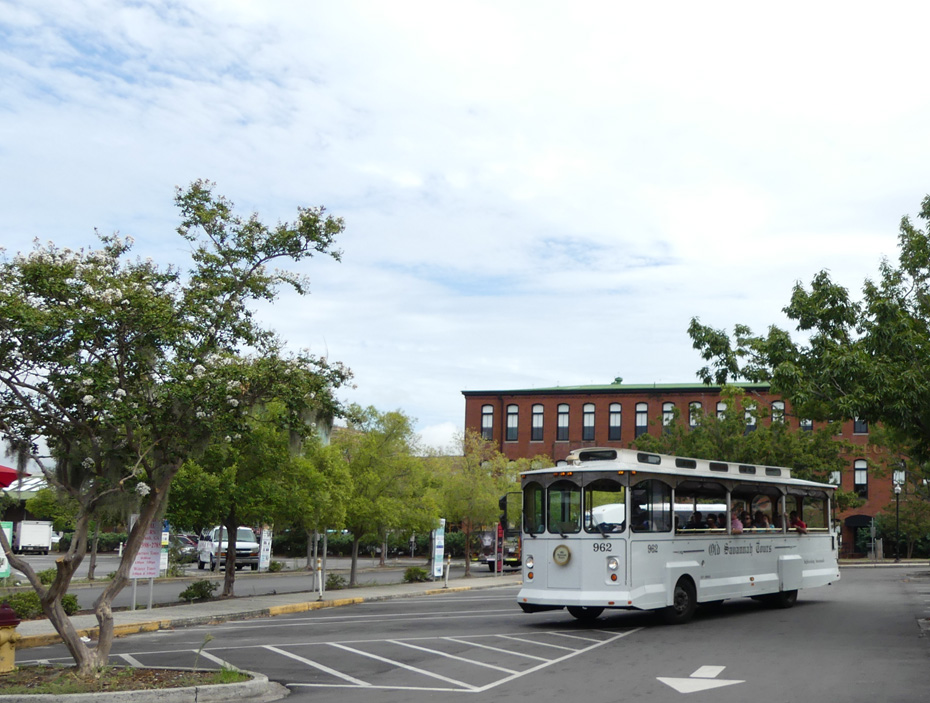 If you take a paid trolley tour, they offer free parking. Also they are hop on hop off so you can leave your car in their lot and see the city.
Often that is cheaper than paying for parking and you get an experience tour guide to show you around.
There is also a free walking tour that takes you all over the city. It's about 90 minutes so wear good walking shoes. I didn't personally take it but have heard good things about it. You should tip your guide however.
Savannah knows they have so much to offer it can overload their parking abilities so they provide several free transportation options for downtown visitors by road, rail, and sea. The Downtown Transportation is known as DOT.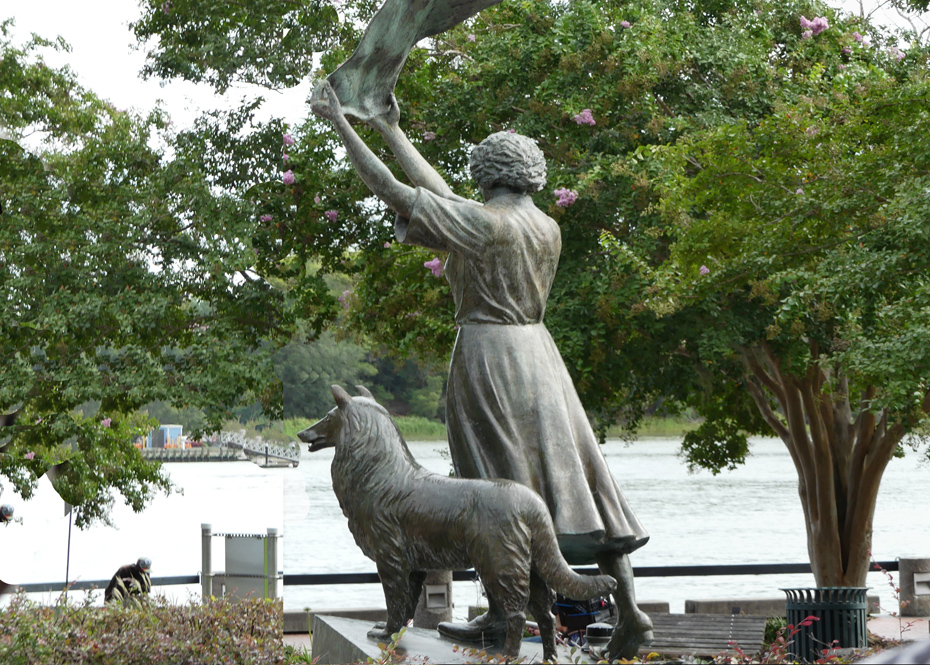 Their River Street Streetcar known appropriately as "Dottie" is a bio-diesel fueled Melbourne streetcar, that has been restored right here in Savannah. It's a 43 passenger car that traverses about a mile long track on River Street. There are tons of art galleries, shops and restaurants here. You can get off here and go down to see some of the most famous places in Savannah from the Old Cotton Exchange to the Waving Girl Stature. Legend says the Waving Girl is seen waving at night as she hopes her long departed sailor will return to her. In life he never did.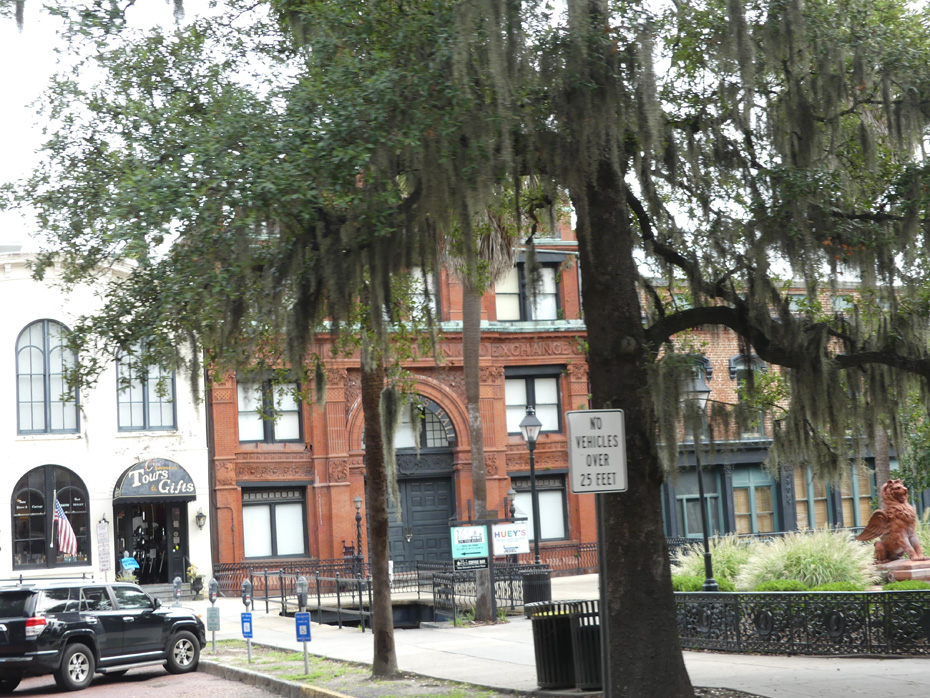 The DOT Shuttle has two routes and runs on about a 10 minute schedule. It will take you to most of the points of interest downtown. It also stops at the city's five public parking garages. Check online for hours and routes.
The third DOT option is the Savannah Belles Passenger Ferry. They depart from Rousakis Plaza on River St. and provide ferry service between River Street and Hutchinson Island. Savannah had several islands around it. Most are accessible by car.
Free Things
Walk along Bull Street to see some of Savannah's Squares. Forsyth Park is one of the favorites and the largest at 30 acres. The park is filled with Spanish moss draped live oaks. There you'll find a Confederate Memorial, a half shell theatre, tennis courts, basketball courts, a cafe, two playgrounds, and lots of well shaded benches to just sit and relax. The fountain, the park's most famous feature, was erected in 1858. Each year on Saint Patrick's Day, it is dyed green. There are 24 squares in Savannah and all worth a visit.
Cathedral of St. John the Baptist deserves a visit for not only its historic value—it was erected in 1876 then repaired and reopened in 1900 after a fire in 1898 destroyed much of the structure—but for its architectural beauty. It's French gothic with two towering spires on either side of its imposing main entrance. The white and gold decorated alter is stunning and the stained glass windows are all works of art.
Ghost Coast Distillery offers free tours. They'll give you a behind-the-scenes view of the distillery and tell you about Savannah's unique history of drinks and revelry. Tours last about 40 minutes and include a video presentation on weekdays. They are Savannah's first distillery since prohibition. (Not part of the free or cheap but the Prohibition Museum is well worth a visit.)
Many of the most famous homes in Savannah do charge admission but you can view the outside for free. Some of the most visited are: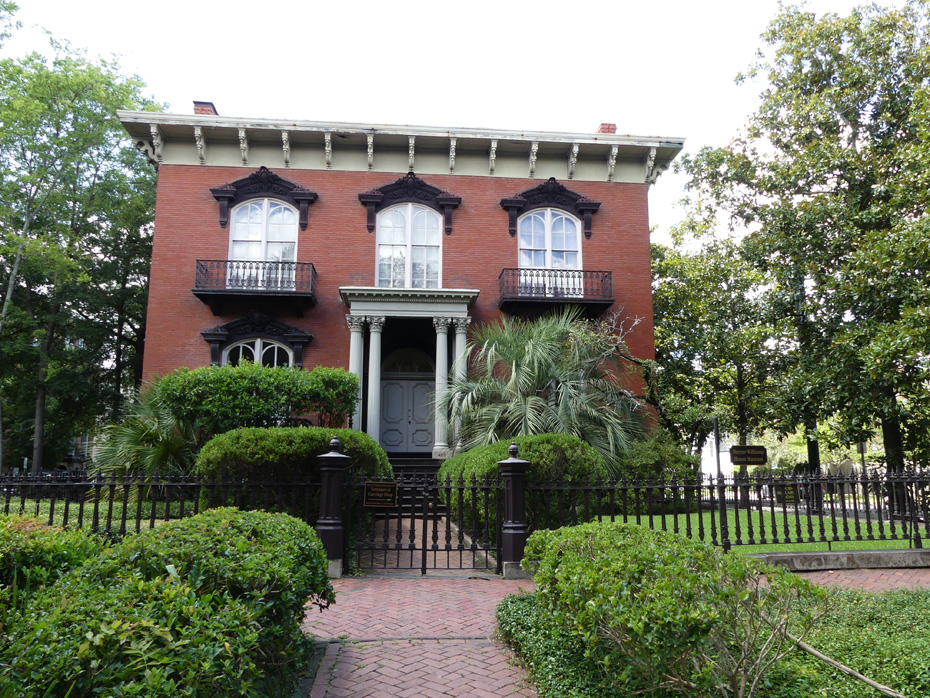 Juliette Gordon Low Birthplace, The Davenport House, Flannery O'Conner Birthplace, Kehoe House where what looks like wood is really made of cast iron, Mercer-Williams House where Jim Williams of Midnight in the Garden of Good and Evil fame lived and died.
At the Owens Thomas House and Slave Quarters notice the white ccast-iron balcony on its south side. This was where the Marquis de Lafayette gave a speech on his return visit to the United States in 1825.
Cemeteries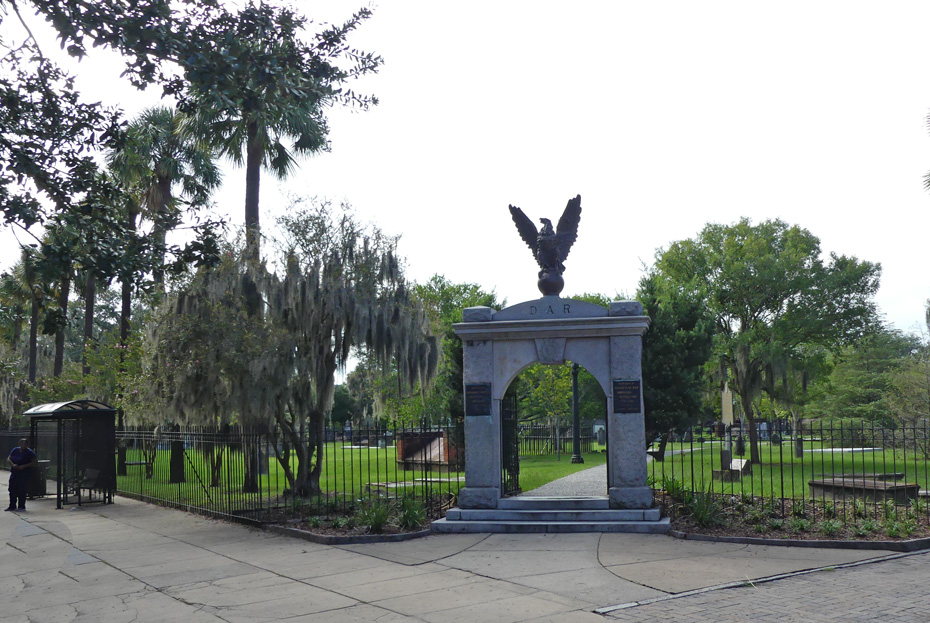 Colonial Park Cemetery is home to Button Gwinnett, a signer of the Declaration of Independence. More than 700 victims of the 1820 Yellow Fever epidemic are buried in in this cemetery. During the Civil War, Federal troops camped in the cemetery grounds during their occupation of Savannah and many of the graves were looted and desecrated. It has been said that Union soldiers changed the dates and moved around many of the headstones.
Laurel Grove Cemetery was begun in 1853. Juliet Gordon Low, founder of the Girl Scouts is one of the prominint people buried there. There more than 1500 Confederate Soldiers and 15 aces of the original cemetery were set aside for the burial of "free persons of color and slaves."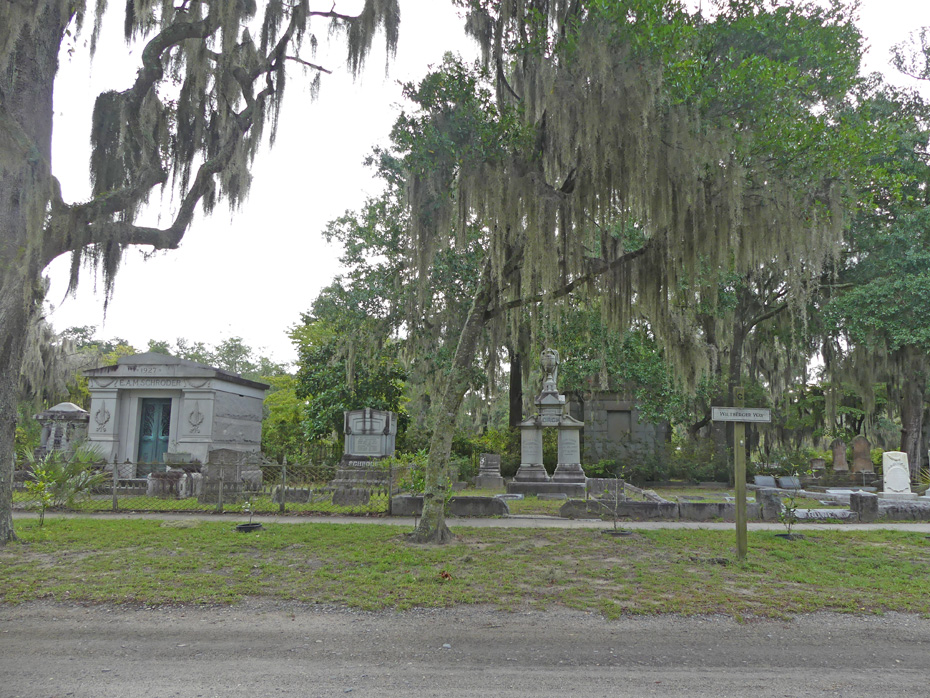 Bonaventure Cemetery is outside the trolley routes but parking there is no problem. The famous Bird Girl stature seen there in Midnight in the Garden of Good and Evil now resides at the Telfair Museum. However, the cemetery is home to many of Savannah's famous citizens. They range from Noble Wimberly Jones and Edward Telfair, two of Savannah's earlierst residents, to Civil War Generals; Robert J. Anderson, Henry R. Jackson, Alexander R. Lawton, Hugh W. Mercer, Claudius C. Wilson and Commodore Josiah Tattnall. Modern celebrities are represented by Johnny Mercer, lyricist and musician, best known for musician, best known for Moon River and Days of Wine and Roses.
Tybee Island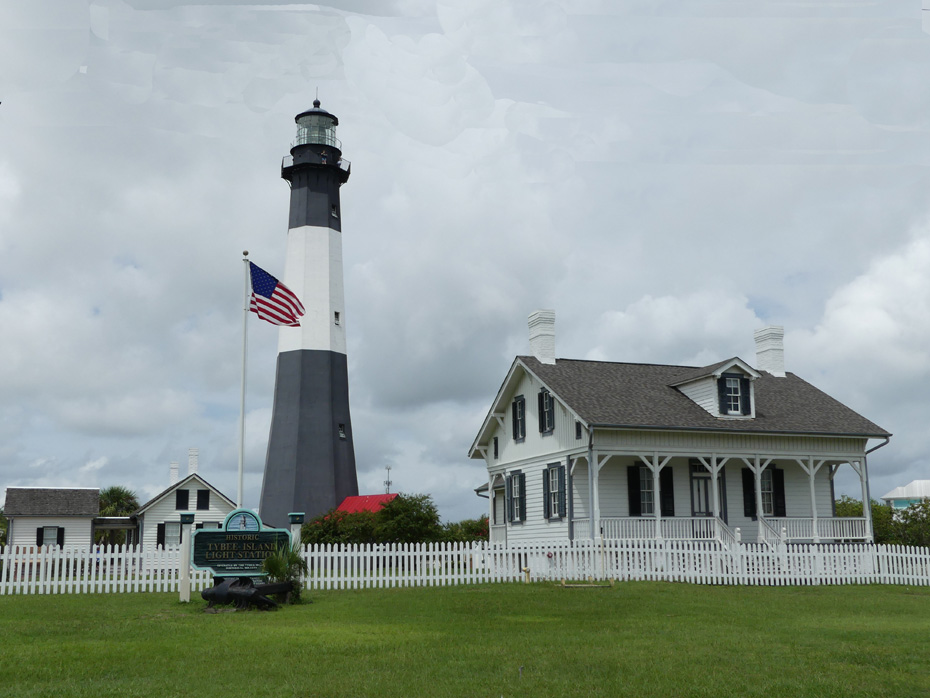 Do drive over to Tybee Island and visit the famous, and many say, haunted lighthouse. It's Georgia's oldest and tallest and dates back to 1736.
Across the street is an 1899 Military Battery built during the Spanish-American War. It's now a museum that houses Tybee Island's history going back to the Euchee tribe and on into the 20th century. A yellow raised cottage next door is typical of 1900s Tybee architecture. There is an admission fee to go inside any of the structures.
Tybee Pier and Pavilion at the beach have tons of gift and souvenir shops as well as dining. Parking is not free here. Rates are usually $2 per hour at public parking lots. The Park Savannah app doesn't work here. Either download a ParkTYB app or put money in the meters.put money in the meters.
Skidaway Island
S
kidaway Island State Park is a great place to stay if you are camping or RVing, It also has three Camper Cabins and a picnic area. There is a $5 per car entrance fee.
The park borders Skidaway Narrows, a part of Georgia's Intracoastal Waterway, and is about a 20 minute drive to the historic section. You can hike trails through maritime forest and past salt marsh. There is a boardwalk and observation tower. You might see deer, fiddler crabs, raccoon, egrets and other wildlife. It's on the Colonial Coast Birding Trail so you will see lots of wading birds.
Nearby Savannah Botanical Gardens is free. It has nature trails, a two-acre pond,a children's garden, gorgeous roses, seasonal flower and vegetable sections and an 1840s farmhouse. The gardens are free and open daylight hours.
Of course there at lots more things to see and do in Savannah so budget some money for your trip. The more you see the more you will want to see.
For more info:
www.VisitSavannah.co
m
We'd love your comments!