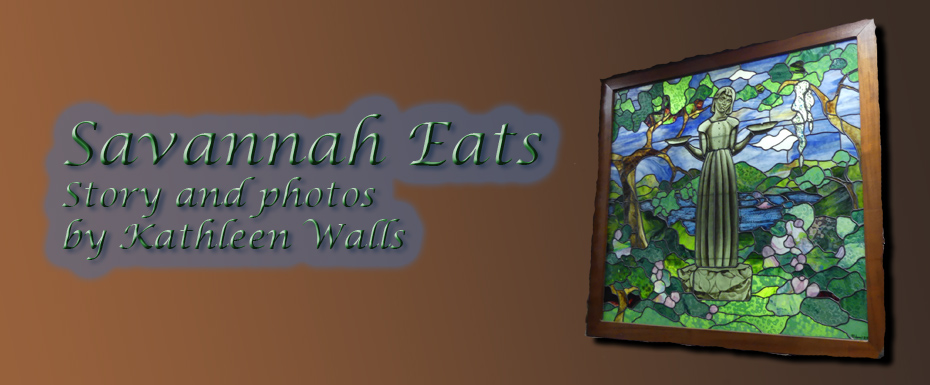 Published 9-26-2019

You may go to Savannah for the history and fun, but you've got to eat. So why not eat at the most fun and interesting restaurants. As icing on the cake, many of Savannah's restaurants have a historic background. Here are a few I loved and why.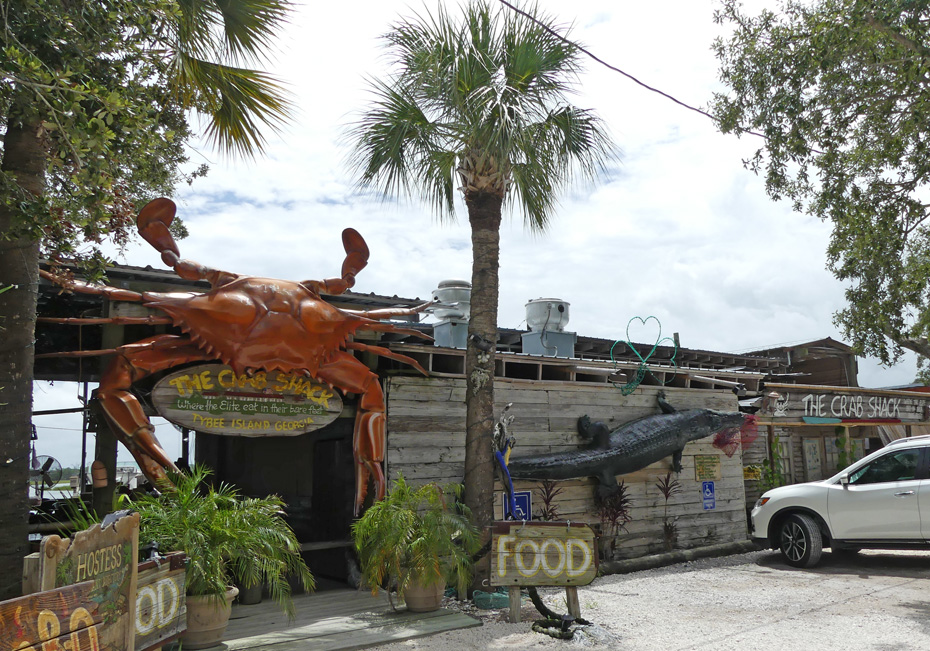 The Original Crab Shack on Tybee Island has its own unique history. It would be worth visiting for that alone but the food is something else. Jumbo Georgia shrimp, big blue crabs, clams, mussels, even crawfish from Louisiana, and all kinds of fish will tempt your palate here.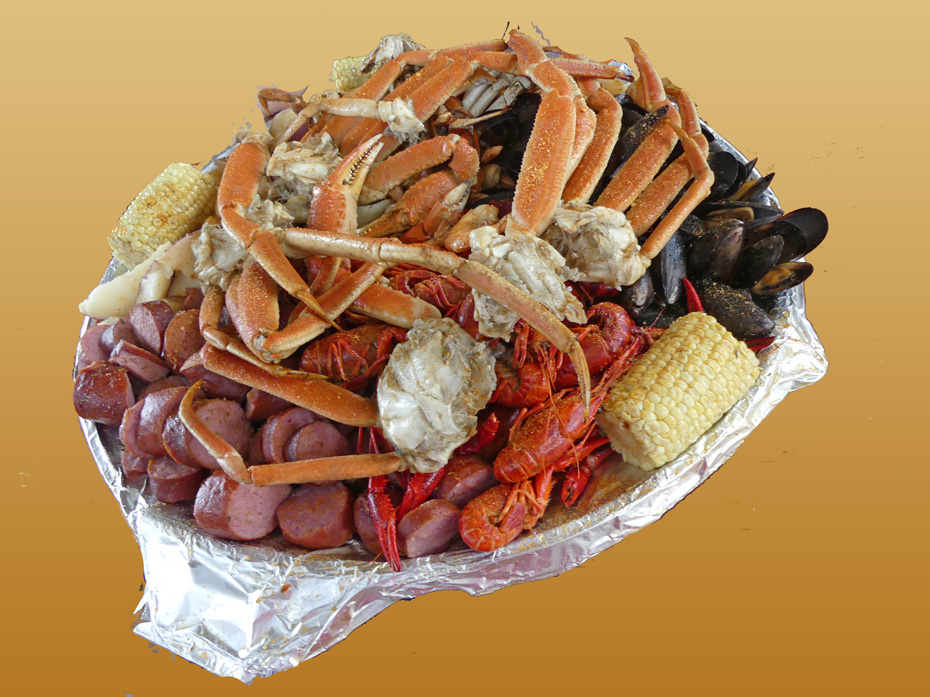 We had the Captain Crab's Sampler Platter with boiled shrimp, snow crab, rock crab, mussels, corn on the cob, crawfish, sausage, and potatoes. It was some of the best seafood I had ever tasted. If you're not a seafood lover, there are choices of barbeque chicken or pork.

Not only is the food out-of-this-world delicious, they have a few unique "pets" you seldom find in restaurants. The staff makes it clear that the cats that prowl around are not feral. They are family. One visited our table. She politely stood about a foot from the table and gave us a look that said, "I love seafood."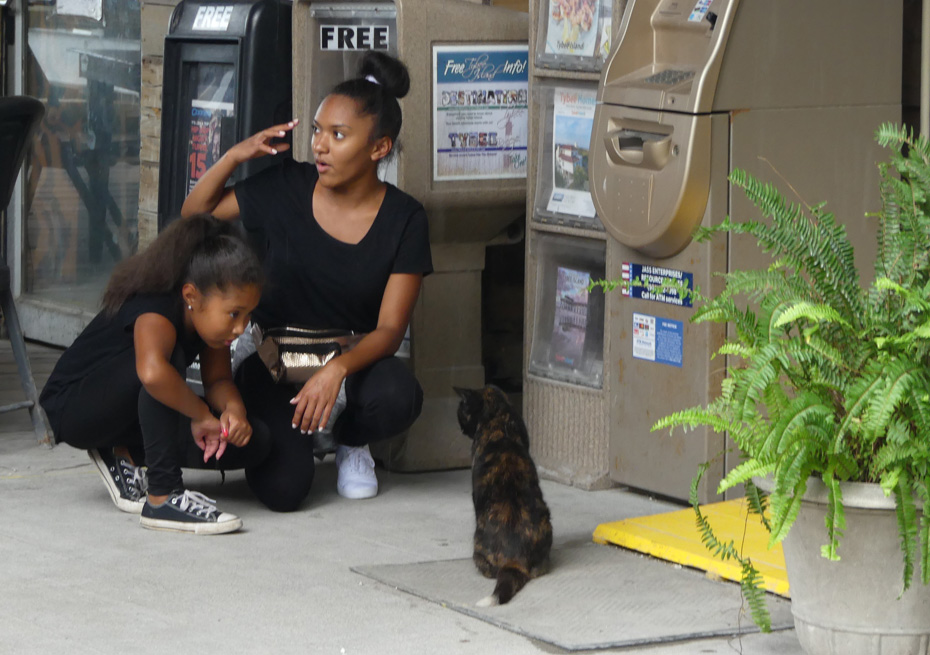 Naturally, I had to "accidentally" drop a scrap within her reach. She daintily ate it all and then allowed me to pet her. I met several of her feline family as I roamed around the Crab Shack taking pictures. All were friendly but not aggressive. If you're not a cat lover, they will not bother you. Cats know who to hit on.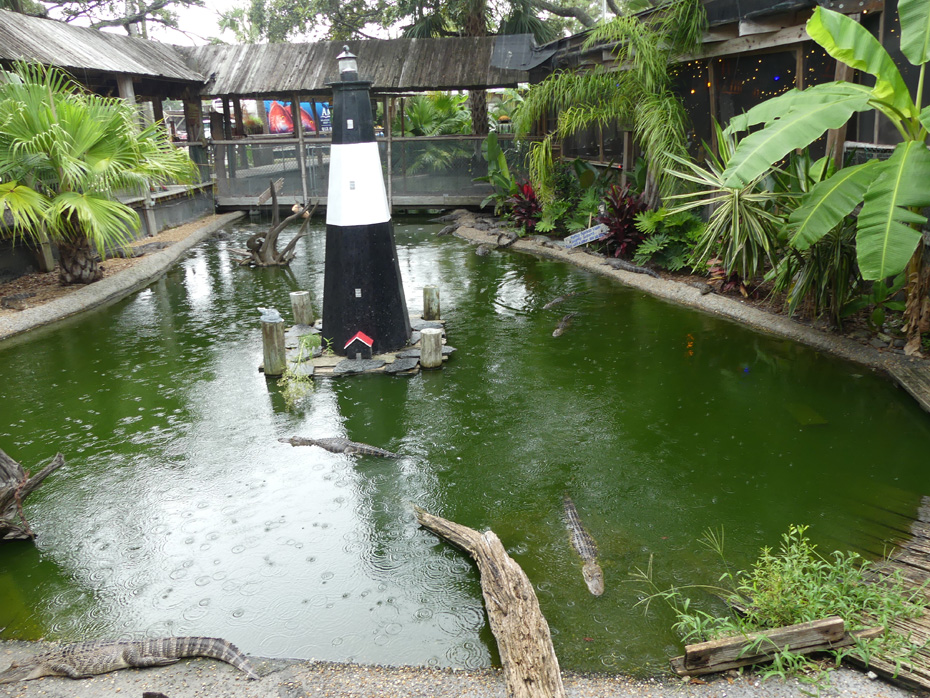 Then they are the other pets, ones with long tails and sharp teeth. Fear not, the alligators are in a fenced pen. You can choose to visit or not, but who passes up a chance to see lots of large alligators swimming around a pond?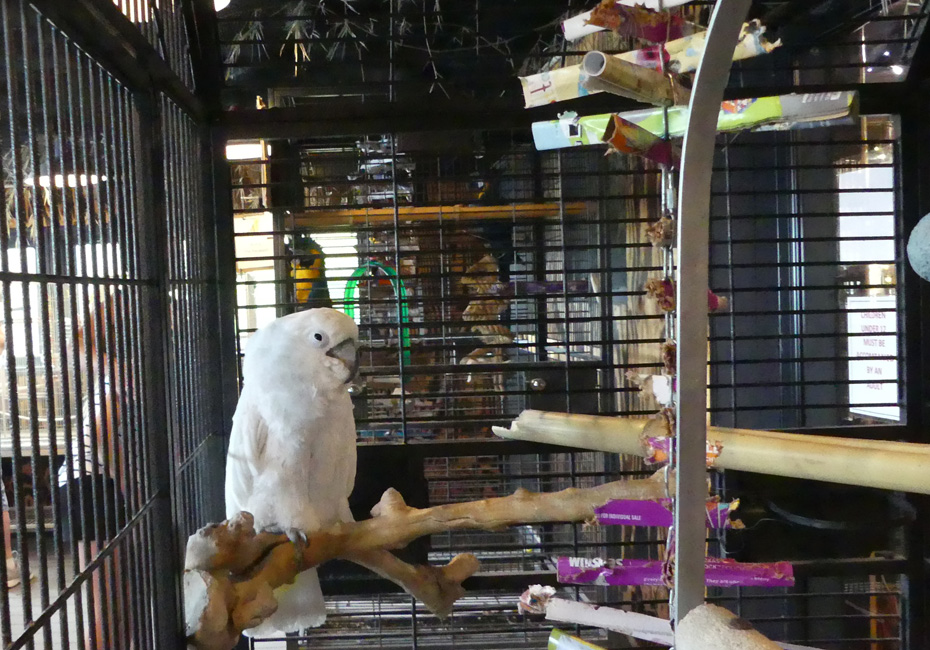 Last but not least, there are rescued birds. These are kept in cages on the far side of the restaurant. Do not miss a visit. These guys are brilliant, literally. Some might even talk to you.

Clary's Cafe has a place in Midnight in the Garden of Good and Evil movie and is mentioned in the book, but it has a separate story of its own. Remember the scene in the movie where Luther Driggers sat at its lunch counter and plopped down a bag of poison? In real life, former owner, Michael Farber, says Luther actually sat at a table where the jukebox is now. He always ordered, and paid for, two breakfasts although he usually only ate one. The book's author, John Berendt, visited often while writing the book looking for characters to include. You might spot him there as he sometimes dines at Clary's.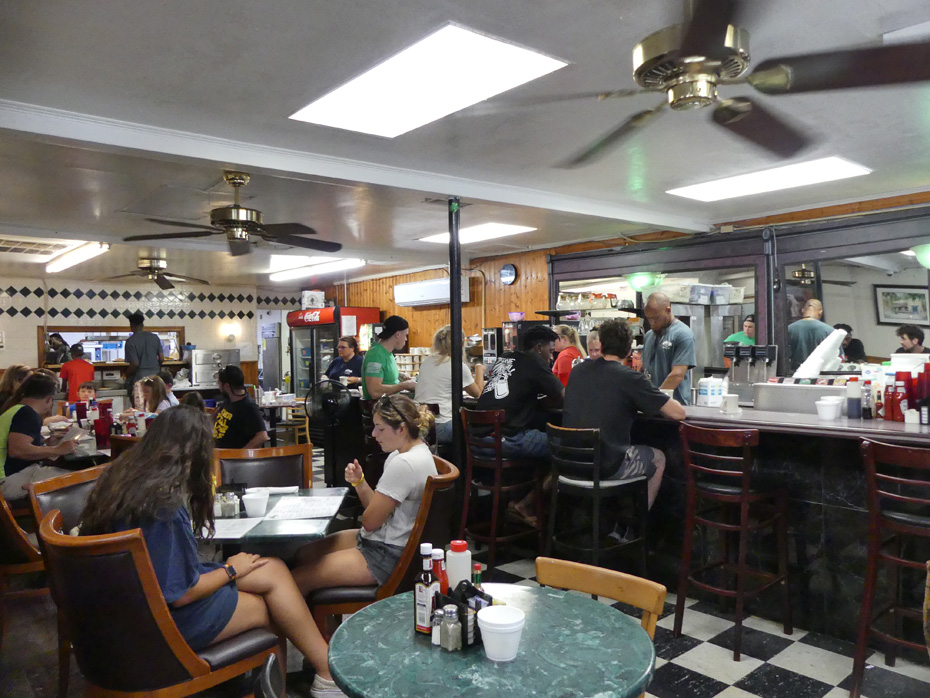 When we lunched at Clary's Cafe we had to wait for a table even though it had dozens of tables inside and some outside ones. It is that popular. Surprisingly, it is reasonably priced.
Once inside we saw a stained glass portrait of the Bird Girl and lots of other "Midnight" memorabilia. It is dog friendly and the kind of place you see locals as well as tourists. There is an old-time drugstore feeling about the black and white tile decor and the long lunch counter. No surprise as that was how it started out over a hundred years ago.

You can get breakfast all the time here so I tried the Greek Omelet with spinach, tomatoes, feta cheese, and onion. It was served with grits and buttermilk biscuits. It was good and so huge and I couldn't finish it. Don't know how Luther could even think about two breakfasts.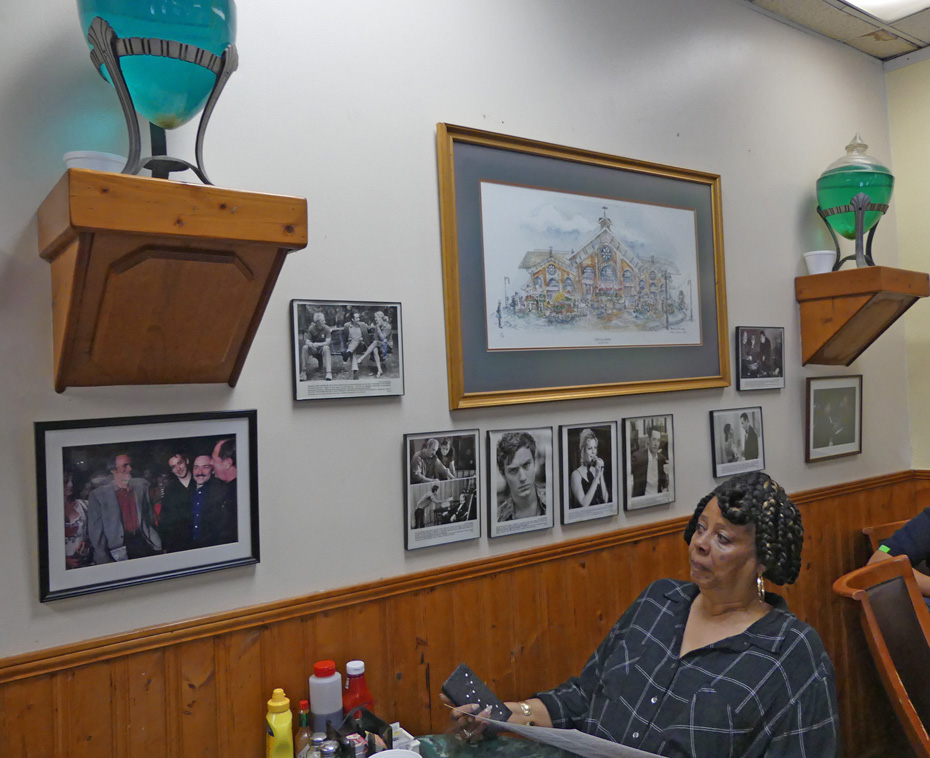 My friend got the Grilled Ruben. It was sliced corned beef, Swiss cheese, sauerkraut on Caraway rye bread and served with fries and pickles. She got a takeout box for her leftovers. You cannot go wrong here.

The Fat Radish is a newcomer in Savannah but has a sister restaurant that is very successful in New York. Chef Nick Wilber does something unique in restaurant practices. He focuses on the vegetables and adds meat as an option.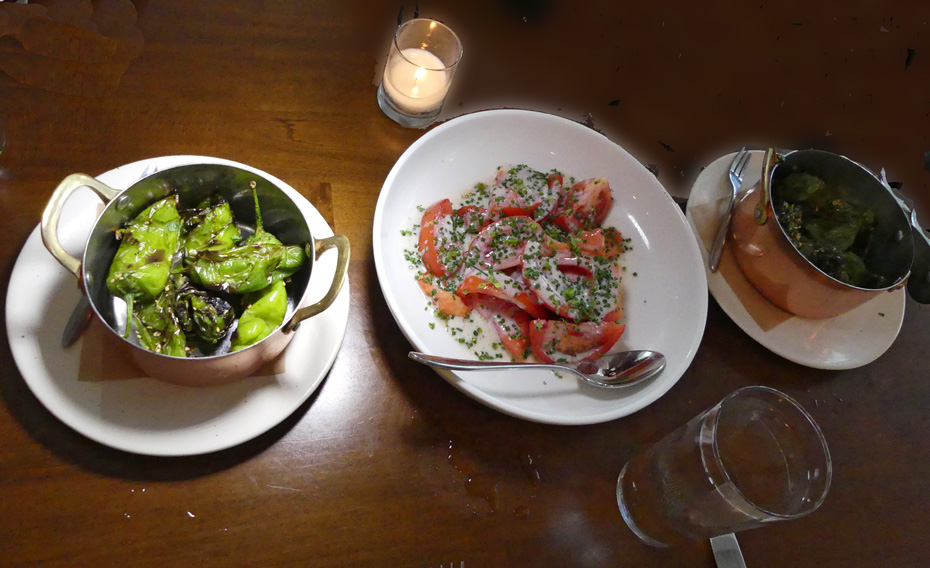 We sampled a lot of the chef's favorites. The unusual appetizers; shaved cauliflower with anchovy and mint and dressed with roasted corn oil; grilled shishito peppers, smoked soy and benne seeds; and local tomatoes topped with chives and basil buds and dressed with buttermilk dressing were all tasty, but the tomatoes were my favorite.

Our entrees also offered choices; roasted chicken with a warm farro salad; grilled grouper with tomato and caper relish and pine nuts; some veggie choices were braised carrots with turmeric chutney, benne seeds and whipped goat cheese; and crispy okra. My favorites here were the chicken and, for a veggie, the okra.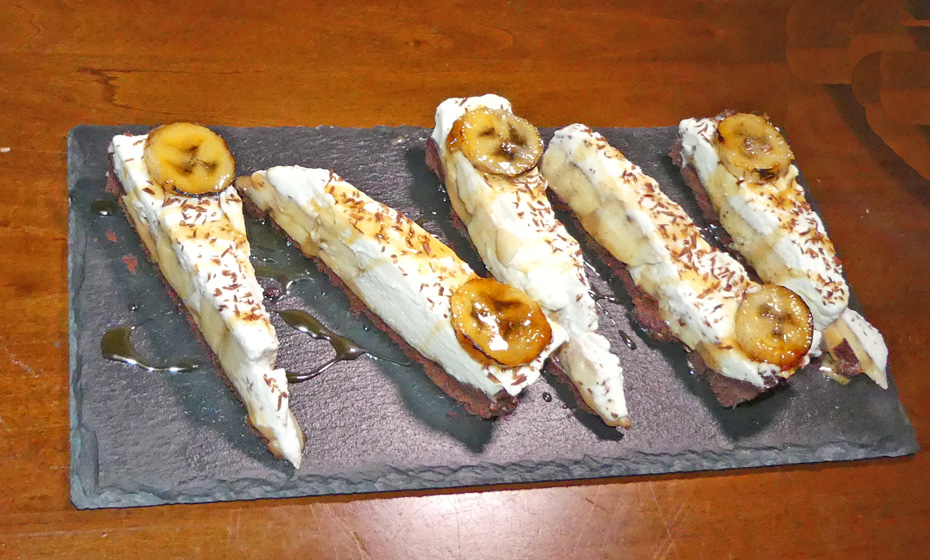 Dessert choices were equally delicious, house-made donuts with jam and banoffee pie. They have a full bar and the wine and cocktails are nothing to sneeze at.


The building housing The Fat Radish was built in 1875 and was originally a pharmacy. The essence of the old building is still present in its stone arches, large windows, and green and white porcelain tiles that cover the floor at the entrance. Inside there are exposed white painted ceiling pipes, wood flooring, and green plaster walls that evoke a natural feeling.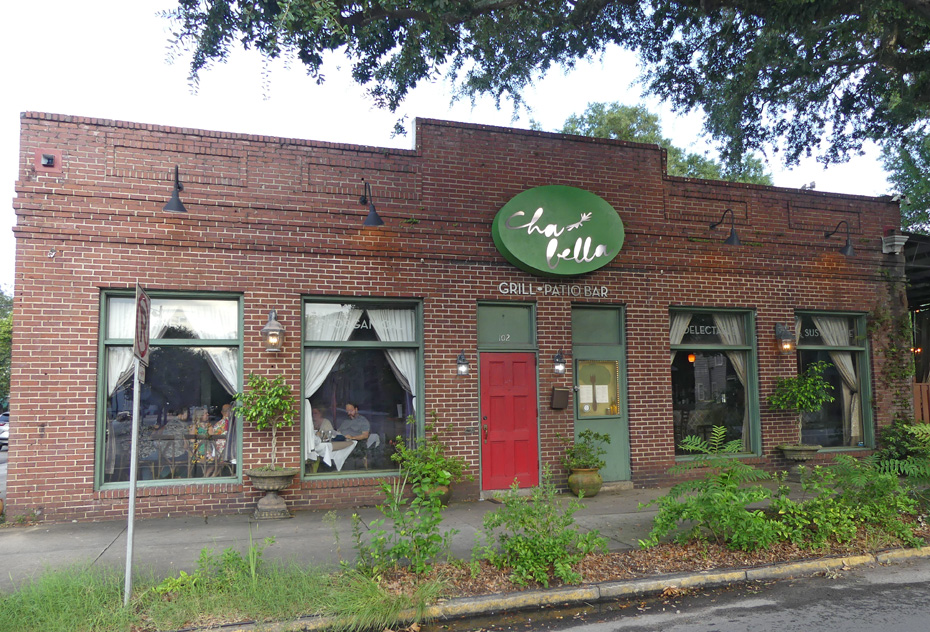 Cha Bella is housed in a red-brick 100-year-old building that still sits on its original foundation. Inside the decor preserves its heritage with exposed brick walls and beadboard inner walls and ceilings. The floors are a shiny hardwood.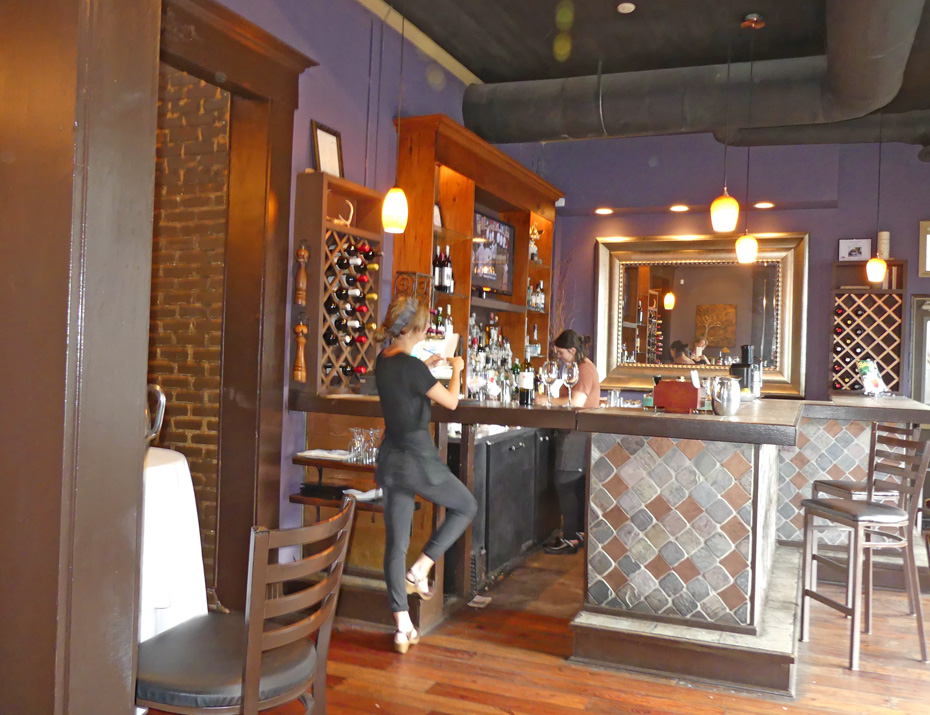 The food has touches of old Italy in its dishes with a Southern twist. They were one of the first Savannah restaurants to begin the Farm to Table Movement. If you order a dish with some herbs it's likely they will pluck the leaves from their own backyard. Cha Bella's chef-owner Michael Lacy says, "A day's drive is the farthest that I will go to stock my kitchen." That's why their menu changes with the seasons. There are two appliances Cha Bella's kitchen does not need, a microwave and a freezer.

The food is so tasty. Their boards and flatbreads are scrumptious. We sampled the Flatbread with Burrata, roasted tomatoes, basil, Parmesan, and prosciutto. It was as if we were transported to Italy.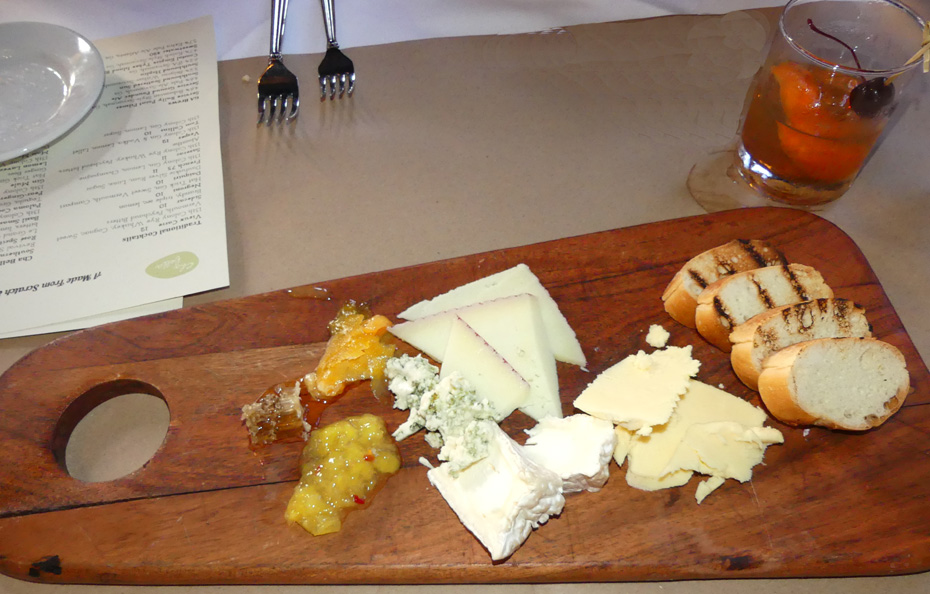 We sampled two of their charcuterie boards filled with jam, honeycomb, assorted cheeses and Italian bread. Another choice is an unusual pairing of food and whiskey. Bacon and Bourbon Board filled with candied bacon, braised pork belly, guanciale, and pancetta. It's served with three tastings of 13th Colony Whiskey made in Americus, GA.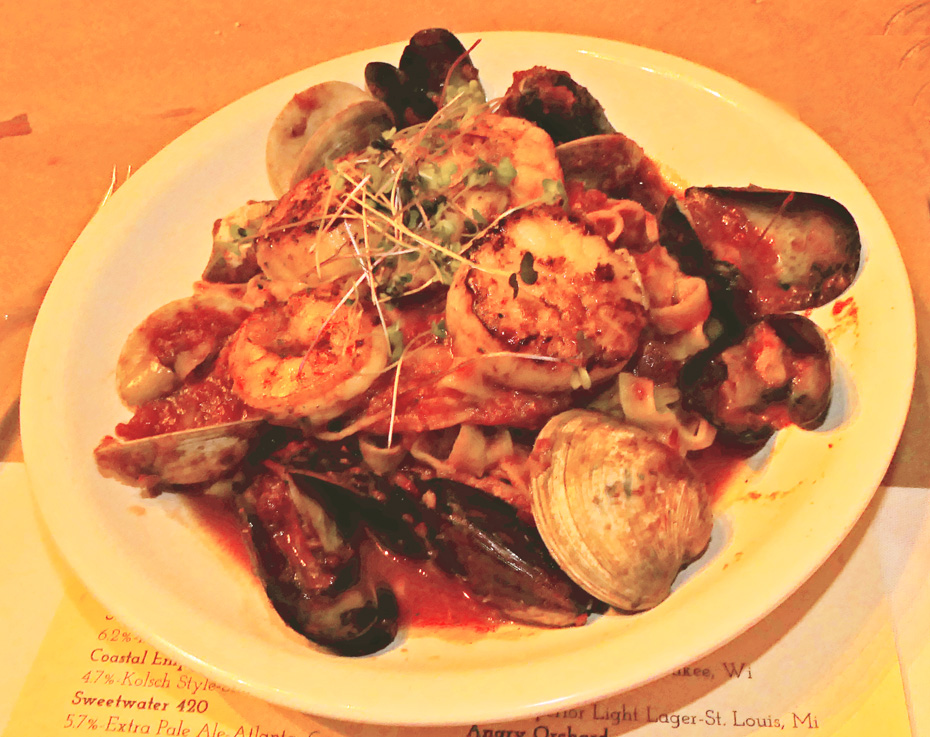 For my entree, I tried Fettuccine Frutti Di Mare, a beautiful mix of clams, mussels, scallops, and shrimp. It was topped with Fra Diavolo sauce and had a slice of toasted ciabatta.
Cha Bella is a dinner-only restaurant. It is also dog friendly.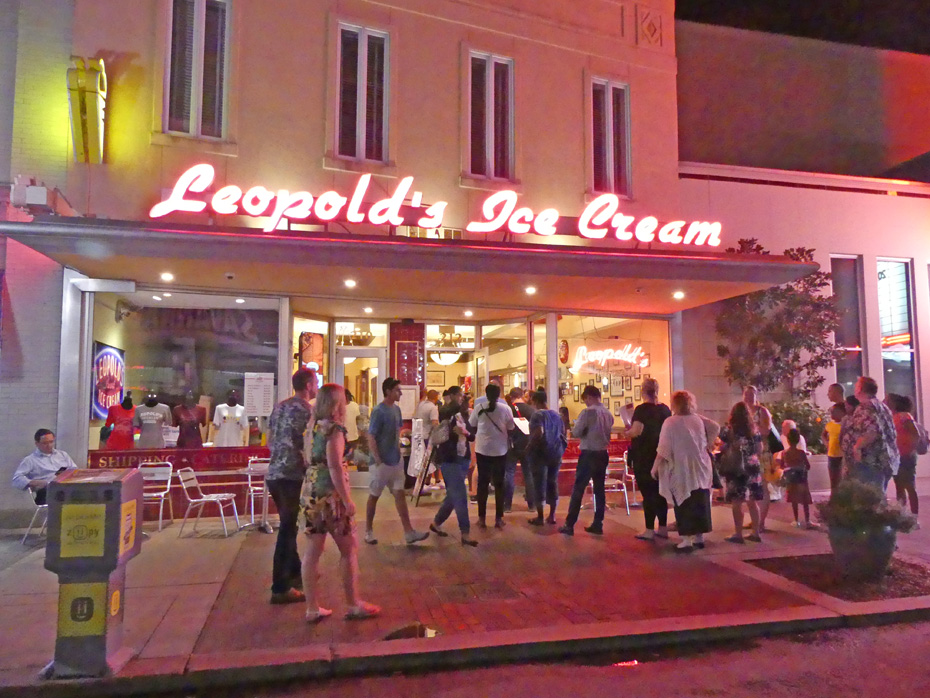 For many of us, dessert is the most important part of a meal. We had dessert at Leopold's Ice Cream Shop. This year they are celebrating their 100th anniversary. When you visit you might notice a lot of Hollywood paraphernalia around. That ties in with their history. (You can read more here.)

One thing about Leopold's is it's always busy. Every time I passed it during my time in Savannah, there were lines, but they move fast. It has been a Savannah institution since the three Greek Leopold brothers opened it in 1919. Savannah's most famous songwriter, Johnny Mercer, grew up just a block away and used to get his sweet treats here. His favorite flavor was Tutti Frutti. Leopold's still carries the original Tutti Frutti made with rum ice cream with candied fruit and fresh-roasted Georgia pecans.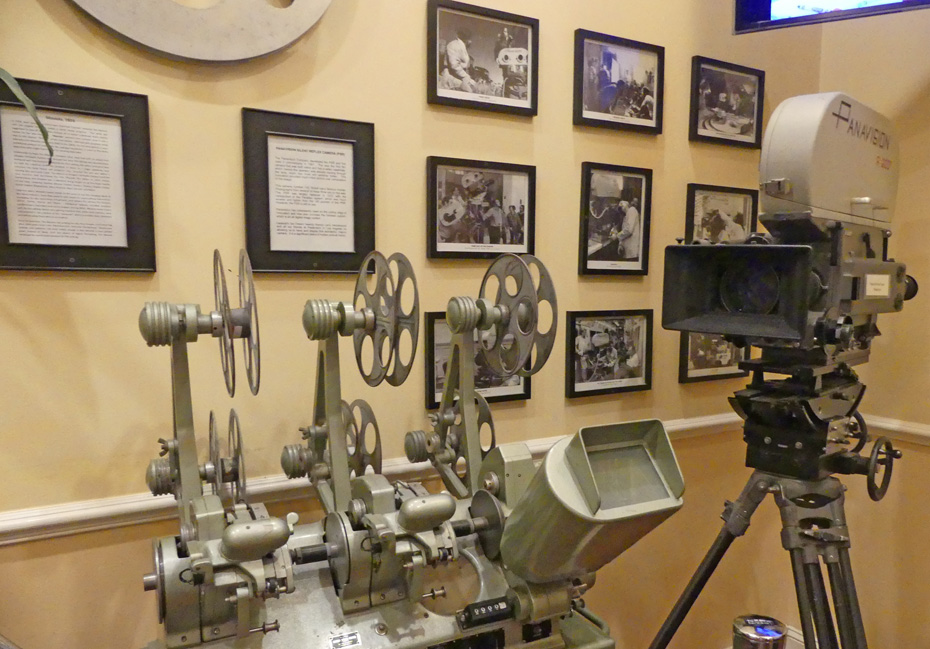 Today's most popular dessert is Savanna Socialite made of milk, dark chocolate ice cream, Georgia pecans, and swirled with bourbon-infused caramel. All together they have about 23 original flavors and each month has seasonal flavors.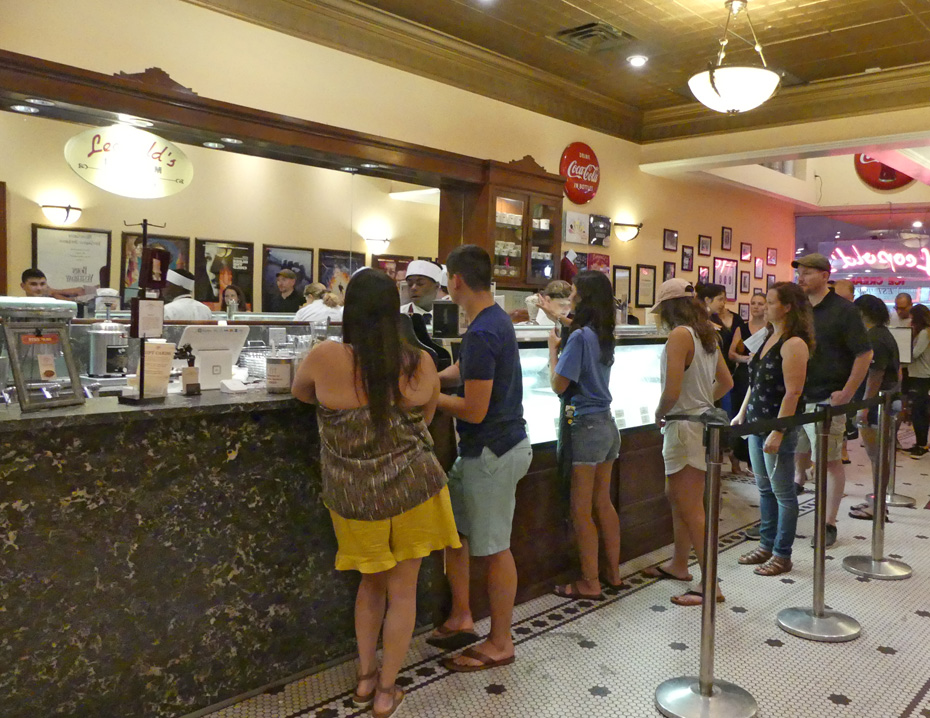 True to its roots, Leopold's has an old-fashioned soda fountain and offers all those delights those of us of a certain age remember. You can get a banana split, an ice cream soda, a float, hot fudge sundae, and even sandwiches and salads like you used to order at the old five-and-dime stores.


I went for a chocolate ice cream soda and was delighted. It was perfection right down to the cherry on top.

If you go hungry in Savannah, it's your own fault.

For more Savannah stories click here and here

We'd love your comments!