No matter where you go in South Carolina, you'll find great food. Here are a few of the foodie hotspots I visited lately.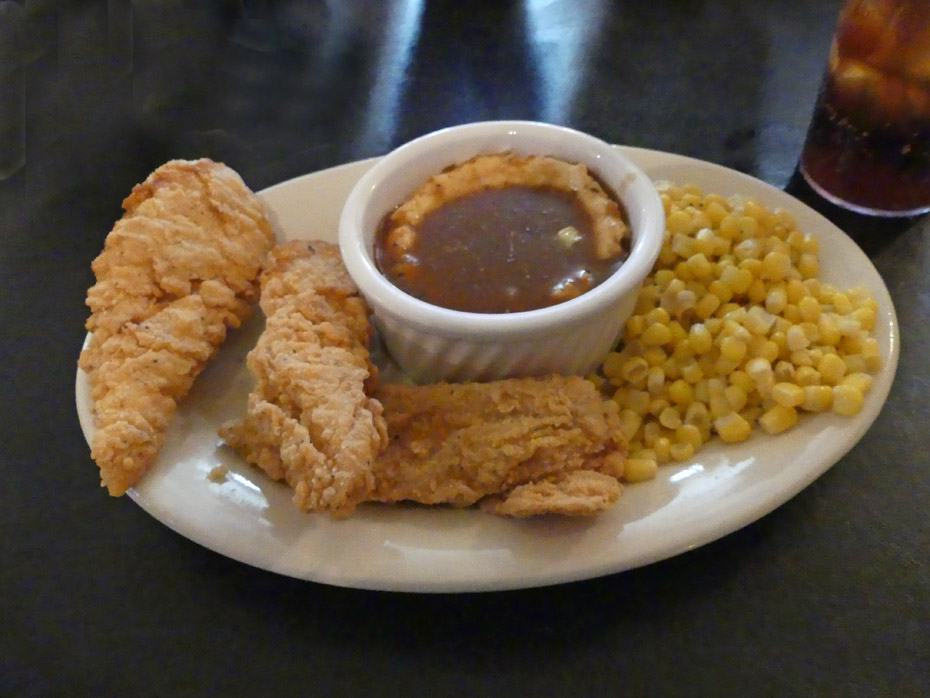 The River's Edge Restaurant and Bakery in Cheraw, SC. Unique Mennonite owned restaurant. The salad bar looked good but I opted for the Chicken Strips with a side of mashed potatoes and corn. Tasty. The desserts that you pass right next to the front door are a must. I shared a slice of their chocolate cake. The walls are hung with beautiful hand-made quilts for sale at reasonable prices.
Oslo's Spirits and Grill in Cheraw, SC. If you are looking for a bar scene with food, this is the place. It's only open for dinner but serves great wings, burgers, salads and more along with a full bar. There's live music on Friday. I had the salad and enjoyed it. One friend had a very hefty looking burger with some unusual waffle fries.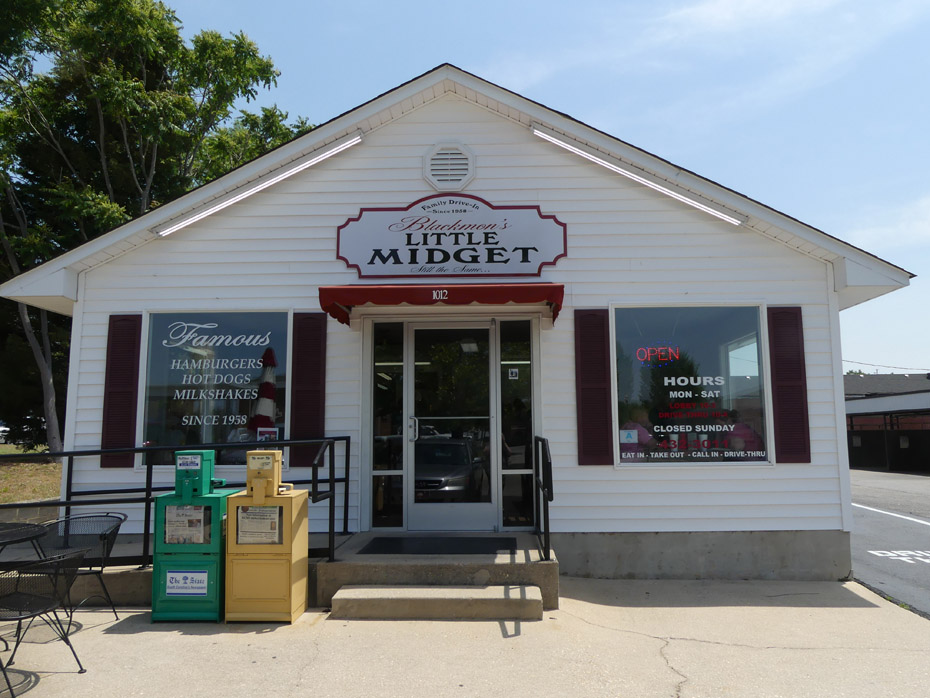 Blackmon's Little Midget Family Drive-in in Camden, SC Great quick lunch stop. It's not a fast food chain place but the counter service is efficient and fast. Food is fresh and home style. I had a excellent hot dog with everything but the kitchen sink on it. Burgers are supposed to be excellent. You know they're doing something right; they've been doing it for 60 years.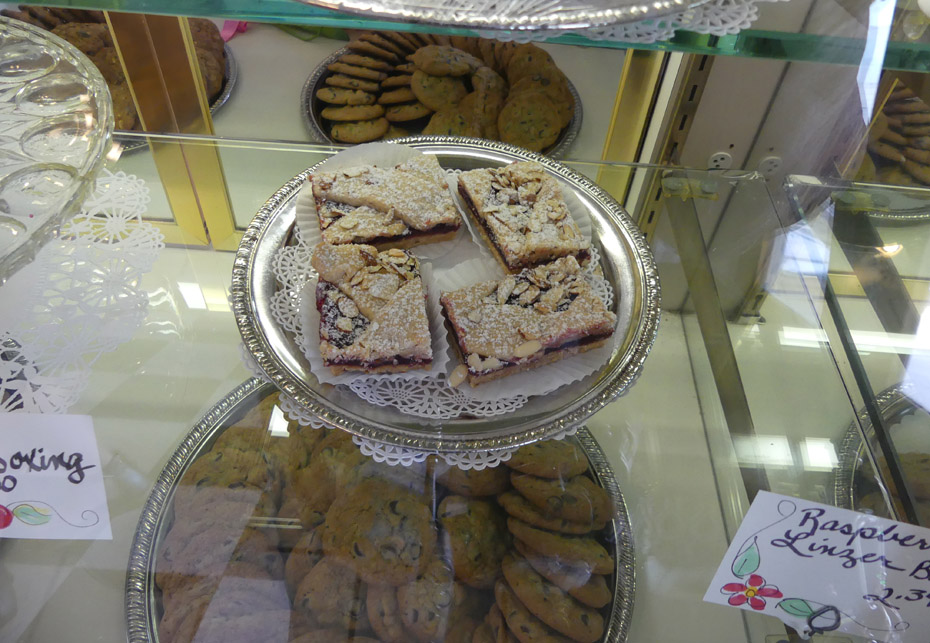 Mulberry Market Bakery is a sweet treat you don't want to miss. It's been Fran and Peter Rowland's contribution to Camden's culinary arts scene since they started it 25 years ago. We stopped by on the way to the Steeplechase Museum and grabbed a box of sweet delights. Just the smell when you first open the door is worth the stop. Looking at all the homemade cookies, rolls, Danish, and other assorted treats. It was hard to choose a favorite. The Raspberry Linger was high on the list but there was a chocolate yummy that was right up there also. I even had a Danish left over that I had for breakfast the following day and it was still fresh. You can get homemade bread and tea or coffee there as well.
If you happen to be in Camden around Valentines Day, the Rowlands make a unusual treat. Sarah Bernhardts are named in honor of French actress Sarah Bernhardt (1844-1923). The Rowlands make them with an almond macaroon base and fill it with chocolate ganache then dip their heart-shaped concoctions in rich melted chocolate. Makes me want to return to Camden.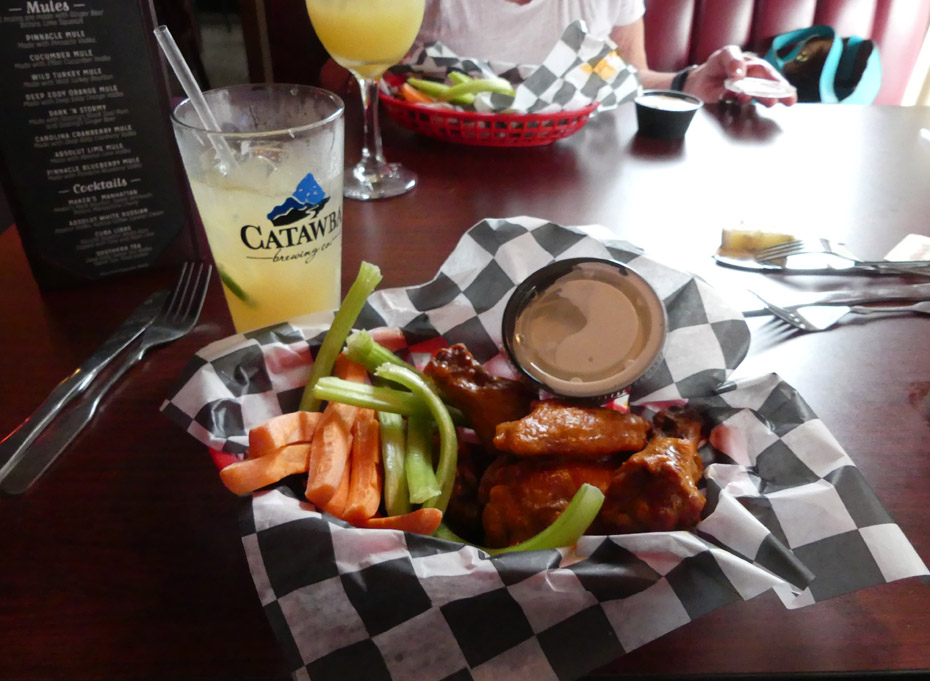 Steeplechase Bar and Grill in Camden, SC for your dinner and a drink spot this is the one. Open for lunch and dinner with a varied menu. I had the wings. I opted for "Medium" and it was seasoned just hot enough to make it tasty. It seems to be a local favorite. Everyone seemed to know everyone else there. It's a sports bar so you will find good cocktails as well as beer and wine. There is live music some weekends.
There are some othere wonderful places I have already written about in South Carolina. Old South Catery in Camden, SC is here.
Julia Belle's, Town Hall and Top Hat Special-Teas all in Florence are found here.
Wholly Smokin' and Rebel Pie in Florence have stories here