It's rare to find a restaurant that has stayed in business run by the same family for over 50 years. Old South Catery in Camden, South Carolina was started by Charles Hatfield's grandfather. When his grandfather passed away his mother took over and now Charles runs it. Growing up with such a cooking background, southern food was in his blood.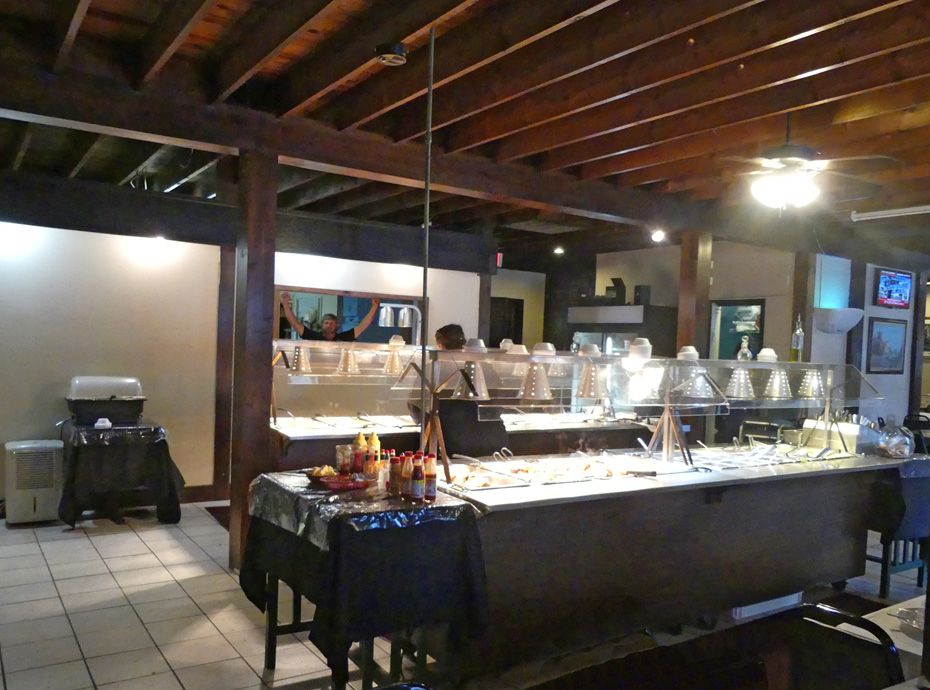 The entire atmosphere says "Southern Hospitality." Before you enter, there are old fashioned rocking chairs outside in front of Old South Catery even though it's located in a small mall on a busy street. The exposed beam ceiling and simple interior seems to say welcome. The kitchen is visible through a super large window so you and see what's happening behind the scenes so to speak. It's just dark enough to be relaxing but not so dim you can't read the menu. Of course, a menu isn't needed. This is a southern buffet.
Over the years the secret to Old South's success is its old Southern family recipes. When I visited, Charles was busy in the kitchen preparing some of his special dishes. Of course, it involved frying,--yeah, I'm a southerner and love my fried things. I saw so many favorites on the buffet I had a hard time deciding. There's baked ham, ribs, chicken and dumplings, fried chicken, fried pork chops, mac and cheese, greens, okra, and so much more. I watched as staff rushed around and made sure if an item ran down. It rapidly got replaced.
Lynn Raden, the general manager, brought me some of their special rolls. They are a kind of little flat biscuits that are a house specialty. They are wonderful for sopping up that last bit of juice from the collard greens; hard to decide between them and the cornbread. Naturally, they serve excellent sweet tea here.
If you are trying to eat healthy, there is an ample salad bar here as well. However, every time lettuce competes with fried chicken for my attention guess who wins out?
The dessert bar won't win any accolades from the calorie counters either. I tried to choose between Peach Cobbler, Banana Pudding, Strawberry Shortcake, and Chocolate Pudding. I was virtuous and only sampled the Peach Cobbler, Strawberry Shortcake, and Chocolate Pudding. Not saying the Banana Pudding didn't look good but you do have to draw the line somewhere, right?
There's a catch to all this gastronomic glory; you have to dine there on a Sunday or else take advantage of Charles catering. During the week they are busy catering special events around the area. Sundays are open-for-business days.
There's a moral here. If you are going to Camden, be sure to go on a Sunday so you can enjoy Old South Catery.
For more info: http://oldsouthcatery.com
Connect with us on:
American Roads and
Global Highways has so many great articles you
may want to search it for your favorite places
or new exciting destinations.