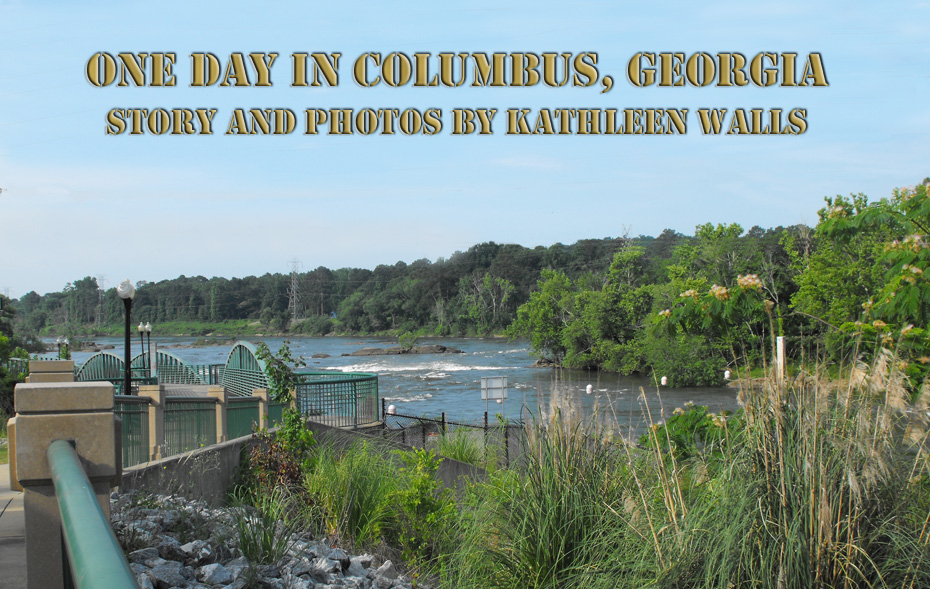 Published 6-15-2019

If you just have a one-nighter in Columbus Georgia, here is the perfect way to enjoy your day; go whitewater rafting on the river, eat at SaltCellar, and stay at the Columbus Marriott.
Columbus Georgia's Marriott Hotel downtown across from the Convention and Visitors Center wasn't always the comfortable hotel it is today.
Back in 1861 it began life as a grist mill. Owner, George Waldo Woodruff, named it Empire Mills. During the Civil War, it produced food for soldiers and civilians. In 1865 when invading Union forces burned all weapon producing mills, it was spared since it only provided food. It grew to be the largest producer of meal and flour in the South. Empire also produced stone ground Graham flour, bran, grits, and cornmeal.
By 1930s stone ground mills were being replaced by cheaper electric ones. The mill shut down. Empire Mills was renovated in 1980 to become a part of a hotel. When you enter the lobby of the Marriott in Columbus, the red brick wall on your right proclaims its authenticity. It was once the wall of the old Empire mill. Today it houses the hotel's restaurant, Houlihan's and a small coffee shop, the Grist Mill. Houlihan's retains much of the old mill character with its brick walls and exposed beam ceiling softly lighted with Tiffany style lights. Perfect for breakfast or lunch.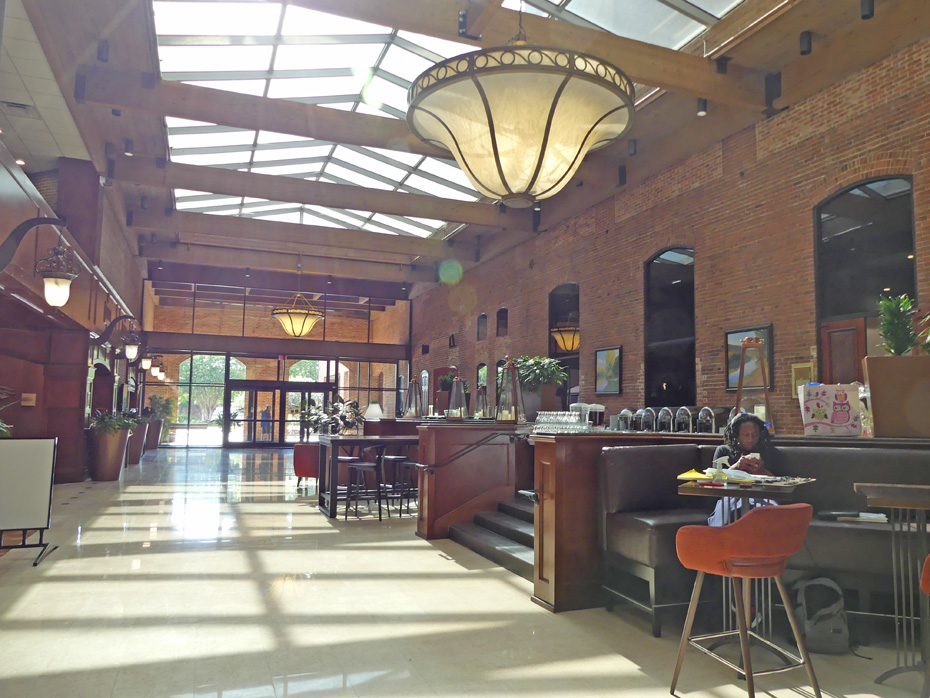 The lobby blends the history of the mill with the modern day accommodations. The Grist Mill Coffee Shop occupies the rear of the lobby and has touches of the mill including an antique clock, a gilt framed mirror, and a pair of wrought iron hanging street lamp type lights.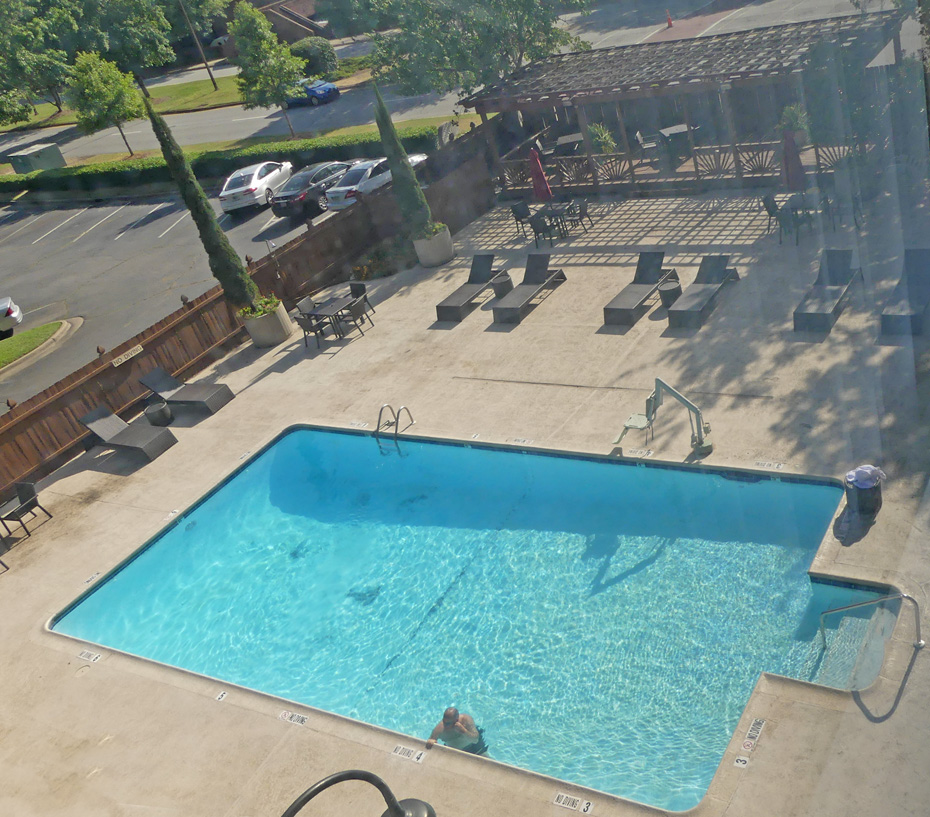 The rooms are perfect. My room had a great view overlooking the spacious pool. In fact, that outer wall was one huge window so you can let in the great outdoors or pull the drape as needed. Having a small fridge and microwave was so handy. There is a closet for hanging clothes and the bath gives you a choice of a tub or shower. Naturally there is a business center and a fitness room.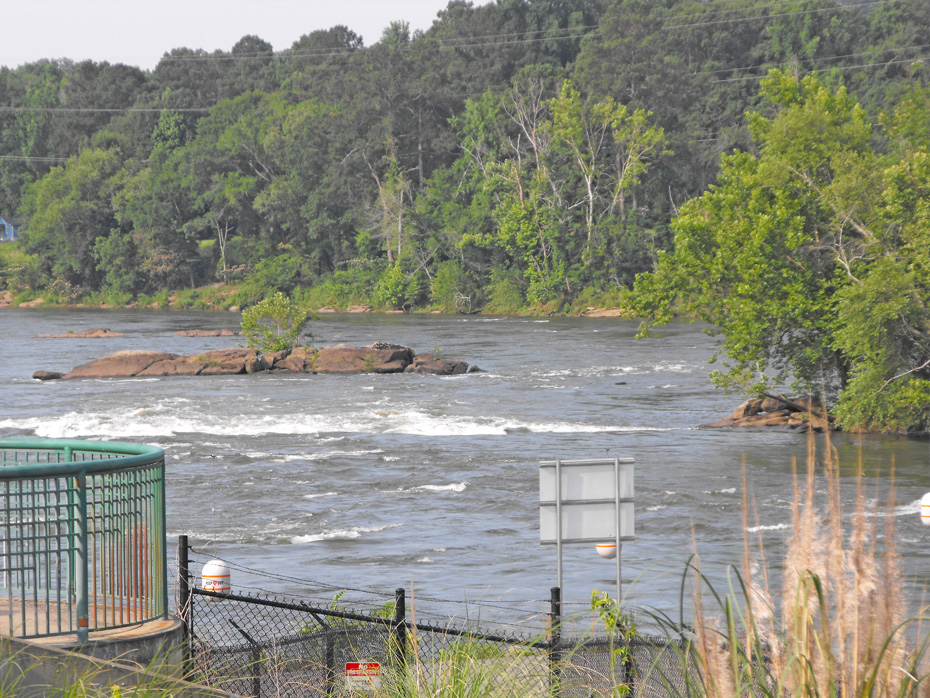 A bit of fitness helps when you visit Columbus's wild Chattahoochee River. This two and a half mile run through downtown Columbus is the longest urban whitewater rafting in the world. two types of trips (Classic and Challenge) due to the dam-controlled release which occurs daily! In the morning, the 9am run, you'll face approx. 800cfs with Class I-III+(IV) rapids in the afternoon after the dam is opened those same rapids jump up to Class III-V rapids. This makes the run some of the biggest rapids east of the Mississippi.
This was a new adventure for me so I choose the morning Classic run. My compamion, Chloe Padgett from the Columbus Convention and Visitors Bureau, accompanied me. She had done this before so she knew what to expect. We arrived at the headquarters building of Whitewater Express where we got outfitted with a life jacket, helmet, and paddle. We then boarded a bus to our destination at the head of the rapids.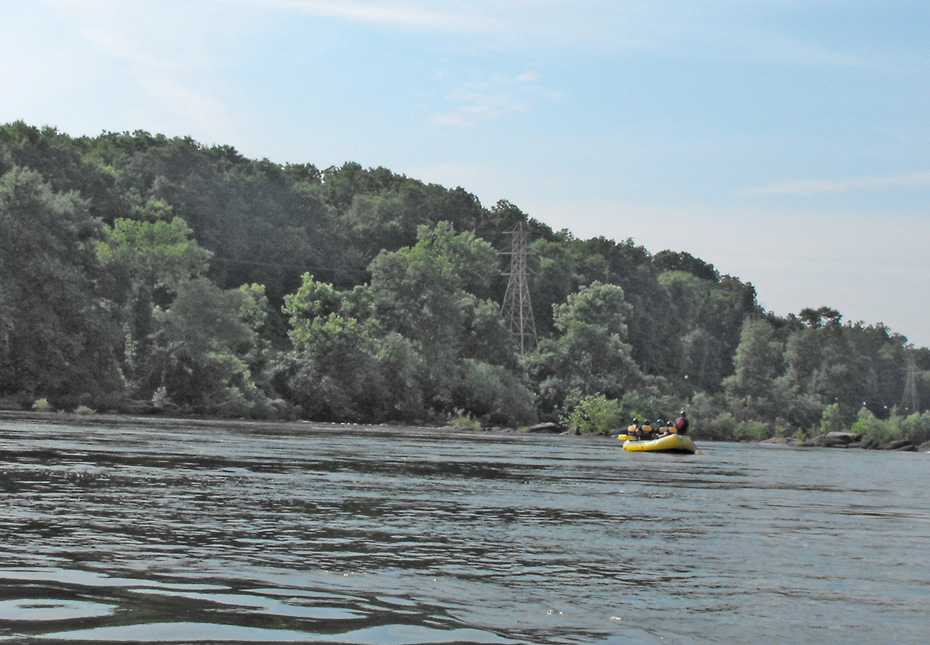 We were seated six plus our guide, Carson, in our raft. Carson instructed us how to paddle when he said "forward" and whatever number, that meant paddle that many times. He pointed out how important it is to keep firm hold on the T handle section of the paddle at all times to avoid "summer teeth." A situation he explained as "some are in the raft, some are in the river and blood is everywhere."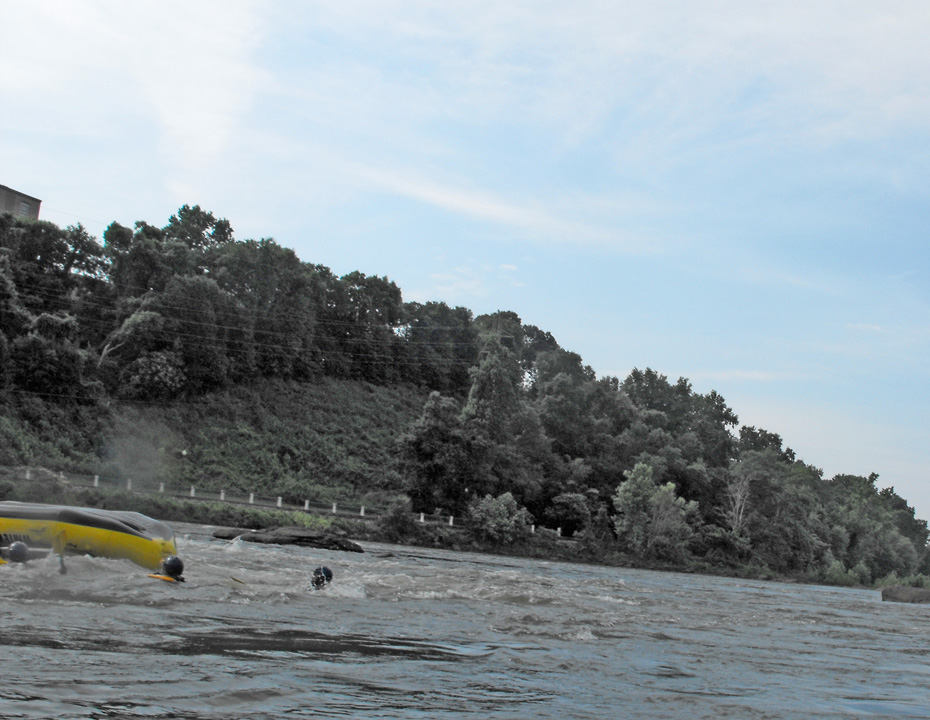 He told us when he called "DOWN,' slide off the seat on to the floor of the raft. First rapids we hit I understood why. The raft almost stood upright and we were treated to a shower. If you ever did a whitewater rafting, you will understand why I took very few photos. No prize winners here. I was using a backup camera I could afford to lose but fortunately it remained relatively dry and safe unlike some of the othere rafts, which did flip.
The rapids all have names. Ambush was the first one. Then Jaws followed by a calm stretch of the river called Lazy River. The last one in the 2 to 3 hour trip is called Cut Bait. I really thought we were going to flip on that one but we managed to stay afloat and shortly after we paddled to a landing along the River Walk and walked the few blocks back to the headquarters to return our gear.
It is lots of fun and excitement but not for the faint of heart.
After braving the rapids, I deserved a wonderful dinner. Shelby Guest from the Convention and Visitors Bureau took me to a new restaurant called SaltCellar. It has only been opened since February 2019. Buddy Nelms, co-owner, was there and greeted us. He also owns The Loft which I visited awhile back. So I was prepared for great food. I was not disappointed.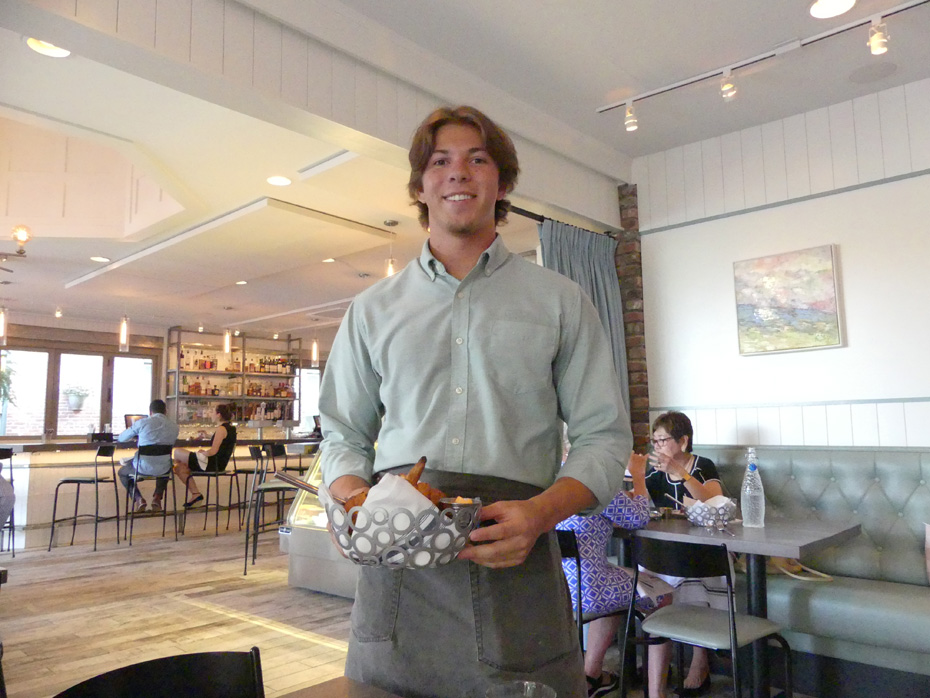 Our waiter, Miles, brought us a large plate of some of bread and butter to nibble on as we decided on our orders. It was delicious, crispy on the outside and light and airy inside.
For our appetizer, we sampled the Grilled Halloumi Cheese with roasted tomatoes, arugula, and fresh mint all drenched in pomegranate syrup. It was delicious and had a very unusual flavor for cheese. Probably the syrup did it; whatever it was it really worked.
Miles told us of two house specials and I decided on one of them, a wood grilled flatbread topped with mozzarella cheese, and covered with shrimp, roasted tomatoes, mushrooms, and herbs. It was a little like a pizza but more filling. The toppings mixed well with the cheese.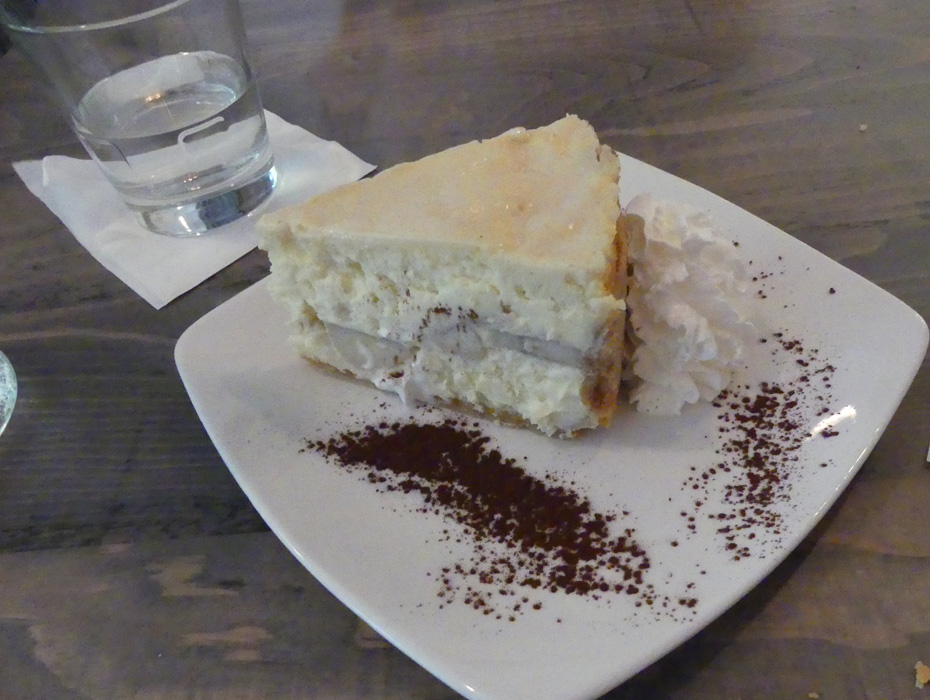 I was pretty stuffed but having heard of the legendary desserts, I had to try one. Hard choice between the German Chocolate Cake and the Banana Pudding Cheesecake but the cheese cake won out. Let's just say I would have killed anyone who tried to take it away from me after I took the first bite. WOW!
Of course there is so much more to see in Columbus like the brand new Historic Westwood, Civil War Naval Museum, The Coke Cola Space Discovery Center , Springer Opera House, Fort Benning Infantry Museum, even Ma Rainey House and the Liberty Theater. So you will have to return when you have more time.
We'd love your comments!