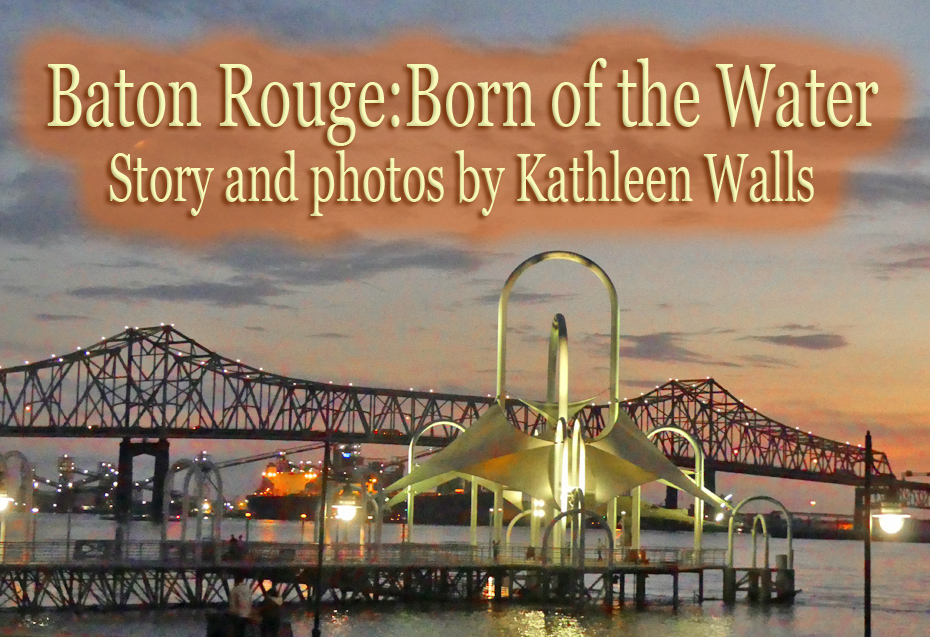 Published 3-26-2020

Red Stick was what Native Americans called this part of the country. Baton Rouge, as we know it today, is often under-considered as a great tourist destination. It was where Travel South held this year's conference. Yes, we worked meeting with CVB people from southern states in a speed dating format during two of the days but lunch and evenings were super fun and our first day was spent seeing some of its many attractions.
A Rural Soiree at LSU's Rural Life Museum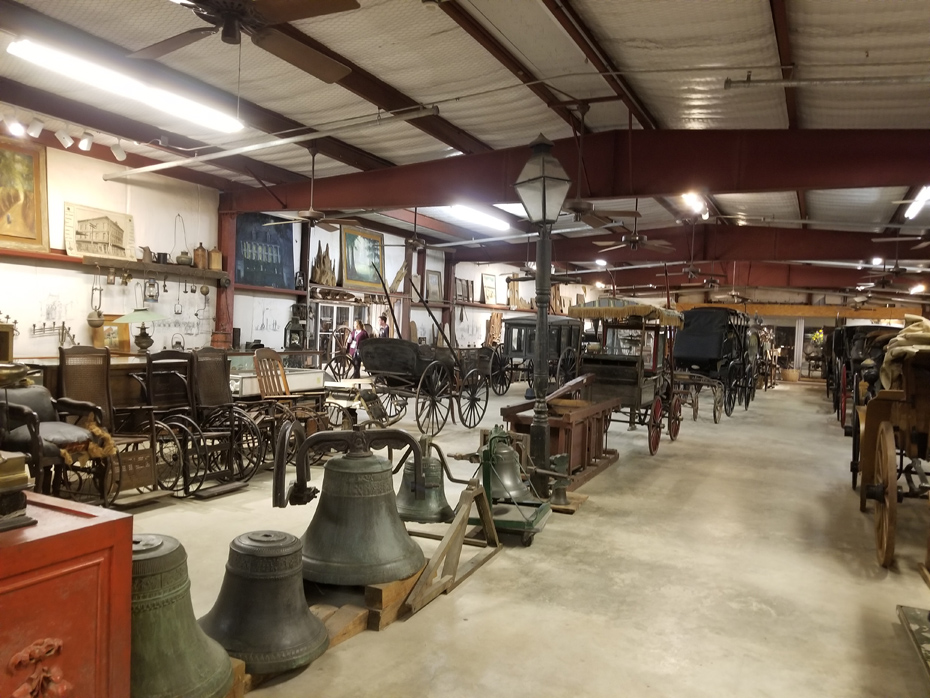 We started off Saturday night before the conference began with a swinging party at LSU's rural Life Museum. Aside from the regular activities you will find when you visit after this pandemic ends, we were feted with food and music. Lots of both. There was Nouveaux Cajun Xpress Band. These guys played all the old Cajun music favorites including one of my personal favorites, Louisiana Saturday Night. They are so good they have been nominated by Cajun French Music Association in five categories. One is Clyde Thompson for Fiddler of the Year and the others for the whole band; Best First CD, Best Album / CD of the Year, Band of the Year, and People's Choice Award.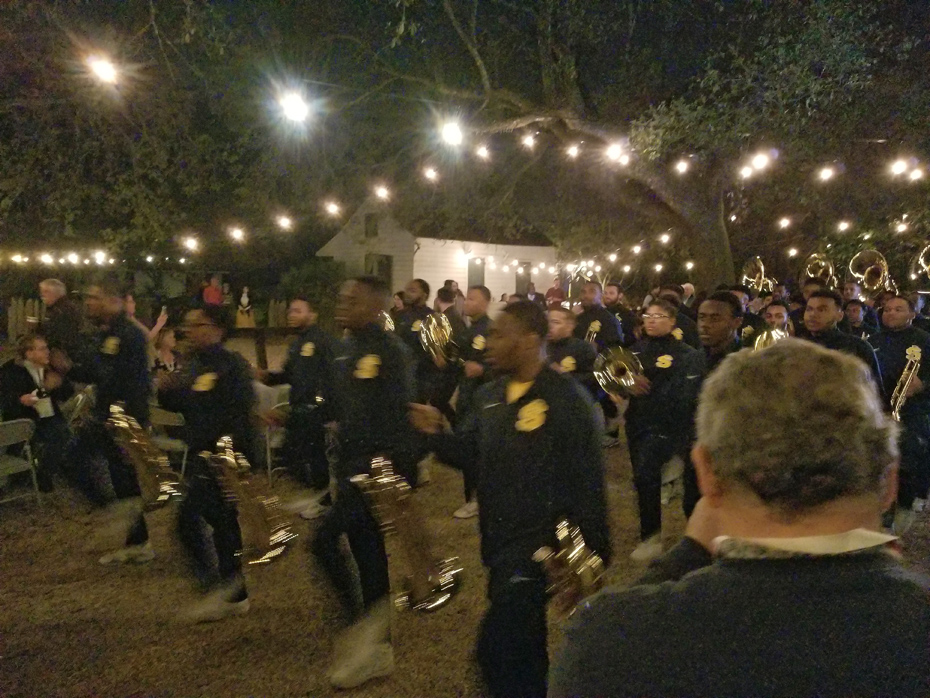 The Southern University award-winning marching band, The Human Jukebox, paraded down the main section and gave a rousing performance. Other singers and musicians entertained as well.
Food stations were preparing and serving food all around the complex. There were plates of Cochon de Lait, a special roasted pig dish, gumbo, crawfish and crabs plus other Louisiana traditional food. Desserts including a traditional Louisiana bread pudding were served at campfire-lit areas. Special night reenactors were doing their jobs. Blacksmiths worked the forges. A group of "19th century folks" showed us their cabin and a typical table filled with foods of that era. It was a night to remember.
I had visited there once before in daytime so there's more about the Rural Life Museum here in an earlier story.
Tour, City born on the Water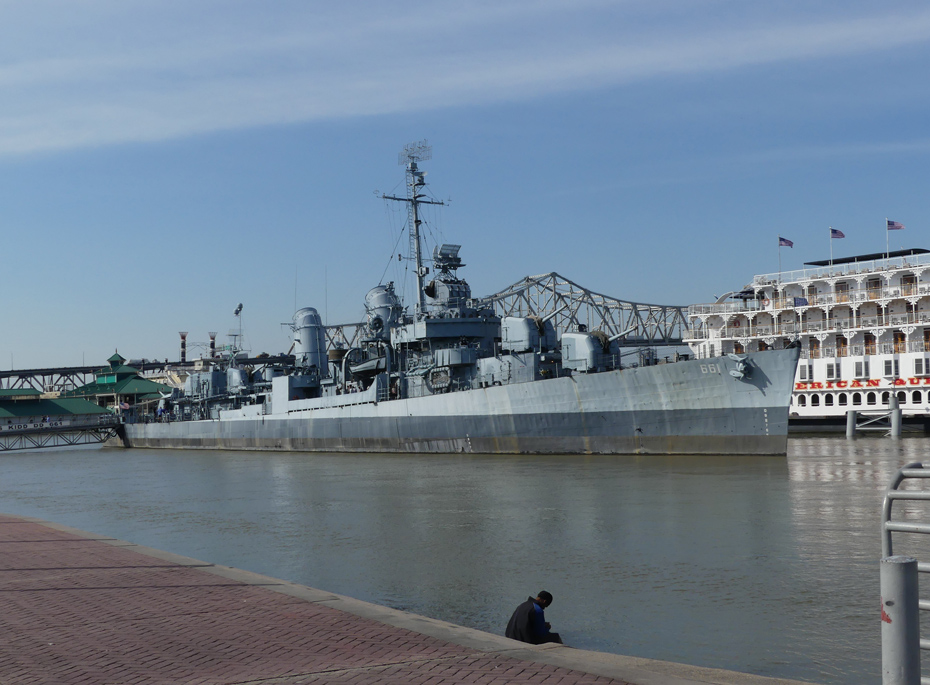 Baton Rouge exists because of the Mississippi River. Our day tour focused on the importance of the river in the past and today.
Erica Sweeney Glory with Baton Rouge CVB led us in a walk along the riverfront to a new sculpture named "Sing The River," designed by California-based artist Po Shu Wang and gifted to the City-Parish of Baton Rouge by the Rotary Club of Baton Rouge. We all crowded around and stood inside to here it "sing." Yes, it really does. It is connected to sensors in the river that generate a soft kind of music that corresponds to the flow of the water. It even lights up at night.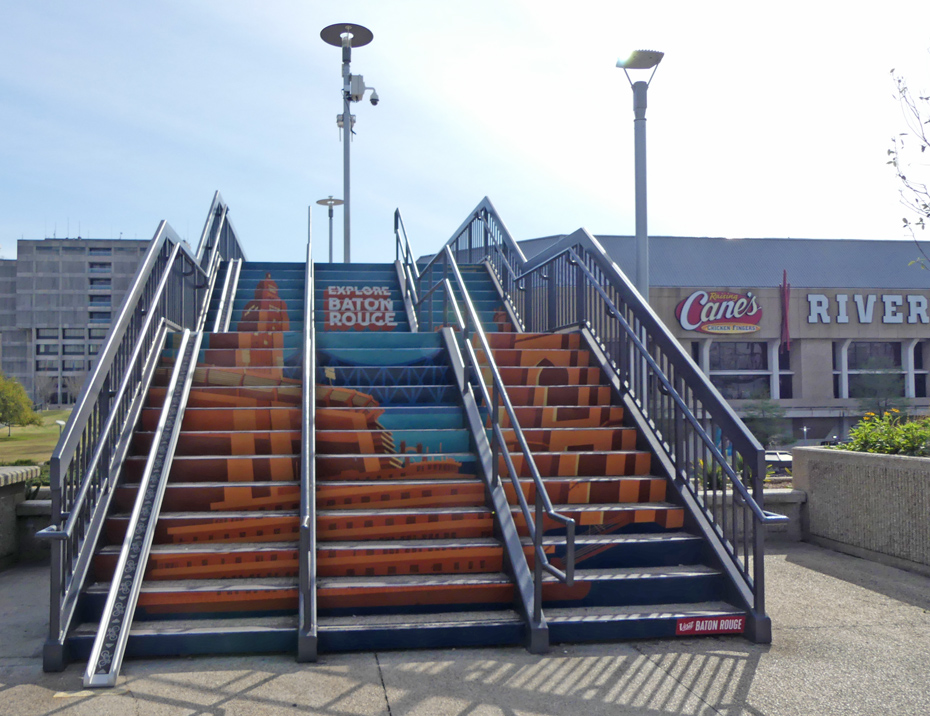 As we walked we passed flowering gardens and other interesting sights like Raising Cane's River Center and USS Kidd. Even the steps leading down to the walkway are a work of art in its own right. When all is completed the walkway will go about 11.5 miles.
Southern University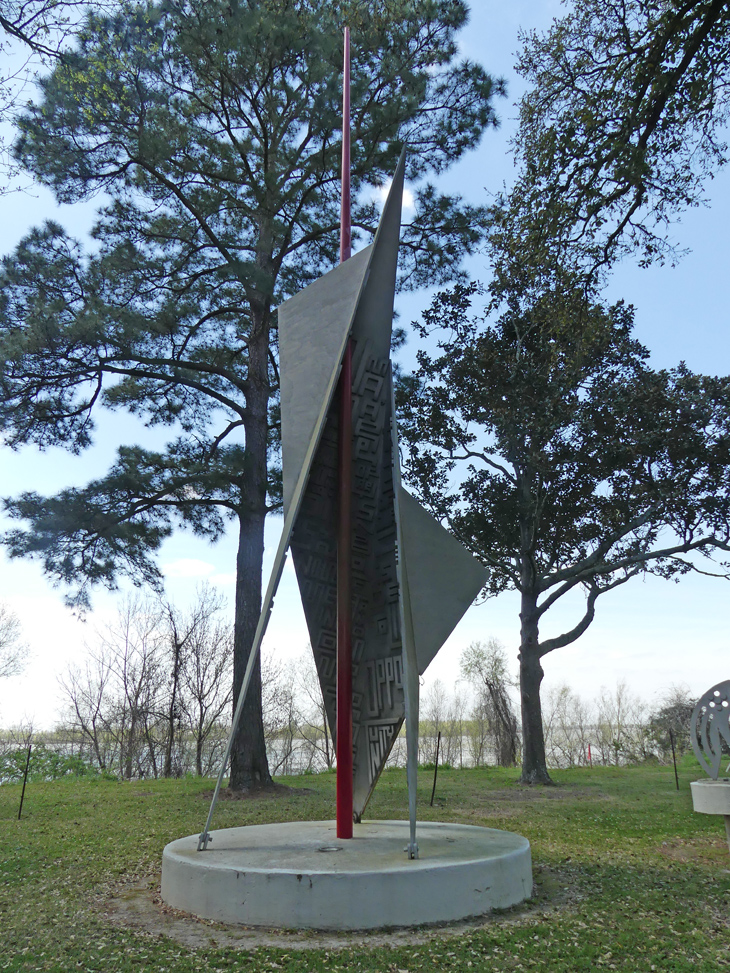 We visited Southern University. It was founded in 1880 and originally based in New Orleans. In 1890 it relocated to the present site. The site was an old indigo, cotton and sugar plantation on the banks of the Mississippi River. The original old overseer's house from around 1840 is now there archives center.
It has the distinction of being the location from which Baton Rouge takes its name. Houma Indian Tribe and the Bayougoula Indian Tribe had disagreements about their hunting ground boundaries and finally established this spot and marked it with a stained red cypress pole on Scott's Bluff. When French-Canadian explorer Pierre Le Moyne d'Iberville saw the marker during an exploration in 1699/1817.he used the French version as the name of the new town. There is a commemorative Red Stick sculpture in that spot today.
We enjoyed a light lunch at the university and then moved on to our next discovery.
Estuary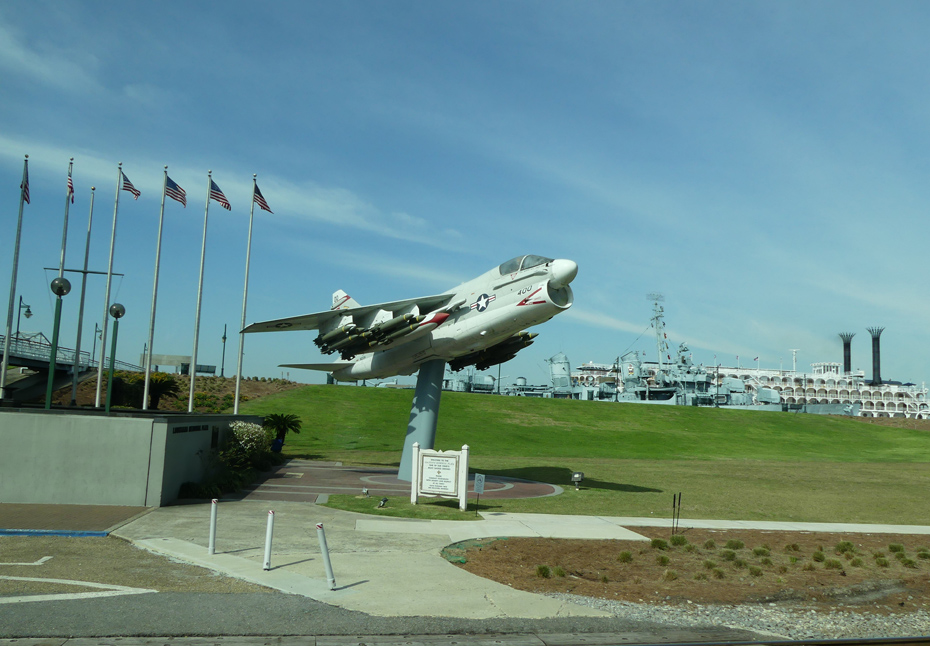 One of Baton Rouge's newest projects involving the river ties in with the old. Look back a bit before we move forward. Samantha Morgan gave us some history. In the early 1900s, Baton Rouge was a sleepy town. Then in 1909 Standard Oil (today it's Exxon) came to town and brought big money to the area. In 1925, the city decided to spend some of the money to build a dock. Prior to that all goods shipped to Baton Rouge had to go first to New Orleans then get brought to Baton Rouge by train. Disaster struck in the form of a flood in 1927 followed by the Great Depression and took its toll. Eventually the dock wasn't making money and then began to fall into disrepair.
Today, it's seeing a revival as part of a project to protect Louisiana's disappearing wetlands. The Water Campus was born. The Old Dock is now part of a meeting center, The Estuary features over 6,000 square feet of stunning meeting and event space that almost brings the river into the conference rooms and allows attendees to access the Father of Waters up close and personal. But wait there's more!
LSU Center for Water Development
We visited the country's first major center developed for the study of coastal restoration and sustainability. Twenty four square miles of Louisiana is washing away each year. For you football fans, that's a football field every 38 minutes. The Coastal Protection and Restoration Society was formed after hurricanes Katrina and Rita as a central agency to work at solving this problem.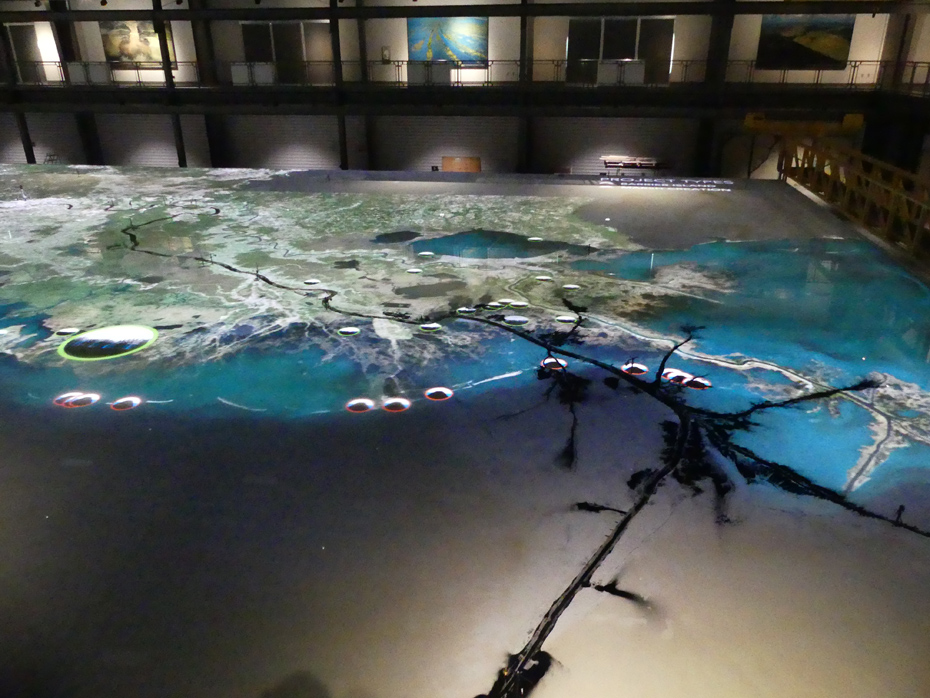 They have a movable bed river model which replicates the real Mississippi River and scientist can work with "what if" ideas to research what will work to help solve this problem. They have just started their once a month viewings. You can view actual case scenarios on the model. This is an amazing education about the results of climate change and man-made problems on the land mass of not only Louisiana but all of our coasts.
Revelry on the River at Houmas House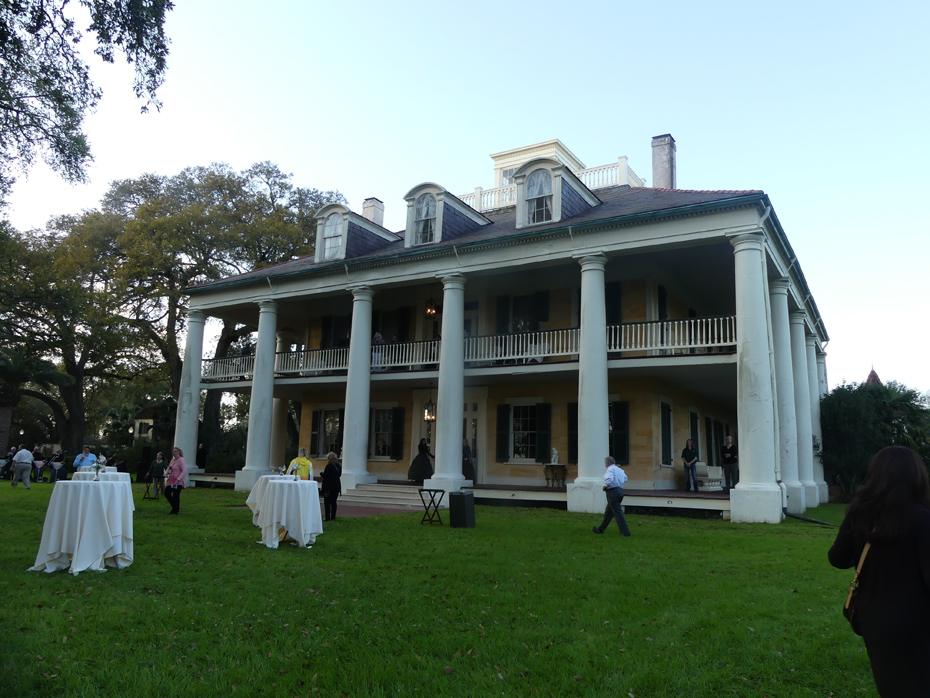 Our dinner at Houmas House was an elaborate affair as befitted the history of the plantation. Its history began in 1775 when Alexander Latil built a French Colonial style home on land he and a partner had taken from the local Houmas Indians. In 1803 and again 1829, remodeling created something similar to the Classical Revival mansion that stands today. By the 19th century the plantation valued over a million dollars and was the largest slave holding plantation in Louisiana.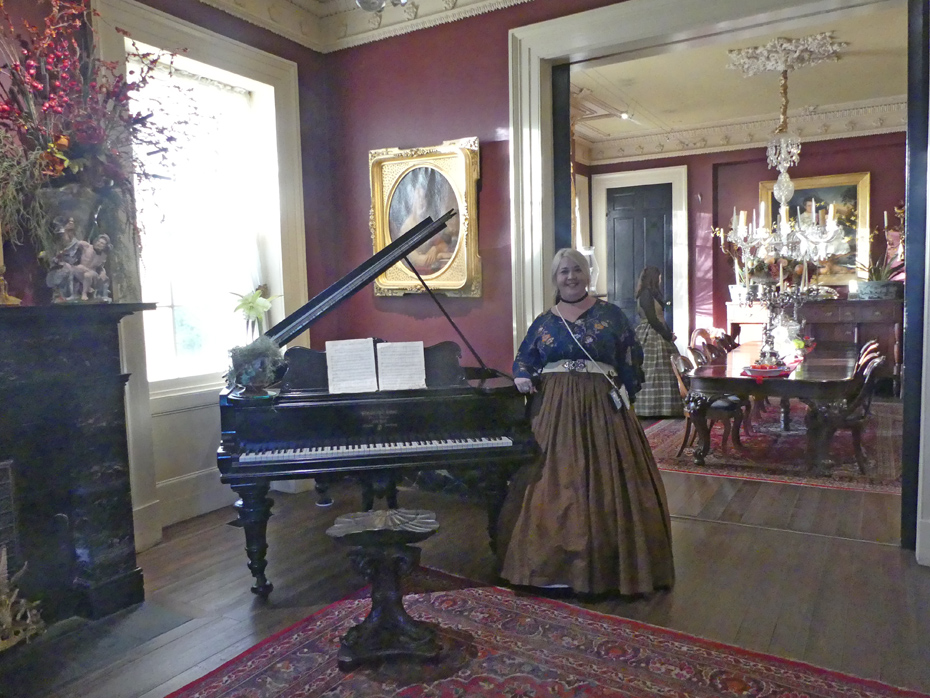 Today, it is an inn and private home but portions of the home and all of the grounds and outbuilding are open for tours. Docents in period costume greet you as you view the home. Since parts are a private residence, viewing is limited to certain areas.
The Inn at Houmas House is made up of several cottages moved to the site from nearby. There are three on-site restaurants and one of the original garconierres (French term for where young unmarried sons of a house lived) from 1836 operates as the Turtle Bar.
The grounds lead to a performance stage via a 10-foot-wide walkway surrounded by gardens with a colorful fountain. The band there had more appeal to the younger guests. Inside the newest addition, the Great River Road Museum and Interpretive Center, there was a jazz band playing. The museum is filled with information and artifacts about plantations and history of life on the Mississippi.
The only thing missing were slave cabins to tell the story of the folks who actually built all this wealth. Visits to other nearby plantations offer their interpretations of that part of antebellum life. Houmas House reflects the life of wealthy sugar cane plantation owners. Our food was delicious and weather cooperated to make it a memorable night.
Every Man a King at Capital Park Museum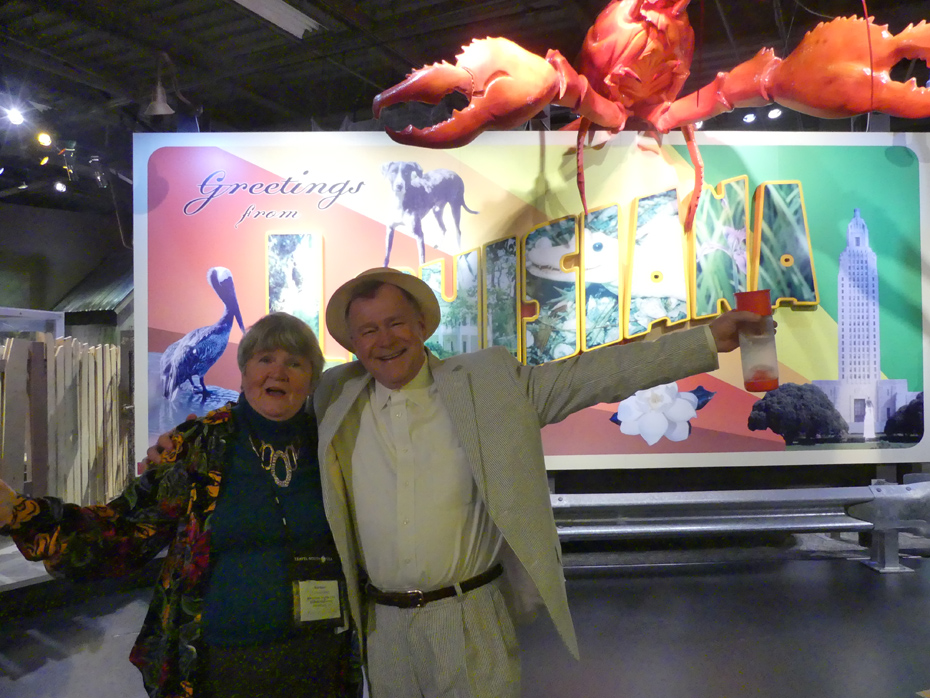 Ever wish you could meet one of your favorite historical characters? My wish came true at our Monday night dinner. Louisiana's most controversial governor of all time greeted us. Huey Long, the Kingfish, governor, U.S. Senator, and presidential contender, met us at the entrance to Capital Park Museum. For those not familiar with the Kingfish, he was the 40th governor of Louisiana from 1928 to 1932 and a member of the United States Senate from 1932 until his assassination in 1935, shortly after he announced his run for the presidency. His legacy was a "Share the Wealth" policy. He was both ruthless and dishonest but advanced public education with free textbooks, built roads and bridges, and helped poor and disenfranchised people of both races. One exhibit at the Old Capital Museum shows the two sides of Long and then asks "Would you vote for or against him?"
The Krewe of Yazoo entertained us among the carnival exhibits at the museum. We met a Mardi Gras Indian and got a nice helping of Louis Armstrong style Jazz.
Violinist Shawn Ward entertained us while we dined outside in view of the magnificent Capital building. Fireworks completed a perfect evening.
Carnaval de Louisiane at Louisiana Art and Science Museum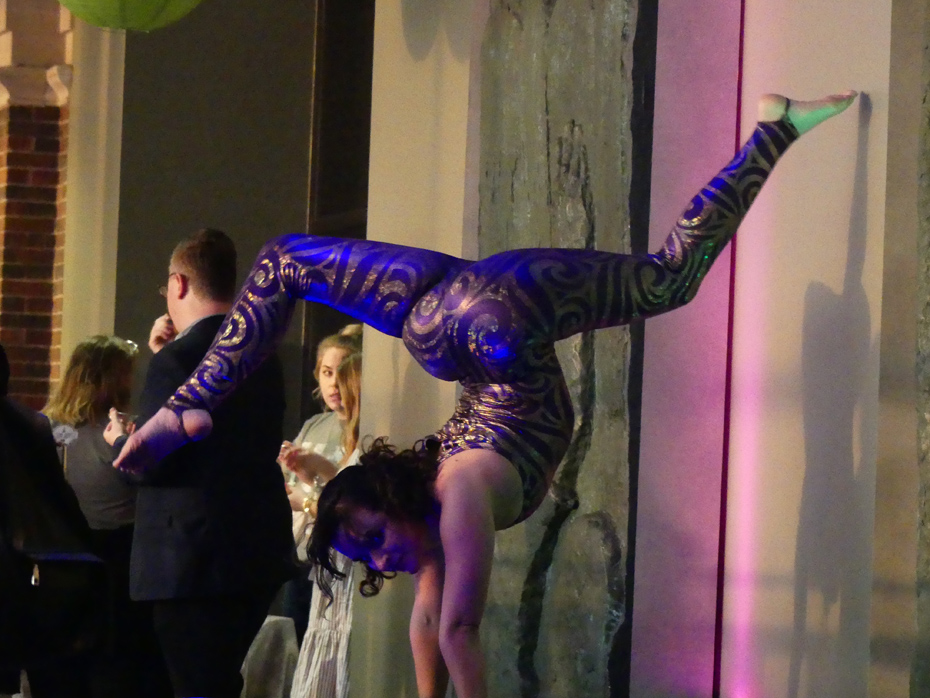 Closing night was a colorful and delicious fest. Bayou Cirque entertainers in colorful costume contorted into positions I would never recover from. These acrobats were fantastic. The food and drinks were served on two levels and we were given lots of mementoes to remember the event.
The Art and Science Museum is a grand mixture of colorful art and interesting science exhibits. A planetarium adds to the fun.
Lunch presentations
As a break from our meetings, our lunches were fun and entertaining.
Tennessee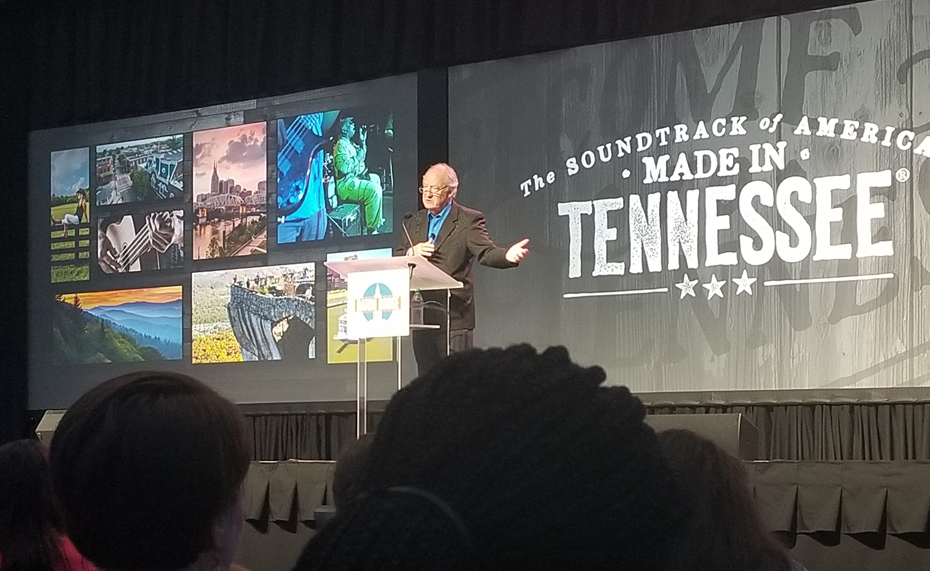 Tennessee told us the story of Ken Burns Country Music series with author Dayton Duncan as a guest. For thirty years, Dayton Duncan has collaborated as writer/producer with Ken Burns on documentary films for PBS the most recent being Country Music viewed by nearly 40 million people. He showed clips from around Tennessee related to the eight-year journey making the film. This would convince anyone they wanted to visit Tennessee.
Alabama
Alabama drew us in with scenes from Alabama's legends while they fed us based on 100 dishes to eat in Alabama. One of Alabama's most famous natives being Aretha Franklin, we were treated to a performance by a fantastic impersonator. The band actually had played with Aretha Franklin. This lady looked, sang, and performed so perfectly they could have fooled us into believing she really was The Queen of Soul.
This kind of event not only gives us a chance to meet the representatives of many places we want to visit and write about for you, our readers, They offer a glimpse into what awaits us there when we can begin traveling again.
For more about Baton Rouge see this story.
.

We'd love your comments!