Welcome to the new issue of American Roads and Global Highways. Summer is here. It's time to put on your traveling shoes and make plans for your next trip. We have some great writers including Kathy Barnett, editor and publisher of Weekender Extended. I hope you find some insprition in our stories.
Remember to subscribe for a special recipe and a free download of a great cookbook.

Don't forget to check out our blog. Here you will find timely subjects that occur between regular issues and general travel information. The latest are stories about Jacksonville's expanding tourism and all the fun attractions in the Outer Banks.


Agri Lanes
Old McCaskilll has a Farm

by Kathleen Walls


Real farms are rare treasures. Those pleasant homes with a family living in the midst of real farm animals, crops they planted themselves with cats and dogs to share the space have mostly been replaced with huge corporate offices where someone orders the planting done by huge machines manned by workers who are bused to the site then returned to the city after the day's work is done. The office workers only know the animals they are raising by the number and type. That's why it's such a treat to visit a real farm.

Travel Agri_Lane


Art Trails
A Fistful of Art

by Anne Jenkins
Public art not only beautifies an area or town, it also draws visitors. And in the U.S. Western states public art is very much focused on it's identity and history. This makes a fascinating, interesting and fun way to discover more about places, big or small.

Travel Art Trails

Chuckwagon Roundup

Great Dining in South Carolina

by Kathleen Walls


No matter where you go in South Carolina, you'll find great food. Here are a few of the foodie hotspots I visited lately.



Travel to a Chuckwagon Roundup


Civil Rights Trails

Kocking Down Walls in Fayetteville

by Kathleen Walls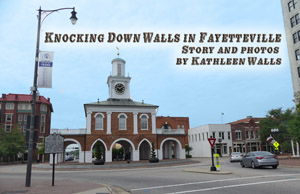 Fayetteville has a rich African American history. Fayetteville had documented the drama of post Civil War race relations well. Much revolves around the many churches; the first African American school plays a big part. However, every drama needs a hero and Charles Waddell Chesnutt fills the bill as one of the heroes of this one.


Travel the Civil Rights Trails

Dangerous Road

Visiting Chicamacomico Lifesaving Station

by Kathleen Walls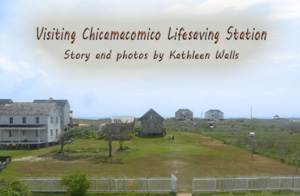 Before the days of the Coast Guard guarding our shores to prevent shipwreck deaths, another facility was hard at work. Chicamacomico Lifesaving Station fought to prevent drowning death in the Outer Banks since 1874. Their museum is one of the most complete U.S. Lifesaving Stations left in the country. The present station was constructed in 1911. It's located on Rodanthe. The name means shifting or sinking sand and considering its beach location that is so appropriate.

Travel down Dangerous Roads


Exploring With Eleanor

Sleeping with Civil War History

By Eleanor Hendricks McDaniel


History buffs and those interested in America's Civil War must travel to Gettysburg, Pennsylvania, the site of the most unforgettable and important military conflict of the war and President Abraham Lincoln's most famous speech, "The Gettysburg Address." Gettysburg National Military Park is mentioned in the book, 1,000 Places to See Before You Die in the USA and Canada.


Go Exploring With Eleanor

Elite Street Eats

Sherefe: A Touch of the Middle East in Fayetteville

By Kathleen Walls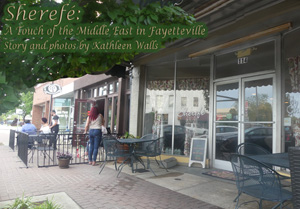 Many restaurants win awards locally but when you see one that is named a Top 100 Restaurant by Our State Magazine and Best NC Restaurant 2013 by Urbanspoon, you expect excellence. Sherefe in Fayetteville, North Carolina doesn't disappoint. It specializes in Greek, Turkish and Mediterranean dishes. Our waiter, Paul, was patient and knowledgeable with a touch of humor that made ordering fun.

Travel Elite Street Eats


Fork in The Road

Southern Tradition at Old South Catery

By Kathleen Walls


It's rare to find a restaurant that has stayed in business run by the same family for over 50 years. Old South Catery in Camden, South Carolina was started by Charles Hatfield's grandfather. When his grandfather passed away his mother took over and now Charles runs it. Growing up with such a cooking background, southern food was in his blood.

Travel down a Fork in the Road

Happy Trails


Living History at Conner Prairie


By Tom Straka

Photographs by Pat Straka


Conner Prairie calls itself an interactive history park. I'd use the term living history museum. It is located just northeast of Indianapolis, is one of the largest attractions in the region, and one of the most-visited outdoor museums in the country.



Travel Happy Trails


History's Highways


Hewn Timber Cabins Tell Florence History


By Kathleen Walls




Much has been told about the way enslaved people worked and interacted with the whiteowners in the old South. Little is known about their personal lives when their work was done and they went home. Did you ever wonder what was it like to live in a slave cabin in the 1830s and 40s?



Travel down History's Highways


Information Highway ( a different way to promote travel)


Take a Tour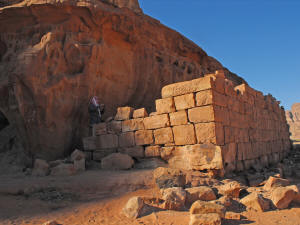 Want to visit fun places but you are not sure what to see there? How about taking a tour that is like having a friend who knows that city well along to take you to the coolest places. You can do that for under $5 now.


Travel down Information Highway


Inn Roads


Walking on History: George Washington Hotel


By Kathleen Walls



When you first step into the George Washington Hotel in Winchester, you are walking on history. That distinctive Tennessee pink marble floor in the lobby is the same floor on which the ordinary people and the famous visitors have walked since the hotel opened in 1924. Jack Dempsey, James Cagney, Ed McMahon, Lucille Ball, Lucy Baines Johnson, President Lyndon Johnson's daughter, and President Gerald Ford's daughter, Susan, are just a few of its celebrity guests. The two president's daughters were Apple Blossom Queens of the local Apple Blossom Festival.

Travel Inn Roads

Museum Row

American's Colonial History at Historic Camden

By Kathleen Walls



Camden is South Carolina's oldest inland town. It witnessed many of the events leading to the birth of our country. The old town played host to Revolutionary notables including Nathanial Greene, Horatio Gates, Casmir Pulaski, Francis Marion, Thaddeus Kosciuszko, Light-Horse Harry Lee, Thomas Sumter, Marquis de Lafayette, Andrew Jackson, Johann de Kalb, and George Washington. It was an involuntary host to Lord Cornwallis and his British troops.

Travel along Museum Row

Music Rowl

Father of BeBop: Dizzy Gullispie

By Kathleen Walls


Cheraw, South Carolina is noted for many things but for music fans one stands out. It's the home of Dizzy Gillespie. John Birks Gillespie was born here on October 21, 1917. His childhood had a few bumps in the road. He father, who was a brick layer and part time musician, died when Gillespie was only ten.


Hum along Music Row

Photos from the Roadside

Sojourn in Saint Augustine


by Jim DeLillo


Whether young lovers or just young at heart, romance can undoubtedly be found at the dreamy Casa de Suenos in Florida's historic city of St. Augustine. The first impression of this cozy bed and breakfast is one of a sheltered haven from the hustle and bustle of larger towns, lodgings, and the interstate left far behind. From wherever you may have come, the pastel yellow stucco welcomes you in the warmth that is echoed within by its soft colonial decor.

Photos from the Roadside


Renee's Route


Georgia's Footsteps of MLK


by Renee S. Gordon



April 4, 2018 marked the 50th anniversary of the assassination of Dr. Martin Luther King, Jr. in Memphis, Tennessee. The single shot did not erase the legacy of the dreamer or the end of the dream. Although he traveled worldwide Georgia was his home and Georgia has embraced him as its most honored native son. Visitors can trace his physical life from birth to burial, his philosophical and ideological stances through public speaking events and his evolving civil rights strategies through open and clandestine planning locations. Best of all, Georgia's "Footsteps of MLK" tour includes sites where we catch glimpses of King the man, the husband and the father.

Travel Renee's Route

Renee's Music


Experience Philadelphia's Aloft Hotel Music Scene


by Renee S. Gordon



On June 13th Aloft Hotels, Marriott International's brand for music lovers and music makers, and Universal Music Group & Brands (UMGB), the world leader in music-based entertainment, partnered to craft an innovative approach to combining a trendy vacation and designer accommodations, with a unique "live" soundtrack. Blend in the 2018 edition of Aloft Hotels' Artist Discovery Competition, Project Aloft Star, a five-city tour showcasing UMG's rising artists and you have an experience to remember.

Enjoy Renee's Music

Renee's Route


Always Unique Clearwater, Florida


by Renee S. Gordon



In 1528 Spanish explorer Panfilo de Narvaez came to the Pinellas peninsula and probably stepped ashore in Clear Water harbor, named for the now nonexistent springs, in the bay. There he encountered the Tocobaga Indians who inhabited the area for thousands of years, a maritime culture whose villages lined the shore. By the early 1700s the tribe was virtually wiped out by European diseases and Spanish brutality. Narvaez was accompanied by black explorers including Estevanico.

Travel Renee's Route2


Renee's Route


Mississippi Blues Trail Highway 61 Redux


by Renee S. Gordon


The history of the Delta, the triangular floodplain that lies between the Yazoo and Mississippi rivers, has long been noted as some of America's most fertile land and it was home to Native Americans for more than 1300-years before Columbus. The French, the first European settlers, began importing slaves from Africa in 1720. They attempted to grow various crops but by the end of the 1700s cotton was the biggest cash crop and with it the need for slaves to work the fields exploded.

Travel Renee's Route3

Renee's International Route

Nelson Rolihlahla Mandela's 2018 Centenary Celebration:
Be the Legacy (part one)


Renee S. Gordon



Nelson Mandela, widely referred to by a tribal honorific, Madiba, would have been 100 years old this year. South Africa, and the world, has taken this opportunity to commemorate his life and legacy with a series of ongoing events, exhibitions and performances that are designed to serve as examples of and foster a more inclusive society that promotes diversity and social justice. Active participation and interaction is encouraged so that participants gain a deeper understanding of the values Mandela esteemed. Madiba's Journey application is an outstanding tool that includes maps, narratives and additional practical information.

Travel Renee's International Route


Tibbs Trails and Tastes

Pews and Pulpits Ramble

by Christine Tibbets


Some hold Sunday services. Some only special events now and then.
But several dozen historic southern churches share their stories of resilience in personal, up-close ways on lively tours called the Pews and Pulpits Ramble.
Happens twice a year. Next one is September 21, 2018.

Travel Tibbs Trails


Weekend Explorer

Big Things in the Little Town of Casey

By Kathy Barnett


In the little town of Casey, Illinois, there are great big attractions to see. So big, in fact, that eight of them are known by the Guinness World Records as the World's largest. All are actually functional, a requirement from the Guinness Book of Records. With a population of only 2752, Casey is located conveniently near Interstate 70, between Effingham and Terre Haute, IN.
Enjoy More Weekend




Wet Roads

Going Local OBX Style

By Kathleen Walls


Making a living from the sea is not an easy road. Yet, it's the road taken by many Outer Banks residents. Longtime waterman, Captain Marc Mitchum has earned his living as a shrimper and crabber for many years with his boat, the Jodie Kae.


Enjoy a Wet Road

Public Disclosure-- Please Read
I recently learned of a FTC law requiring web sites to let their readers know if any of the stories are "sponsored" or compensated. American Roads and Global Highways' feature writers are professional travel writers. As such we are frequently invited on press trips, also called fam trips. Most of the articles here are results of these trips. On these trips most of our lodging, dining, admissions fees and often plane fare are covered by the city or firm hosting the trip. It is an opportunity to visit places we might not otherwise be able to visit and bring you a great story. However, no one tells us what to write about those places. All opinions are 100% those of the author of that feature column.
Connect with us on:
American Roads and
Global Highways has so many great articles you
may want to search it for your favorite places
or new exciting destinations.