Roswell, New Mexico was described as "West of lost and North of nowhere"in the 1993 documentary UFO Secret: The Roswell Crash by New Century Productions. The documentary of course refers to the July 4, 1947 crash of an alien spaceship which did ­—or did not —happen near Roswell. This was what put Roswell on the map as far as visitors were concerned. As a teen in the 1960s, I developed an intense interest and have followed possible UFO incidents so when I finally got chance to visit Roswell, New Mexico just months before the pandemic slowed down my travels, I was thrilled.
The International UFO Museum & Research Center


My first stop was The International UFO Museum & Research Center. One of the first exhibits shows evidence that our government lied to us about what landed in the desert a short distance from Roswell. The fact that the UFO wreckage was seen by many people before a weather balloon was switched out for the actual wreckage is attested to by letters, photos, and artifacts from the crash scene.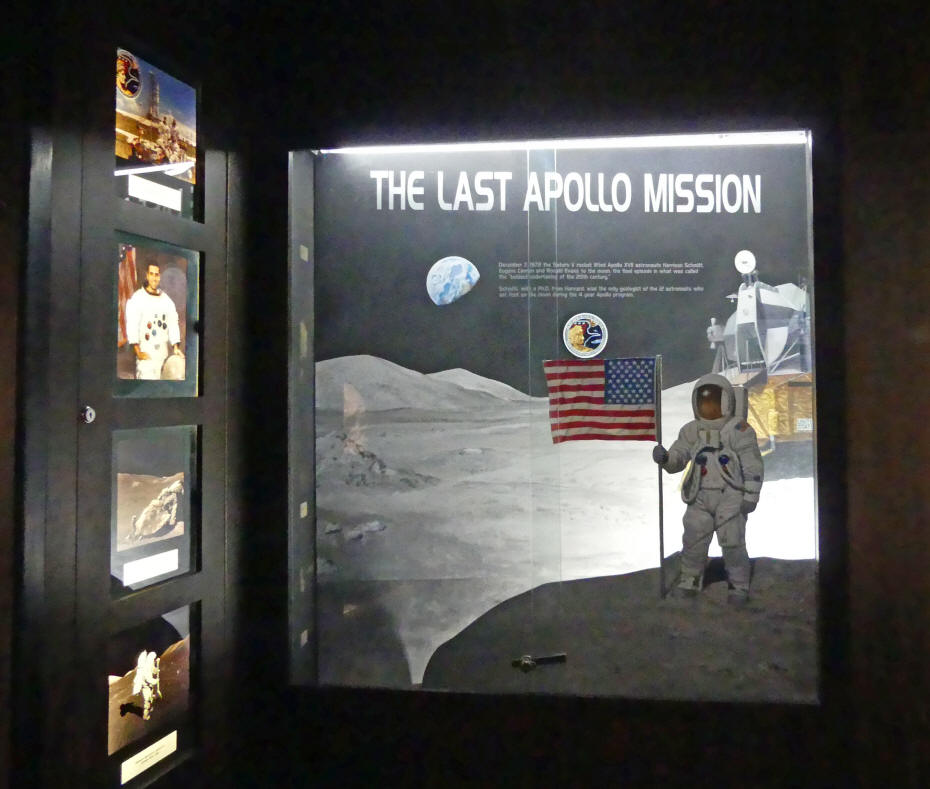 Recorded statements from people like Sheriff George Wilcox and fireman Dan Dyer told of seeing the crash scene and bodies of dead aliens and one still living. All descriptions matched. Large head, small bodies, elongated triangular face with small mouth, and just slits for ears. The sheriff and the fireman's family as well as others who saw and talked about what they had seen were visited by MPs and threatened with harm if they told what they saw.
Several locals who visited the scene brought back samples of foil-like metallic pieces of wreckage with hieroglyphic-type writing on some bars. The museum has a sample of the material on exhibit.

One of the most interesting of the exhibits is an actual affidavit. It was written and sealed with instructions that it would not be made public until after his death. 1st Lt. Walter Haut was the public relations officer for the Roswell Base. He was ordered to write a release for the reporters by commanding officer, Col. Blanchard, saying an unidentified disk was found at one part of the crash site. (There were actually two different sites several miles apart.) The release was retracted within hours claiming it had mistakenly mentioned the disk which was actually a crashed weather balloon.

In the affidavit released after his death, Haut states there was a cover up. At the staff meeting the morning July 8, he and other officers were briefed and pieces of the crash debris were passed around. No one could identify it. Brigadier General Roger M. Ramey, head of the Eighth Army Air Force in Fort Worth, Texas, had been sent in by the Pentagon. He decided to tell the public about the more distant debris field to divert attention from the site Haut visited later where the craft and bodies were found.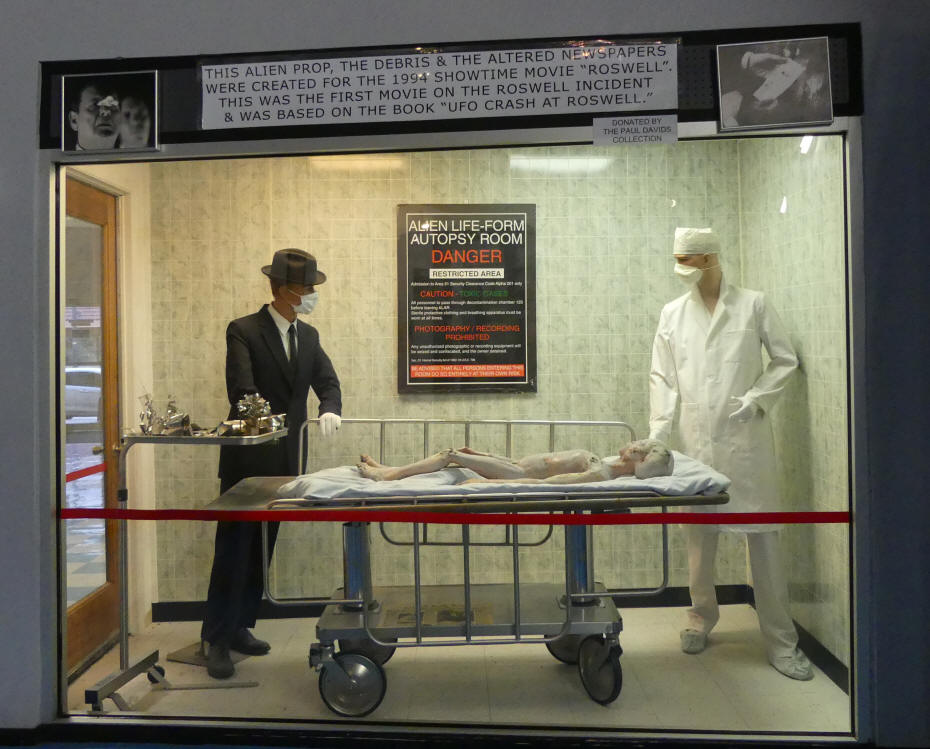 Haut says on July 8, 1947, shortly after the press release was sent out, he was taken out to a base hangar by Colonel Blanchard where he saw an egg-shaped craft and several bodies about four feet tall with large heads. He was convinced they were aliens.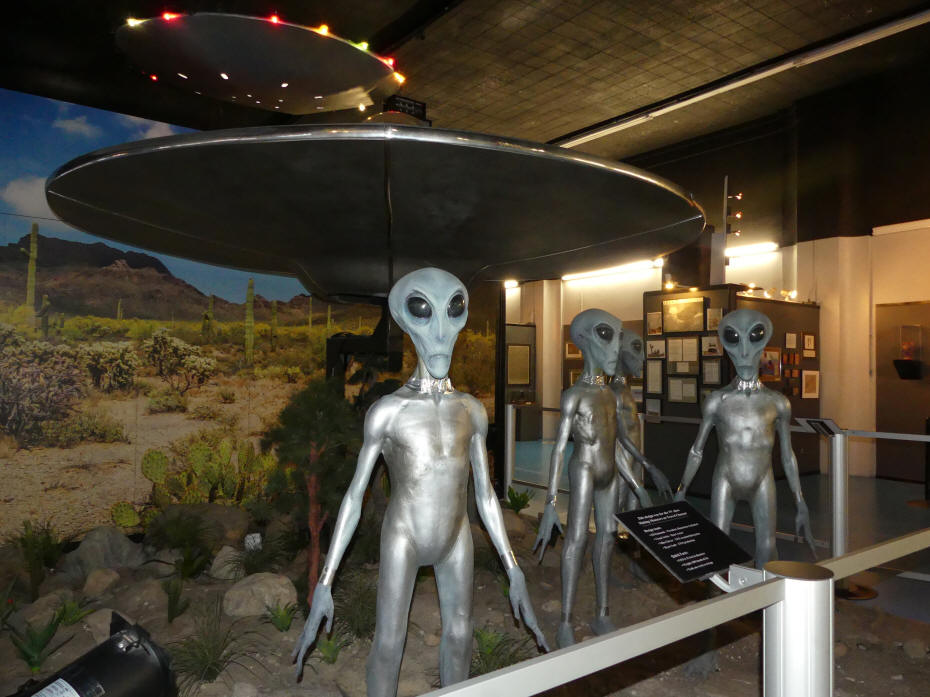 There are also a lot of props from the Hollywood version and while not the center's main focus, they are fun to see.

Walker Museum


Walker Museum is small but worth a drive to see. It's at the local airport. In 1947, it was the Roswell Army Air Base, home base for the Enola Gay, the plane that dropped the atom bomb on Hiroshima and the other bombers during WWII. There is a lot of displays there related to that.

It is also where Hangar 84 is located. This is where the crashed UFO and its crew were taken and examined. You can't get onto the airfield but you can see hanger 84 from outside the fence.

Alien Zone Gift Shop


For a more humorous look at the alien's home life, visit Alien Zone Gift Shop. Aside from cute UFO tees and souvenirs, it has an unexpected bonus. You can get up close and personal and even take selfies with aliens in the gift shop's hidden treasure, Area 51.



Kids of all ages will love this one. There is even a cute playground in the shop where kids 12 and under can work off a little energy.

Roswell Museum and Art Center


Roswell Museum and Art Center moves away from aliens from outer space. It does have a lot about the locals and the aliens who first came here in the mid 1500s; from Spain not other planets. It mixes art and history.
You'll find art by Peter Hurd, Henriette Wyeth, Georgia O'Keeffe, and other New Mexico artists. There are sculptures, metal art, and any kind of visual art you can imagine. The museum goes beyond art. It offers displays of artifacts and recreations of settler's homes and Native American villages.


It tracks New Mexico into the present time. There is a section devoted to New Mexico's own astronaut, Dr. Harrison (Jack) Schmitt.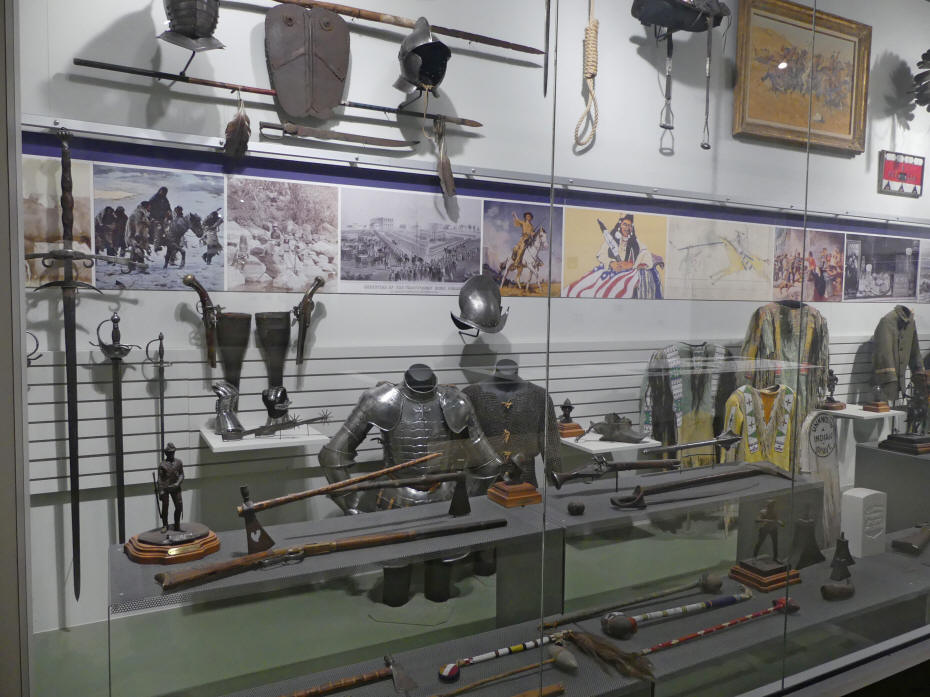 You can walk through an interesting exhibit, a reproduction of Robert Goddard's workshop where he developed America's first rockets. Goddard is known as "the man who ushered in the Space Age" long before Sputnik or Mercury. He designed the world's first liquid-fueled rocket and successfully launched one on March 16, 1926.

The workshop is a historical reproduction of Goddard's workshop from 1930 to 1941. There are placards about what the tools and instruments were used for.

The Robert Goddard Planetarium is attached to the museum.

Historical Center for Southeast New Mexico


Historical Center for Southeast New Mexico was once the home of Mr. and Mrs. James Phelps White. Their daughter donated the home and much of the family's furniture to Chaves County to be used to educate people about the county history. Jane Anglin, Chairperson of Chaves County Historical Society, took me on a tour of the mansion.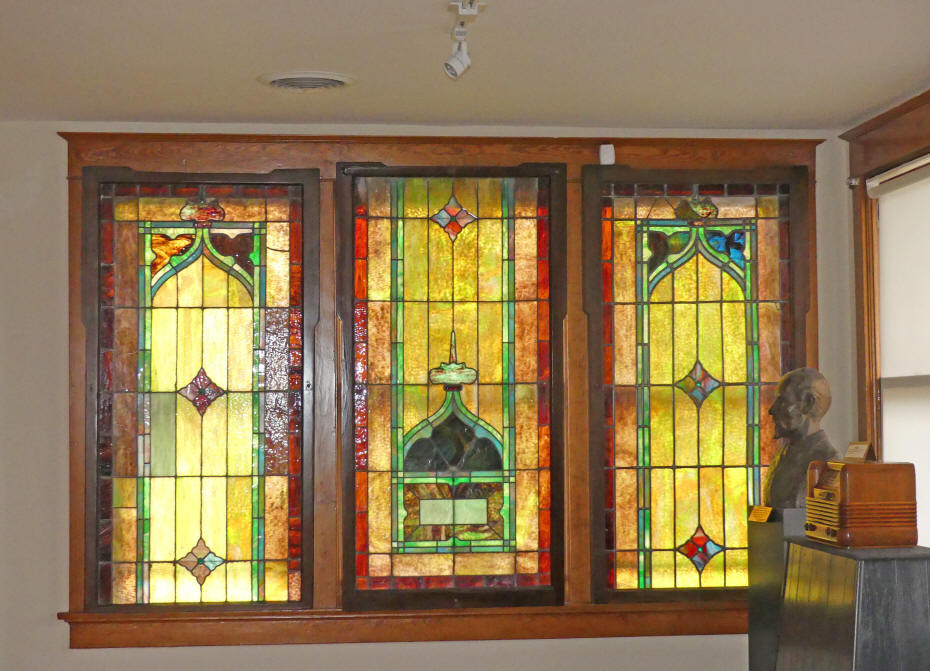 You'll find it interesting on many levels. The architecture is worth a visit. It finished in 1912, the year New Mexico became a state and is based on a design by Frank Lloyd Wright. Some of the lights are still dual-capacity, electricity and gas. The windows are beautiful; some are stained glass.


For lovers of western lore, there are lots of connections here with famous people like Sheriff Pat Garrett, Billy the Kid, and the Lincoln County Wars. Chaves County was originally part of Lincoln County. There is a beautiful walnut piano there displaying the music of a local resident who wrote the state song. Elizabeth Garrett was Pat Garrett's daughter. She was blind but a world class musician. She wrote "Oh, Fair New Mexico."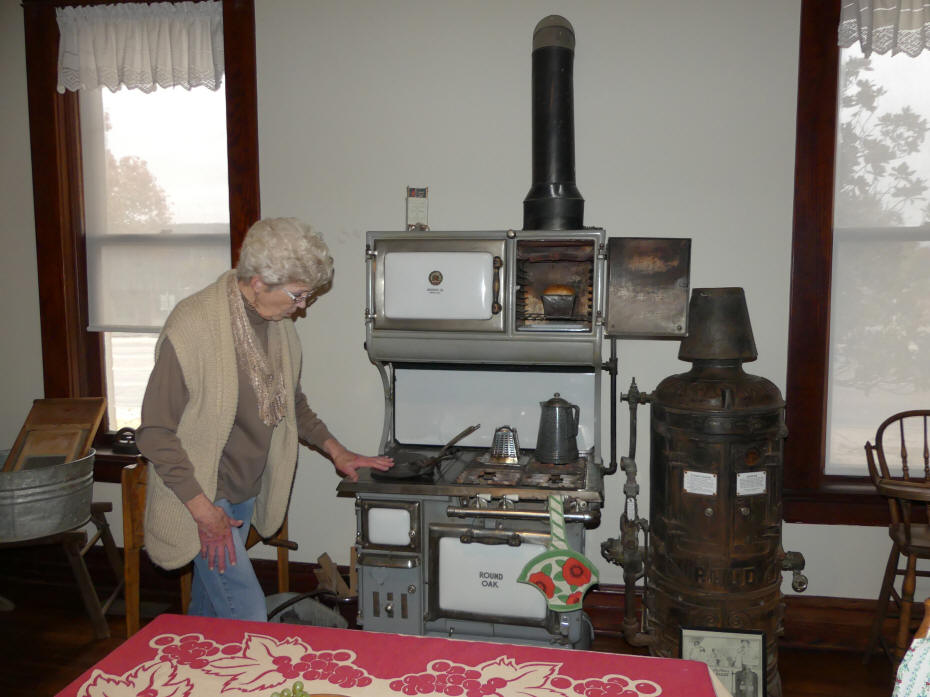 The kitchen has an ice box and a wood stove. There is an antique sewing machine and clothing of the era. There's even a small apothecary supply including that nasty castor oil.

Bone Springs Art Space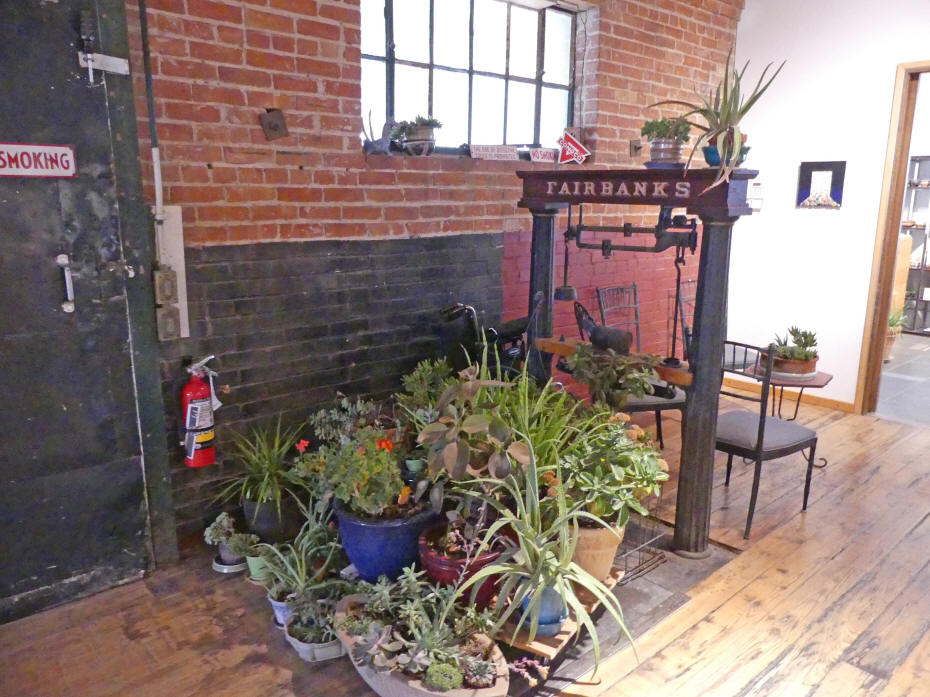 Art, alien and otherwise, is alive and well in Roswell. Bone Springs Art Space, Miranda Howe's, colorful studio where her pottery along with students and other artists' are on display. It's housed in a former warehouse. On the bottom level, Miranda has two studios for other artists and a large open area where she teaches art classes for children and adults.

Her favorite medium is clay and many of her ceramics are displayed and for sale on the upper level.

Spring River Park and Zoo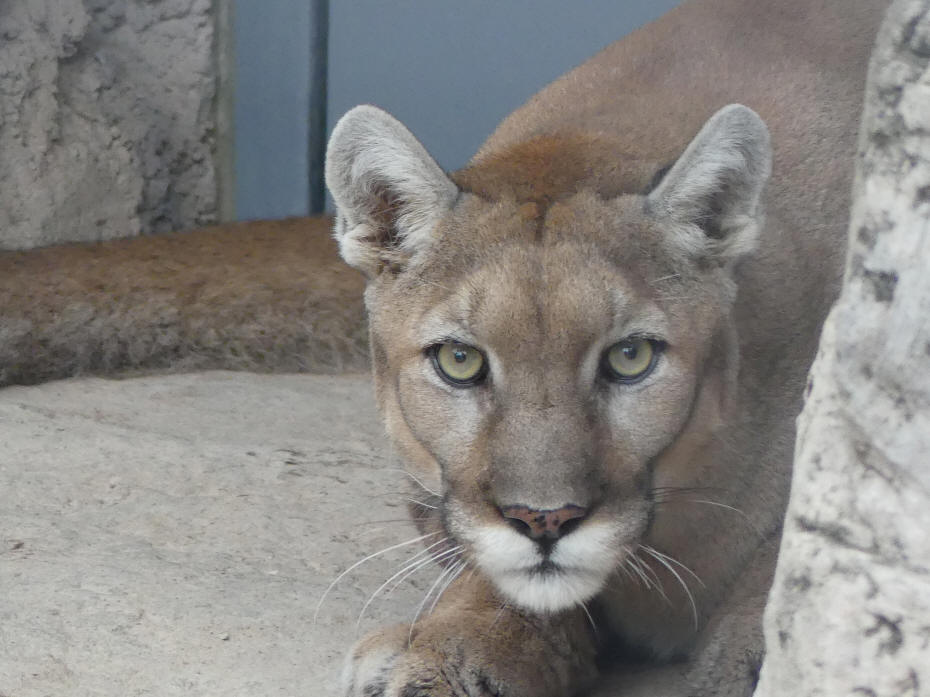 Kids and adults will love Spring River Park and Zoo. For a small town it has a very large variety of animals. It's divided into sections.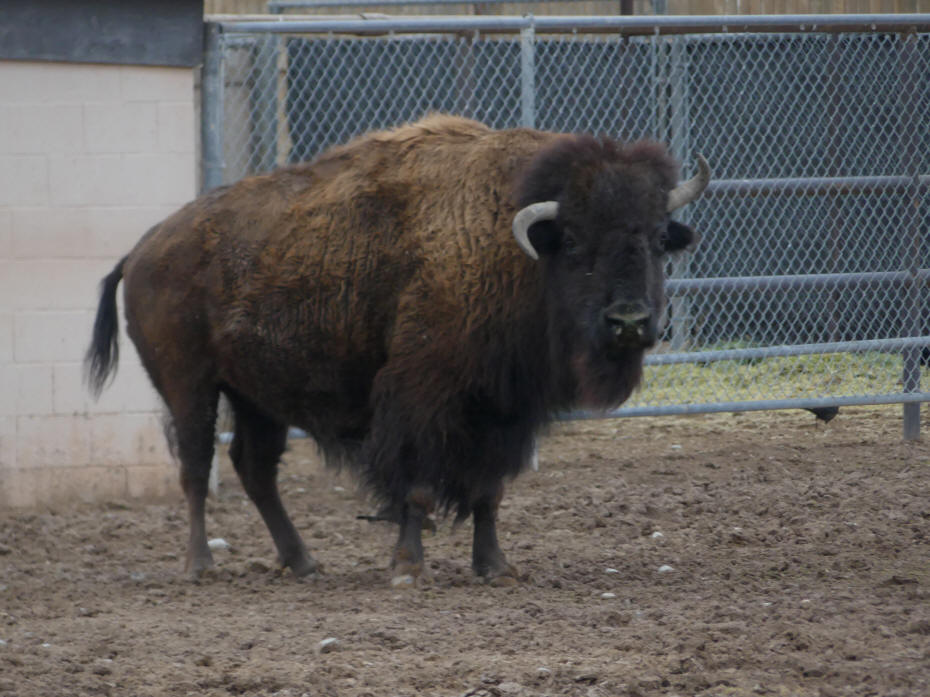 The Capitan Trail showcases native wildlife including foxes, bobcats, and raccoons. Their Plains exhibit gives a look at bison, burrowing owls, and one of my favorites, cute prairie dogs. You'll find many more species here like coyotes, wolves, and black bears. One resident mountain lion just seemed to be begging for me to take his picture.
There's a Children's Zoo with lemurs, birds of prey and a herd of pigmy goats. The ranch area offers Texas Longhorns and miniature horses.

Antique Wooden Horse Carousel is one of just a handful of these unique treasures with hand carved horses. The miniature train is a good way to get an over view of the zoo. Both the train and carousel have limited hours in off season. Best thing is the zoo is currently free.

Dining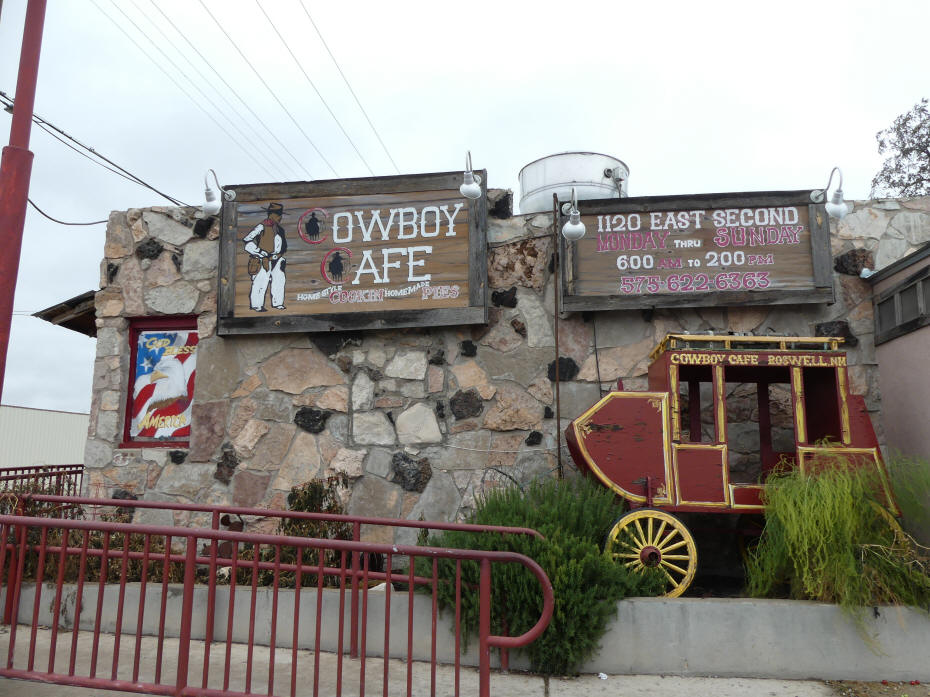 If touring makes you hungry or you just need a quick snack there are lots of choices. I had lunch at Cowboy Café. It serves out-of-this-world delicacies like the Alien Omelet; three eggs, ham, cheese and green chili, drenched with Roswell Sauce and topped with a sunny-side-up egg. It's served with your choice of hash browns, grits, and toast. There is the Mothership Burger; a half pound Angus burger with cheese, grilled onions, hash browns and fried egg.
There are also the traditional western meals. Starving Cowboy Breakfast has three eggs atop two biscuits & gravy; with your choice of double servings of bacon, sausage, or ham and served with hash browns.

I was there at lunch and chose from the Chuck Wagon choices, liver and onions, mashed potatoes and vegetable of the day, corn in my case, served with a side salad, and a green chili cornbread. Very tasty but probably ran my cholesterol level through the roof.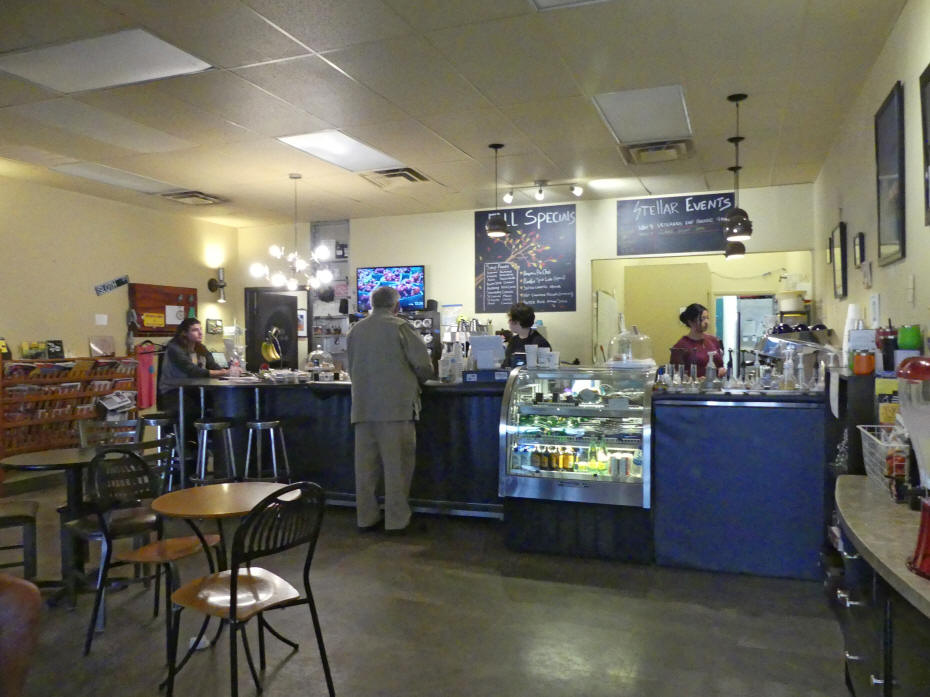 If it's a caffeine fix you need, try Stellar Coffee. Lots of coffee and tea choices, relaxing atmosphere, and located on Roswell's colorful and eclectic Main Street. Their pastries and art work are more reason to stop here.

Main Street


While you are on Main Street visit the 1912 courthouse. The dome above the front rotunda is a masterpiece. The courthouse has a mini-museum, The Jean Willis Museum, named in honor of a employee who worked there for 60 years.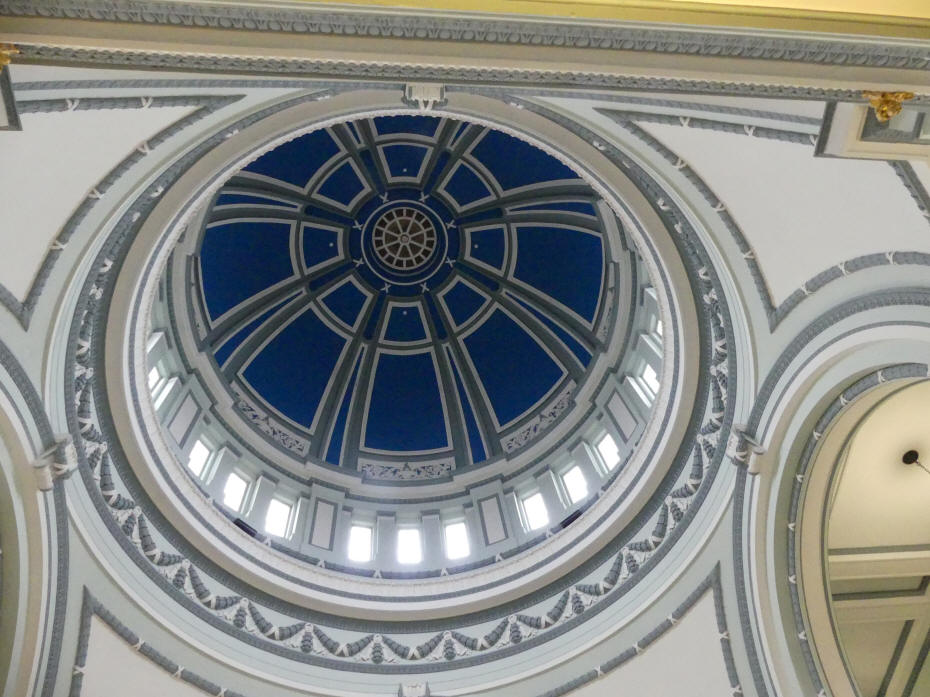 The courthouse is on the National Historic Registry so when the back annex needed to be built, it couldn't be connected or the courthouse would lose its designation. So they built it with about an inch between the buildings. In the main hall, you walk thought a doorway with a black rubber bumper running around the perimeter of the door. This covers the inch separation that was needed to maintain the historic designation.


Be sure to see the stature of Sheriff Pat Garrett outside the back entrance.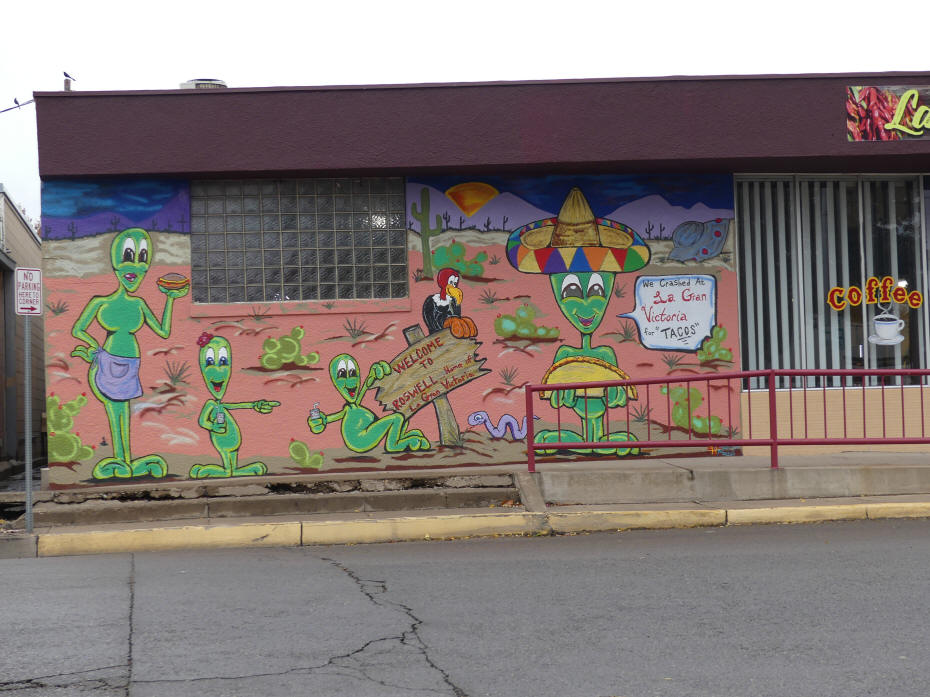 There are lots of murals in Roswell. You'll find the only space ship themed McDonalds. In the play area, a UFO, Ronald McDonald floats in a space suit. The wall along the drive-in is covered with an alien-themed mural.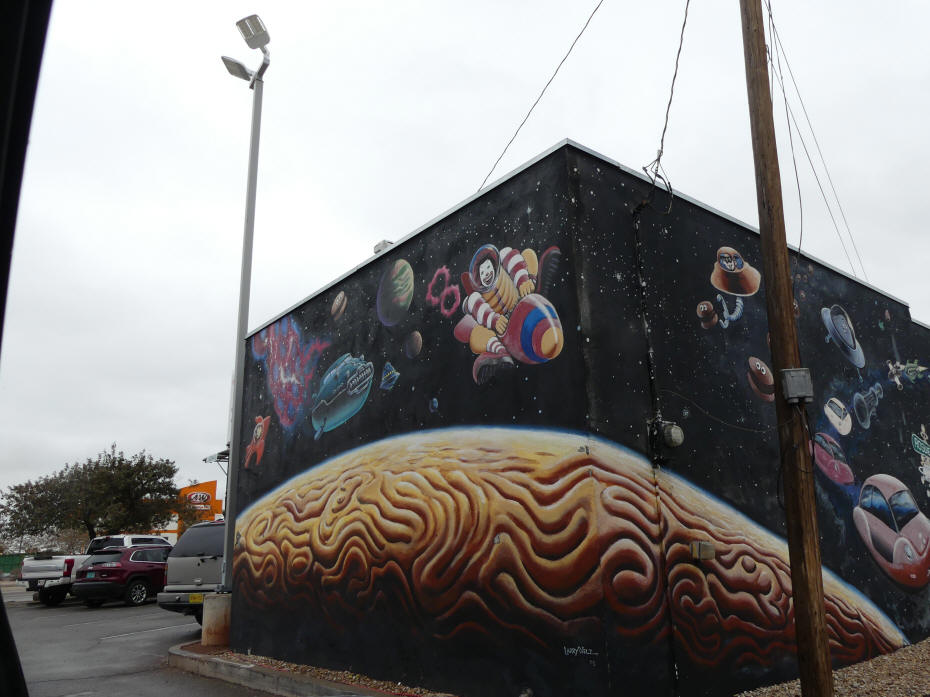 At Dunkin Donuts a giant alien holds aloft the Dunkin Donuts sign. Even the collection boxes for water bills are decorated colorfully here.

All good reasons to visit Roswell as soon as it's safe to travel the earth or outer space before aliens abduct the entire city.