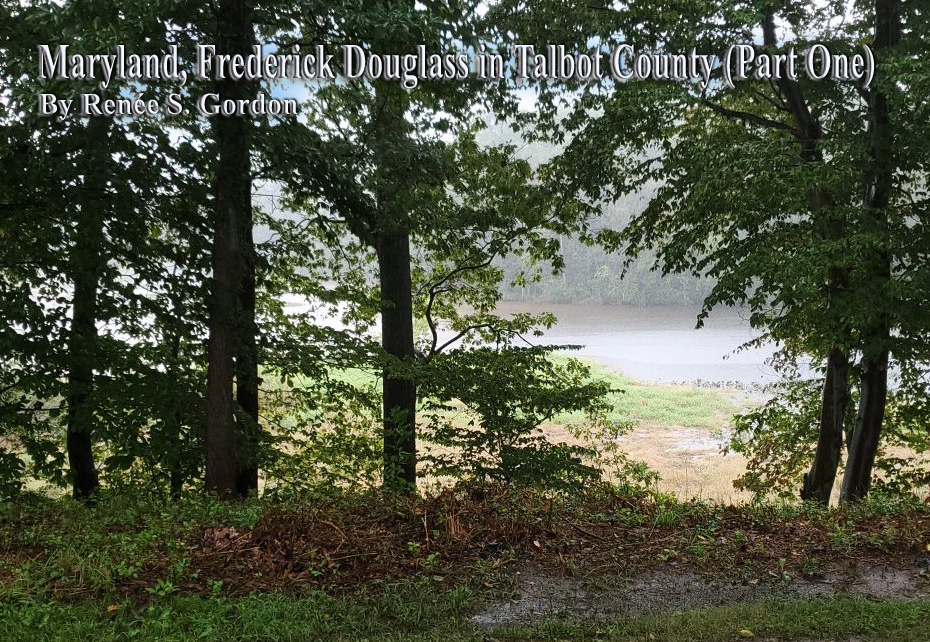 9-22-2020

"I now resolved that, however long I might remain a slave in form, the day had passed forever when I could be a slave in fact." F. Douglass

September is International Underground Railroad Month and nowhere is that history better preserved and presented more accurately than throughout the state of Maryland. This month Maryland is honoring the legacy of the freedom seekers and those who assisted them with a series of exhibitions, events, tours and walking and road trips, all designed to be both comprehensive and follow socially safe guidelines.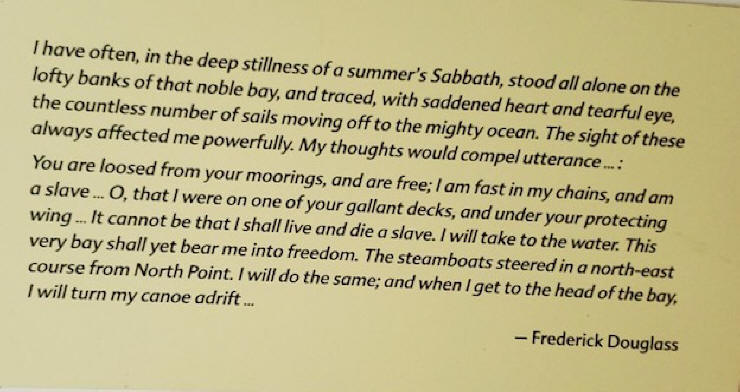 The UGRR system can be defined as resistance to the institution of slavery through self-emancipation and escape. Escapes were frequent from the first years of slavery and indenture and the routes, because slavery existed throughout the colonies, were as widespread as Canada, Mexico and western Indian Territory. Because escape was an issue, in 1793 the first Fugitive Slave Law was instituted. It levied a $500 fine on any person resisting or interfering in recapture. In 1850 the second Fugitive Slave Law made it compulsory for citizens to assist in recapture or be fined or arrested.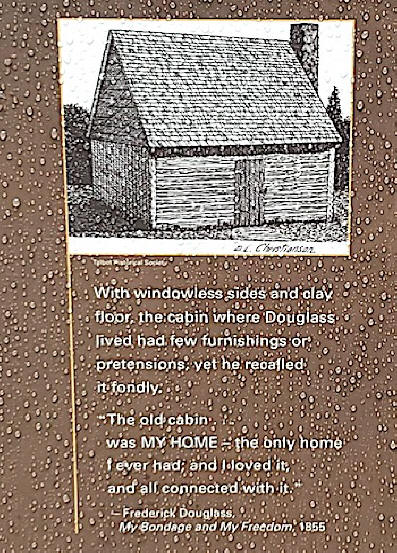 Frederick Douglass' story is quintessentially one of the conditions of the enslaved, the fugitives and the freedman in the state. It is also the story of the UGRR and the determination of the freedom seekers, the use of disguises and guile, forms of transportation and the concentrated efforts of both black and white rescuers. The "Following in His Footsteps: Maryland's Frederick Douglass Self-Driving Tour" relates his journey by tracing his path from birth through the cities that sculpted him into the man he would become. Because this article takes you chronologically through his life the sites in part one are along the Eastern Shore. www.visitmaryland.org/driving-tours/following-his-footsteps-marylands-frederick-douglass-driving-tour

Frederick Augustus Bailey was born near Easton at Holme Hill Farm in 1818. He lived with his grandmother and last saw his mother in 1825, the probable year of her death. The tour begins at The Frederick Douglass Park on the Tuckahoe River near his birth site. A short path takes you to an outdoor gallery filled with markers that interpret his life and includes trails and river views. In 1878 Douglass returned to collect soil from this area as a memento.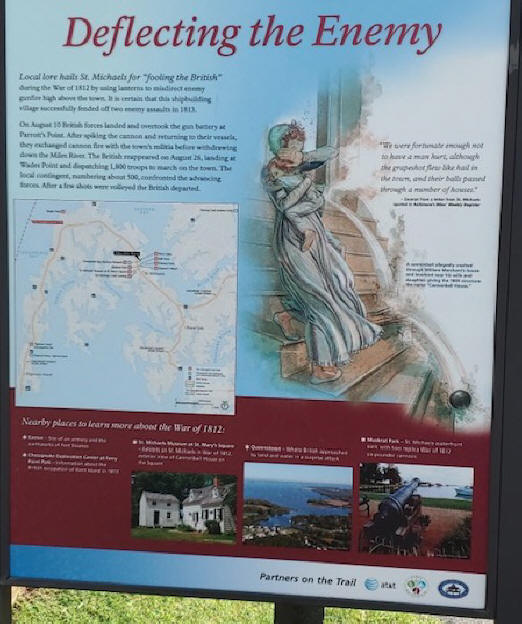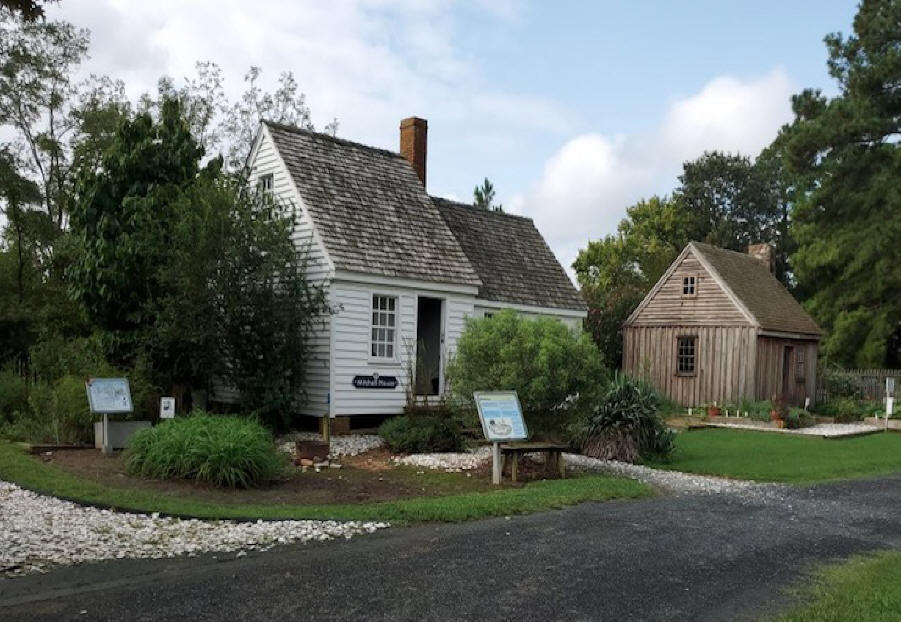 St. Michael's was chartered in 1804 and is home to the 18-acre waterfront Chesapeake Bay Maritime Museum. It features historic buildings, exhibits and events and the featured Mitchell House. The left side of the relocated home is original and belonged to Eliza Bailey Mitchell, Douglass' sister, her free husband Peter and two children. The exhibits within the house provide an overview of area slavery and Douglass personal experiences. cbmm.org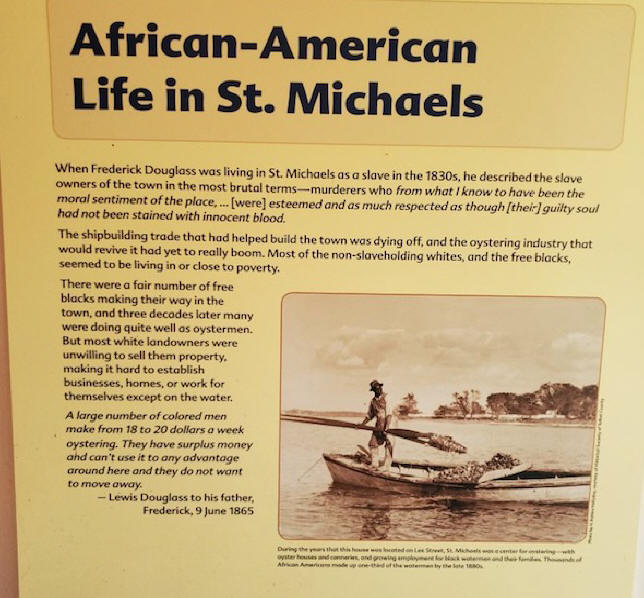 Douglass was sent to St. Michael's in 1833 to live with Thomas Auld in his store on the corner of Cherry and Talbot Streets. He established a secret Sabbath Day school for enslaved children and upon discovery was rented out as a field hand to the infamous slave breaker Edward Covey. Covey's cruelty caused Douglass to fight back in August 1834, ultimately win, and never be beaten by him again. The site of the Covey Farm is on the road to Tilghman Island across from New St. john's Church.

The Dr. Dodson House Bed & Breakfast was the home of Auld's daughter. Douglass visited the home as a guest in 1878. 200 Cherry St.

St. Michael's Museum offers a monthly Frederick Douglass Walking Tour and features an exhibit, Frederick Douglass: His World 1818-1895. Call for information.

| | |
| --- | --- |
| | |

The Civil War left many black Union soldiers rootless after separation from the service. In 1866 Quakers Ezekiel and John Cowgill gave 18 ex-soldiers plots of land for $1.00 annually. The men and their families settled in Cowgilltown, later renamed Unionville, and many descendants remain there. Their original church, St. Stephens A.M.E., is still active and the eighteen founders and members of Douglass' family are interred in the churchyard.
| | |
| --- | --- |
| | |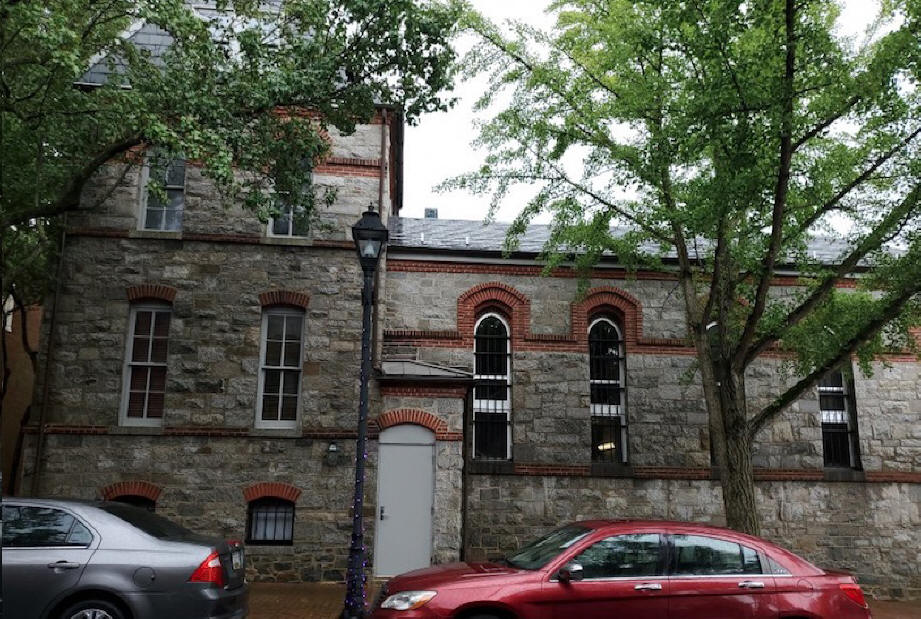 In 1835 he became the field hand of William Freeland and on April 2, 1836 Douglass and several other slaves were jailed after another slave exposed a planned escape plot. They were walked 20-miles to be jailed in Easton. The jail is around the corner from the still active Talbot County Courthouse. The Frederick Douglass Statue on the courthouse lawn depicts him in 1878 as he delivered a speech in the main courtroom.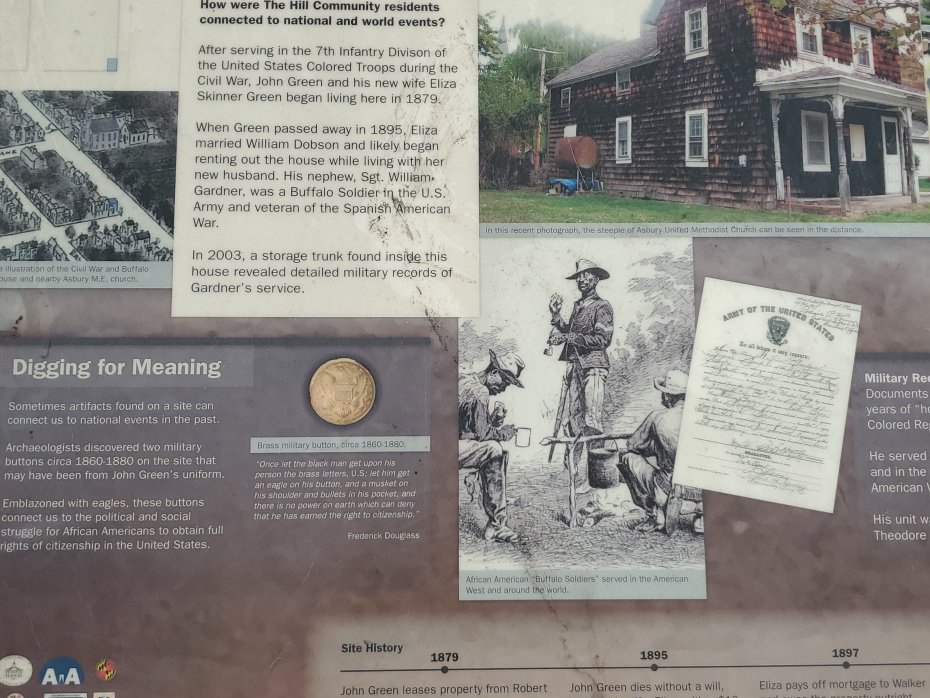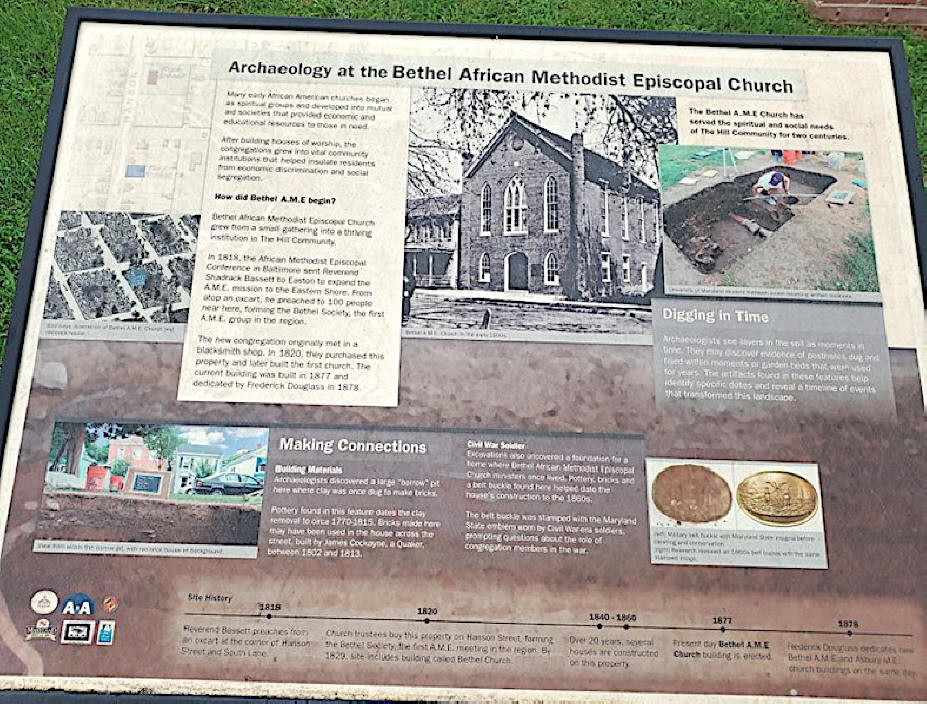 _
Easton dates from 1659 and is at the heart of Talbot County. A free black community, The Hill, was established circa 1788 and an 11-stop tour relates their experiences throughout the centuries. In 1878 Douglass addressed gatherings at both 1818 Bethel A.M.E. and 1836 Asbury United Methodist Churches. Bethel continues to use the rostrum from which Douglass spoke.

The Tidewater Inn, 101 East Dover Street, was the site of the Hotel Avon when Douglass made his final visit to Talbot County in 1893. He stayed there during his visit. In 1944 the Avon burned down and three years later the Tidewater Inn was constructed. The Tidewater Inn offers luxury accommodations, Hunter's Tavern, Terrasse Spa, free parking and WIFI. The staff is committed to the highest personal protective standards so that each guest can have peace of mind and enjoy their visit.

Auld sent Douglass to Fell's Point in Baltimore for the final time prior to his escape to freedom in 1836.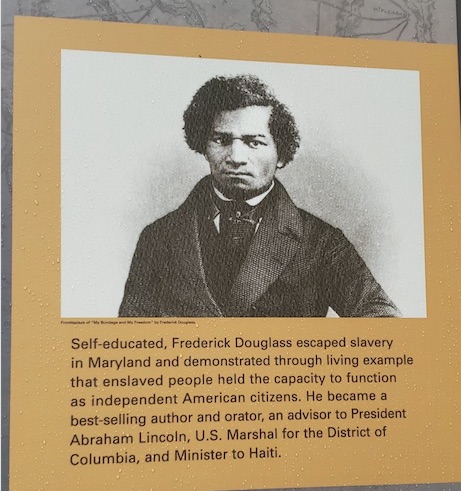 Through both triumph and tragedy Douglass never lost his affection for the Eastern Shore. You can trace his journey and better understand the man, his motivations and the sheer beauty of the Chesapeake Bay, North America's largest estuary. #visitMaryland



Renee Gordon has written a weekly travel column for the Philadelphia Sun Newspaper for the past fifteen years and has published articles on local, national and international travel in numerous publications. Her columns focus on cultural, historic and heritage tourism and her areas of specialization are sites and attractions related to African American and African Diaspora history. Renee has been a guest radio commentator on various aspects of tourism and appeared in a documentary, "The Red Summer of 1919". As an educator for thirty years she was an English teacher, event and meeting planner, served as an educational consultant and intern-teacher mentor. She contributed to textbooks on women's history and classroom management and has facilitated workshops on both subjects. Renee considers herself a "missionary journalist" and as such she continues to promote heritage and sustainable tourism.

2013 Recipient of African Diaspora World Tourism Flame Keeper in Media Award for Travel Writing

Affiliations
IABTW- International Association of Black Travel Writers
PBJ - Progressive Black Journalists

We'd love your comments!
Connect with us on:
American Roads and
Global Highways has so many great articles you
may want to search it for your favorite places
or new exciting destinations.