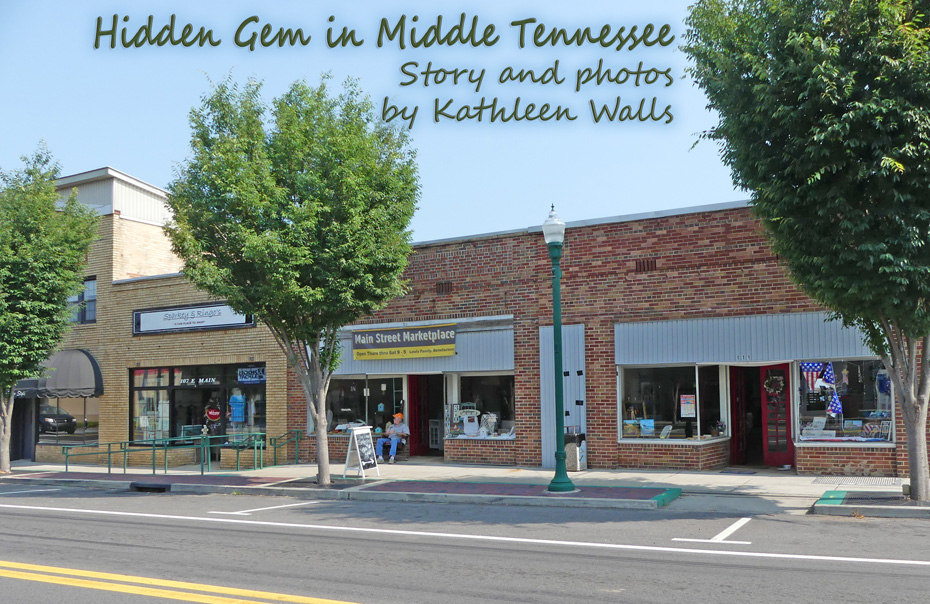 Published 4-24-2019

Did you know there are hidden treasures in Middle Tennessee? I discovered a few in Perry County recently. If you're driving across Tennessee from Memphis to Nashville, Perry County is a gem. Stop over and explore.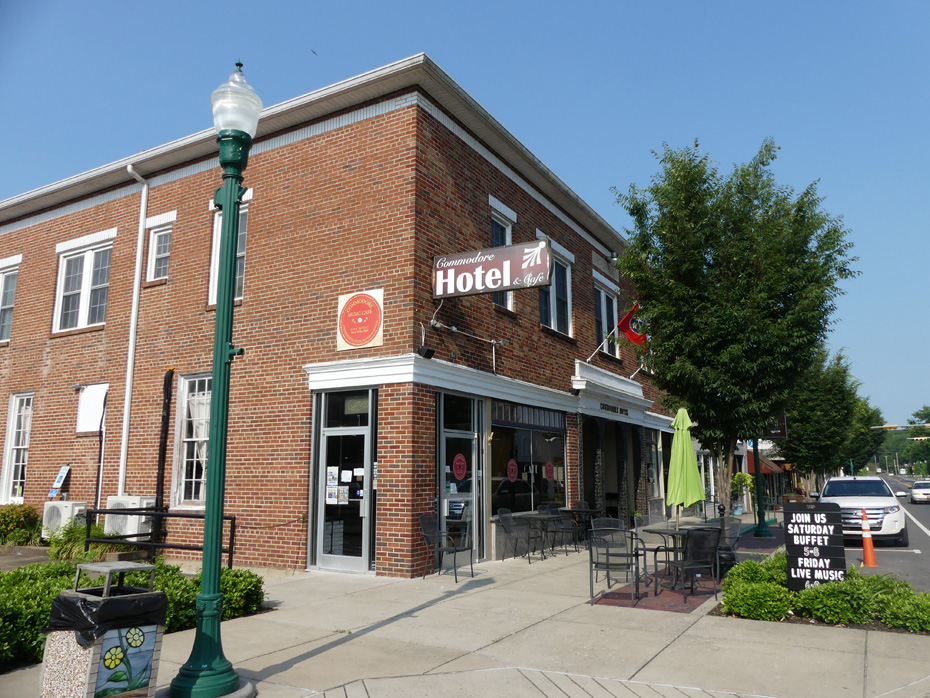 You'll find historic lodging combined with modern amenities at the Commodore Hotel on Main Street in Linden. Since Perry County was founded in 1819, and named for Commodore Oliver Hazard Perry a few months after his death, the Commodore is a fitting name for the hotel. More about the Commodore Hotel here.
History
The county is celebrating its 200th birthday this year. The party is going to be September 20 and 21st with an all-stops-pulled county fair in Linden. You find an arts festival, fiddlers contest, and reenactors in period costume.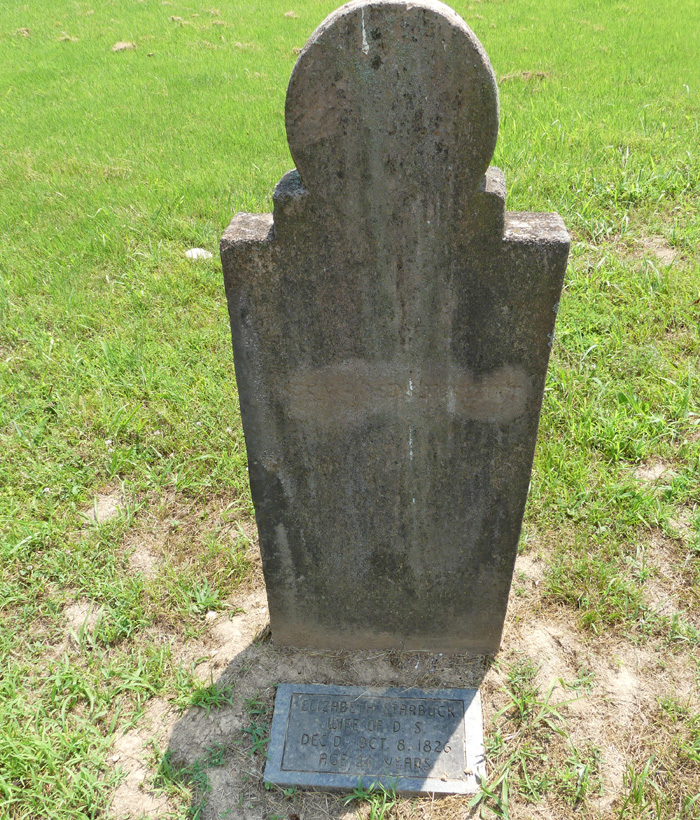 The county is readying for the event. On my recent visit, local historian, Jessie Ruth Tiller, showed me some of the county historical hotspots. We visited an early graveyard. The oldest tombstone there is for Elisabeth Beeson Starbuck who died in 1826 at age 24. She was Jessie Ruth's great-great-great grandmother. History runs deep in Perry County.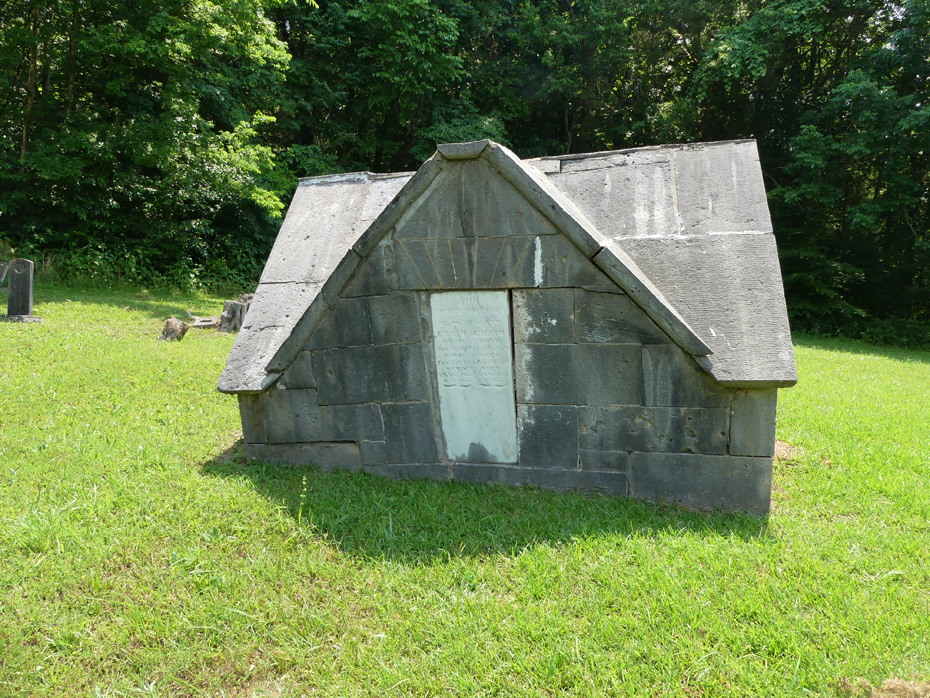 Near the back of the cemetery there is an unusual structure. It appeared to be a tiny building with a tombstone on its front instead of a door. The stone read "To our father and mother, E. M and Mary Grain." The dates showed E. M. had died at age 75 in December 1898. Mary died just the next month in January 1890. E. M. E. M. was a stonemason. His children built the grave house to protect the bodies of their parents.
I had never seen a grave house before but I found out grave houses were a common Appalachian custom especially around parts of Tennessee. They are wooden structures built to cover one or more graves. The custom began to appear in the 1840s. From 1870 and 1900, the structures were built larger over time until some resembled small houses. This one had amazing stone work over the tombstone.
Jessie Ruth took me to an even more unusual grave house. Pinckney's Tomb is believed to be the largest grave house in the country. It is listed on the National Register of Historic Places. It's a limestone and wood structure that covers the burial site of local farmer Pinckney Hufstedler and his family. The base of the grave house is a five foot wall of cut stone. Wooden walls were built on top of the stone and the structure was roofed. Pinckney Hufstedler had a fear that when it rained, water would be in his. Hufstedler also required that his body be transported uphill to this burial site in a wagon drawn by white oxen. He was adamant; he didn't want mules.
Pinckney had the grave house built in 1880, just five years before his death. There is a picture of him in front of the structure. He looks fierce enough I doubt anyone would have been able to defy him. Jessie Ruth told of a local story that one of the men who walked besides Pinckney's coffin up the hill was afraid they would not be able to keep it from slipping off the wagon the hill was so steep.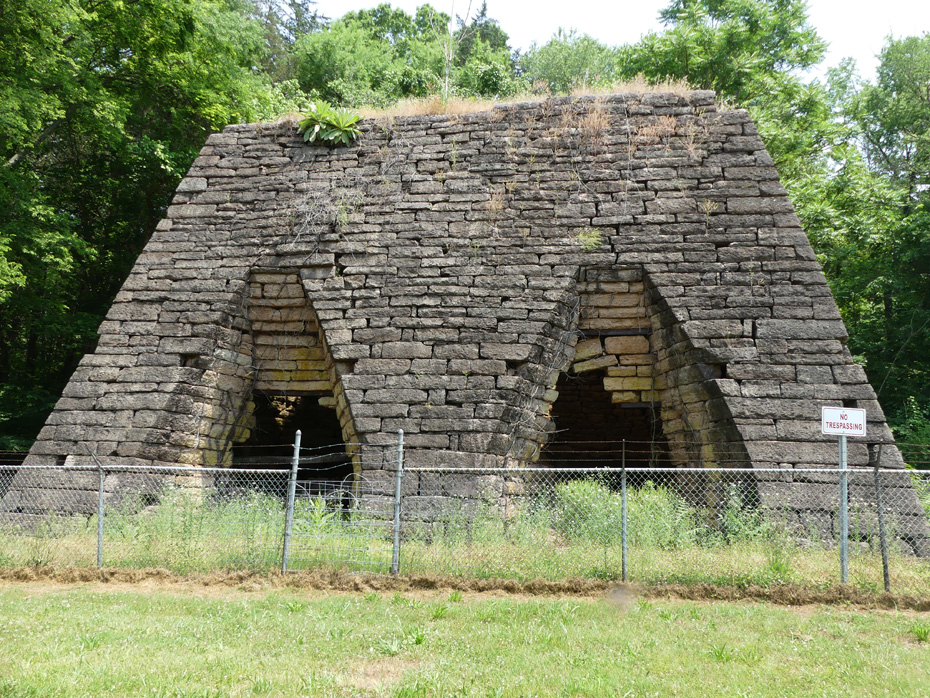 Cedar Grove Iron Works is located on Furnace Branch of Cedar Creek in Perry County. Jessie Ruth said it was once the center of a thriving village. Around 100 people lived here, many of them enslaved workers. There was the office, general store, the iron master's home, worker's homes, smokehouse, blacksmith shop, and various other buildings even Cedar Creek School. The first furnace was built in 1832 as a single oven then rebuilt in 1833 as a double stack. Meaning they could always have one oven in production.
In the early days of the Civil War it produced iron for the South. In February, 1862, that ended when Union gunboats, having captured Fort Henry, sailed up the Tennessee River just about two miles away, and fired on the furnace. People were frightened. Workers scattered. The furnace ceased production and never resumed again.
Today, you see a magnificent brick ruin. It stands in a cleared park and towers against the background of trees and sky. It is like a truncated limestone pyramid. It's is all that remains of a piece of history that has witnessed much change. This is one of just a handful of double stack charcoal furnaces left in Tennessee.
The courthouse square on Main Street witnessed much history too. The stately three story, red brick building was built in 1928 to replace the earlier one, circa 1850, that was burned by Union soldiers during the Civil War. The first courthouse was a log structure built around 1845. There is a Civil War reenactment each year in May here.
Many events are held on the courthouse grounds like the Summer Music on Main Street where some great artists perform every second Saturday night during June and July. The alternative Saturdays the music is in neighboring Lobelville.
The night I attended, one band did Folsom Prison so well you would think Johnny Cash had been resurrected. It's a must see for a music lover.
Art and Culture
Art and Culture are big in Linden. Walk around Main Street and you'll see murals. The annual Blooming Arts Festival is held in March. You'll find galleries on Main St with every kind of local art.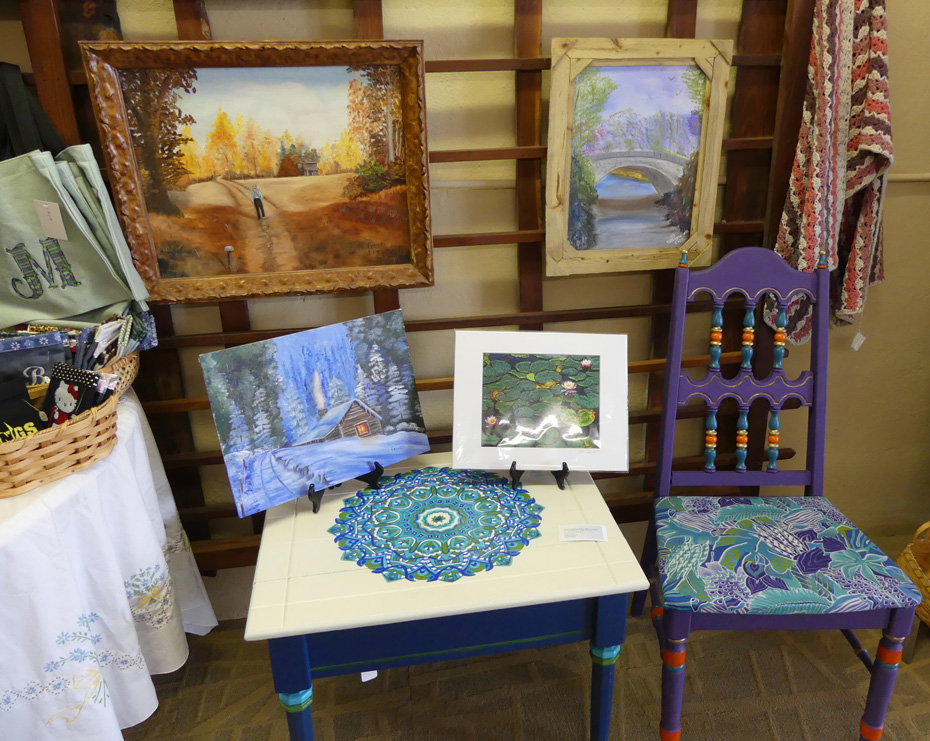 Just down Main Street from the Commodore Hotel, Melissa Godwin presides over Buffalo River Artisans. Here you can find products made by local artists. It's not only painting and crafts but many unique items like baskets, hand-woven rugs, Knitted and embroidered work, pottery, painted furniture and books by local authors. Some of the most interesting items are paintings done on leaves, some lovely and useful charcuterie boards made of cedar and finished with coconut oil so they are safe to eat off, and some hand painted furniture.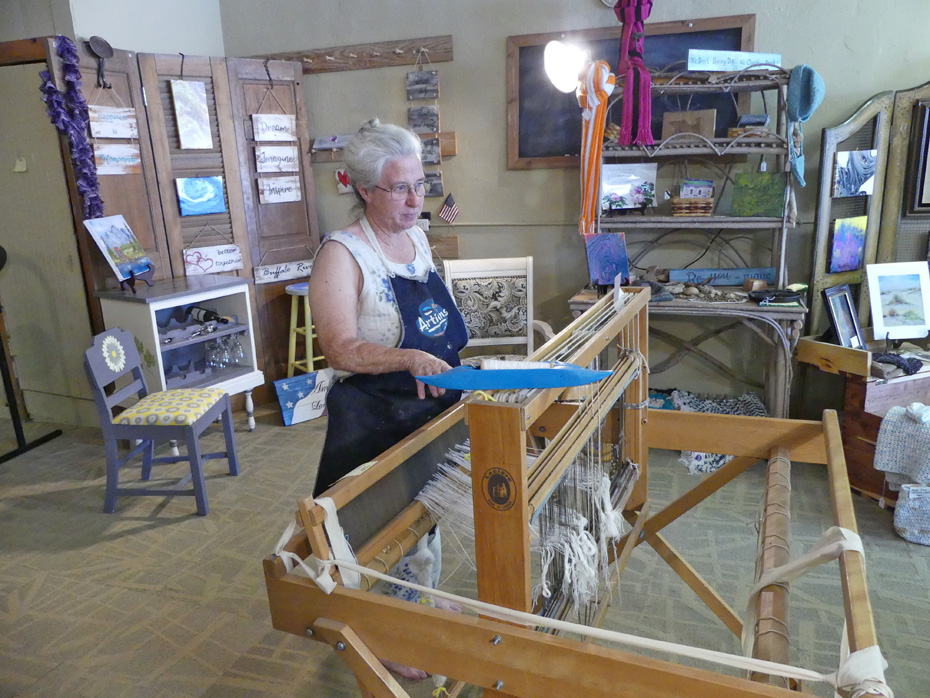 Melissa's specialty is weaving. She got interested in the historical aspects of the art and now grows her own flax. There is a loom right in the gallery.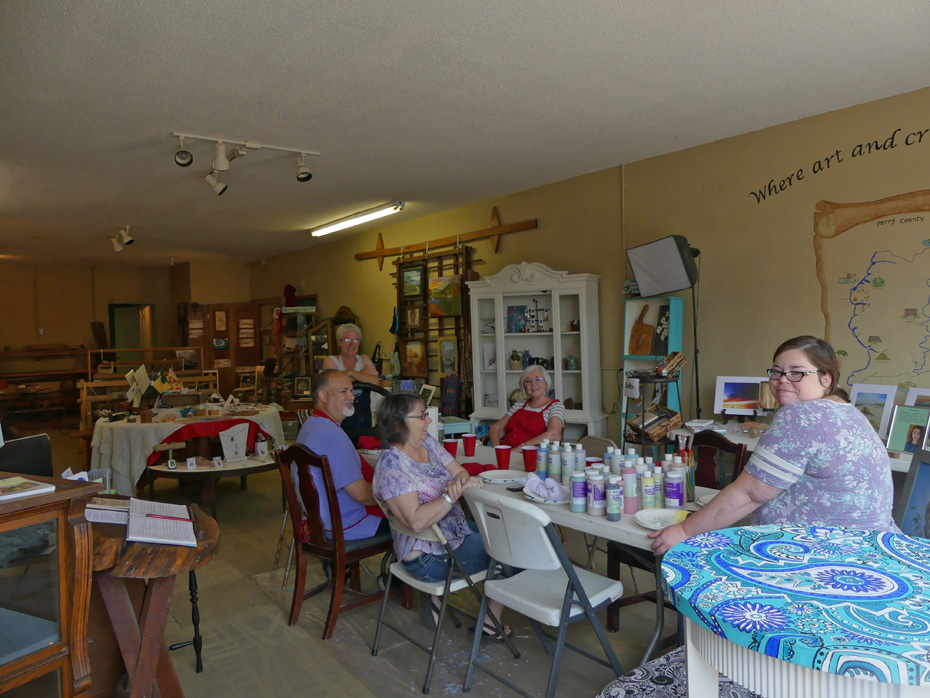 Buffalo River Artisans started 11 yrs ago when the community was looking for ways to solve problems. As Melissa says, "Art solves problems." She now offers classes for adults and kids.
Almost directly across the street is Main Street Marketplace. It's a co-op where Sandy and Patty showed me around. There is so much there. Sandy makes some fantastic homemade candy as well as other art work. She calls it ChocoTherapy Candies. I sampled a few and her chocolate is defiantly therapeutic.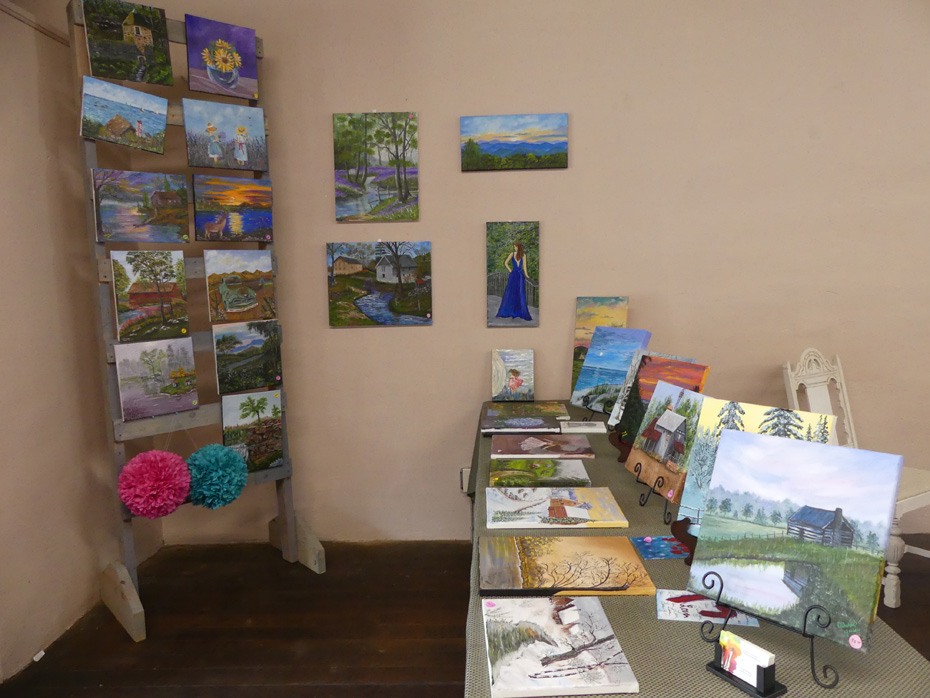 There are lots of colorful paintings. Many of local scenes would make a wonderful remembrance of your visit to Perry County.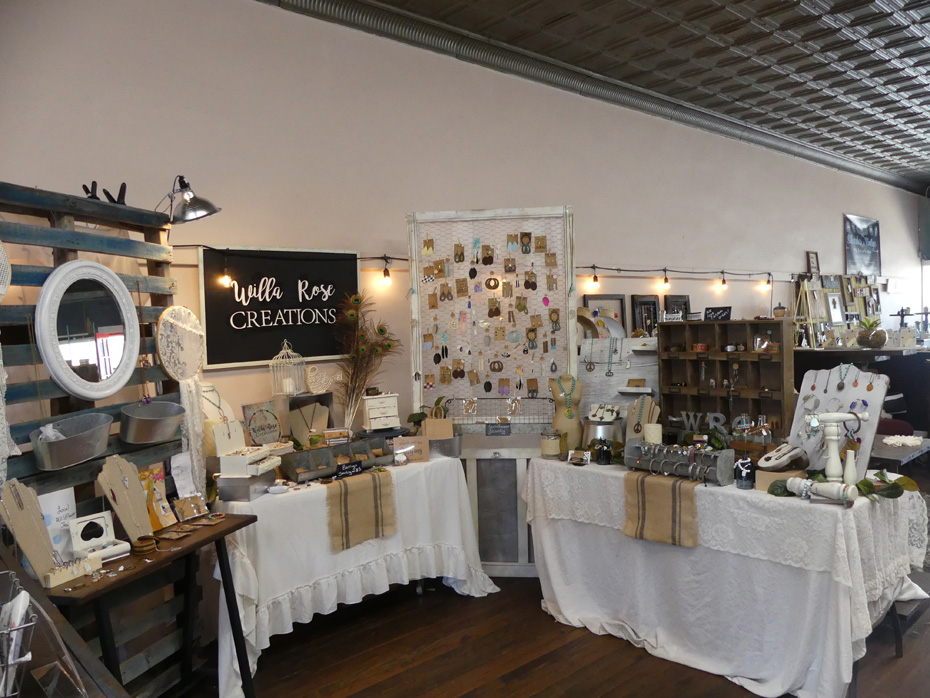 There is unique jewelry at Willa Rose's booth. Some of the pieces had an almost vintage feel about them like several necklaces that incorporated a peace sign reminiscent of the 60's and 70s. Prices are reasonable; some of the earrings started at only $5.
Shades of Vintage offers an array of handmade signs. There are several other vendors, each with something different. There is so much original art here you need to take time to browse. The building itself with its pressed tin ceiling is a work of art.
Ourdoor
Activities
If you are looking for more active fun you can find that here also. Just head out to neighboring Lobelville. Lobelville on the Buffalo River, was established in 1854 as a trading post by French trader, Henri de Lobel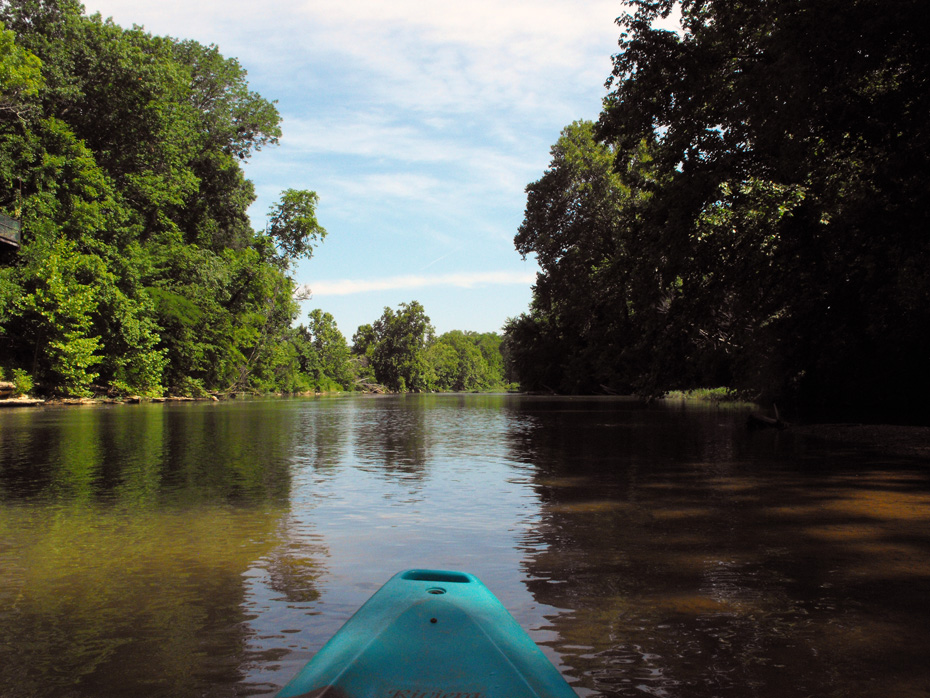 Buffalo River Resort is right on the Buffalo River. Here you can rent a kayak, canoe, tube or raft and paddle or drift down the river. I kayaked and found the river incredible peaceful. I spotted a lot of sunning turtles on logs, one large blue heron, and many smaller birds. The banks ranged from level beaches to steep cliffs filled with trees and flowers with an occasional rustic dwelling. The resort shuttle dropped me off about five miles upriver and I paddled back to the resort. It's an easy paddle with just enough current to make it fun.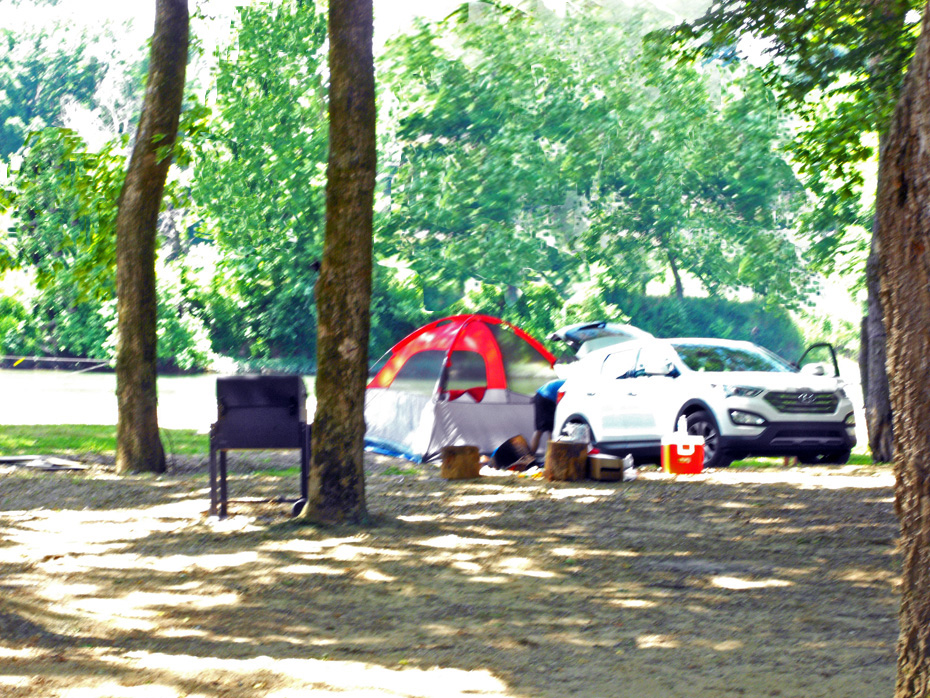 Buffalo River Resort has primitive camping right along the river. Or you can bring your RV and camp in their more private area. If you are not into the camping, you can rent a cabin or, for a group, their lodge.
Shopping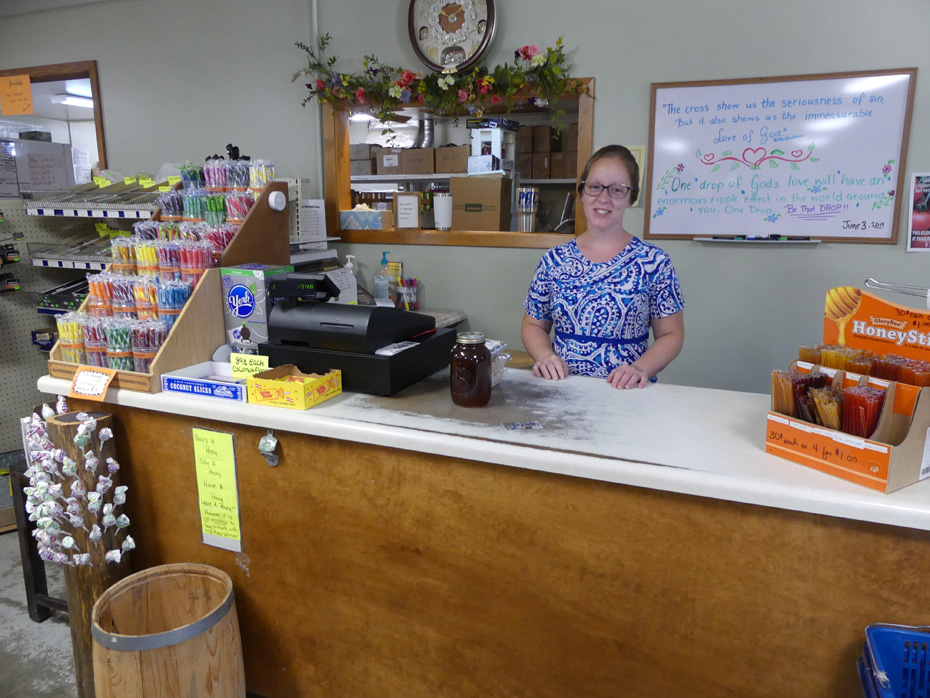 Thanks to Allyson Dickey with the Perry County Chamber, I discovered a couple of unique hidden gems. There is a Mennonite community in this area called "Believers in Christ" and are a bit less strict than original Mennonites.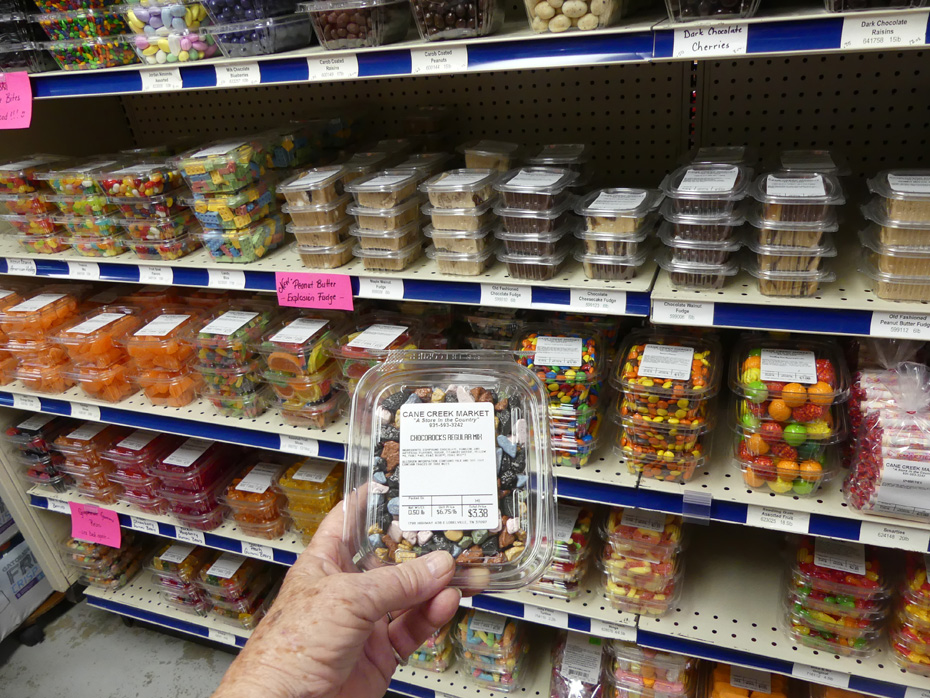 Allyson took me to Cane Creek Market. It's an old fashioned general store with so many unique products. I was amazed at the candy called Chocorocks. They look like different colored river pebbles but are melt-in-your-mouth delicious chocolate bits.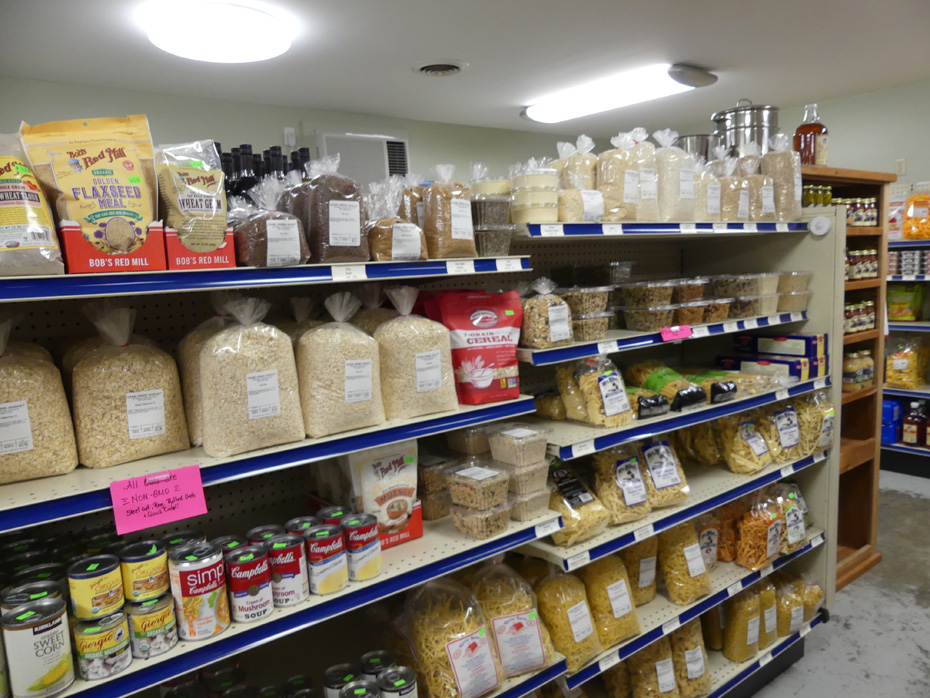 Besides great candy they have so many other things you won't find in a chain grocery; baking supplies, kitchen wares, cookbooks, handmade Mennonite products, oil cloth, sorghum, raw honey, herbal teas and lots of herbs. They have a deli section where you can purchase meats and cheeses or let them make sandwiches for you to snack on sitting on their porch or pavilion.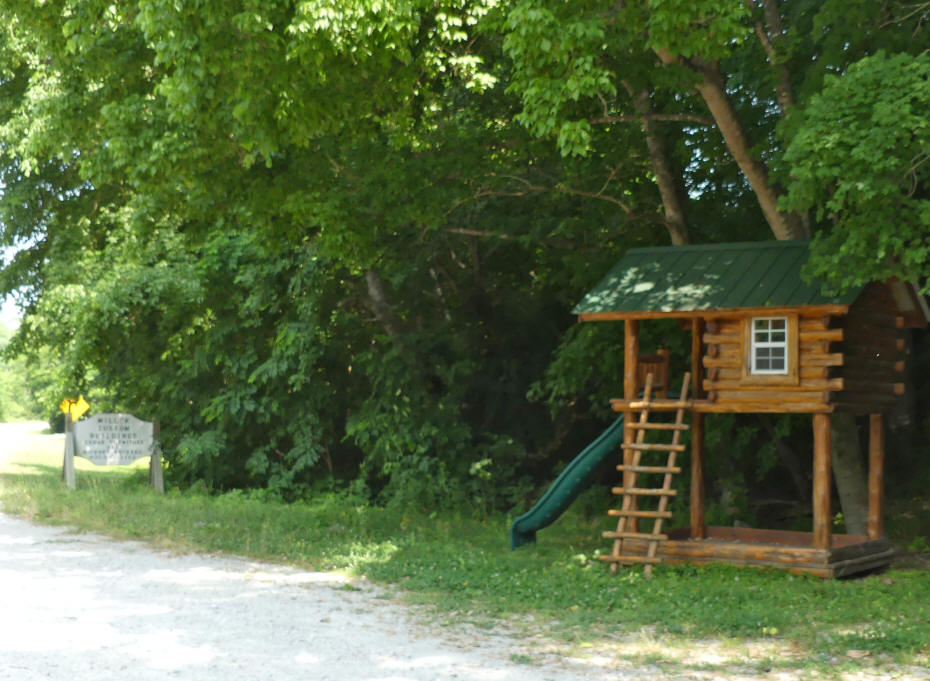 On the winding back roads we passed several samples of local craftsmen who were selling tiny houses or small building all handmade.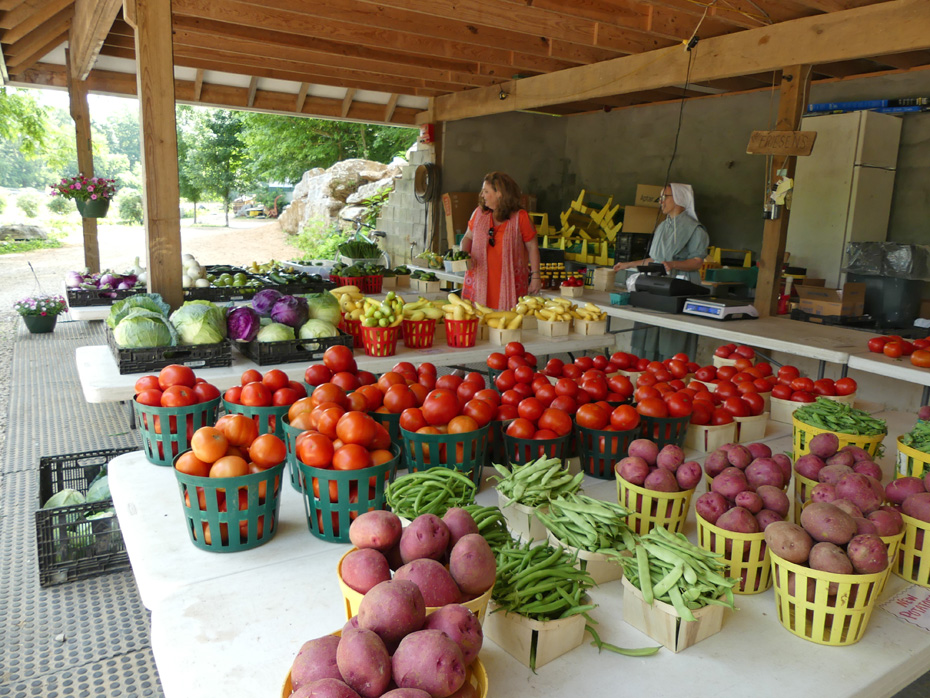 Next stop was Friesens' farm for their market filled with unbelievable gorgeous produce. This was a true Mennonite family farm. We drove past the crops on our way in to the market. Bins of fresh carrots, tomatoes, turnips, squash, cabbages, onions, green beans were all perfect. The tomatoes were bright red. They had definitely not been picked green and gassed as the typical tomatoes in chain supermarkets. Oh, if only I were not going to be on the road a few more days I would have stocked up.
The market also sold fresh baked bread and canned produce. It was a touch of the way life had been in an earlier more healthy time.
We'd love your comments!