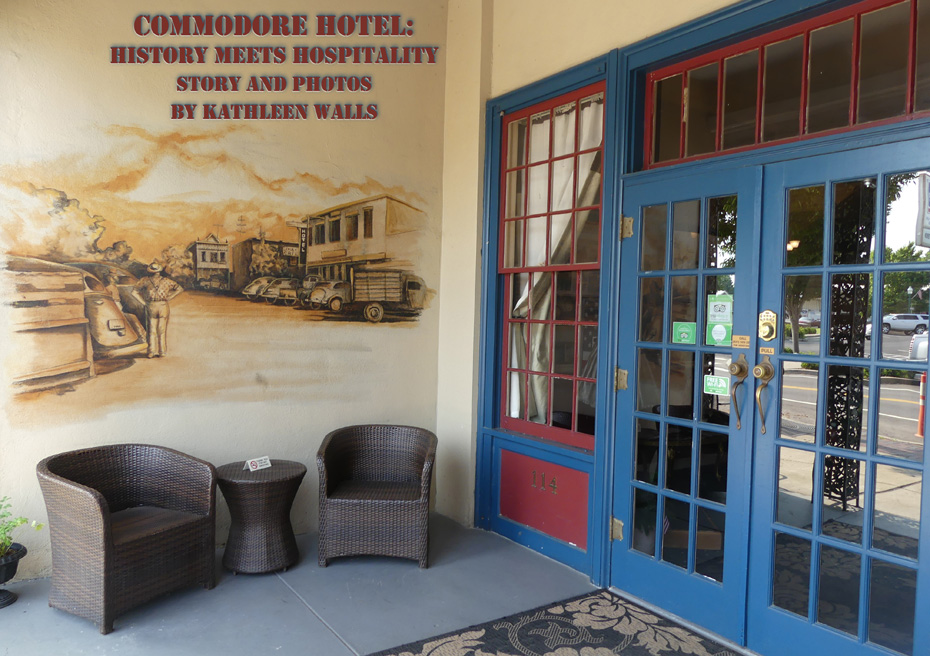 Published 6-19-2019

In the end, it's not the years in your life that count. It's the life in those years." Kathy and Michael Dumont live up to that slogan posted in the café of their Commodore Hotel in Linden, Tennessee. Many people in retirement just take it easy and go with the flow. Not the Dumonts. In fact, they bucked the flow when they "retired" to the small town of Linden, in Perry County Tennessee named for Commodore Oliver Hazard Perry. It was a town in the throes of severe economic depression when they bought a 1939 former hotel which had been vacant and decaying for 20 years. Before the interstate went in, this was a midway point on the drive between Memphis and Nashville. Small Main Street had 14 vacant stores with decrepit sidewalks, ugly power poles and electric lines running along it then. One look at the hotel and street would have run most people away fast.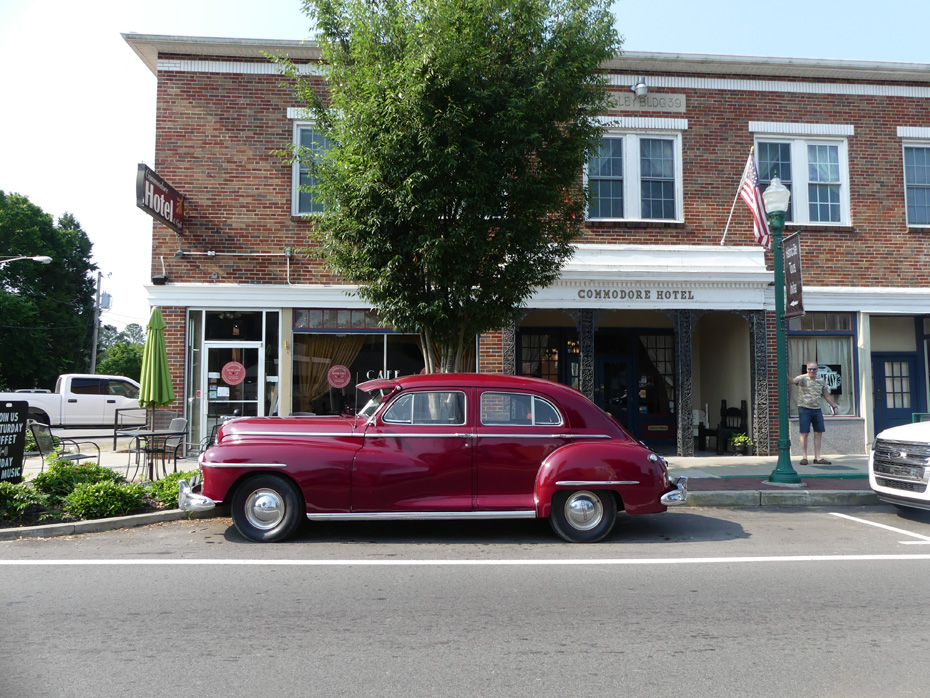 What a different look and feel to downtown Linden when I visited recently. There are now art galleries next door and across from the renovated Commodore. Thriving shops and a colorful Main St. with murals, the historic courthouse, and even a classic car parked out front make it feel like a step back in time. Michael told me how it came about. He and Kathy were looking for a place to retire from successful careers, Michael in real estate development, Kathy in the financial end. "Kathy became fascinated with caves and waterfalls, we wanted to be no more than two hours from the airport. I had a slight interest in aquaculture. I took a business trip to Jackson to see a fish farm. "
That wasn't for him but the realtor told him on the way back to take a detour to Linden. There was a piece of land with waterfalls and "It was a beautiful piece of land, streams, caves, and waterfalls. We went from looking at five acres to buying 400 acres." He made an offer on the spot. "
He continued, "While not full time residents, the old hotel caught my eye. We bought as an investment and had no intention of becoming a hotel operator." While renovating it, they hired a future manager. He backed out just before it opened. "Meantime the real estate market veered down. If you were in real estate finance, you didn't have much to do in2008. We started making a transition and sold our home in Rhode Island in 2012 and have been full time ever since."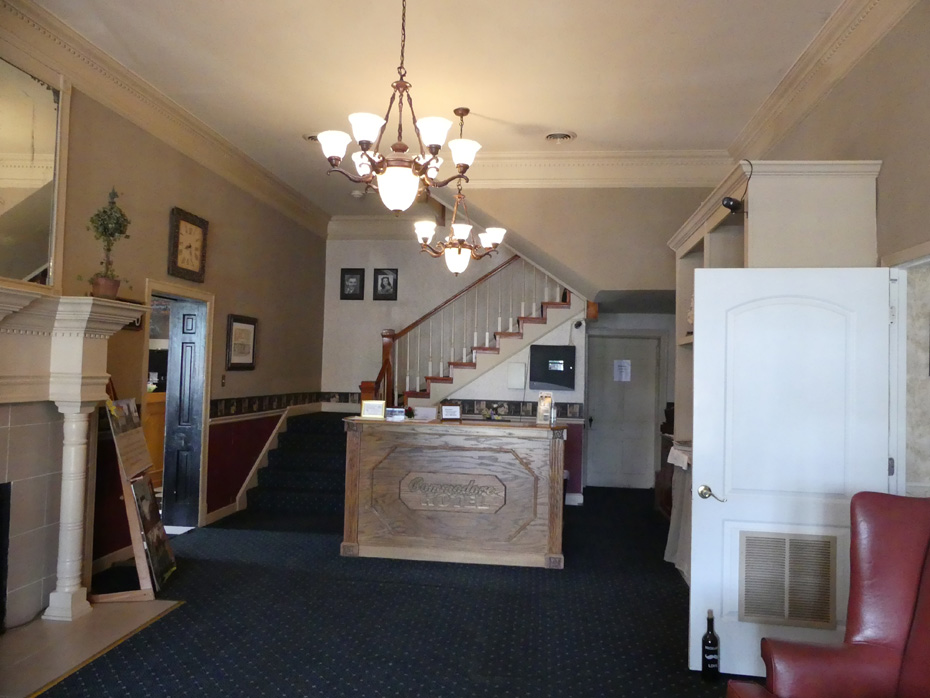 The Commodore is a classic hotel with the personal feel of a bed and breakfast. Kathy, Michael, or one of their personable hosts greet you and help take you luggage to one of the 12 rooms or suites that make up the original Commodore or 22 counting the other Main St. buildings they have incorporated into their system. Each of the buildings has a unique personality.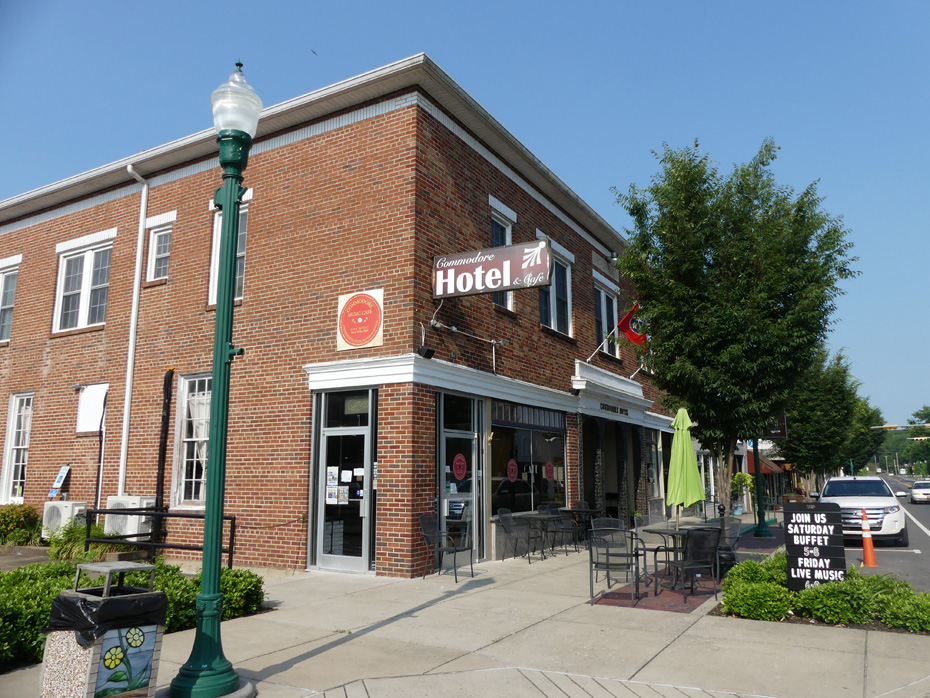 The original Commodore preserves the feel of the original historic hotel with hardwood floors antique door hardware, exposed brick walls and period furnishings and vintage art deco floor tiles in the bathrooms. They have real windows that open; one of mine opened with a great view of the courthouse where musicians were performing for the annual Summer Music on Main Street held in Linden every second Saturday in June and July. However, they never lack modern conveniences like air conditioning, coffeemakers, large screen TVs, and high speed WiFi.
I stayed in Captain Lawrence's Quarters, a corner room with two exposed brick walls and a very comfortable king bed named for Perry's friend, James Lawrence, for whom Perry named his ship, USS Lawrence. Incidentally Lawrence is known for his famous last words, "Don't give up the ship." Quite a fitting motto in the Dumonds' restoration of the Commodore and the city of Linden.

Downstairs the hotel has a spacious lobby with placards, photos and a lifelike bronze stature of Minnie Pearl.There's a bit of a controversery over the stature's move from her hometown of Centerville, about 25 miles away and she may or may not get to stay in the Commodores' cozy lobby but for now she is there, smiling and wishing guests a "Howdee." Outside it's fronted with classic black wrought iron posts and a mural done in sepia representing Linden in the 1940s.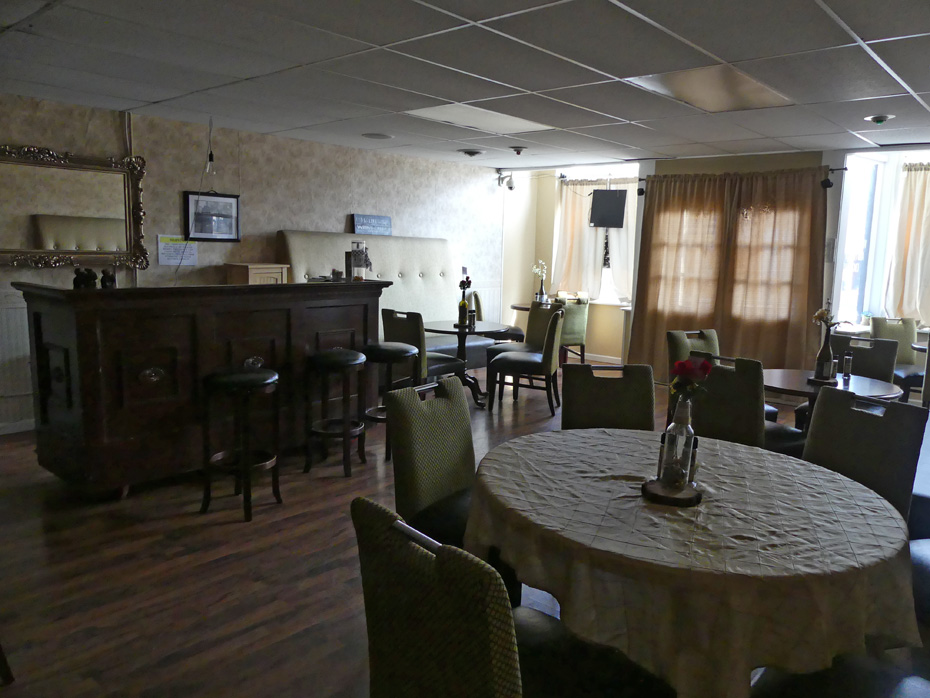 Adjourning the lobby on one side is the Speakeasy bar which provides some classy cocktails reminiscent of an earlier era.

On the opposite side is the Music Café. When I arrived on a Friday night, one of the Friday night musicians was playing some country music and Willie Nelson songs guaranteed to mellow anyone out. There are tables outside where you can sit and listen to the local Saturday concerts in summer.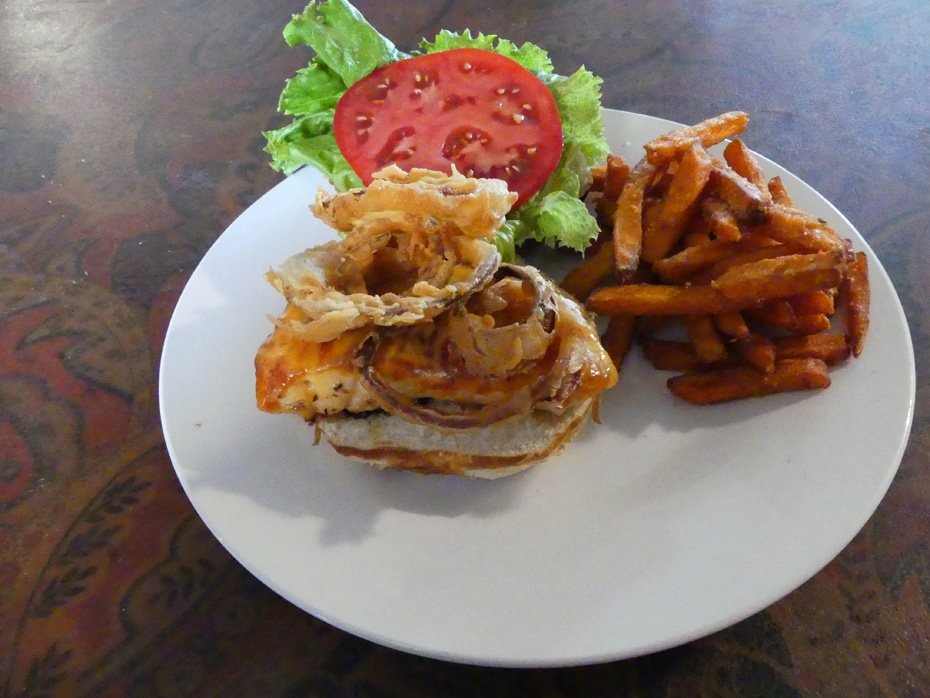 The food is Southern Classic with the Commodore's special touch. The menu changes often to keep abreast of what is fresh and local. Eggs and fresh vegetables come directly from the Dumont's farm.
Some specials like the Linden Burger with their own Linden sauce, cheddar cheese, and crispy fried onions and the southern classic, Fried Green Tomatoes, are staples. Lifetime Linden resident Hayley Byrd plays a double role as General Manager of the Commodore and Café chef. She does a fantastic job on the breakfast buffet also.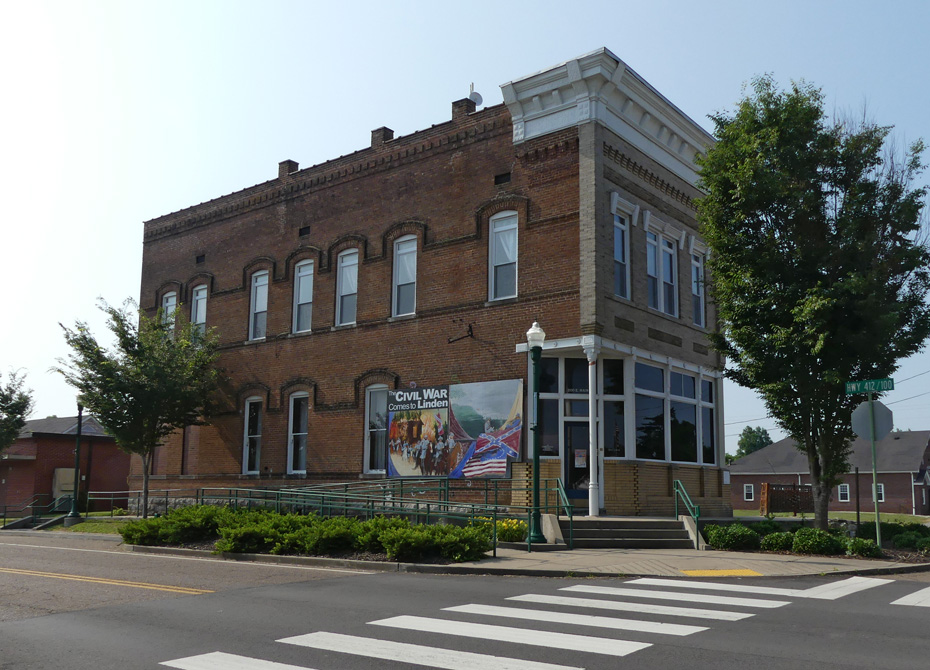 The Dumonts did not stop with the hotel. The group now included the First National Bank Building, Lindens oldest building circa 1904. It has two huge, historic suites.
Miss Berdie's Boarding House was a real boarding house in the 30s and 40s. Michael said when they bought it, "It had been shut up around 50 years. It was like coming into a time warp"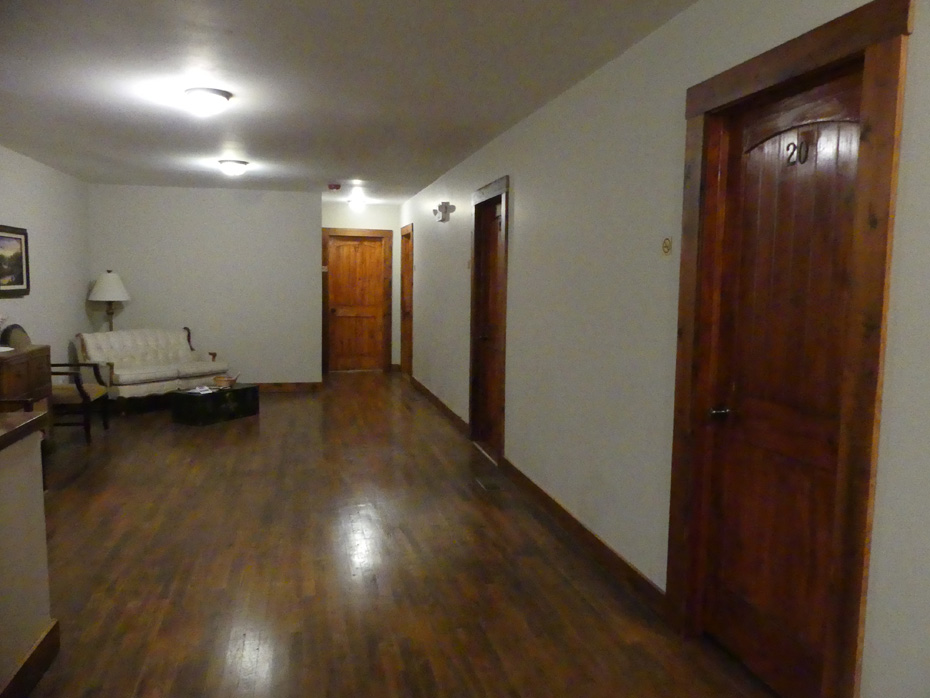 Today, it has eight renovated guestrooms some with original tin ceilings and granite counters in small kitchenettes. Seeing it after the renovation, it is fantastic. Like the rooms in the original hotel, the historic charm is still there but the 21st century amenities make it comfortable. It's already had its first famous guest when Joe Biden stayed there. Michael said, "There were secret service agents all over. They came two days in advance and swept the whole area."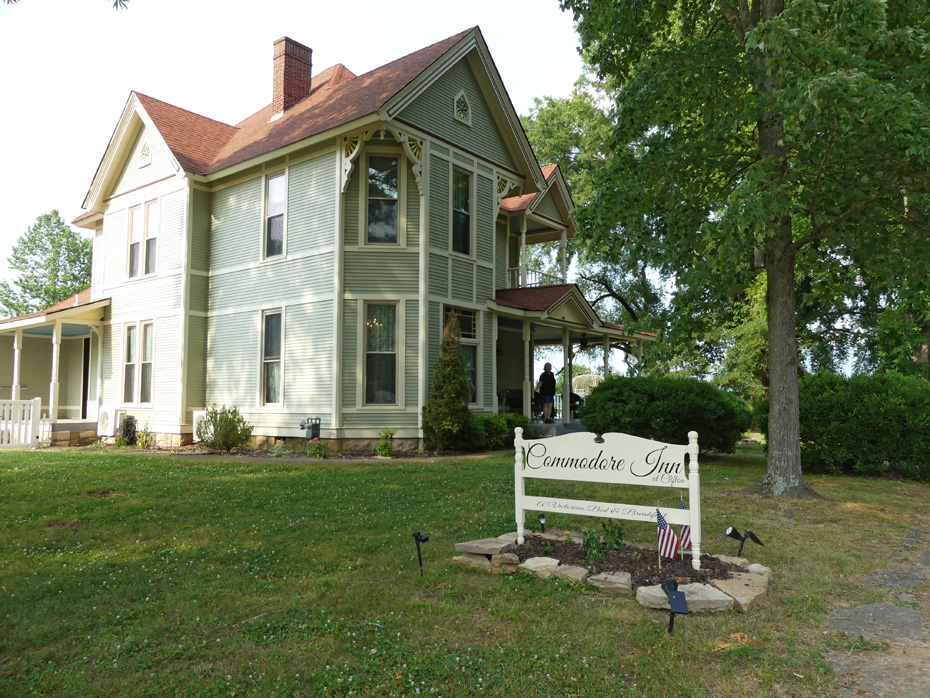 Commodore Inn in neighboring Clifton, the Dumonts latest venture, is a 1892 Victorian home. The home built by the Hughes family has only had three owners so it maintains much of its original personality. The front staircase is original as are the sliding parlor doors. One of the downstairs bedrooms has a claw-footed tub is also original to the house.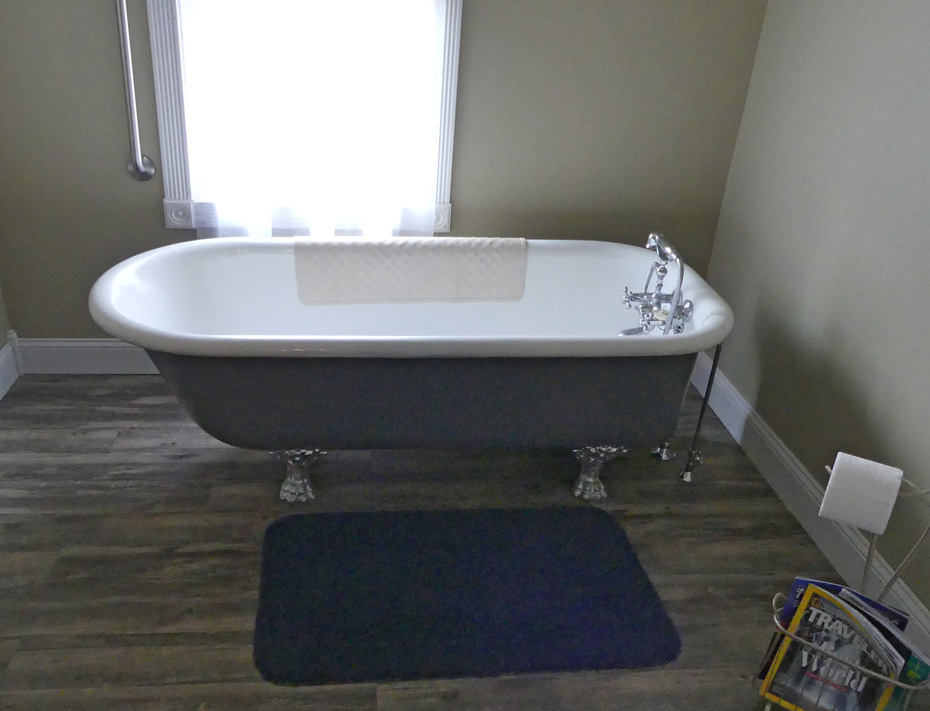 It is managed by Michael's brother, John, and his wife, Sharon; again insuring that personal touch. Much of the art and photography around the home was created by John or Sharon. He does photography and Sharon is a prize winning artist. She works in water colors, pastels and oils and is the Commodore's official artist.
The Hughes family had nine children and employed a governess for them. Michael was working on restoring a schoolhouse they had built alongside the home. Michael said this was positively his last venture in restorations. Not sure I believe him.
Any of these Commodore properties make a fantastic place to stay while exploring the area. There will be a story about all the things to see and do here coming soon so stay tuned.
For more info:
http://www.commodorehotellinden.com/
We'd love your comments!