Gip knows how to throw a party. The party is on every Saturday night at Henry "Gip" Gipson's house. It's one of the last of Birmingham's secret treasures. Of course, like much about Gip's kind of music, the Blues, that's somewhat of a contradiction. The "house" is really Gip's shed, backyard, and overflow areas and by now, it's no longer a secret if you live anywhere near the Birmingham area. By the way, it's really in Bessemer, a small city a few miles southwest of Birmingham.
The contradictions should not be a surprise since the Blues themselves are a contradiction. Born out of the old slave and sharecropper's music as a lament for a lifestyle that was hard and cruel but against which they had no legal recourse, it morphed into a recognized form of music called Blues in the early 1900s. As one of the earliest forms of American music, it combined with County Music, itself born of the early music of Appalachia, to form Rock and Roll.
Just as the Blues had it's hard times so did Gip's Place. Several years ago, the city of Bessemer tried to shut down Gip's Saturday night parties. Although, Gip had been there and having his regular Saturday Night soirees for 60 years, long before many of the complaining neighbors moved in nearby knowing about the weekly event. After a prolonged county commission battle Gip won. Sort of. He can continue having the event every Saturday night but he cannot run it as a business. No tee shirt sales. No admission charge. No food sales. Donations are allowed. But the Blues live on every Saturday night at Gip's Place.
Gip himself is another contradiction. His day job was gravedigging. At night he morphs into a cross between a preacher and a party animal and musician. As near as he or anyone else knows he is about 96. He began playing the blues on his guitar and harmonica as a teen. He was once so badly beaten by a Klansman at an event that he lost a lot of movement in his hand effecting his playing but today Gip welcomes anyone of any color or persuasion to his parties.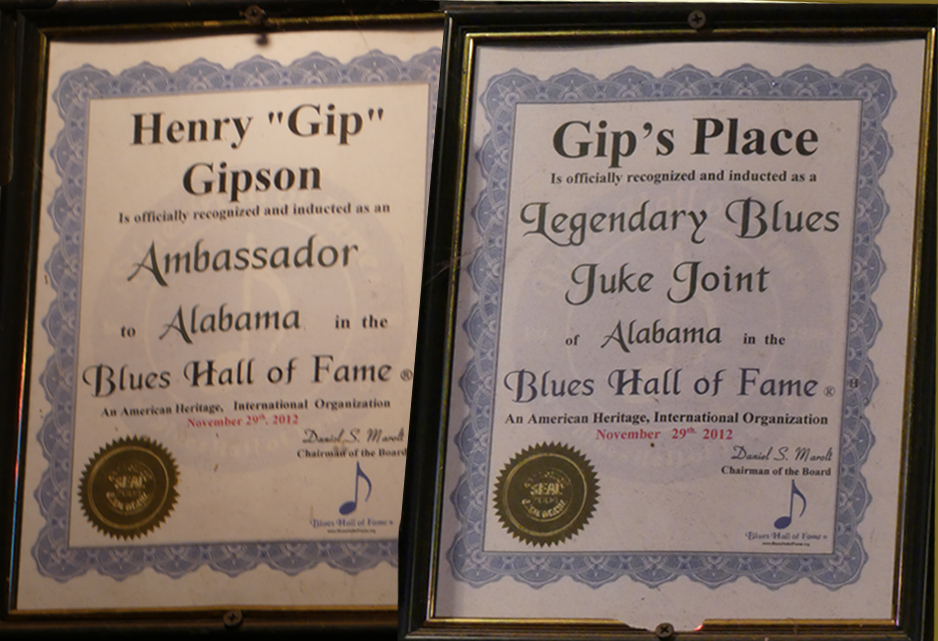 He lives in a section of town considered "a high crime area" but has been voted an Alabama Blues Ambassador and was inducted into the Alabama Blues Hall of Fame. He has played with legends like B. B. King, T. Model Ford, John Lee Hooker, and Chuck Berry. He operates one of the last juke joints left in the world in his back yard shed where he tries to keep the music of Robert Johnson, Muddy Waters and other legendary bluesmen alive.
As we walked down the driveway pulling our cooler full of beer and wine the night we visited, the strains of Amazing Grace drifted up as Gip opened the night's entertainment. The place was already packed with what might be considered "well to dos" and "ne'er do wells" shoulder to shoulder inside the shed, at the overlook to the shed where the bandstand is set up, or at the unmatched tables and chairs set around the grounds. It looked like about 200 people.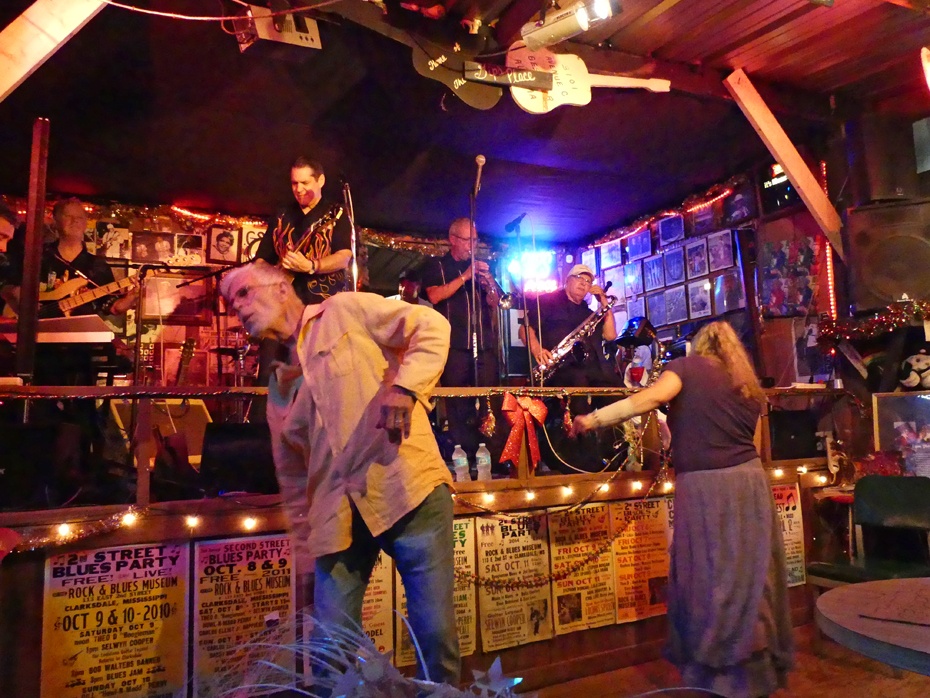 Gip greeted us all like an old friend and mingled around with everyone. Many of the guests were regulars who have been there often. Others were newcomers. Elliott and the Untouchables took the stage and we were drawn into the magic of the Blues. The dance floor was filled with people of all races dancing, laughing, and having a good time together. Perhaps Gip's Place and its Blues are the answer to true equality.
For more about things to do in Birmingham.
https://www.facebook.com/Gips-Place-276216082455350/