William Bartram came to West Volusia County 255 years ago with his father. He was intrigued enough to return in 1774. He was one of America's first naturalists to visit and write about Florida. His book, Travels Through North And South Carolina, Georgia, East and West Florida, The Cherokee Country, The Extensive Territories of The Muscogulges, or Creek Confederacy, and The Country Of The Chactaws, —They went in for long titles those days—was one of the first naturalists' books published by the fledgling United States in 1791.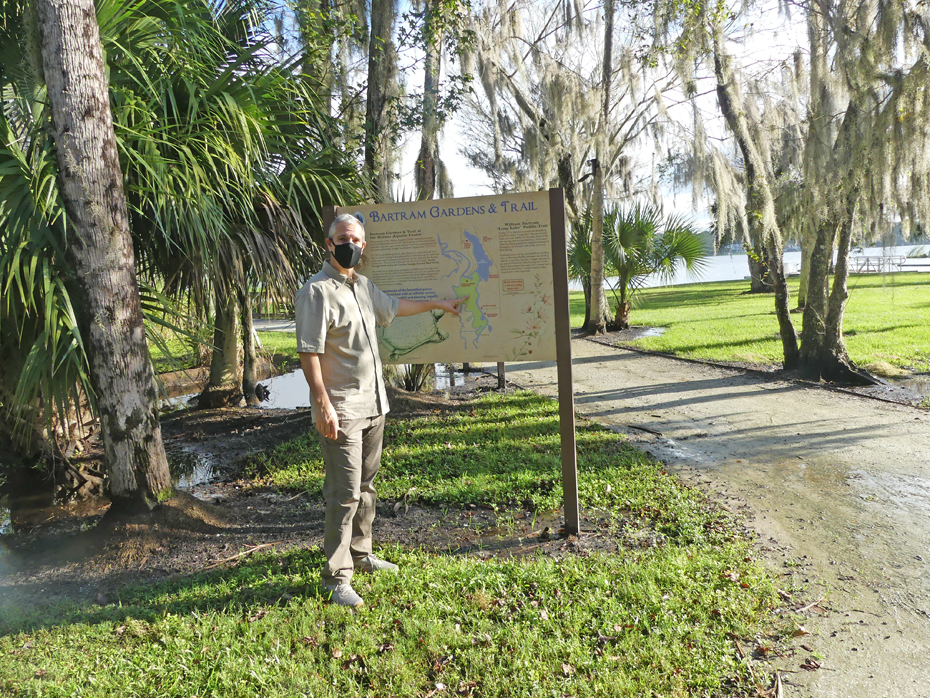 Dr. Abbott showing a sign related to Bartram's Trail
Now, Dr. Tony Abbott at Stetson University in DeLand has retraced Bartram's travels across Volusia County and created Experience William Bartram's Florida, a brochure to guide you as you revisit Bartram's sites. The perfect place to start is at Bartram Gardens and Trail in DeLand at the Sandra Stetson Aquatic Center. It's a ten-acre natural area on the shores of Lake Beresford where Bartram rested and dried out all his papers after experienced a hurricane while traveling in his canoe equipped with a sail. The gardens are native plants and interpreted with signage using copies of Bartram's original drawings.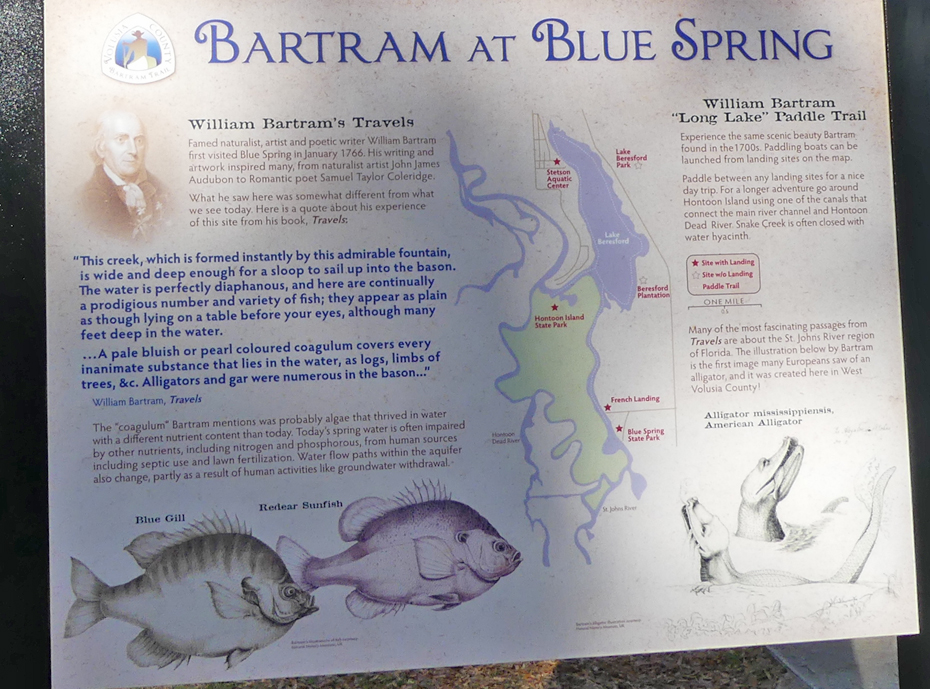 When Bartram visited he traveled from Lake George southward towards Lake Monroe on the Seminole County line.
Bartram Oak
If you want to be true to Bartram's route head for Astor and visit the Bartram Oak on Highway 40 just east of the Saint Johns River. Spalding Upper Indian Trade Store, the last European settlement west of St. Johns was just across the river. It was built for trade with the Indians. William Bartram spent several weeks here in May and June of 1774. He describes "searching its environs for curious vegetable productions, collecting seeds and planting growing roots in boxes." The oak would really have just been a sapling then but he may have touched it thus the legend grew and it became "Bartram's Oak."
Lake Woodruff National Wildlife Refuge
This is where the Saint Johns River earns the name "River of Lakes. The river forms Lake Dexter, a few smaller lakes, and then Lake Woodruff. This group of lakes is where Bartram describes the anhinga as "a very curious and handsome bird, the people call them Snake Birds"
Bartram's Snake Bird AKA an anhinga. They must dry their wings after diving before they can fly again.
It's also where he gives an idea of the number of alligators found in Florida before man diminished them. "The alligators were in such incredible numbers, and so close together from shore to shore, that it would have been easy to have walked across on their heads, had the animals been harmless."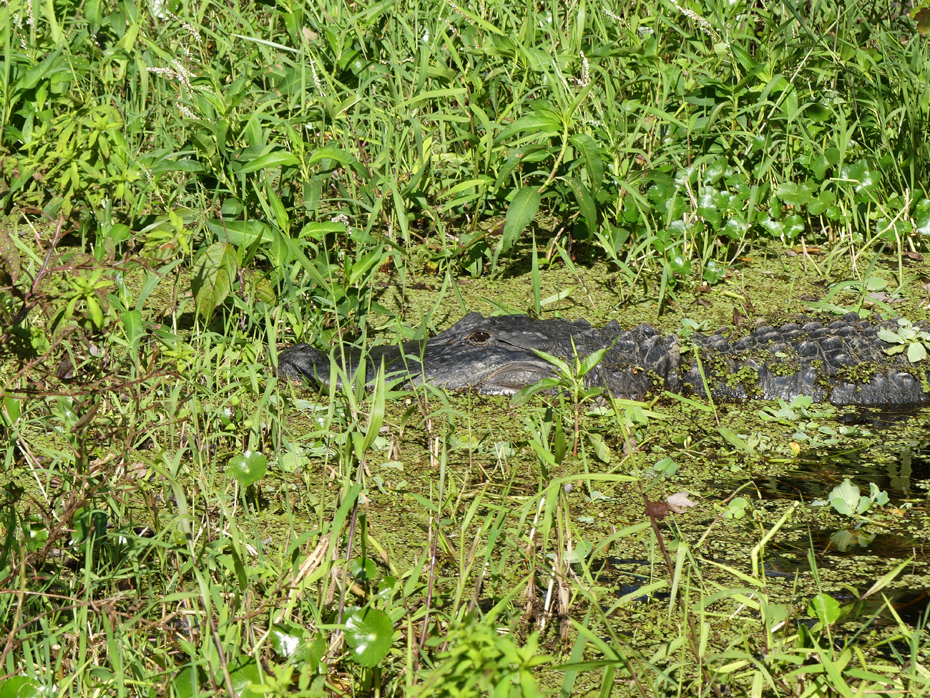 Definitely not something I would recommend but there is a good possibility of seeing a few alligators at Lake Woodruff National Wildlife Refuge. In fact, you may see many species of wildlife here. The refuge was established in 1964 as a migratory bird refuge and is a permanent or temporary home to over 230 species of birds. You might spot a wood stork which is the United States' only native stork.
The refuge is the second-largest pre-migration roosting point of swallow-tailed kites in the United States. Swallow-tailed kites are easily identified by their distinctive black split tail that forms a perfect V. These black and white birds of prey winters in Brazil and returns to Florida each spring to build their nest.
A whooping crane pair maintains their winter territory on the refuge. There is a good chance of seeing bald eagles here. You might see deer, marsh rabbits, otters, and gopher tortoises while you hike their fifteen miles of trails.
Some other wings you will find here for sure are West Volusia's artist in residence, Erica Group's, Swallow-Tailed Kite Wings. They are part of the "Wings of The West", a series of six wings murals around the county. Each set of wings represents something about the location where they're located.
DeLeon Springs State Park
Nearby you can visit DeLeon Springs State Park. There is no way of knowing if Bartram visited this spot but if he had he would have loved the spring with a constant 72 degrees and depths range from 18 inches to 30 feet.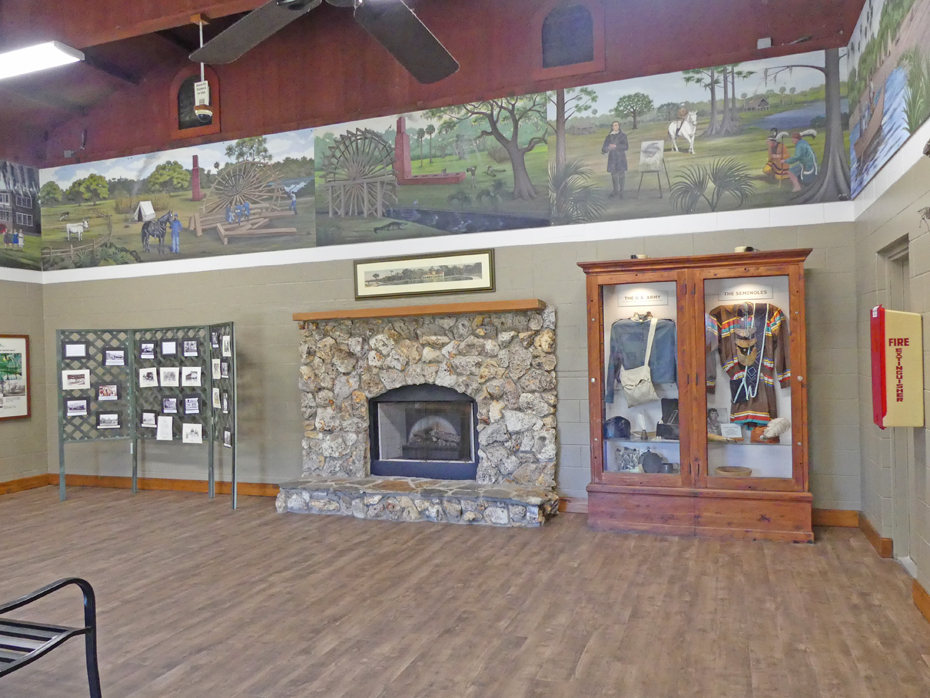 The Visitor's Center at the park has exhibits that show that people lived here for over 6,000 years. These earliest recorded dwellers were the Mayaca. Evidence of their lifestyle was found in shell mounds they left behind. The site was once a plantation and during the 1950-60s, a resort. During the height of the attractions' era, there was even a water skiing elephant called Sunshine Sallie.
The park is on the Great Florida Birding and Wildlife Trail. You have a choice of the Wild Persimmon Hiking Trail, a four-mile loop, where you might spot deer, turkeys, wild hogs and Florida black bears, or the half-mile paved wheelchair-accessible nature trail. Had Bartram passed here he might have seen a 300 plus-year-old cypress tree. Today, it is more than 600 years old.
If you are on the water, you can canoe or kayak into Lake Woodruff National Wildlife Refuge. Another water adventure here is the 50-minute eco/history boat tour on Spring Garden Run aboard the M/V Acuera.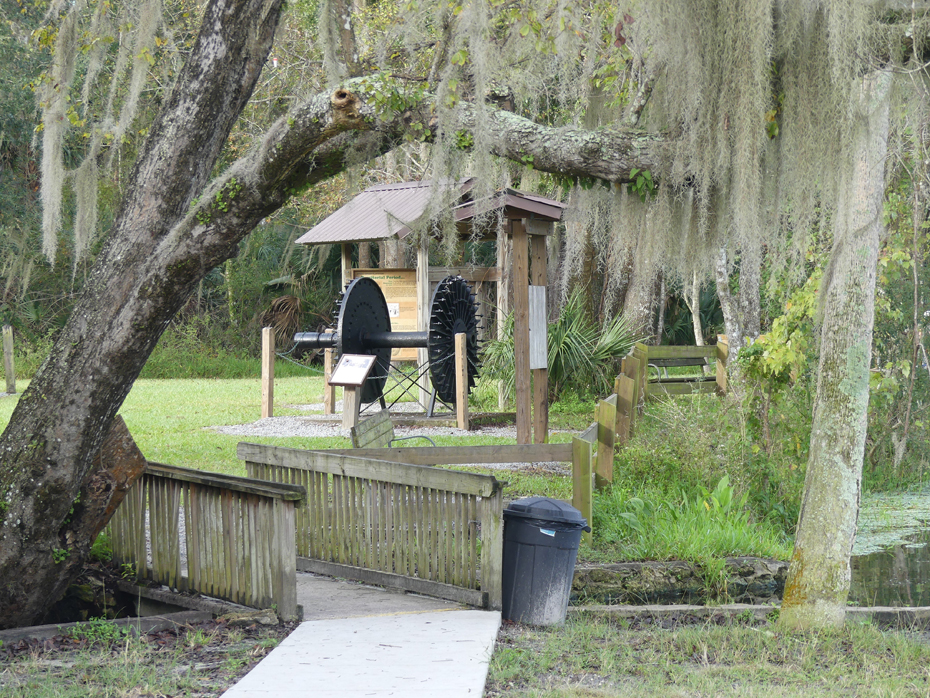 A remnant of the old mill surrounded by Spanish moss draped from the oak trees
There is a unique restaurant here, Old Spanish Sugar Mill Restaurant that is perfect for breakfast. The restaurant is built on the remains of a sugar-making operation from the 1830s. Remnants of the mill, the brickwork, boiling kettles, mill machinery, and the original mill wheel hub are located behind the restaurant. The tables are each equipped with a griddle where you can make your own pancakes. The waitress brings you pitchers of batter and your choice of add-ins. You just pour, flip, and enjoy.
Hontoon Island State Park
Hontoon Island State Park can only be reached by boat. Bartram described it as "A delightful little bluff consisting chiefly of shells." It was here he sheltered as best he could from the hurricane writing that it was "a large islet or grove of Oaks and Palms. Here I intended to seek shelter, and abide till the fury of the hurricane was overpast."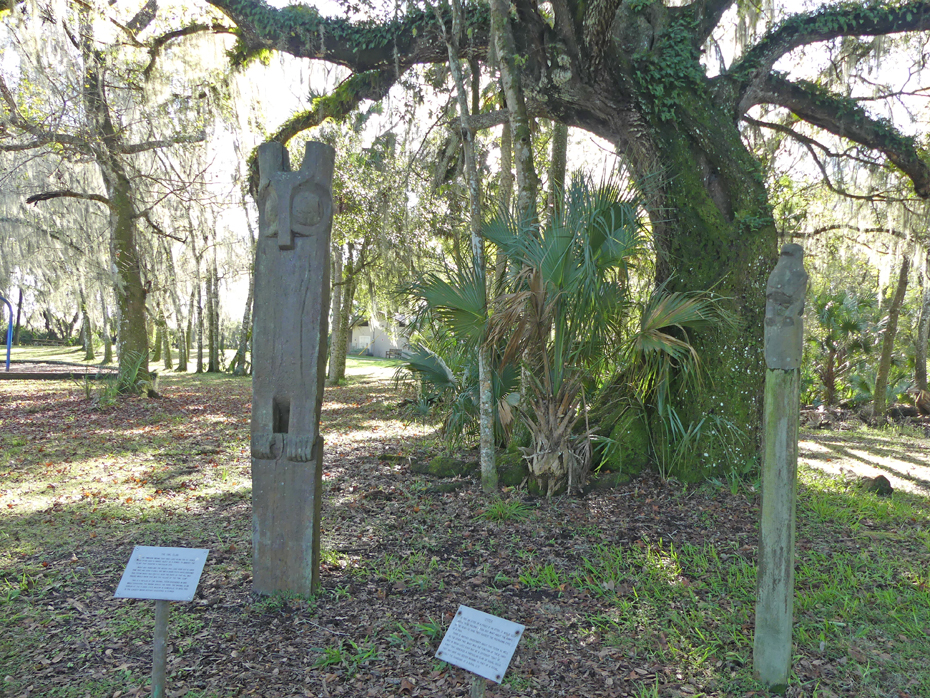 Totem replicas of the Owl and a smaller one that is believed to be either a frog or an otter
The shells were most likely the remnants of the Timucuan settlement once here. Today, there is an Owl Totem replica. The original was recovered in 1955 and is in the Florida State Museum in Gainesville. The totem's located between the visitor's center and the playground/area. The Timucuan used the totems to show which clan lived in an area.
The interpretive center tells the history of the island and the wildlife you might see. You can camp there, stay in a primitive cabin, or rent a kayak, canoe, or bicycle to explore the island. Rene Acuna, Park Manager who showed us around the island, told us he had seen a bear just a few days ago. Naturally, being an island you might see an alligator and lots of wildlife.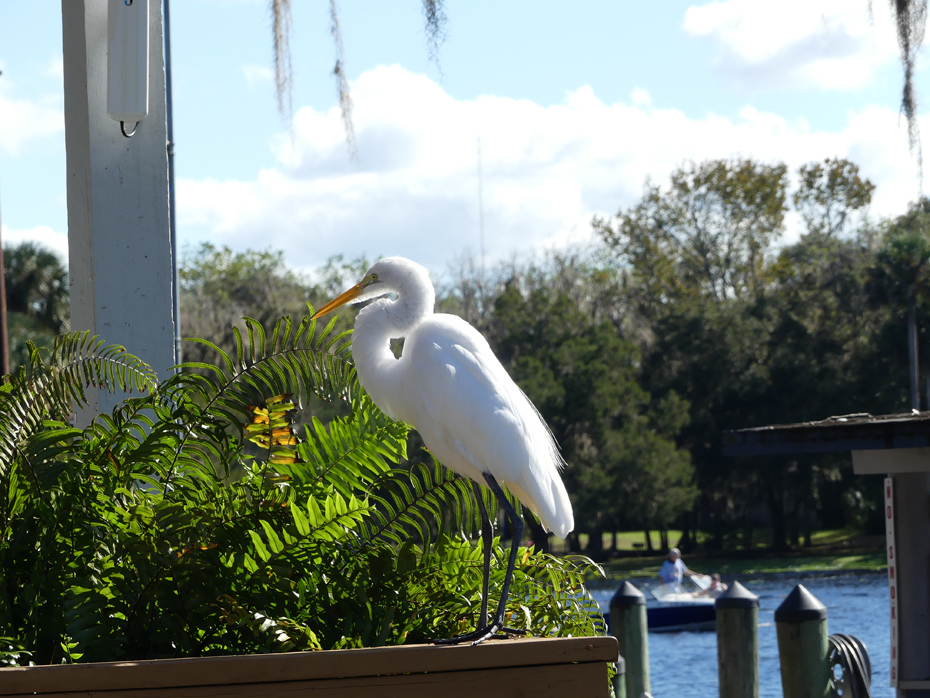 Egret at Hontoons Landing
There's a good place for lunch just across from the park, Hontoon Landing Deli. Aside from a great sandwich, you might meet two sand hill cranes near the outside dining area in front or an egret perched on the rail while you dine overlooking the water in back.
Blue Spring State Park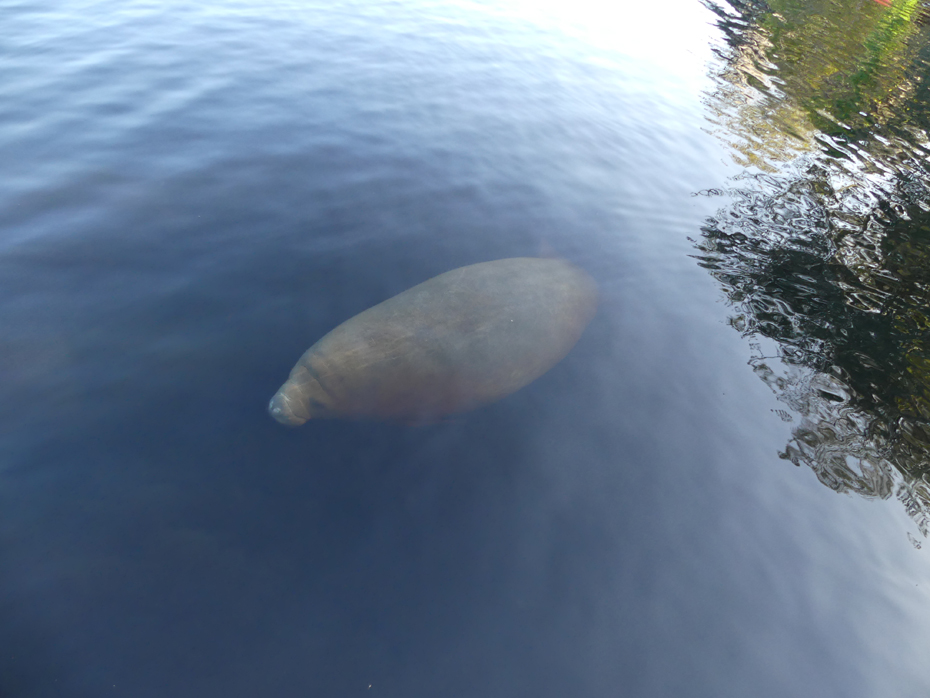 West Volusia, being such an outdoor treasure, has three state parks. Blue Spring is the most famous as a manatee area. They come into the spring beginning in November and stay for the winter months. The spring remain at 72 degrees year-round, and the manatees are sensitive to the cold so as Saint Johns River cools this is one of their favored refuges.
For the safety of the manatees, people must maintain a distance of at least 50 feet
While Bartram was staying at the Beresford Plantation recovering from his brush with the hurricane, Charles Bernard, the caretaker and good friend, took him to visit Blue Spring. Bartram found the spring water to have "a most disagreeable taste." He describes the spring as "boils up with great force, forming immediately a vast circular bason, capacious enough for several shallops to ride in, and runs with rapidity into the river three or four hundred yards distance."
A small alligator, one of many seen from the boat tour
Since he was here during hurricane season, he was not lucky enough to see any manatees. He was dead on about the size, however. It is the largest first magnitude spring emptying about 100 million gallons of water a day into the river. When we visited in late November, we saw about ten manatees. Ranger Darrell Thomas took us on a tour of the park. From November 15 to March 30, the run is closed to swimming and human water fun. It is reserved for the manatees.
He told us that when Jacques Cousteau came in 1971 and did a documentary called The Forgotten Mermaid that put Blue Spring on the map for visitors. The following year it became a state park. Darrell said, "When Jacques Cousteau came here there were about 10 or 11 manatees, and this past season we broke our record, and there were 583 manatees."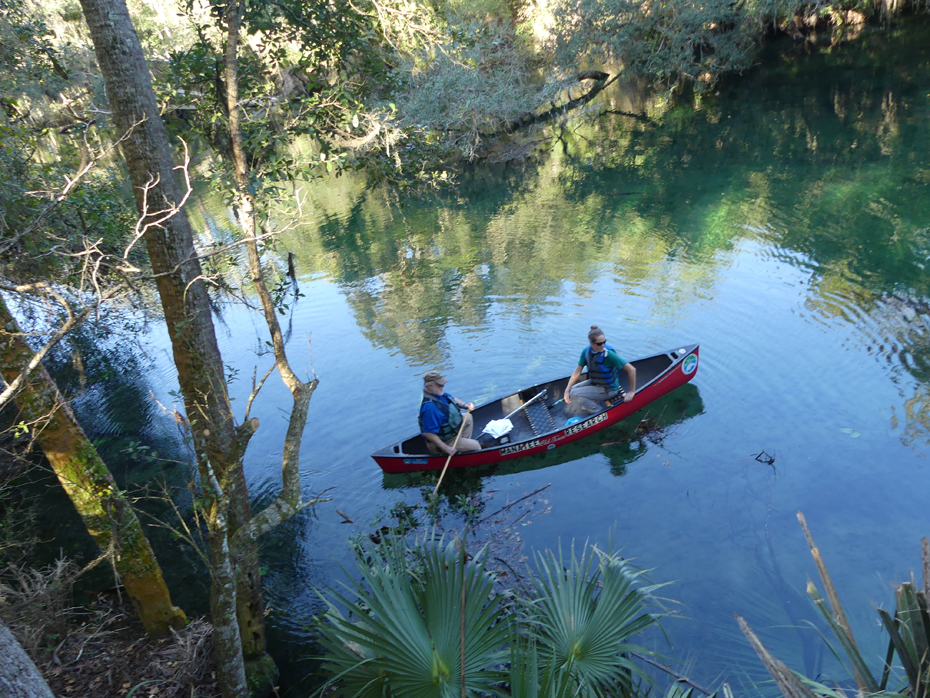 Wayne Hartley and assisant doing a manatee count at Blue Spring
Interestingly the manatees are named. Their genealogy is traced letting science learn so much more about their habits. One man, Wayne Hartley, has traced manatee families and named them for over four decades. I was fortunate enough to meet him on this trip as he was doing his daily manatee count.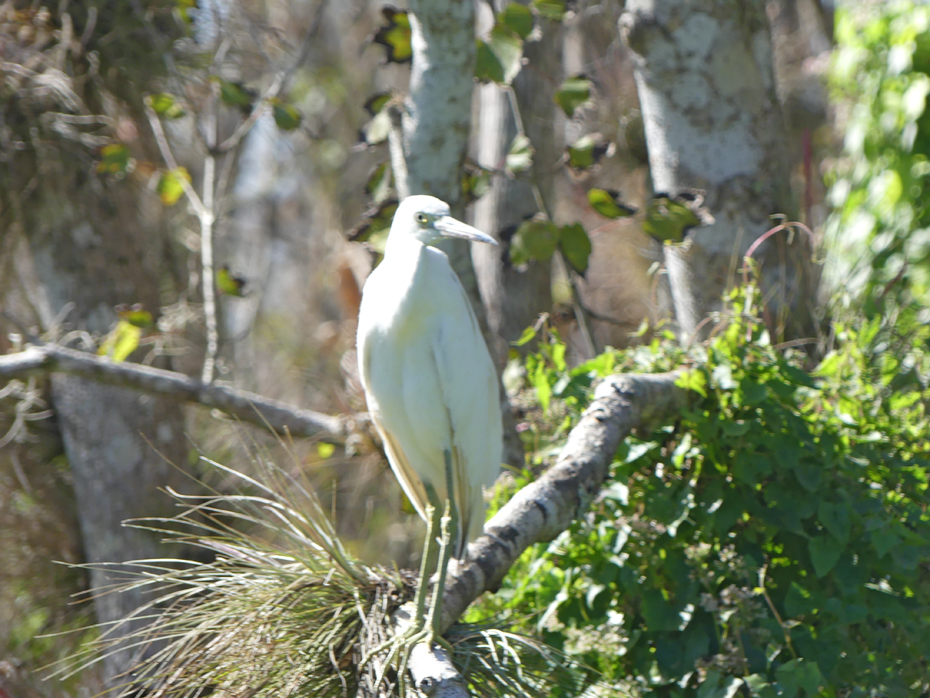 A baby great blue heron that has not turned blue yet
When you visit I highly recommend you take the Blue Spring Adventure pontoon boat tour and if possible get Captain Rebecca. On the two hour tour through the Saint Johns River, she was able to identify all of the birds and told educational and entertaining information about the river and the wildlife. Did you know the young little blue heron is white for the first year of life?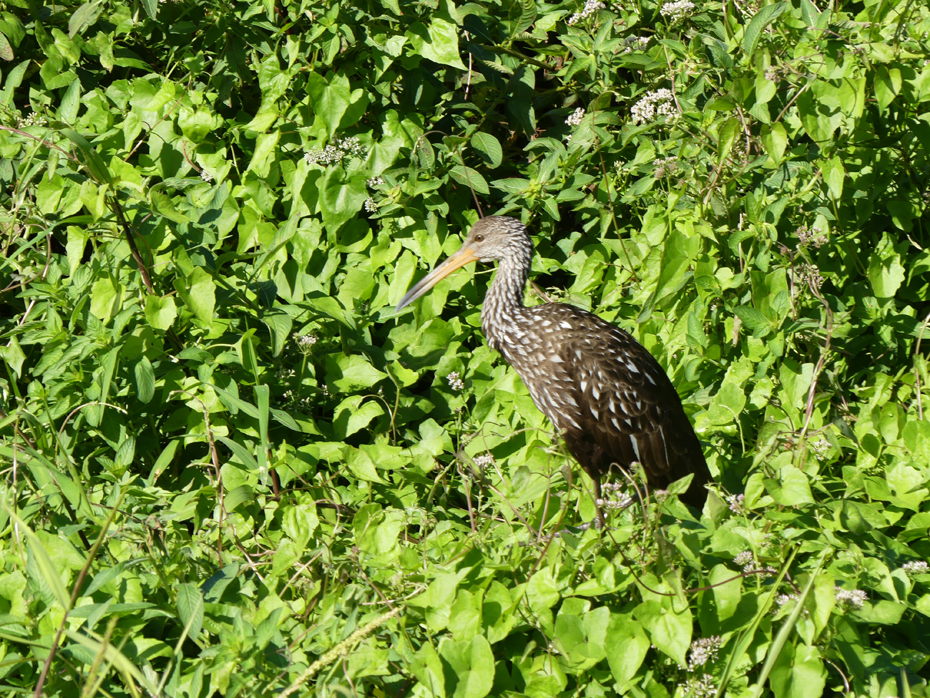 A limpkin also called "the crying bird"
We saw birds of all kinds and ages. The limpkin, a well-camouflaged brown bird, sometimes called the crying bird, because of its call, lives in the shallows of the river. Rebecca told us it's screaming call was used in the early Tarzan movies when you believe you are hearing Cheetah's voice. We also saw plenty of alligators, turtles, giant herons, egrets, ibises, wood storks, and so many more.
Aside from the natural aspects of the park, there is the Thursby House built in 1872 by Louis Thursby, one first European settlers, in the area although primitive people lived here for thousands of years previously. In fact, he built his home on top of one of the early middens. The location on the St. Johns River gave him a means of shipping the oranges he grew here.
The park offers camping and cabins.
Lyonia Environmental Center
| | |
| --- | --- |
| | |
| Baby scrub jay | Adult scrub jay |
Lyonia Environmental Preserve's 360 acres are a bit inland so perhaps Bartram did not get here. That's his loss. It is rich in wildlife and one of the few places you might see a Florida scrub jay. These birds are on the Threatened List and live only in central Florida. They have an unusual family system where the juvenile from the last hatching hang around to offer protection as an extra set of eyes watching for predators while the next babies hatched. They need a scrub environment, which is also a developer's favorite land type. Sandy Falcon, Center manager, led us through the preserve. It's an easy hike as the trails are wide and not very hilly.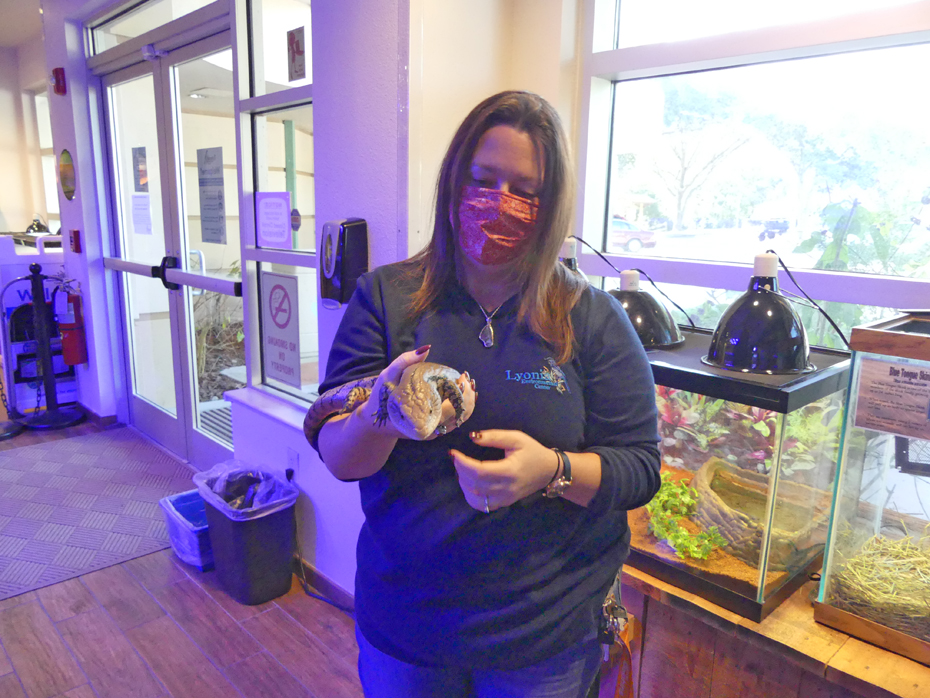 Sandy holding the blue tongued skink
Inside the center, there are a lot of interpretive exhibits and some real wildlife including some king snakes, a ball python, a pair of turtles named Tuttie and Frutti, a few fish in the turtle tank that were intended as food but survived and now share the tank, a blue-tongued skink named Igor, and more.
White peacock butterfly in garden at preserve
Outside, adjacent to the beautiful butterfly garden, you find another set of wings, the Scrub Jay Wings from the Wings of the West series.
Gemini Springs
William and his father, John Bartram, described Gemini Spring as "having three heads within 30 yards" and covered with "duck meat," the term then used to describe duck weed.
It's a 212-acre park today that pumps about 6.5 million gallons of sparkling fresh water up from the two springs each day. I spotted a large flock of Florida white ibises there browsing around the spring. Another bird, a beautiful blue heron, was grazing among what Bartram may have referred to as "duck meat."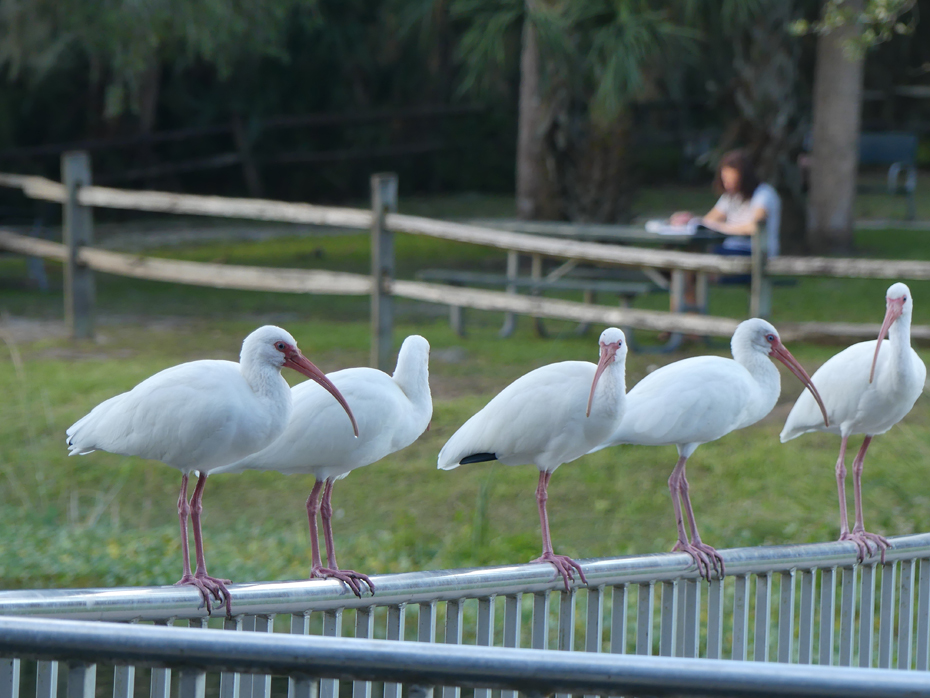 A flock of ibises perching on a railing
The park had a nice paved trail that wanders across the spring run as well as several wooded trails. There are a campground, a dog park and lots of picnic tables.
Green Springs
Green Springs looks like a small emerald dropped into the forest. John and William Bartram described it as a "pretty stream of sweet water." It's one of Florida's few sulfur springs which Native Americans considered sacred and believed it had healing power.

It was once part of Baron Fredrick DeBary's hunting estate. You can tour DeBary's home but that'll be another story.

For those when want to follow William Bartram by water, there is a map at the link below that shows the sites you can travel to by water.

For more info:


https://floridascenichighways.com/wp-content/uploads/2016/09/Bartram-Trail-Along-ROLHC-Map-Brochure.pdf