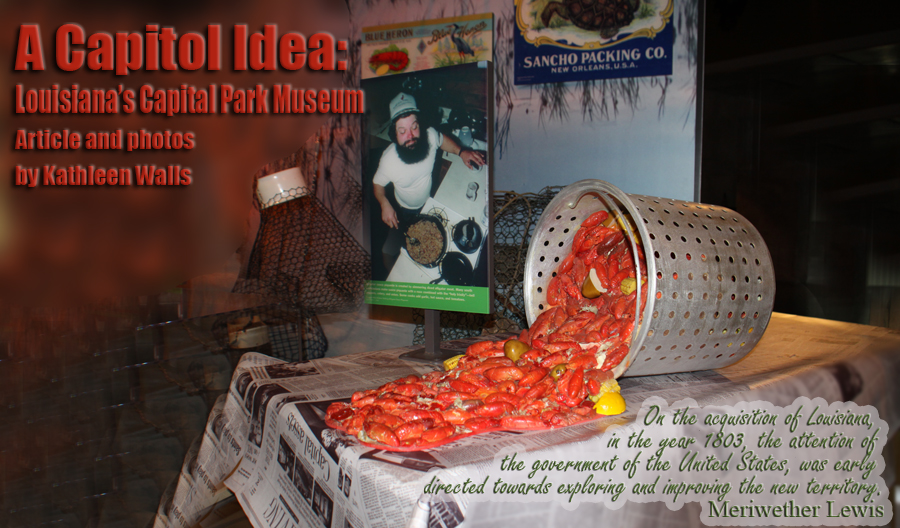 Capitol Park Museum is the place to visit first if you are a newbie visiting Louisiana for the first time. It's relatively new museum, opened in 2006 shortly after Katrina so it is all state of the art and Disneyesque in its scale. Kids will be fascinated as well as adults.

It really covers the state from the days of the Louisiana Purchase to present. The museum, with 70,000 square feet of spectacular exhibits, is the largest in Baton Rouge.





Since Louisiana is so culturally diverse and rich in traditions and its history so unique, it had a lot of material on which to base the exhibits.

Downstairs on the first floor, "Grounds for Greatness: Louisiana and the Nation" focuses on people who made Louisiana what it is today. You follow the "Father of Waters." Exhibits from the earliest days like the mound builders of Poverty Point, to the French and Spanish explorers and onward focusing on how The Mighty Mississippi River features in shaping the Louisiana we know today. One of the last large wooden shrimp boats, The Coca-J, holds pride of place here.
Steamboat Coka-J is huge and brings back days of the riverboat era on the Mississippi
Huey Long was one of the most memorable politicians Louisiana ever produced. This September is the 80th anniversary of his death. He was worshiped or loathed. There was little middle ground when it came to "The Kingfish" as he was called. There is a great video of him and lots of his artifacts and personal possessions. I grew up in the Earl Long days and I remember every time "Uncle Earl" did something outragous, my parents woudl top the story with one of Huey's more outrageous acts. To this day, there are still many conspiracy theories related to Huey's assassination. Long had announced his candidacy for presidency to run against President Roosevelt just weeks before the assassination.
| | |
| --- | --- |
| | |
| Huey Long in his heyday | Details of Long's assassination |
African Americans formed a large part of Louisiana's cultural heritage. Slavery's place in rural Louisiana is featured. One of the most moving exhibits is the slavery exhibit that features a calaboose where slaves were held.
Being locked behind these doors was one of a Louisiana slave's worst nightmares
There is also an exhibit on Civil Rights. A cool exhibit is a African American home with Clementine Hunter's art displayed. For more on Clementine Hunter.
The hearse used to transport Jefferson Davis' body
Louisiana's place in the country's wars is featured here. Starting with the War of 1812, it goes through the Civil War, and both World Wars. You'll find Andrew Jackson's Battle of New Orleans battle flag, Zachary Taylor's sombrero, Jefferson Davis's funeral hearse is out front and my favorite here, the Mystery Submarine from the Civil War. (See more about that here)
Would you want to be inside the Mystery Sub?
The third floor exhibits focus on the culture of the state. "Experiencing Louisiana: Discovering the Soul of America," covers each region of Louisiana. You follow a winding highway through all the regions of Louisiana since each section has very different cultures.
Food is a big part of that culture. Perhaps that is why you are greeted by a giant crawfish peeping over a postcard from Louisiana at the exhibit entrance.
Music played a big part in Louisiana's history. Cajun, Zydeco, Jazz, Blues, and Rock and Roll are represented here. You will find Louis Armstrong's bugle and a jacket belonging to Fats Domino.
| | |
| --- | --- |
| | |
| Instruments belonging to Louisiana's musical greats | Louis Armstrong exhibit |
Mardi Gras is represented fully. There are elaborate costumes worn by kings and queens of the krewes. There are even floats.
| | |
| --- | --- |
| | |
| Entrance to the Mardi Gras exhibit | A typical Mardi Gras float |
However, it's not just the New Orleans version of Mardi Gras you find here. Courir de Mardi Gras, or the running of the Mardi Gras, is a common way Mardi Gras is celebrated in rural Cajun areas (See more about this.) Simply costumed horsemen ride through the countryside seeking donations of chicken, sausage, vegetables and rice to cook into gumbo for a community celebration in the afternoon. Those who donate are treated to music and dancing by the riders featuring Cajun and Zydeco music.
Part of the Mardi Gras exhibit about Courir and an example of a costume worn by horsemen
Even the housing styles are displayed. There is an exhibit about plantation homes and a simple shotgun home like you see in New Orleans. In fact every facet of life in Louisiana is found in this museum.
An antebellum, plantation and a shotgun house with a Lucky Dog cart parked in front
Throughout the year, the museum also features traveling exhibits.
This museum belongs on everyone's bucket list. Plan on spending much more time in Capital Park Museum than you originally scheduled.
For more info: