The Northwest Louisiana History Museum explores the unique cultural traditions from early native-American civilizations to the present. The building itself, designed by Trahan Architects, has won international acclaim for its design and is shared with the Louisiana Sports Hall of Fame. However, even though both of the museums offer a multitude of interesting exhibits, there is one that is unique in that it tells the story of ordinary African Americans during the post slavery period in the South. Their story is told not in words but in images and it is told by an extraordinary woman.
Today Clementine Hunter is recognized as one of the most important self-taught American Folk Artists of the 20th century. Clementine had no opportunity to study art. In fact she was far too poor to even attend school and never learned to read or write. She went to work as a field hand at a young age and later became a cook and housekeeper at Melrose Plantation in the Cane River region of northwest Louisiana. Incidentally, Melrose Plantation was built and owned by African Creole people.
Clementine painted many other thing besides the murals.
A happy accident at Melrose Plantation first put a paint brush in Clementine's hand. The owner, Carmelite Garrett Henry, known as "Miss Cammie," of Melrose Plantation had created an art haven there and many noted painters stayed and worked there. New Orleans artist Alberta Kinsey visited a Melrose Plantation in 1939. when she left she discarded some of her old brushes and partial used tubes of paint. Clementine picked them up and began her career with a painting on an old window shade.
The stories that emerged from Clementine's brush were unique. She portrayed everyday life on a southern plantation as she lived it. She painted her memories in a set of murals on the second floor in a building on the plantation known as the African House. Both the African House and the murals have been named by the National Trust of Historic Preservation as "a National Treasure."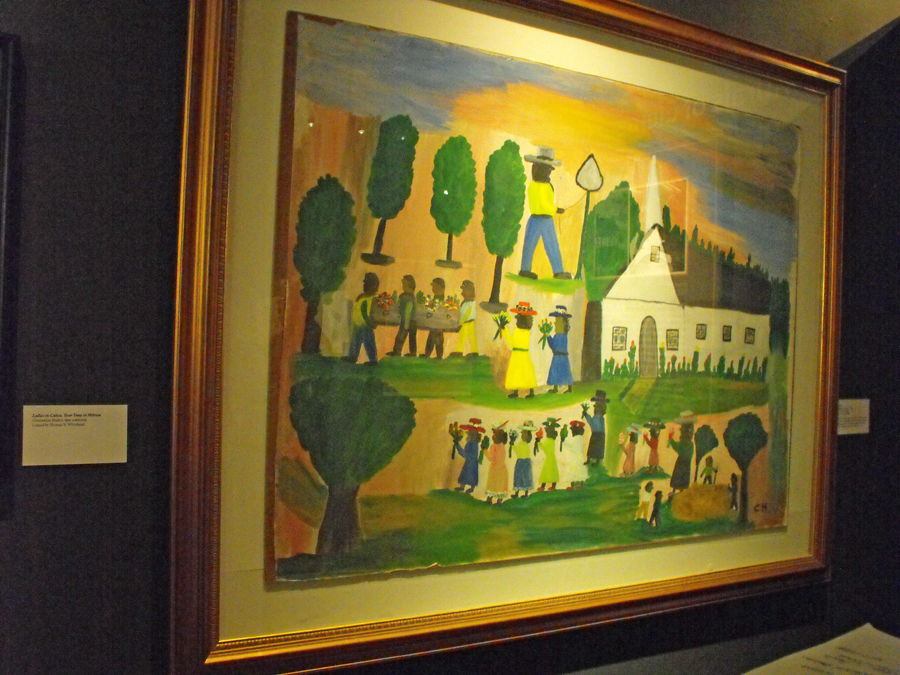 Everyday life on the plantation. Clementine painted weddings and funerals
Tommy Whitehead, author of Clementine Hunter: Her Life and Art and our guide at the museum, pointed out an interesting fact about her paintings, "She painted her people based on their importance. Notice in a wedding scene, the bride is the largest and the maid of honor next. The preacher was usually the smallest because Clementine had low regard for preachers."
He pointed out another example of her favorites showing in her paintings. He pointed to one of the murals, "Look at these pigs. Her favorite food was pork. The hogs are just about as big as the horses."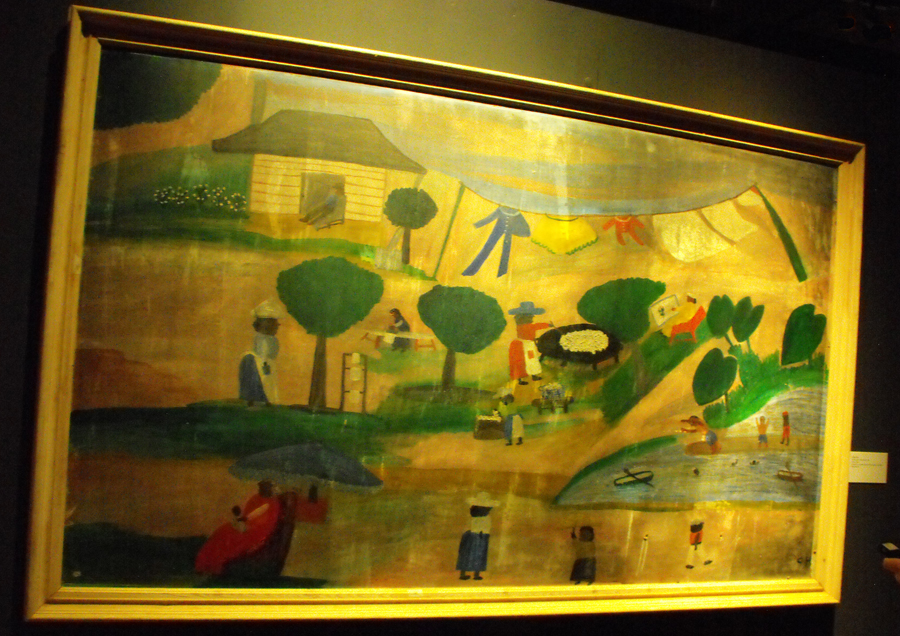 Everyday plantation life as Clementine saw it.
In another of her murals, she portrays an old Black man with a horse and buggy. that was Uncle Israel. the last of the former slaves that was still alive. He died in 1924. In this mural she also has a self portrait wearing a yellow apron and serving drinks. She portrays the owner, Cammie, as being very small as is Cammie's son, the overseer shown on a horse. She foreshadows the future with Cammie's grandson, Pat Henry. He was the first person who owned an airplane on Cane River.
Note the women carrying baskets on their heads as in Africa and the primitive equipment used to plow the fields contrasted with the automobile and the airplane. Clementine Hunter lived and portrayed a very changing era.
During her lifetime, Clementine, produced thousands of paintings drawn from her experiences working and living on Melrose Plantation. When she first started painting, she sold her works for a quarter. By the time of the death, the painting were selling in the thousands. Clementine painting up until her death Clementine became the first African-American artist granted her own exhibition at the Delgado Museum (currently the New Orleans Museum of Art). This lady who was too poor to attend school long enough to learn to read or write was awarded an honorary Doctor of Fine Arts degree in 1986 at age 101 by Northwestern State University of Louisiana. She was included in Radcliffe College's Black Women Oral History Project, published in 1980. She received an invitation to the White House from U.S. President Jimmy Carter. President Ronald Reagan also wrote to her. No one can doubt that Clementine Hunter's work advanced the cause of her people making her a true Civil Rights leader in her unique field.
Her most famous works are the murals she painted on the wall of the African House. she painted those in just two weeks, June 8 and July 21, 1955. She painted other murals on the Yucca House and Ghana House. She also painted thousands of items many of them discards she salvaged. The museum has many of her other works of art on display as well as a model of her home done by John Allen LeBlanc in 2007.
Model of Clementine's home.
The Murals of Clementine Hunter is only going to be on display at Northwest Louisiana History Museum until April of 2016 so don't miss your chance to see this remarkable art.
For more info:
http://www.crt.state.la.us/louisiana-state-museum/exhibits/clementine-hunter-info-sheet