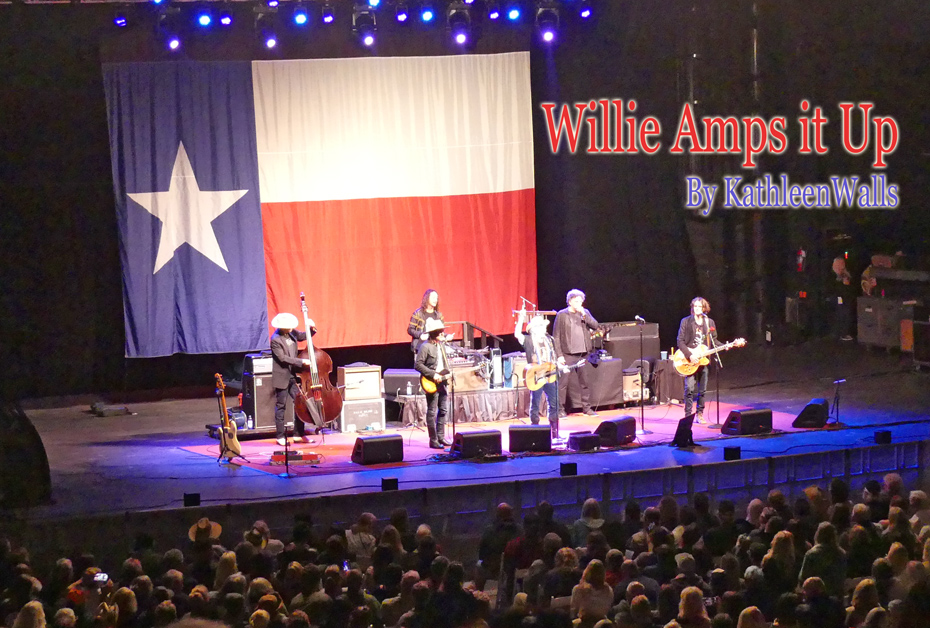 Published 2-17-2020

Two events happened in 1965. Country Willie -- His Own Songs became Willie Nelson's first RCA Victor album leading to his success as a singer instead of just a songwriter. The same year, the Saint Augustine Amphitheater was built commemorating Saint Augustine's 400th birthday. Willie and Saint Augustine have another thing in common, being the oldest. Willie is the oldest, male, country star still performing; Saint Augustine is the oldest city in the United States and they are both still in great form.

Willie Nelson opening the 2020 concert season at Saint Augustine Amphitheater linked those two oldies but goodies. Willie may be 86 but this concert proved that old adage "age is just a number." The numbers he sang were spot on.
He opened with Whisky River, The other songs were a fantastic mix of his own classic numbers like On the Road Again, Beer for My Horses, You Were Always on My Mind, Mammas Don't Let Your Babies Grow Up to Be Cowboys, with tribute songs to some of his musical friends. He did Waylon Jennings' Good Hearted Woman. Hank Williams was well recognized with Jambalaya, Hey Good Lookin', and Move it on Over. He just about brought the house down when he did Mac Davis' It's Hard to be Humble.
Part of Willie's great appeal is he treats his audience like family and encourages them to sing along with him. He might as well as we all would have done that anyway.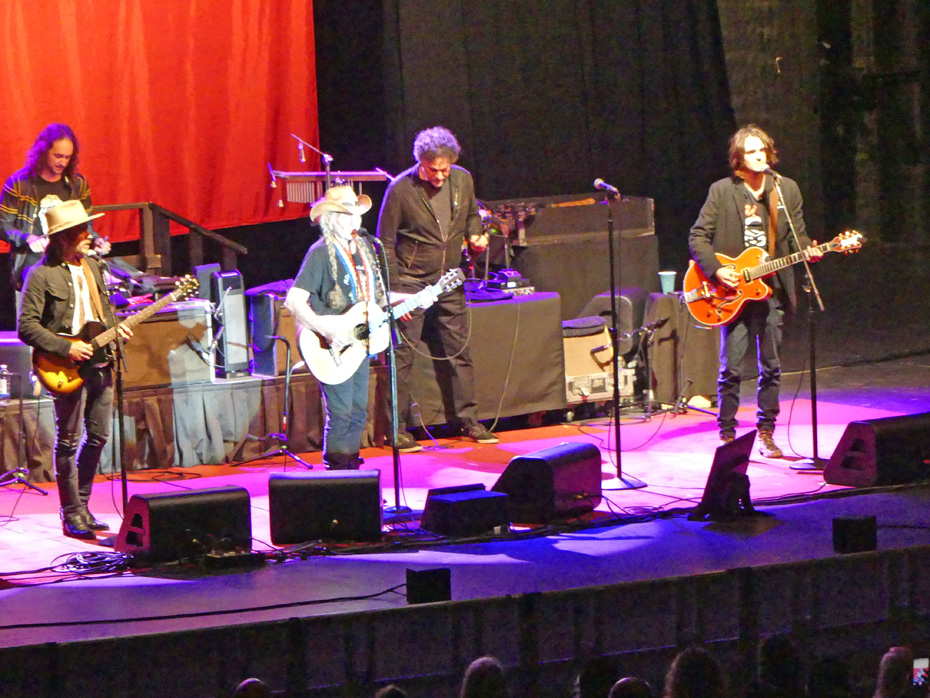 Two of Willie's sons, Lukas and Micah, are part of the band and showed they have inherited a lot of their dad's talent. Micah, who records under the name Particle Kid, did a hilarious version of Everything is Bulls**t.
Naturally, Willie's trusty old guitar seemed to speak and Lukas did great backup on his electric guitar and got his chance for the spotlight doing Texas Flood. His band is The Promise of the Real. Of the two, Lukas is closer in looks and styling to Willie.

Willie only preformed for about an hour but his opening act, Cassidy Daniels, was worth seeing on her own. I'll bet she is going to make the charts in Nashville soon. Her rendition of "Me and Bobbie McGee" was fantastic. She has a debut album just out and did a couple of songs from it. Resurrection, a song for anyone who had had a toxic relationship--and who hasn't--really resonates. Willie brought her back on stage to join them for the closing number, I'll fly Away.

Almost all of the 4,100 seats in the Saint Augustine Amphitheater were filled with enthusiastic Willie supporters. The "Willie for President" tee shirts were selling faster than new poll numbers coming out. This is a perfect place to see a concert of this magnitude. It's been voted Top 50 Amphitheatre Venues Worldwide.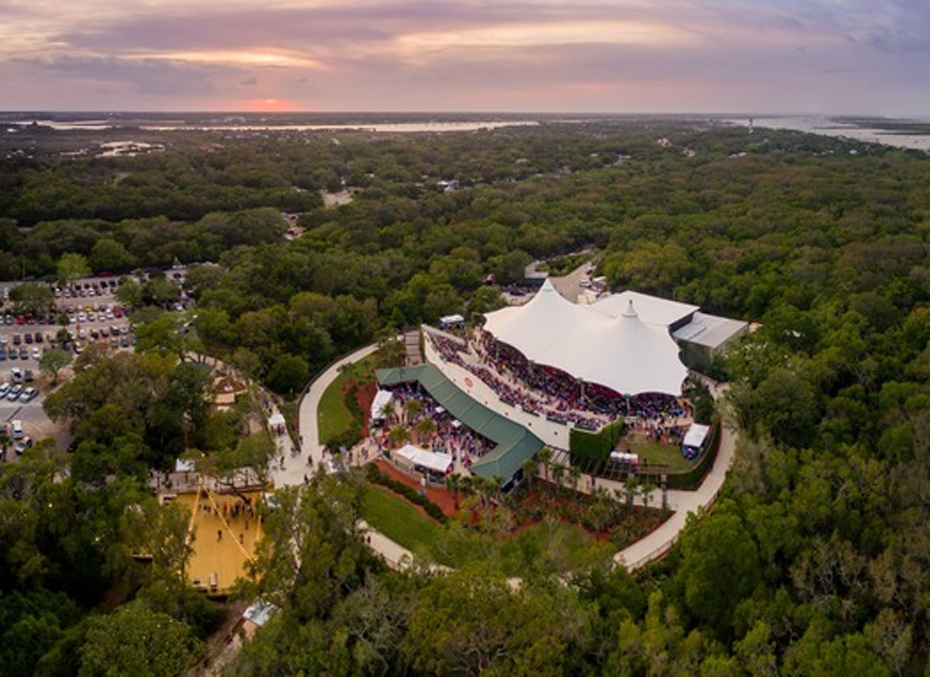 Arial view of The Amp--Photo Michael Lagasse / Image provided by FloridasHistoricCoast.com


Its history as an amphitheater began around the same time Willie's singing career took off. When he first was invited to perform on the Grand Ole Opry, in 1964, this amphitheater was being built in commemoration of Saint Augustine's 400th birthday. It opened in 1965 as the venue for Cross and Sword, later named Florida's state play. It told the story of Pedro Menendez, landing and founding of Saint Augustine in 1565. The Pulitzer Prize winning play had a 32-year run before shutting down. I've been around long enough to have seen it and wish it would make a comeback. It told Saint Augustine's story beautifully.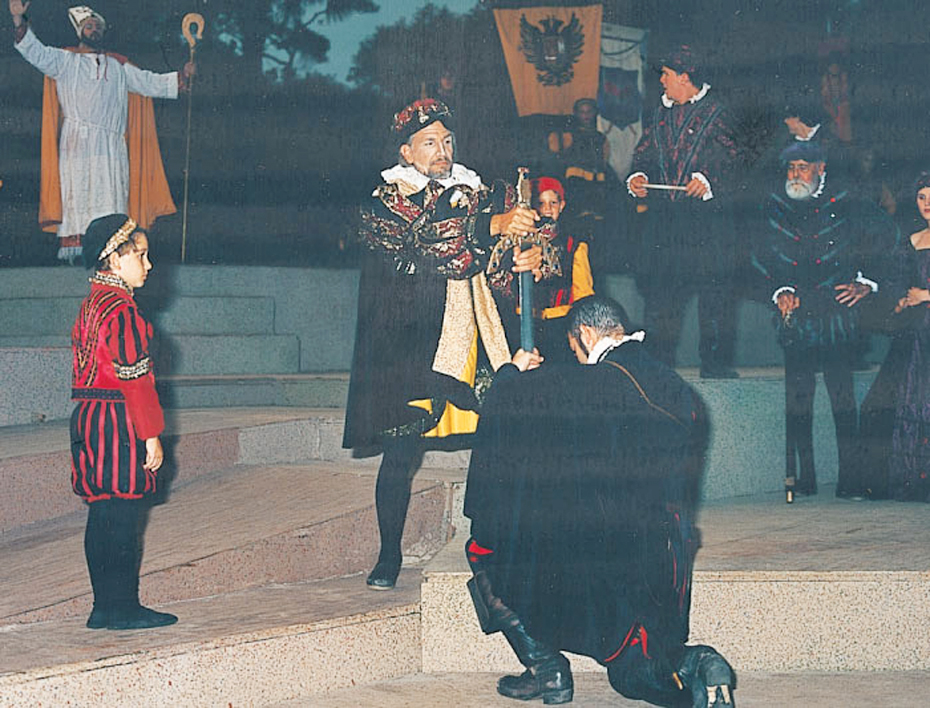 Scene from Cross and Sword--Photo credit State of Florida
Menendez had no idea that the land where The Amp, as the amphitheater is now called, was a source of coquina, a sedimentary rock that was later used in construction of many buildings in St. Augustine, including the Castillo de San Marcos. What made coquina so valuable especially for the fort is that unlike most stones that shatter when struck by a cannon ball, coquina adsorbs the hit and suffers little damage. The Amp sits atop an ancient coquina quarry.
Over the years, the Amp has played host to some musical legends including The Beach Boys, Little Richard, Aretha Franklin, Bob Dylan, and a multitude of other stars.

For more info: https://www.theamp.com/




We'd love your comments!
Connect with us on:
| | |
| --- | --- |
| | |
American Roads and
Global Highways has so many great articles you
may want to search it for your favorite places
or new exciting destinations.