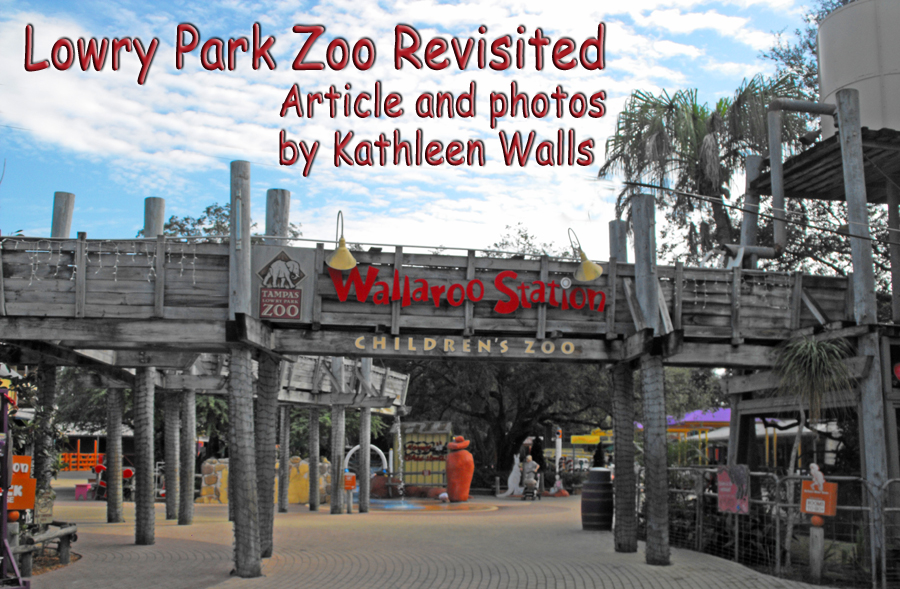 It has been years since I visited Tampa's Lowry Park Zoo so I was presently surprised at all the improvements made to an already wonderful facility when I visited with my daughter a short time ago. Also, pleased at all the new additions to some of the animal families.
The new ambassador decided to skip out and made his keeper come get him. Too Cute really.
Lowry Park Zoo takes you to Africa, Asia, Australia and Florida by way of its wildlife. With more than 2,000 animals from all over the world, it does such a good job that Parents Magazine voted it number one zoo for kids. I want to add, it's a lot of fun for adults.
As soon as we entered, we were met with a wildlife ambassador, a frisky parrot perched on his keeper's arm. Most of the time. He was a new ambassador and every now and then he flew away and perched in a tree making his keeper come over and sweet talk him back in position.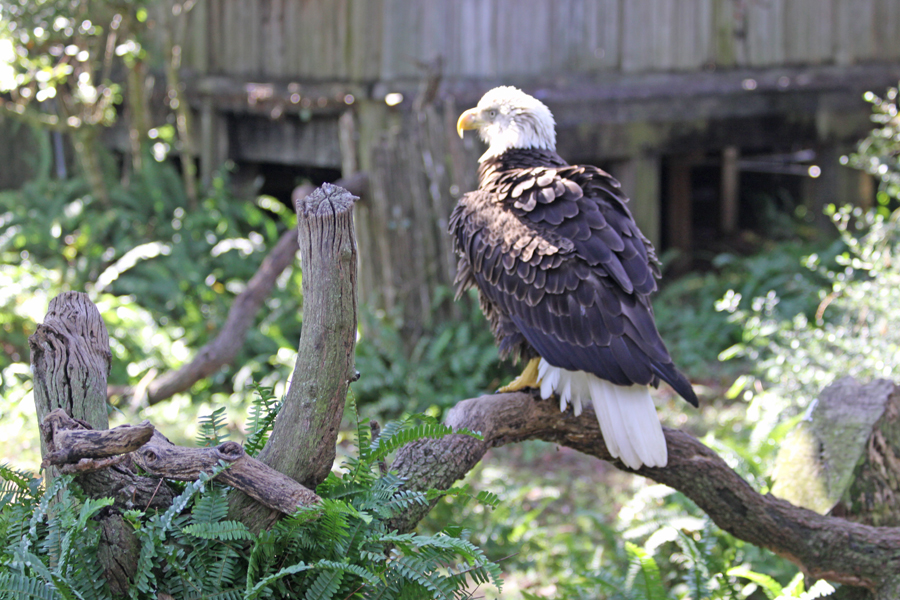 Cyrus, 17 year old male Southern bald eagle who cannot be released due to a beak deformity
Asian Gardens is filled with exotic animals like clouded leopards and Komodo dragons. The zoo's pair of clouded leopards, Yim, male, and Malee, female, are proud parents of baby Mowgli born in March 2015.
Viewing underwater, it is easy to see how a otter is designed for speed in the water
We moved on to Florida Boardwalk, the area that hosts a Florida Panther, key deer and every other wild creature that roam the Sunshine State. There is a special section, Florida Manatee & Aquatic Center that let us get some great views of manatees from above and below water level. They were all moving around and enjoying a morning feed when we arrived.

Video of those manatees feeding.
The black bear habitat there was one of our first stops as I was doing a separate article about bears in zoos. Click here.
One of Lowry ParkZoo's three bears rambles around the pond
Lucy, Lowry Park Zoo's resident Florida panther, did not want to wake up and play. She was rescued as a cub just over eight years ago and raised by the zoo keepers.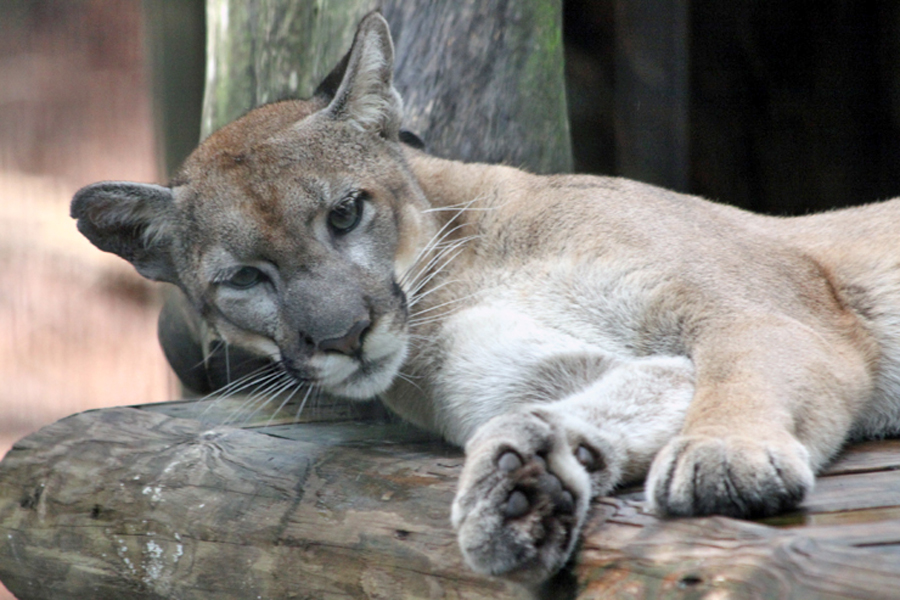 Lucy being a sleepy head
In Wallaroo Station, the 4.5-acre Australian children's area, we visited the aviary and walked through the wallaby's area. We strolled down the path where the cute little hoppers jumped right in front of us. We had no treats so they were more focused on the trainers who were in there working with them in a process called "targeting." Targeting enables keepers to move animals around without frightening them. It trains them to perform a certain task for a reward, in this case a treat hand fed by the trainer. This way, when one of the animals needs a shot or other treatment, it will allow the trainer to do so without any stress to either person or animal.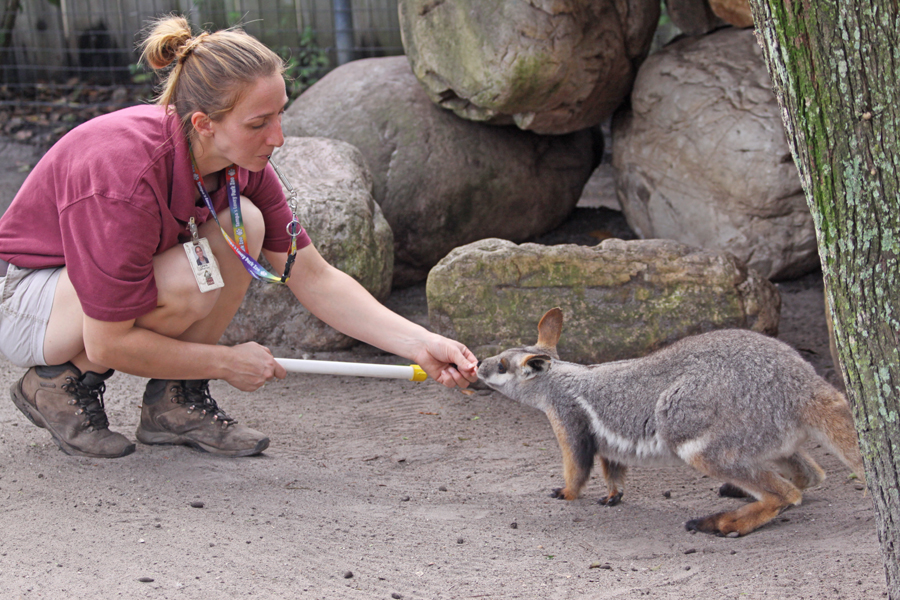 A keeper targeting a wallaby
In Lowry Park Zoo's Safari Africa, we hopped aboard a safari tram to visit the Ituri Forest. This is my number one recommendation for a "do not miss ride." The safari tram slowed and stopped to let us observe the wildlife. One particular treat was their rare okapi calf, a forest giraffe native to Central Africa.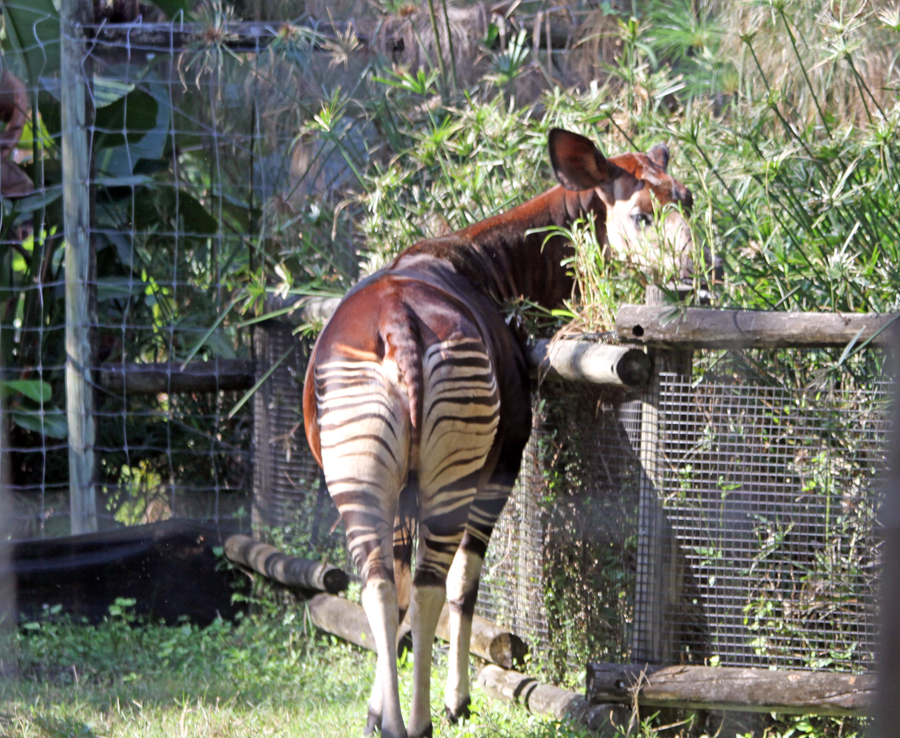 Mama okapi, Betty, grazing
The baby was born on September 24 at Tampa's Lowry Park Zoo to Betty a longtime resident. The newborn Bakari, a male, weighed in at 42 pounds and is the second successful okapi birth in Lowry Park Zoo's history and only the third birth in the U.S in 2015. These are threatened and unusual animals.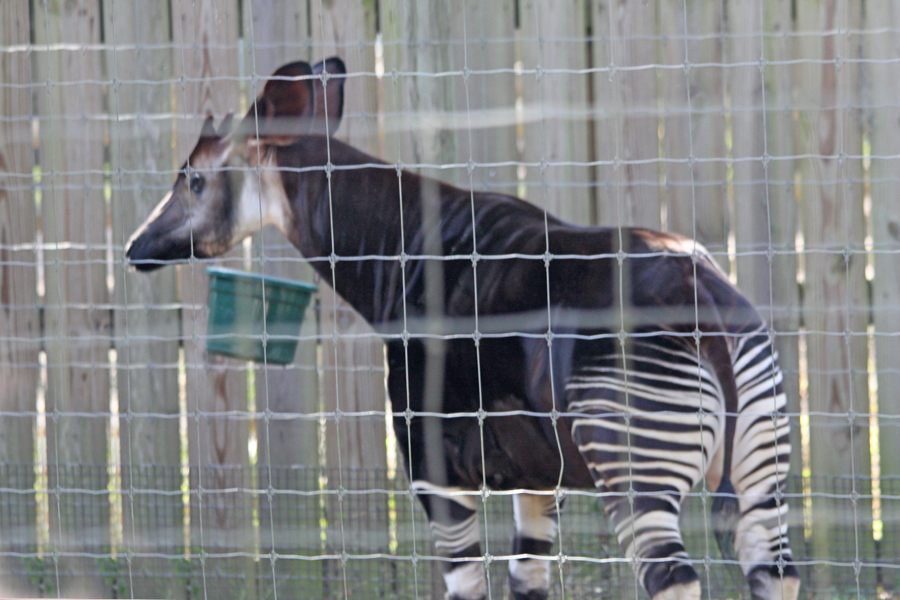 Baby okapi being fed from a pail
This was "baby heaven." Along with the okapi calf, there was a young elephant and a recently born zebra. The habitats are spacious and give the feeling of being natural wild places.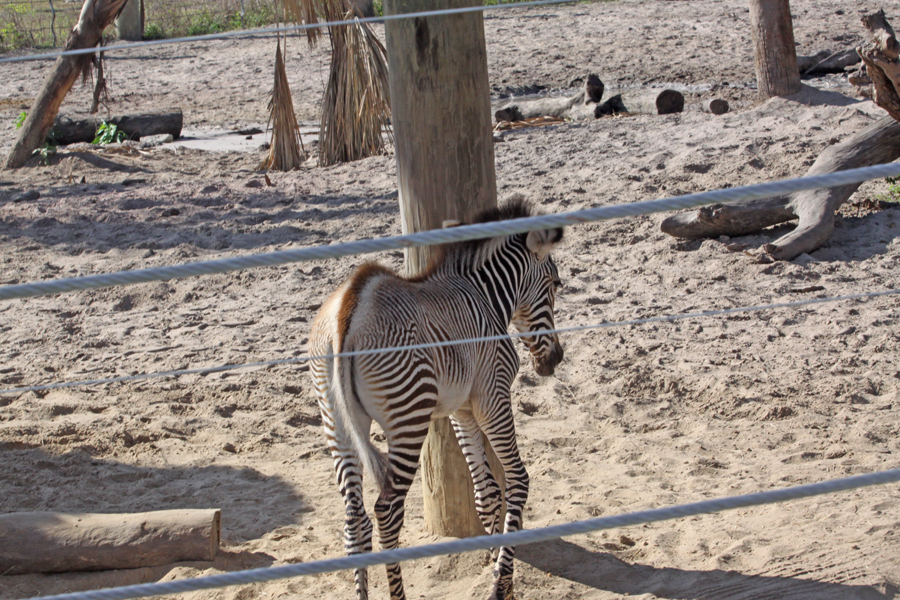 Very young zebra may be a bit unsteady on his legs and using the post for support
Wildlife at the Zoo is not only grouped by location but in some cases by species. Primate World inhabitants range from orangutans to lemurs. We had to stop and watch as a baby chimp traversed the walkway and ropes to reach its surrogate mother, Abby. That baby was over th top of the cuteness scale! One of the zoo's volunteers with her toddler son stopped to tell us about the baby. Her name is Keeva and she was born at the Baltimore Zoo in March, 2015 where her own mother could not care for her. She was brought here and "adopted" by Abby who has raised three other babies. The entire time we watched, the dominant male, Bahati, was showing off trying to steal attention from Keeva.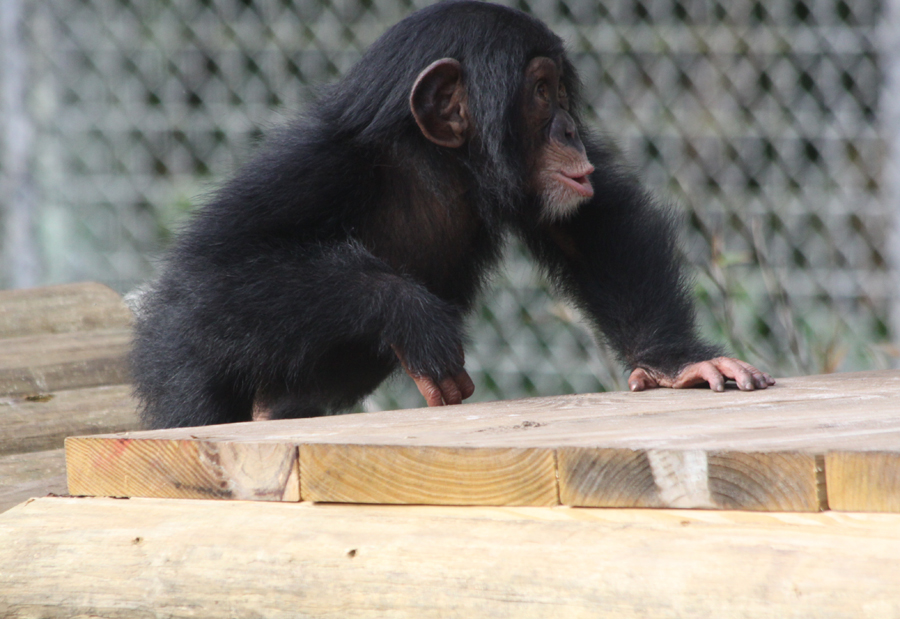 Keeva at about 9 months
We moved on to where one of the younger orangutans was also showing off or maybe just acting naturally. She came down and picked out a nice fresh lettuce leaf and a small blanket. She then began swinging her way to the top of the enclosure where she lay down in a rope hammock and began munching the leaf while covering herself with the blanket.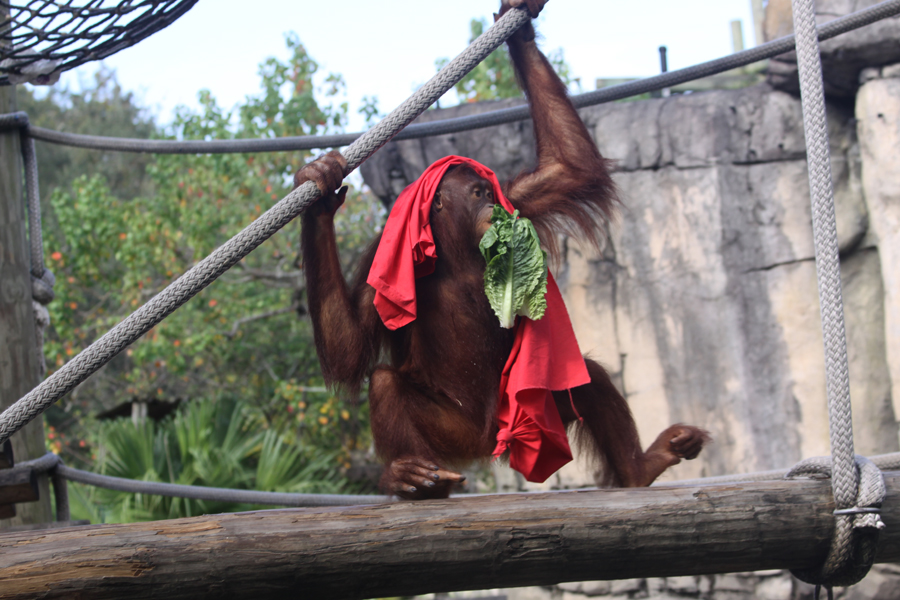 Getting ready for a snack and nap
Free Flight Aviaries and Birds of Prey showcase the many varieties of our feathered friends but my favorite bird exhibit there was the African penguins. Unlike their colder-natured relatives, African penguins are at home in our Florida temperatures.
These guys love warm weather
In addition to the ordinary exhibits, Lowry Park Zoo offers a number of behind-the-scenes tours, special feed-the-animals experiences and educational opportunities. When you visit Tampa, don't let bigger more spectacular attractions keep you from visiting this smaller jewel.
If you are visiting Tampa get a guided tour of Lowry Park Zoo and lots of other Tampa Wildlife sites.
For more info:
American Roads and Global Highways has so many great articles you may
want to search it for you favorite places or new exciting destinations.