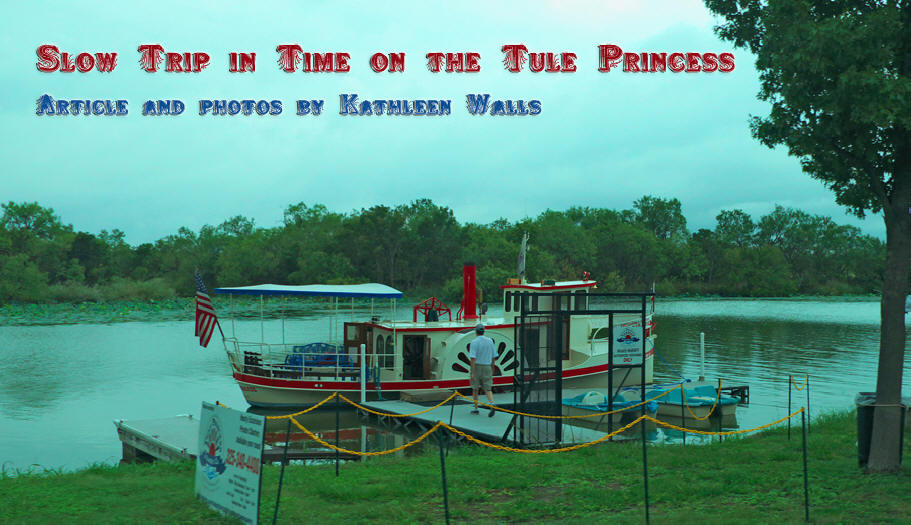 The 19th century was an era of romantic steamboats navigating the waterways of America. Steamboats were at their heights as the world entered the industrial age. It was an age of glamour and leisurely travel way before the time of jets and high speed interstates. You can catch a glimpse of that time on the Tule Princess, the last operational, full size walking beam steam engine, powering a side wheel paddle steamboat anywhere in the world. The Tule Princess is navigating on Lake Nasworthy in San Angelo, Texas.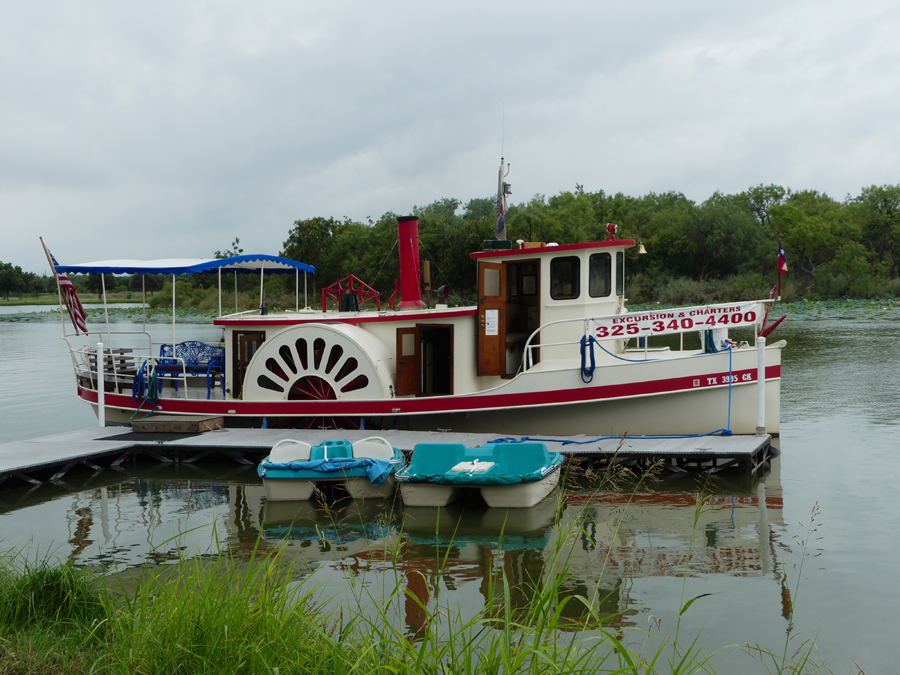 The Tule Princess at dock
The Tule Princess could have derived her name from the tule reeds that grow along the banks and on the small islands that abound in Lake Nasworthy. Actually, Captain and owner Mack H Fox told us she was named that previously for another waterway, the Sacramento River in California, where the reed-like plants were common. She is a small vessel, just over 37' long and propelled by two seven-foot paddle wheels. Because of the size the cruises are intimate limited to about 14 people or less.
When I stepped aboard, it was still a bit sunny but rain was in the offing. Our cruise took off and we were able to view a lot of the banks and native plants. We watched for wildlife but only caught a few glimpses of waterbirds along the banks.
Some of the varied plants viewed along the banks of Lake Nasworthy
Lake Nasworthy is a man-made lake built in 1930s to provide water for San Angelo and surrounding areas. The lake is named for the land owner, John Nasworthy. Nasworthy was an ex-Confederate officer who moved to San Angelo and began supplying horses to Fort Concho and later was the second person in the area to attempt planting Dry-Land Cotton. After several disastrous floods, the city decided they needed a dam. Nasworthy had recently passed away and he had installed a small dam already so him land was perfect.
The level is usually maintained with inflow from Twin Butte Reservoir and flows out into South Concho River. The lake is a popular spot for boaters for its wild beauty and great fishing. Because of this there are a number of parks and boat docks on the lake. Tule Princess is docked on Spring Creek, a small tributary that flows into the lake at one of these parks, Spring Creek Marina & RV Park. It's a wonderful place to camp as you are right on the shores of the lake and it has accommodations for anything from a large RV to a primitive tent camper.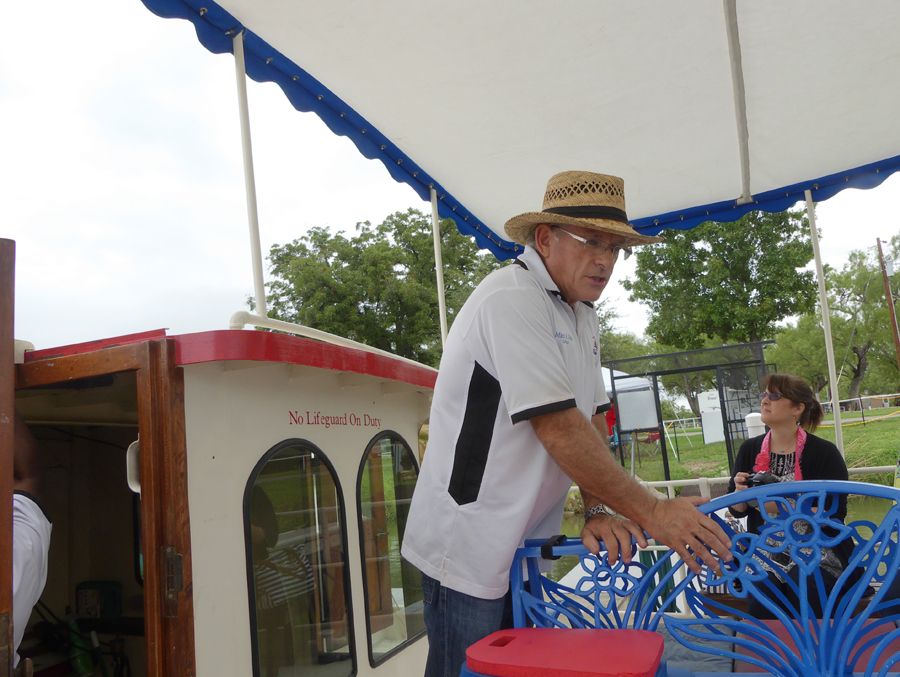 Captain Fox tells us about the Tule Princess
There is a legend of some large Loch Ness type creature living in the lakes waters but most naturalists believe it to be either a large flathead, or yellow, catfish or a longnose gar. Both species are present in Lake Nasworthy and can reach lengths of 4-5 feet. The largest wildlife we saw was a big black vulture flying overhead but bring your camera. You might be the first to get a picture of this legendary creature supposedly lurking in Lake Nasworthy's depths.
A huge vulture flies overhead
We had to stop looking for wildlife, legendary or otherwise when the rain came drenching down. Instead we got a close up look at the workings of this remarkable vessel. Even though the viewing deck is covered, the rain began to blow in on us. Captain and owner Mack H Fox invited us to squeeze into the engine room where Chief Engineer Anthony P. Edmund and he explained how boiler heated steam powers the walking beams which turns the paddlewheel to drive the boat. As Captain Fox says, "It was a slower era. About 4 mph is as fast as we can go."
Top: Captain stokes the boiler. Bottom left: walking legs (red) Bottom right: Gauge tells what the pressure in boiler is. If you remember history, overheated boilers were the main cause of
explosion on steamboats trying to build up too much speed in the 1800s.
But a slow trip back in time is such fun. Come to San Angelo and try it for yourself.
For more info: