ACTIVITIES FOR YOUNG TRAVELERS


Article by Mary Emma Allen
Photos by Kathleen Walls
This young fellow learns about transportation
in an earlier era at the Buggy Museum Mifflinburg, PA
Traveling can be fun and educational for young travelers if adults have activities for them. Also, instead of putting them solely in front of movies and games (on computers and iPads), draw their attention to sights along the way.
"No way," these young electronic wizards complain. "That's too boring!"

Some youngsters seem to need an electronic device as soon as they enter the car. These are fine to while away the time for part of the trip. However, they're missing out on so much if they're unaware of the world around. It does take some effort on the adults' part, but is worth it in the long run.
With direction and enthusiasm, these activities can be fun and create memories in later years. Also, you can combine various activities with electronics for maximum enjoyment.
These girls learn about reptiles at Audubon Park Zoo in NOLA
Various Activities
License Plates - Write down the various license plates you see while driving or at rest stops. Youngsters also can note any slogans or state nicknames found on the plates. Are their any designs on the plates?
Notebooks for Journal Writing - Provide each child with a notebook in which they can write down their impressions as they go along. Also use it for writing down states and the various items below. Or they can use a laptop word processing program for doing their writing.
Counting Wildlife - In some areas there are more animals than others but looking for these can be fun.
Looking for Various Birds - Birds vary in different parts of the country.
Notice Wild Flowers - Flowers, whether wild or growing in a yard, can be noted
Stop for Historic Markers and Make Notes - This is a great way to learn about the country you're passing through. When traveling with our daughter we became interested in following and researching the Oregon Trail after seeing a marker with information about it. This led to side trips, research, and interviews with people along the way.
Download Bird, Flower and Wildlife Guides, as well as historical information on Electronic Reader. This is a way to combine electronics with the sights along the way.
Sketch Pad - Some youngsters like to draw pictures as they travel. This can be done in their journal or a separate sketch pad.
State Capitals - Look for the capital cities in the states you travel through.
Taking pictures on cell phones for their own use or to post on social media to friends can be entertaining. Also, they can send photos via e-mail to friends and share the activities of the trip.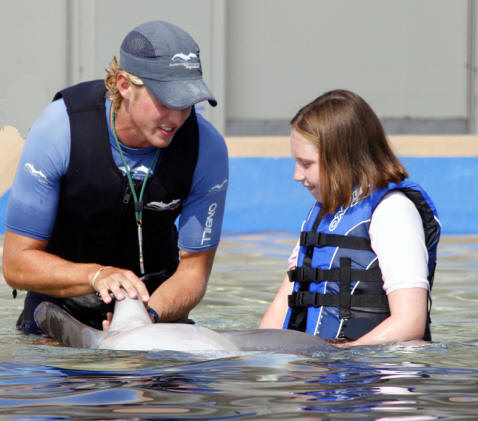 Watching dolphins at Florda's Marineland is more fun than
watching Youtube
Rest stops and restaurants often have wireless connections nowadays. So you can look up information about the various activities you're involved in and the area where you're traveling.
Combining the tried-and-true activities for involving youngsters in travels with today's electronics adds excitement and enjoyment to any trip.
How do you entertain young people you're traveling with?
(c)2013 Mary Emma Allen
Mary Emma Allen writes from her New Hampshire home and while traveling. She has traveled alone, with her husband, with her daughter and friends and with her grandchildren and has seen changes in the ways to keep youngsters engaged in the enjoyment of the journey.
Ads fund American Roads so please consider them for your needed purchases.
If you enjoy the articles we offer, donations are always welcome.