When UNESCO says a place is special -- paying attention pays off. Perhaps your list of want-to-go-there World Heritage Sites is as long as mine.
Mexico City captivated UNESCO – and me -- in ways both subtle and bold, abundant and ethereal and reinforced that richness bestowing the title:
Intangible Cultural Heritage of Humanity
New kind of framework for shaping a trip: seeking the intangible.
It worked by opening myself to feeling the essence of Mexico City, sensing the emotions, and perhaps channeling the ancestors of those I met.
Stay in the
center
Reflecting takes time, and serenity. Overnighting within walking distance of many experiences helps with that, and so does balcony sitting throughout the day and evening with grand views to trigger insightful thoughts.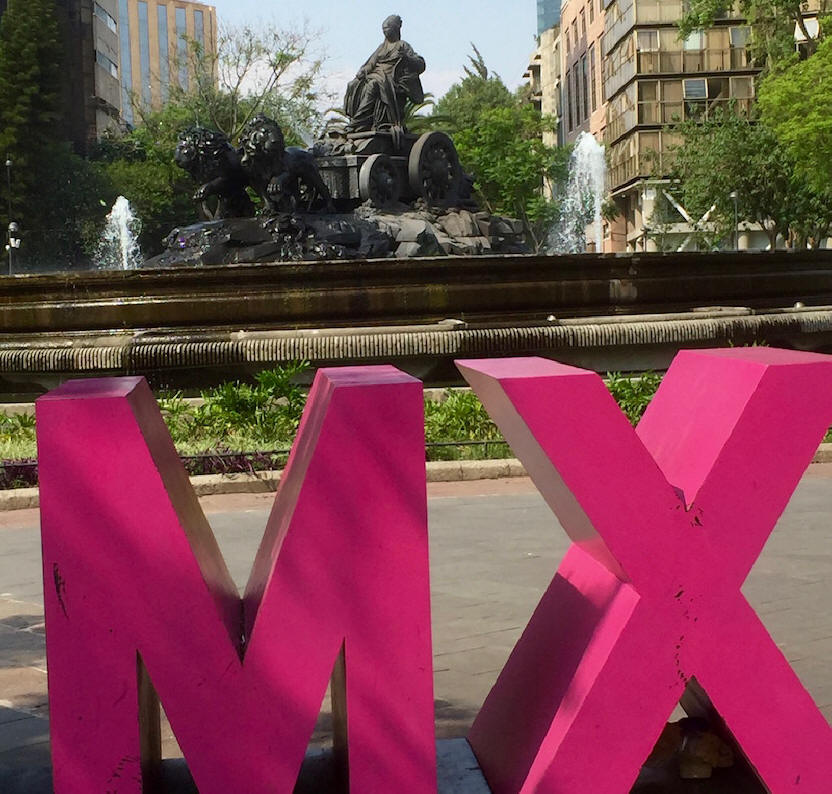 Public art graces Mexico City neighborhoods along with abundant greenery and interesting architecture.
Or drinking mescal and dining on the symbol-laden foods of Mexico that also intrigued UNESCO.
Here's where I did all that multiple times ---- Hotel Zocalo Central. While my room was quite comfortable with ample plugs to charge my devices and closets to keep my clothes neat, the balcony cinched the deal.
At first I simply appreciated the expansive view of a big and bustling plaza plus a multitude of church spires and softly shaped tall buildings with their own, but smaller, balconies.
After walking those streets identified from my balcony view, I grew to appreciate the "heritage of humanity" represented under my feet and within my sight. Five hundred years of architecture exist side-by-side in just one of those blocks.
A sacred place known as Temple Mayor was built in 1325, rebuilt six times and destroyed in 1521 when the Spanish wanted to build the cathedral also dominating the hotel balcony view.
How's that for connecting to history over breakfast?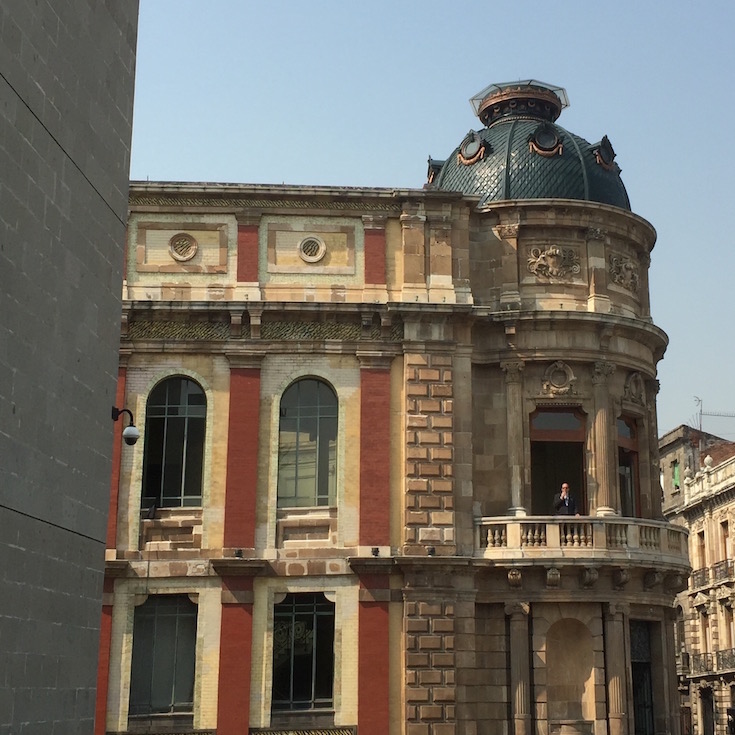 City streets offer invitations to gaze from personal and hotel balconies,
as well as to look upward toward buildings with stories to be told.
I would have connected further even without venturing out because the Hotel Zocalo Central used to be Montezuma's palace and later the residence of Hernan Cortes who came to conquer in 1532.
Now, the 105 rooms preserve that history in their colors, furnishings and Talavera pottery, hallway displays present artifacts of daily life along with indigenous art and the dining room reflects the entire food chain with artistic presentations of Mexico's most beloved foods.
Focus first nearby
While a multitude of equally fine Mexico City experiences require catching a ride, start first with these closer-to-the-hotel places:<![if !supportLists]><![endif]>
<![if !supportLists]> · <![endif]>Temple Mayor archeological dig and museum<![if !supportLists]>
· <![endif]>Cathedral Metro<![if !supportLists]>
· <![endif]>St. Teresa Convent turned art center<![if !supportLists]>
· <![endif]>National Palace with Diego Rivera murals<![if !supportLists]>
· <![endif]>Museums of Art
Temple Mayor
Observing the action in an archeological site is like watching grass grow, right? At Temple Mayor the results are presented in sophisticated ways in an adjoining museum. Spectacular to stroll the walkways peering into excavations and then encounter the 14,000 discoveries from that exact place in exhibits both attractive and instructive.
Temple Mayor in Mexico City's central downtown combines the active
archeological dig with a stunning museum filled with artifacts from that site.




Rich with symbolism, interactive in ways sometimes to touch, often to view from many angles and always to grasp the relationships of centuries, Temple Mayor Museum makes sense of the vast values of archeology.

Here, the 14th century Aztec city begins to make sense, including Cortes' descriptions of it as a grand and sophisticated place, far more developed than the European towns he had left to explore and conquer new worlds.

Accessing this double opportunity of dig plus discoveries on display in the middle of a sophisticated city, and in walking distance from my hotel, is indicative of the depth I kept finding.
Metropolitan Cathedral
The spires of the Cathedral Metro and its elegant façade anchor the city center view from Hotel Zocalo's balcony, but walking up to this late 16th century structure from the side facing Temple Mayor connected me to the history.
Historians say Hernan Cortes placed the first stone – and it came from the Aztec temple site I had just explored. No wonder "Here legends are made" is repeated often by museum docents and history-focused tour guides.
That first cathedral was demolished and the one now to visit constructed. Keep your thoughts to yourself because silence is emphatically requested at the front door. Photos prohibited too.
Captivating views from the balcony of Hotel Zocalo Central toward the
Metropolitan Cathedral affirm the desire to linger and muse.
The Cathedral artwork and architectural features are exquisite and abundant so I recommend a little study ahead of time to appreciate them more.
St. Teresa Convent
Ever wondered what a convent and art center have in common? In Mexico City, one became the other but don't go inside if you're prone to vertigo.
This Carmelite convent launched in 1616 clearly illustrates the soft sogginess of the soil on which Mexico City is built. The building inclines backwards, the floors create angles and the result is disorienting.
Closed to nuns in 1863 and to the military, universities and businesses that worked there until 1989, St. Teresa's became an Alternative Art Center in 1989. The 1845 earthquake didn't help stability much either.
If you hesitate to experience the almost-automatic dizziness, still go to gaze at the front: 16 Corinthian columns, the face of God in the cupola and images representing virtues are all enlightening outside.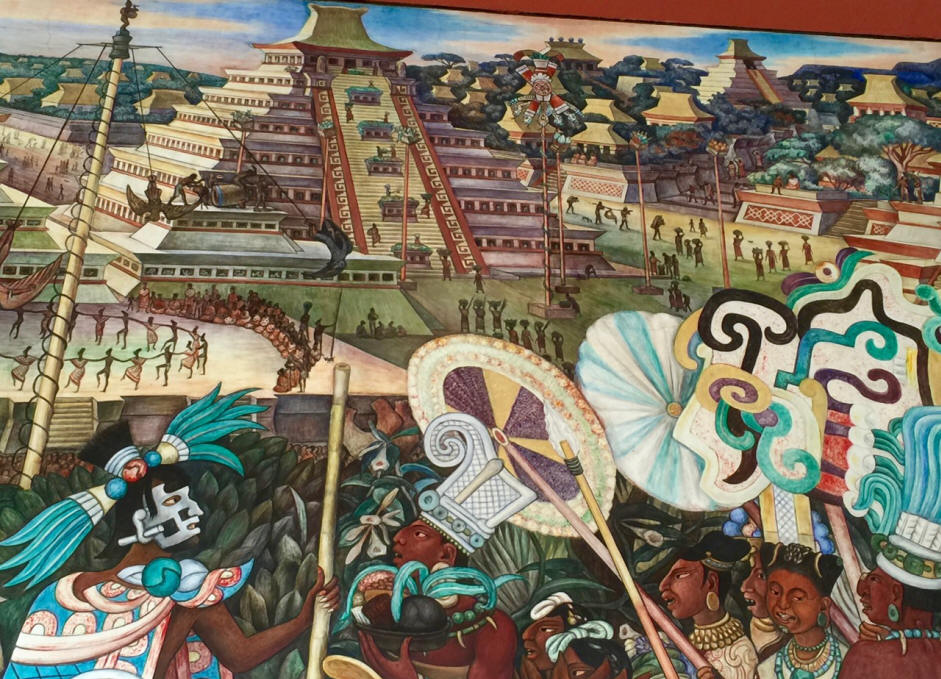 Nine storytelling murals by Diego Rivera present Mexico's history in
colorful, detailed, abundant style in the National Palace in downtown Mexico City.
National Palace
Two reasons in one to stroll from the Hotel Zocalo Central to Mexico City's National Palace: architecture/landscape and nine massive Diego Rivera murals.
Enjoy the many courtyards, carved brass balconies, arched entryways. Sit on a bench to contemplate why Hernan Cortes demolished the Imperial Palace built by Aztec Emperor Moctezuma (yes, also spelled Montezuma) to build his own in 1523.
Then zoom forward to 1929 when Diego Rivera started telling stories with murals on walls facing the handsome double curved stairway. History through his eyes extends from the Aztec plumed serpent god named Quetzalcoatl through Karl Marx.
Knowing the history would enrich the experience but if you don't, embrace the moment gazing at the complexity of these paintings and pick out details to relate to all your other Mexico City experiences.
I only went once, but believe starting a holiday with the murals, returning after some museum, culinary and archeology experiences, then exploring the city some more and returning to the art would help process the opportunities here to navigate cultures and centuries of life.
Museums of Art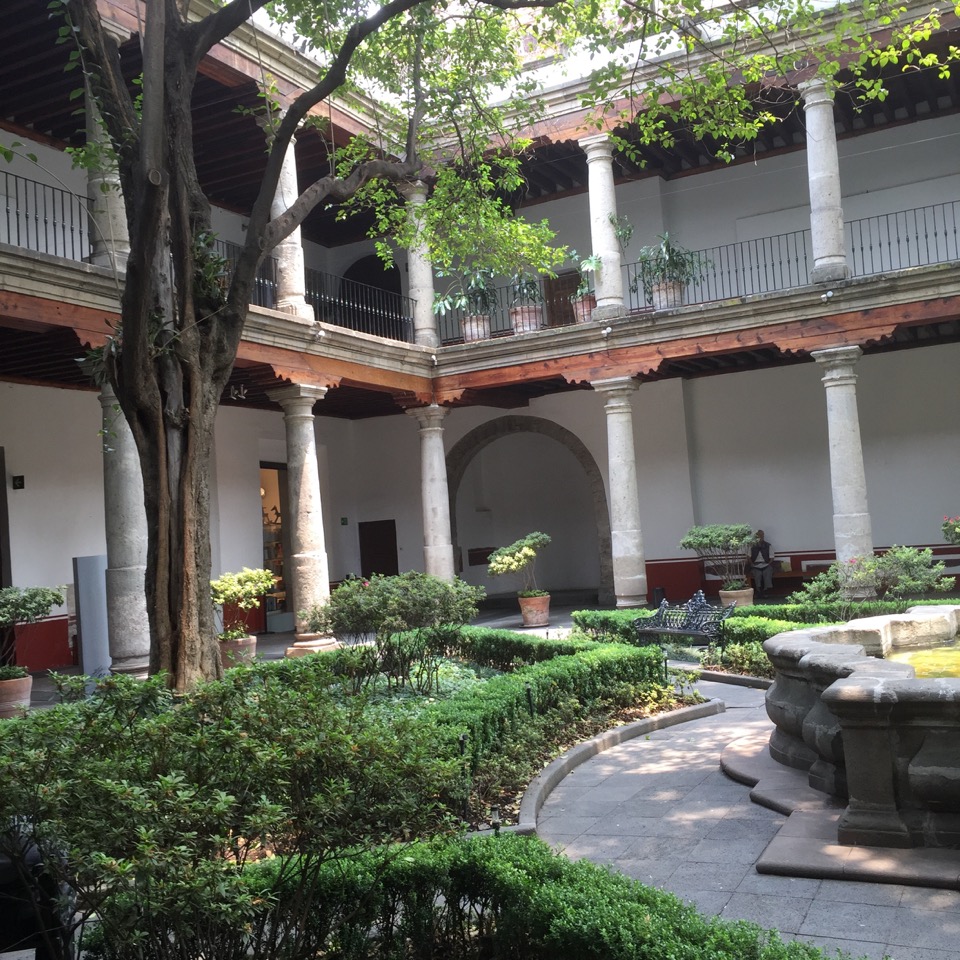 Decorative arts abound inside the Franz Mayer Museum, and
lush greenspace invites outdoor contemplation and relaxation.
Also within easy reach of the hotel are the:
<![if !supportLists]> · <![endif]>Franz Mayer Museum abounding with decorative art from a personal collection given to the people – not the government – of Mexico. Allow ample time also to relax in the front courtyard, gazing at yet another tilting building because of the soggy soil, and the enjoy a coffee, pastry, perhaps lunch in the back courtyard lush with greenery and fountains.
<![if !supportLists]> · <![endif]> MUNAL – Museum of National Art housed in an exquisite 1902 building designed as the Palace of Communications. Detailed friezes, graceful marble stairway with wrought iron handrails designed by artisans lead the way to the collection of 16th – 19th century paintings by Mexican artists. Baroque columns and richly painted murals on the ceilings force the eye upward as well.
<![if !supportLists]> · <![endif]>Palacio de Belles Artes is all about architectural wonderment and concert going. The experience won't take long but s a good idea to round out the many moods of Mexico City. This one's art deco and art nouveau, built in 1934.
Another story, another day? Mexico City wonders that require a little driving.
Stunning colors and stories with depth appear all over Mexico City,
in stellar museums, along pedestrian corridors and in neighborhoods and hotels.