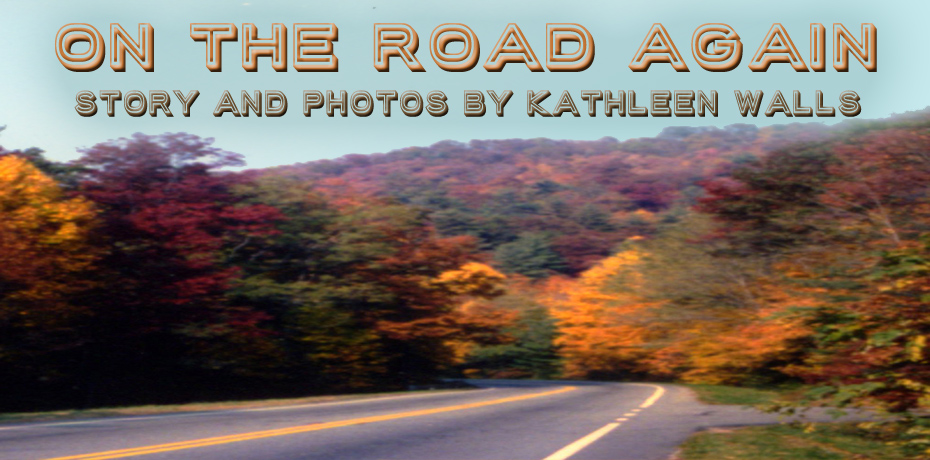 A Brand New Event: First Southern Cast Iron Cook Off
Story and photos by Kathleen Walls
Published 11-3-2019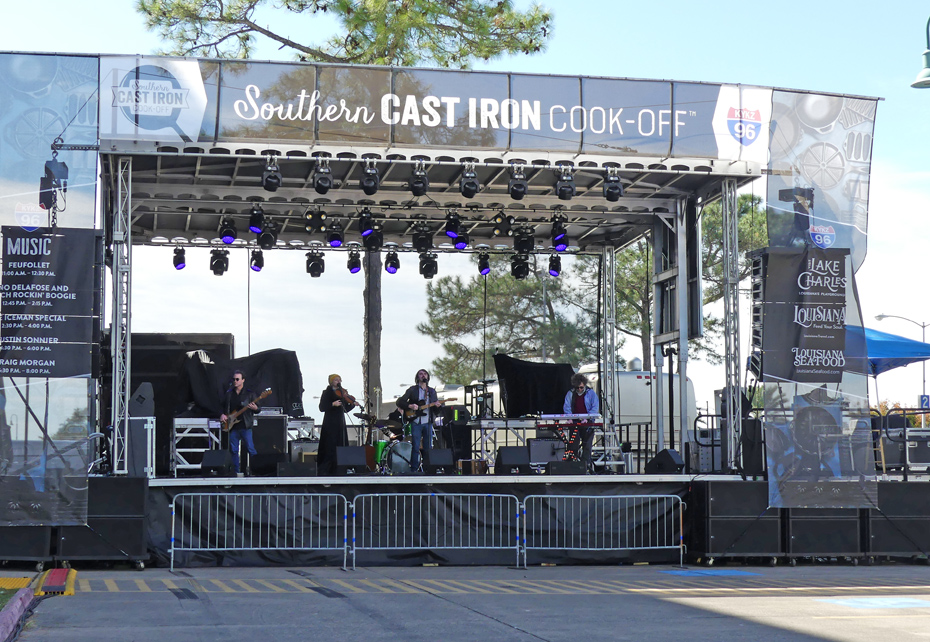 I'm in Lake Charles and just visited the very first Southern Cast Iron Cook-Off. Picture Cajun food and culture, music, venders offering samples of and information about everything from alligators to cast iron pots and pans. Professional chefs and amateurs competed in four categories– Meat & Game, Seafood, Sweet & Savory Baking, and Vegetables & Sides. They will prepare original dishes in tents set up on-site. Naturally the food must be cooked in cast iron. They compete for a first prize of $1,500 and lesser second and third prizes. A panel of Southern judges pick the top three dishes for each category.
We started with the Southern Cast Iron Cook-Off VIP Party for venders, media, and organizers Friday, November 1 through Saturday, November 2, 2019 at the Lake Charles Civic Center in Lake Charles, Louisiana. When we stepped into the Civic Center auditorium where the inside portion of the event was held it was a kaleidoscope of music food and drinks, booths, and people having fun.
Bulleit Frontier Whiskey was passing out glasses of very tasty Mint Juleps. A generous buffet was set up. Some of the booths were manned giving a taste or what tomorrow's main event would be.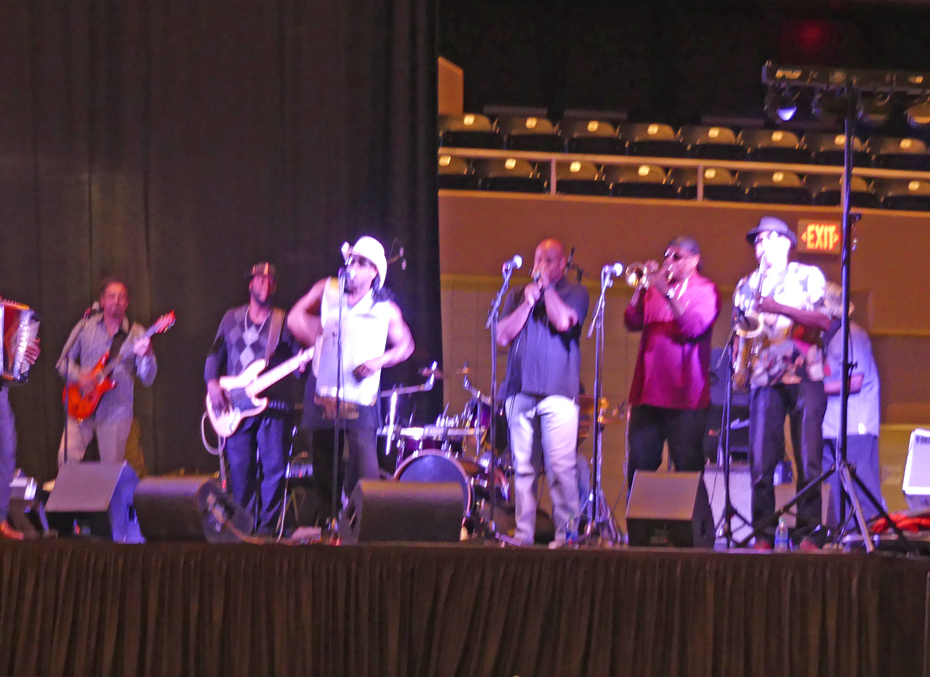 Rockin' Dopsie Jr & The Zydeco Twisters was blasting from the stage. They are the most versatile band I ever heard. Naturally they played the classic zydeco music but they also did their version of songs ranging from Prince's "Purple Rain," Ray Charles's "I've Got a Woman," and even a touch of Country and Western with Hank Williams' "Jambalaya," so totally appropriate for this event as there was jambalaya on the buffer and I'll bet many of the entries were a version of this classic Cajun dish.
An unusual thing about Rockin' Dopsie Jr & The Zydeco Twisters is that the lead, David Rubin, AKA Rockin' Dopsie, Jr., is a rub board player. He is a phenomenon of nature. He is off stage with the local dancers bouncing around doing splits most of the time while he sings. For high energy I have never seen his equal.
He has been crowned the "King of Zydeco" which he inherited from his late father Rockin' Dopsie, Sr. whose crown is enshrined at the Smithsonian in Washington, DC. The band has played for President Clinton, preformed with just about every musical great including Tina Turner, Bonnie Raitt, BB King, The Neville Brothers, Dr. John, Paul Simon, Bob Dillon, and Jimmy Buffet.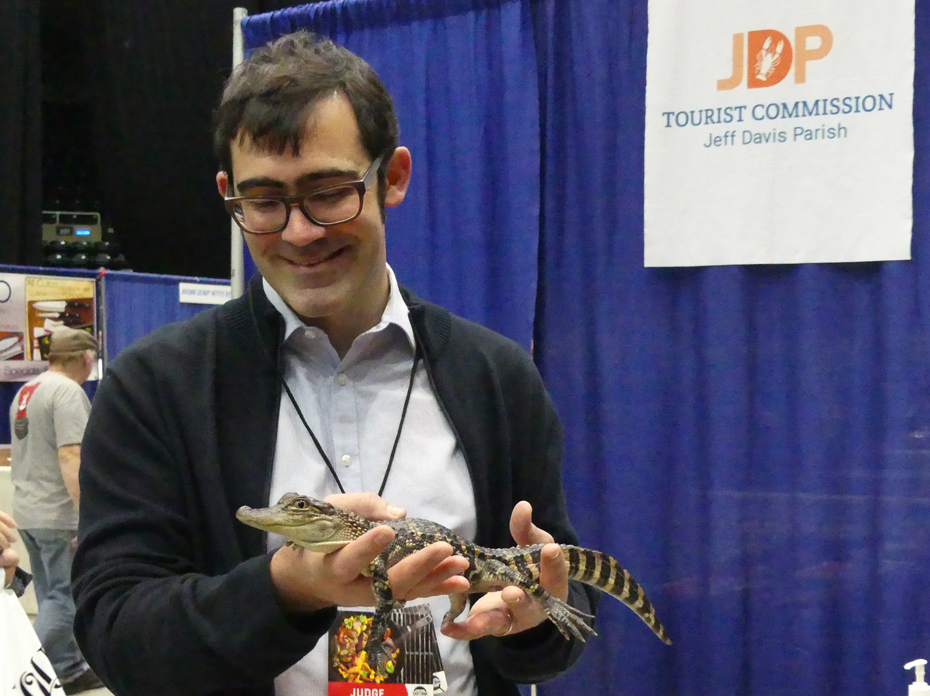 On Saturday, the Cook Off was in full swing. I got some tips on re-seasoning my cast iron pots from The Le Chien Cookers, a group that promotes the art of Dutch oven cooking. I picked up a few samples of Slap ya' Mama Seasonings. I got a cute stuffed toy robin from Beaumont, Texas booth. I got to hold a baby alligator at the Jeff Davis Parish booth. Ran into an old friend at No Man's Land AKA Natchitoches, Louisiana booth. Sampled a freshly baked carrot cake muffin at BRQ Restaurant booth. Had an up close and personal encounter with a cute live quail who will never become anyone's meal at Cajun Quail. I enjoyed some Camellia Red Beans and rice.
.
It was a great experience that got even better when we got to watch Chef Lyle Broussard from Jack Daniels create a tasty Low and Slow Alligator and Andouille Sauce Piquante. And yes I know it was tasty because we got to sample it after he finished.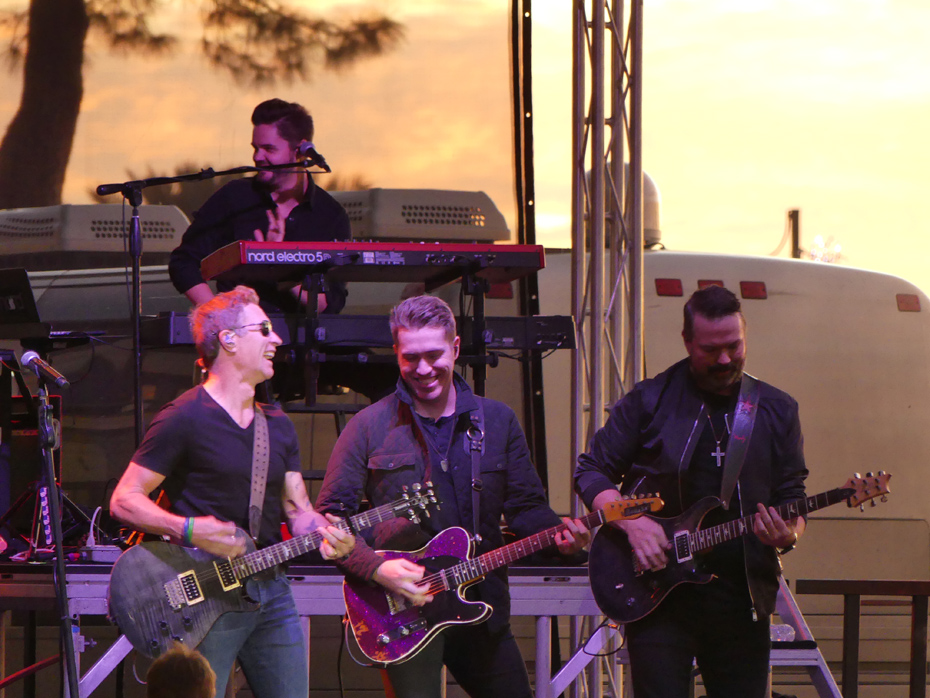 Later in the evening, we crowded into the outdoor venue to watch Country Music star Craig Morgan perform. He did his number one hit, "That's What I Love About Sunday," and "Almost Home," and "This Ain't Nothing." As an avid supporter of the military, he called out a tribute to each branch of the service. It was a moving performance.
We didn't get to find out the winners but one of the judges, Greg Morago who writes food for the Houston Chronicle, joined out group for part of our trip and told me in the sweets category there was even a Key Lime Pie that had the crust cooked in a cast iron pan. That sounds pretty sweet to me.
.
We'd love your comments!