Cambridge, Maryland, "Heart of the Eastern Shore"
by Renee S. Gordon
From the first European sighting of the Chesapeake Bay area, believed to have been Spanish explorers in the 1520s, the region was lauded for its beauty and abundance of wildlife and fish. Mid-16th century maps show that they called the bay Santa Maria. The earliest documented foreign visitor, Captain John Smith, arrived 82-years later and it is from his journals that we gather information on the geography, native population and culture. The Native Americans referred to the water as the "great shellfish bay," "Tschiswapeki," which to English ears became Chesapeake. The major tribes in the region were the Nantaquak (Nanticoke), Pocomoke-Assateague and Susquehannock. You can follow the Captain John Smith Chesapeake National Historic Trail. http://www.nps.gov/cajo/index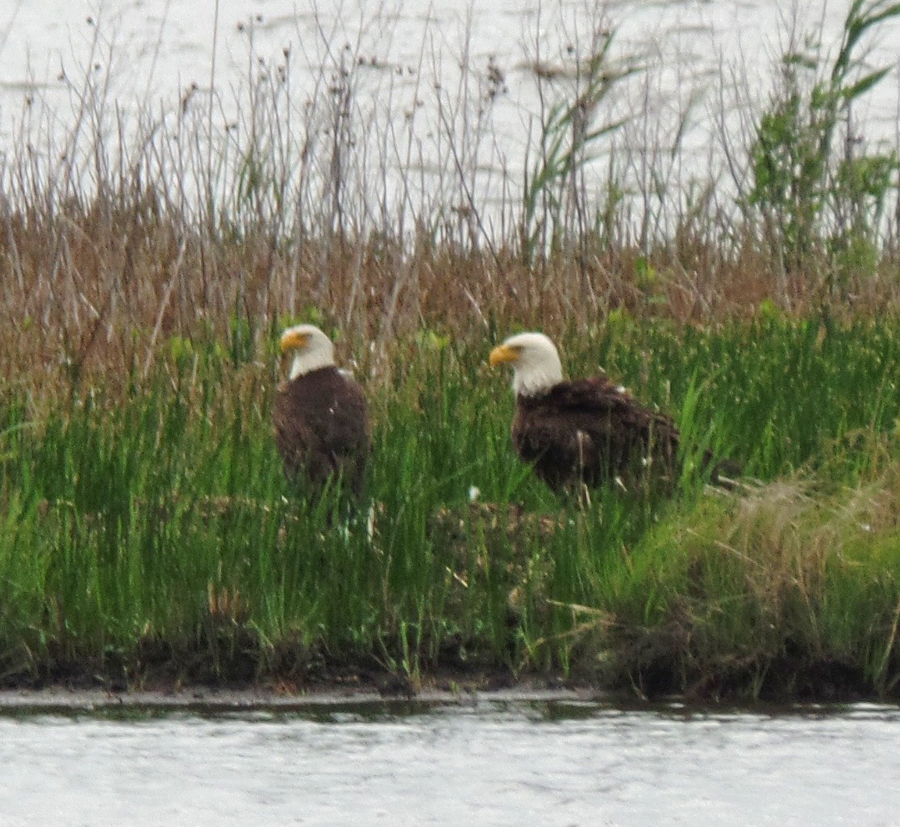 Eagles in Blackwater
Waterways were our first roads and this made the 200-mile long Chesapeake Bay Estuary, the largest in the nation, accessible and lucrative land upon which to settle. More than 100,000 creeks, rivers and streams wind through the watershed. The first permanent settlement in the area was a trading fort established in 1631 by William Claiborne on Kent Island. He purchased and named the island after his homeland and began to trade with the Susquehannocks. Three-years later George Calvert, Lord Baltimore, received 10-million acres and founded the colony of Maryland. Dorchester County, "The Heart of the Eastern Shore," was founded in 1669 and named to honor the Earl of Dorset. It has more miles of shoreline than any other county in the sate. http://www.visitmaryland.org
The Choptank River, the largest on the Delmarva Peninsula, is named after a tribe and is said to mean a "stream that separates." Cambridge, one of Maryland's most picturesque and historic gems, owes much to its location on the river's southern shore. It was platted in 1684 and quickly became an important river town with its prosperity based on water-based occupations. It is the only deep-water port on the eastern shore of Maryland, the second deepest port in the state and was incorporated in 1693. The Cambridge Historic District was placed on the National Register of Historic Places in 1990.
Visits should begin with a stop at the Dorchester County Visitor Center in Sailwinds Park. This architecturally awesome structure replicates a skipjack, its 100-ft. sails billowing in the wind, moored at the eastern end of the bridge spanning Route 50 and the Choptank River. http://www.Visitdorchester.org/about-dorchester/visitor-center
The center features area information, facilities, a fully equipped playground and 2-levels of exhibits on regional history and culture. There is a brief orientation film, interactive exhibits and interpretive displays showcasing the Underground Railroad, Harriet Tubman, Annie Oakley and local water-related industries. A 2-mile boardwalk offers a fishing pier, beach and walking and cycling path. The Harriet Tubman UGRR Byway begins at Sailwinds and continues for 125-miles to the Delaware State Line. http://www.HarrietTubmanbyway.com
Just as the city began with the water so too should our exploration of Cambridge. Long Wharf Park is today a public marina and its serenity and panoramic vistas do not give visitors a hint of its historic importance. The area is situated on a man-made land because until the mid-1800s there was a 600-ft. wharf that extended into the water because of a huge sandbar. Trading vessels, including slave ships from Africa and the Caribbean, docked here until 1808 when the trans-Atlantic slave trade became illegal and once the soil was depleted and large numbers of slaves were no longer needed it was used as a port to transport slaves to other regions. "Black Jacks," African American mariners arrived on merchant vessels bearing news for the local black population and they, as well as white abolitionists, assisted escapes using the maritime UGRR route from this port. This area was known as Chesapeake Station and is a prime example of the cooperative efforts of captains, pilots, dockworkers and ordinary citizens in the UGRR.
Long Wharf was begun in the 1800s and was completed as one of Roosevelt's initial WPA projects because it was needed as a location to dock the presidential yacht. Roosevelt visited on October 26, 1935 to dedicate a bridge and a monument on the wharf memorializes his visit. It is the actual elevator, encased in a smokestack, used by the president on the U.S.S. Potomac.
Long Wharf Memorial
The Choptank Lighthouse is a replica of a lighthouse that replaced the lightship LV-25 in 1871. The ship indicated the entrance to the Choptank until an iron screwpile lighthouse was constructed. The wooden lighthouse was hexagonal in shape with 6 screwpiles and 4 fenders to protect the foundation. In 1918 ice floes destroyed the lighthouse and a pre-existing one was relocated 100-miles to the Choptank River. The current lighthouse is a replica of the 2nd structure. It sits on a 60-ft. platform and was completed in 2012 on Pier A. Self-guided tours and a museum are located inside. http://www.visitdorchester.org/choptank-river-lighthouse
Lighthouse
One of Cambridge's most unique adventures is a sail aboard the authentic 65-ft. Skipjack Nathan of Dorchester. The skipjack, Maryland's official state boat, is named after species of fish noted for their speed. The boats date from the 1890s and are noted for shallow drafts and maneuverability. They are the only working sailboats remaining in the country and are still used to dredge oysters in the Chesapeake. One and three-hour narrated, heritage tours leave from Long Wharf on a regular schedule. skipjack-nathan.org.
Long Wharf is nestled at the foot of High Street and walking tours of the historic street begin there. High Street is so well preserved that it served as a model for one of James Michener's cities in "Chesapeake." The homes arrayed along High Street represent architectural trends from the late 1700s to the early 20th-century. Styles include American Foursquare, Colonial Revival, Georgian, Gothic Revival and Queen Anne. Two of downtown Cambridge's three sites listed on the Harriet Tubman UGRR Byway, Long Wharf and the Dorchester County Courthouse, are located on High Street. http://www.cambridgemd.org/historictours
Notable aspects of the 100 and 200 blocks of High Street are the individual properties with original outbuildings that served as offices during colonial times. Josiah Bayley's 1796 wooden law office is the oldest extant office building in the city. Bayley was the state's 10th attorney general. His home, the oldest in the city, is also on High Street and is featured on ghost walks. http://www.chesapeakeghostwalks.com/cambridge
The Church of England founded thirty parishes in 1692 in Maryland and an Anglican Church was built in Great Choptank Parish in Cambridge by the following year. The 3rd and current Christ Episcopal Church is situated on the site of the first structure. It is a High Victorian Gothic church built of granite with a slate roof and adjoining cemetery used for internments since the church's founding. Four of the state's governors are buried there. http://www.christchurchcambridge.org
Directly across High Street stands the Italianate Dorchester County Courthouse designed by Richard Upjohn. The original courthouse burned in 1852 and was replaced in 1854. Slave sales were held on the courthouse steps and a number of significant cases were held in the courthouse.
Samuel Green was born a slave in 1802 in Dorchester. He obtained his freedom in 1832 and became a highly regarded lay minister, abolitionist and farmer. He was suspected of assisting fugitives and shortly after returning from visiting his son, who had fled to Canada, he was accused and his home was searched. No real evidence was found but he was arrested for possessing a copy of Harriet Beecher Stowe's "Uncle Tom's Cabin." The court appointed a lawyer, a local slaveowner, and a 2-week trial began in April of 1857. He was convicted and sentenced to 10-years of hard labor. There were protests over the sentence and some local whites raised $2000 to try to free him.
On March 26, 1862 a hearing was held and Governor Bradford pardoned him on the condition that he leave the state within 60 days. He was freed on April 21, 1862. Because he was now penniless he gave speeches along his route to Canada. In New York he met Mrs. Stowe and while in Massachusetts when asked what he wanted he is said to have requested a copy of "Uncle Tom's Cabin" because he had never finished the book.
The courthouse played an important role in the saga of Harriet Tubman. She hired a lawyer for $5 and sued for her freedom based on the fact that her mother was to have been freed upon the death of a prior owner and she therefore would have been born free. Her second, more incendiary interaction took place in December 1850. Harriet's niece Kessiah Bowley and her 2 children were to be auctioned on the courthouse steps. John Bowley, Kessiah's free husband bid on his family and won. When payment was called for they were gone. Tubman had arranged their escape on the Chesapeake to Baltimore and then further north.
J.M. Clayton Company is the oldest working crab house in the world. The family-owned company, established in 1890, gives tours to groups of 15 or more. An on-site retail store sells their Epicure™ Crabmeat, prepared naturally without chemicals, additives or preservatives. 108 Commerce Street. http://www.Jmclayton.com
In 1913 Annie Oakley, the award-winning sharpshooter, and her husband constructed the Colonial Revival bungalow and garage for their retirement in Cambridge. They chose the area because it was beautiful, rural and wild game was abundant. The house was designed for the couple and retains many of its original features including floor-to-ceiling trophy cases in the living room and a kitchen crafted for a 5-ft. woman. Annie was known to climb out the upstairs windows and shoot ducks in the water from her roof. She penned her first autobiography in this residence. Annie's husband, Frank Butler, said that Annie was a "rotten housekeeper" and it appears she was an equally unhappy housewife. In 1917 they came out of retirement and returned to show business and living in hotels. The house, 28 Bellevue Ave., now a private residence, was listed on the National Register in 1996.
Cambridge is filled with both historic structures and contemporary shops and the dining options are spectacular. In the heart of the downtown area there are no chains and each eatery puts a special spin on seafood dishes using fresh ingredients that are locally sourced.
A gastropub is a casual and cozy restaurant that serves creative dishes and has an extensive selection of brews and wines and the High Spot Gastropub in Cambridge provides the perfect experience. The dishes to try here are the Zombie Meltdown, any of their numerous pizza selections and crapple, a combination of crabmeat and scrapple. http://www.Highspotgastropub.com
Jimmie & Sook's Raw Bar and Grill is open daily for lunch and dinner with the added attraction of live entertainment from Thursday through Sunday. Patrons select from indoor or patio seating. The emphasis here is on Eastern Shore seafood and the featured dish is the crab dip served in a warm bread bowl, the winner of the Taste of Cambridge Crab Cook-Off People's Choice Award. The restaurant is named after the common terms used for a male blue crab, a Jimmie, and a mature female crab, a Sook. http://www.jimmieandsooks.com
Stoked Wood-Fired Eatery is the trendy choice of locals and visitors alike. The menu is huge and showcases local ingredients, fresh baked breads and homemade desserts with seasonal dishes prepared with a special twist. More than 60 specialty wines and beers are on offer. stokedwoodfiredeatery.com
The luxury Hyatt Regency Chesapeake Bay Golf Resort, Spa, and Marina<![if !vml]>
<![endif]>, completed in 2002, provides ideal accommodations for a destination stay, a family vacation or a hub from which to visit sites and attractions in the area. The resort offers all the standard amenities plus Camp Hyatt for children, a kennel for your pet, a golf course, a 150-slip marina and a program of daily activities all in a bucolic setting. Most of the 400 rooms have balconies and water views. http://www.chesapeakebay.hyatt.com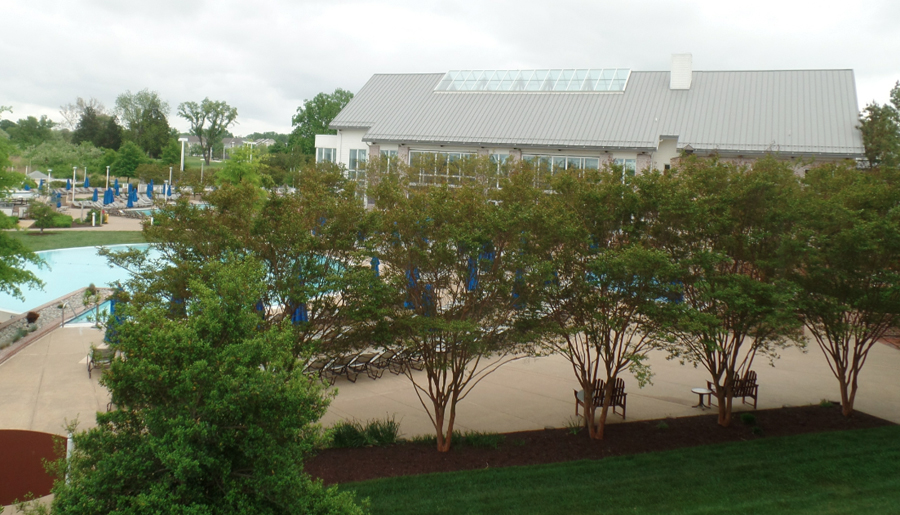 Hyatt
Hotel
One of the most wonderful things about Cambridge is the fact that much of the landscape looks as it did over 100 years ago and teems with wildlife. This is what Harriet Tubman would have seen and our final stop on this part of the journey, and first stop on the Harriet Tubman Trail, is the 28,000-mile Blackwater Wildlife Refuge, the "Everglades of the North." The refuge is a stop on the Atlantic Flyway and is home to the largest breeding population of American bald eagles north of Florida. Visitors can access the area by land or water and a 4-mile Wildlife Drive, complete with pull-offs, is a great option for families. Eagle sightings, up close and personal, are practically guaranteed. Fugitives are known to have hidden in these marshes when making an attempt to be free. http://www.fws.gov/blackwater
The Harriet Tubman Underground Byway Tour is much more than the tale of Harriet Tubman. It has been designated a "National Road" based on its historic and cultural significance and it shines a light on many of the lesser-known people who escaped and those who risked their lives and livelihood in the cause of freedom. The portion of the Byway that runs through Dorchester and Caroline Counties relates a completely unique story that is available on a CD and as a downloadable audio tour encompassing 35-sites. An accompanying Driving Tour Guide includes maps, photographs and complete historic information about each site. In 2013 President Obama designated a large section of the land the Harriet Tubman Underground Railroad National Monument. http://www.harriettubmanbyway.org
Portraits of Tubman
The first black slaves brought into the area were from the Caribbean and were known as Atlantic creoles and as early as 1653 there were also free documented blacks. Even with the importation of Africans by 1776 90% of the black population was native born. A large number of slaves were needed because the primary crop was tobacco but the soil was quickly depleted and in the 1790s it became apparent large numbers of workers were no longer necessary. As a result of the changing circumstances maritime trades and timbering became the backbone of the economy and many area residents manumitted or hired out their slaves. At the outset of the Civil War 79% of the blacks in Caroline County were free. The combination of few large plantations, access to information provided by the mariners, a large free black population, black and white abolitionists and the ability to move more freely and interact than slaves in other areas made this a corridor of freedom. http://www.visitmaryland.org
The Harriet Tubman Museum & Educational Center is the perfect place to begin your tour. The center is a community effort founded in the 1980s to preserve and transmit the history and legacy of Harriet Tubman and the UGRR. Exhibits include a series of portraits of Tubman, a replica of a cradle made by Ben Ross and a large mural depicting scenes from her life. An orientation film and an opportunity to hear the oral testimony and discuss her legacy with local residents are highlights of a visit. The gift shop has a selection of books for all ages, educational materials and handcrafted Tubman related items. http://www.visitdorchester.org/harriet-tubman-museum-educational-center
Harriet Tubman Underground Railroad State Park and Visitor Center, a state-of-the-art facility designed to interpret the story and lasting effect of Harriet Tubman and the UGRR through displays and extensive use of the natural landscape, is to be completed in 2016. The 10,600-sq. ft. complex will feature a museum, welcome center, memorial garden, walking paths and a 2,400-sq. ft. pavilion available for rental. The center will be environmentally friendly and handicapped accessible.
It is widely believed that Araminta, "Minty," was born in Bucktown on the Edward Brodess plantation in 1820. The farm is private property but a historic plaque is located on the site. She was one of 11 children of enslaved parents Benjamin and Harriet Ross and her owner hired her out from the age of six. She received severe beatings and other forms of harsh punishment throughout the years of her bondage. In 1844 she married John Tubman, a free black man.
At some point in the 1840s she shed the name Araminta, a derivation of the Greek word for "defender," and took her mother's name, Harriet, meaning "powerful." In 1849 she fled the region on foot and alone with only two names provided by a white abolitionist and directions to an UGRR station. She made her way to Philadelphia where she was introduced to William Still and obtained a job as a maid to finance trips to return for her family and friends.
Because there were no really large plantations in the area it was customary for several owners to hire a single overseer to monitor the slaves. It is with one of these men, Thomas Barnett, that Harriet would have one of the most important encounters in her life circa 1835. She was hired out and had been sent to the Bucktown Village Store and while there a slave, pursued by the overseer, ran inside. The overseer demanded that Minty help him in his capture and she refused. At this point Barnett picked up a 2-lb. counterweight and threw it at the slave. He missed him and hit Minty in the head, fracturing her skull. She was carried back to the plantation and placed her on a bench at the loom where she stayed for several days. Eventually she was returned to her owner because her work suffered. For the remainder of her life she would experience seizures and visions. She attributed her symptoms to God.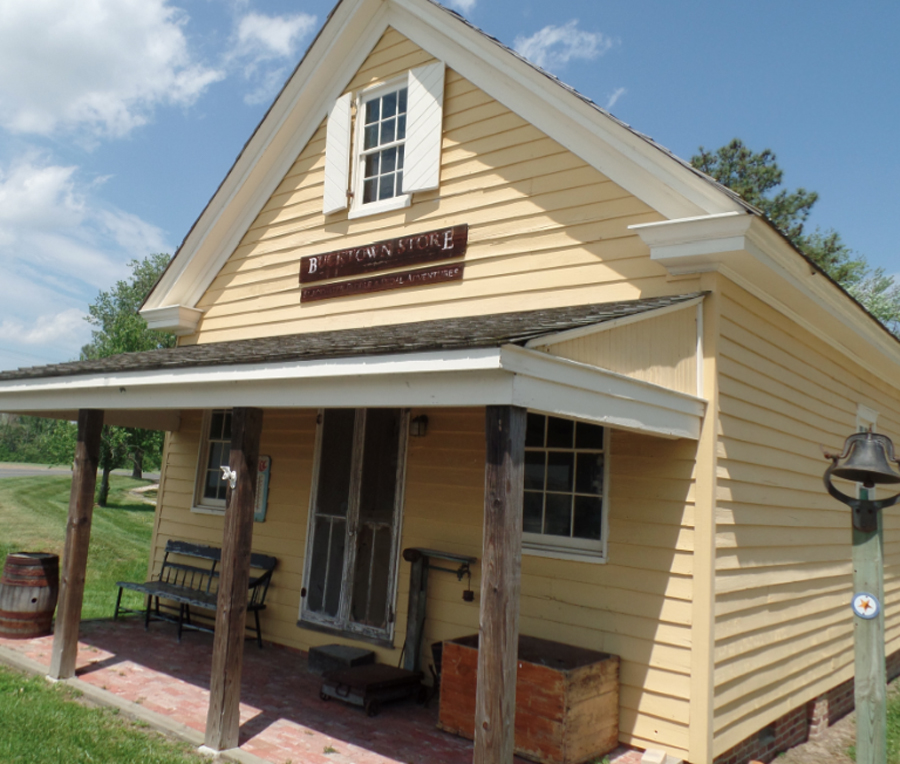 Bucktown Store
The Bucktown Village Store remains much as it did at the time. The shelves are stocked as they would have been and cases display artifacts. A scale and 2-lb. counterweight are on view and the floor plan is the same. The gem of the historic collection here is an authentic newspaper ad featuring a reward for Harriett Tubman. Tours are available upon request as well as bicycle, canoe and kayak rentals. 410-901-9255.
Stanley Institute is a one-room schoolhouse that was relocated to the site in 1867. It is one of Maryland's oldest African-American schools operated by a black community and was in use until 1962. It is listed on the National Register and tours are by appointment only. A plaque on the premises tells the story of the "Stampede of Slaves," a nearby successful escape of 28-armed slaves in 1857. 410-228-6657
Local landowners needed an effective way to transport goods and lumber to nearby ports and in 1810 slaves and black freedmen began work on Stewart's Canal. For the next 20-years they hand-dug a 7-mile canal. Minty and her father worked in the area and it is through interactions here that she learned many of the skills she would later employ while conducting slaves to freedom.
Harriet's father, Ben Ross, was freed in 1840 as a result of the will of his former master but the rest of the family remained enslaved. Ben was a master logger and hired himself out to area plantations. In 1844 Araminta, now Harriet, married a freedman, John Tubman. Three-years later she hired herself out to Dr. Anthony Thompson and worked with her family on his 2,166-acre timber farm in Madison and Poplar Neck.
Harriet's owner, Edward Brodess, died in 1849 and left his family deeply in debt. When Harriet learned she was about to be sold she decided to escape but John Tubman refused to join her. She did later return to lead him to freedom but found that he had remarried.
It was from Poplar Neck that Tubman launched three of her most renowned escapes, her brothers in 1854 and Josiah Bailey in 1857. Harriet's parents lived in Poplar Neck in Caroline County and were UGRR operatives. Upon learning that they were indicated in the escape of the Dover 8 and would probably be arrested shortly Harriet assisted their escape in June of 1857.
Eight slaves escaped from the Pritchett Meredith Farm on March 8, 1857. Their initial contact was Rev. Samuel Green and then they moved on to Ben Ross. Ben gave them instructions to move on to Dover's Thomas Otwell, another black UGRR conductor, trusted by Tubman. Instead of leading them further north he tricked them into entering the Dover jail in hopes of collecting the $3000 reward. Fortunately they became suspicious and made an audacious escape to Wilmington, then Philadelphia and finally Canada. William Still recorded their story in Philadelphia. It was this escape that endangered Samuel Green and Ben and Harriet Ross.
The Jacob Jackson Home Site is a recent addition to the Tubman National Monument. Jackson was a free black who passed a coded message to the Ross family in 1854 to alert her brothers to prepare themselves for her arrival and their escape.
Quakers Jacob and Hannah Leverton's 1814 home was an important stop on the UGRR and is likely one of the places Harriet stopped when she fled. These white abolitionists along with Daniel Hubbard, a freedman, ran the Leverton-Hubbard UGRR Network. In January of 1858 the network was uncovered and a mob gathered and Arthur Leverton and Daniel Hubbard fled the area.Arthur, and eventually his mother Hannah, settled in Indiana. Hubbard moved to Philadelphia. Jacob died of pneumonia while being sued by a slave owner for helping his female slave escape. The house is a private residence.
Linchester Mill is situated on the boundary between Dorchester and Caroline Counties and the site has housed a mill since the 1680s. The mill complex included residences and stores for the interracial workers. Self-emancipators received assistance here and this was an important crossing point when traveling north. Tours, events and educational programs are offered. http://www.carolinehistory.org/places/linchester-mill-campus
The James H. Webb Cabin is possibly the only existing pre-Civil War cabin built by an African American. James, a free man, married Mary Ann after purchasing her and her two children in 1850. He purchased the land on which the cabin sits for $200 and added to his holdings throughout the years. The hand-hewn, one-room cabin has a loft and an interior potato-hole. The hole is large and may have been used to hide fugitives. The cabin has been lovingly restored.
William Still was an UGRR stationmaster and chronicler of more than 1,000 stories of freedom seekers as they passed through Philadelphia. A marker stands at 244 South 12th Street In 1871 he published "The Underground Railroad" and preserved much of the UGRR history for posterity. The William Still Family Interpretive Center will be housed inside an 1820's cottage and will relate the story of the Still family's escape, the UGRR and the life of the enslaved. Opening date will be forthcoming.
Harriet Tubman's service did not end with the onset of the Civil War but continued until her death in 1913. She served as a Union nurse in South Carolina and because of her special skills as a scout and spy. She was also the first female to lead armed troops into battle during the Civil War. For her service she was given a monthly $20 military pension. She returned to Auburn, NY after the war and married again. Her residence became the Home for Indigent and Aged Negroes. She is buried in Fort Hill Cemetery in Auburn.
While planning your journey you can enter the portal to the interactive Pathways to Freedom website and participate in an escape. http://www.pathways.thinkport.org/following
Harriet in her 90s
Information on every site and complete planning tools for this adventure can be found at the links provided. http://www.Tourcaroline.com and http://www.Visitdorchester.org