Your Feet Make a Fashion Statement

By Kathleen Walls
Photos courtesy Keysocks
You're headed for the airport. Big question, what to wear? Casual with tennies and socks? Not this time. You're meeting someone important at the destination airport so you want to look your best but if you wear heels, you can't wear socks. If you don't wear socks, it means trotting around on that nasty airport terminal floor barefoot. Who knows if the person just in front of you has a fungus or infection in his feet? You've got to walk barefooted right where he stepped. Ugggh!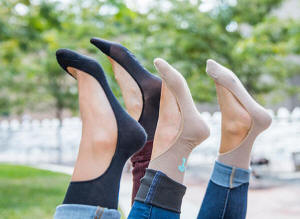 I discovered the perfect solution. I just tried out a pair of Keysocks. They're ideal for this situation. The sole of your foot is covered while the arch is exposed leaving your feet looking perfect in those snazzy pumps.
Keysocks fit comfortably and are just stretchy enough to stay put and not slip down around your ankles but not so tight they constrict the blood flow. They hug your calf and don't bulk up under those stylish slim-legged pants.
As a travel writer who spends a lot of time on the road and need to pack light, I found another bonus with Keysocks. These socks dry fast. I mean you can take just one pair and rinse them out overnight at your hotel and in the morning they will be ready to wear. I love mine. They come in flesh color or black if you're feeling dignified and even a jazzy stripe style if you want to make a splash. There are several different fiber combinations depending on the statement you want to make. Keysocks are your key to comfy stylish feet.
Find your foot fashion at Keysock: