Published 5-13-2019

New Orleans is not the only place in Louisiana that you find mouth-watering dishes. While you visit Antebellum plantations in the River Parishes, you can find a few places in the small city of LaPlace that can show some big-name chefs a thing or two.
Zora Christina Restaurant and Catering
Monique McGee-Duronslet was in nursing. She gave birth to a stillborn baby she had already named Christina. She was devastated. The hospital and her friends recommended therapy but she found her own style of comfort in food. Cooking worked as therapy for her. She decided she needed a change from her nursing career. She wanted to do a food truck but there were too many complications in St. John the Baptist Parish so she and her husband decided on a physical location. Now the restaurant and catering is full time for her. Zora Christina Restaurant and Catering, named for the lost baby and her older daughter, Zora, opened its doors in 2015.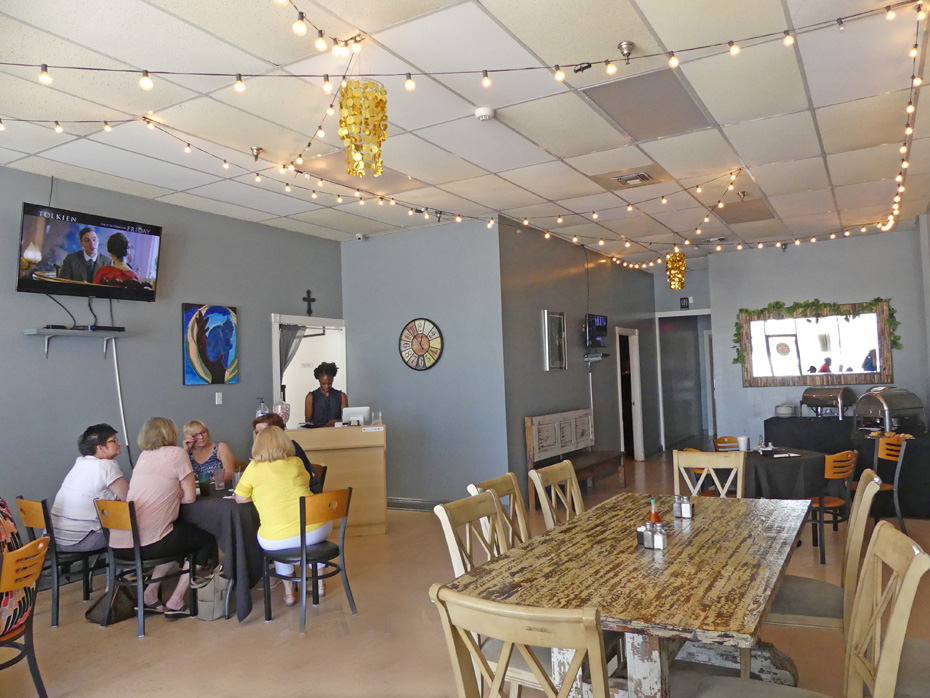 Her husband and partner, Michael, is still in law enforcement. Before becoming a Saint John the Baptist Parish deputy, Michael had worked as a chef in various restaurants including Ruth Chris Steakhouse in Metairie, LA. Zora Christina is a form of therapy for him also. After a busy day of crime fighting, he dons his apron and creates comforting dishes.
Monique told me, "As long as I am cooking, it's like I'm cooking for family. We wanted to bring something different to St. John Parish. Instead of driving to New Orleans you can come here and have the New Orleans style food. "
Another form of therapy for Monique is painting. Zora Christina's walls are decorated with her art. Many are pictures of food. One that stood out for me is a tiny blue human like form perched on a uplifted black hand. It has a mystical feeling similar to the famous George Rodrigue Blue Dog pictures.
Her menu runs the gauntlet from unusual Cajun style food like the Moe's Crawfish Bread, seasoned cream, sautéed crawfish, and Parmesan cheese stuffed in French bread and topped with mozzarella cheese, to the traditional Seafood Platter. All are served with love that makes them special.
I had the Bacon-Wrapped Shrimp, large Gulf shrimp wrapped in thick applewood bacon, rubbed with blackening seasoning, and baked. Yummie!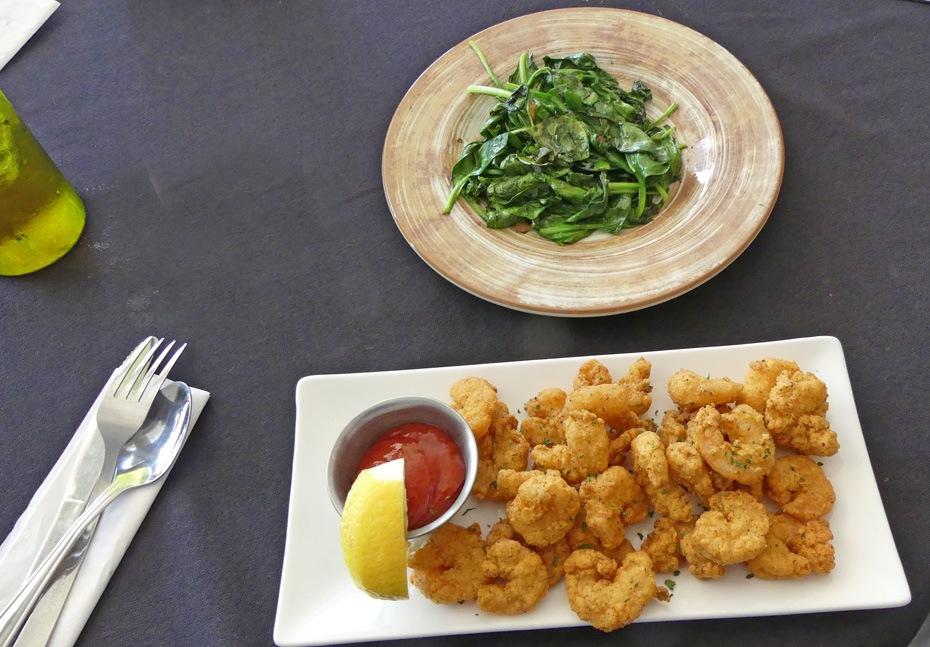 My sister-in-law, Maelin and brother each had the Shrimp Platter. Maelin being health conscious substituted the fries for a wholesome green veggie side dish. Equally delicious. Another holdover from Monique's nursing days is the fresh fruit and vegetable options and the always fresh not frozen ingredients.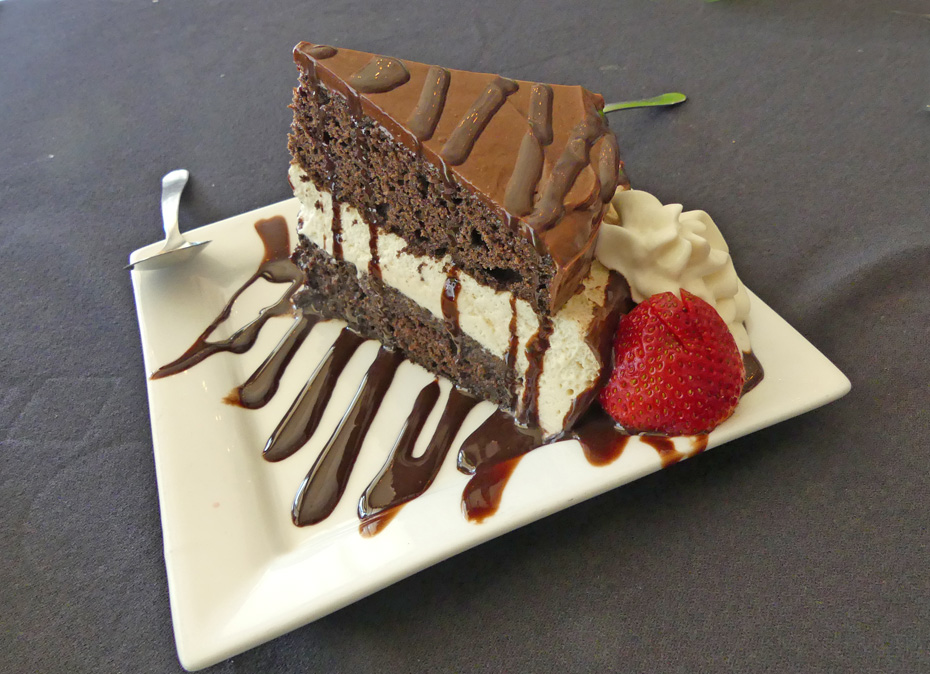 But do save room for dessert. The Sinful Chocolate Cream Cake, made of two-layer chocolate cake infused with RumChata liquor and topped with chocolate icing, homemade whipped cream, strawberries, and blueberries, is a lip smacker.
Frenier Landing Restaurant & Oyster Bar
In Frenier Landing, you can sit either on the balcony or inside and look out across Lake Pontchatrain and see New Orleans just about a half hour away. That's as far as the resemblance goes. Frenier Landing is set in a quiet almost no-traffic place. As you approach, you pass some RV parks and a few homes. The road ends at a boat launch. Water surrounds the restaurant on three sides. It tells you how close your seafood choice comes from.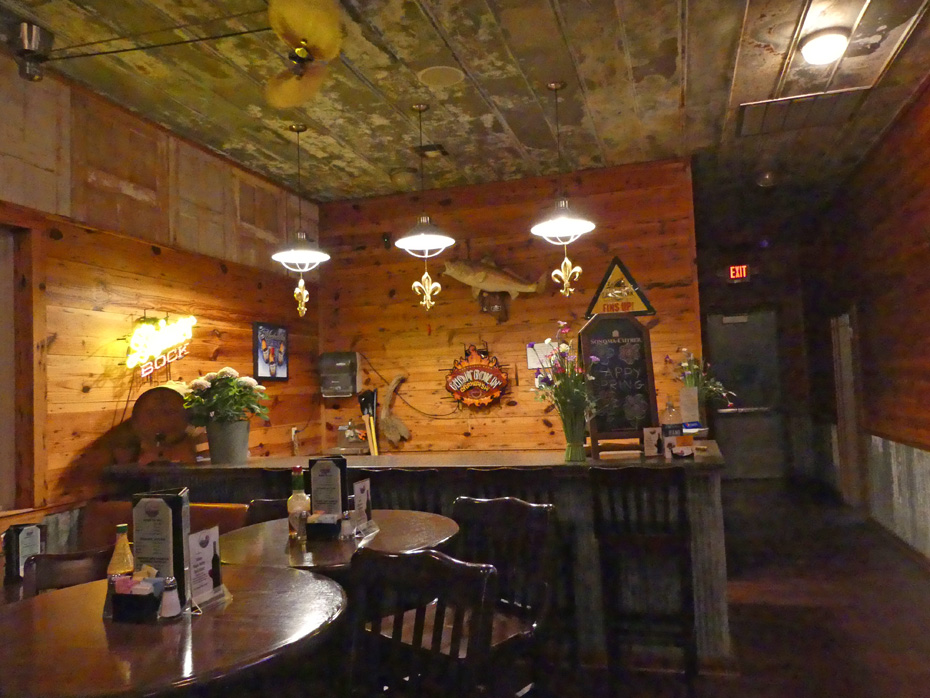 Frenier Landing sits high on piers and the traditional wood-frame structure hides a building designed to withstand anything nature throws its way, like hurricanes sweeping across the lake. It's been here for over 10 years so it has withstood some of nature's tantrums. Upstairs the interior is cozy. There's a small oyster bar to right and the main dining room to the left. The décor is rustic; all wood with antique paddle-style fans. There's a cypress tree sitting in the middle of the room covered with white lights.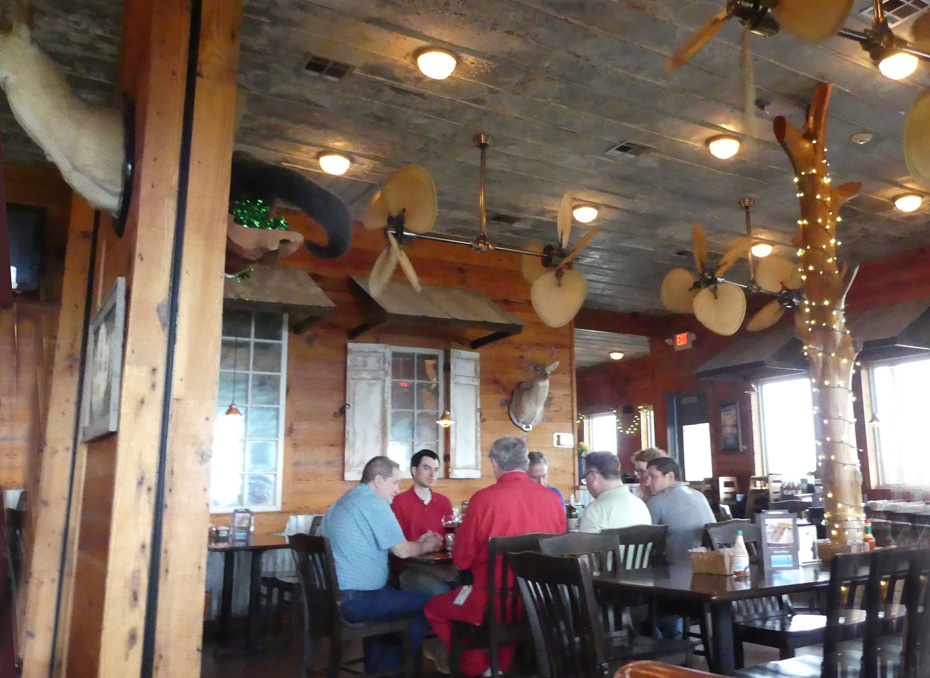 The menu is a seafood lover's dream; fried crawfish tails, alligator sausage, shrimp or crawfish étouffée, and naturally oysters from on the half shell to po' boys and every way in-between. There are a few non-seafood dishes for the rare non-seafood lover.
I had the Soft Shell Crab. It was perfect. Two crabs battered and fried to golden perfection, fries and a fresh vegetable mixture. TThe crabs were crunchy and meaty. I was afraid I couldn't eat the entire thing but came pretty close.
My sister-in-law and brother had the Fried Oyster and Shrimp Platters. They each needed to go the take-home-leftovers route. This food is seafood at its freshest.
Suppose you want some traditional Cajun food for home cooking. Wayne Jacobs Smokehouse is the place to go for some zesty ingredients. You can have the best of two worlds here and opt to dine in while you shop for your homemade Andouille sausage, chacklin, boudin, Tasso, hog head cheese, and many other uniquely Louisiana products.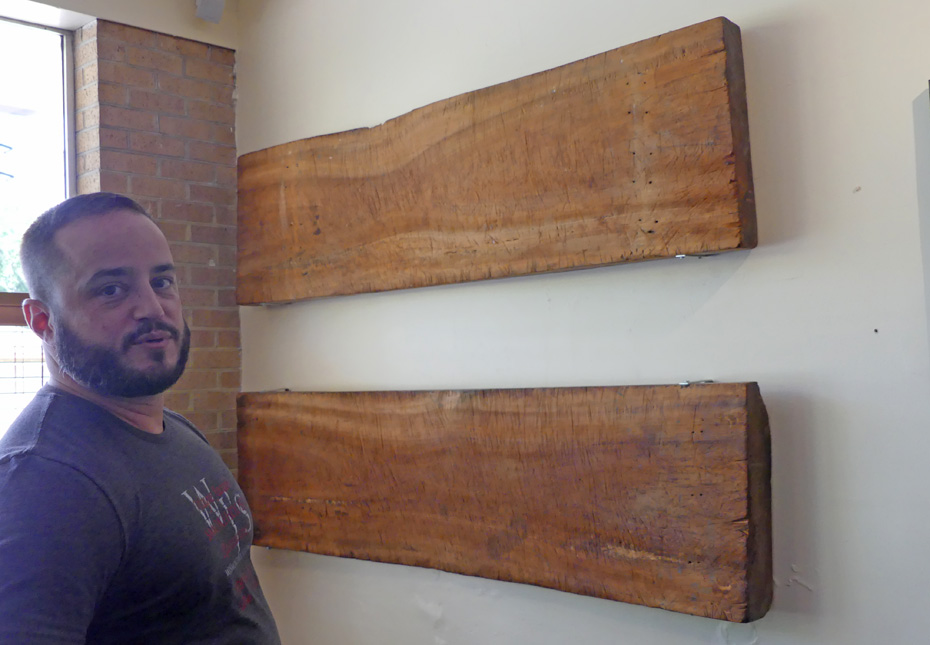 Wayne Jacobs Smokehouse has a history. It all began with Nolan Jacobs who started the business back in 1950. His story and some of the traces of the old smokehouse are proudly displayed in the restaurant. Two old cutting boards hang on the wall along with a photo of one lady who used the boards chopping meat to make the Andouille and other sausages here in the early years. Each board is scarred and chopped almost all the way thorough from the years she diced and chopped pork, beef, poultry, and wild game on it.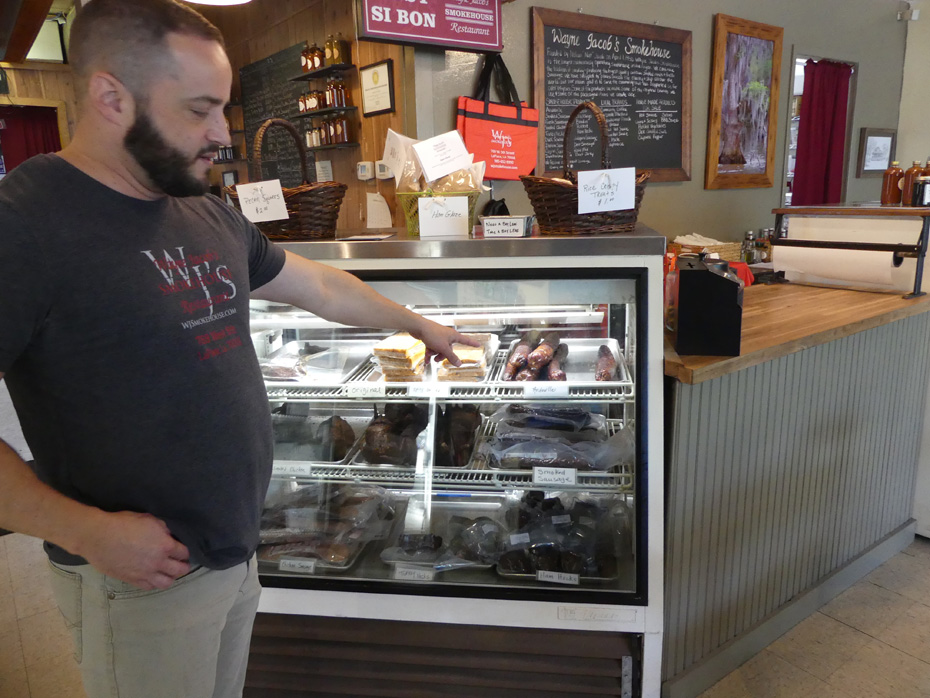 Jared Zeringue bought the business about four years ago. He is a local who has had his own restaurants and grew up in the area so he added some of his "River Road" style dishes to the original smokehouse ones. He told us, "my grandmother and mother used to shop here so I was a third generation customer when I bought it."
In the back of house it's all traditional. Brian was busy chopping fresh meat for sausage. Another worker, Daniel, was stirring a huge vat of smoking oil filled with crackling atop a raging flame.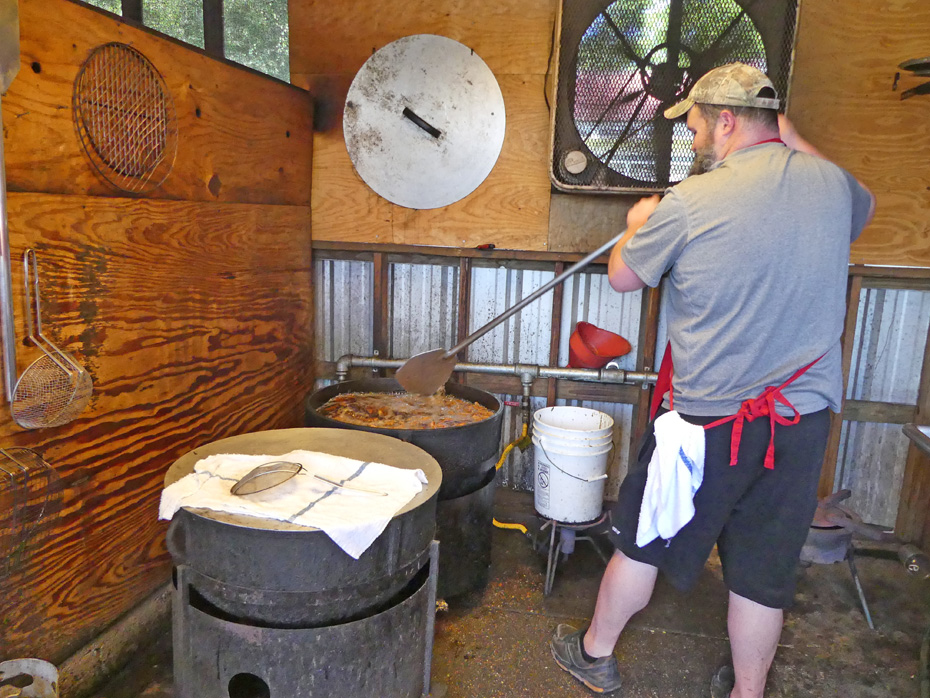 Jared led us back to see the smokehouses. They were oozing smoke and the area around the doors was covered with a blackened crust lacquer promising a scrumptious smoked flavor on the Tasso and Andouille. He opened the smoker and we could see the meat beginning to crinkle up. He told us that they cut their own wood for smoking on his dad's farm. The aromas drifting around were invigorating.
There is more than meat here. Jared took us out in the back yard to meet his "girls," a group of friendly hens that provide eggs for cooking and selling. The hens ranged from barred rock hens to several that lay green and blue eggs. The "girls" seemed to equate Jared with food as they clustered around when we entered their domain. There are pecan trees, peaches, figs, and even bee hives around the yard.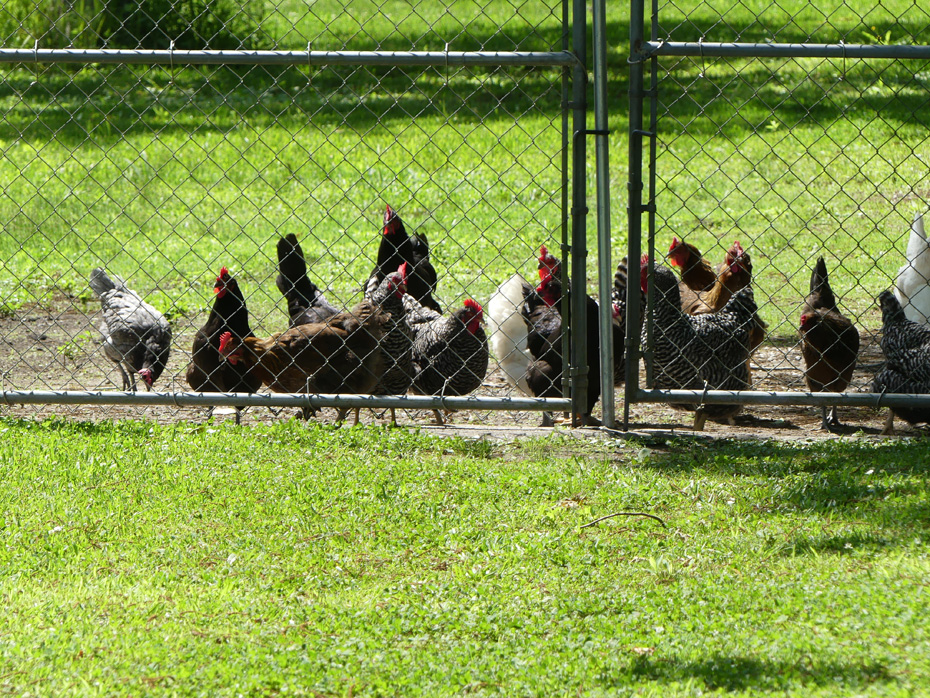 They are trying to be as "green' as possible. There were several solar panels on the roof. They produce about 10,000 kilowatts per year, just a portion of the smokehouse total usage. However, as Jared said, "every little bit helps."
We sampled some of the Tasso, boudin balls, fried Andouille chips, and some sausage. What a taste of authentic Louisiana!
For more info:
We'd love your comments!