published 7-26-2019

A Woman and Girl Driving by Mary Cassatt
I recently visited the Philadelphia Museum of Art to view an exhibition of their extraordinary collection of Impressionist and Post-Impressionist artworks. More than 80 important pieces by the masters of those avant-garde movements can be seen in the media of painting, sculpture and works on paper. I believe that these are most popular and beloved art movements. The show covers many subject matters, such as plein air (aka out-of-doors), cityscapes, still lifes, figure studies which includes nudes. Many pieces are well-known, but some are rarely seen or premiered for the first time. One of the first-shown paintings is by Berthe Morisot, a woman. The other renowned female Impressionist painter is Mary Cassatt, an American from Philadelphia.
Timothy Rub, CEO, says, "The Philadelphia Museum of Art contains one of the country's most acclaimed collections of 19th century art, but rarely have we had the opportunity to show our Impressionist and Post-Impressionist holdings so comprehensively."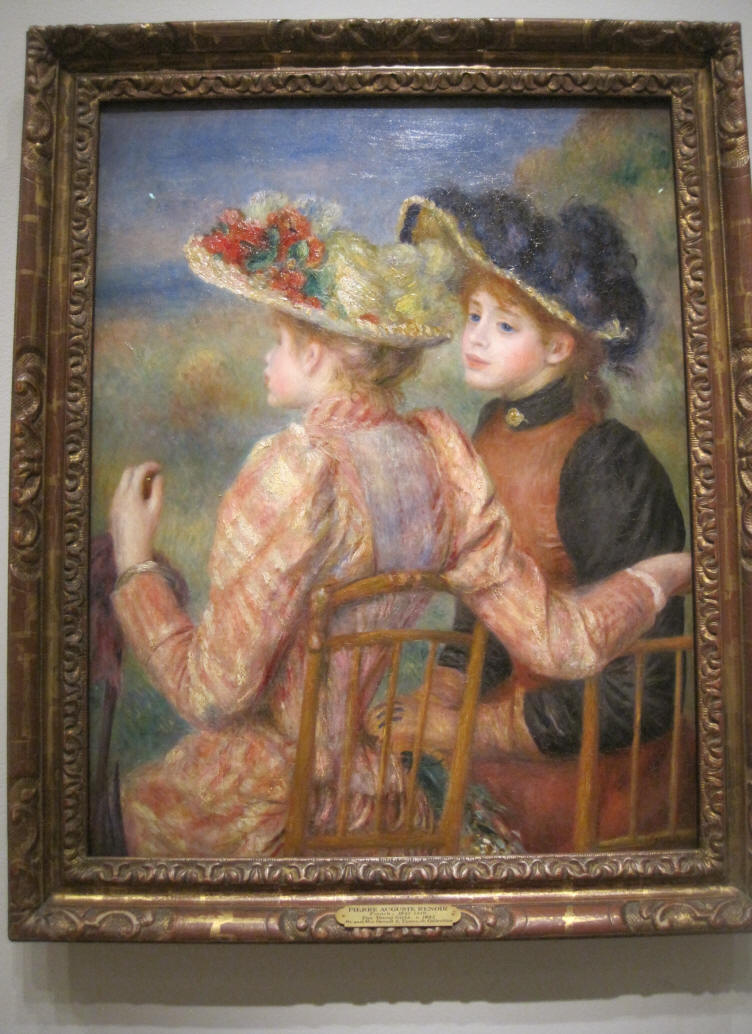 Two Girls by Auguste Renoir
In 1870, French artists, Monet, Renoir and Pissarro, began to push their vision of light, color and composition. They moved line and form in a modern direction. They applied inventiveness to changing brushstrokes, composition and color. Their movement was a new, livelier, more colorful look at the world around them. Some paintings are so atmospheric (i.e. foggy, rainy), that the subject is barely visible. Many artists painted outdoors, but not all paintings were completed there. Many times, they had to be completed in the studio because of inclement weather or the drying time of oil paint; depending on the artist's style, he may have preferred not to paint over wet pigment. Cezanne loved plein air painting so much that he created 70 artworks in one spot – and no two were alike!
The Jockey by Henri de Toulouse-Latrec
In the gallery called, "The Modern City," the artists were inspired by the excitement of Paris. They showed the vast variety of what the city offered: the theater, the races, transportation, the daily life of its people, etc.
Sunflowers by Vincent Van Gogh
The artworks in the "Everyday Objects" gallery, show still lifes of fruit, flowers and, even, cakes. It subject gave the artist a chance to experiment without human feedback or weather conditions.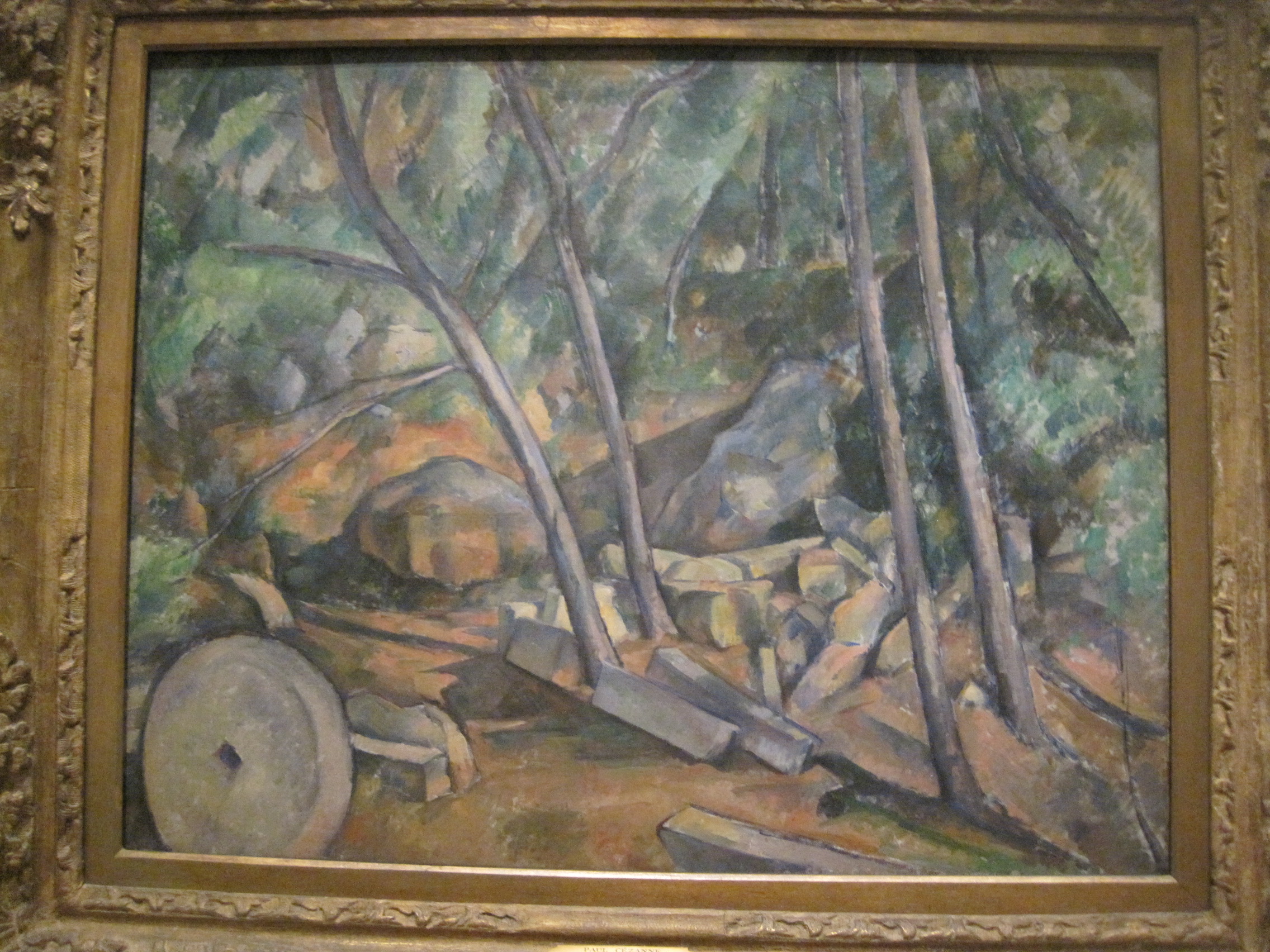 The Millstone in the Park by Paul Cezanne
At first, this modernity wasn't received with great aplomb. Their following would increase over the next few decades. The approval spurred on even more radical creativity with the leading artists of the Post-Impressionists, like Vincent Van Gogh, Paul Gauguin, Georges Seurat, Henri deToulouse-Lautrec and Paul Cezanne.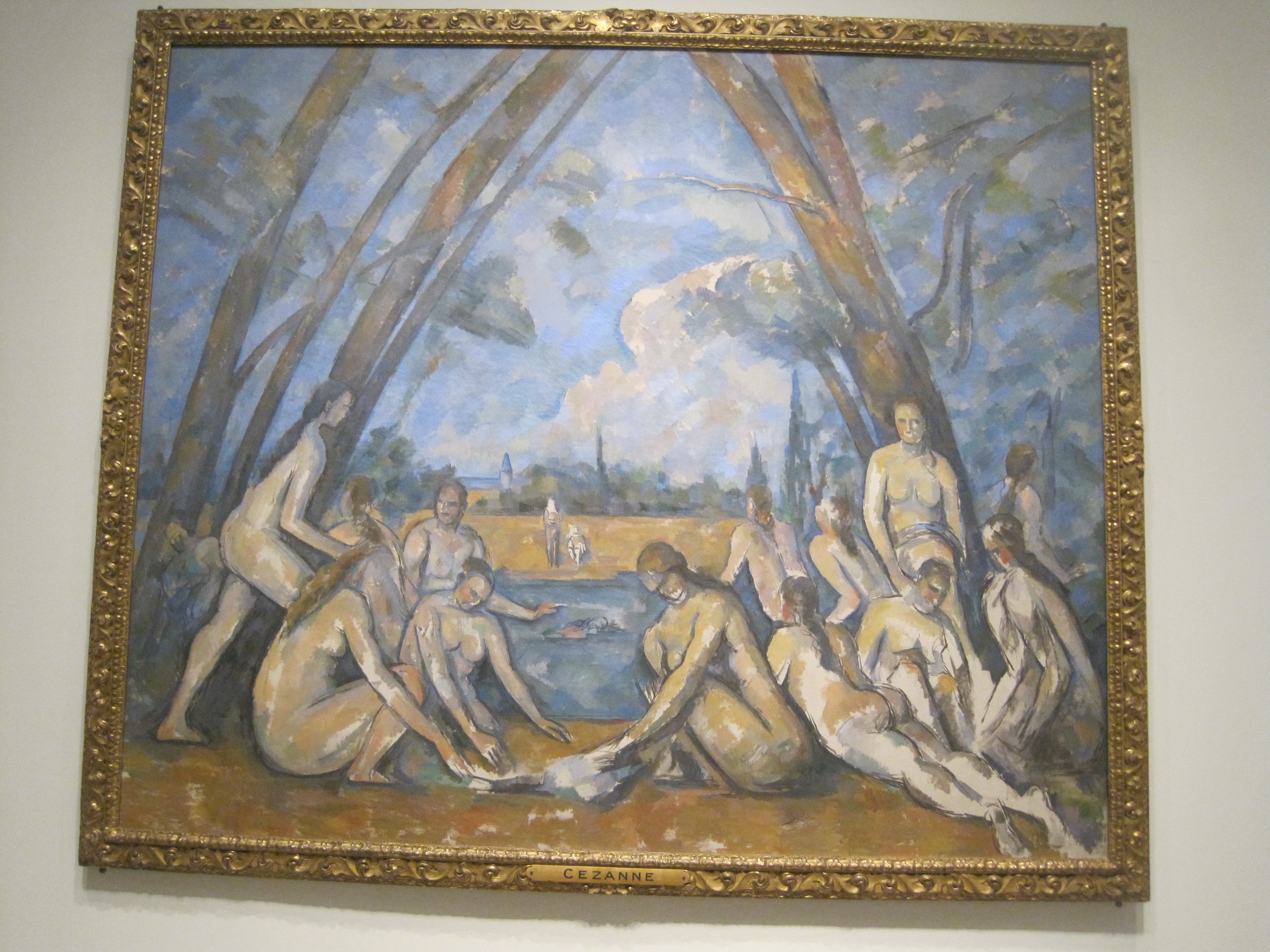 The Bathers by Paul Cezanne
In the galleries, "People" and "Nudes," the depiction was to show the figures in everyday life, not in a mythical or religious theme or setting.
Little Dancer by Edgar Degas
The exhibition is all-encompassing for the movements of Impressionism and Post-Impressionism, and runs until August 18, 2019.
Eleanor Hendricks McDaniel is a seasoned travel journalist who enjoys writing about girlfriend getaways, history, culture, food, wine, and some of the people she meets along the way. Her travels have taken her throughout the United States, Europe and other countries.
She has written for newspapers, magazines and online ezines. They include Heart and Soul, Cuisine Noir, Blue Ridge Country, River Region Living, WHERE Philadelphia, American Airlines Black Atlas, Art Matters, Philadelphia Tribune, Philadelphia Sunday Sun, Pathfinders Travel, Main Line Life, Odyssey Couleur, GoNomad.com and more.
She has lived and studied in Paris, France and Florence, Italy. A native of Philadelphia, PA, she now resides in Ormond Beach, FL.
Follow her on Twitter: @ellethewriter, Instagram: @eleanor1004, Facebook: @eleanor.hendricks.mcdaniel and her website: flybynighttraveler.com
Follow on Twitter: @ellethewriter.
Affiliations
NATJA - North American Travel Journalists Association,
New York Travel Writers Society
We'd love your comments!
ad goes here 600 wd
Connect with us on:
American Roads and
Global Highways has so many great articles you
may want to search it for your favorite places
or new exciting destinations.