First off, not all readers will know the legend of Paul Bunyan. For those who don't, one of the links at the end of this article is the Walt Disney version of the American folklore tale of Paul Bunyan. Paul is an American folk legend, along with the likes of (using Walt Disney's series of folk legends as a guide) John Henry, Johnny Appleseed, Casey Jones, Pecos Bill, and Casey at the Bat. Paul Bunyan was a giant lumberjack that helped clear the northern United States, making way for progress and farmland. Legend has it that the reason there are no trees in the Dakotas is that Paul cleared them all away.
Paul is credited with creating many of the natural wonders of the Lake States and West, including the Great Lakes (as a watering hole for his giant blue ox companion, Babe), the Grand Canyon, Mississippi River, the 10,000 lakes of Minnesota, and the Grand Tetons. He was born in Maine, moved to the Lake States after the Northeast was logged out, and eventually to the Pacific Northwest. Each of those regions has Paul Bunyan in its logging history, and, often, a giant Paul Bunyan statue (usually accompanied by Babe the Blue Ox) appears roadside in a community with a strong logging history. Paul Bunyan's Cook Shanty is part of that tradition, with "logging camp" restaurants in Wisconsin Dells and Minocqua, Wisconsin.
.

Part of the folklore legend does involve a cook shanty for the loggers. A small part of the Oregon version of the cook shanty tale, retold by S.E. Schlosser, includes: "That stove, now, she were a grand one. An acre long, taller than a scrub pine, and when she was warm, she melted the snow for about twenty miles around. The men logging in the vicinity never had to put on their jackets 'til about noon on a day when Paul Bunyan wanted flapjacks. It was quite a site to see, that cook of Paul Bunyan's making flapjacks. Cookie would send four of the boys up with a side of hog tied to each of their snowshoes, and they'd skate around up there keeping the griddle greased while Cookie and seven other men flipped flapjacks for Paul Bunyan. Took them about an hour to make enough flapjacks to fill him up. The rest of us had to wait our turn."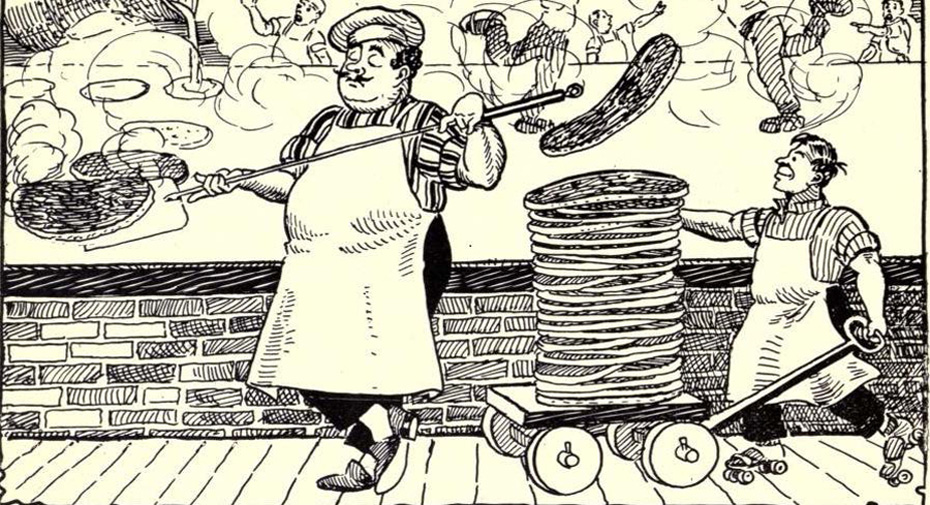 Cookie preparing flapjacks for Paul Bunyan, followed by a flunkey on roller skates (needed to keep up), while the boys greased the griddle with a side of hog tied to each of their snowshoes.
Credit: The Marvelous Exploits of Paul Bunyan, W.B. Laughead.
Do You Want to See a "Real" Cook Shanty?
Paul Bunyan attractions and logger cook shanties are scattered across the American Northwoods, as cultural attractions that celebrate local logging and lumbering history. The best cook shanty in Wisconsin has to be Paul Bunyan's. Actually, there are two, same owner, one in Wisconsin Dells (the state's main tourist destination) and one in Minocqua (actually up in the real Northwoods). The cook shanty is a huge log cabin, as you'd expect, with a restaurant, gift shop, and bakery. The restaurant has been a Wisconsin tradition for over 60 years, with its huge log beams providing an atmosphere that says "Northwoods 1890s logging camp." Paul Bunyan and Babe greet you in the parking lot. The restaurant is huge, accommodating hundreds of loggers, and logging artifacts, fixtures, tools, and historic logging photographs adorn three pine log dining rooms. Antique lanterns illuminate red and white checkerboard tables big enough to accommodate large groups, yet cozy enough for singles or couples.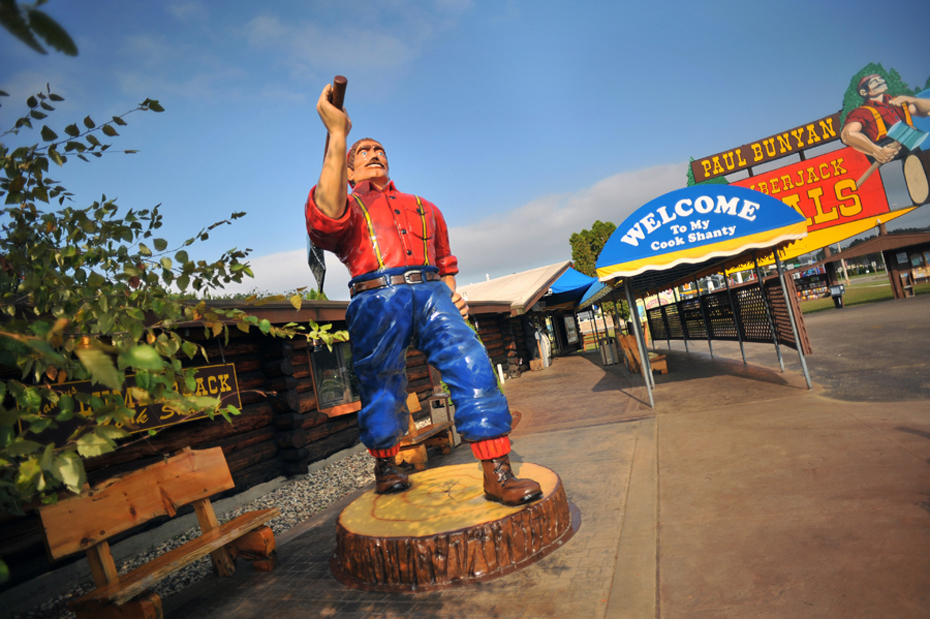 Of course, Paul Bunyan welcomes you to the cook shanty. Credit: PBCS.
And, of course, Babe is there too.
It's open for breakfast, lunch, or dinner. We had breakfast. It is a family-style restaurant, all food is brought on platters and loggers serve themselves off the platter. It is lumberjack style, all-you-can-eat, with empty platters quickly refilled (individual platters can be ordered). It starts with a plate of hot homemade buttermilk donuts, some of best we've ever had. They must be poplar as the bakery sells boxes of them to take home and reheat. OK, what do loggers eat? Flapjacks, and the ones at the shanty are famous! For meat, sausage links and ham. Scrambled eggs and French toast. Camp potatoes. Biscuits and gravy. It even comes with drinks: coffee, tea, milk, orange and apple juice. Lunch and dinner have the same type of extensive choices.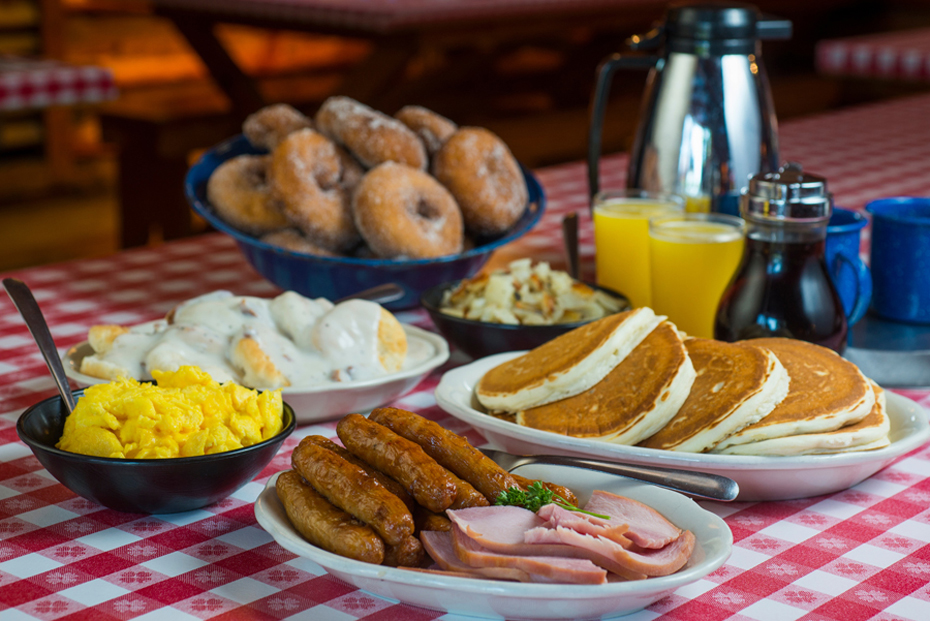 This is the standard hearty breakfast, all you can eat, plates are refilled promptly as appetite warrants. Credit: PBCS.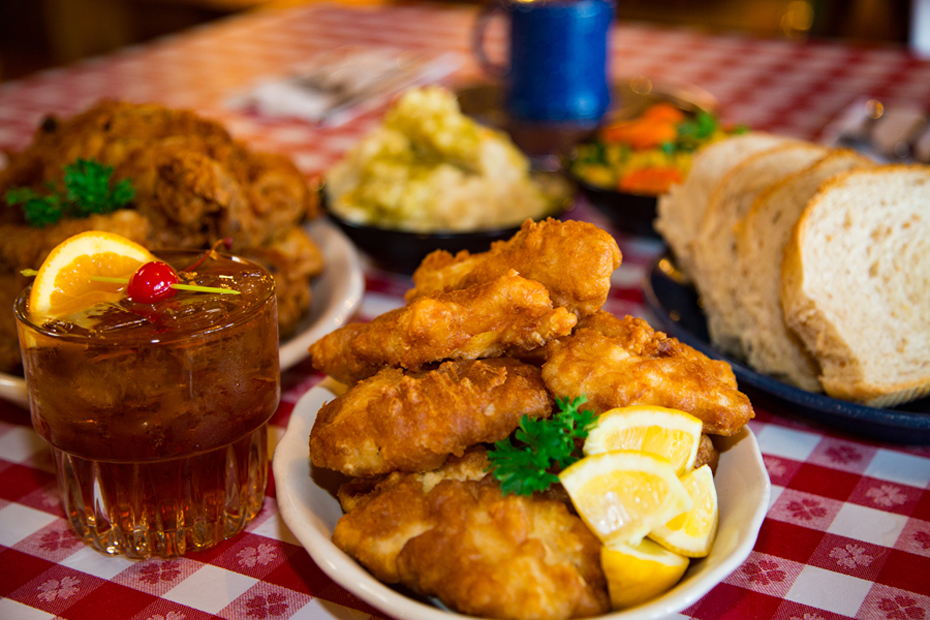 Supper can include a fish fry. Credit: PBCS.
The "real" cook shanty, from the legend, required 300 cooks and had tables nearly ten miles long. The cook shanty in Wisconsin has long tables and many cooks, and food is served family-style, just like the loggers got, but the tables aren't ten miles long (maybe combined they'd make it). But, the log cabin atmosphere, logging tools on the walls, and somewhat longish tables do make it seem like a cook shanty.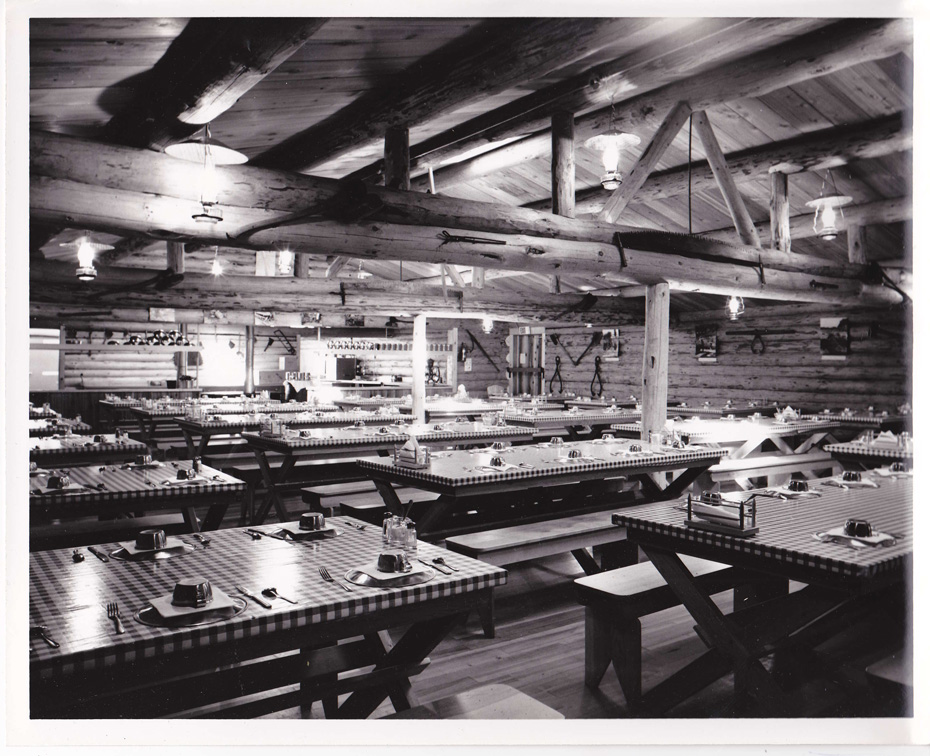 Historical photograph of the cook shanty. Little has changed. Notice the logging tools on the wall. Credit: BPCS.
| | |
| --- | --- |
| | |
| A more modern view of the cook shanty. | Various logging tools are the walls make for interesting discussion. |
There is a gift shop, with all the normal merchandise, but this one has lots of logging-oriented items, making it much more interesting than the average gift shot. The Dells location has a one-of-a kind, action packed Lumberjack Show. It features events like the standing block chop, axe throw, spring-board chop, obstacle pole, hot saw, log roll, and many other lumberjack skills.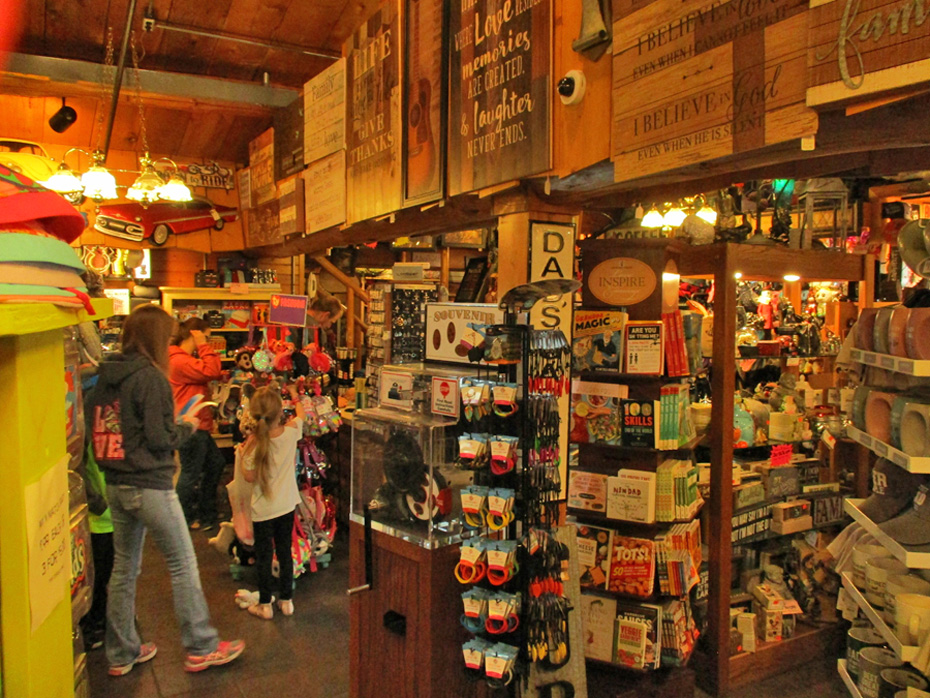 The gift shop has much more than items for the kids. There are lots of Paul Bunyan items, logging souvenirs, and t-shirts.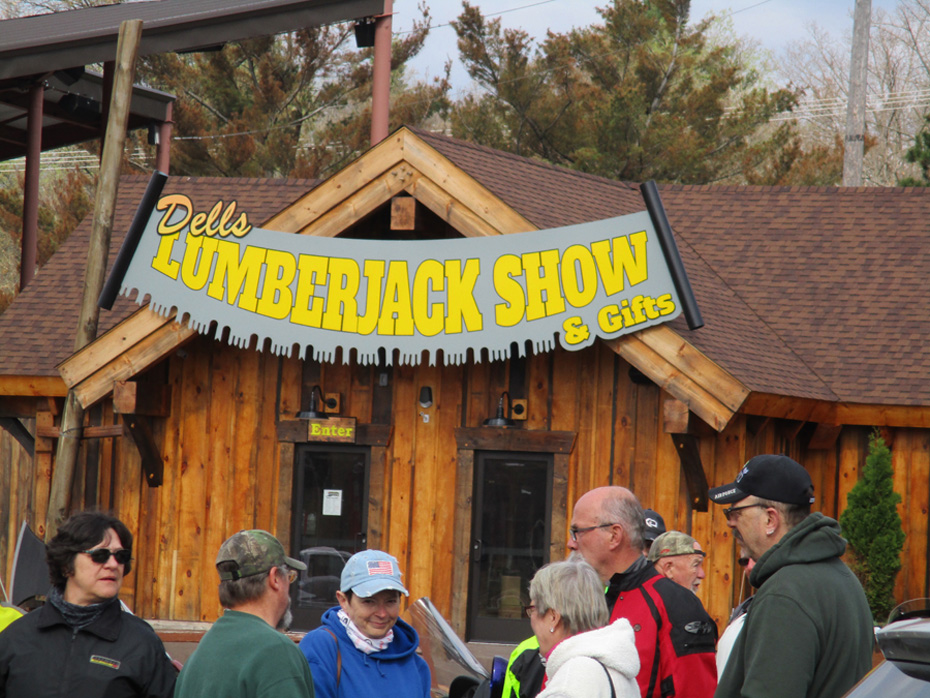 The logging show is adjacent to the cook shanty, with real lumberjack competition, in the late afternoon and evening.
The restaurant is popular, and the lines can seem long, but they remarkedly fast. Paul Bunyan's Cook Shanty seems like it is kid-oriented, and it is, but adults will love it too, especially the food. And if you do bring kids, you can teach them some fascinating American folklore.
Author: Thomas J. Straka is a forestry professor at Clemson University in South Carolina with a fascination for history.
For additional information:
Walt Disney's "Paul Bunyan" (1958) - The Legend:
https://www.youtube.com/watch?v=O3rZUOJn5W8
Paul Bunyan's Cook Shanty – Wisconsin's Favorite Restaurant
Wisconsin Dells Lumberjack Show