For those of us who have done our share of RVing, only one thing is more fun than an

nostalgic look at an antique or classic RV and that is an entire museum devoted to these land rovers of the past. Amarillo, Texas is home to Jack Sisemore RV Museum. To sweeten the nostalgia pot, the RV Museum is located just a short distance off the "Mother Road" for all roadies, Route 66. Best of all. It's free.





The RV Museum is hidden away behind Jack Sisemore's Traveland RV sales and service at 4341 Canyon Dr. in Amarillo. Once you find your way there, someone will direct you to the museum located out back. Once inside you have stepped into the past. The jukebox is playing a 50s hit, maybe Jerry Lee, Fats Domino or even the King himself. The jukebox sits in a re-creation of a 1950s diner and really sets the mood.

One of the first of the vintage treasures I spotted was a Lampsteed Kampkar. This baby was produced through a marriage of two highly unlikely RV producers. It was built by Anheuser-Busch (yes, the same company that produces one of the most dangerous things you can drink while tooling down the road in an RV) and designed by Samuel B. Lambert, whose father was the treasurer of the company that manufactured Listerine. (For an interesting combination, you could gargle Listerine if you were determined to drink "what made Milwaukee famous" while driving this RV.)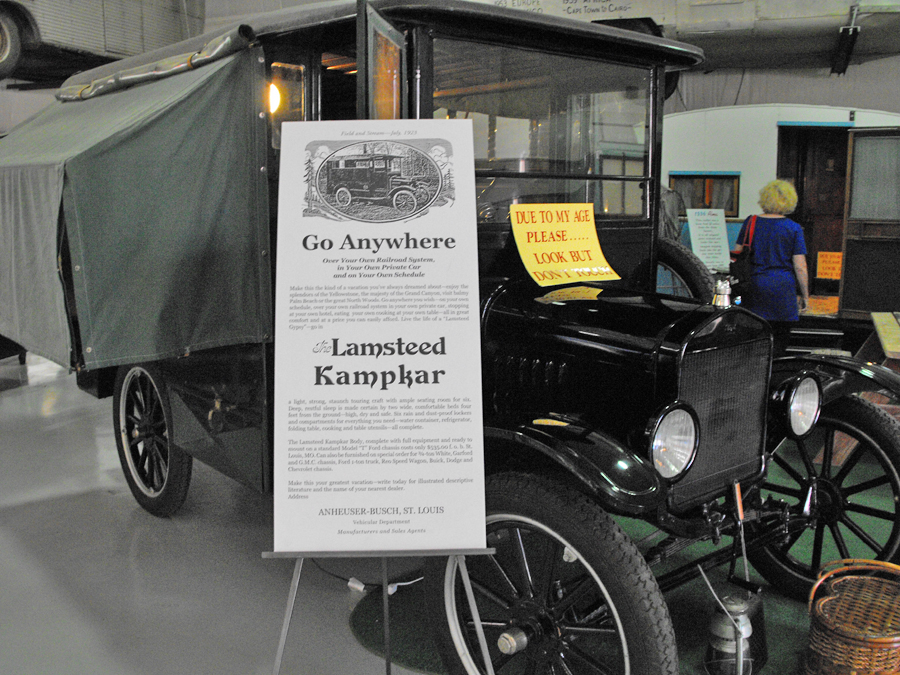 This was considered traveling in style back in 1931
The Lampsteed Kampkar was sold as a kit to fit the Model T Ford chassis. Once assembled, the rear compartment of the RV folded like a Pullman train car and became two double beds. When folded in an upright position, the bed frame's center section formed a pair of bench seats along each side of the vehicle's body. Portable back rests allowed a driver and "front seat" passenger to sit on the forward sections of the two benches just as if they were in the Ford's front seat. You could buy this RV for only $535 back in 1921. Don't even ask what it's worth today.
Moving a bit closer to the present time, I loved the big 1948 Flxible. This one may look familial to Robin Williams fans. This was the Gornickes' traveling home in the movie RV.
Wish Robin Williams could step into this beauty once more.
The Flxible Coaches are extremely popular. I saw one online for sale similar to this one and they were asking $27K. There is even a Flxible Owners International that holds rallies biannually where proud Flxible owners can show off their pride and joys. This one has been modified for the movie and is in showroom condition inside. Makes you want to hop in and drive it down the road.
The nostalgia continues with a shiny like new 1962 Airstream that looks like it just came out the showroom. Inside the curved look makes it so homey and comfy feeling. Maybe that is why Airstreams are still so popular today.
You could step into this one and travel in confort still
Then there is the little aluminum 1946 Teardrop built for a kit. This baby was restored 24 years ago and still looks perfect. I saw a Teardrop recently pulling into a campground and they are so cute and maneuverable.
I loved a tiny red and white 1953 Fleetwood Travel trailer not much bigger than a Teardrop. This was the first year Fleetwood built trailers.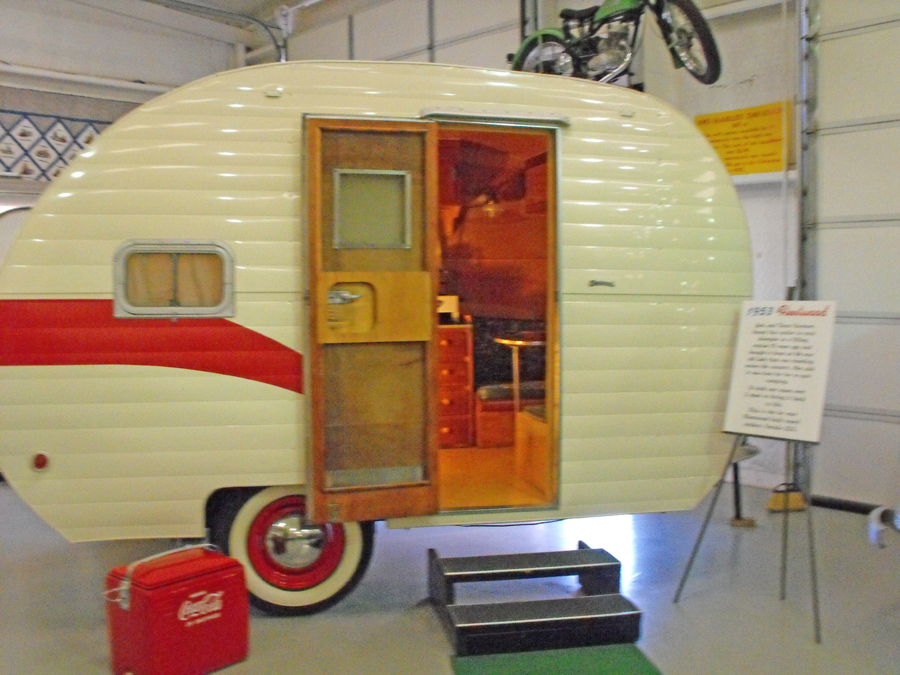 This little Fleetwood is a cutie pie.
Along with the RVs, the museum is filled with antique motorcycles. Up front is a recreation of an antique Standard Oil gas station as it might have looked in the 1950s. This is just a small sample of what you will find at the RV Museum. Jack Sisemore has been collecting vintage RV for over 25 years and this museum shows it was a labor of love. I could go on and on but why not just take a trip to Amarillo and see them for yourself . That is more fun.
This is a museum all RVers must visit.
For more Info: