West Virginia was born out of the War Between the States. Few other states were as divided in their sentiments. Hampshire County more than most of the other counties. It was part of the new Union state but bordered on Virginia, the most staunch of the Confederate states. Many of Hampshire County residents still thought of themselves as Virginians. It's no wonder that so much of this county's history is written in blood.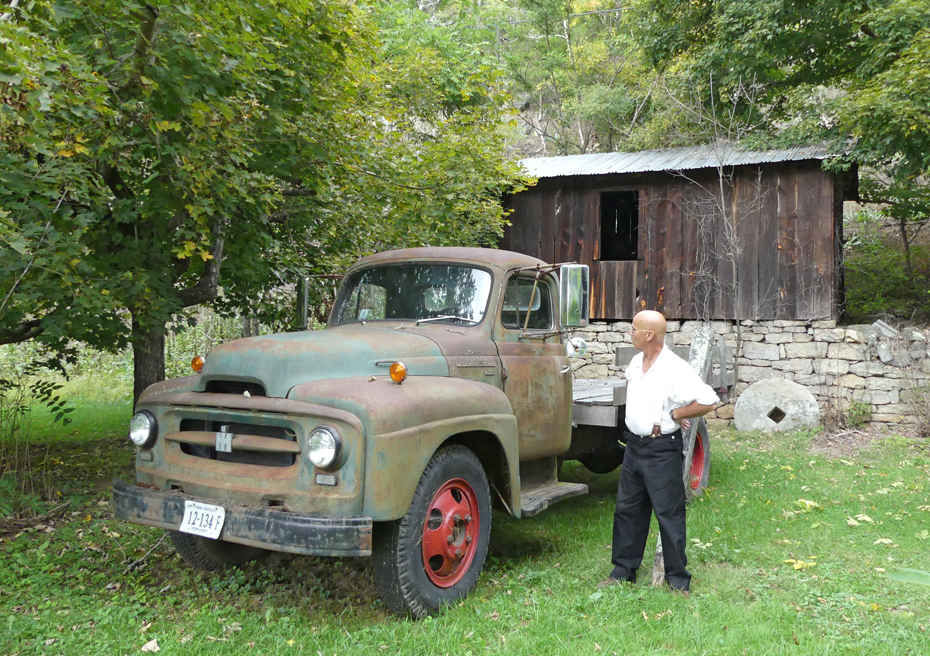 Steve Bailes shows me an antique truck parked in front of the Blacksmith Shop.
Not all of Hampshire County's history results from the Civil War. Back in the mid 1700s North River Mills, then part of Fredrick County, VA, grew along the Great Wagon Road as the Westward expansion begun. It was the scene of several attacks during the French and Indian War.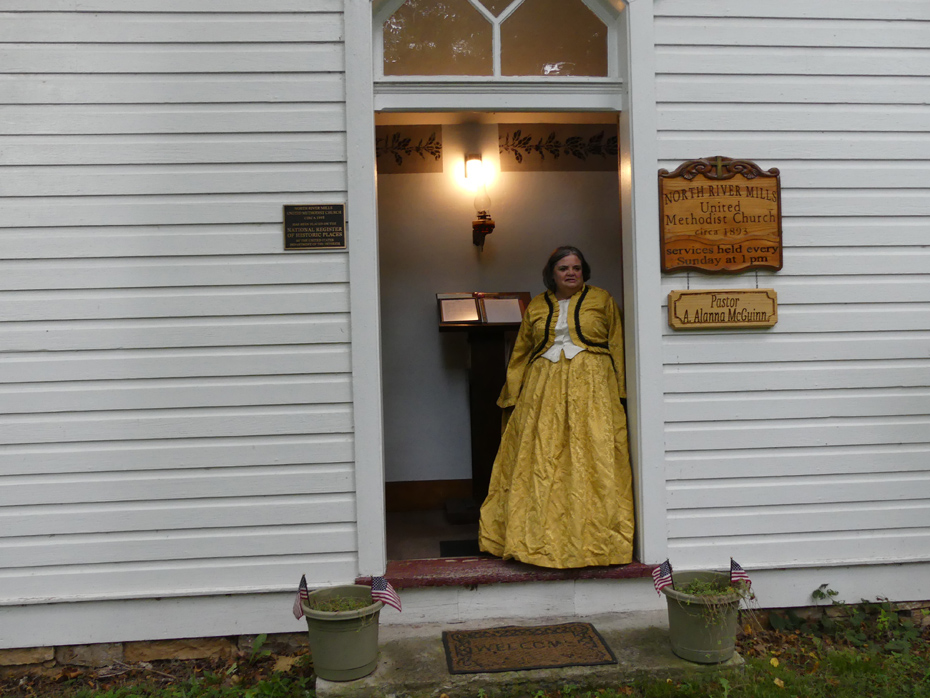 Terry Bailes at the entrance to the United Methodist Church
Remnants of the town still exist and bring that early American history back. We visited the Miller House and toured the historic Miller House. Steve and Terry Bailes, who now owns the Miller House, showed us around. She was in costume and made us feel we had stepped back in time. The house was once an inn for many years and home to the descendants of William Miller. William Miller also left his mark with the United Methodist Church built on land he donated in 1893. It is still being use today.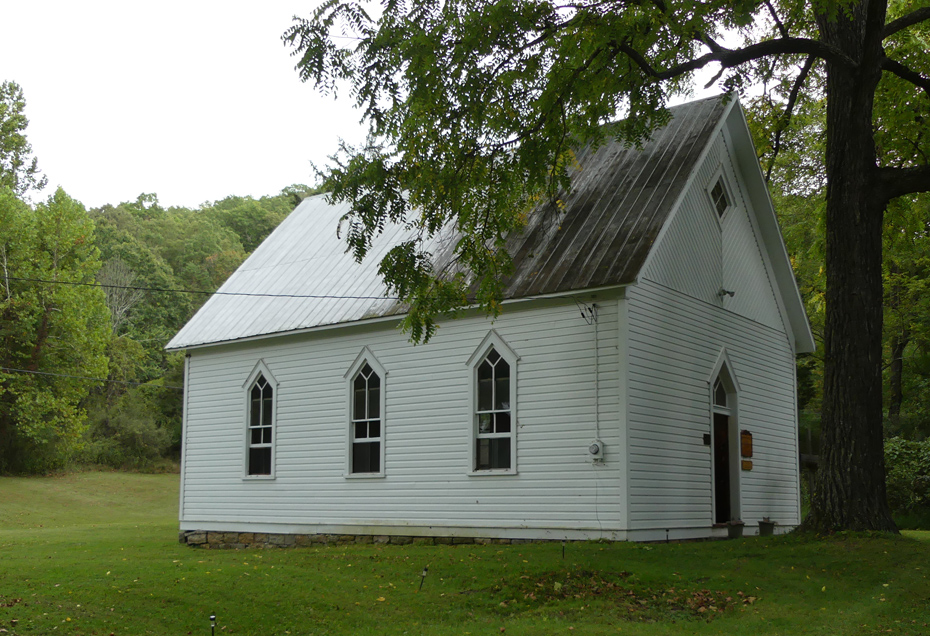 Little is left of the mills that once supported the town except a few remnants of the foundations. There is a classic old red barn across the street. An old blacksmith shop stands next door to Miller House. There is a tragic story about that shop. During the War Between the States, most of the town held Southern sympathies. However, the blacksmith, Frederick Kump, had a son, William, who went off to join the Union Army. He never returned and no one ever knew if he lived or died in the war.
The evening we visited a few local musician played some of the old folk music. There is an annual North River Mills Day in May when local residents in period dress bring the old town back to life again. In December you can visit for the Christmas Sing held at the United Methodist Church. Another event held annually is the North River Mills String Jam. Local musicians, Jim and Red, told me that play songs that predated Bluegrass, "We're bound together by our love of old music."
North River Mills survived the Civil War better than most towns. Red told me why. "Whichever side came through the town treated them like guests. There is a story of how a group of about 20 Union soldiers came and stayed overnight. In the morning the townspeople fixed them a breakfast. Just before they sat down to eat, a scout rode in with word that a large Confederate troop was nearby and could reach the town in about 20 minutes. The soldiers grabbed their tents and equipment and rode out. The townspeople threw more food on the grills and when the Confederates rode in they greeted them with 'Welcome. You're just in time for breakfast.'"
There is an interesting climate phenomenon just a short hike from the Miller House.It has an elevation of 1,230 feet, making it the fifth tallest mountain in the county. Terry told us It was used as a lookout during the Revolutionary and Civil wars, and saw some fighting. Ice Mountain has a strangely cool environment with temperatures much lower than the surrounding area. You'll find vegetation growing here that usually grows hundreds of miles further north. The mountain is owned by the Nature Conservancy.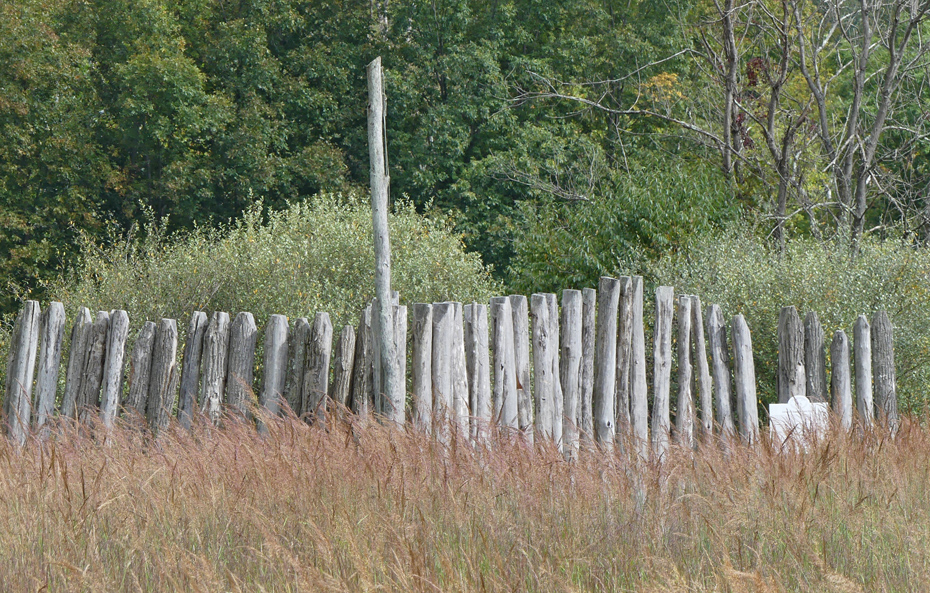 To protect the frontier settlers during the French and Indian War George Washington, then a colonel of the Virginia Militia, suggested a string of forts. He also advocated private fortification built by local settlers. One of the few settlers in what is now Hampshire County, Joseph Edwards, built his own fort. Fort Edwards had disintegrated over the years and virtually disappeared from the records. However when a land developer tried to buy a certain parcel of land in Hampshire County to build homes, a few old timers recalled "Wasn't that where that old fort from the French War was?"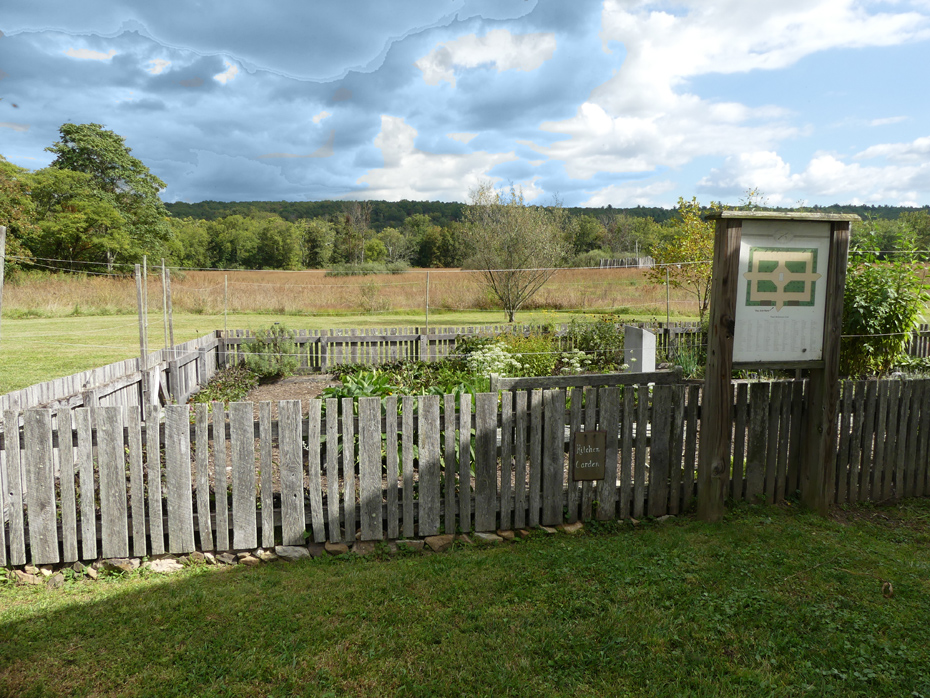 The garden at Fort Edwards grows plants that would have been grown in the 1700s
Luckily the developers deal fell through and the newly founded Fort Edwards Foundation was able to purchase the site. Excavations since have revealed much of what life was like in this small fort. The foundation now has a visitor center/museum to help you understand the importance of Fort Edwards.
Bob Flanagan, the historian at the visitor center, told us about the battles in the area and how the fort protected the area.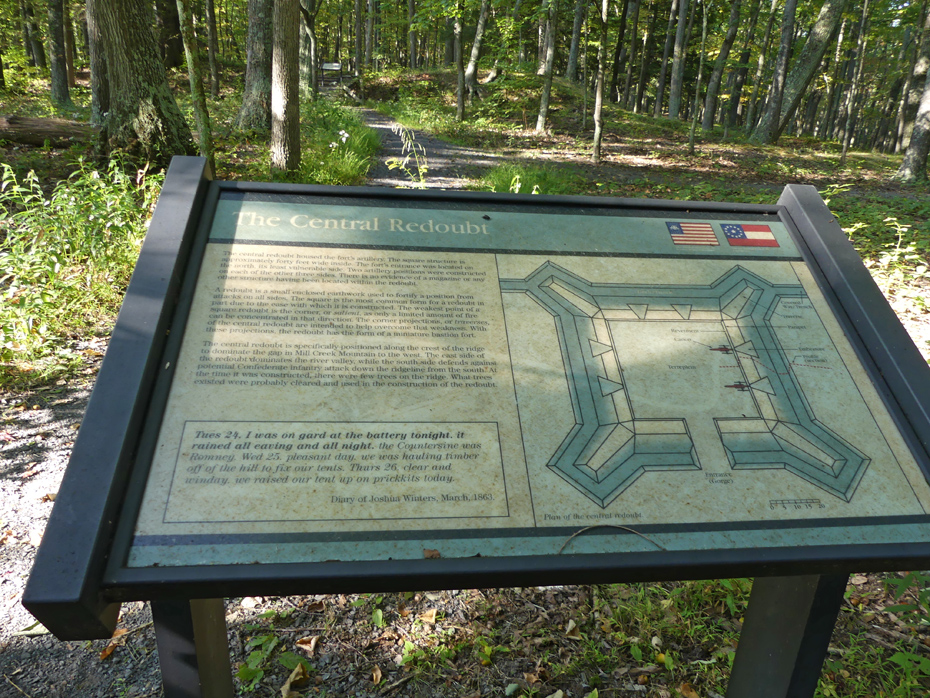 Fort Mill Ridge Trenches is another Hampshire County site related to another even more bloody war. At Fort Mill Ridge Civil War trenches were dug and lined with chestnut logs between 1861 and 1862 by the Union Pennsylvania 54th Artillery to defend the town of Romney. McNeills Rangers were locals and knew the countryside and could wreak havoc on the Union defenders.
The small West Virginia town of Romney could be easily overlooked when searching for historical treasures. That would be a mistake. Romney has some historical stories not found anywhere else. According to official records Romney changed hands at least 10 times during the Civil War. Oral tradition claims over 40 times. Main Street in Romney is a mix of stores, restaurants and historical buildings.
Davis House was built prior to 1798. The log cabin was home to the Davis family. Their three sons all fought in the Civil War. Two fought for the Confederacy and one for the Union. The house is open to the public and is filled with authentic relics of the war. Don't miss the blacksmith shop in back.
Wilson-Wodrow-Mytinger House is the oldest house in Romney and oldest office in WV. It was built between 1740 and 1780.
Stonewall Jackson Headquarters is also known as Liberty Hall. You can tour this one also. It is furnished much as it was during Jackson's residence. It was built in 1858.
Taggard Hall House was built by a Quaker named Frances Taggard between 1795 and 1798. Today it is the headquarters of the Fort Mill Ridge Foundation and houses a fantastic Civil War Museum.
That just scratches the surface. There is the Courthouse, Literary Hall, several historic churches, and much more. Be sure to pick up a Walking Tour map from the Convention and Visitors Bureau.
A great way to see parts of the county not easily accessible is aboard the Potomac Eagle Scenic Railroad. In the fall of 1991, the Eagle Canon Passenger Car Company began operating from Wappocomo Station just north of Romney. The Potomac Eagle is a scenic excursion train that takes you along the South Branch Valley Railroad. Besides the view of pastoral landscapes, mountain vistas, and farms that appear unchanged for a century, there are a few American bald eagles who reside permanently in an area called the Trough, a narrow passage where the train tracks parallel the Potomac River.
The train itself is a historic treasure. The Potomac Eagle #722 locomotive was originally built in 1952 and discovered in a Youngstown, Ohio salvage yard. It was the first in a series of diesel engines that replaced the steam engines. It was renovated and today is a reminder of the days when rail was the way to travel.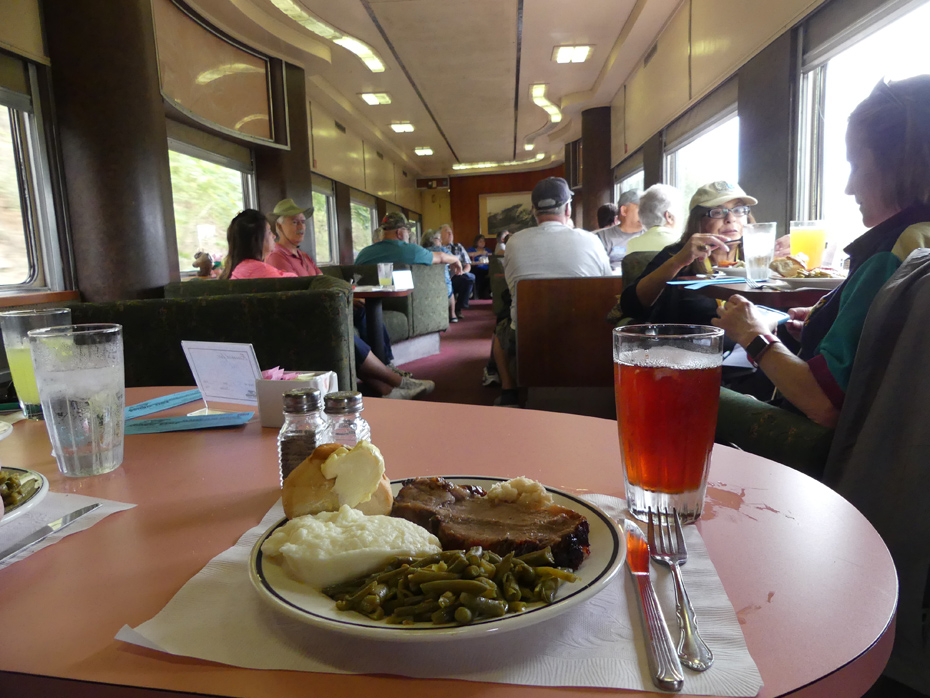 While rolling along you will dine well in one of their classic dining cars. The Eagle Canon or the Chessie Club were built in 1950 by Pullman-Standard Car Manufacturing Company of Chicago, IL for the Pere Marquette Railroad of Michigan. They are lunch counter, buffet-bar lounge cars.
Even the B&O caboose C2507 is a relic of a different era. It was built in 1940 at the B&O shops in Cumberland, Md. It was one of the first experimental, wagon-top, bay-window cabooses that replaced earlier cupola top cabooses.
There are many interesting dining opportunities in Hampshire. Here are just a few of the places to eat and drink that I was able to sample.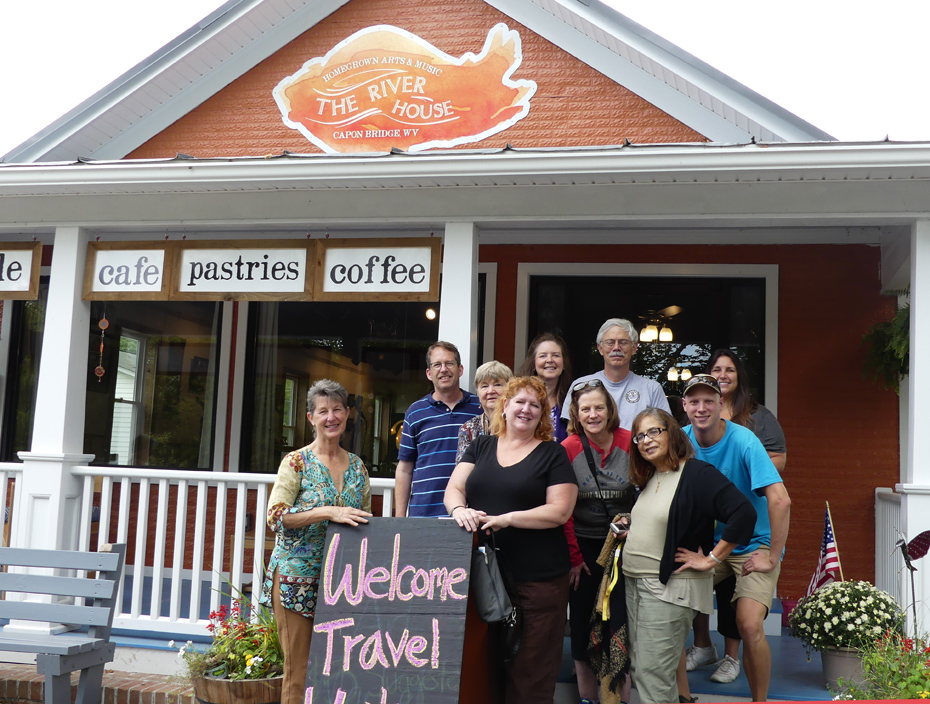 River House is more than a restaurant. It is a non-profit foundation to promote the arts. There are several participatory art events, music as well as painting, photography and crafts. The idea is to create a meeting place for all ages.
Food is not neglected. Johanna Murray, executive director, is an actor and musician. She welcomed us and explained why there is a cafe in an art foundation, "Meeting without eating is cheating."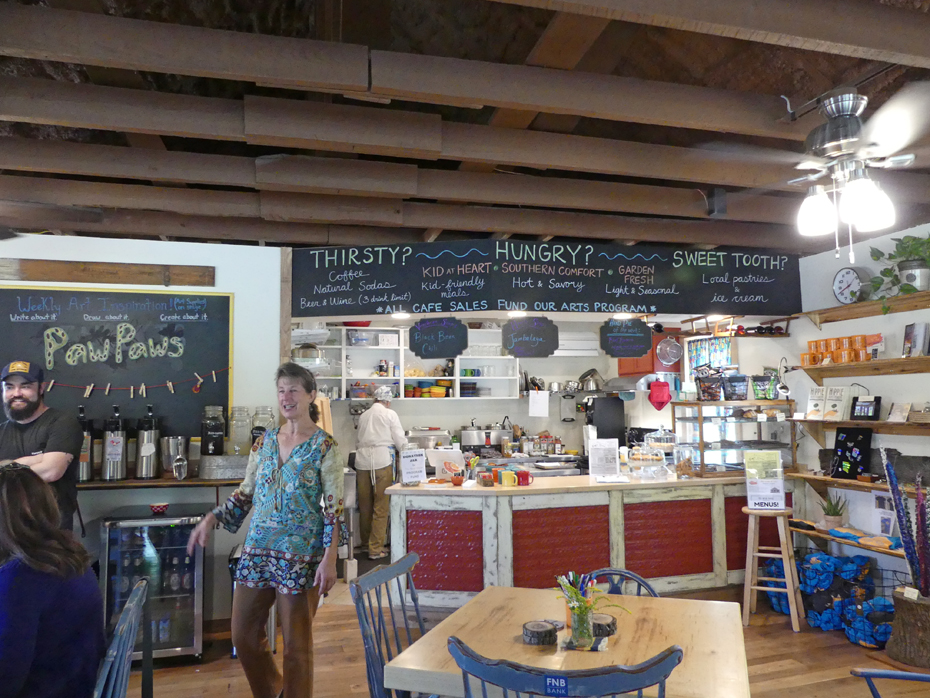 The food is light; they offer salads, soups, pastries. Dale Brady is not only a chef but an active member of many of the local creative projects. She bakes some terrific pastry.
It's located in Capon Bridge on the banks of the Cacapon River. After eating, you can walk out onto this historic bridge to view the river.
From the outside Main Street Grill in Romney looks like a series of five restaurants. When you look at the menu you see why. They really have choices like you find in seafood, Italian, steakhouse, burger joint, or just about any other style restaurant.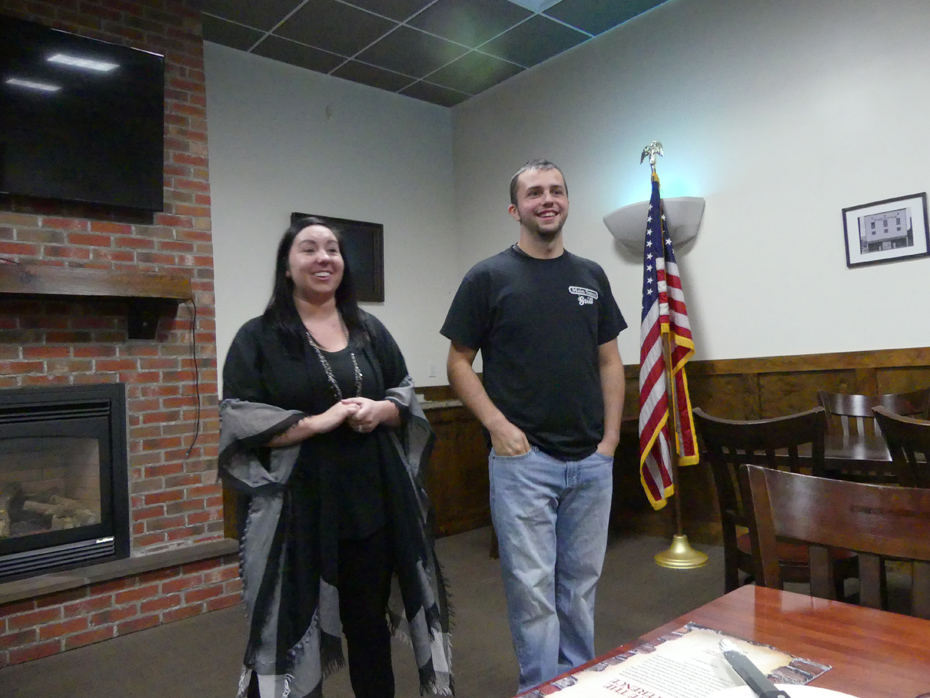 It's family owned and operated. We met two of the owners, sister and brother, Linzsey Taylor and Chandler Fender. Chandler runs the kitchen; Linzsey runs the front of house. She explained the huge variety, "Your whole family can get something they enjoy."They can accommodate up to 200 people.
My favorites were the Shrimp Alfredo an old fashioned ice cream soda. Others raved about the milkshakes. No one was unhappy with their choices.
Calvin Riggleman and Jim Gearing recently opened a new distillery called Flying Buck Distillery. It's located on Calvin's Bigg Riggs Farm at Pleasantdale on U.S. Route 50 near Capon Bridge. Jim had begun making wine and Calvin had not made moonshine before but though it was interesting. He got interested when he worked in his grandfather's orchard. He said, "One of the guys who worked there was a McCoy and all he talked about was running moonshine with his grandfather and how much he enjoyed it. I just thought it would be a fun thing to do."
| | |
| --- | --- |
| | |
| Still at Flying Buck | Calvin with two of his "helpers" |
The still is unique. It's a 200 liter, electric heated, reflux still. By having an unusually tall stack, it allows for multiple distillation in one run and creates a purer product.
The three versions, clear Moonshine, Apple Pie Moonshine, and Naughty Oak Moonshine, are made from corn grown on Calvin's farm. In addition to the moonshine, you can buy local produce in season and local jams and jellies. My favorite is the Apple Pie Moonshine made from apples grown in the family orchard.
There's even a historic place to stay in Hampshire County. Capon Springs Resort began in 1849 when a Baltimore company built Mountain House, a spa retreat style hotel on the site of an even earlier medicinal spring. Capon Springs Resort retains the historic feel with modern touches. There will be more about it in an upcoming issue.
Maybe it's because Hampshire County is the oldest county in West Virginia that they have so much to see and do. I don't know for sure. What I do know is that it is one fantastic place to visit.
For more info:
http://www.cometohampshire.com/