We've all familiar with Dallas and Fort Worth but did you know right in between those two Texas big names is one of Texas's best kept secrets, Grapevine? No matter your interest, there's something for everyone here whether you explore the streets of its historic downtown or sample the fruit of the vine on its urban wine trail. How's this for a typical day in Grapevine.
Check into the Gaylord Texan Resort, just six miles from DFW Airport. You could just spend the day (actually several days) there and have a different activity each day. There are pools, a spa, a fitness center, dining, shops, and pretty much everything you need to have a great trip. The weather is no concern as the 4.5 acres of lush indoor gardens and Riverwalk are covered and climate controlled. For the youngsters, they can pop down the rabbit hole with Alice's Adventures in Wonderland this summer or play mini-golf or…. But no tear yourself away and go see Grapevine. For more about Gaylord Texan.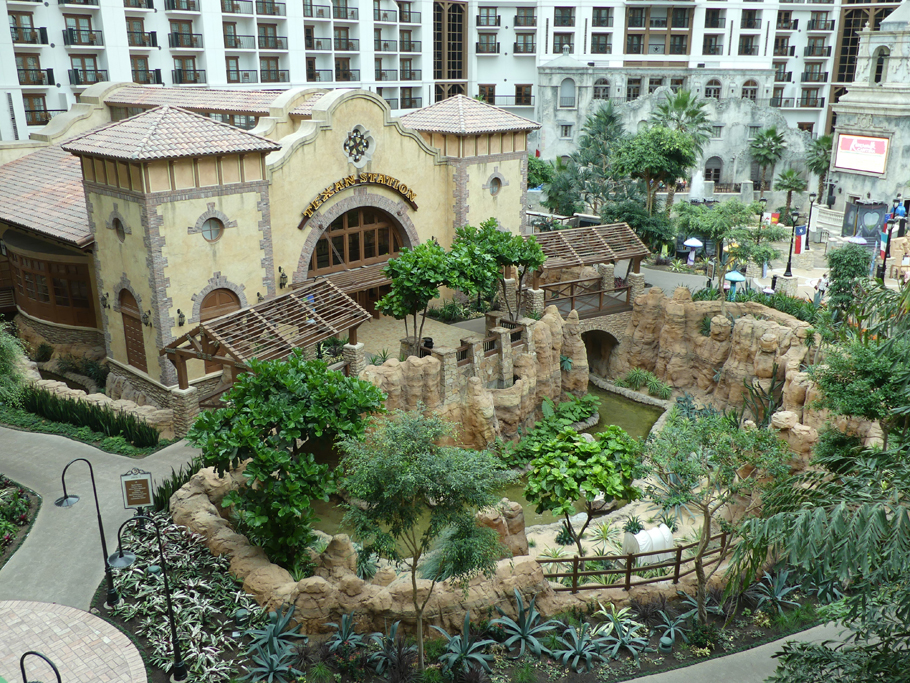 One of the courtyards at Gaylord Texan in Grapevine, Texas
No car? That's not a problem. Grapevine has a shuttle that takes you all over downtown for $10 per family. The historic downtown area is filled with shops; boutiques antiques, and droves of art galleries like Great American West Gallery, Holder Dane Art Gallery & Studio, Giddens Gallery of Fine Art, and Vetro Glassblowing Studio & Gallery.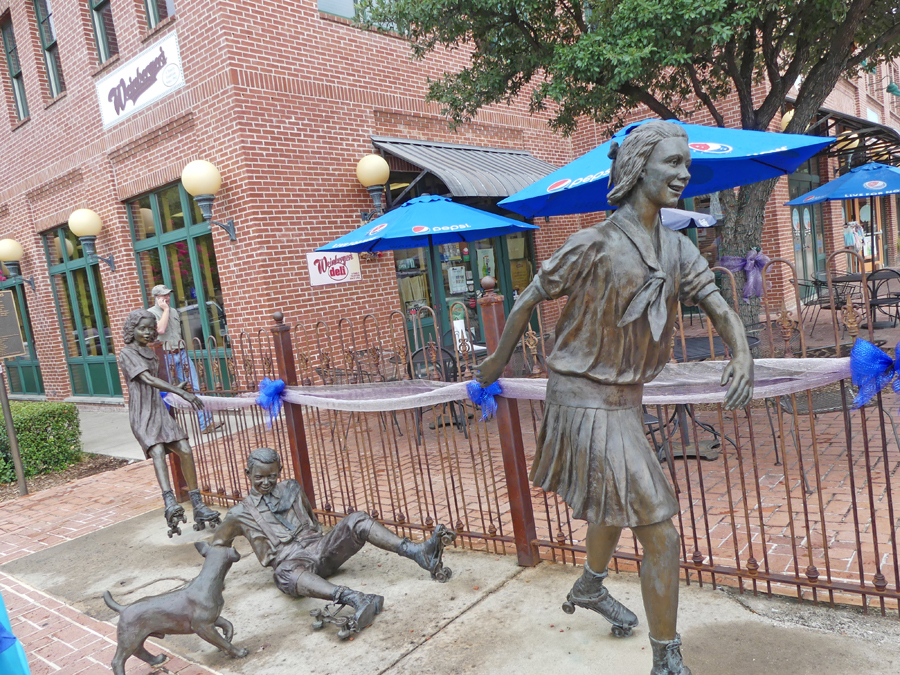 Sunday Skaters at Grapevine
Art is big in Grapevine. It's all around without ever entering a gallery. There is the bronze sculpture of a group of children skating called "Sunday Skaters" in front of Wine Fusion Winery. Look directly across the street to the top of Bingham Family Vineyards to see "The Night Watchman," a stature honoring Grapevine's first policeman.
Each building on that block is designed to replicate a period in Grapevine's history. The Convention and Visitors Center, on the corner is a great place to get information about the town's attractions.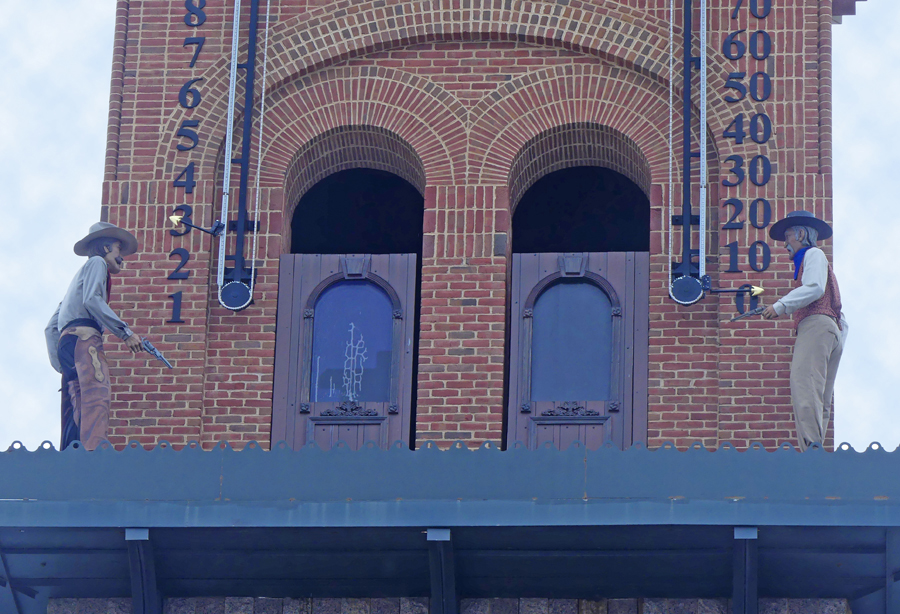 Nat and Willie duel Glockenspiel style
You can't miss Grapevine 's two 9-foot tall Glockenspiel characters, the Would-Be Train Robbers, Nat Barrett and Willy Majors are in a 127-foot-high Clock Tower. The bandits strut their stuff 75-feet in the air on the clock tower platform each day at the noon, 3 p.m., 6 p.m. and 9 p.m.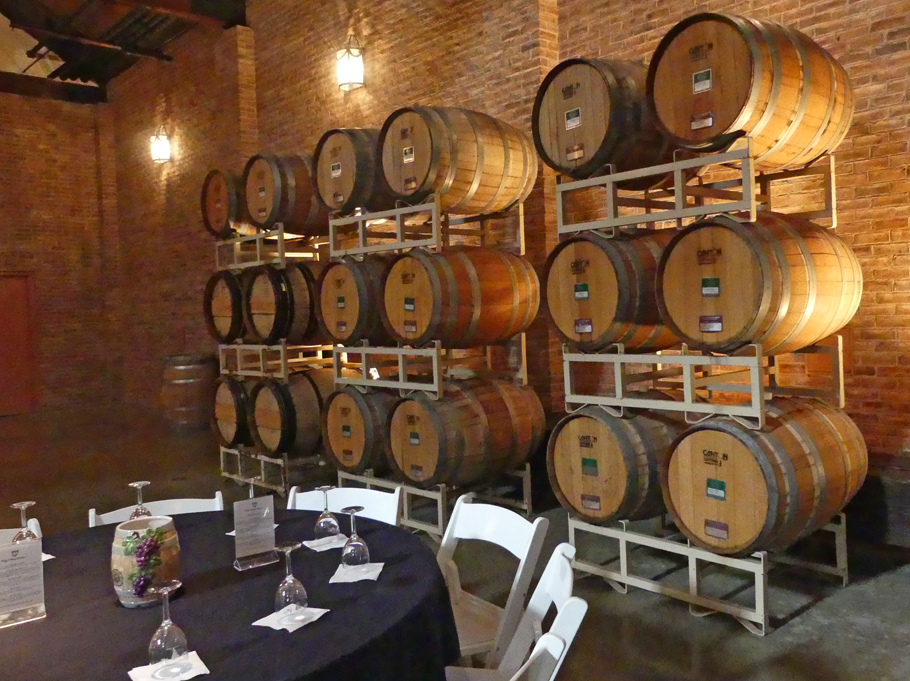 Ready for a tasting at Delaney Winery and Vineyards
Want some more grown up pleasures, the wine tasting rooms are all over downtown. Stop in at Homestead Winery at 211 E. Worth St. just a block off Main Street in a 100 year-old Victorian home. There's Messina Hof Winery. Delaney Winery has a small vineyard and bottling facility on site. Most of the grapes are grown at a different location near Lubbock and bottled there but enough are grown and bottled here to give you a feeling for the process. The building is worth a visit just for the style and art. It mimics a historic French chateau. I fell in love with the mural on the entryway ceiling.
Grapevine Wineries have won countless awards for their wines most are within walking distance.
From grapes to glass at Delaney Vineyards
If you love museums you will be enthralled with the collection of Settlement to City Museums at Ted R. Ware Plaza. It offers a collection of historic houses from the region, each with a different museum inside.
The Keeling House Museum built in 1888 features Grapevine artifacts, and lots of their past police and firefighter relicts. Their Settlement to City collection tells Grapevine's earliest frontier history
The Donald Schoolhouse is a story of how Grapevine's education system flourished. The tiny house it is set in had once been two different one room schoolhouses and they were combined way back to make a two room schoolhouse according to the docent there.
Donald Schoolhouse Museum
Grapevine Historical Museum, the largest of the museums, is housed in the replica of the original Grapevine Ice House. One exhibit really sums up this museum theme. It is Memories to Melt the Heart filled with letters and notes from the citizens recounting happy memories of the ice house. One letter from Terry Tillman reads, "The ice house was an oasis for me! The weather was hot and the ice house was always so cool. I could always find a stray piece of ice to wash off my face and pop into my mouth for the rest of my bike ride home after school."
There is an old Cotton Ginners Museum which was not yet open when I visited but the docents told me it would be open by next spring as they are waiting for an authentic cotton gin which is presently in North Carolina and needs to be brought here and set up.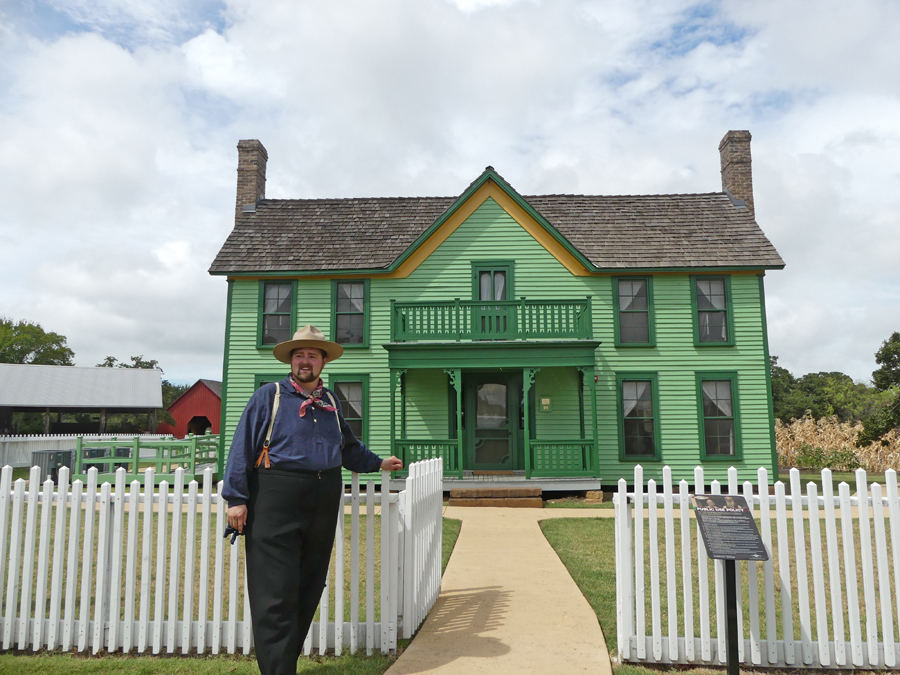 Docent welcomes visitors at Nash Farms
Nash Farm is a "must see" attraction. The farm dates back to 1859 when Thomas Jefferson Nash came from Kentucky to the Grape Vine Prairie seeking a better life for his family. He liked what he asw here and bought the farm for $500.
The farm remained in the Nash family until 1927, when Thomas's descendents sold it. It then passed through several different families. Much of the land was stripped from the farm and sold. In 1997, the remaining 5.2 acres with house, barn and family cemetery was bought by the Grapevine Heritage Foundation. They preserve it as it was in Thomas Nash's time. You can tour and see chickens, turkeys, sheep, local crops and life in the late 1800s.
For dining you have a lot of choices from fast food to upscale. The Winewood offers an open kitchen with a wood fire grill so you can watch the chef prepare your food. A Smoked Gouda Mac and Cheese is one of their specials.
Mac's on Main is another good choice for traditional American fare. It's eclectic, combining southwestern, Cajun and worldwide foods.
Farina's Winery & Cafe with its old world atmosphere is filled with antiques and serves everything from pizza to steak.
Tolbert's is where the locals have been dining for 28 years. Their newest location reopened in Historic Downtown Grapevine. It's a great place for lunch. I enjoyed their Bowl of Red, a special chili con carne recipe, but you can also get burgers, steaks, salads, soups, and many other choices.
Jazz muscians play on Vintage Railroad
It you visit during late November or December, the Vintage Railroad offers two specials excursions. The Wine Train for adults with fine wine tasting as you ride the rails. Be aware, this one is just three days in December. Then from Thanksgiving to Christmas, you can take the kiddies on the Polar Express. Dress in your favorite PJs and ride the Polar Express to meet elves, Mrs. Claus and Santa for the memories of a lifetime. Train fun doesn't end the rest of the year, the train offers trips where you can experience the railway as it was in Grapevine's earlier days. Great Train Robberies trips come complete with train robbers who stop the train and attempt to rob the passengers. All the "junior deputies" aboard help foil the attempt and the train continues on its route. There are Stockyards trips and other excursions. Day or night, the train rides offer a step back to a different time.
For some grown up nighttime entertainment, visit the Glass Cactus Nightclub part of the Gaylord Texas complex. It's the upscale nightclub where you can order a special cocktail at any of their four Texas-sized bars and enjoy some of the hottest entertainers around. Dance on their 2000-square-foot dance floor in a swirl of unique lighting. Dine on tasty bar food.
What a perfect place to spend a day or more. There is so much to see and do in Grapevine than I could pack into one story like Sea Life Grapevine Aquarium, Legoland Discovery Center, Texas Star Dinner Theater, Grapevine Mills, and… but you can't experience it all in just one day. You have to come see even more of Grapevine for yourself.
For more info:
http://www.grapevinetexasusa.com/