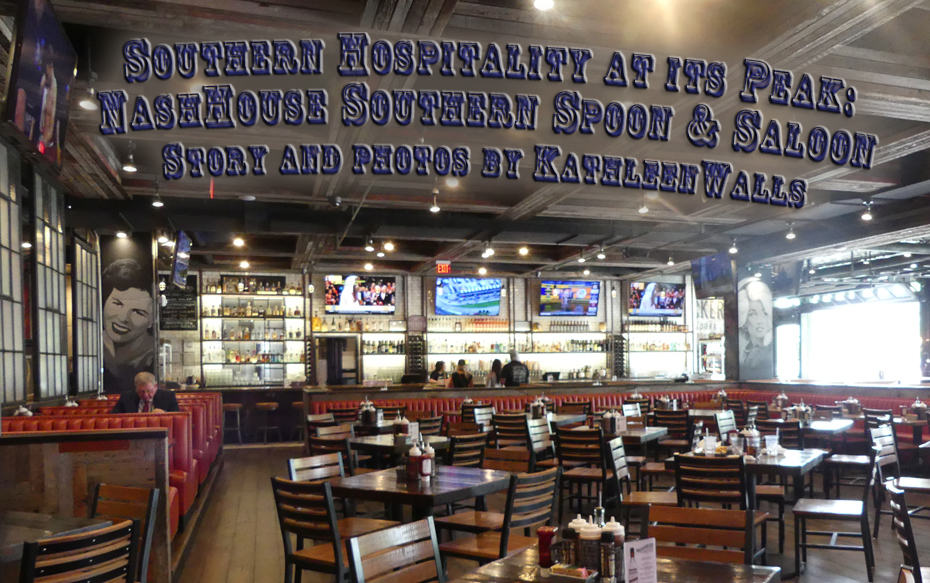 Published 8-8-2019

NashHouse Southern Spoon & Saloon in Nashville, Tennessee is more than a dining establishment. It's a tribute to Nashville's Country Music. It's relatively new having opened in March 2018 and is booming. Location of course is important. It's in the Cambria Nashville hotel putting it walking distance from the Country Music Hall of Fame, Music City Center, and the Johnny Cash/Patsy Cline Museums.
NashHouse food is pure southern hospitality at its best. Our server, Alisia, was very helpful telling us about the different foods. I sampled the Fried Green Tomatoes and their Deviled Eggs Five Ways. The tomatoes are crispy on the outside and delicious on the inside. They are spiced up a bit with pimento cheese, and some special Nash Sauce and chow chow for dipping. The five eggs are each different, flavored respectively with pimento cheese, peppadew, hickory bacon, chow chow, or dill pickle.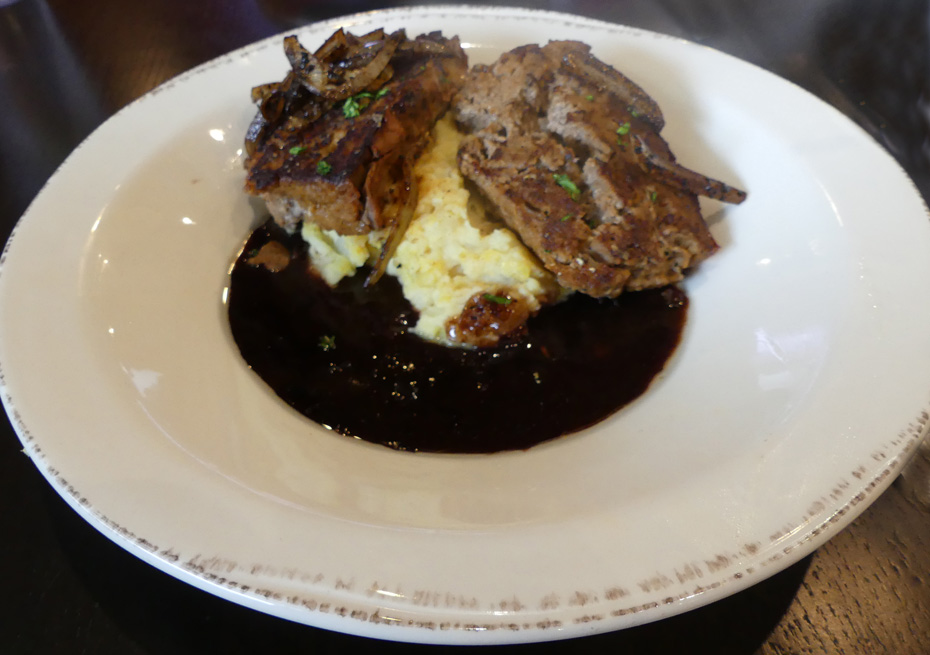 For my entrée, I had the meatloaf. It was served over smashed potatoes with caramelized onions and mushroom bordelaise. So yummy and way too much to eat as I had to save room for dessert. The leftovers made my very filling dinner later that night.
Dessert was an impossibly gorgeous sculptor of chocolate cake and ice cream. It was almost too pretty to eat but we did. Talk about melt in the mouth fantastic!
Co-owner, Kelly Black was, and is still, deeply involved in Nashville's Country music scene. He wrote music under the name Kelly Garrett. "This Is Your Brain" a song recorded by American country music artist Joe Diffie, is one that Kelly co-wrote. This is his third venture into the restaurant business and a really good choice.
Kelly Black's partner, Bill Tisano, had lunch with us and told me a lot about the background of the restaurant. Because of Kelly's music background, they have entertainment every night. I noticed a beautiful western style cowboy suit displayed on the huge stage and asked about it. I learned it is just one more connection to Nashville music.
It was designed by Manuel. Can't believe I had never heard of this amazing man. He designed costumes for virtually every great and famous name in Hollywood and Nashville. He was the needle behind Johnny Cash's Man in Black costumes, the rhinestones shimmering on Porter Wagoner's coat, the wiggle in Elvis's jumpsuit, even the mask on the Lone Ranger. Born in Mexico, he immigrated to the US in 1951. Now in his 80s, he is still producing amazing costumes. In the late 1990s, he creating his 50 State Jacket Collection as homage to his adopted country. Each jacket represents one of the states.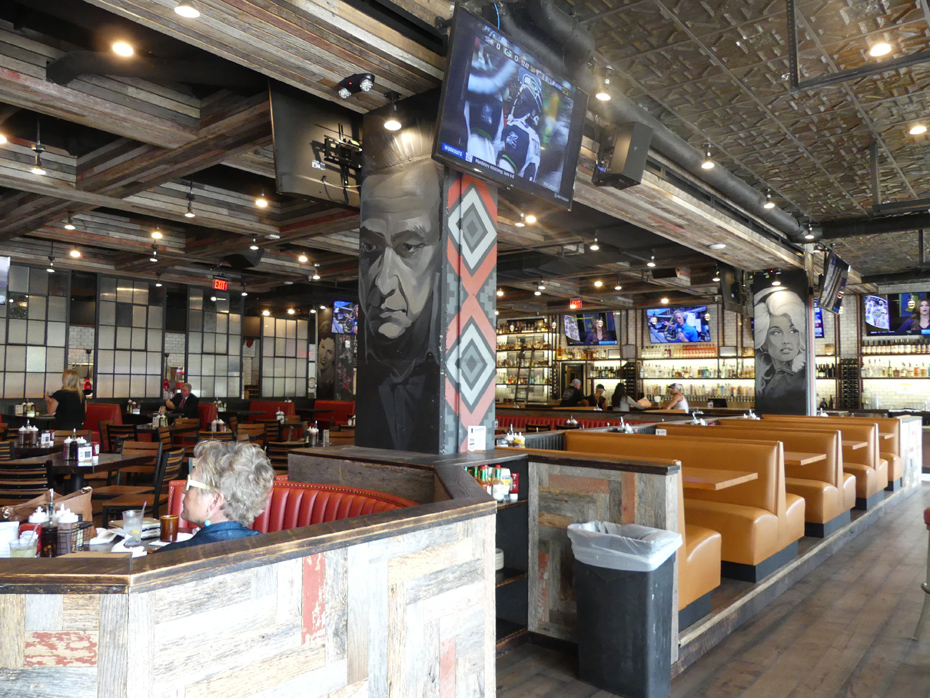 Music is not just onstage here. The building's columns are adorned with music icon's images. There are larger than life faces of Johnny Cash, Dolly Parton, Patsy Cline and others on each of the supporting pillars. Each of the columns sides are decorate with an image of guitar straps.
Besides the 130 inside seats, there is outside dining just separated from the main restaurant with large glass garage style doors that slid up or down depending on the weather.
Much of the building's material is salvaged from demolished buildings. Like the windows from an old manufacturing plant that divides sections of the building. Everything is designed for excellent sound and stage view from every table.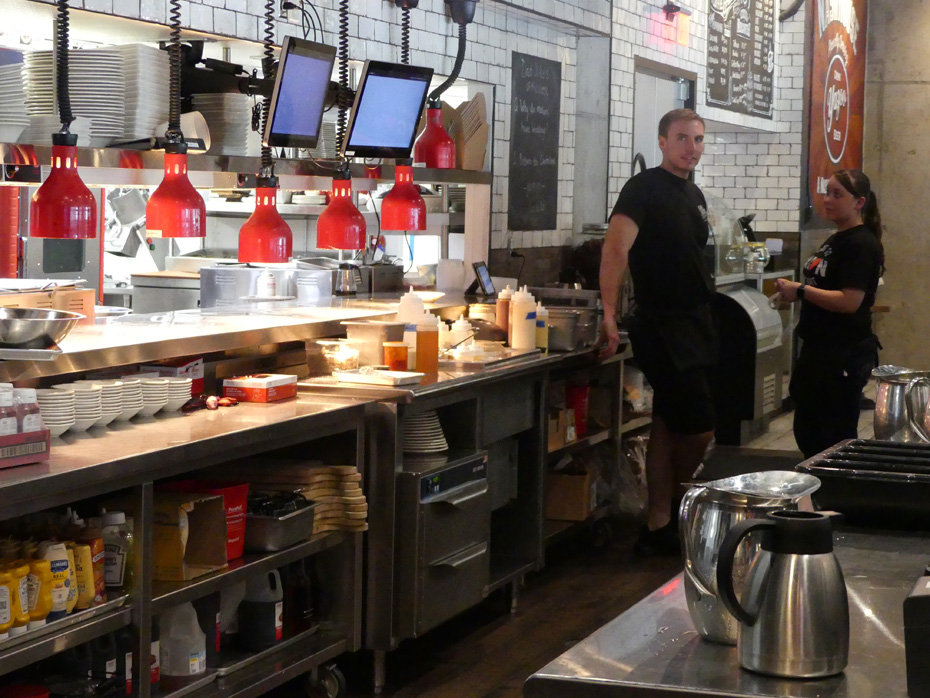 The kitchen is open to view and has an ultra modern look. The bar has about 36 beers on tap, most from local and regional breweries. They stock local distilleries like Pickers Vodkas and naturally you will find Jack Daniels' Tennessee sipping whiskey there. Four large screen TVs are positioned over the bar so you can choose what to watch.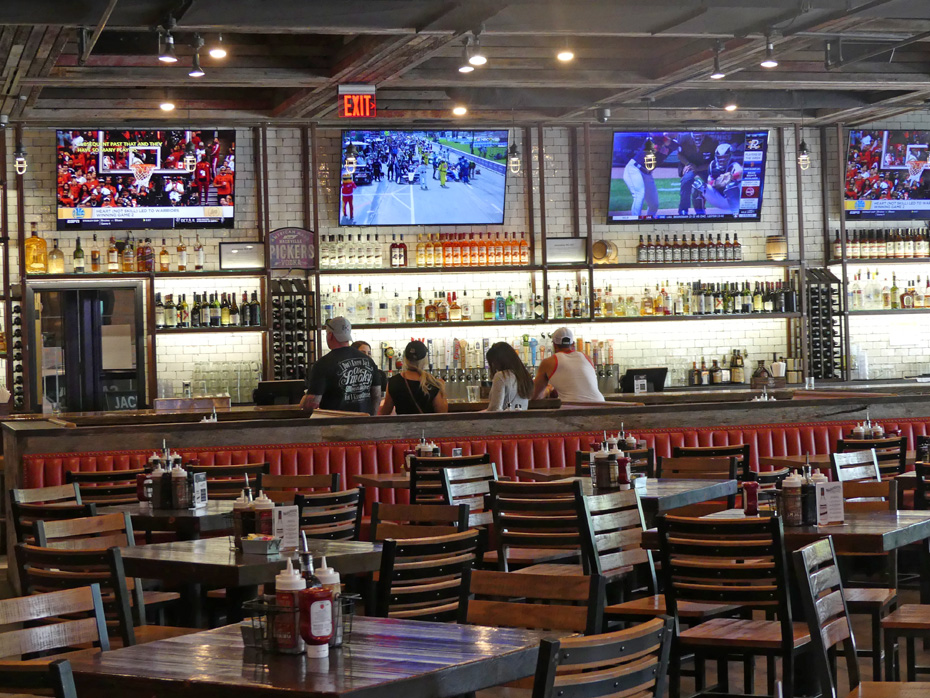 If you are driving, they offer a two hour free parking with dining. In short, it's a place where Southern Hospitality lives up to its name in the fullest.
For more info:
https://www.nashhousesaloon.com
We'd love your comments!