Cheraw, South Carolina is noted for many things but for music fans one stands out. It's the home of Dizzy Gillespie. John Birks Gillespie was born here on October 21, 1917. His childhood had a few bumps in the road. He father, who was a brick layer and part time musician, died when Gillespie was only ten.
Gillespie was very fond of movies and became quite adroit at sneaking into the local Lyric Theater. The theater owners found an unusual way to deal with him; they hired him as child bouncer to keep other kids out while allowing him access in return. The theater, built in 1920, is now the Theater on the Green and shows live performances.
Around the time of his father's death, Gillespie's English teacher, perhaps trying to fill a need in the child, introduced him to music. It was love at first note. Gillespie joined the school band, first playing the trombone, but found his real calling and switched to the trumpet. This small step in his education put him on his life's path. He soon earned a scholarship to Laurinberg Institute in North Carolina.
Dizzy Gillespie went on to become one of the biggest names in the Jazz world and a major founder of BeBop Music. He began playing for both Black and white audiences in Cheraw very young. His family moved to Philadelphia in the early 1930s. He never forgot where he came from and often opened his shows with, "I'm Dizzy Gillespie from Cheraw, South Carolina."
As a teen, Gillespie earned the nickname "Dizzy" for his quirky behavior both off and on stage. One instance was when he began carrying his new trumpet in a paper bag while playing with the Frankie Fairfax band in Philadelphia.
An incident that happened in 1953 helped shape Gillispie's sound and his image. Someone accidentally fell on top of his trumpet and bent it. When he played the bent instrument, Gillespie found he liked the clearer sound and so had new instruments made with a similar bend for then on. It and his naturally puffy cheeks became his trademark.
Moving to New York around age nineteen, he played with such household names as Cab Calloway, Charley Parker, Duke Ellington, Sarah Vaughn, Ella Fitzgerald and others. He loved to play a unique solo style with his trumpet but it wasn't until he formed his own band, and began playing at the Onyx Club on 52nd Street that he was free to perform his own music. In his book, To Be or Not to Bop, Gillespie stated, "The opening of the Onyx Club represented the birth of the bebop era."
In 1990, Gillespie was awarded the National Medal of the Arts by President Bush. Grammy Award for Best Improvised Jazz in 1976, Grammy Lifetime Achievement Award in 1989, Grammy Award for Best Large Jazz Ensemble Album in 1992. In 1995, he was inducted into the Grammy Hall of Fame. He received Paul Robeson Award from Rutgers University Institute of Jazz Studies in 1972, Duke Ellington Award from the society of Composers, Authors, and Publishers in 1989 and Kennedy Center for Honors Award in 1990. Posthumously, in 1998, he received Porin Award for Best Foreign Jazz Music Album. He died January 6, 1993.
You can follow his young life in Cheraw. The Town Green displays a 7-foot bronze statue of Gillespie playing his famous misshapen trumpet designed by renowned artist Ed Dwight of Denver. At the base, inscriptions note highlights of his career.
Across the street visit the Theater on the Green where Gillespie enjoyed watching movies as a boy.
The Lyceum, built around 1820, is now a museum. The building has an interesting history. It was built as a chancery court and later became a meeting room and private library for town intellectuals. It connected Cheraw with the outside world as the city's first telegraph office in the 19th century. During the Civil War, it served as both sides quartermasters' headquarters. Today it is filled with material telling Cheraw's history including some Dizzy Gillespie material as well as Indian artifacts, steamboat era and Confederate War relics. The interesting thing is Cheraw is a very trusting town. Visitors can pick up the key at Cheraw Town Hall and the Greater Cheraw Chamber of Commerce, located just down the street from the Theater on the Green.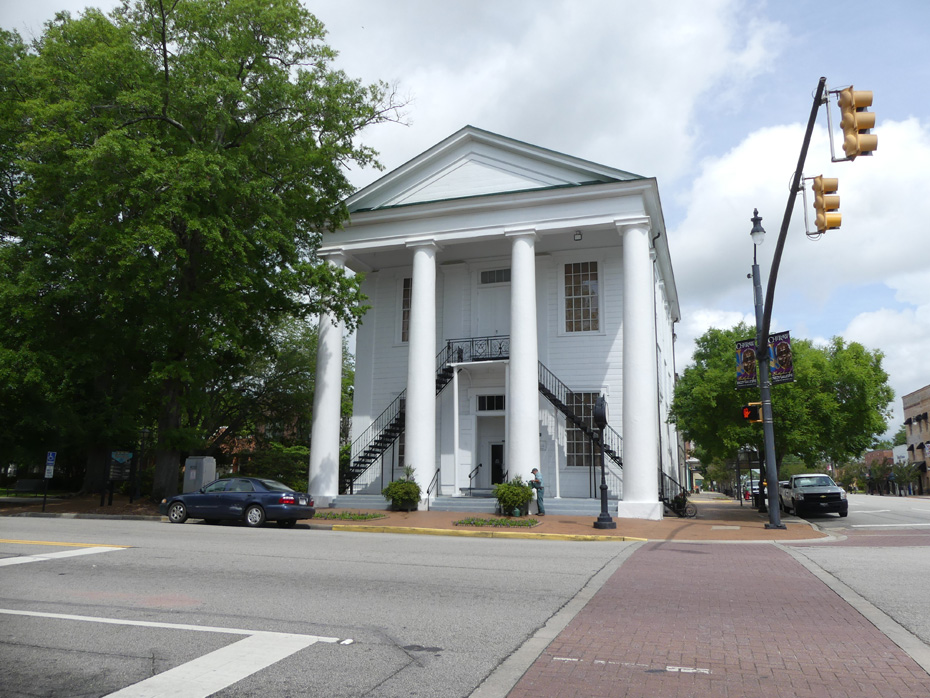 Town Hall is that columned, two-story, white building built in 1858. It's just across the street from Market House. Today, it serves as the seat of city government but in Gillespie's day, it was an opera house and Masonic ballroom as well.
As a child he attended Wesley Memorial United Methodist Church on Greene Street. The original church was rebuilt in 1915.
Drive out to Dizzy Gillespie Park built on the site of his childhood home. There's a SC Historic Marker honoring Gillespie there. You can sit on the stainless steel benches and contemplate the sculptures designed by artist Bob Doster collaborating with Cheraw school children. Doster's stainless steel fence contains the notes of Salt Peanuts, one of Gillespie's best known works.
The town pays homage to their favorite son each year with the South Carolina Jazz Festival on the third weekend in October.
For more info: http://cheraw.com/about_cheraw.php?10