One of the most iconic names in country music history is Patsy Cline. She was the first female artist inducted into the Country Music Hall of Fame. She was one of the first country music singers to have a big crossover hit. "Walkin' After Midnight" reached No. 2 on the country chart and No. 12 on the pop chart. When she was featured on Arthur Godfrey's Talent Scout she topped out the applause meter. Other songs that will always recall Patsy Cline, no matter who the cover artist is, are "I Fall to Pieces" and "Crazy."
She was a 16 year old in Winchester, Virginia when she first began her singing career. Her home in Winchester is now a museum that traces her rise to stardom. Patsy, who used her legal name, Virginia Patterson Hensley or went by the nickname Ginny, got her first break when she performed on local radio station, WINC.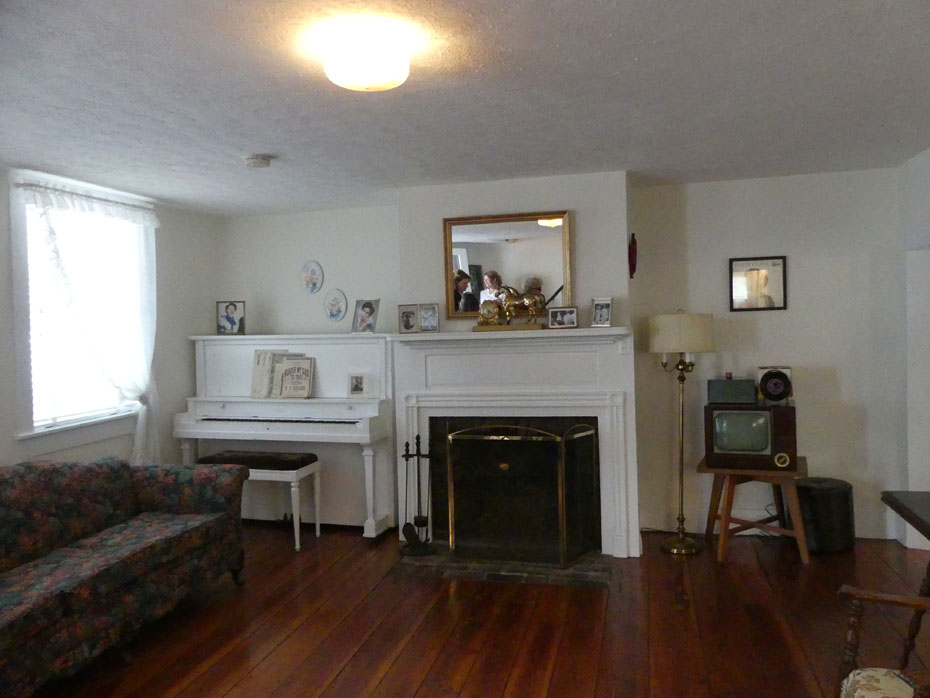 An upright piano similar to the one on withc Patsy first learned to play sits in the living room. She played by ear as she never learned to read music.
This was Patsy's home longer than any other place. She lived here from November 1948 through June 1957. It was originally a log house built in the mid-1800s. It's listed on National Registry of Historic Places and Virginia Landmark Register.
There is a recording in the living room that the docent plays where Arthur Godfrey speaks with Hilder and then introduced Patsy. Fans will note the version of "Walking After Midnight" she sings on the recording is slightly different from the recorded version one usually hears. She could not take her actual band and the band that backed her up was more of a pop band than county. Godfrey's comments after her performance is drowned out by the applause.
The picture on the piano shows the cowboy outfit she planned to wear. When she got to New York, the show's producer took her shopping and bought her a cocktail dress to wear.
Her brother and sister and other family members sat in this very living room and watched that show.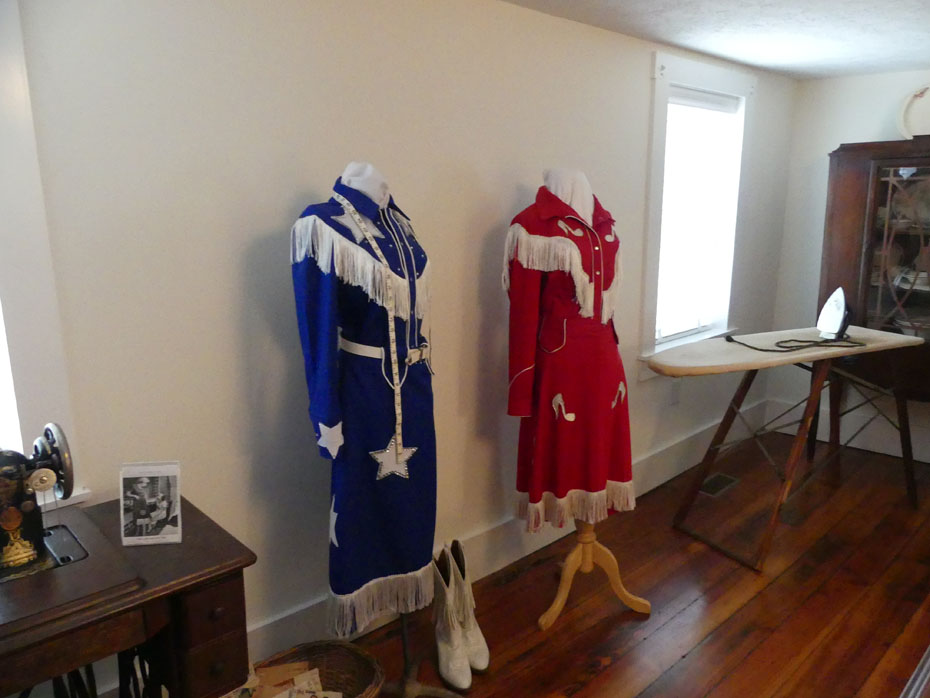 Patsy's mother, Hilda, was a seamstress and made Patsy's costumes. Throughout the simple home, you see the costumes made with love on her mother's old Singer machine. On the table in the dining room there is a notebook with sketches Patsy created of the costumes designs she wanted. The sewing machine and ironing board is in that room for the better lighting.
The two red chairs in the kitchen are original to the house. The kitchen itself and bath were added in 1953 when they enclosed a back porch to make a kitchen and a small half bathroom was added. This was when they got running water in the house. Prior to that there was an outhouse. Hilda originally cooked on a small wooden stove.
Upstairs there is one big room. The entire family slept in the room. Her pants and coat are displayed in the room. Hilda also made doll clother to suplement the family income. The four drawer dresser allowed one drawer each for her, her mom, her sister and her brother. Patsy's father, Sam, and Hilda were divorced by this time.
Patsy Cline died in a plane crash on March 5, 1963 near Camden, TN. She was returning from a benefit performance for the family of disc jockey "Cactus" Jack Call at the Soldiers and Sailors Memorial Hall in Kansas City, Kansas. Her last song was the last one she had recorded just about a month ago, "I'll Sail My Ship Alone."
She is buried in nearby Shenandoah Memorial Park with her husband, Charlie Dick, who passed away in 2005. A plaque reads "Death Cannot Kill What Never Dies: Love." People put pennies on Patsy's grave because, as our guide Joyce McKay told us, "it's supposed to bring you luck." Nearby there is a bell tower that used to play music. It was erected in her honor by Loretta Lynn, Dottie West and other musician friends.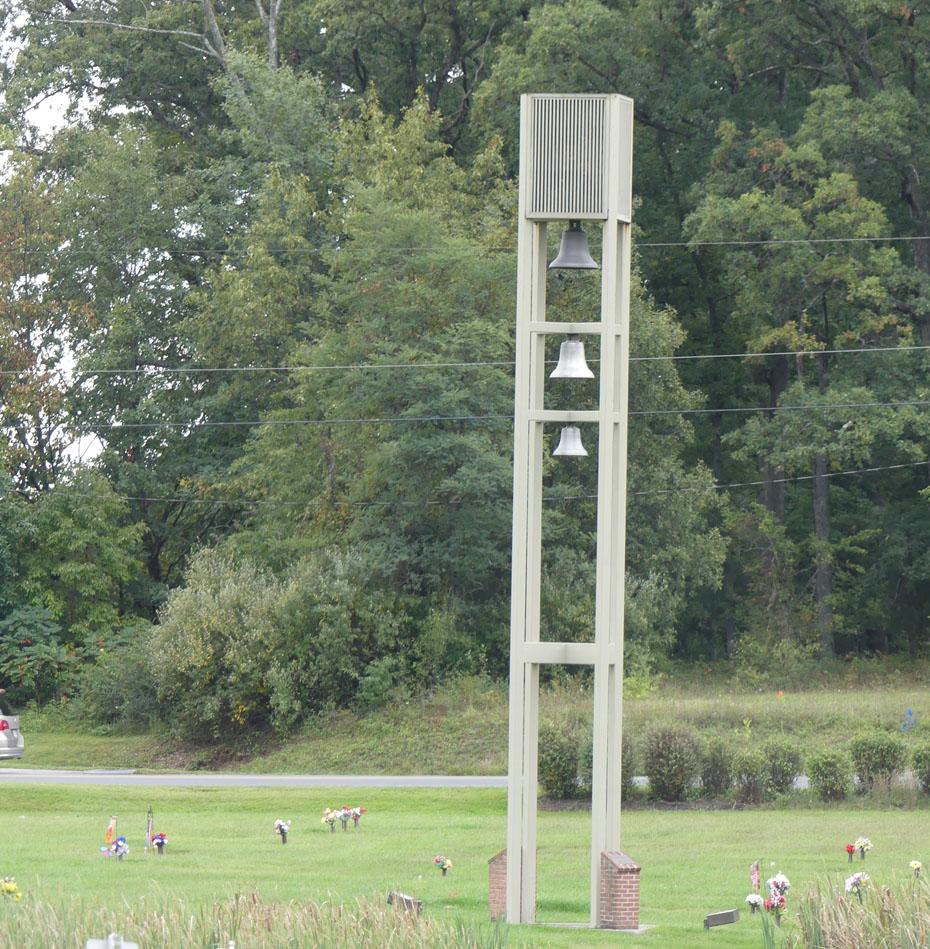 Many other places in town were touched by her. Gaunt Drugstore where she worked and John Handley High School where she registered but never actually attended, opting to work to help the family finances instead.
Johnny Cash best summed up Patsy Cline when he introduced her on a 1962 tour they shared: "Ladies and Gentlemen, The One and Only - Patsy Cline."
For more info:
http://celebratingpatsycline.org/