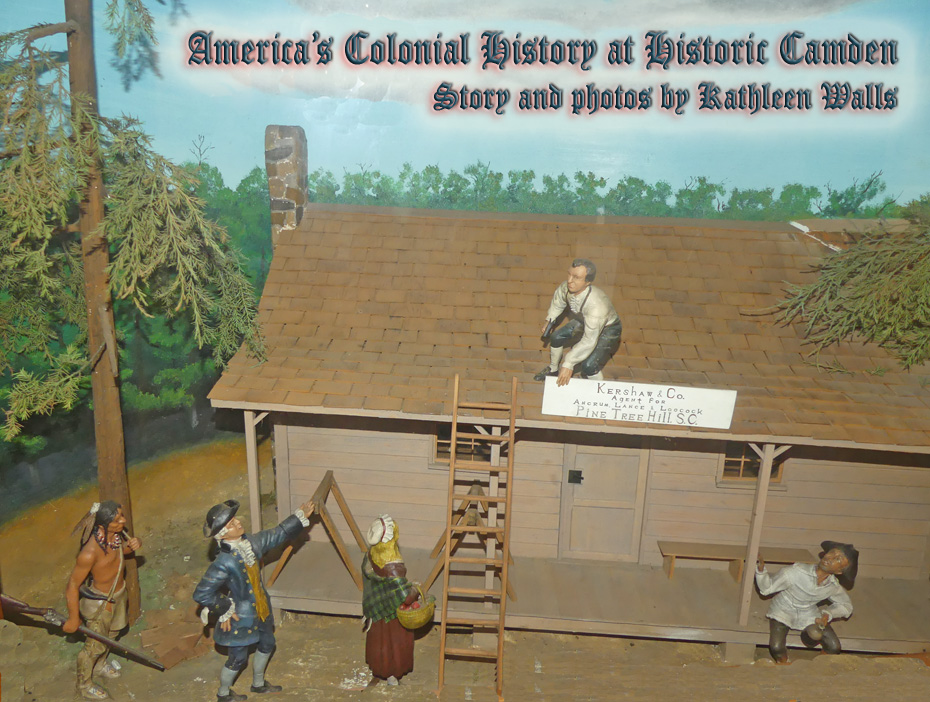 Camden is South Carolina's oldest inland town. It witnessed many of the events leading to the birth of our country. The old town played host to Revolutionary notables including Nathanial Greene, Horatio Gates, Casmir Pulaski, Francis Marion, Thaddeus Kosciuszko, Light-Horse Harry Lee, Thomas Sumter, Marquis de Lafayette, Andrew Jackson, Johann de Kalb, and George Washington. It was an involuntary host to Lord Cornwallis and his British troops.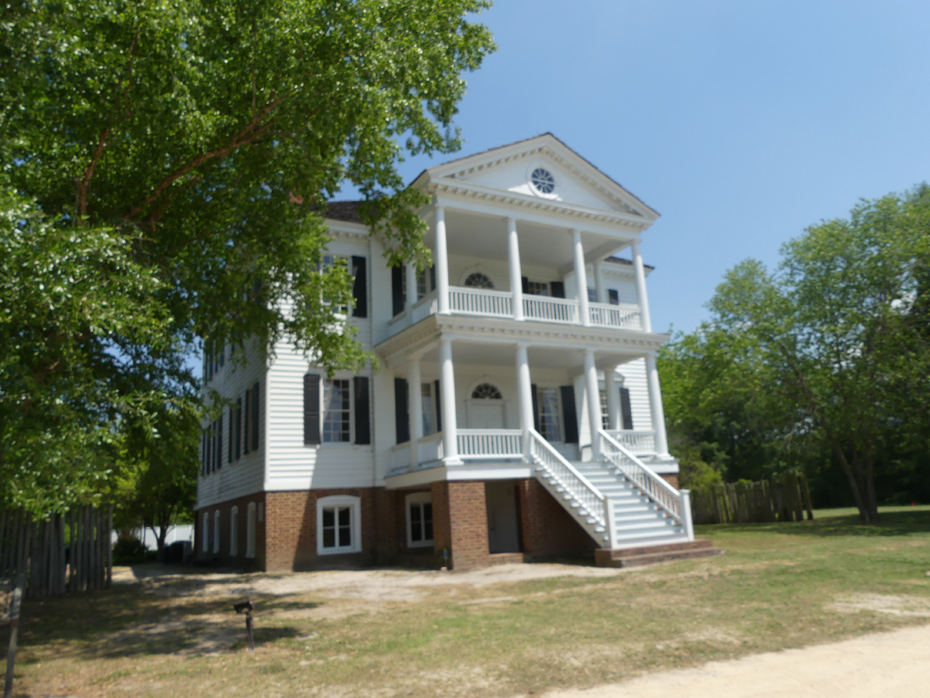 Historic Camden is a living history site and outdoor museum that recreates a tumultuous period in our history. When I visited Nathan, the site tour guide, took me on a tour of the sites. Our first stop was the Joseph Kershaw Mansion. It sits on a hill overlooking what was the town's center in colonial times. The house looks so authentic I was surprised when Nathan told me it was a reconstruction. It had been burned during the Civil War. Nathan said there were conflicting stories as to whether Sherman's men had burned it or the Confederates did to keep it from falling into enemy hands.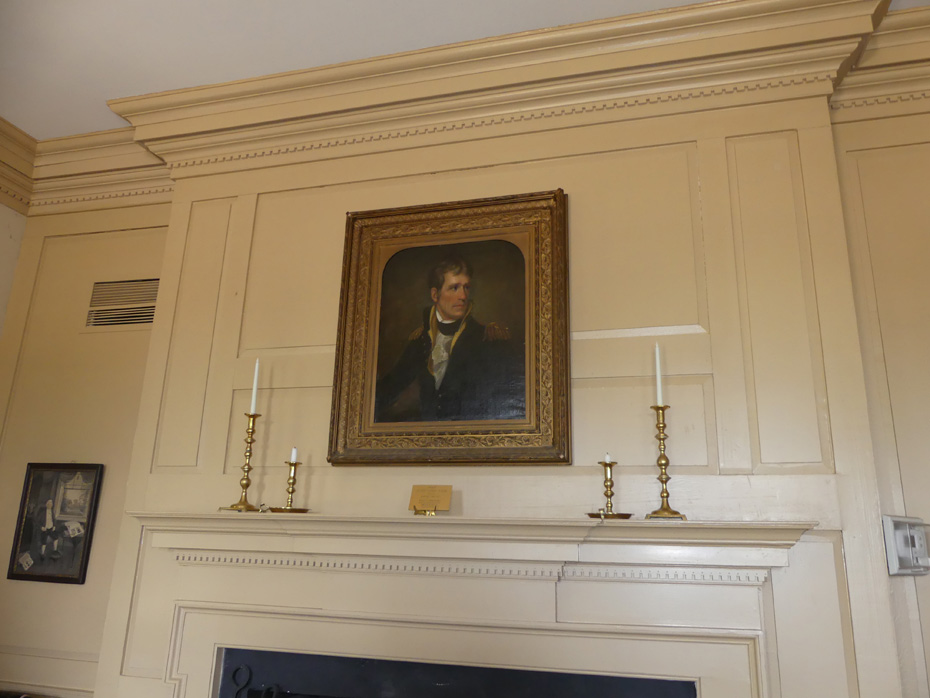 It was reconstructed according to old photos on the actual foundation of the original home. Inside it is furnished in a Georgian style that would reflect the power and prestige of its original owner. Nathan took me through the first floor and pointed out many colonial treasures. There is an early portrait of Andrew Jackson there. Another painting shows Baron de Kalb leading a charge at the Battle of Camden.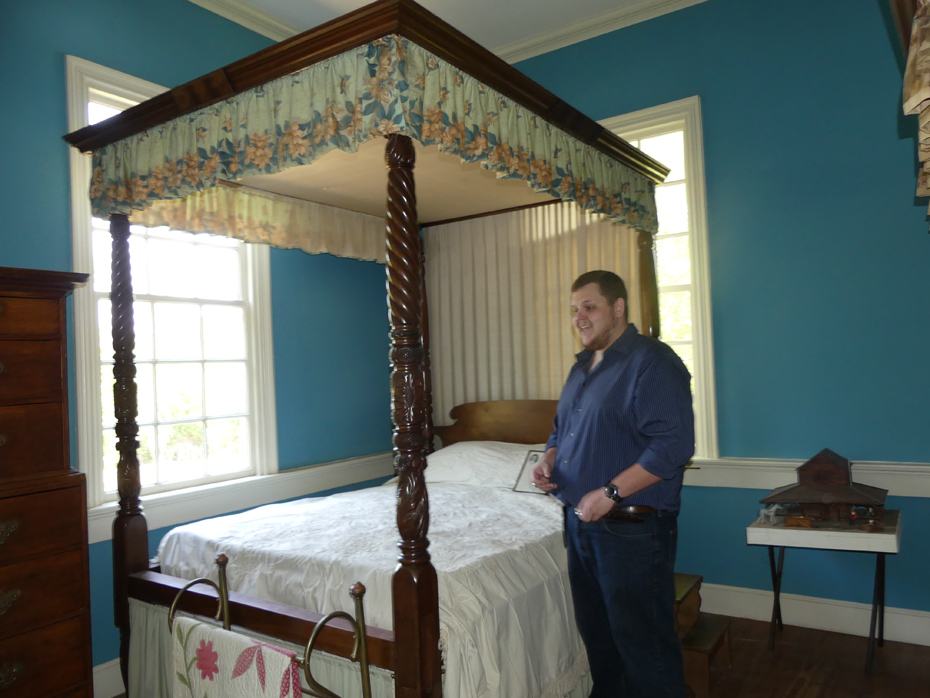 The king had ordered settlements inland to protect the British port of Charleston. Joseph Kershaw was a businessman who came to Camden around 1758 from Charleston to open a business. He established a mill in the new settlement than called Pine Tree Hill. It grew into present day Camden. Kershaw was an ardent patriot and was exiled to the Caribbean when Camden fell to the British. Lord Cornwallis made Camden his stronghold and used the Kershaw house as his headquarters. After the war, Kershaw returned and later became mayor of Camden, a judge, legislator and a member of Congress. The county was named in his honor.
The house is complete with a traditional Southern rose garden. From the front you can see the reconstructed redoubts and site of the original arsenal.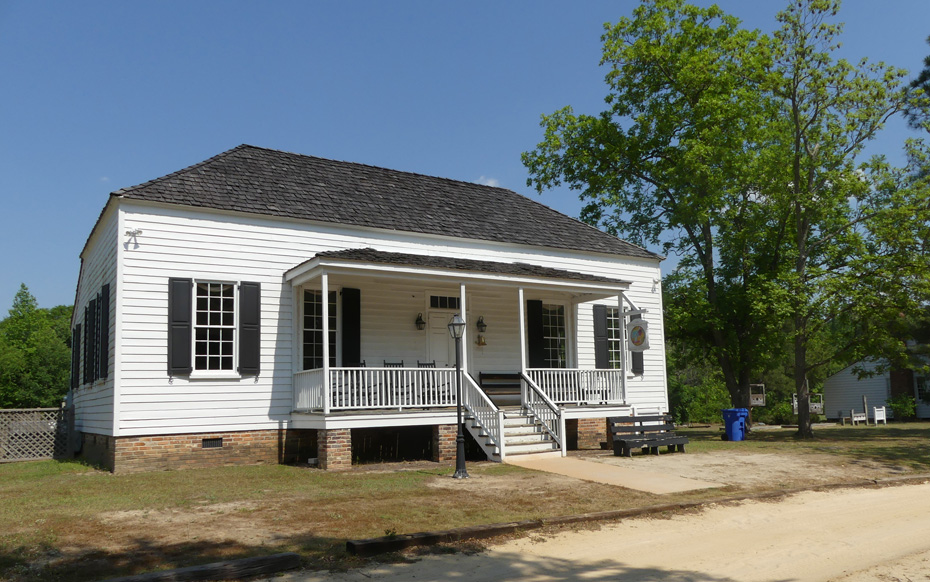 The 1785 John Craven House is Georgian style home; one of only two 18th century houses remaining in Camden. John Craven was an employee and good friend of Joseph Kershaw. His home is filled with exhibits related to the Revolutionary battles fought in Camden and nearby.
The first battle of Camden was fought August 16, 1780. American General Horatio Gates was soundly defeated by Lords Cornwallis and Rawden. French baron, Johann de Kalb was mortally wounded and died in Camden. There is a memorial to him in front of the courthouse.
Battle of Hobkirk's Hill often refered to as the Second Battle of Camden was fought on April 25, 1781. The American army under Nathanael Greene attempted to defend Hobkirk's Hill near what is now the interior of Camden. British force was led by Lord Rawdon. Greene was forced into a retreat but the victory was short lived for Rawdon. He was forced to abandon Camden two weeks later and retreat to Charleston.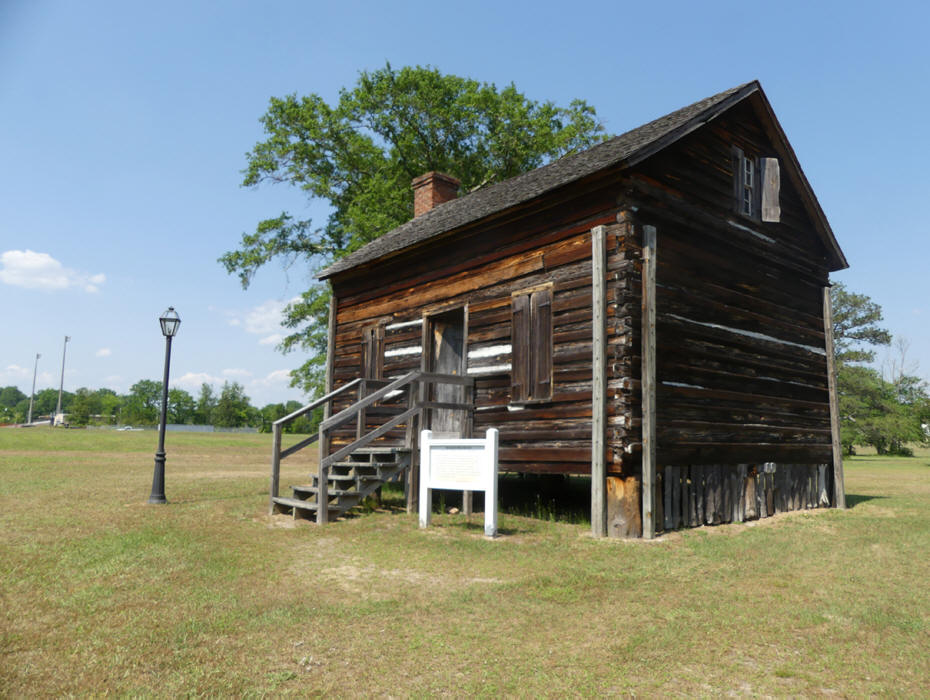 Two log cabins on the site, Bradley and Drakeford cabins, date to early 1800's. The Drakeford cabin was built by a revolutionary solder, Richard Drakeford around 1812. It houses a diorama of the Kershaw-Cornwallis House and other exhibits related to the colonial history of Camden.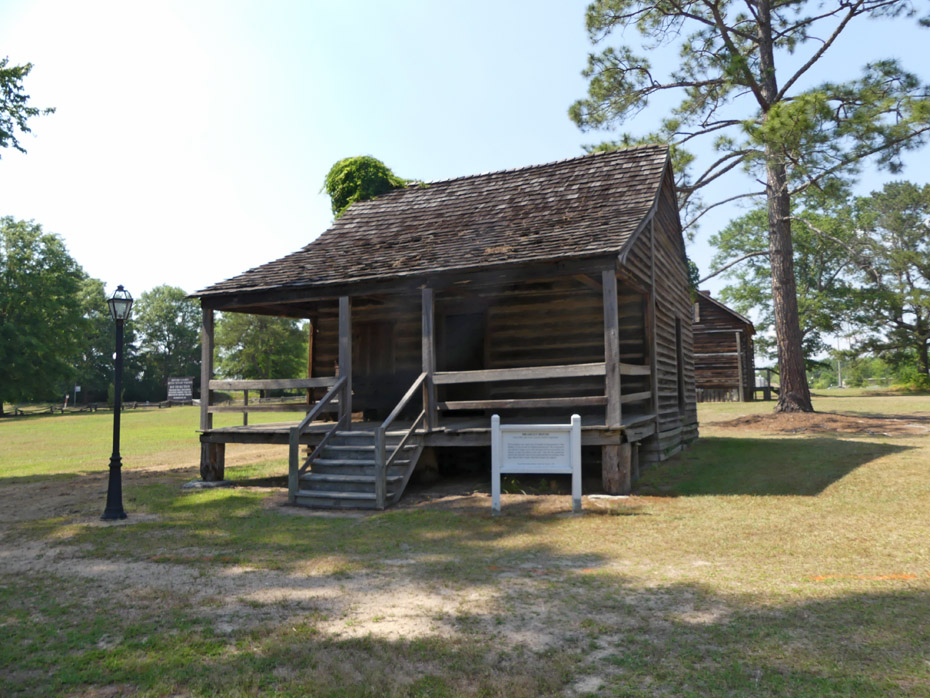 The Bradley Cabin, the larger of the two cabins, traces Camden's history back to its earliest native inhabitants and on through the Revolution.
The artifacts recovered from the Kershaw house site and surrounding area are an archeologist's treasure trove.
McCaa's tavern was originally the office and residence of Dr. John McCaa. His father owned a tavern thus the "tavern theme". The building dates around 1800. Historic Camden recently renovated it and built a gorgeous bar using reclaimed 18th- and 19th-century heart of pine. The Tavern has modern amenities and along with the Kershaw-Cornwallis House is rented for events.
The 1830 Cunningham house is where the office and gift shop are located. It's where you purchase tickets if you want a guided tour. The Kershaw-Cornwallis House, Craven House and McCaa Tavern are only open to guided tours.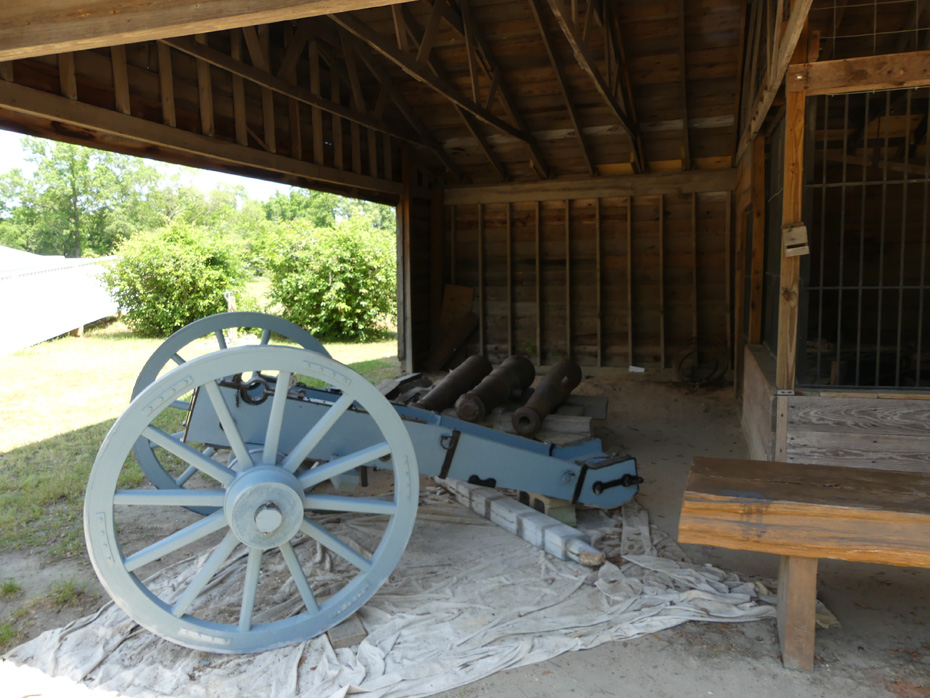 Next to Cunningham House there is an old blacksmith forge and several cannons.
On the first full weekend of November, the grounds are once more filled with Colonial and British soldiers, sutlers, and visitors from all over to celebrate Revolutionary War Field Days. You can listen to historical talks or visit army camps.
There are picnic tables on the grounds, a lake and hiking trail. All together this is heaven for the historian and fun for everyone else of all ages.
For more info:
https://www.historiccamden.org