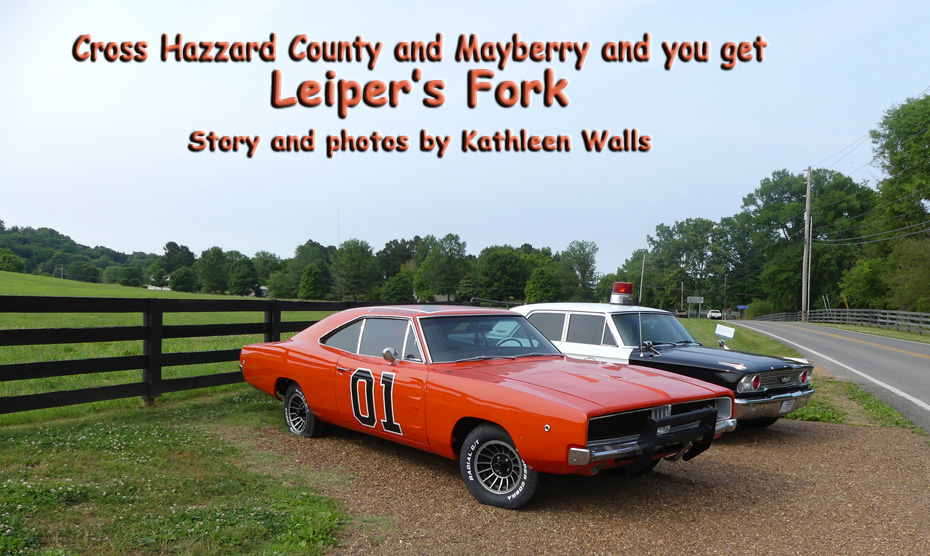 Published 7-10-2019

Leiper's Fork, Tennessee is one of the prettiest little towns you can find. It's no coincidence that as you drive into town, a bright orange car and a police cruiser catch your eye. It's the General Lee from Dukes of Hazzard and Barney Fife's cruiser from the Andy Griffin Show.. Leiper's Fork, just off the Natchez Trace, is very reminiscent of Mayberry or Hazzard County. However I never spotted a nefarious Boss Hogg type there.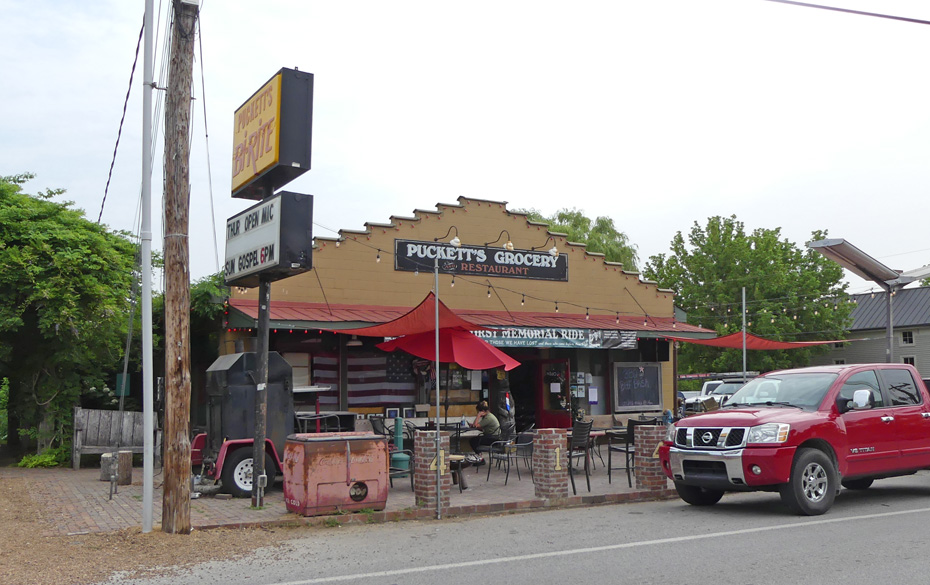 Instead the village is filled with quaint art galleries, antique stores, Pluckett's old-fashioned country grocery store that double as a restaurant, 1892 restaurant modeled on a turn of the century establishment, Country Boy's Restaurant that also welcomes country girls, and lots of history.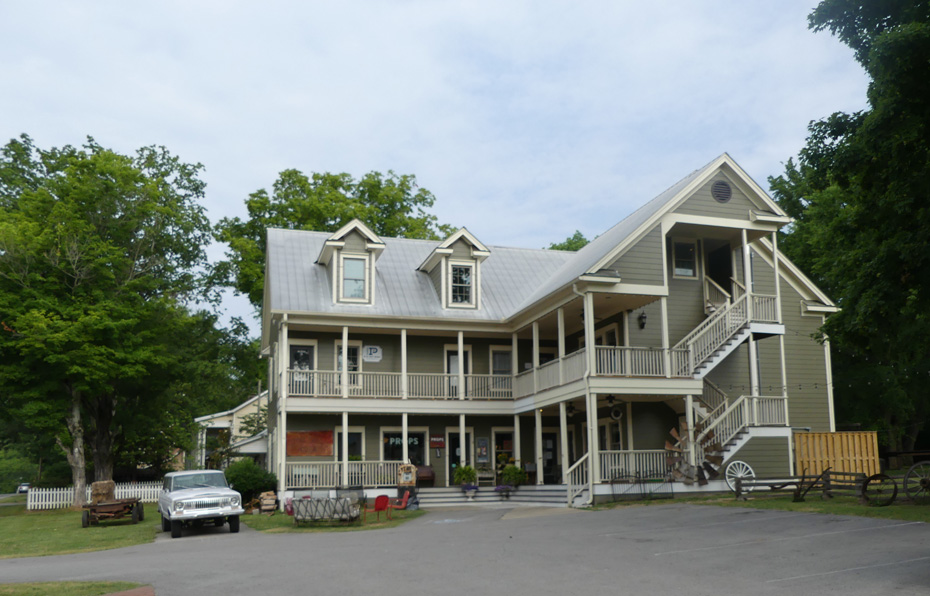 On Main Street, none of the buildings look earlier than the 19sup>th century. The Shops at Leiper's Corner on the corner of Old Hillsboro Rd and Old 96 is a Props Antiques is located in a tri-level home that looks like it was built around the mid 1800s with its columns supporting the two-story porch that covers the entire front L shape of the home. Gable windows jut out over the tin roof. Inside it looks like an American Pickers' ddream. Antiques of all kinds fill the store.
Serenite Maison, another antiques gallery on main Street, is located in a 1914 building. It's barn-red clapboard with timber posts supporting the tin roof over the front porch entrance. Inside there was so many unusual old items.
Art is strong here also. Creekside Trading Company combines art and antiques for an eclectic mix of unusual objects. Their back porch faces Leiper's Creek. On many weekends, it becomes an impromptu venue for local musicians and bands.
Leiper's Creek Gallery offers many fine art works. The Lawnchair Theater, which sits just behind the Leipers Creek Gallery, is another venue for music or outdoor movies. Diners at 1892 Restaurant can watch the entertainment from the outside tables set under a leafy arbor.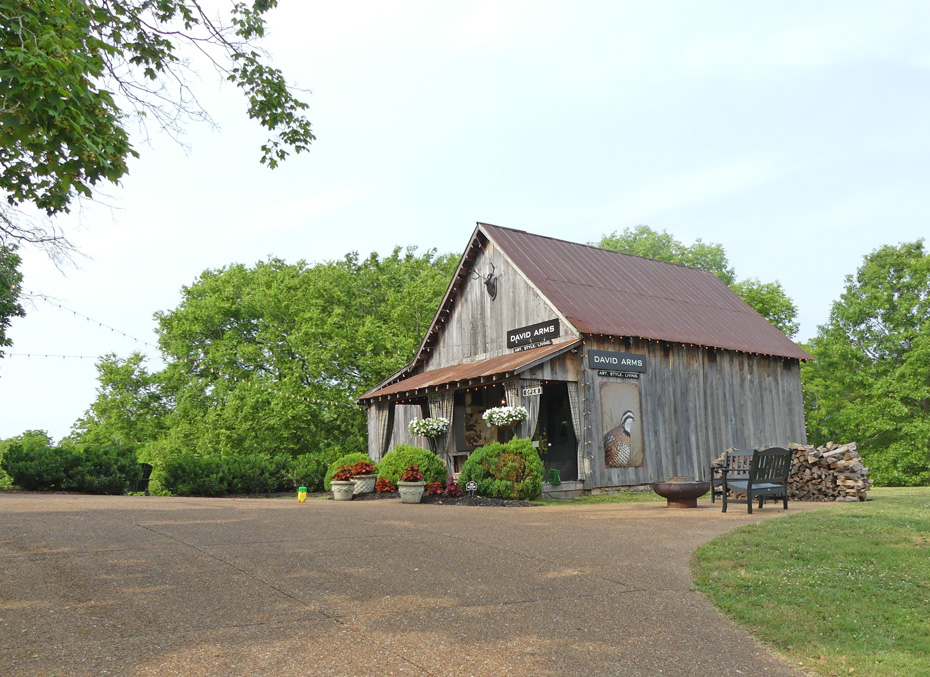 David Arms Gallery is housed in an authentic old barn. It would have been at home on an antebellum tobacco plantation. The floor is made of Amish poplar, beams from a tobacco barn support the structure, antique lights from an old schoolhouse light your way, and the interior walls are of bead board. Arms is one of Tennessee's greatest artists and he chooses to show his work her in little Leiper's Fork.span> That says something but the reason is no surprise if you visit.
The town history goes back to the 1700s. Soldiers who fought in the revolution were given land grants in lieu of cash. Those who settled her got the best of the bargain. Because of its location on the Natchez Trace which had been used even before Europeans arrived as a Native trade route, it was a perfect location for early commerce. It was originally named Bentontown for the earliest settler, then Hillsboro but when post office opened in 1818, the name "Hillsboro" was already in use. The town took the name Leiper's Fork for the bubbling creek that runs through the village. The entire village is listed as a historic district on the National Register of Historic Places. &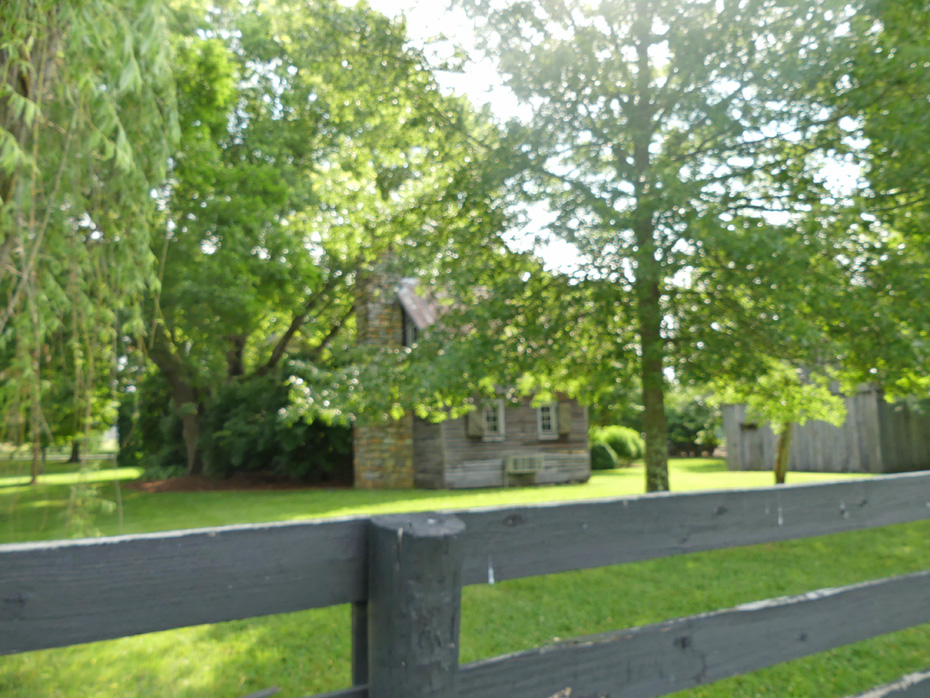 One of the most historically significant structures in the village is not used as a shop. It is a simple slave cabin circa 1801. It was once on the plantation of Anne Gooch Benson, mother of Senator Thomas Hart Benton.span> TThe slave cabin is a bit off the road and somewhat hidden by trees but it still stands. Benton had an interesting career. It began in 1809, when he was elected to the Tennessee General Assembly. He became an aide to Andrew Jackson during the war of 1812 and later a close friend. He and Jackson had a falling out over a duel Benton's brother, Jesse, fought where Jackson served as a second for Benton's opponent. Later the same year, Benton and Jackson met at a Nashville tavern and engaged in a fight. Benton shot Jackson and severed an artery in the left shoulder. Surprisingly, Jackson and Benton later reconciled. When Benton moved to Missouri it was claimed Tennessee was not big enough for both of them. Benton went on get elected to the senate and served for 30 years. In spite of being a slave holder, he violently opposed secession and remained a staunch unionist. It cost him his senate seat.
Stop and admire the two historic churches in Leiper's Fork. The simple, white, frame Church of Christ on Old Hillsboro Road's history began in 1815 when a small church called "Union" was built on this site. It was to be used by all congregations. It was torn down and a new one built on the site in 1821. Naturally, there was a falling out among the different denominations. This church was built in 1877.
Hillsboro United Methodist Church, just around the corner on Old Highway 96, grew out of that same congregation and dates to 1910. Except for the Fellowship Hall and annex, the red brick church looks much as it did originally.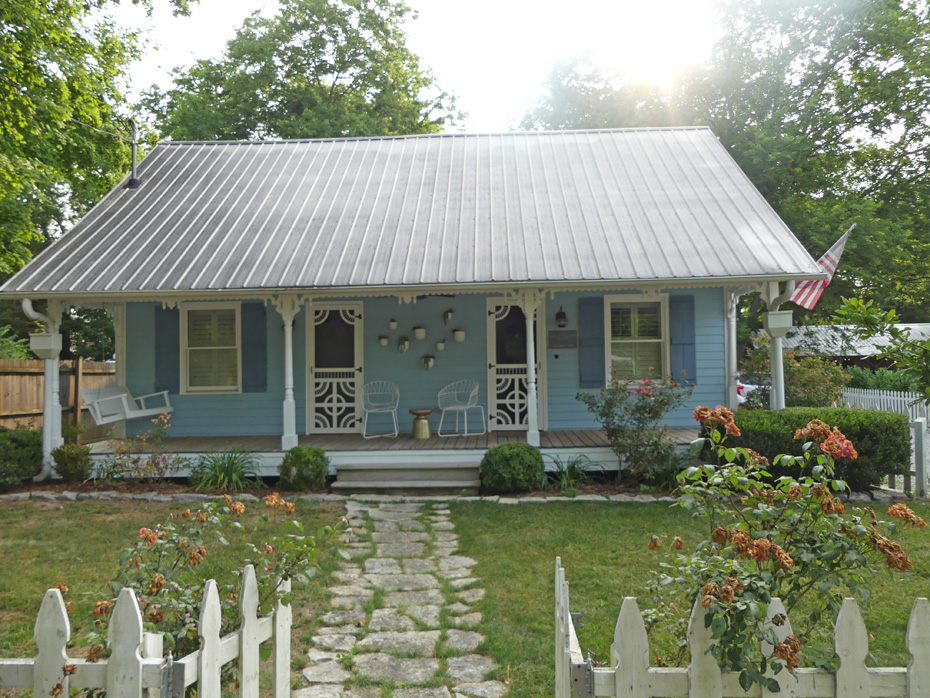 There are no hotels in Leiper's Folk but there are great places to stay in comfort. Pot 'n' Kettle Cottages. These are delightful places with a real local flavor. I stayed at Pickers Cottage. It is a dream. Owners, Eric and Samantha, furnish and outfit the Pot n' Kettle Cottages as they would want to live. /p>
Pickers Cottage was built in 1939. It's updated with all modern conveniences without losing its early 20th century charm. It sits on spacious lot just a few blocks from the main part of town. The front porch must have been a favorite sitting spot for families and friends many evenings in the era before air conditioning. The picket fence surrounds the front yard offering more charm. The big back yard has a firepit and barbeque pit along with wood and charcoal.
The cottage has three bedrooms and two and a half bathrooms. Way more room than I needed but it was such a delightful change for single hotel rooms with mini kitchenettes. The master bedroom suite with its Cal-king size bed downstairs was my natural choice.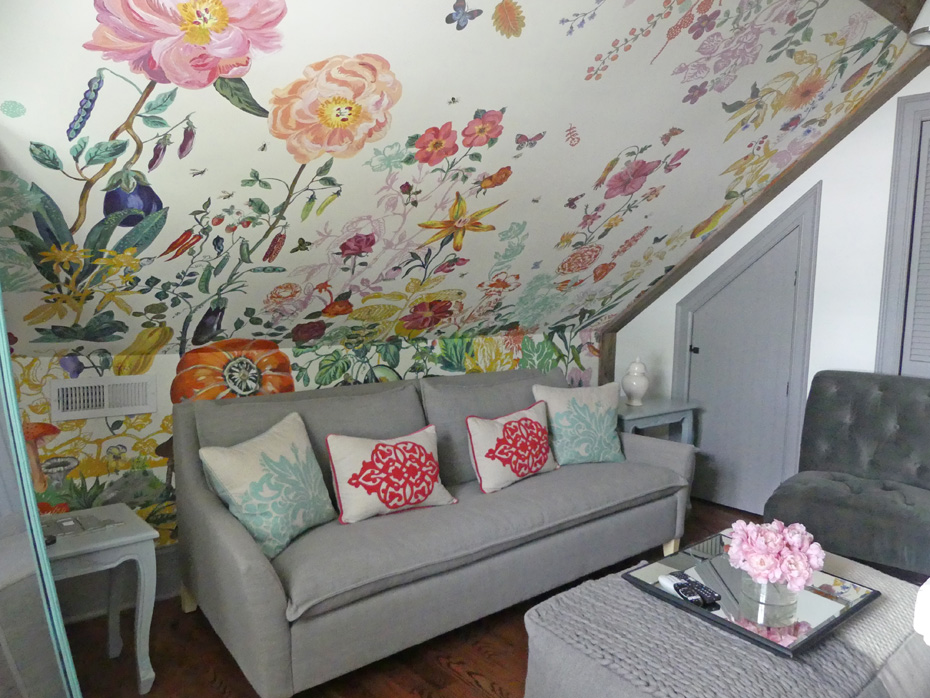 Upstairs is filled with charm. There is a queen sleeper sofa and two other bedrooms upstairs. The wall behind and slanted ceiling is filled with a delightful flower mural. There is a private bath with shower/tub and vanity so you would not need to come downstairs.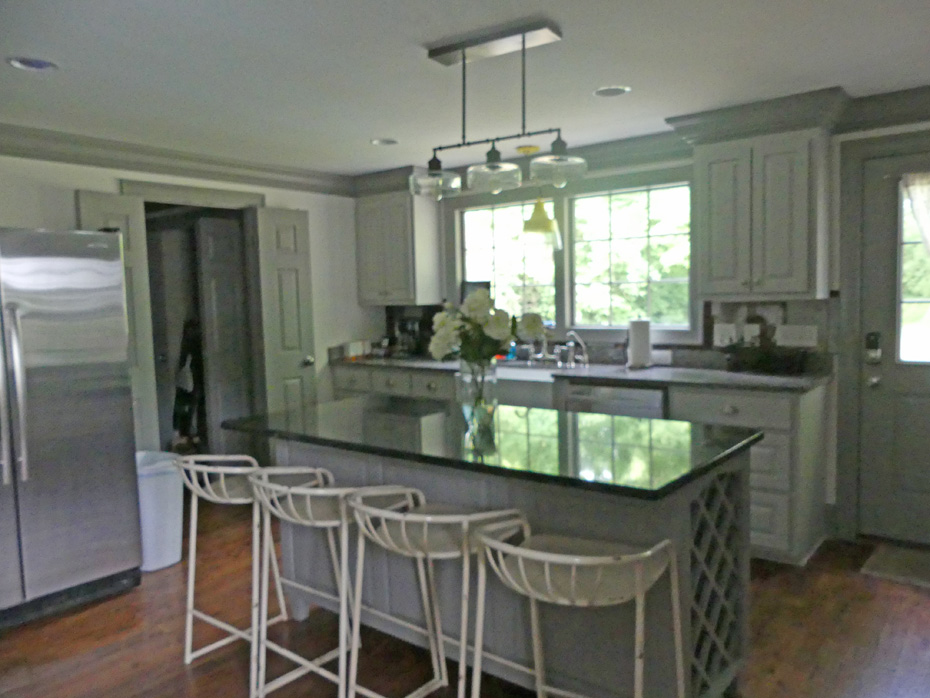 That is unless you wanted to relax in the spacious living room with a big flat screen TV. Or cook up something in the large kitchen well stocked with anything you might need. The center granite counter is large enough that a professional chef could prep a complete meal with room to spare. The chef would love the full sized stove and oven. The refrigerator would stock the most ample meal ingredients. And the microwave would come in handy for warming the leftovers.
It is so welcoming I felt like I could have stayed there comfortably for the rest of my life.
Much of Tennessee and the entire country have been gobbled up by skyscrapers, subdivisions, and modern development. Leiper's Fork is a tiny slice of Americana that much of our southern countryside once resembled. When you visit Leiper's Fork go between Wednesday and Sunday as that is when all the restaurants and stores are open.
https://visitfranklin.com/see-and-do/leipers-fork
https://www.potnkettlecottages.com
We'd love your comments!