Published 6-30-2019

Want to live like Royalty? That's easy. Visit The King and Prince Resort on St. Simons Island in Georgia. First off it's regally positioned right on the beach. It's more than just a hotel. The dining is both indoors and out depending on your mood. If you have had a hard day ruling your kingdom, let their luxurious spa massage your cares away. On the other hand if you have become fat and lazy from perching on your throne too long, you can get back in condition on their golf course—of course, it's perched right next to the salt marsh for spectacular views—or you can play tennis on state-of-the-art courts. If you aren't into competitive sports, there are five outdoor swimming pools and two hot tubs, and exercise room. If you need to run you kingdom's business, all rooms, suites, villas, and residences are equipped with Wi-Fi. If that isn't enough, there is a small computer center in the hotel lobby.
For your temporary castle by the sea, you can choose from four building in the main complex, the Oceanfront, the Historic Main Building, Oleander Building, or Oglethorpe Building. On a recent press trip I stayed in one of the cabana rooms in the Historic Main Building. It really was a suite and so sweet. I had a heavenly king bed, two TVs, one facing the bed and one in my step-down parlor area. I was facing the ocean and could relax with a book on my sofa and look out at the waves rolling in. Or I could just step out and enjoy one of the King and Prince swings along the beachfront or head out into the sea and enjoy the warm salt water.
For more room you can choose one of two Beach Villa buildings, one on either side of the main resort building. There are two and three bedroom choices. You move up from king and prince here to king and queen, beds that is. The main bedrooms have a king and the second has a queen. There is a private pool and hot tub, gas grills, and gated parking just for villa guests. However you do have access to all resort amenities.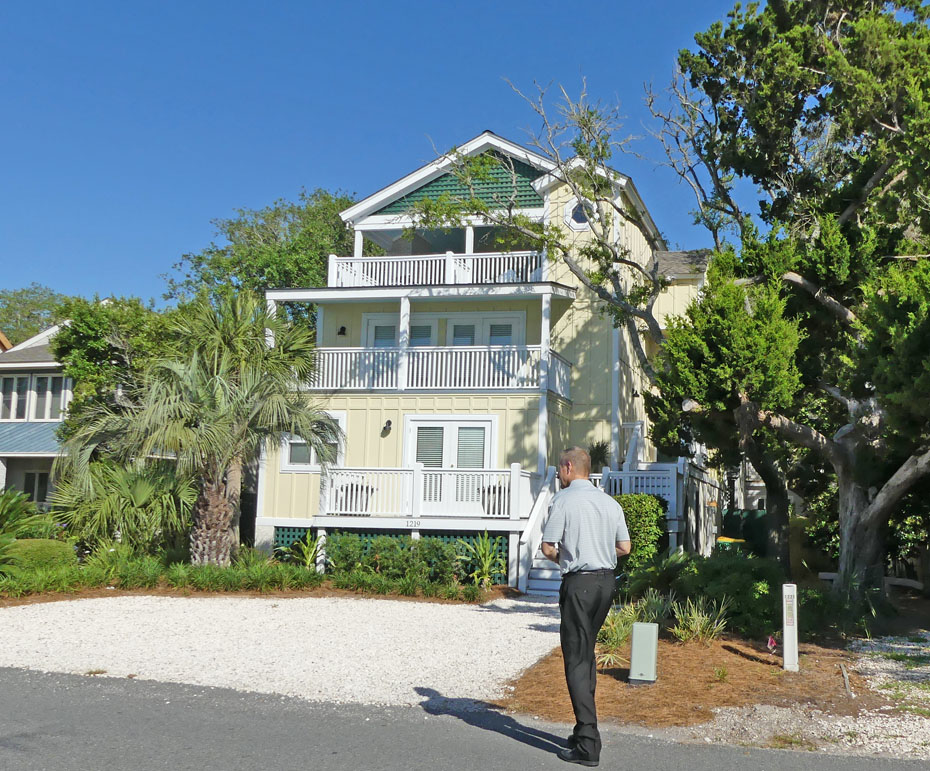 If you are feeling particularly majestic, you might want to stay in one of the five residences. These range from the one-bedroom Wynn Cottage or the Wesley Cottage to the five-bedroom, two-story Hampton House right on the beach.
In between there are the four-bedroom Meadows House with its luxurious penthouse suite and the Tabby House which offers two complete master suites. It's hard to choose but I think the Meadows House is my favorite. It has five levels and from the cozy upper-level porch you have a magnificent view. It's like a secret little room. There is a fantastic coquina fireplace here and a matching one in the family room.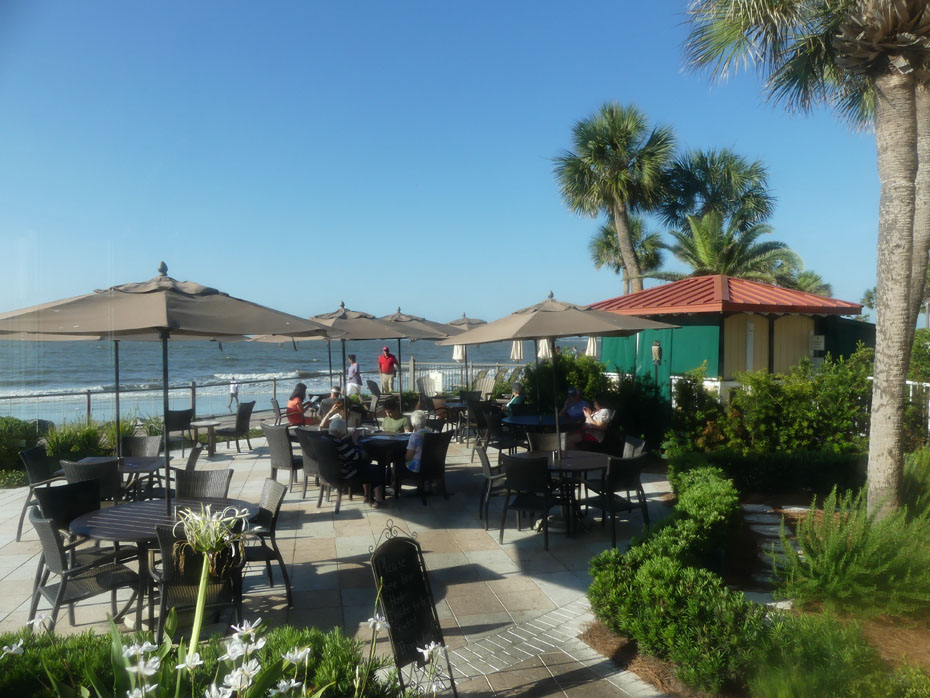 When dining, be sure to sample their award winning restaurant ECHO. You can dine inside or poolside with an ocean view. In case you are wondering about the name, it's a tribute to events in WWII. During the war, the Navy purchased the local airport to set up a naval airbase. Radar was a new technology then. It bounces electronic radio waves back when detecting an object in the path of those radio waves, thus it echoes.
The King and Prince did their patriotic duty and closed to the public during the war. Instead, it housed the operation center that sent out the radar signals. It also was a temporary home for the officers and a gathering place of enlisted men and local Civil Air Patrol volunteers.
That's just part of the resort's long history. It originally opened in 1935 and is a member of Historic Hotels of America. The Main Historic building has a plaque denoting that it is on the National Historic Register. It has won countless awards over the years.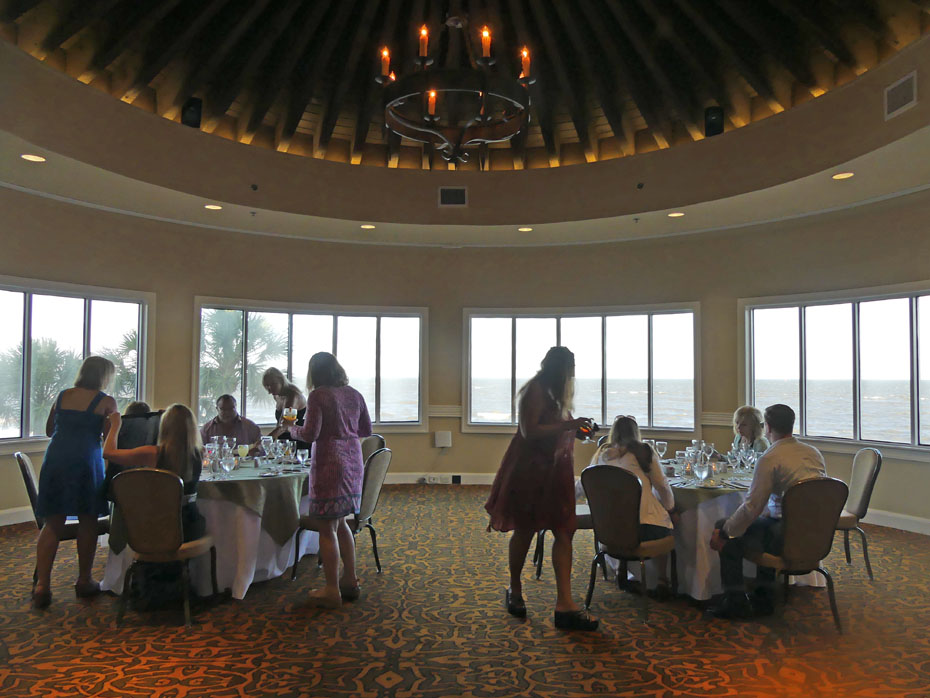 Our first night we met with Executive Chef, James Flack. He served us a fantastic dinner. The first course, a watermelon salad, was my favorite. Besides a healthy hunk of watermelon, it consisted of fried goat cheese, lotus roots, dried pomegranate seeds, blackberries, cucumbers, toasted pistachios, frisee, watercress, mint foam, lemon crème fraiche. It was served with a French wine, Champ De Provence.
For amy entrée I had Shrimp and Grits with an unusual twist; it was blackened Georgia shrimp served with collard greens and Andouille étouffée.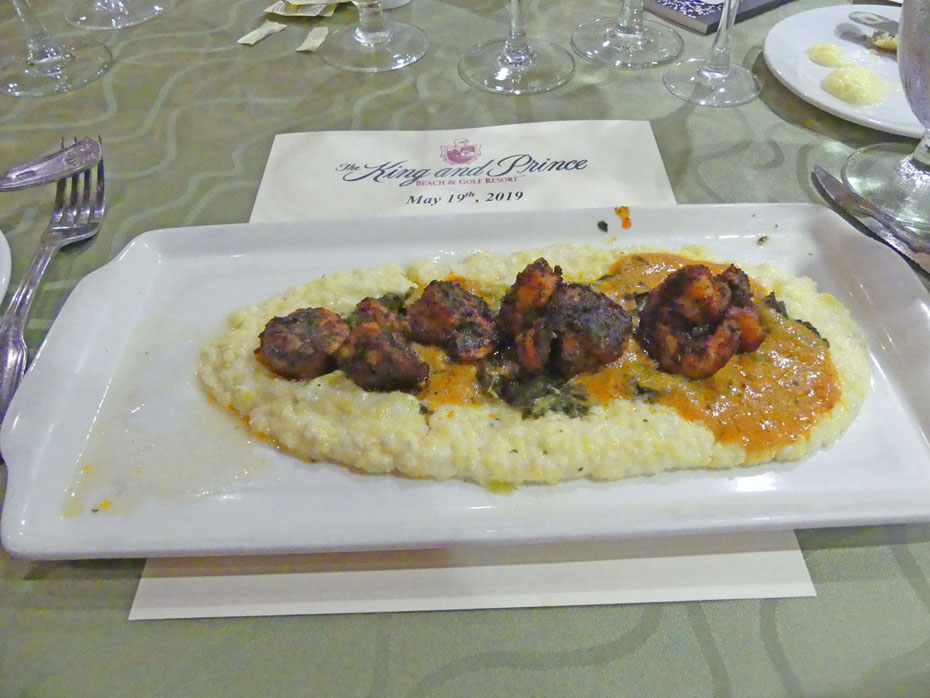 Dessert continued the perfection with fried peach pie topped with vanilla ice cream. No matter what you order, you will not be disappointed.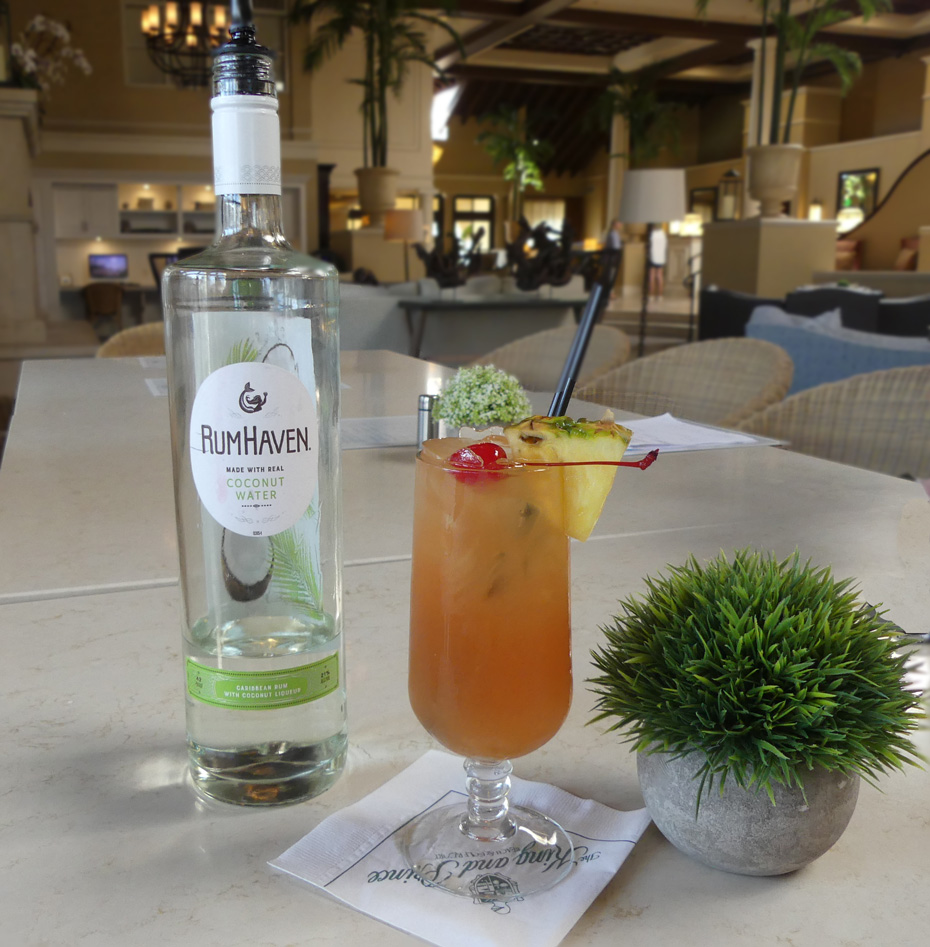 Aside from very fine wines, there are some nifty cocktails. Restaurant manager Stephen Giles mixed up a few of the multitude of cocktail specials at King and Prince. My favorite was one called High Tide made with Rum Haven, Southern Comfort, vodka, and fresh fruit juices. It was as pretty as it sounds.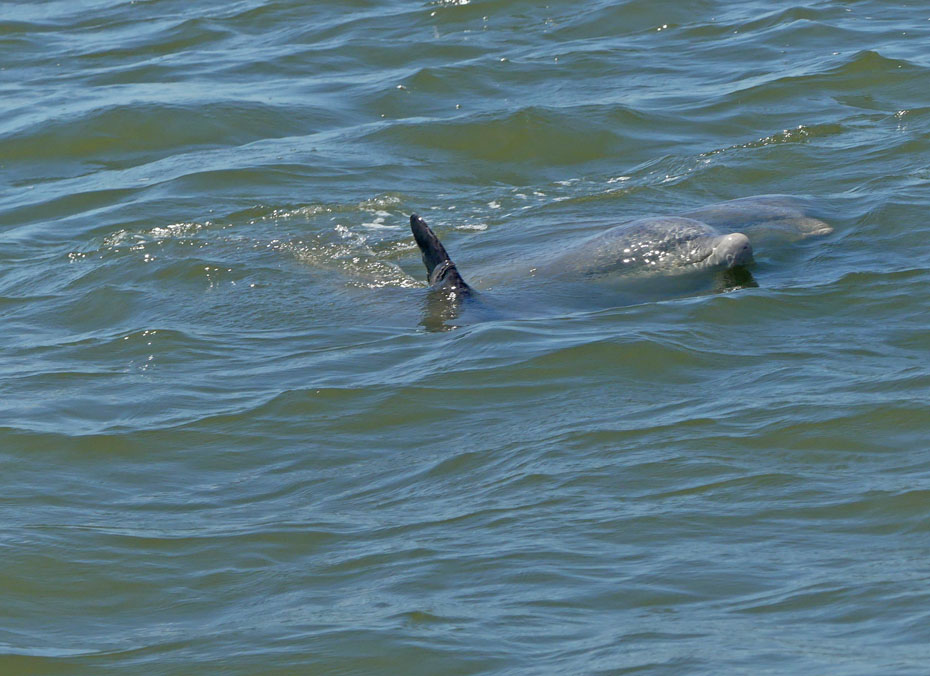 In spite of all the fun things to do at the resort, you are going to want to explore St Simons island. One good way to do that is take one or more of Cap Fendig's trolley or boat tours.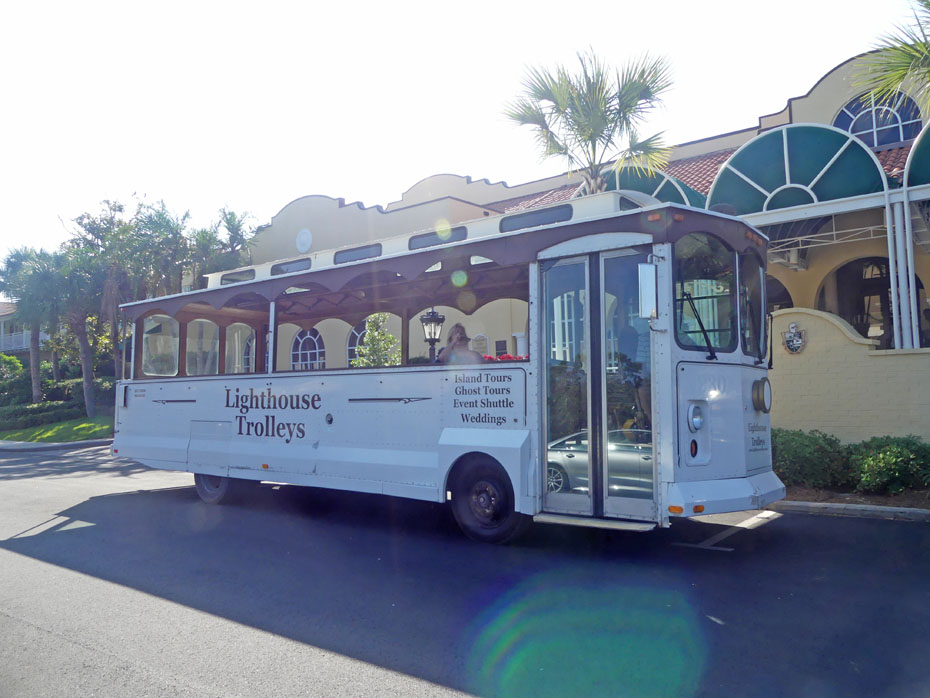 His Dolphin Boat Tour is a wonderful way to see the watery side of St. Simons including lots of wildlife. His trolley tours are filled with interesting facts about the island and whether he is narrating the tour or one of his knowledgeable guides, you will have a fantastic experience. For an out-of-this world evening do his ghost tour.
St. Simons Island is filled with history. You can learn more about WWII history in their newest museum, WWII Home Front Museum. It's a must-see. We all know how the war impacted the country but this museum shows how very close it came to our own shores.
For more about this museum visit here.
The island's colonial history began with Fort Frederica, established in 1736 by George Oglethorpe to protect England's colonies from the Spanish. Not much of the original structures remain but there are good re-creations and some archeological remains. The museum video is excellent.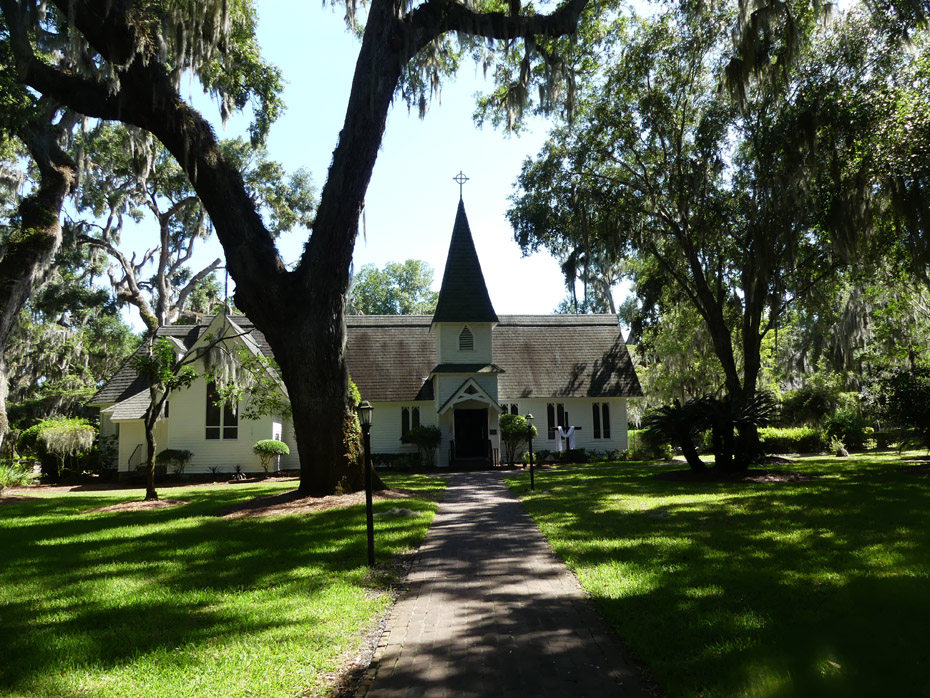 Christ Church is a must see including their cemetery. The original church was built in 1820. It was almost destroyed during the Civil War by Union Troops and later rebuilt by Anson Greene Phelps Dodge, Jr.
A lighthouse is a necessity in any oceanfront town and St. Simon's Lighthouse has an interesting history. It is open to visitors who want to climb to the top or just browse their museum. Be sure to explore Neptune Park right next to the Lighthouse.
Take time for some beachcombing. And if you can't see everything on your first visit, don't worry; there is a magical spell about St. Simons that draws people back again and again to this tiny kingdom by the sea.
We'd love your comments!