Published 7-1-2019

There are some places in Jacksonville a visitor should not miss. One of them is Jacksonville Zoo and Botanical Gardens. It's on the north side of Jacksonville and not in the main path of visitors headed into Jax's busy downtown. It began back in 1914 and has grown ever since. The 120-acre preserve offers some wonderful animal viewing whether for families wanting to educate children about wildlife or grownups wanting to know more about other creatures with whom we share out planet.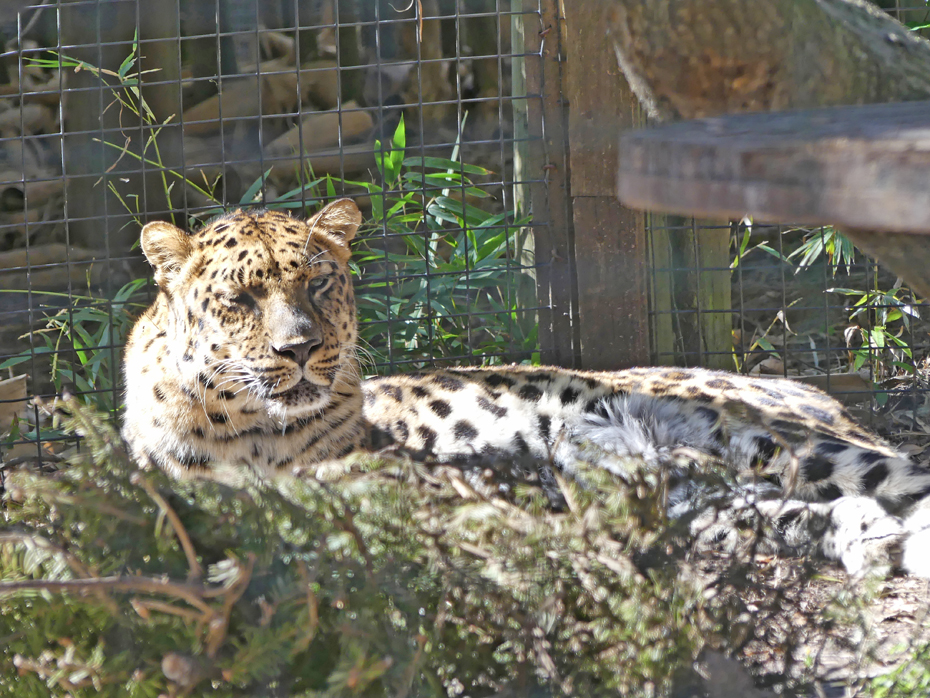 There are no cramped cages with miserable animals pacing. You'll find spacious natural habitats where animals enjoy a life in conditions that closely resemble their native habitats. You can explore Australia, Africa, South America, Wild Florida or the Great Apes. For younger guests who need a break, you can visit the Play Park. But the big cats are my favorite.
From lions, tigers, jaguars, bobcats, cheetas, ocelots, panthers, and lepards, you will find them here.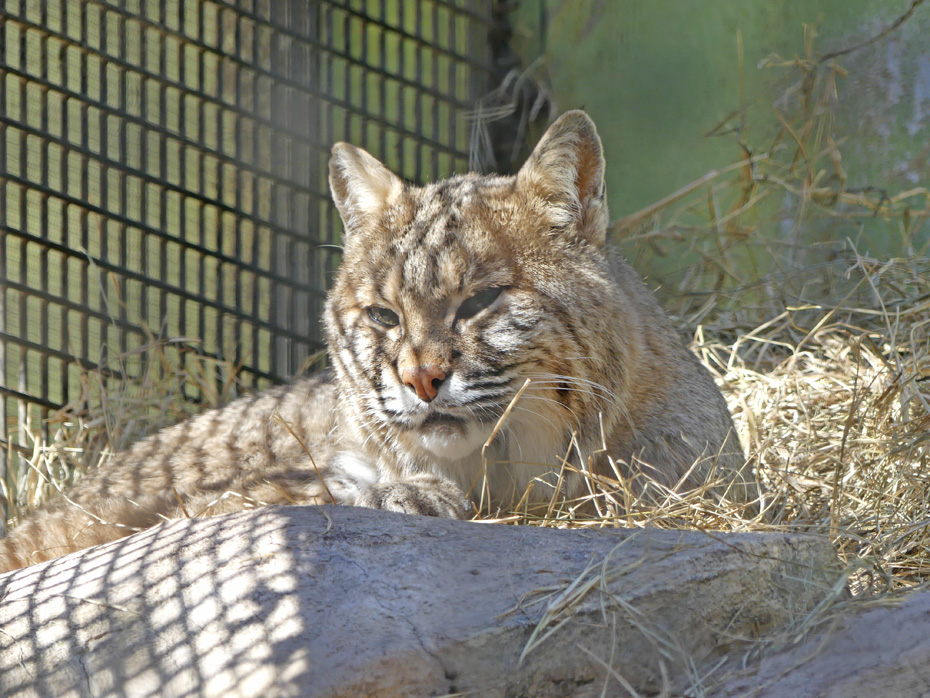 One of the best ways to get more out of your visit is to attend the Keeper Talks. You can ask questions and get up close and personal with the zoo's inhabitants.
Each area represents wildlife from one area or continent and is arranged off a central loop. You can't get lost here. So get in the loop and "zoo" it right. Below are just a sample of some of the big cats you will find at Jacksonville Zoo and Botanical Gardens.
Jaguar
s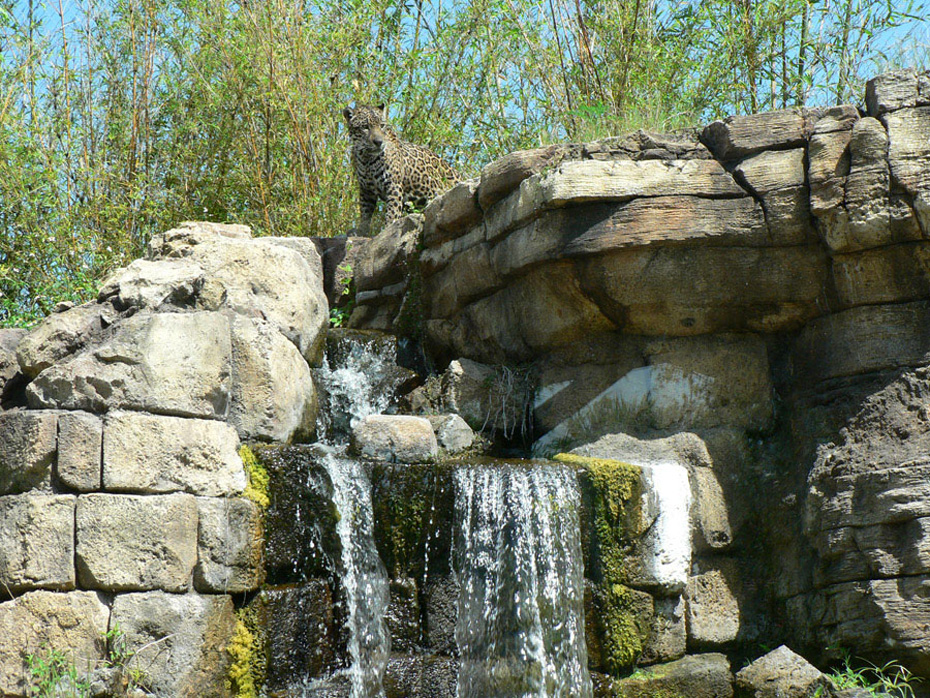 Since this is Jacksonville, home of the two-legged Jaguars known for their football skill, naturally the zoo's jaguars have fantastic habitat. I think it's the finest in the zoo. It was donated by former Jaguars owner, Wayne Weaver and his wife, Delores.
The Range of the Jaguar has twice won several national award for South American zoo exhibit. You enter through a rain forest style setting where you find the Lost Temple, built to look like an ancient Mayan temple, where the jaguars perch on its rocky slopes or in the spacious area in front that has several pools for the jaguars to swim in or catch fish. Inside the "temple" you see many other animals that are native to the rainforests; bushmaster snakes, boa constrictors, poison dart frogs, anaconda, cotton-topped tamarins, pygmy marmosets and more.
The jaguar is the third largest of the big cats and the largest in the Western Hemisphere. The beauty and gracefulness of these big cats is awe inspiring. They can achieve speeds of up to 35 miles per hour. Jaguars usually hunt at night and kill with a strong bite to the skull. They range from the southwestern United States into South America.
Florida Panther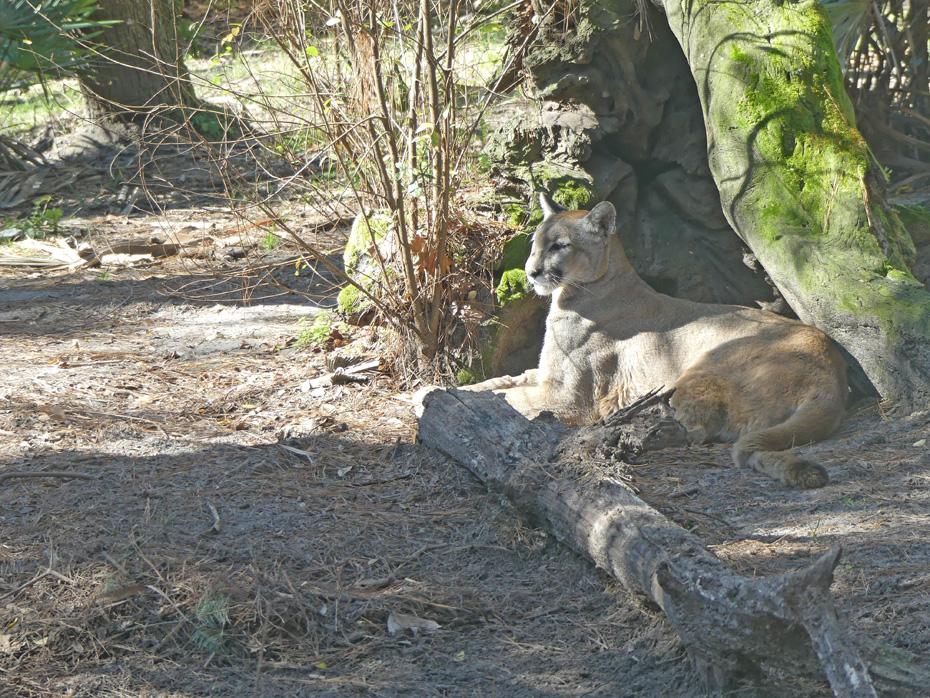 We're in Florida so be sure to visit the Florida Panther, our state animal. Once these beautiful cats ranged over much of the southeast. Current estimates say there are about 140 left in the wild. Just a small portion of South Florida remains their natural habitat Once they were found in South Carolina, Georgia, Mississippi, Louisiana, Arkansas, Alabama, Tennessee and as far west as Texas.
You'll view the Florida panther in Wild Florida, a 2.5 acre natural habitat they share with alligators, black bears, red wolves, whooping cranes, bald eagles, bobcats, white-tailed deer, and Florida's plentiful population of native snakes. Fortunately all of the different species are all housed in separate habitats inside Wild Florida.
There is a Manatee Critical Care Center located here that rehabilitates injured manatees to return to the wild.
If you want to watch an alligator feeding, be there on Saturday at 2:15 p.m. from mid-March through November.
Tigers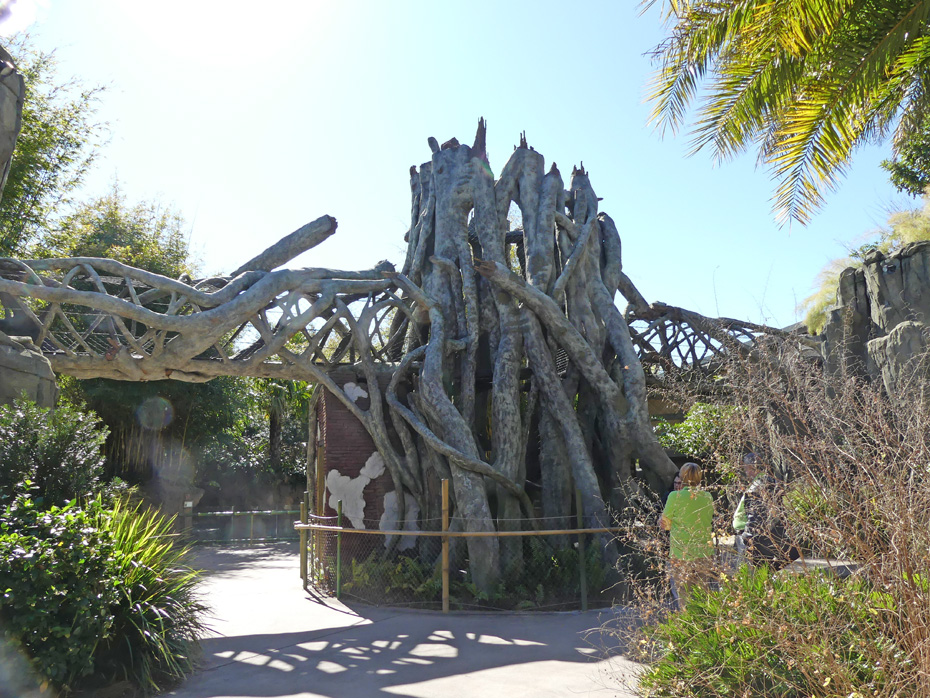 Land of the Tiger is one of the most innovative exhibits I have ever seen. It's located near the Trout River as part of the Asian Bamboo Gardens. You enter though a moon shaped gate and see many different Asian plants and flowers.
Land of the Tiger houses two Malayan tigers, a male named Jaya and a female named Cinta and two Sumatran tigers. The exhibit has a giant artificial strangler fig tree that has a tunnel built into it letting the tigers move around the exhibit. It also gives the guests a chance to see the tigers from different vantage points. The tree center is hollow and keepers can enter into it when caring for the tigers. The Asian exhibit also houses hornbills, Visayan warty pigs, babirusas, and Asian small-clawed otters.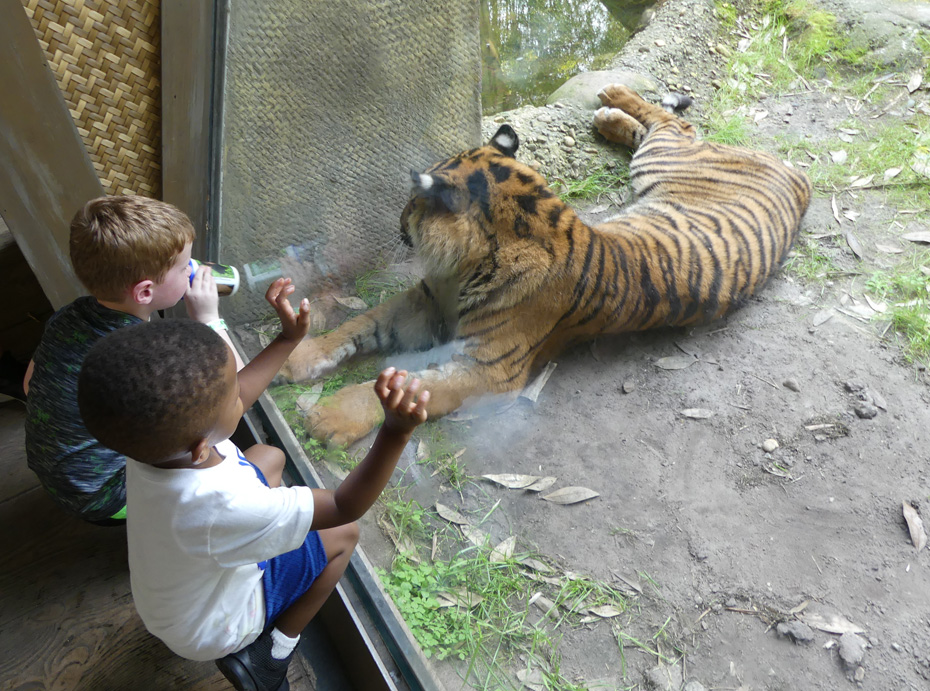 Sumatran tigers are the smallest tiger and are critically endangered. The largest males may reach a length of nine feet. They swim and jump well.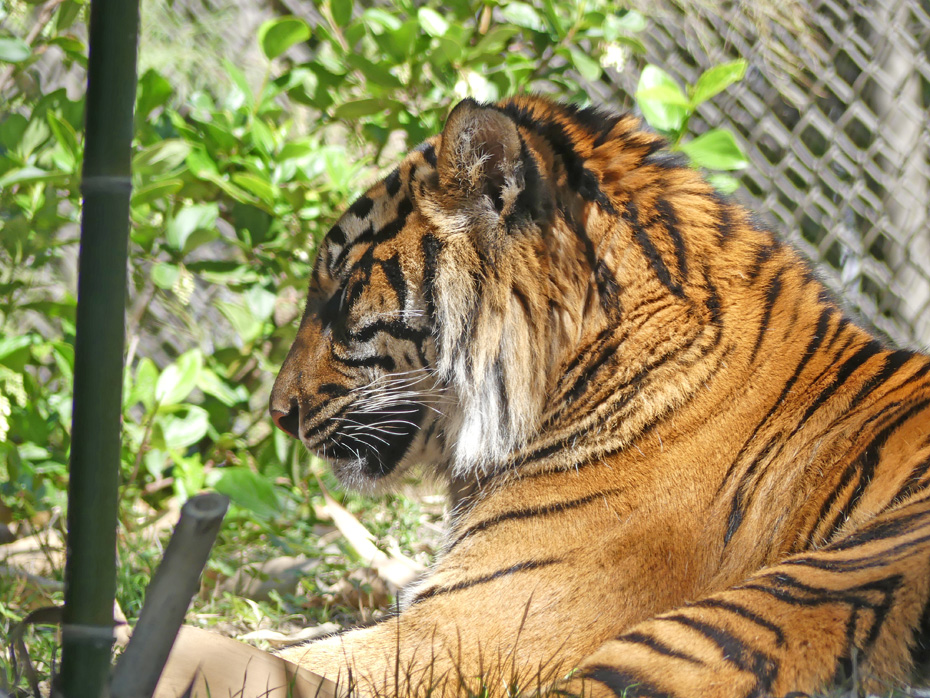 Malayan tigers are also a small sub species of tiger. They are found in Malaysia and southern parts of Thailand. It is believed there are only 250 to 340 of these beautiful cats left in the wild.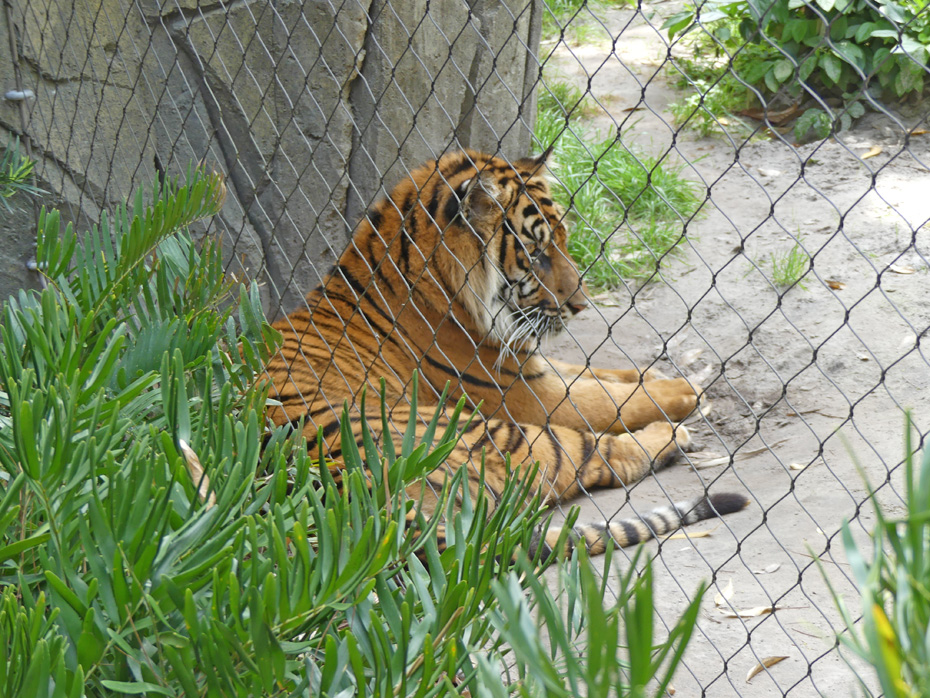 These big cats are just a touch of the zoo's inhabitants. There are many more so make it a point next time you visit Jacksonville, the zoo is waiting for you. Come Zoo it.
For more info:
www.jacksonvillezoo.org
We'd love your comments!