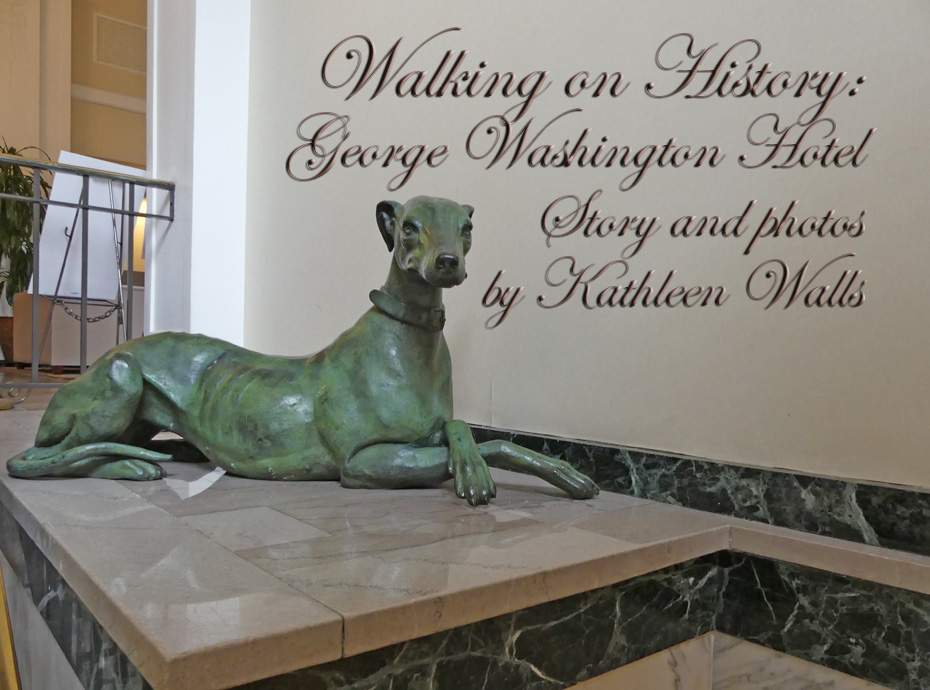 When you first step into the George Washington Hotel in Winchester, you are walking on history. That distinctive Tennessee pink marble floor in the lobby is the same floor on which the ordinary people and the famous visitors have walked since the hotel opened in 1924. Jack Dempsey, James Cagney, Ed McMahon, Lucille Ball, Lucy Baines Johnson, President Lyndon Johnson's daughter, and President Gerald Ford's daughter, Susan, are just a few of its celebrity guests. The two president's daughters were Apple Blossom Queens of the local Apple Blossom Festival.
The George Washington Hotel was built by The American Hotel Corporation, as part of their "Colonial Chain" by Washington, D.C. architect Clarence L. Harding. On June 18, 1924, the night of its formal public opening, while The Henry Seal Orchestra played, guests dined on chicken gumbo, filet mignon a la Stanley, and Saratoga chips prepared by French chef, Peter Migeot.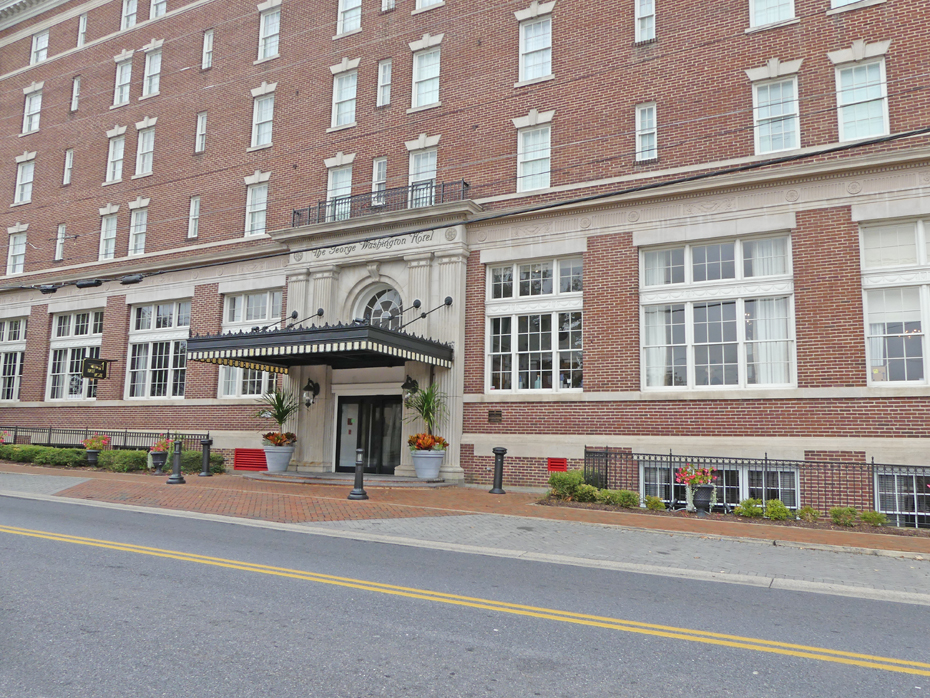 The hotel was located close to rail lines that serviced the area making it a stopping point for business and pleasure travelers until the decline of passenger rail travel caused the closing of the property in 1978.
It was renovated as The George Washington Home for Adults from 1978 to 1993. Several other operations called the old hotel home until 1997 when it was totally vacated. In 2004 it began the renovation to today's George Washington Hotel which reopened in April 2008.
Through the years of change and vacancy, the property retained much of its Colonial Revival-style and Neoclassical Revival-style integrity in the public spaces. It was listed on the National Register of Historic Places in 2010.
Today, the George Washington Hotel combines the best of the historic and modern. When you step into the lobby you are greeted by statures of two attentive greyhounds. The old mail system with decorative brass boxes on each floor where you can drop your mail and it will be picked up downstairs, tell of its gracious past. It's located in Old Town Winchester near the Loudoun Street Pedestrian Mall.
Its 90 guest rooms and suites have all the amenities and comforts like a Keurig coffee maker and complimentary bottled water, an iPhone charging station as part of the alarm clock, a mini fridge, and a microwave.
What I liked best about my room was that it still kept a feeling of the grand history with the stately wood bed and classic style furniture and paintings. Suites are even more luxurious.
Amenities don't end in the room. There's a business center, exercise room, an indoor pool designed like a Roman bathhouse complete with a Greek goddess stature. George's Food & Spirits will fill all your dining needs. You can relax at The Half Note Lounge and enjoy live entertainment on weekends. Saumaj Health Spa will rejuvenate you. There is free WiFi throughout the hotel. Only downside is parking is not free but reasonable, $5.
For those planning an event, there are spacious meeting rooms and a beautiful brick patio. An ample parking lot completes the list of everything you need at a hotel.
https://www.wyndhamhotels.com/wyndham-grand/winchester-virginia/the-george-washington-a-wyndham-grand-hotel/overview