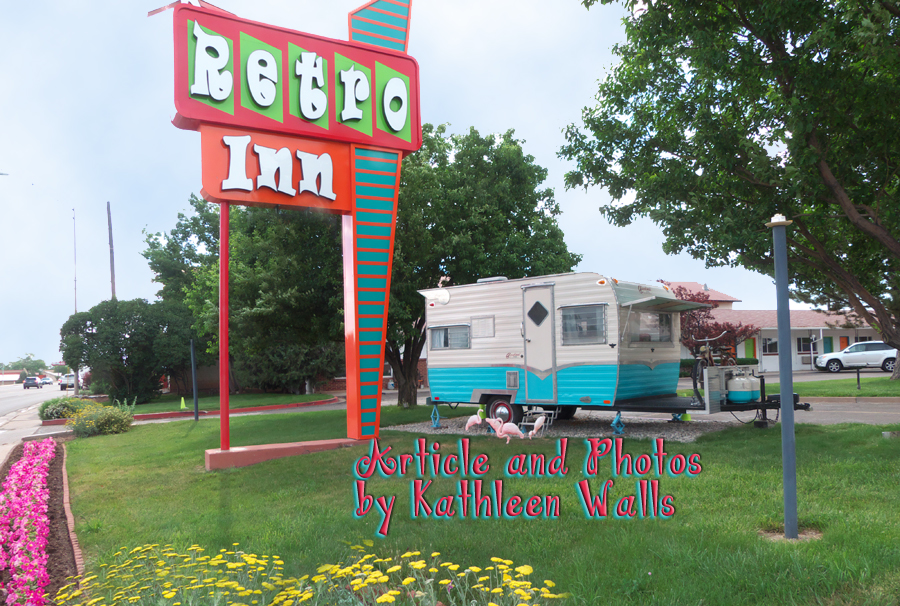 Retro Inn in Cortez, Colorado takes you back in time. You might land anywhere from the 1950s to the '80s. Well, not really but that is how it feels. If you plan to visit the Four Corners area of Colorado, Cortez is the perfect hub and Retro Inn is a fun place to set up your base camp while you explore the Ancestral Puebloans (AKA Anasazi) sites. It's about ten minutes from Mesa Verde National Park.
You know you have arrived when you see a vintage RV parked in the front of the lot with some pink flamingos around it. My favorite bit of nostalgic decor is Elvis sitting on a bench in the dining patio outside the office. The desk clerk told me they were looking for Marilyn Monroe to join him but so far, had not found the right one. (I bet back in the day, plenty of guys experienced that same thing.)
There are grills and tables in the patio area also so you can DIY in nice weather and eat picnic style. While waiting for the charcoal to heat up, you could play a game on a life-sized chess set.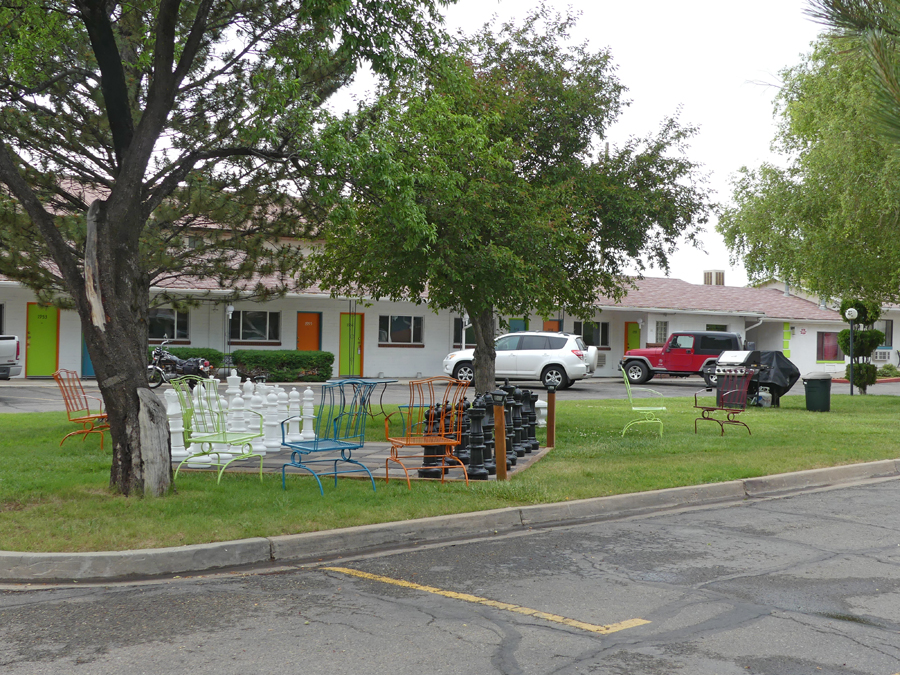 Each room is numbered for the year it represents and decorated accordingly. You get a real key with a numbered keychain fop on it not a card that your phone can deactivate. All the doors are painted in bright clean colors. Inside, all the rooms are clean and spacious. They all have keurig coffee maker, shower tub combo, mini fridge, microwave, big cable tv, alarm clock and a desk or table. The beds are comfy and everything works perfectly. The free wifi was a little slow in my room but worked.
There are two motorcycle themed rooms. Another is retro-themed TV shows from back in the day, Andy and Barney's picture over one bed and Hoss, Little Joe, Adam and Pa Cartwright's over the other. Room 1964 is filled with Beatles paraphernalia as might be expected. Those of us of a certain age recal that as the year "I Want to Hold Your Hand" rocketed to the top of the American Rock and Roll Chart and John, Paul, George, and Ringo came over the pond to begin "The British Invasion." The 1983 room was decorated with original Star Wars posters in honor of the release of "Return of the Jedi" the third Star Wars saga.
I was way back in the fifties on Route 66. My room had lots of old fashioned mechanic shop signs and now extinct oil companies logos. The bath was all pink and aqua. It brought back many old memories.
The personal are friendly and knowledgeable. The lobby and dining area are done up to fit the theme; big bold black and white tiles with neon orange cabinets in the breakfast section. They began serving breakfast at 6:30 if you need an early start on your day. It's a pretty substantial breakfast for a continental free one, good selection of breads for toast, yogurt, bagels, cereal, fruit, juices, coffee and nice choices of teas.
If you're looking for sophisticated and cookie-cutter style, this is not for you. You're not in a typical chain here. But as you can see this place is original. Each room is different. It's a fun recreation worthy of a museum of that era.
For more info:
http://www.retroinnmesaverde.com/home.html