Much has been told about the way enslaved people worked and interacted with the white owners in the old South. Little is known about their personal lives when their work was done and they went home. Did you ever wonder what was it like to live in a slave cabin in the 1830s and 40s?
Two of the original eight slave cabins from what was once the Gregg Plantation now part of Francis Marion University in Florence County, South Carolina, tell that story. Karl McAlister, Circulation Coordinator in the library at Francis Marion University and Coordinator of the Hewn Timber Cabins, gave us a very detailed look at what life was like for those folks.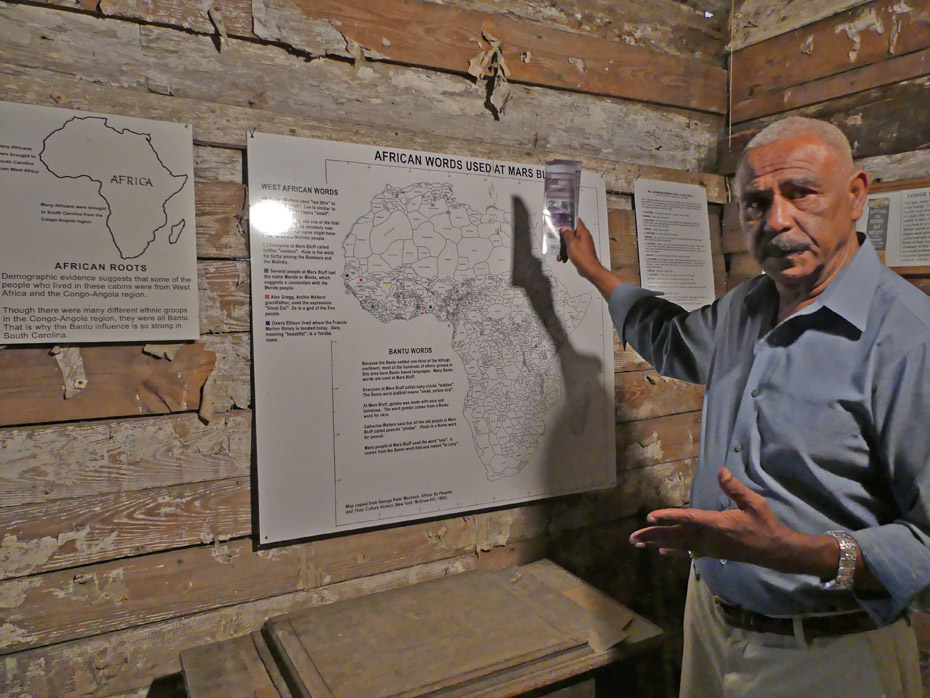 The detail work involved in building cabins that survive over 170 years is fantastic. Bear in mind that these people who built them were slaves often from different parts of Africa and speaking different languages. They were given minimal equipment and had to build them fast during off season because the owner would not have his cotton planting or picking neglected. Modern day carpenters would face a challenge building cabins to last as long as these with today's tools.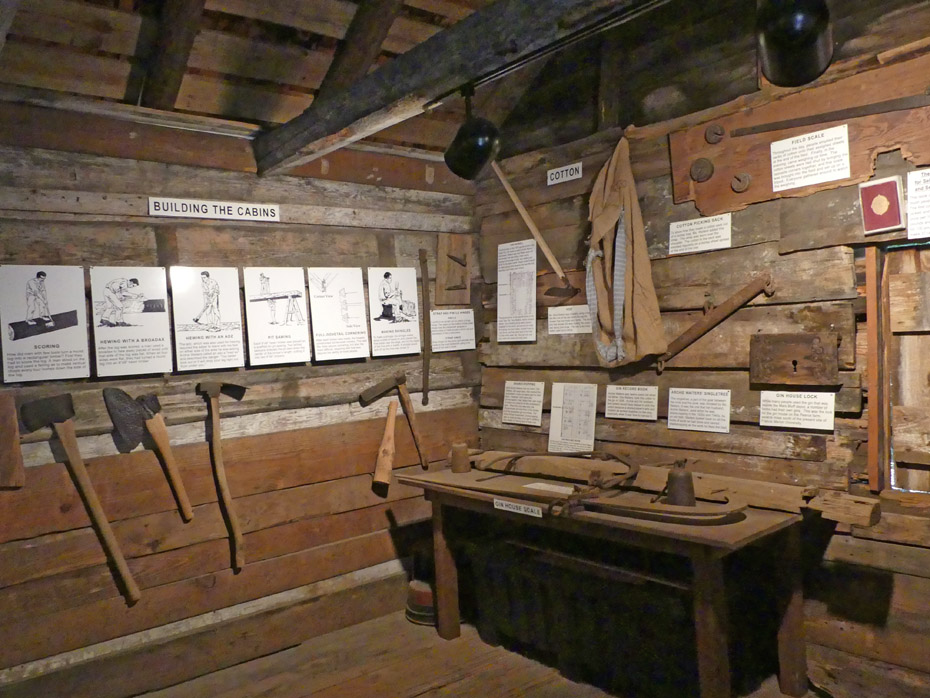 Just looking from the outside, Karl showed us two things that contributed to the cabin's longevity. The builders were skilled craftsmen and created beautiful dove joints locking each timber in place. The wood they had to use was a soft pine. The resin of these trees is a form of wood preservative and by cutting lengthwise this resin protected the wood. Another thing that added to the longevity of the cabins was that the women living in them swept the front yards down to the bare dirt regularly. Thus little or no weeds grew up around them to harbor insects that could get into the cabins and destroy the wood.
The tools and photos on the inside give a view of the inhabitant's lifestyles. Karl introduced us the last family who lived in the cabin called "Ms Catherine's Cabin" built in 1836. Waiters Family still lived in it until 1965. The family started with Mr Alex Gregg an enslaved man on the Gregg plantation; he married first Emma Piglott and after she died, he married Florence Gregg. Alex and Emma's daughter, Tena, married Otis Waiters. Their son Archie, his wife, Katherine King, and their 12 children were the last to live in this cabin. Karl told us that today, some of the Waiters grandchildren attend Francis Marion college and still live in the area.
The cabin is filled with tools used in building the cabins and implements used to grow the main crop, cotton. There are examples of early basket weaving done by some of the Gregg family and the tools they used. You learn that back in the days of sharecropping when African American workers were paid tiny wages to work the cotton plantation, there was still a wage gap between what the men were paid and the women.
There is a recording of Ms. Catherine telling about her mother making ash bread right in the ashes in the fireplace. When you leave the cabin and step back into the 21st century, you feel like you know the Waiters family well.

These cabins are truly a treasure despite their humble appearance.
http://departments.fmarion.edu/publicaffairs/hewntimbercabins/