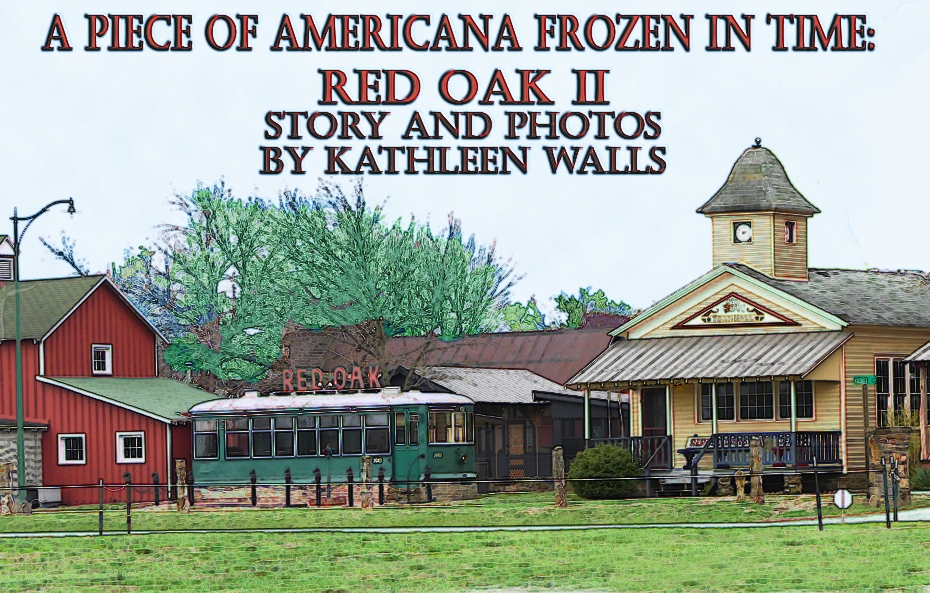 The U.S. is full of deserted ghost towns, small places abandoned when jobs ran out and residents moved to larger cities in search of work. This was common during the post WWII years. Farmhouses aged and succumbed to weather. Old gas stations hovered near the crossroads, their out-of-date pumps dusty and rusting. But sometimes ghost towns can be reincarnated. Such is the case in Red Oak II near Carthage, Missouri just off Route 66.
Artist, Lowell Davis best known for his farm life folk art, grew up in Red Oak. His art career took him far away on the road most traveled. When he returned to his home town, it was no more. In the years he was chasing his dream, Red Oak had become a ghost town.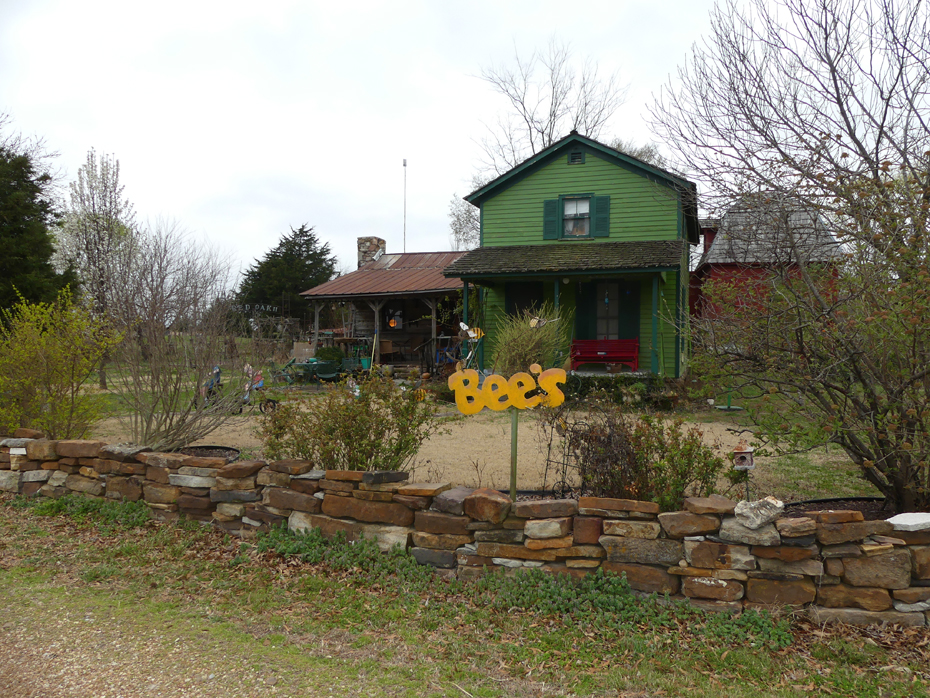 Lowell Davis's home once belonged to Belle Starr's family.
But artist are creators. If something they love is taken away, they recreate it. That's what Red Oak II is. Lowell Davis began buying the rundown houses, the old gas stations, the country churches of his old home town. He moved it here and restored them to the way he remembered them being in the 1920s through 1950s.
How about those gravity gas pumps at this old Phillips Station?
Along the way, as money ran out, Larry Frickenschmidt and his wife, Lois, stepped in to aid in completing Lowell's dream. We visited Red Oak II and met with Larry a few months ago. Larry explained his love for the Red Oak II project. "I grew up about two miles from here. I have an association with Red Oak. When I was a little kid, my mom and dad owned a store at Grays Point and Grays Point was in direct competition with Red Oak."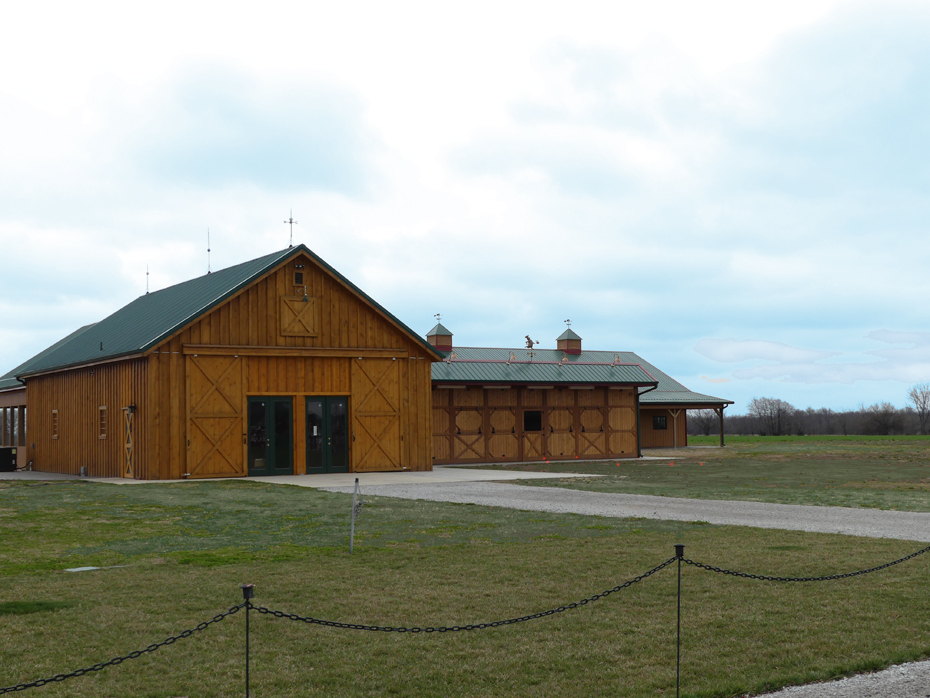 Larry's Legacy Barn is the place for weddings and other celebrations.
Larry started our tour on his farm across the road from Red Oak II where he proudly showed us his new event center just completed April 2016. It's a state of the art barn that will comfortably accommodate 150 to 220 depending on whether they used tables or just seating. The lower floor looked perfect for a big square dance. Upstairs opens to a view of Larry's farm from the decks. The wheat crop was just starting.
Two of the antique wagons in Larry's Collection Barn.
Next to it a concession stand/restaurant was under construction. He showed us the building that will eventually be the Collection Barn. We got an advanced peek at the collection including an Amish wagon, an antique buggy, several antique tractors, and a lot of wine barrels.
When we braved the icy weather and ventured into the heart of Red Oak II what we saw was worth the effort. We were standing in a dirt road in a small Missouri town at the turn of the century. Larry told us that the first buildings were moved out there around 1988. He pointed out one that says Feed Store as the very first. He told us, "It dates back to 1930s. Lowell used it as his studio originally. Most of the buildings here are late 1800s to 1920s."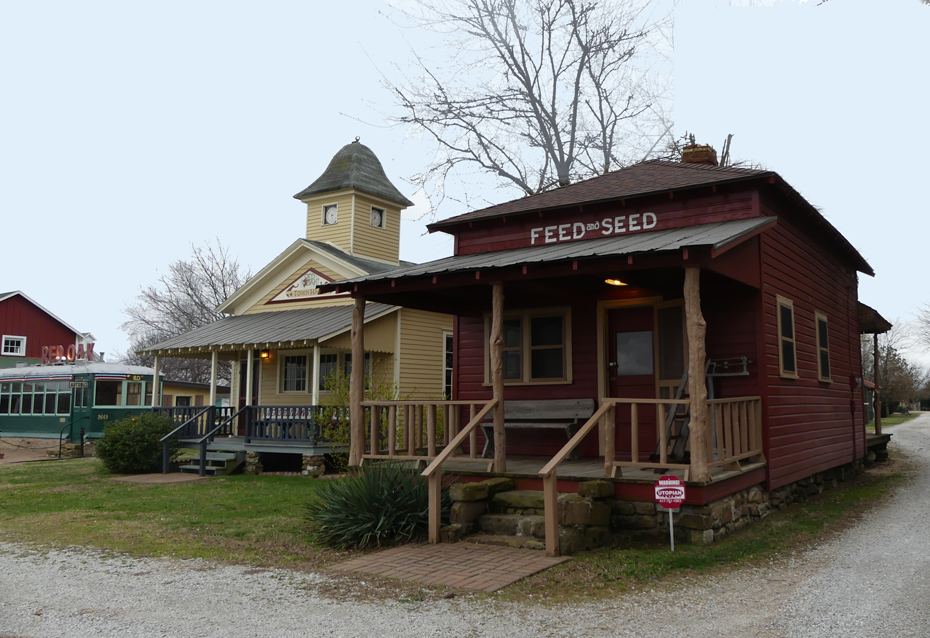 Feed Store in foreground with town hall, trolley, and cafe to left.
The first eye-catcher as you enter the village is the trolley converted to a diner. It sits between the Town Hall with a porch sporting two benches--the larger is painted red and marked Republicans and the smaller blue bench is labeled Dems--and a large red barn that is Red Oak II Cafe.
The trolley is a marriage of old and new. Larry told us, "The old Trolley car dates back to 1910 or 20. The trolley was used in Carthage and went around the square in a place called Lakeside"
The restored trolley.
The inside has been restored to the day the trolley rolled off the assembly line with a lot of modern touches in the food service area. The trolley is used for seating and the rear has a new section that fairly sparkles. Wood counters are coated with enough lacquer to shine and resist spilled drinks. Fixtures are stainless steel and brand new. My favorite touch is a painting of a fox and a dog both dressed in farmer-style duds playing pool in typical Lowell Davis style. The fox even has a tin of what looks like Prince Albert Tobacco in his jeans pocket.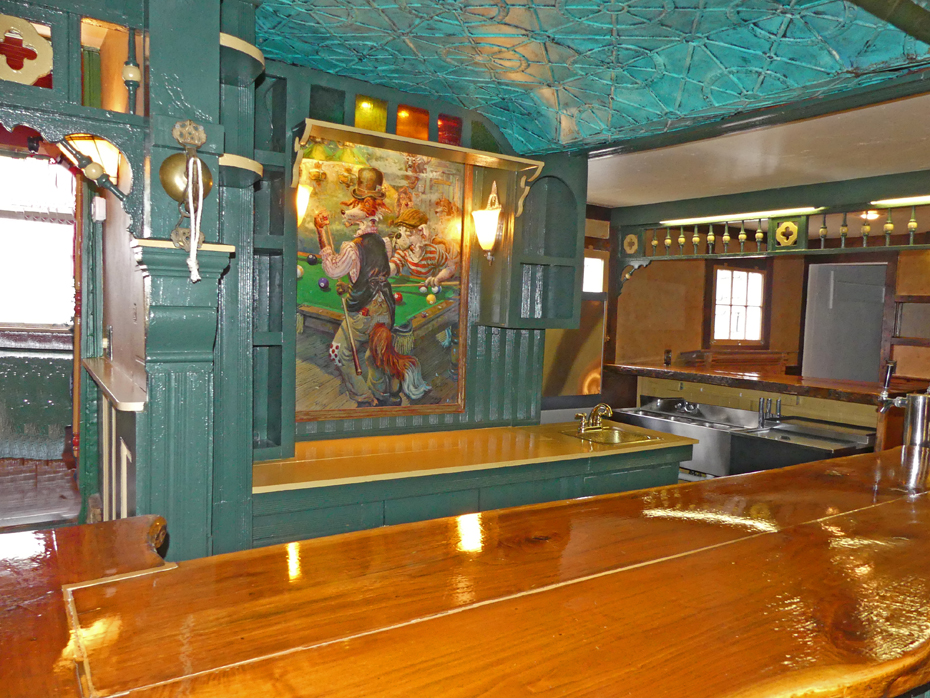 Food service area in the cafe.
Whimsical art greeted us throughout the town. It's filled with sculptures and antique cars and even a vintage airplane. One piece of art that caught my eye was the Klinginsmith Picture Frame created from sheet metal and metal wheels of every size and shape. It sits in the old Garfield Wylie Cabin yard. This is one of the cabins Lowell sold to like minded people to keep Red Oak II alive and thriving. Tom and Carol Klinginsmith bought this one and Carol still lives there.
Klinginsmith home and art.
Many of the homes are occupied by folks who like living in this reminder of a colorful past. Some of the cabins have been converted to bed and breakfasts so you can stay over in Red Oak II if you wish. Others are being re-purposed like the Feed Store destined to pay tribute to a loved one and a remembered past. Larry said, "My dad used to haul milk all through this part of the country back in the 40s, 50s, and early 60s. That's why we are going to have a Dairy Museum here soon."
Some are restored as a museum about their original uses such as Marshall Hooker's office and cabin. Even the old jail is done as a tongue-in-cheek "Child Care Facility." Some like the Salem Church, circa 1905, are used for actual services.
| | |
| --- | --- |
| | |
| Marshall's office. | Old Jail AKA Child Care Facility. |
The old General Store is restores as a general store and sells a lot of Lowell Davis artwork, books, and other Rt. 66 items. It has four top tables and chairs and is a great place to stop and sit and sip awhile.
The old general store is open for business most days.
Larry told us, "Elmira School, dated around 1888, came from a farm next to my family farm." Now it is restored as it would have been in that era and it's filled with memorabilia and information about the students.
Elmira School as it was in the late 19th century.
There are two old gas stations. After all cars traveling the Mother Road needed fuel. One is a Phillips 66 with its gravity gas pumps. The other is a true classic of the times, a tiny station with its two pumps and a building not much bigger than a phone booth. Larry explained its history. "Standard Oil station was on Rt. 66 in Carthage. They had kits and they would go to these little towns and put them up. It was built by Butler Building who had a contract to build them all over the country."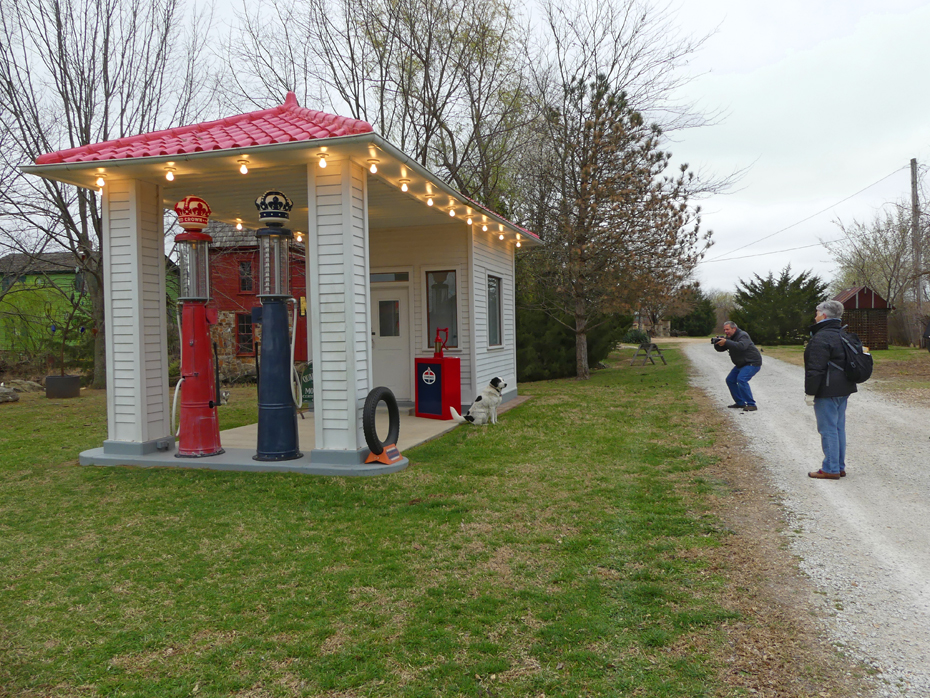 One of the kit gas stations with welcoming dog greeter.
Naturally Lowell Davis and his wife, Rose, live in one of the most historic houses in the village, the Belle Starr home. This modest green frame house is where the legendary western lady-outlaw grew up. There is so much more there like the blacksmith shop, a train depot, even Fort Hooker.
Fort Hooker.
What impressed me most about Red Oak II is its reality. This is not a built-for-tourist attraction. There is no admission charge. You won't find any docents but you may find Larry, Lowell or one of the residents strolling around town. These people live here. It is their home town. You probably will meet the town dog or one of its cats. You will come away with a feeling of having stepped back in time and visited a real-life town when Rt. 66 was teaching folks to "See the USA in their Chevrolet" or Ford or any other automobile because "American's the greatest land of all.".
For more info: