Abraham Lincoln: "There I Grew Up..."
Article by Thomas J. Straka
Photographs by Patricia A. Straka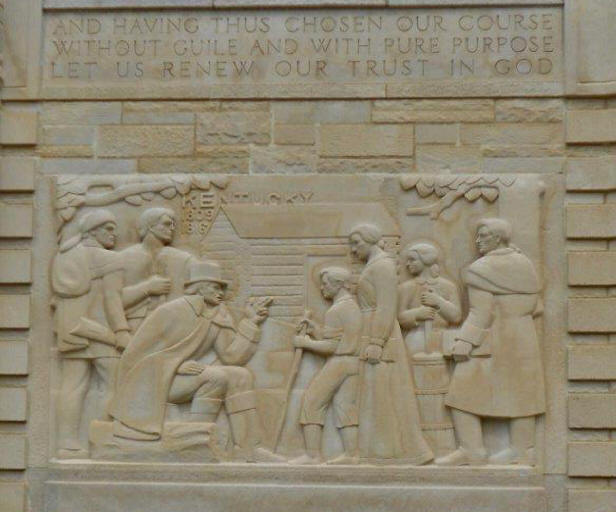 Kentucky Panel:1809 -1816, The Childhood Years of Lincoln. This panel illustrates people
important in his young life, including his father, mother, sister, and other influences.
Abraham Lincoln brings the state of Illinois to mind, or maybe Kentucky, where he was born, but a quarter of Lincoln's life was spent in a third state.

When he was seven years of age his father, Thomas, moved the family (Including mother, Nancy, and sister, Sarah) from Kentucky to the frontiers of southern Indiana.

Abraham Lincoln spent fourteen years of his life there from 1816 to 1830, when he moved to Illinois.

Those were his formative years, where he developed his morals and character.

The family claimed 160 acres near Little Pigeon Creek in what would become Spencer County, Indiana. Indiana became a state just about the same time as the family moved.

Lincoln referred to the unsettled woodlands as the "wild region."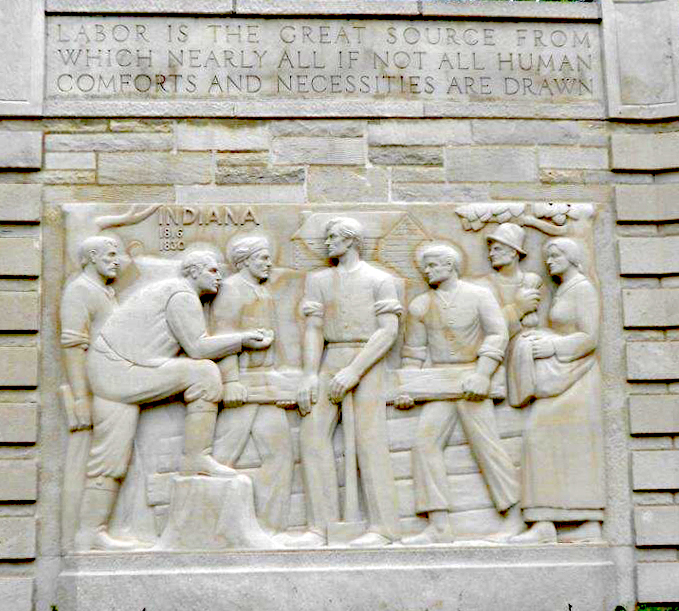 Indiana Panel: 1816 - 1830, The Boyhood Days of Lincoln. Lincoln as a youth, but fully-grown and capable
of a man's work. Others are various influences as he grew up.
A cabin was quickly built and a farm was cut out of the wilderness.

Gradually the cabin was improved and outbuildings constructed.

Thomas used has carpentry skills to earn a living and establish himself in the community.

Abraham assisted in this effort and was very capable with the plow and axe.

Later in life he recalled the axe and how he "was almost constantly handling that most useful instrument." The first two years went well, but when Lincoln was nine his mother helped nurse some neighbors that were sick with the milk sickness.

She also became victim of the illness and died. Abraham endured many losses like this over his lifetime.

Milk sickness was a baffling and gruesome sickness that disheartened many of the pioneers.

Later, it was discovered that cows which ate the local innocent-looking white snakeroot plant would accumulate a toxin in their milk and this poison was the cause of the sickness. Nancy Hanks Lincoln is still buried very near the old cabin site in a rough wooden coffin built by Thomas Lincoln and his son.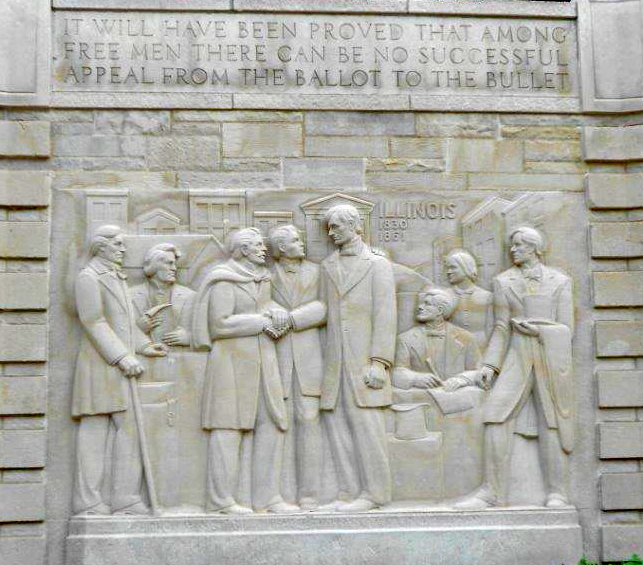 Illinois Panel: 1830 - 1861, The Years of Political Ascendancy. Lincoln is shown receiving
congratulations on his election to the United States House of Representatives in 1846.
These are his friends and associates. Mary Todd is in figure.
Thomas made a trip back to Kentucky and married Sarah Bush Johnson, a widow with three children, aged twelve, eight, and five. Sarah was a loving stepmother to Abraham and his sister. She provided guidance and helped form a new family.

Abraham had little opportunity for a formal education; his time in a classroom totaled about a single year. Important farm work was his main focus, but he loved to read.

His Indiana school papers, plow, and pioneer-era axe are in the Memorial Visitor Center.

In 1830 the family moved on to Illinois.
The area around the Memorial includes many of the places that helped shape Lincoln's early life. He was part of discussions at Gentry's store; near-by Lincoln State Park operates a restored 1834 Federal-design home owned by Lincoln's merchant employer (Colonel William Jones); and his sister Sarah is buried at the nearby Little Pigeon Baptist Church Cemetery at the state park. The state park also has the 1,500 seat Lincoln Amphitheatre where "A. Lincoln: A Pioneer Tale" is performed and the Abraham Lincoln Bicentennial Plaza (depicting key milestones in Lincoln's life). Lincoln Landing on the Ohio River is the site where he launched a flatboat to transport produce to New Orleans. On that trip Lincoln witnessed a slave auction on the docks, an experience that left a lasting memory. Lincoln Ferry Park is the site where he operated a ferryboat business to shuttle people to the middle of the Ohio River, where they could catch a boat. The Lincoln Pioneer Village and Museum is in Rockport and houses hundreds of fascinating artifacts from the area's historic past, including a piece of furniture made by Thomas Lincoln. The Pioneer Village has fourteen Lincoln-era replica cabins from the local area.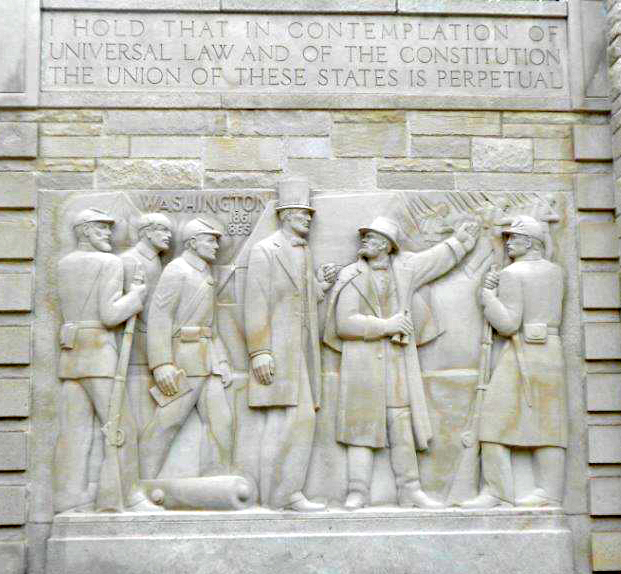 Washington Panel: 1861 - 1865, The Years of Command. Lincoln is at the headquarters
of General Ulysses S. Grant in Petersburg, Virginia near the close of the Civil War.
Today that homestead and the surrounding area is a National Park Service National Memorial.

It is located in very southern Indiana right off of U.S. 231, a highway that runs north-south through Indiana.

The first stop should be the Memorial Visitor Center.

It includes an information desk, a background historical film, a bookstore, and museum exhibits.

On the outside are five sculptured panels, carved from Indiana limestone, illustrating the steps in Lincoln's life that brought him from a cabin to the White House.

Above each is a quotation from one of Lincoln's speeches.

The five panels represent Kentucky (1809-1816), Indiana (1816-1830), Illinois (1830-1861), Washington, D.C. (1861-1865) and the Central Panel ("And Now He Belongs to the Ages").
A short distance away is the Pioneer Cemetery, which includes the grave of Nancy Hanks Lincoln. Near the cemetery is the Cabin Site Memorial. It is a bronze casting of still logs and fireplace hearthstones that symbolizes a cabin built by the Lincoln's. Down the trail from the cabin site is a living historical farm that recreates an 1820s homestead. A cabin and outbuildings that date from the nineteenth century were moved to the site. There are split-rail fences, livestock, vegetables and herb gardens, and field crops. Park rangers in period clothing demonstrate farm life with historic implements and agricultural practices. Near the farm is the Lincoln Spring, where the family got its fresh water (a main reason Thomas Lincoln chose this site for his homestead).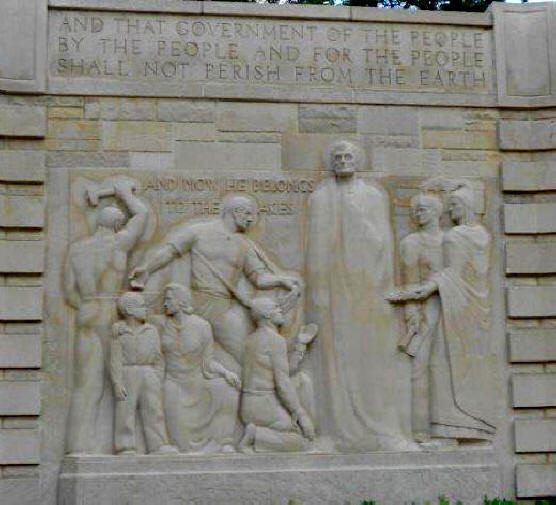 Central Panel: "And Now He Belongs to the Ages." Words of Lincoln's Secretary of War to
remind all of the heritage Lincoln left. The figures in the panel represent some of the
people to whom Lincoln will forever belong: laborers, farmers, families, and freedmen.
To the right of Lincoln are Cleo, Muse of History holding a scroll to record his deeds and
beside her is Columbia offering laurel in praise. In the background are a cabin and the
White House, as symbol of American opportunity.
If you walk back to the visitor's center from the Living Farm, instead of retracing your steps, you can take a half-mile Trail of Twelve Stones.

Twelve stones are laid out along the trail in chronological order showing major events in Abraham Lincoln's life. These are actual stones from each event.

Listing the actual stones will illustrate the life story:

stone from Lincoln's birthplace farm, stone monument that once marked the location of the Lincoln Cabin in Indiana, stone from the foundation of the store Lincoln worked in as a boy,

stone from the Vincennes Western Sun newspaper building (newspaper Lincoln probably read),

stone from the foundation of the Lincoln-Berry store in Springfield, Illinois,

stone from the girlhood home of Mary Todd, stone that was once part of the White House, stone from part of Lincoln's "Summer White House," stone from the Gettysburg Battlefield,

stone that part of the old Capitol Building, stone from the Peterson House in Washington , D.C. (house Lincoln died in), and excess piece of granite from the Lincoln Tomb in Illinois.
This is a great stop for someone taking a shortcut through Indiana. Everything is very close to the main highway. A quick stop can be accomplished in less than two hours at just the National Memorial. At least a full day would be needed to visit all the related Lincoln locations, even though all are located nearby. Much Lincoln history is concentrated in one small area. While the focus is Lincoln's boyhood, his entire life is scattered in the various parts of the Memorial. This makes for a wonderful Lincoln experience, quite different from the one you'll find over in Illinois.
More photos: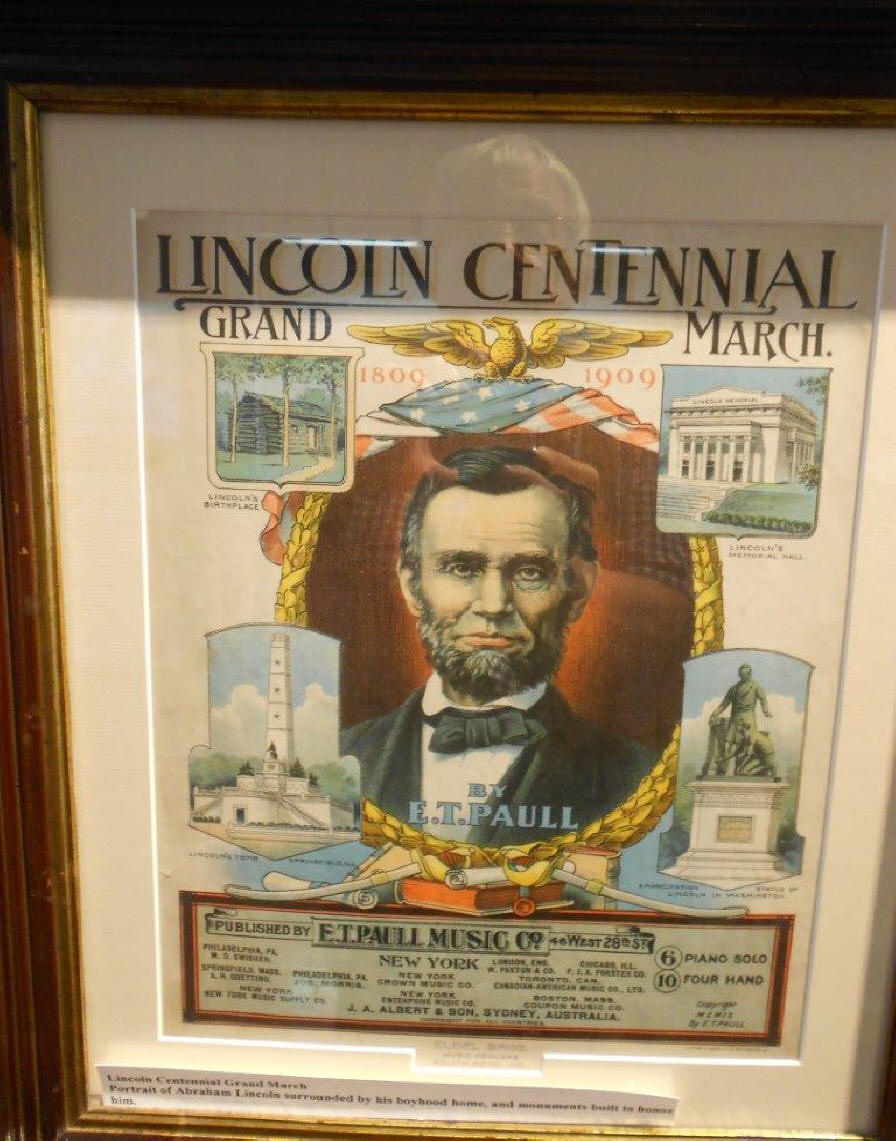 An interesting Lincoln poster.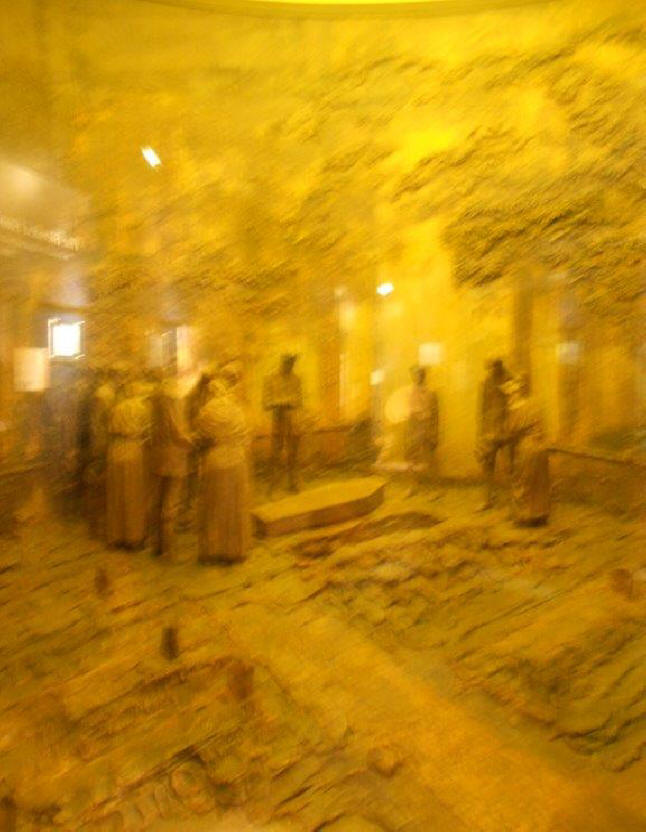 Lincoln family burying Nancy Hanks Lincoln, mother of Abraham Lincoln.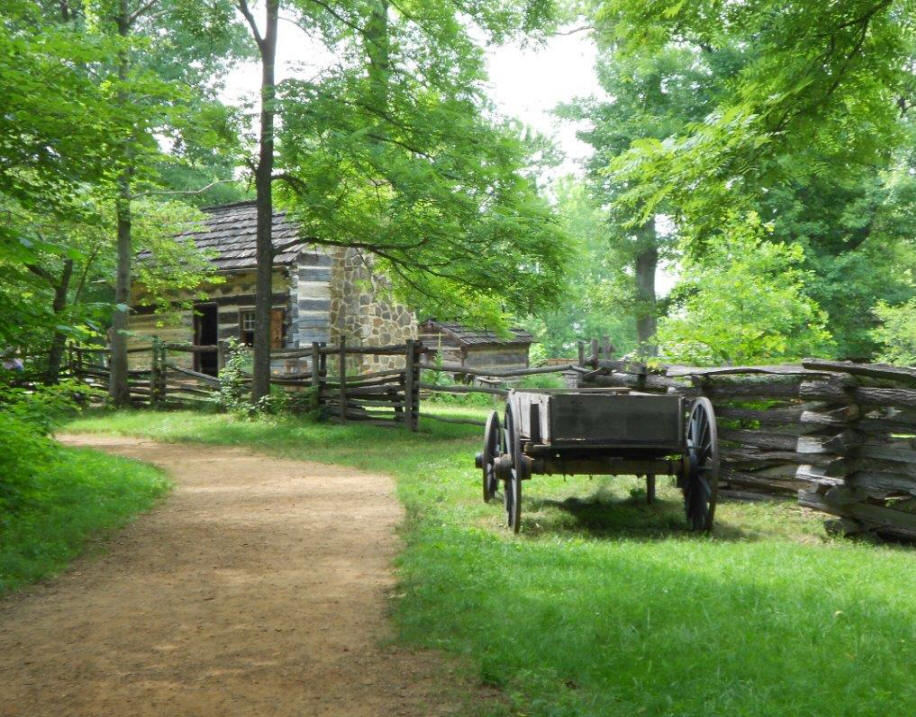 The Living Historical Farm, with cabin similar to the Lincoln cabin.

Inside of the cabin on the Living Historical Farm. This would be similar to the inside of the actual Lincoln cabin.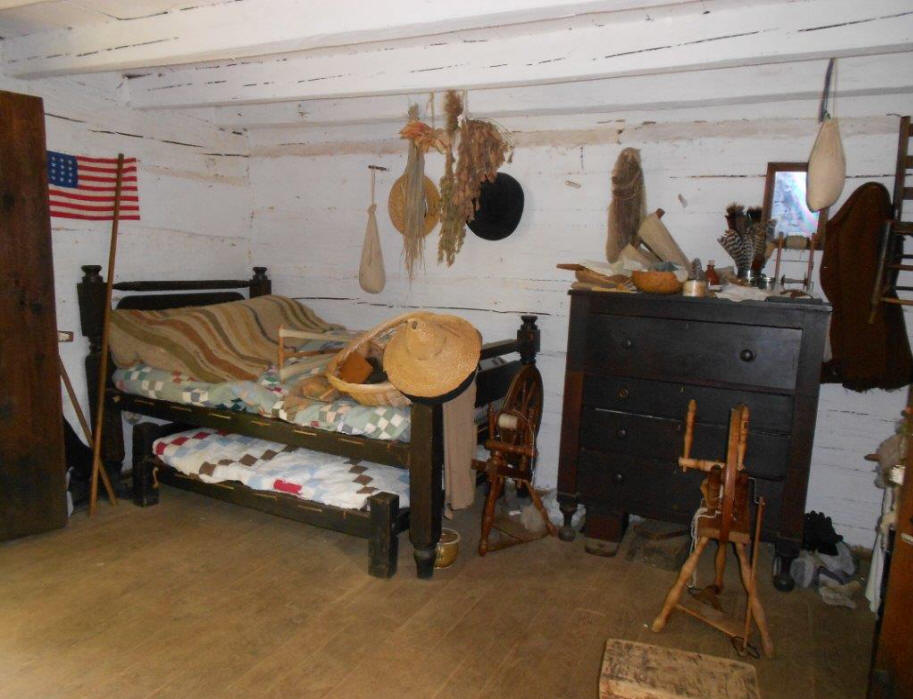 Another view of the inside of the cabin.. This also would be similar to the inside of the actual Lincoln cabin.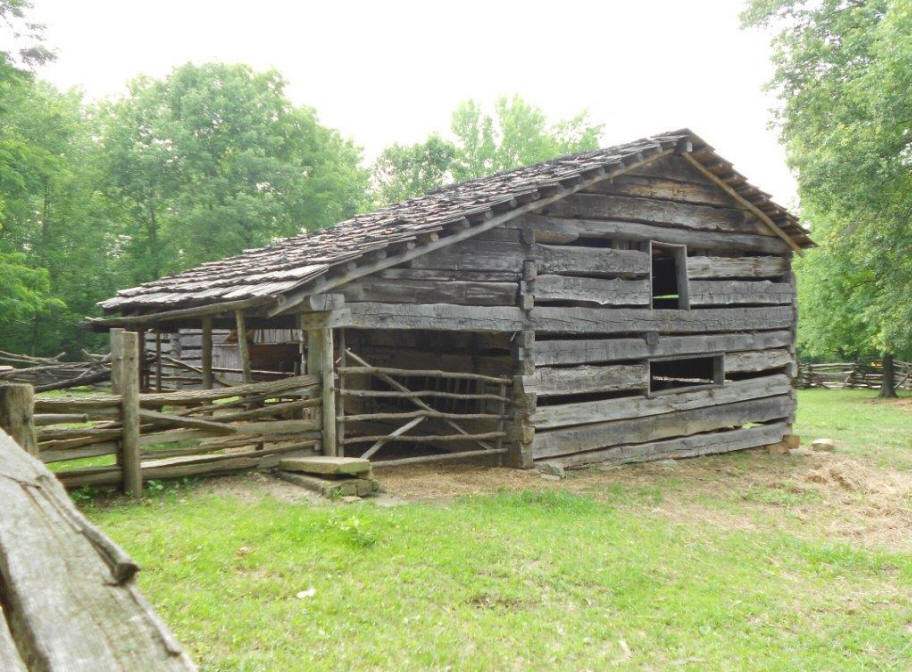 One of several outbuildings on the Living Historical Farm.

Authors: Tom Straka is a forestry professor at Clemson University in South Carolina. His wife, Pat, is a consulting forester. Both have a keen interest in roadside history.
For more information:
Lincoln Boyhood National Memorial (National Park Service):
http://www.nps.gov/libo/index.htm
Spencer County Information on many other Lincoln-related sites:
http://indianasabelincoln.org/
Abraham Lincoln's Classroom: Lincoln and Indiana:
http://abrahamlincolnsclassroom.org/abraham-lincoln-state-by-state/abraham-lincoln-and-indiana/
The Life of Abraham Lincoln by Henry Ketcham:
Chapter III. Early Years
http://www.authorama.com/life-of-abraham-lincoln-5.html
Chapter IV. In Indiana.
http://www.authorama.com/life-of-abraham-lincoln-6.html
Ads fund American Roads so please consider them for your needed purchases.
If you enjoy the articles we offer, donations are always welcome.
----------