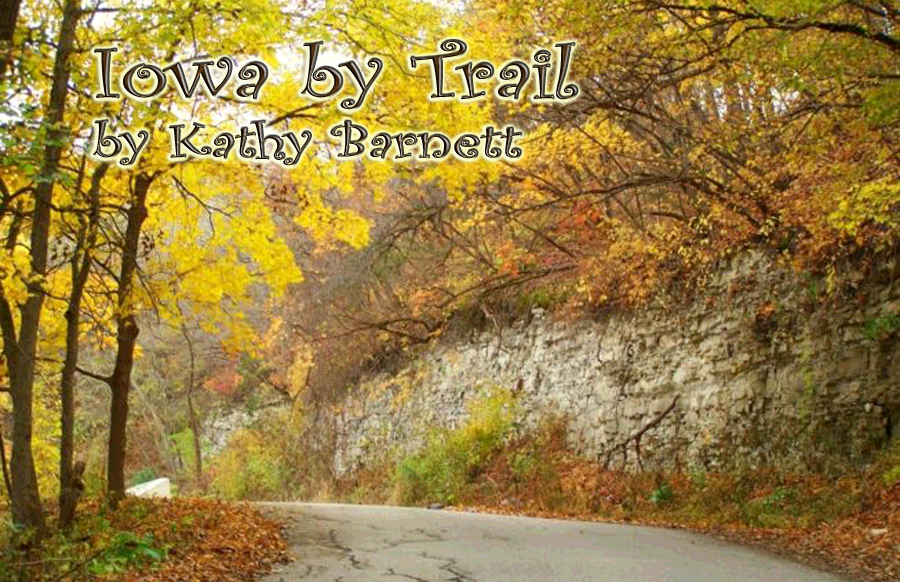 With over 3,000 miles of trails for all ages, skill levels and seasons, it only seems appropriate for Iowa to claim the title of "World Capital of Trails." Currently cyclists, hikers, walkers, runners and other outdoor enthusiasts can enjoy miles and miles of multi-use land trails across the state. During the winter, snowmobilers and cross country skiers can find as many as 1,000 miles of trails in the parks and along Iowa's county road grid system to glide along the newly fallen snow.
Equestrians and mountain bikers have partnered to build and maintain trails that offer both leisure rides and challenging tracks. Individuals, communities and various organizations celebrate this commitment to trails for outdoor recreation and have made it possible. So come to Iowa, the World Capital of Trails and you are sure to have a good time. Let's take a look at a few "themed" trails and byways.
When driving on one of the nine state scenic byways in Iowa, visitors can experience scenery for valued photography, like standing atop a Mississippi River bluff, or they can stop at a local art museum. Historians can retrace the footsteps of Lewis & Clark. Each one highlights a unique feature of this state and you'll have to return again and again to take them all in.
A few starters are the Delaware Crossing Scenic Byway between Manchester and Hopkinton in Eastern Iowa. This one is noted for the state, county and city parks along the Maquoketa River Valley. For shoppers, there are several antique shops. Another is the winding Driftless Area Scenic Byway. It is in Northeast Iowa in Allamakee County. This corner of the state was untouched by the last glaciers, forming a gashed and furrowed terrain known as the "Driftless Area." Then the Glacial Trail Scenic Byway is in Northwest Iowa. Rolling hills and forested valleys provide spectacular views. See the Native American archaeological sites and restored Iowa prairies.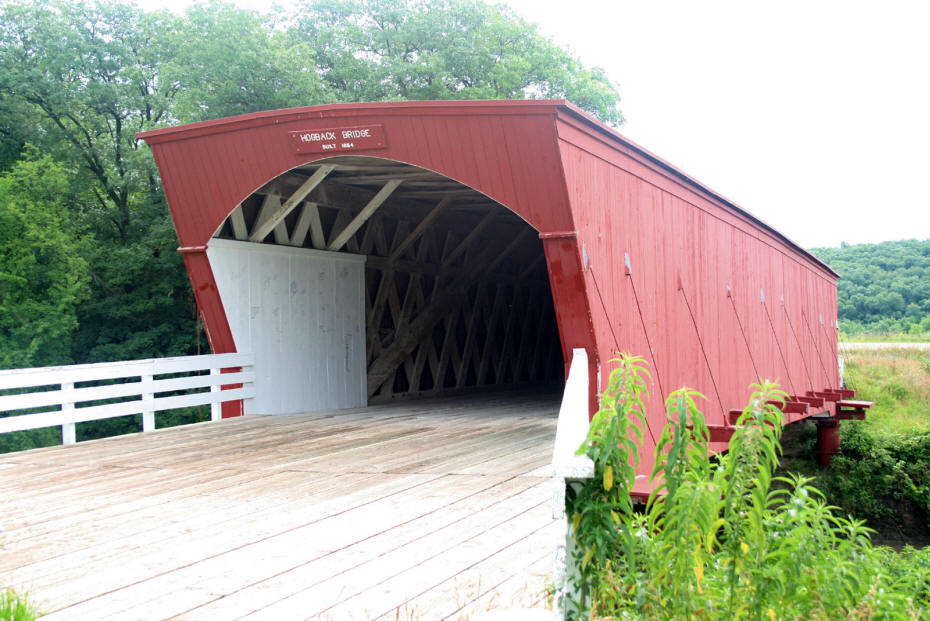 Hogback Covered Bridge
The Madison County Conservation Board and Chamber of Commerce have proposed a Scenic/Heritage Byway Route featuring the central, north central, northeast and southeast regions of Madison County. If and when approved, the Scenic Byway will include 82 total miles of highways and county roads featuring all the glorious scenery that is Iowa: Rolling hills and valleys, native grasses and bright botanical gardens, native stands of oak/hickory forests, beautiful farmlands, century farms and cultural landmarks. It is my favorite.
Picture the perfect trip through the Bridges of Madison County located in southcentral Iowa around Winterset. While enjoying the trail, a view of the famous covered bridges is an added bonus. As the inspiration for the movie with the same name, tours are available through the Winterset Chamber of Commerce. By foot, bike or car, there are six famous covered bridges to visit.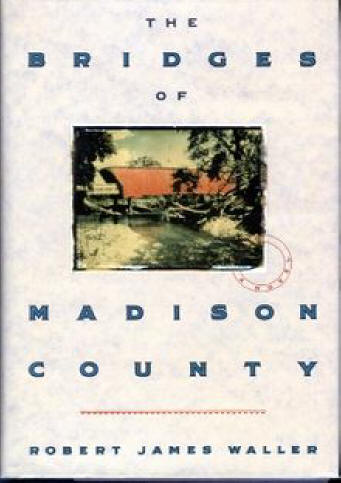 Bridges of Madison County book Photo courtesy
Madison County Chamber and Welcome Center
At the Roseman Covered Bridge, which figured prominently in the book and movie, examine the many initials and names carved or written on the walls (thousands of love stories have been documented here). The Imes Covered Bridge near St. Charles is the oldest remaining bridge, built in 1870. Next, The Holliwell Bridge is the longest covered bridge in the area and was actually featured in the movie. The Culter-Donahoe Bridge is located in the beautiful Winterset City Park. The bridge was once located near Bevington and was moved to its present location in 1970. Just north of Winterset is the Hogback Bridge surrounded by beautiful countryside. The bridge, still in its original location in a beautiful valley, gets its name from the limestone ridge at the west end of the valley. The cedar-covered Cedar Bridge is also north of Winterset. A small park next to the bridge would make a perfect place to have a picnic. This is the bridge that is on the cover of the novel "Bridges of Madison County."(1) It was renovated in 1998 and is the only one that you can actually drive through.
While viewing these bridges are inspiring, save time to visit the quaint historic town square to do a bit of shopping. This destination is also known for quilting and the Piece Works Quilt Shop is ready to help pick out your next project. They display thousands of bolts of fabrics to choose from along with the latest patterns and notions. This is a wonderful place for a girls' getaway as they offer retreats and classes to groups. Just down the street from Piece Works is the new Iowa Quilt Museum. There is always something new to see as their displays change three times a year. Its current exhibit, Stargazing: American Star Quilts" will be on display through Jan. 24, 2017. Then the next theme through April will be "Arts Quilts of the Midwest."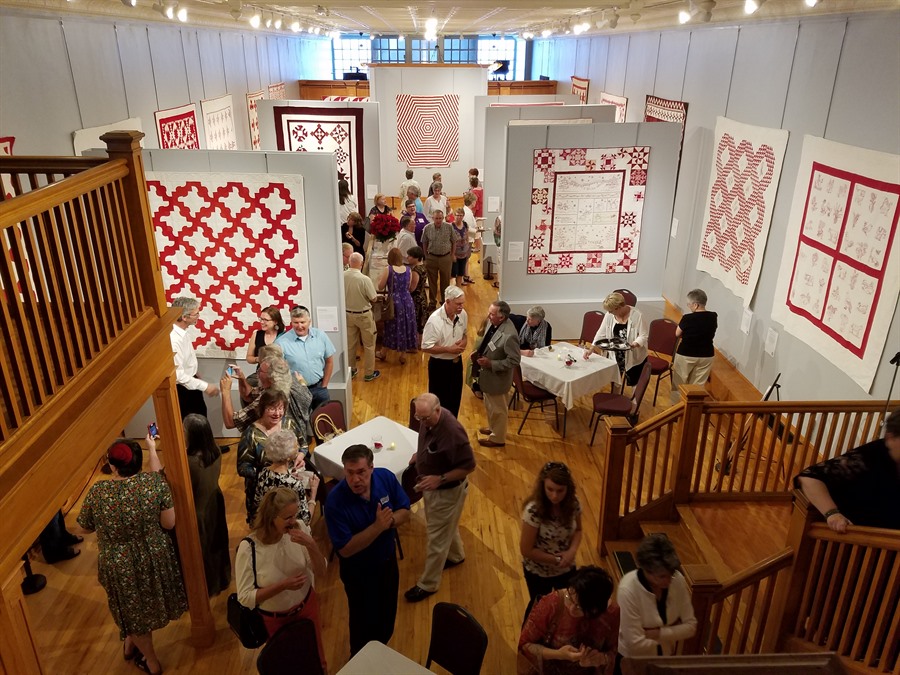 Piecework Quilt Museum
Of course, shopping makes a person hungry, so a stop at the Northside Cafe is mandatory. It is on the town square and is the very spot where Clint Eastwood sat during filming the movie. For a fiery treat, try the jalapeno and Harvarti burger with a side of smoky chipotle mayonnaise. It is delicious on the burger and to dip your fries into for a hot taste. To cool off, try the peanut butter pie for dessert.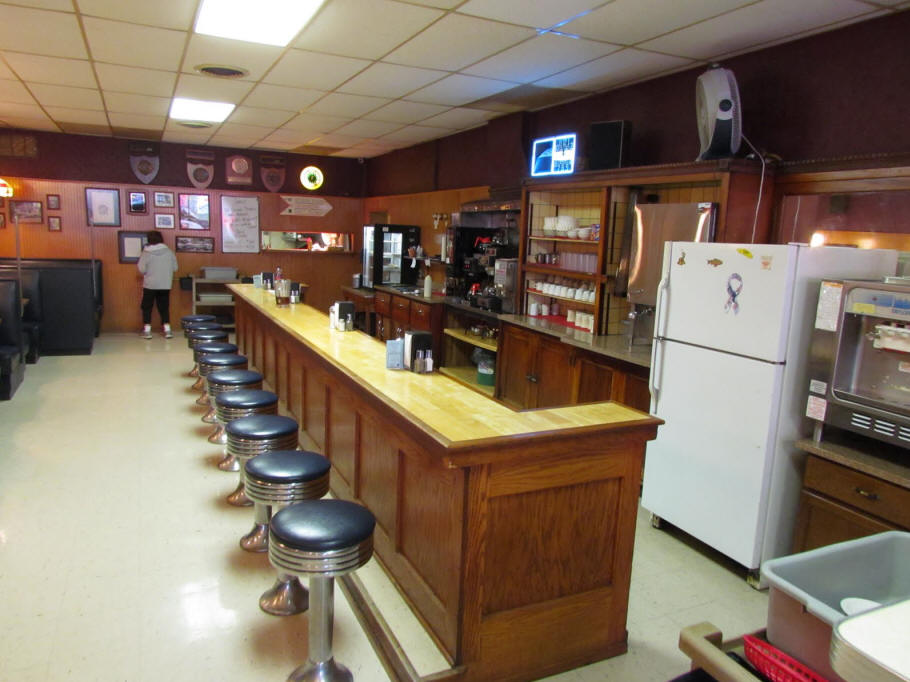 Northside Cafe
Still focusing on movies, western star John Wayne, was born in Winterset. So for movie buffs, it is imperative that you visit the John Wayne Museum while still in Winterset. The 6100 square foot museum is right next door to his simple 4-bedroom home where he was born. Both are full of memorabilia housing the largest exhibit of John Wayne artifacts in existence including original movie posters, film wardrobe, scripts, contracts, letters, artwork and sculpture. The $15 tickets are well worth the visit.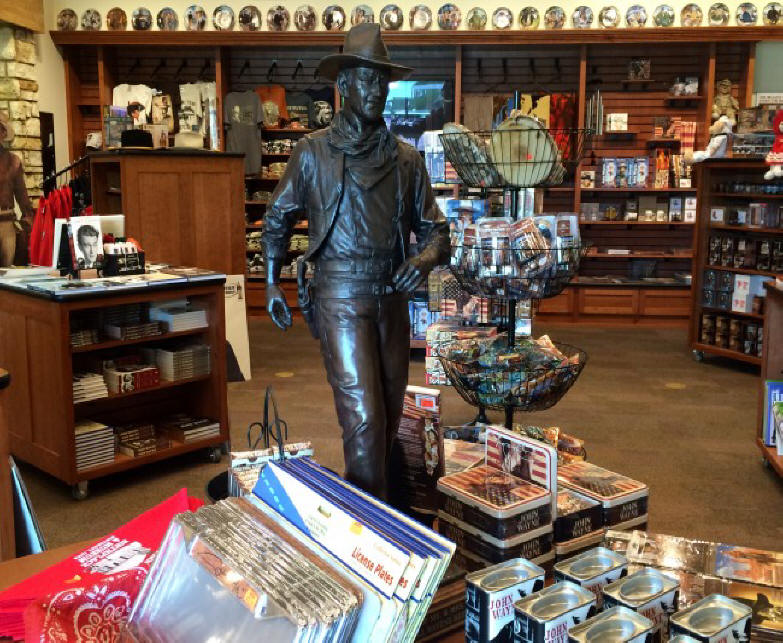 John Wayne Museum
Last, but not least, drive up Cumming Highway to drive past the site of Francesca's House, the 1870 Victorian home that was used in the move as the Johnson's farmhouse. Francesca's farmhouse was originally an abandoned ruin in the northeastern part of the county. Renovated for the movie, it was a popular tourist attraction until 2003 when an arson fire unfortunately damaged it to the point of closing it.
A Imes Covered Bridge in Saint Charles B Holliwell Covered Bridge C Cutler-Donahue Bridge in Winterset D. Roseman Covered Bridge E Hogback Covered Bridge on Hogback Ridge Road F Cedar Covered Bridge
(1) The Bridges of Madison County is a 1992 best-selling novel by Robert James Waller that tells the story of a married but lonely Italian-American woman living in 1960s Madison County, Iowa. She engages in an affair with a National Geographic photographer from Bellingham, Washington, who is visiting Madison County to create a photographic essay on the covered bridges in the area. The novel is presented as a novelization of a true story, but it is in fact entirely fictional. However, the author has stated in an interview that there are strong similarities between the main character and himself.The novel is one of the bestselling books of the 20th century, with 50 million copies sold worldwide. It has also been adapted into a feature film in 1995 and a musical in 2013.